Tie dyed wooden beads + using them to make a colorful bead garland! :) 
*this project is in partnership with Tulip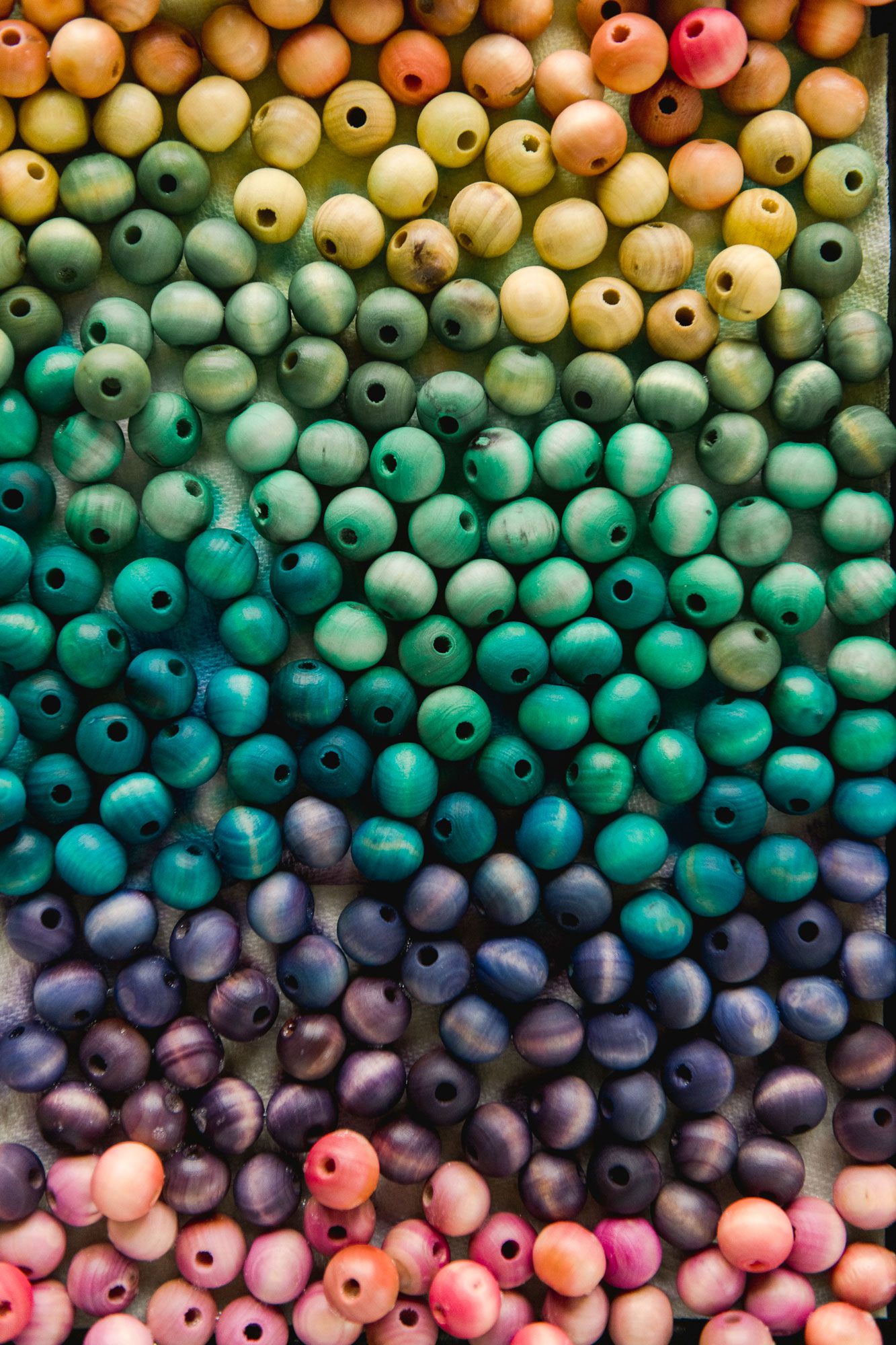 DID YOU KNOW THAT YOU CAN TIE DYE MORE THAN JUST FABRIC ITEMS!!?!? (if it feels like I'm yelling, it's because I am….out of sheer excitement!!) Because, spoiler alert: YOU CANNNNNNN!
I love how these dyed wooden beads turned out because they not only still have the natural wood grain that you an still see through the dye BUT the color go SO WELL together because you aren't "covering" the wood, but rather dying it so you could in theory dye the beads ANY color from your Tulip refill dye it and they would work together on a strand beautifully! 🙂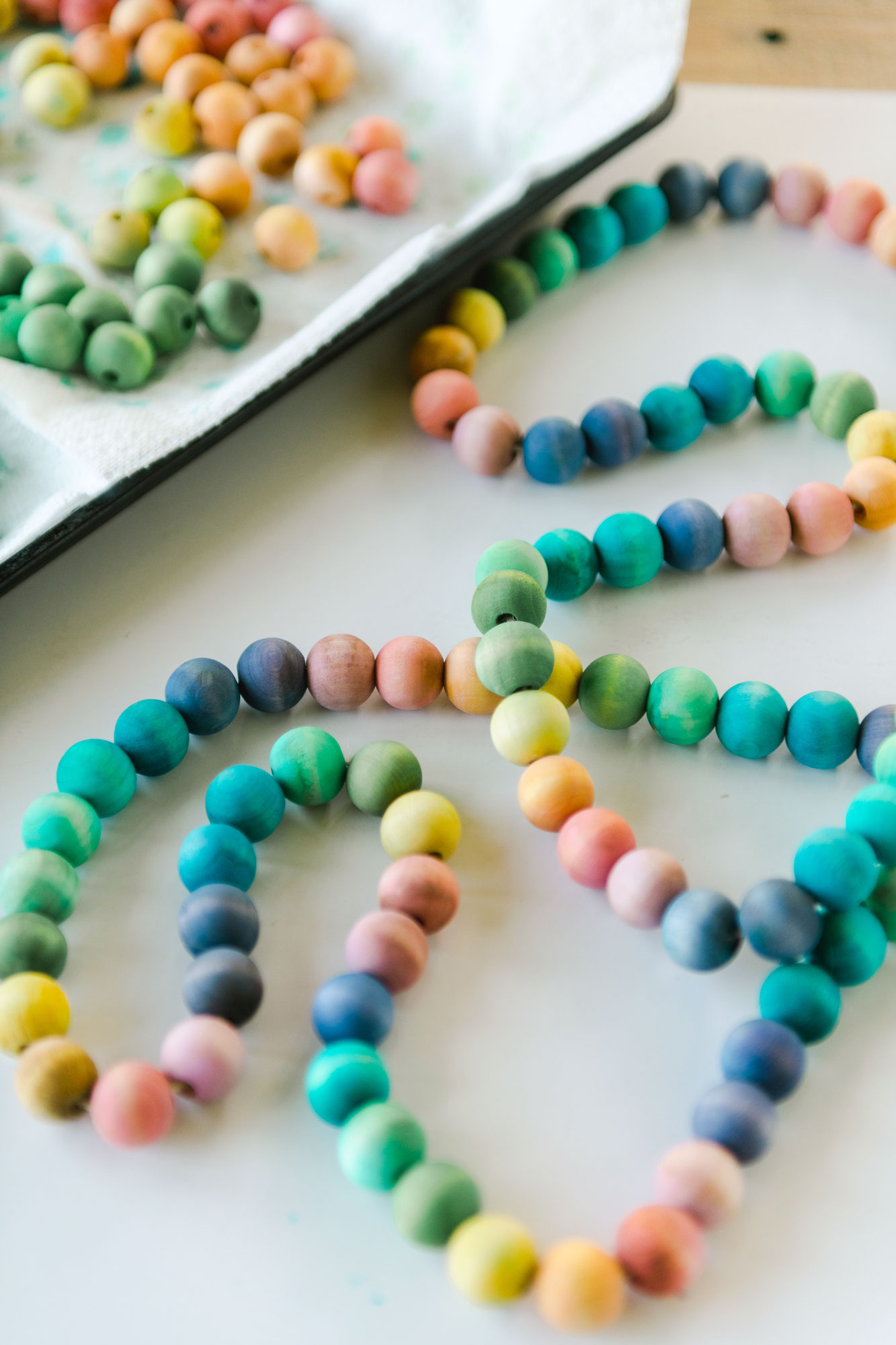 I've painted wooden beads before, but HECK, that is for the birds…..the beads roll around ALL OVER THE PLACE and then you're holding a tiny wooden round thing in your hands and end up getting more paint on your fingers than on the bead (ok, at least I did) and the you have to do at least 2 coats to keep covering the spots that you missed or got stuck to your fingers. Can you tell I didn't love that process? 🙂 HA!
So, honestly…..using this Tulip refill packets to dye wood is legit opening up my world. These refill packets come as……well…..packets without the squeeze bottles so honestly you can pour the dye powder into almost any container that can hold dye. Think big rubbermaid bins, sinks full of color, larger containers, little cups, big cups, the list goes on and on…….and the possibilities are endless! Grab the supplies below and dye some beads with me to make a garland…..(I am already brainstorming how I can use this technique for wooden Christmas ornaments or even make multi colored garlands for our Christmas tree or birthday decor!)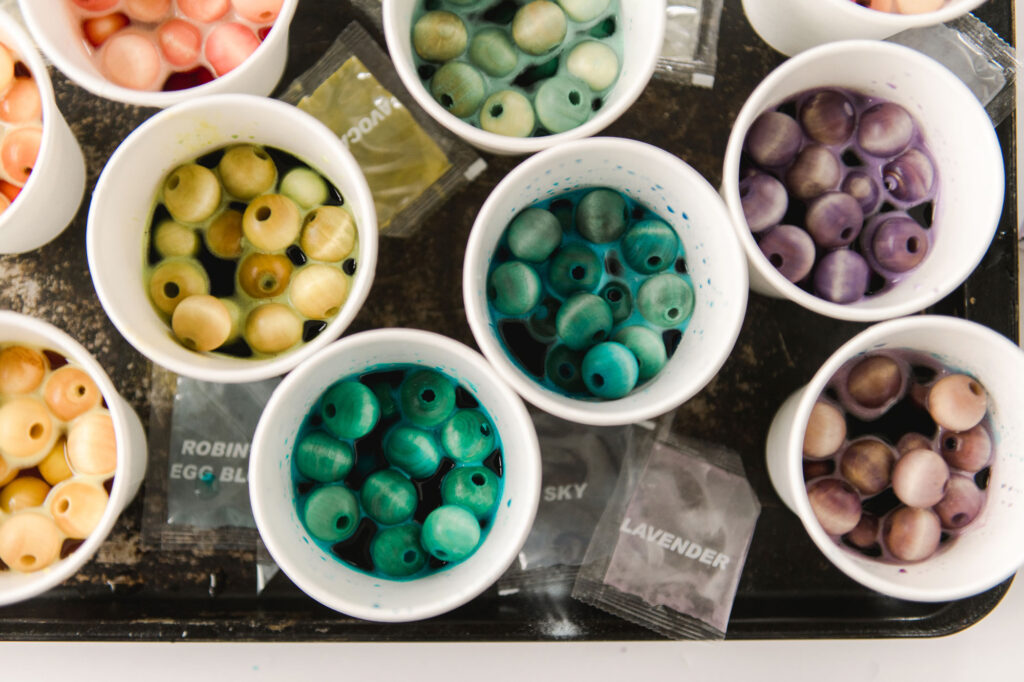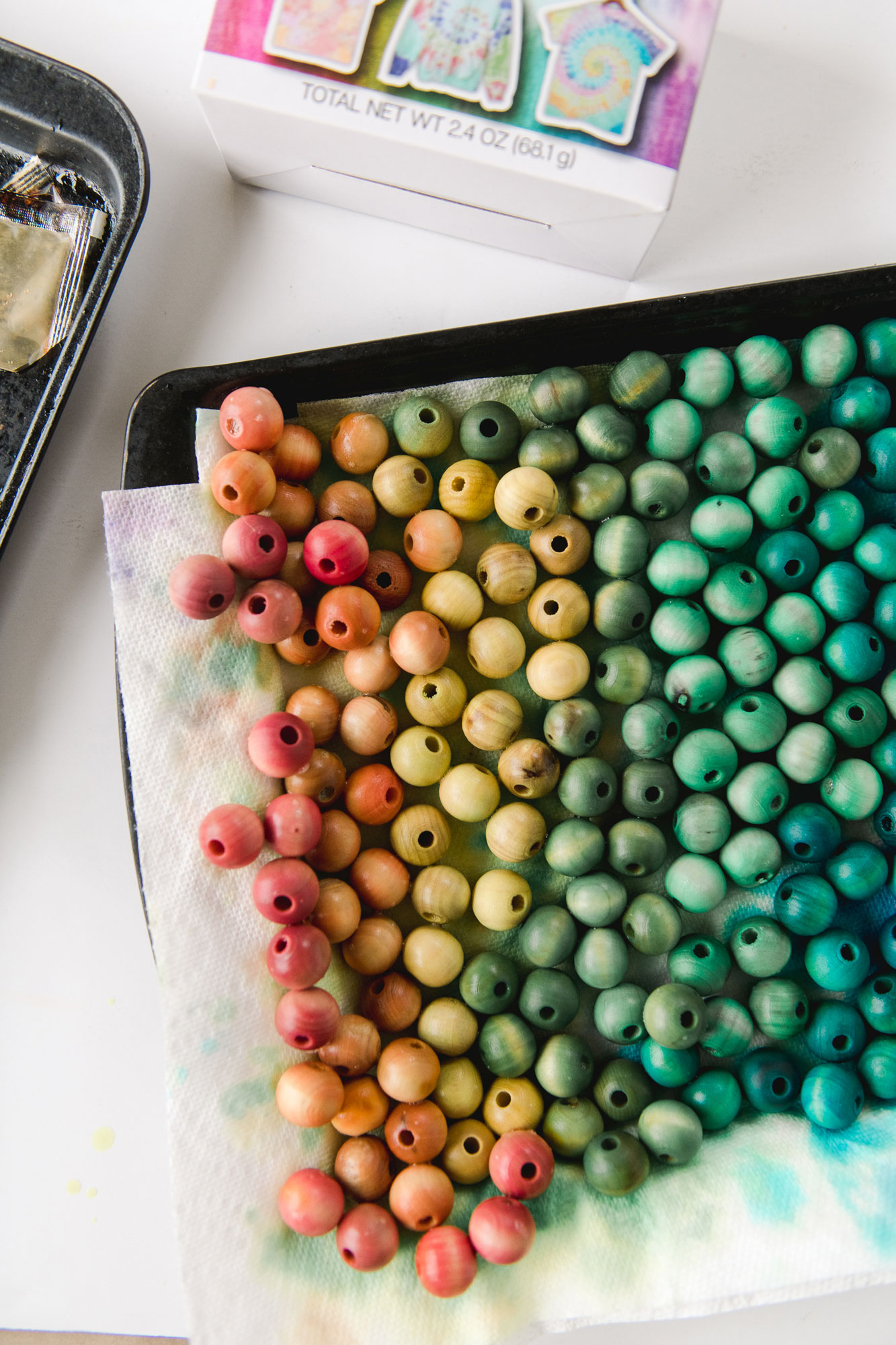 MATERIALS:
A pack of the Tulip one step tie dye refill – Pastels!
Unfinished wooden beads (or really any other wooden item that you want to give some new life too…candlesticks, coasters, etc)! 🙂 
Paper cups, small containers or baggies for holding the dye + beads overnight
A few stir sticks, like popsicle sticks (or even some non-bark-shedding twig from outside 🙂 
A tray, tub or tie dye container to hold baggies/cups while sitting overnight
INSTRUCTIONS:
1. Choose the colors from your awesome Tulip Pastels refill kit (like SO MANY awesome colors….choose your faves and then keep the rest for another project) 🙂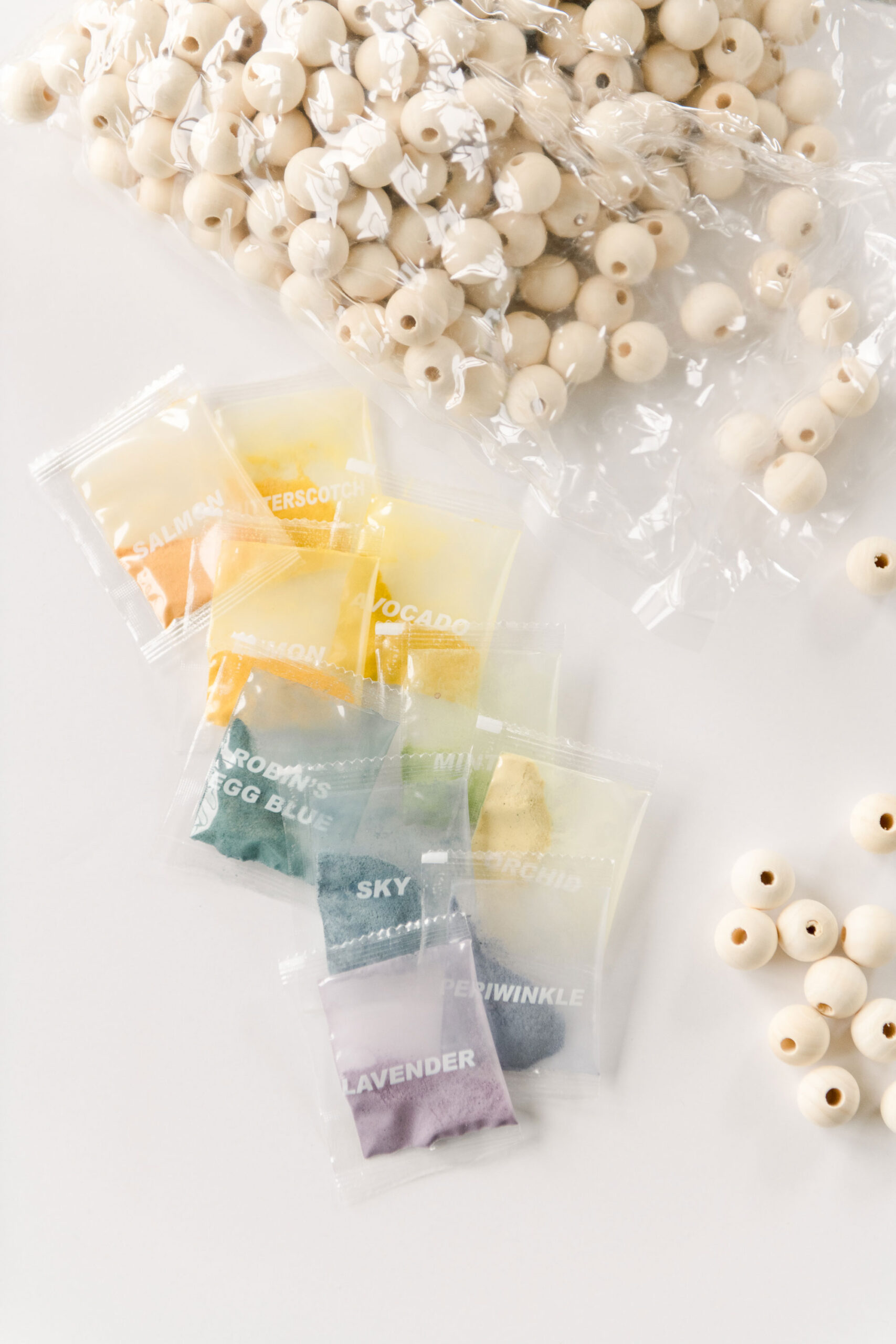 2. Lay out your cups, baggies or containers on your tray. I used a tray under my cups to be sure that I wasn't splashing or spilling the dye as it got mixed.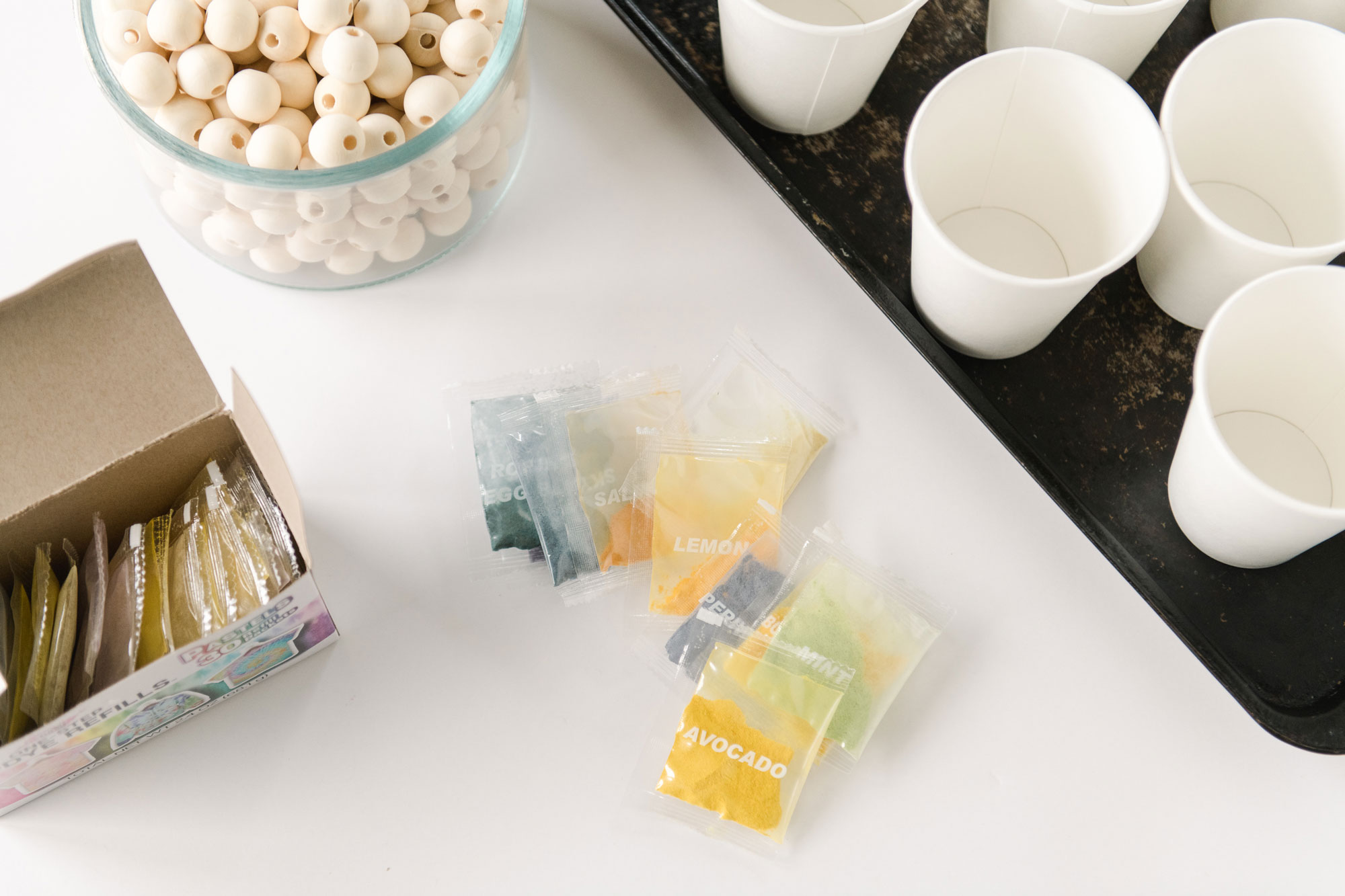 Cut your packets of dye and empty them one at a time into each container (I had 10 colors, 10 containers on my tray)! Then being pouring about 1/2 cup or 4 oz. of hot water into each, then mix the dye + water until it is fully dissolved! 🙂
The colors I used were:
Salmon
Butterscotch
Lemon
Avocado
Robin's Egg Blue
Mint
Sky
Orchid
Periwinkle
Lavender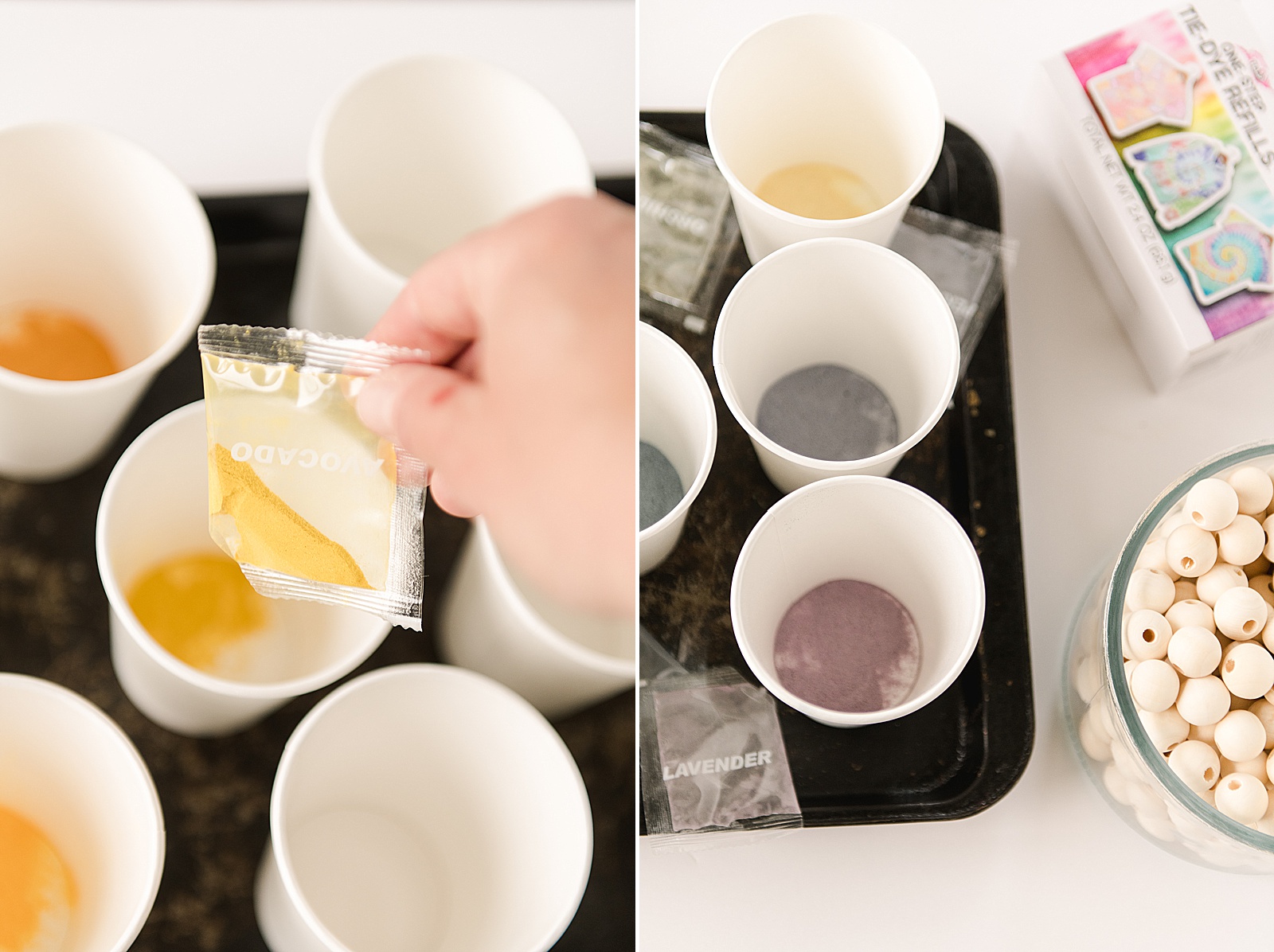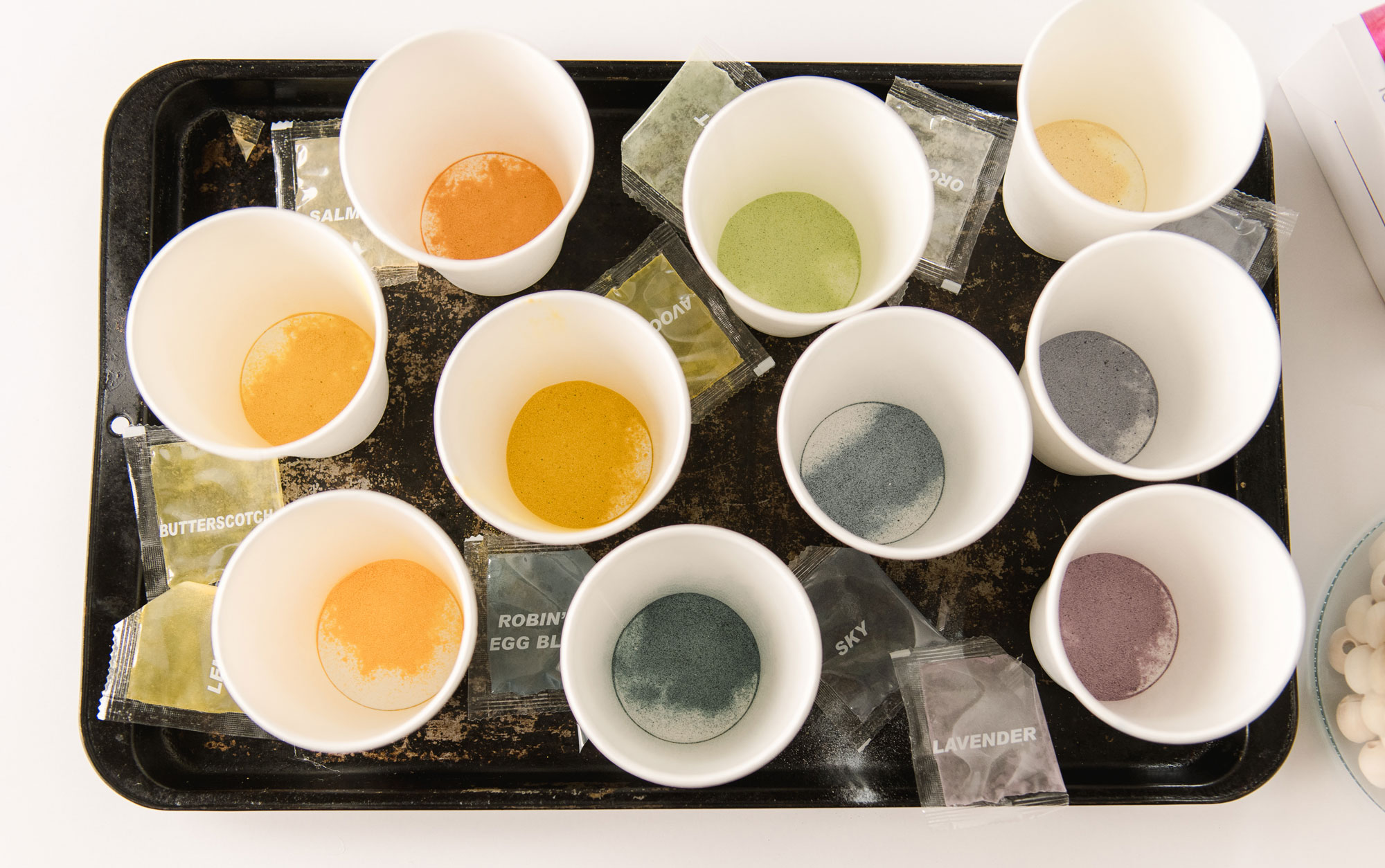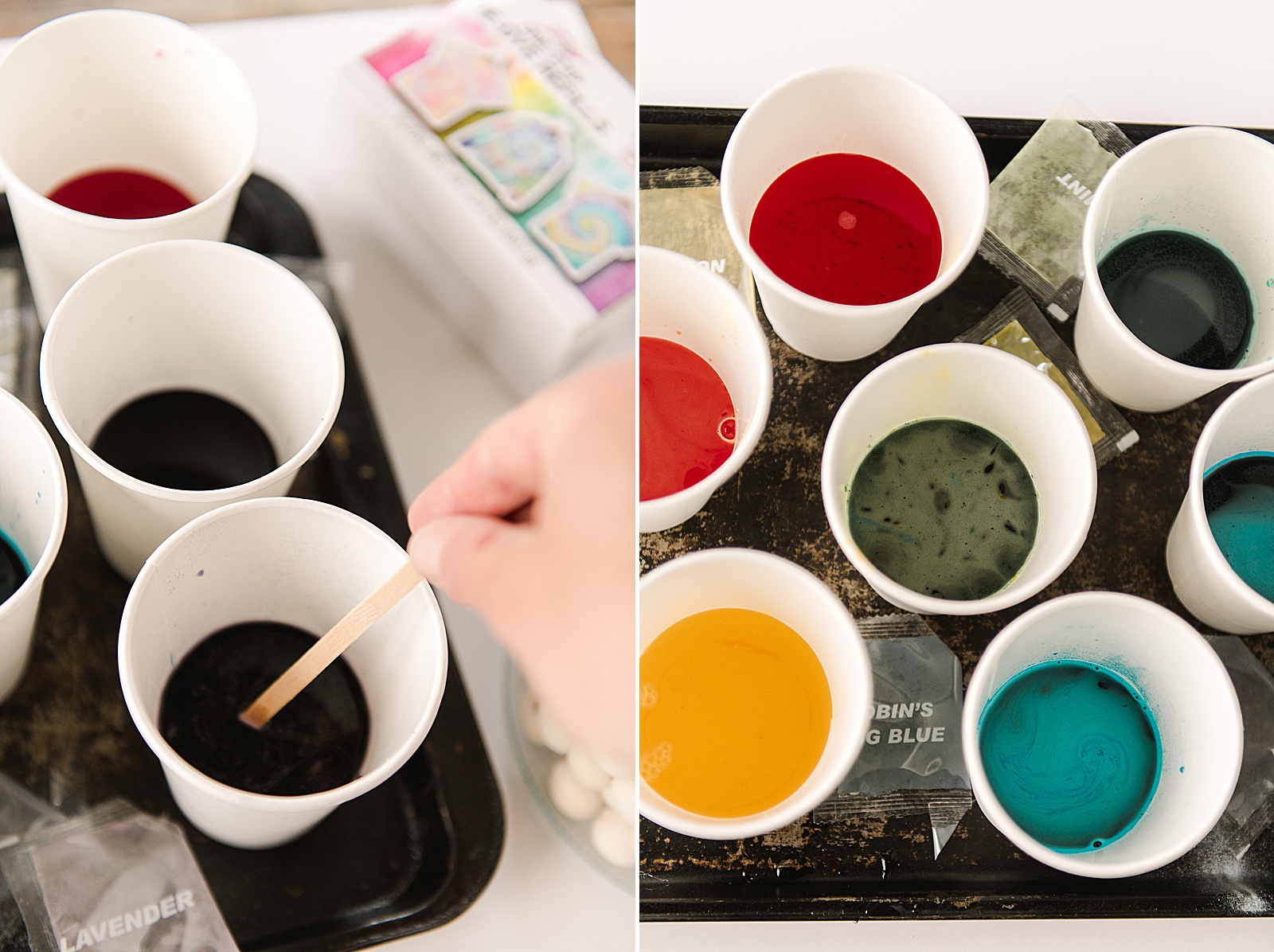 3. You can choose to sort out your beads into each color container OR just grab a handful and eyeball the amount of wooden beads for each color. (I eyeballed….I am not a crafter of precision….HA)! 🙂 You will start to see the dye penetrating the wood right away (the colors are so preeettttyyyy)! 🙂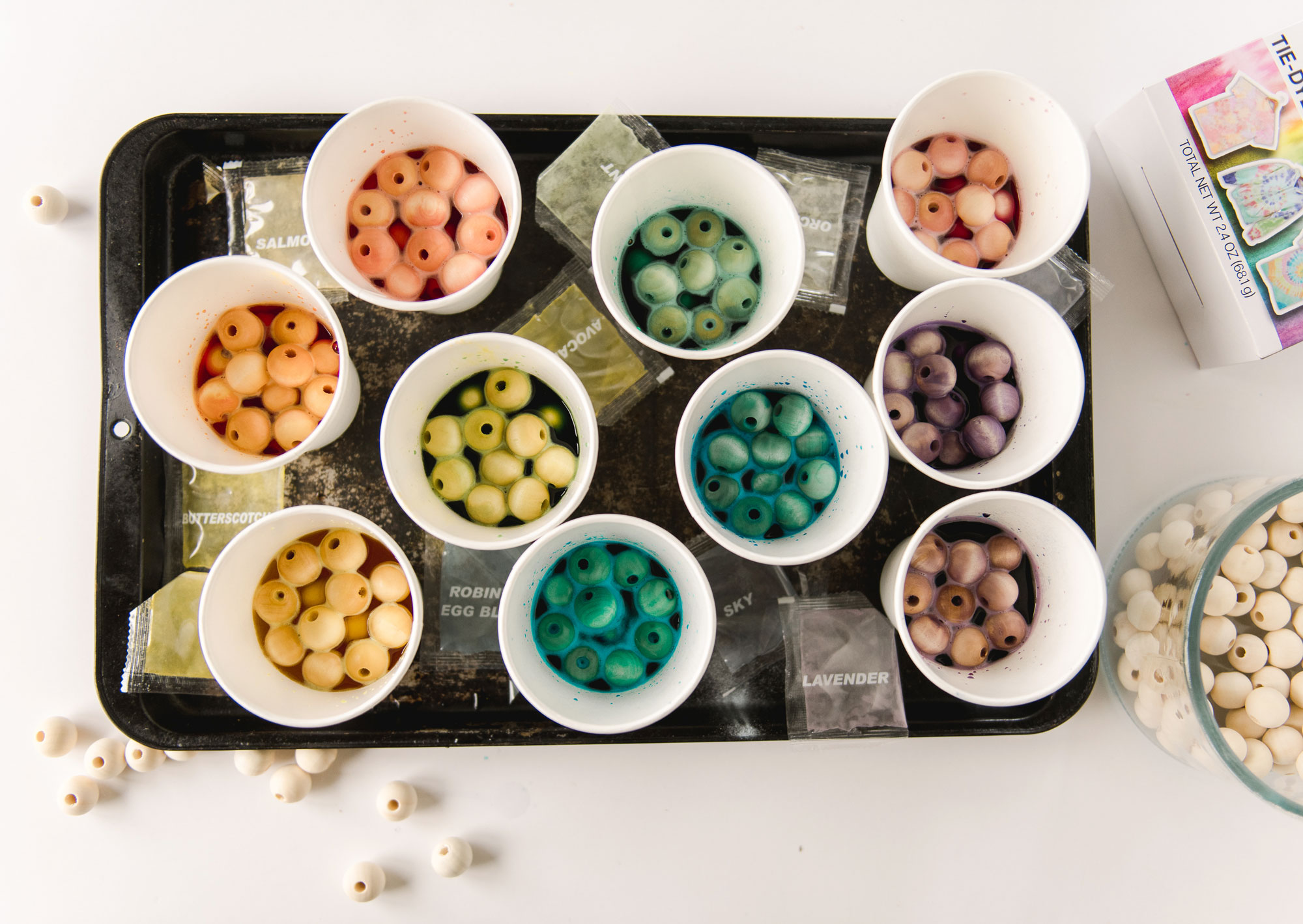 Over the course of the next hours, make sure to stir the beads well so that they are as submerged as possible and get the most dye soak as possible! 🙂
The longer you leave the beads in the dye liquid, the more dye they will absorb (within reason)! I left out beads in the dye overnight.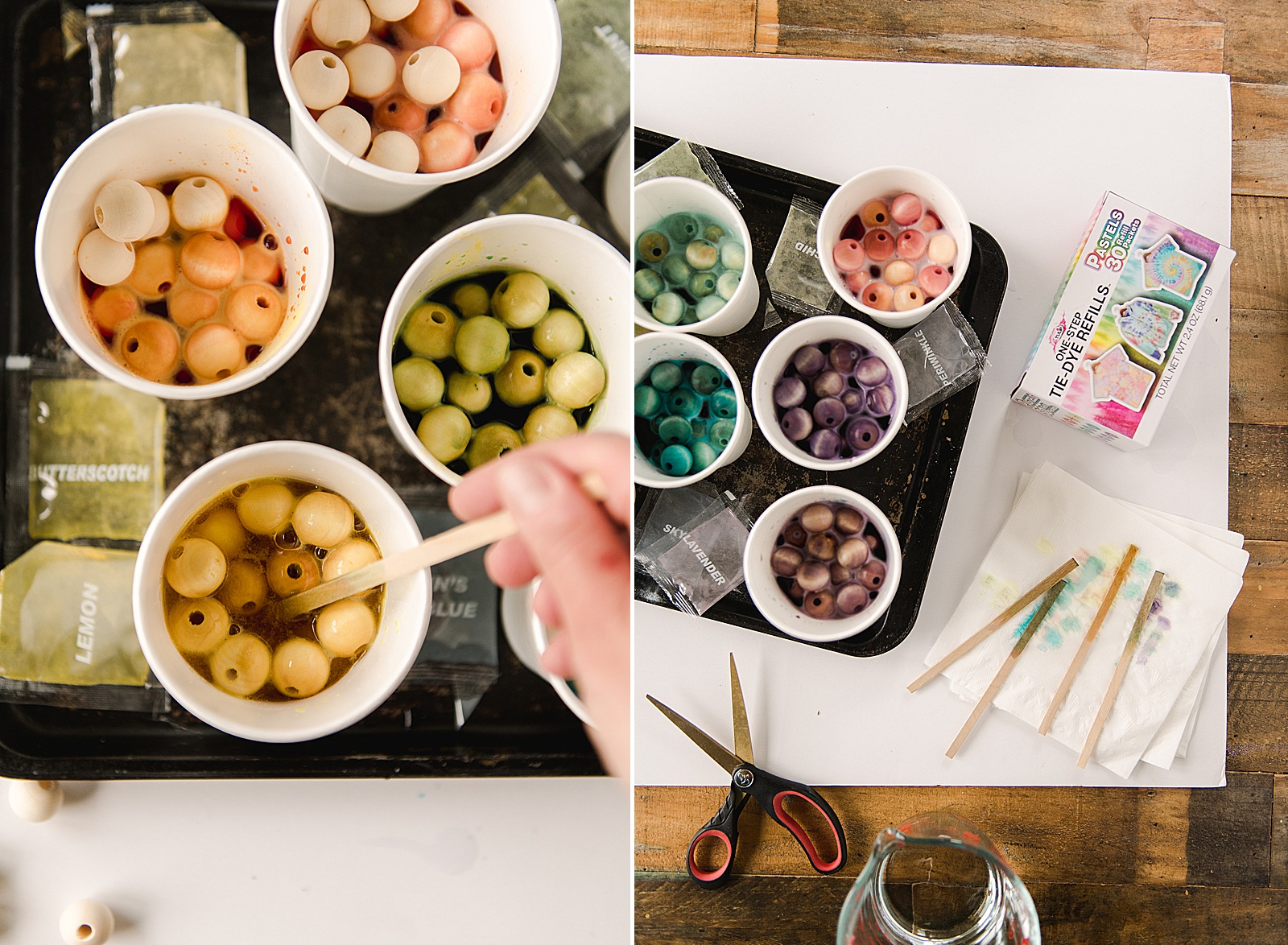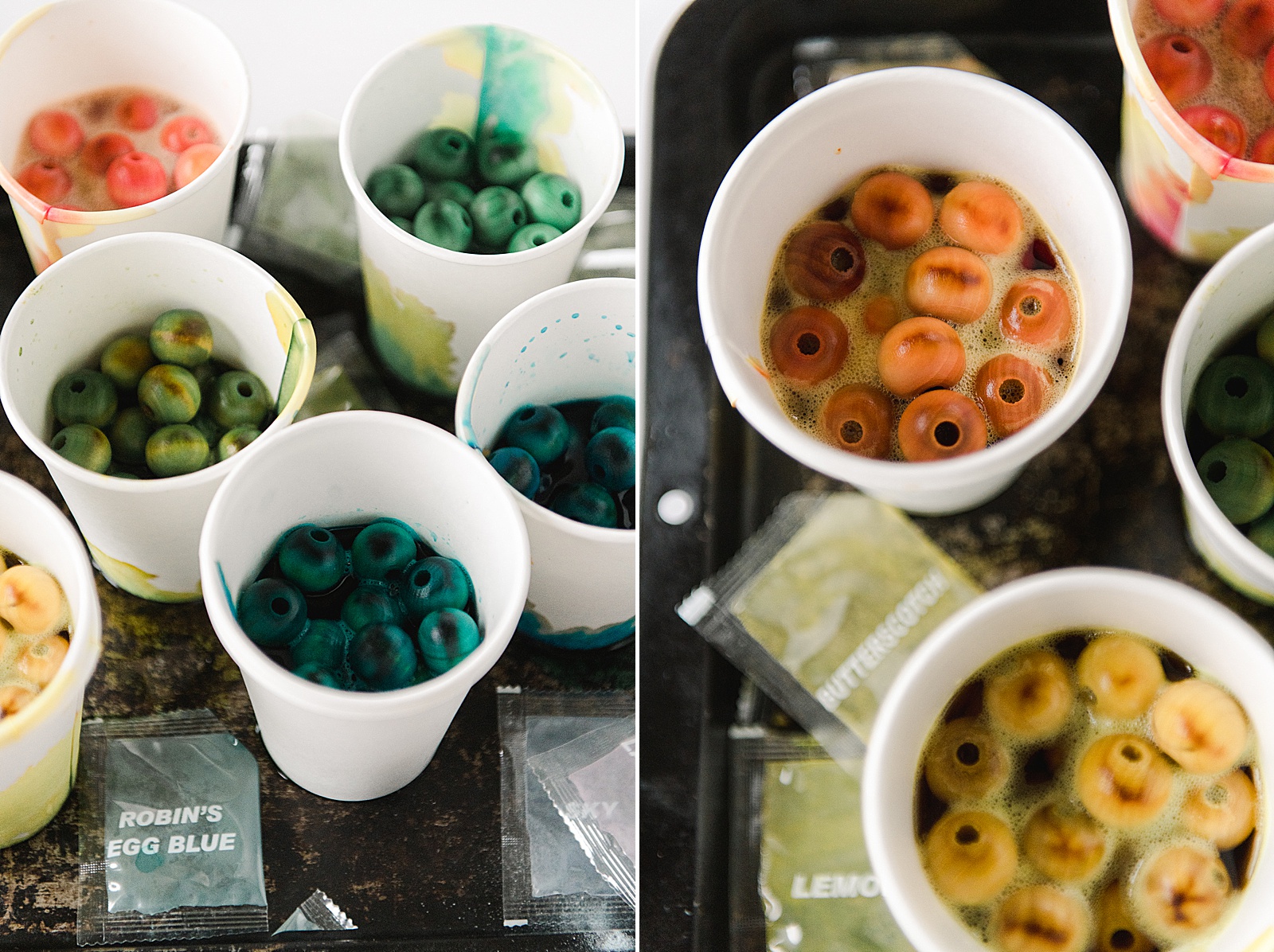 *NOTE: if you leave the dye in paper cups like I did, BE SURE THAT YOU HAVE SOMETHING UNDER TO ABSORB! Some of the dye started seeping out the cups (not much) and it would be a big stinker if it ruined your favorite kitchen table or countertop! 🙂 Even having some paper towels underneath would be a huge help! 🙂 
4. Lay out some paper towels onto a protected surface (I used a 2nd tie dye tray that we had laying around) Remove the beads from the dye liquid. I put on a plastic glove (I had a leftover one from another Tulip tie dye kit) and poured the beads and liquid into a bucket catching the beads as they fell out into my hand. Then I layed the beads out onto the tray with the paper towels to dry.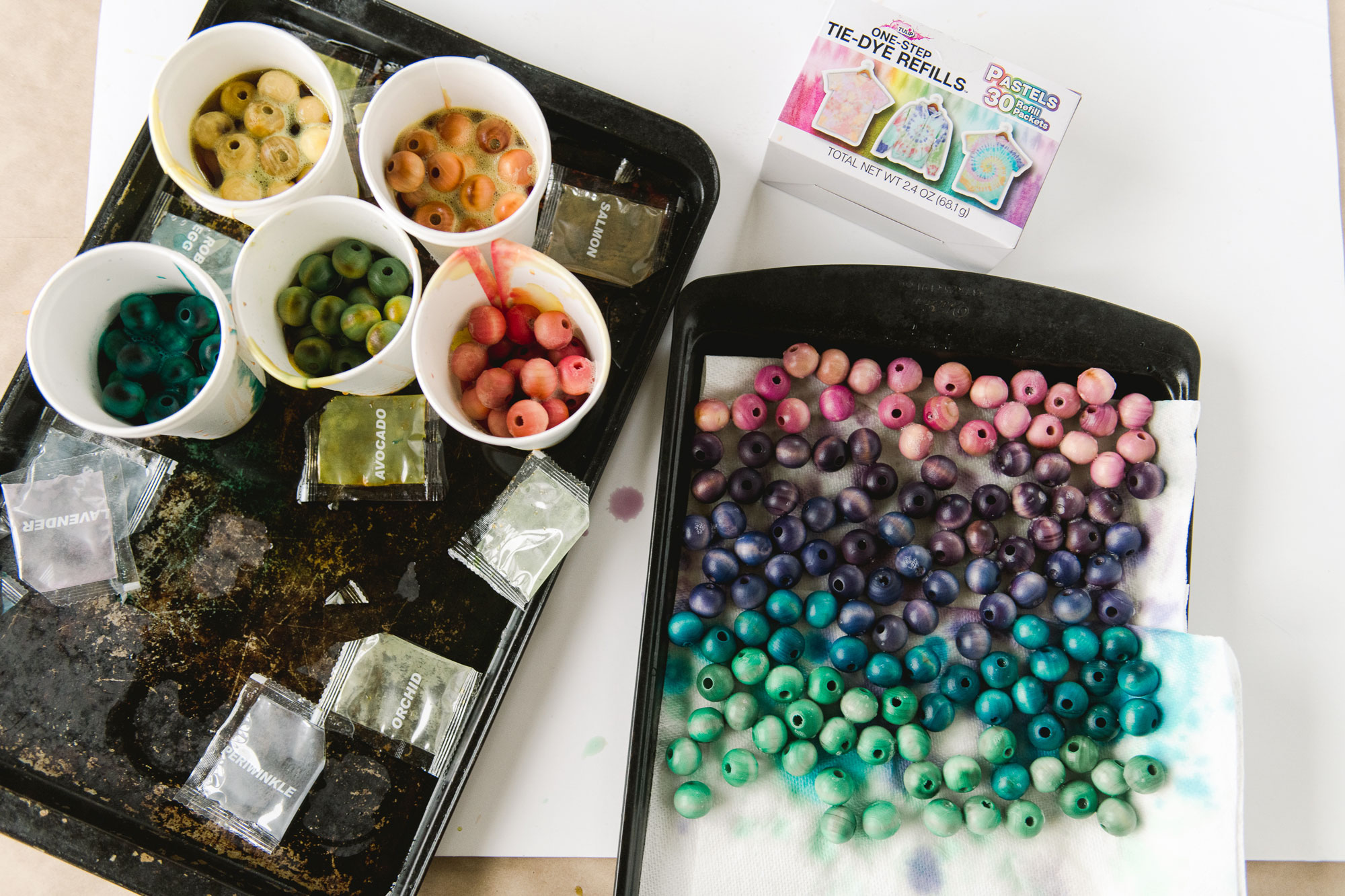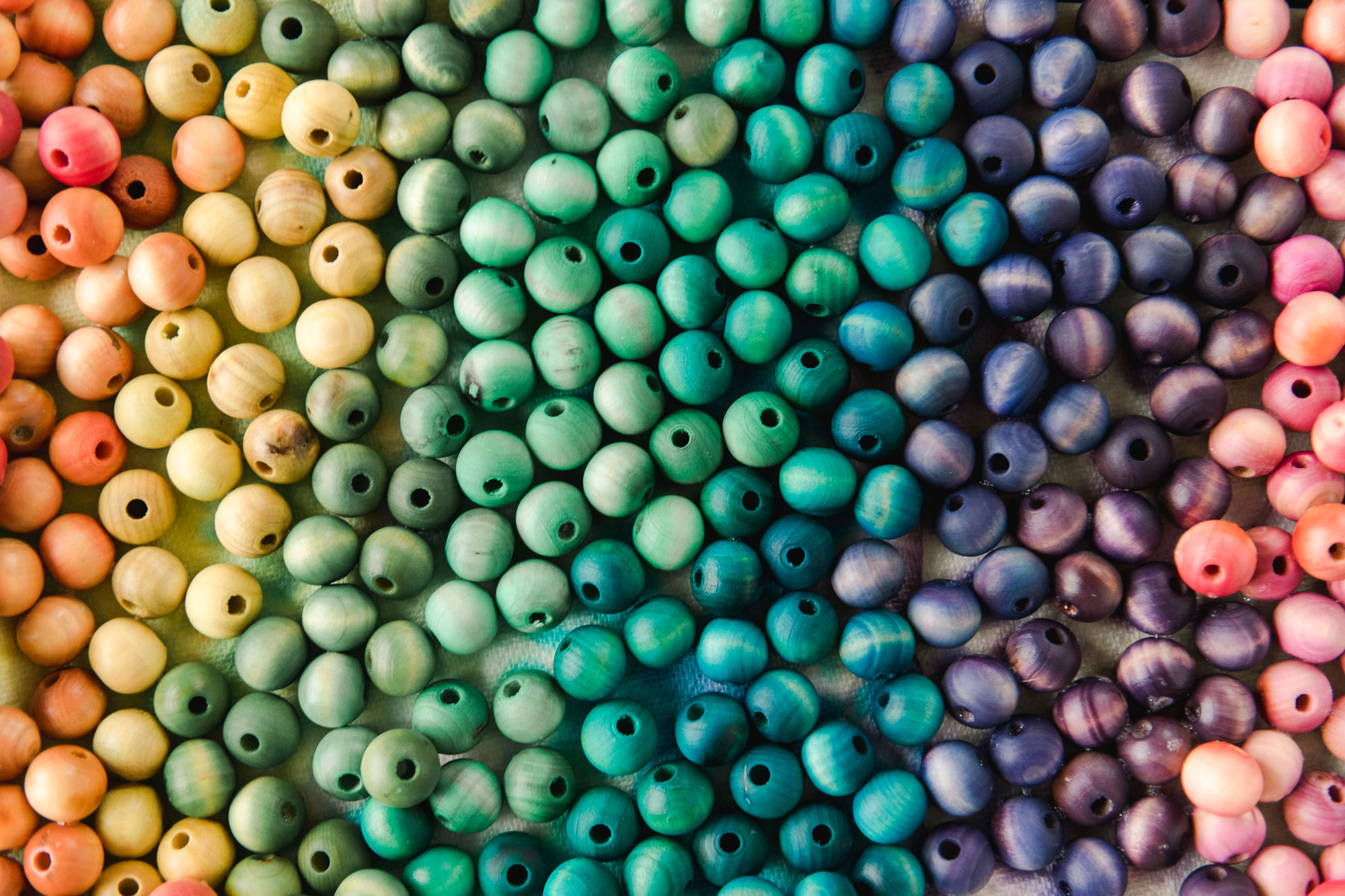 Set aside and allow to FULLY dry! 🙂 This took about 6 hours or so (heck, put them out into the sun if you want to speed up the process)! 🙂 You will notice that as they dry the color tends to "come out" more….you will see less of the natural wooden color and more of the dye color (or at least I did! 🙂 
5. The last step is to string your beads into a garland. Add pom poms or tassels as you go if you want or even mix in other plain wooden beads or felt letters too! 🙂 Now is the time to get creative and make this garland your very own! 🙂 Have fun with it!!!!