How to faux flock some colorful Halloween skulls
**This post is sponsored by Colorshot and their amaaaazing array of spray paints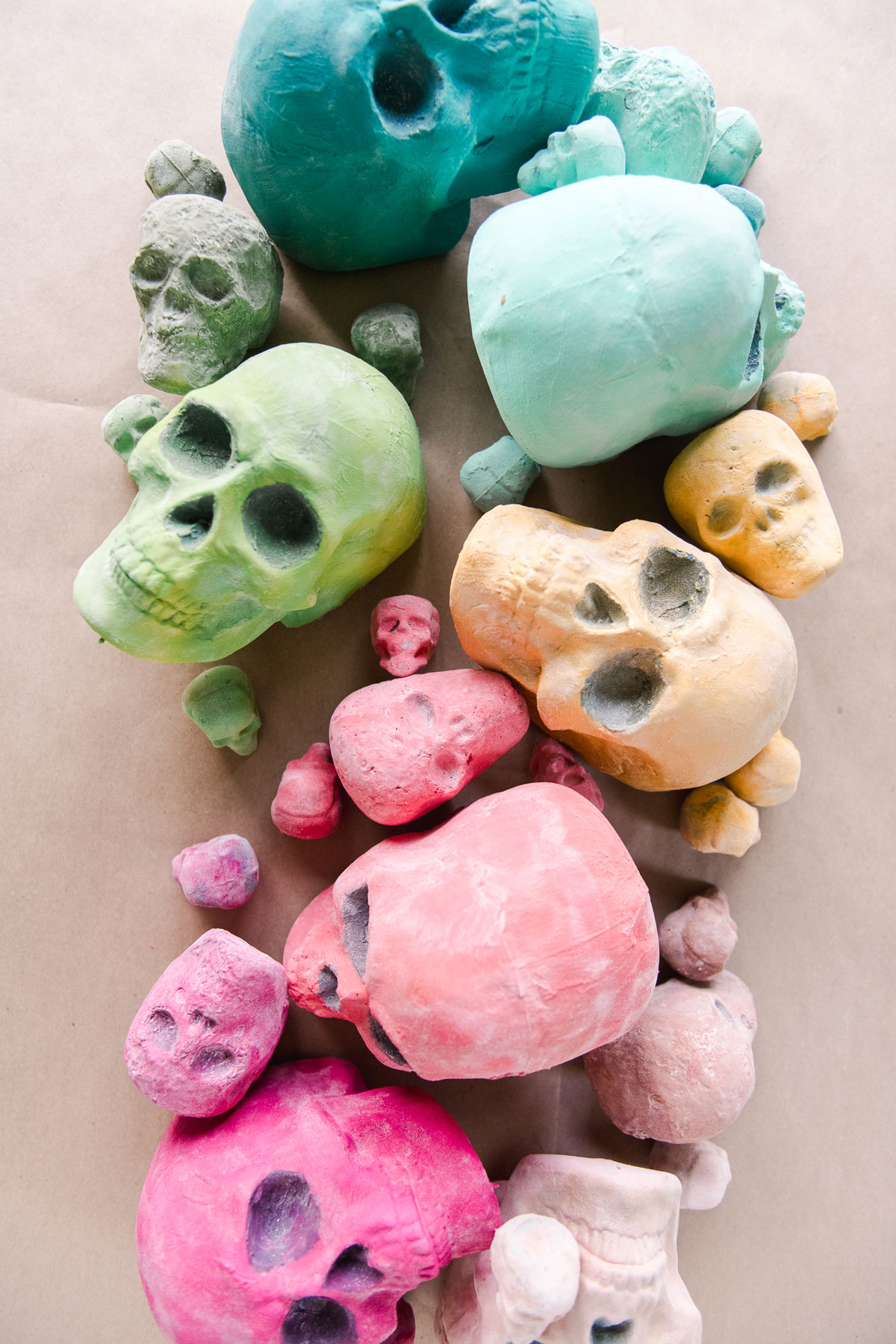 Flocking is ALLLLLL the amazing textual rage right now – it's on holiday and home decor items galore. BUUUUT I have a way that you can add some "faux flocking" to your Halloween decor that is soooooo stinking easy…..and hint hint: it combines materials you likely already have in your house ANNNNND maximizes on adding more color to my decor (which is a win win WIN for me)! 🙂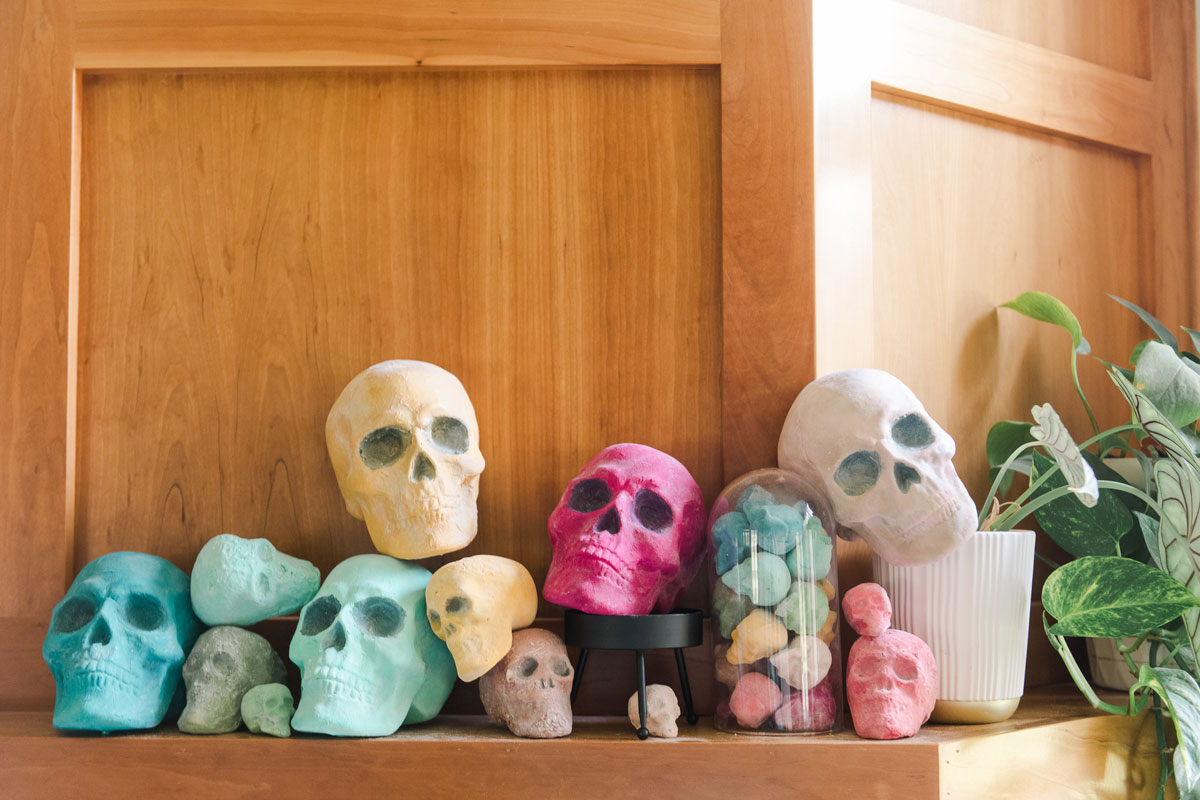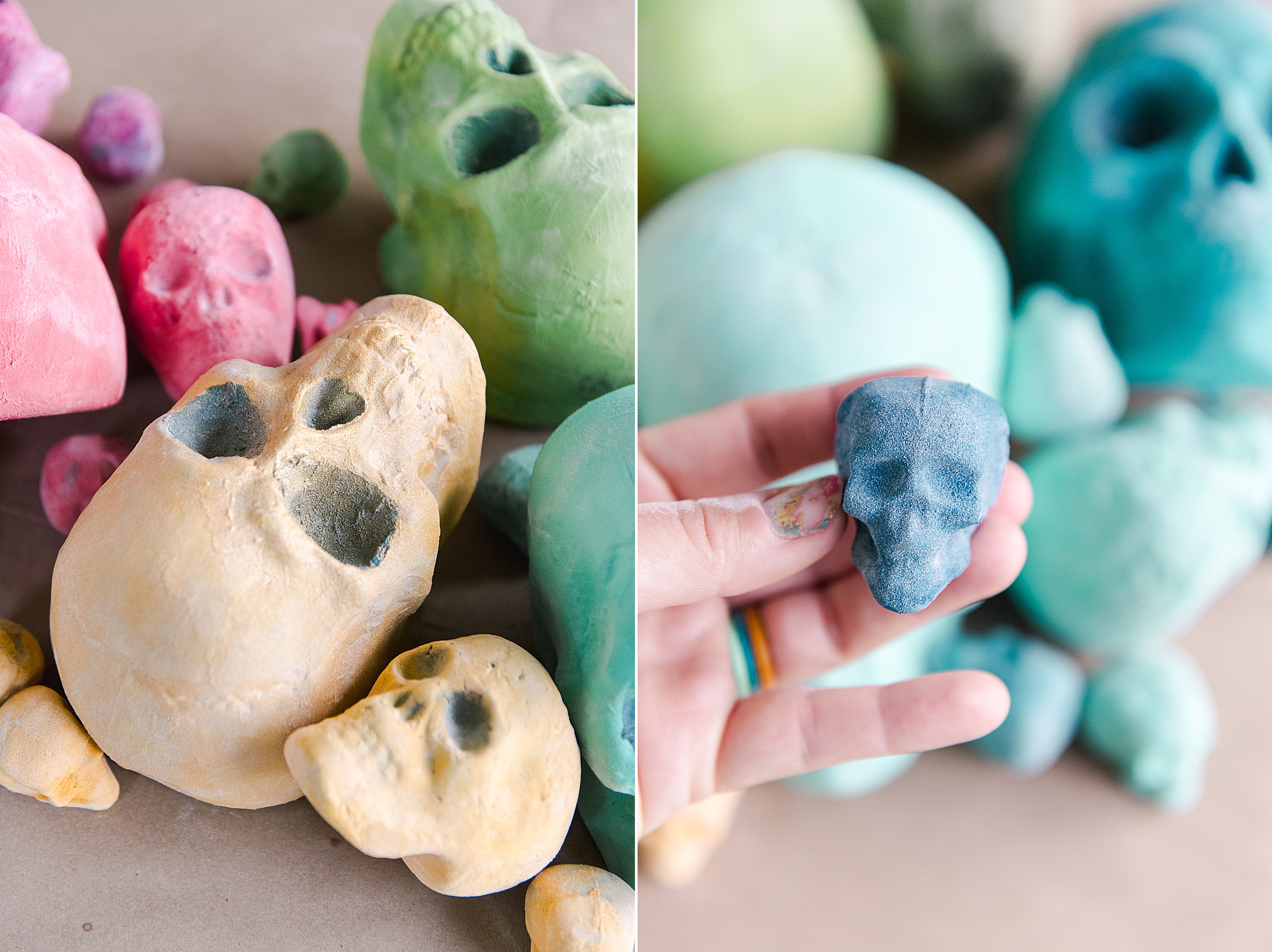 My friend, Kara from Kailo Chic, first introduced me to this technique so shout out to amazing creative online friends! I picked up this array of white plastic skulls at Michaels so I wanted to give them some colorful life (because we all know that colorful Halloween decor is better Halloween decor, eh?)! Juuustt kidding….you could do this technique just as easy with a muted or tone-on-tone color palette and they would be just as striking arranged on a table, glued into a wreath or even just displayed in vignettes across your house or at your Halloween party! 🙂 
MATERIALS:
Some plastic skulls in various sizes (or pumpkins or ghosts or bats or anything you want to flock)
A variety of your fave Colorshot colors (the ones I used are listed below) 🙂
Some Baking soda
Some all purpose flour
A small bowl
A protected surface for spraying (helloooooo old Amazon boxes)
Some plastic gloves to protect your hands from getting sprayed 😉
optional black or grey paint and a paintbrush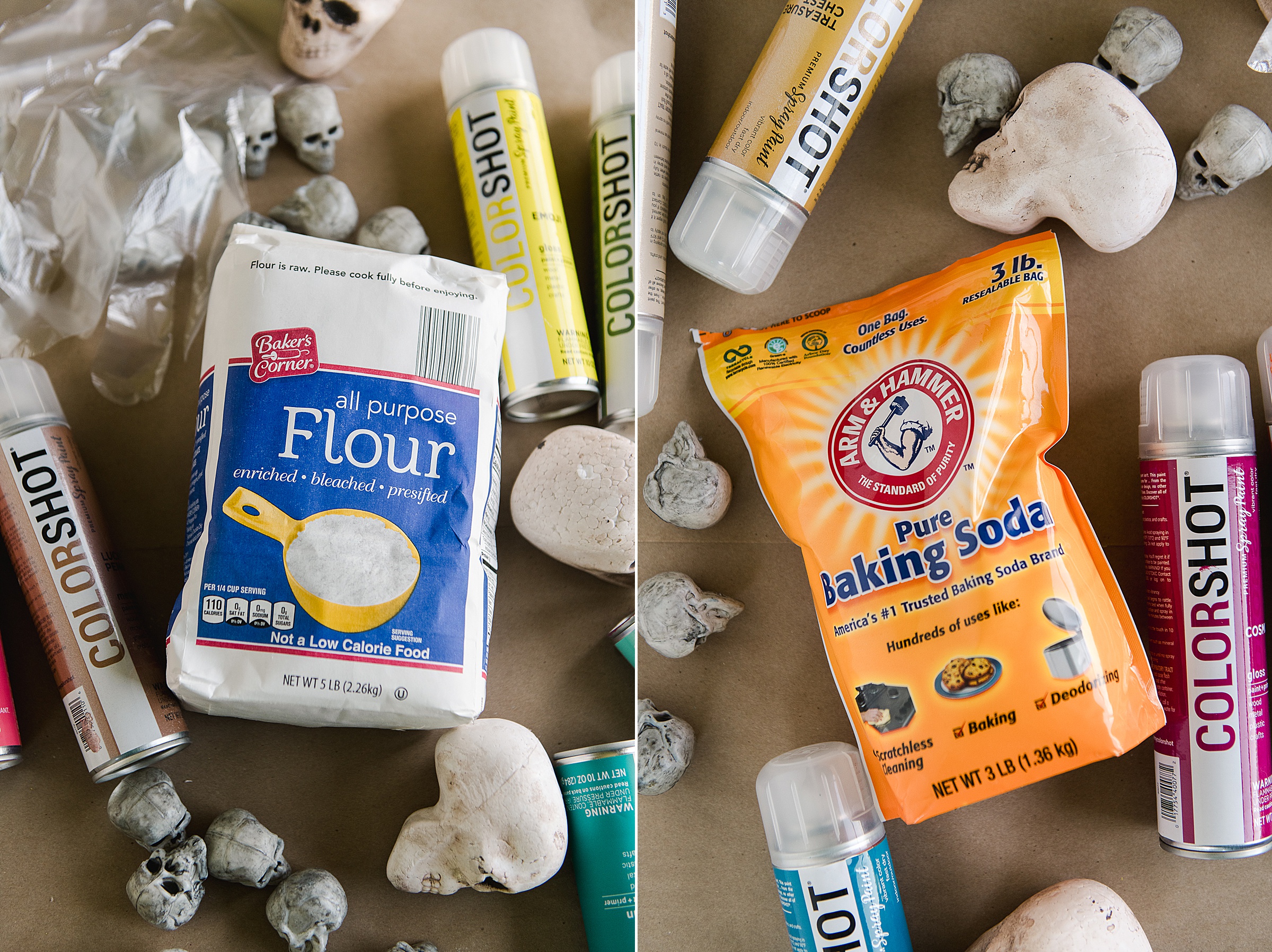 INSTRUCTIONS:
1. Pick out your amazing Colorshot paint colors and get your space ready. I  broke down a few boxes that worked to spray on/around outside. I laid out the skulls and Colorshot spray paint and decided which skull(s) were going to get coated with which color.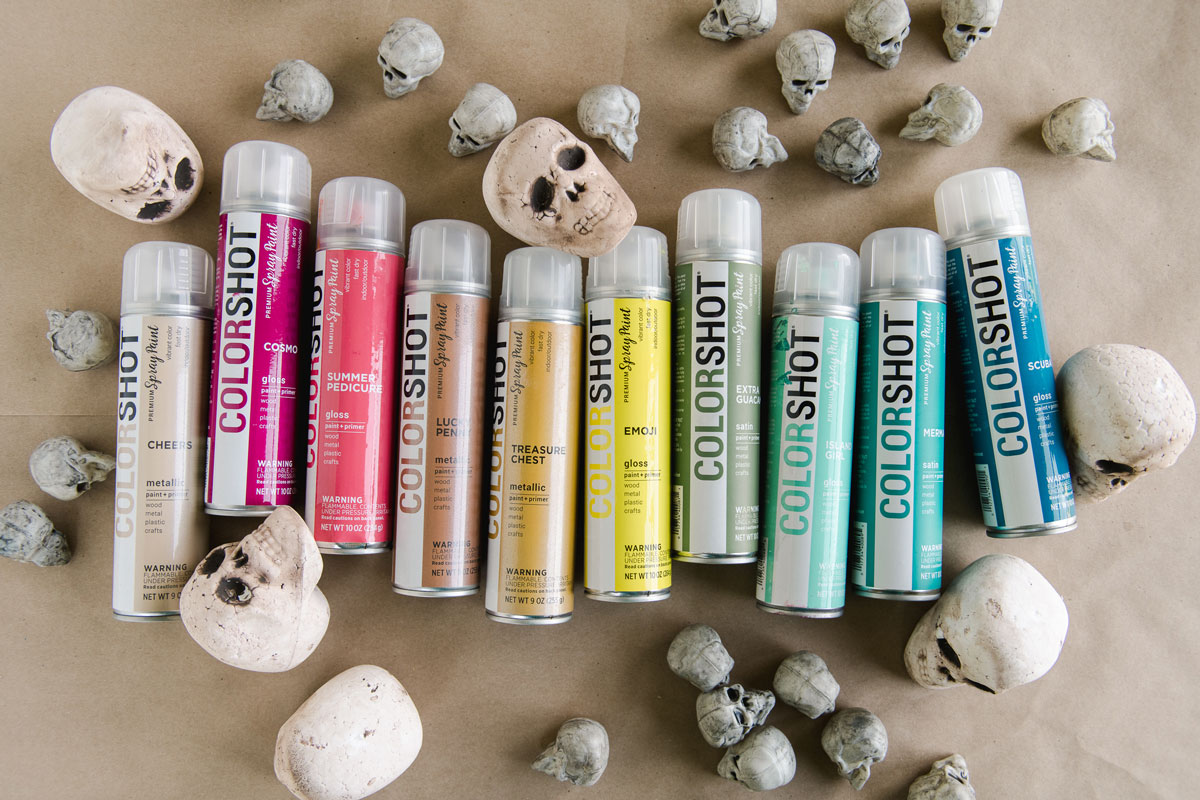 The Colorshot colors I used were:
Cheers
Lucky Penny
Cosmo
Summer Pedicure
Emoji (with a bit of Cheers sprayed over to knock down the brightness)
Treasure Chest
Guacamole
Island Girl
Mermaid
Scuba
2. Optional step to paint the receding areas with black or grey acrylic paint (the eyes and nose area specifically). I chose to do this first so that I didn't cover up the flocking.
3. Mix up your flocking mixture by adding one part baking soda to one part flour into a bowl – then mix mix mix and make sure it's well combined 🙂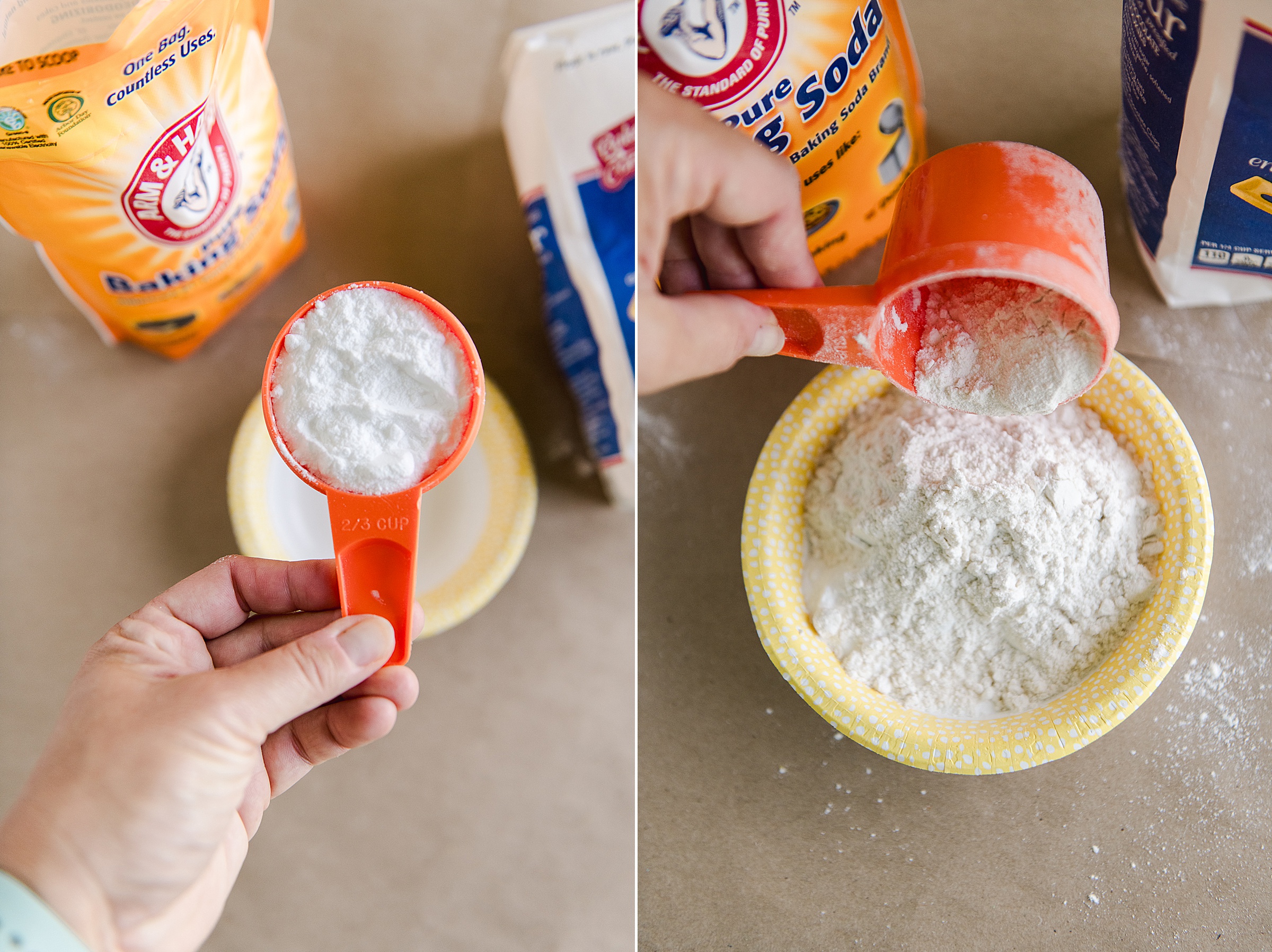 4. Spray and flock and spray and flock time!
Shake your spray paint reallllllly good according to the back of the Colorshot can to make sure it's all mixed and ready to get the best spray ever!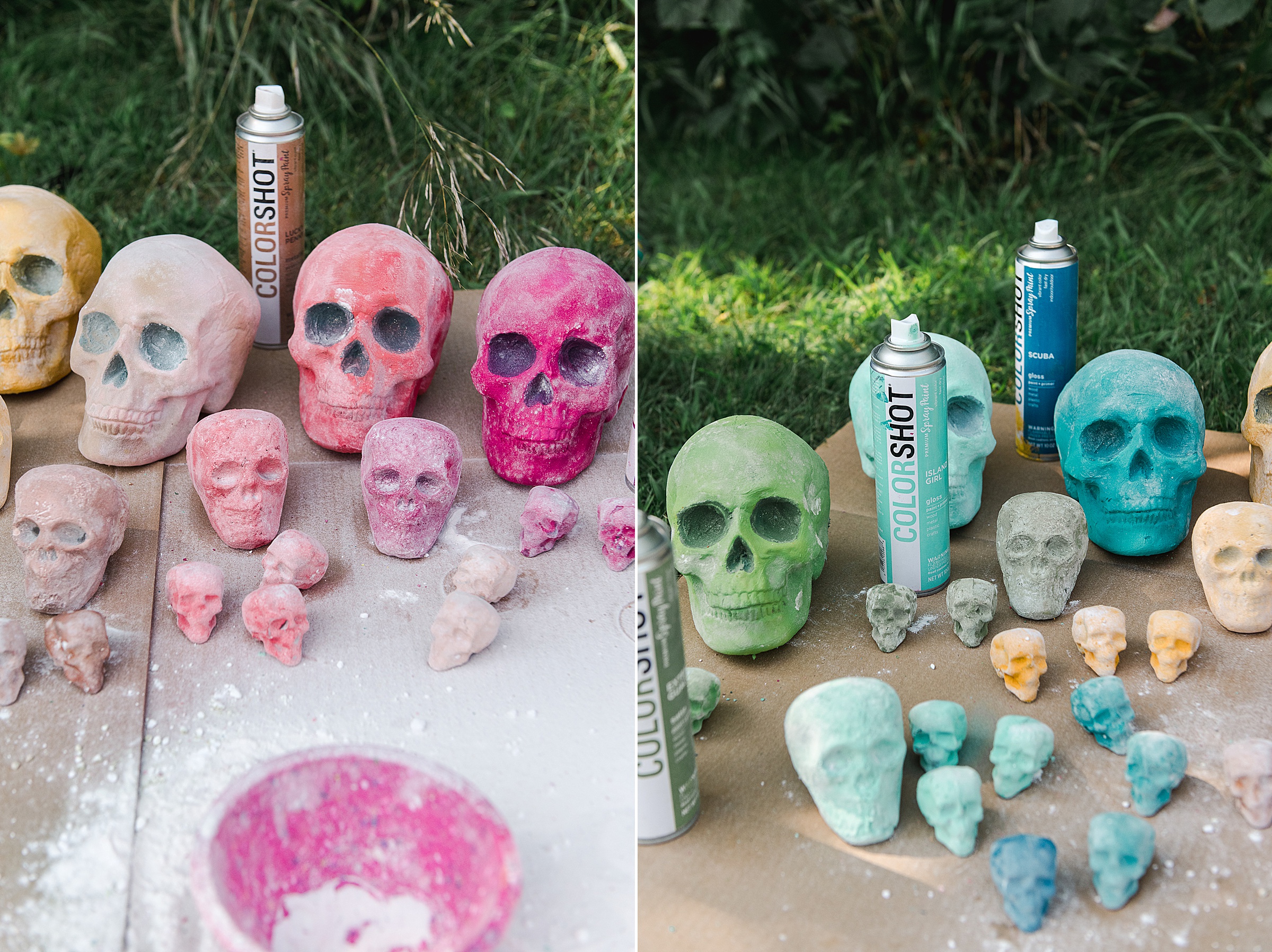 And the idea here is that you will spray part of your skull and while the paint is still wet, you will sprinkle your flocking mixture onto the wet paint. It won't be an even sprinkle, but that's ok because you will then blow off the excess until the even coat of faux flocking is left on the skulls (it's looks like the fuzzy flocking that you see on items in the stores).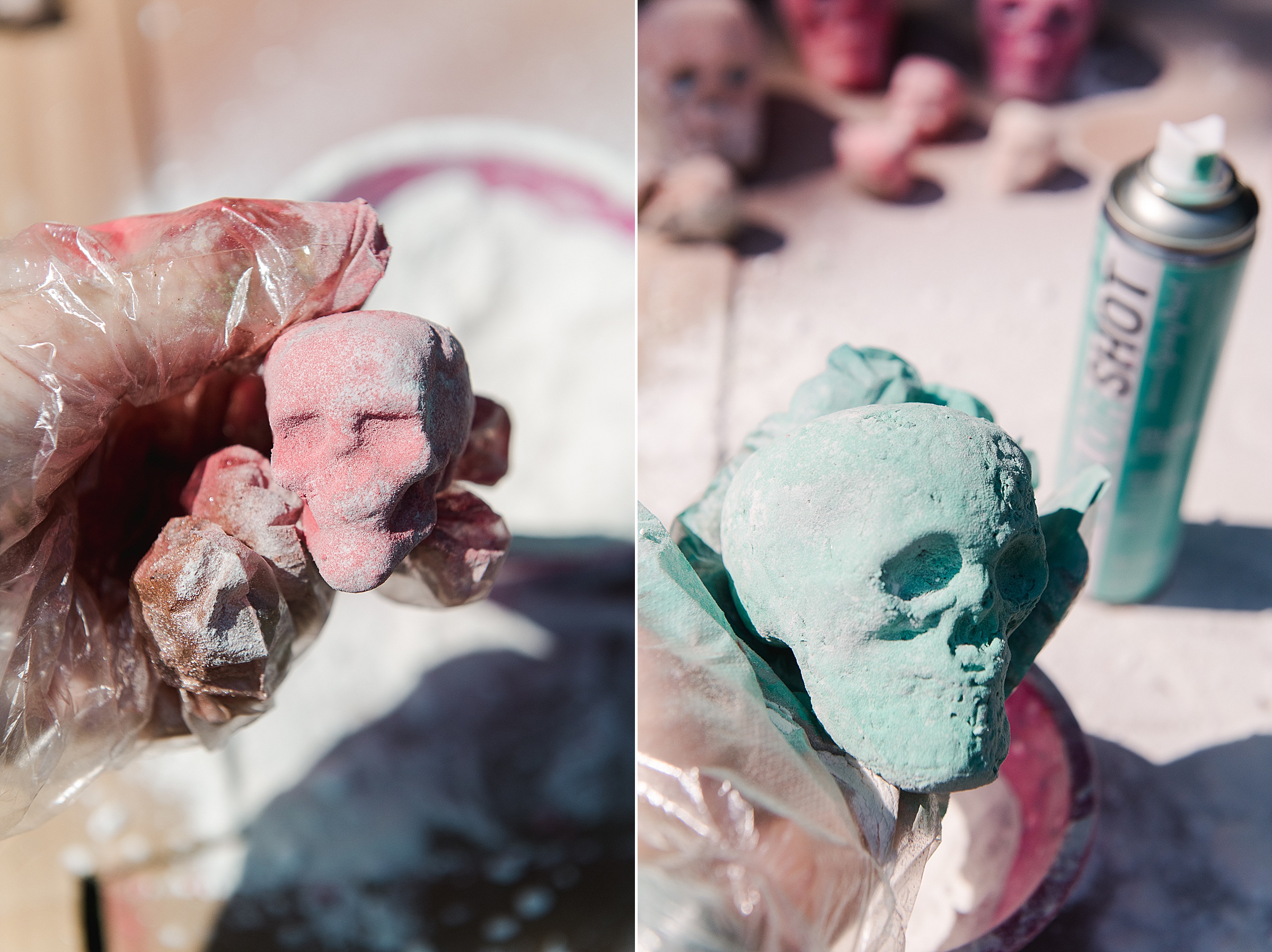 Here are some tips when faux flocking:
Be sure that you are wearing a glove so that when you're holding your skull, your hands aren't getting sprayed 🙂 
When spraying, be sure to hold the can 2-3 inches away from the skull to get that beautiful, even coat of paint. 
ADD THE FLOCK MIXURE RIGHT AWAY to the paint – the paint must be WET in order for the mixture to stick 🙂 
I have experimented with blowing off the excess flour/baking soda mixture right away after applying or letting it sit and blowing off excess after the spray paint has dried – you can play around with this to get the proper "thickness" of flock that you are hoping for 🙂 
Overlapping spray paint and flocking won't make it look wonky – it's almost necessary that you overlap each area as you spray-flock, spray-flock the skulls so don't get hung up on one area that has too much paint – Colorshot spray paint coats SO WELL that I have never had an issue with one area looking "more colored" or gloppy (NEVER!) 
With the small skulls, I held the skull in my hand and sprayed and then dropped the skull into the bowl of the flocking mixture. It seemed to work better than trying to hold onto the tiny skulls! HA!

note/tip: if you are using plastic, it may be a good idea to rough up the surfaces with some sand paper to get some grit to the plastic for the paint to stick better. Not necessary, but if you find the paint not sticking it's sometimes a result of a shiny, plastic surface underneath.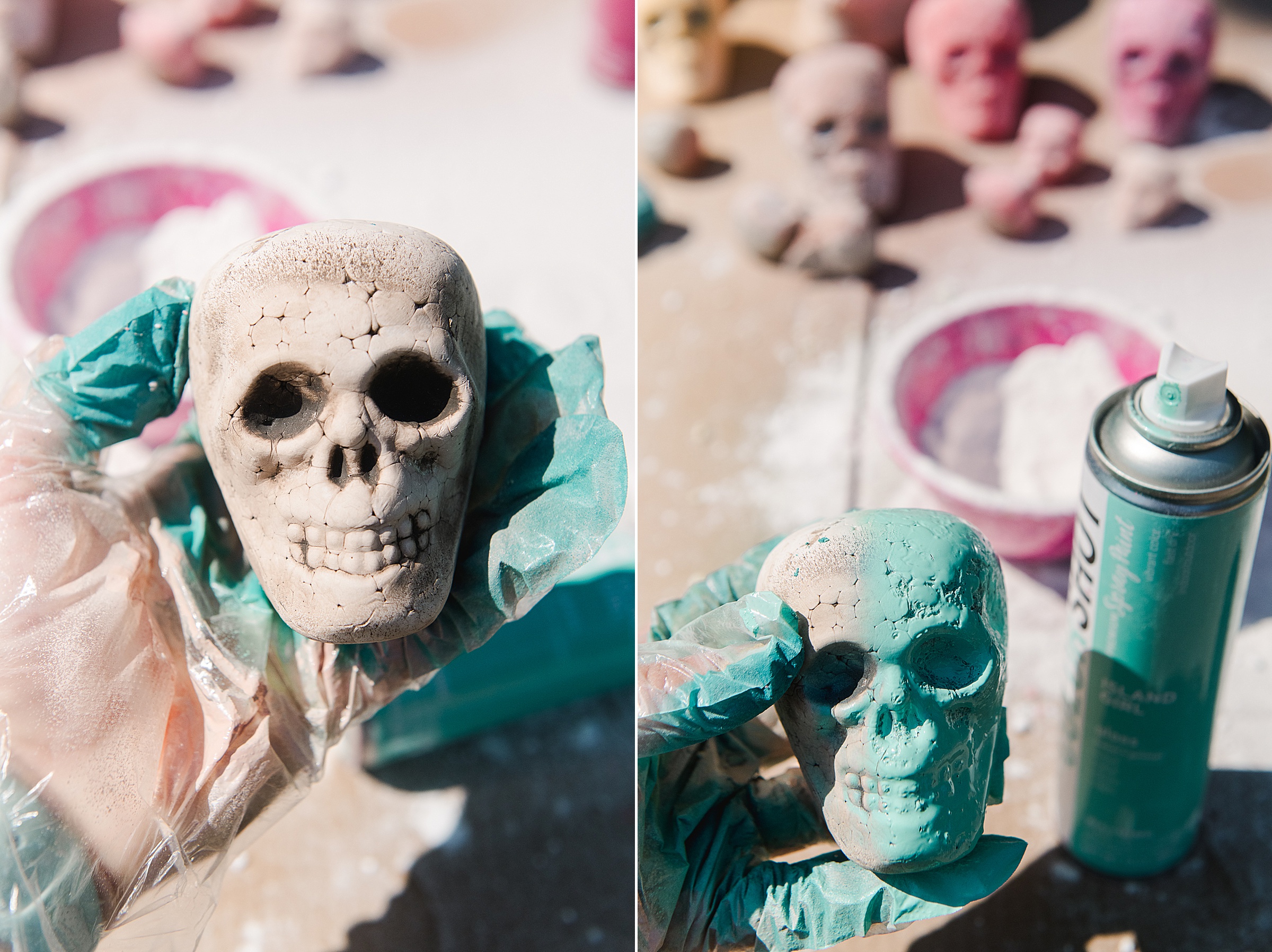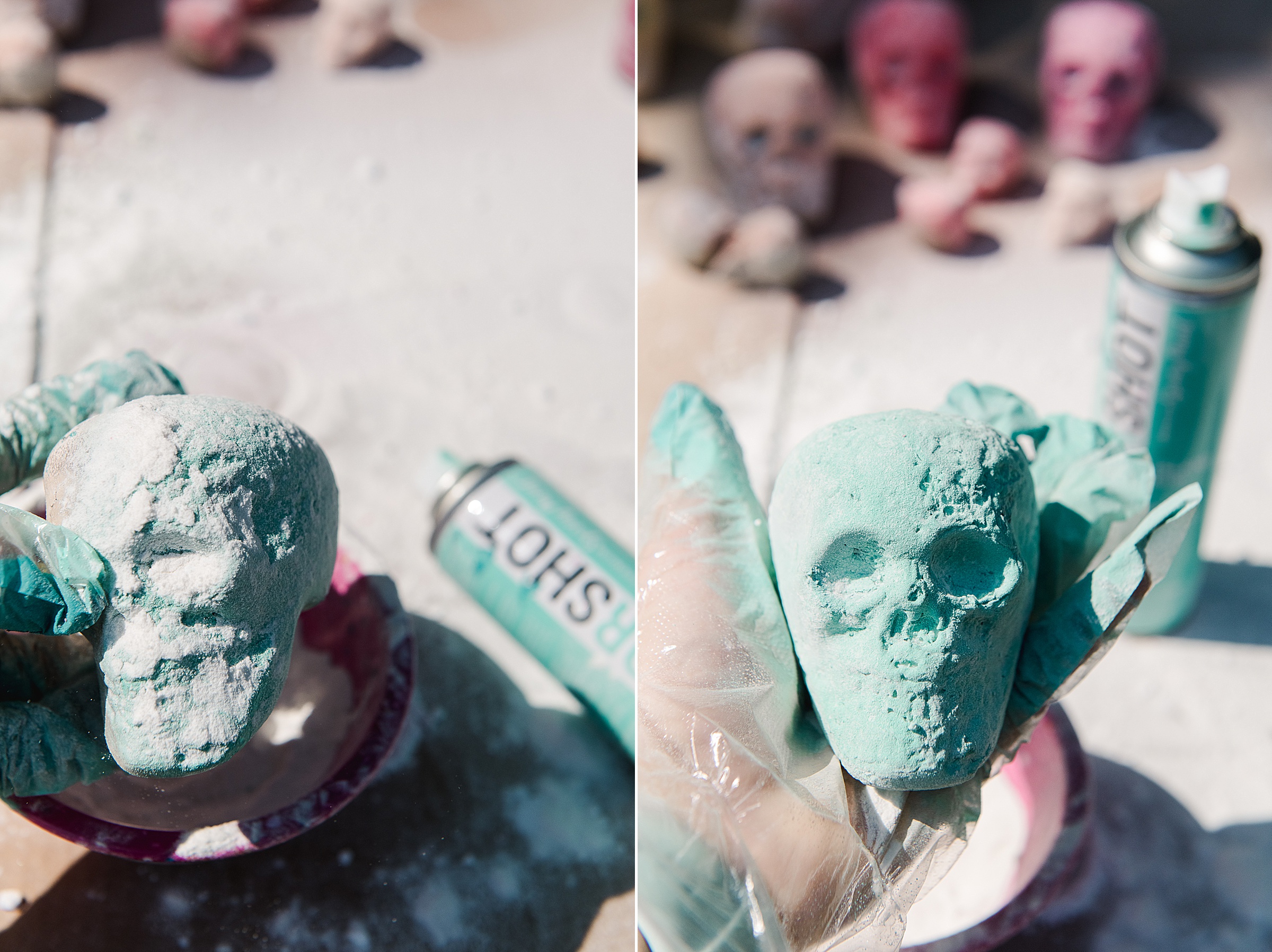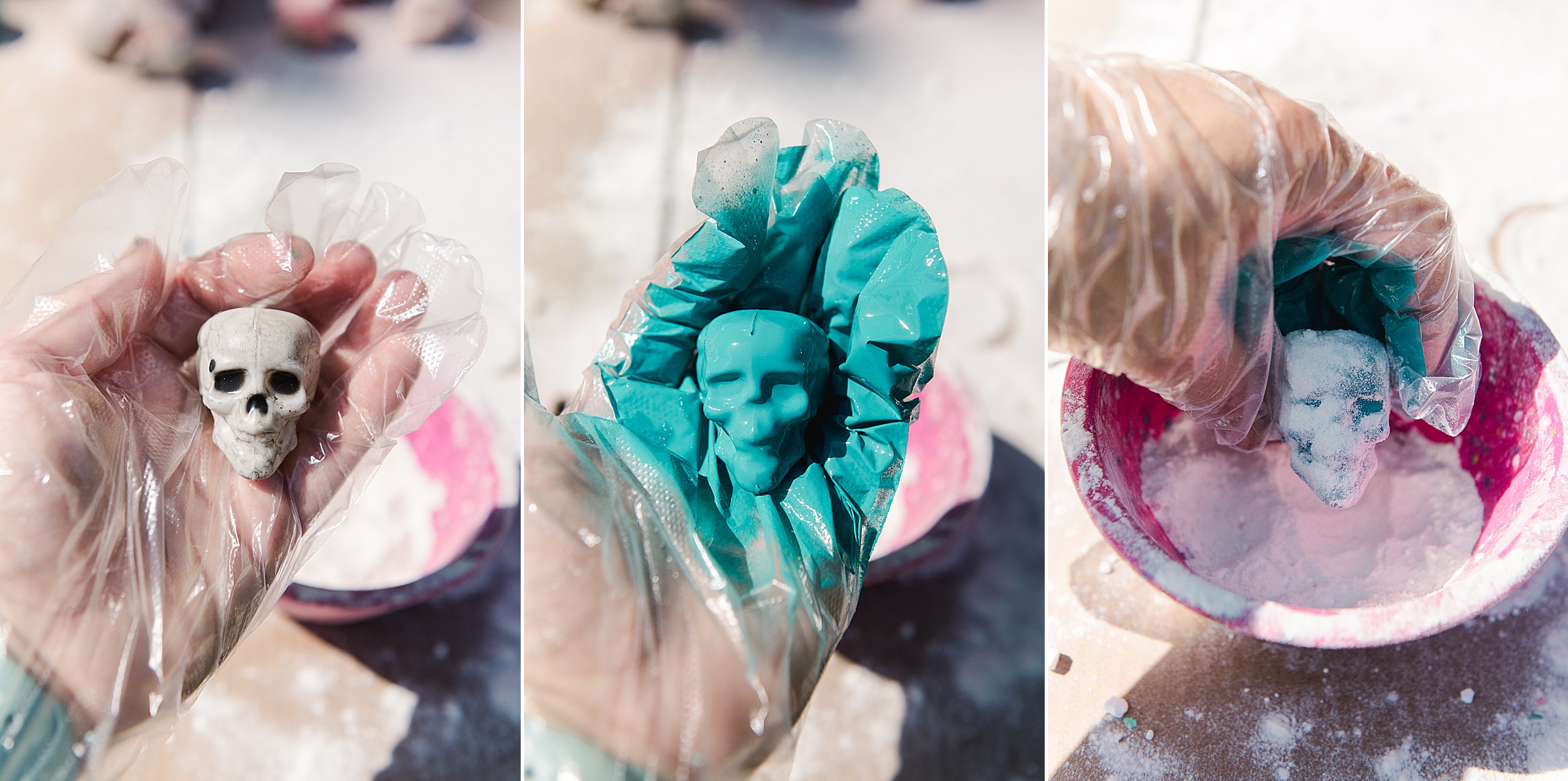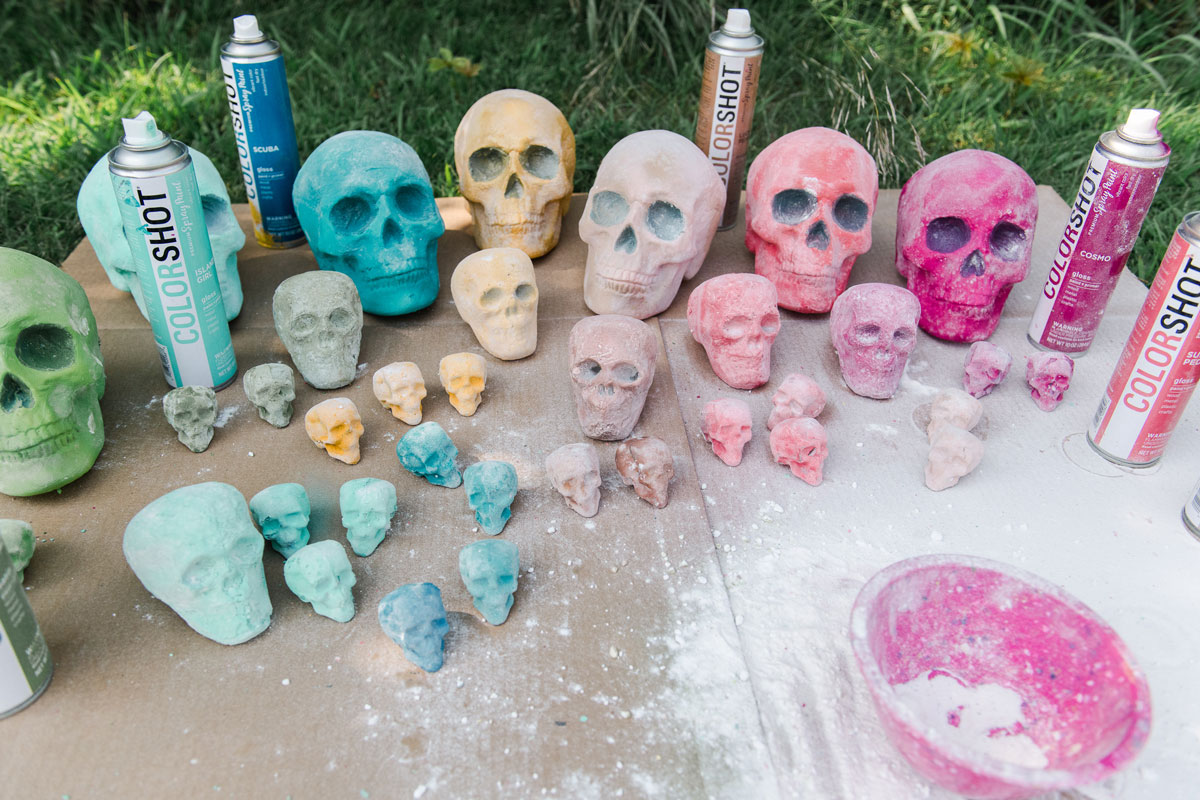 5. Once you have everything sprayed and flocked, it's time to let them dry for a bit. I let mine sit out for about an hour and then I checked them to be sure they were just as lovely as I wanted them to be. (At this point, if you wanted to add more paint-flock, you absolutely could).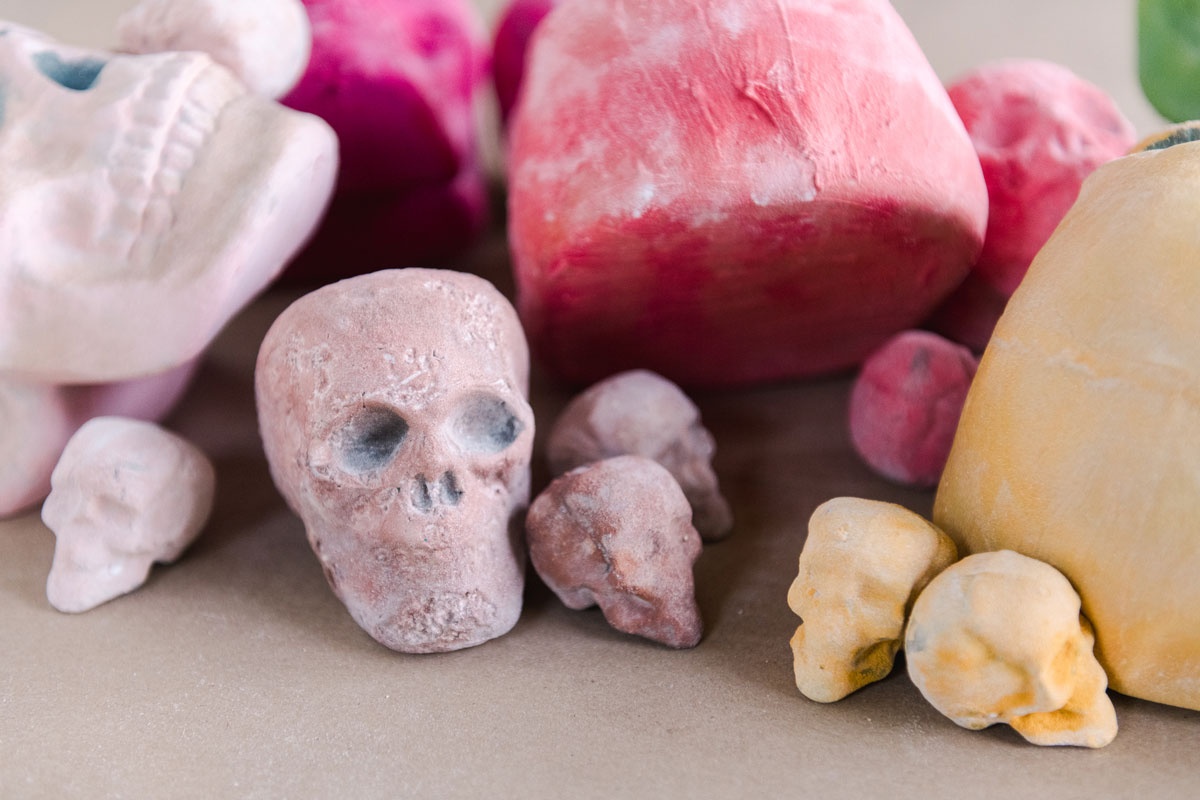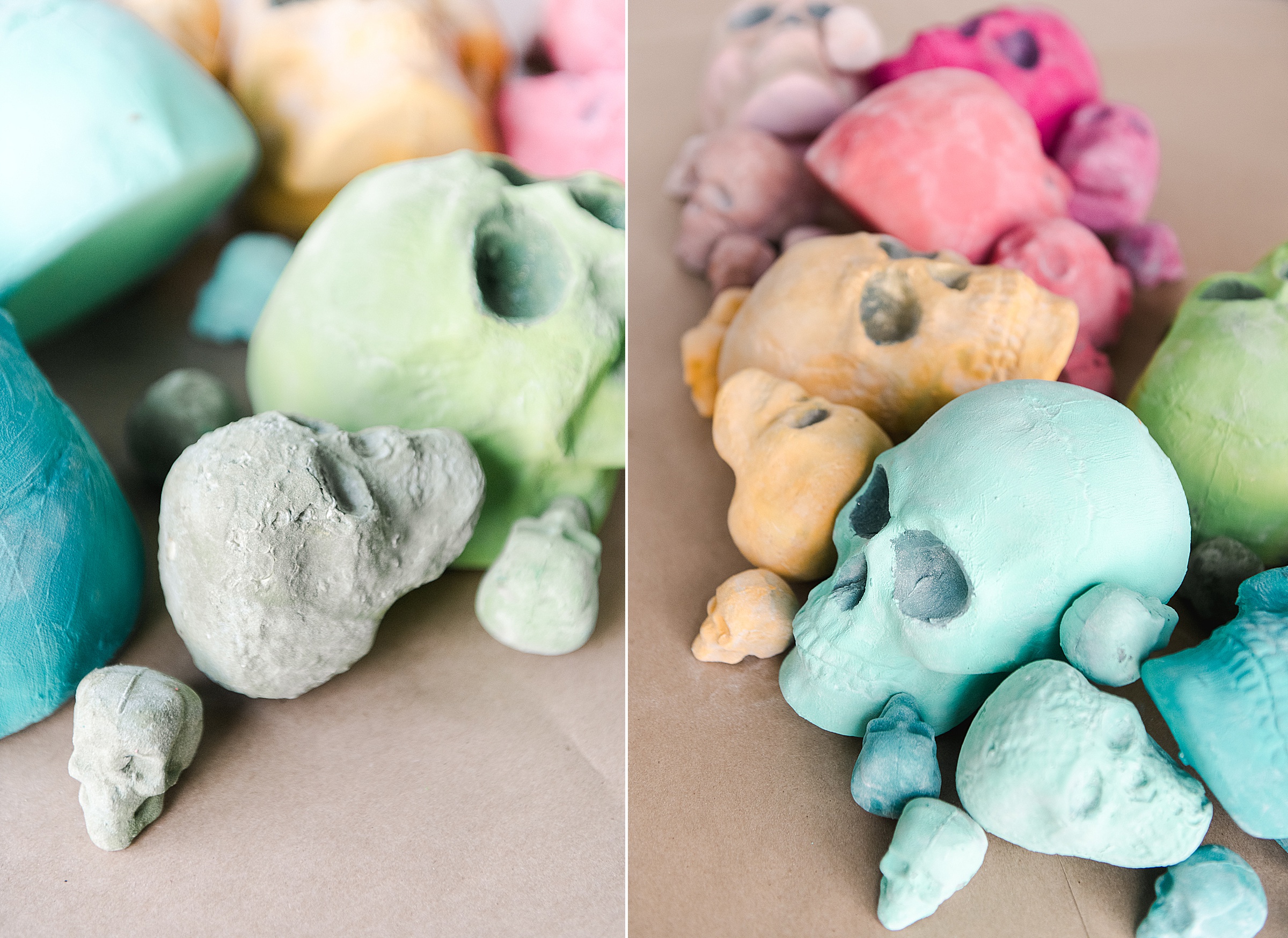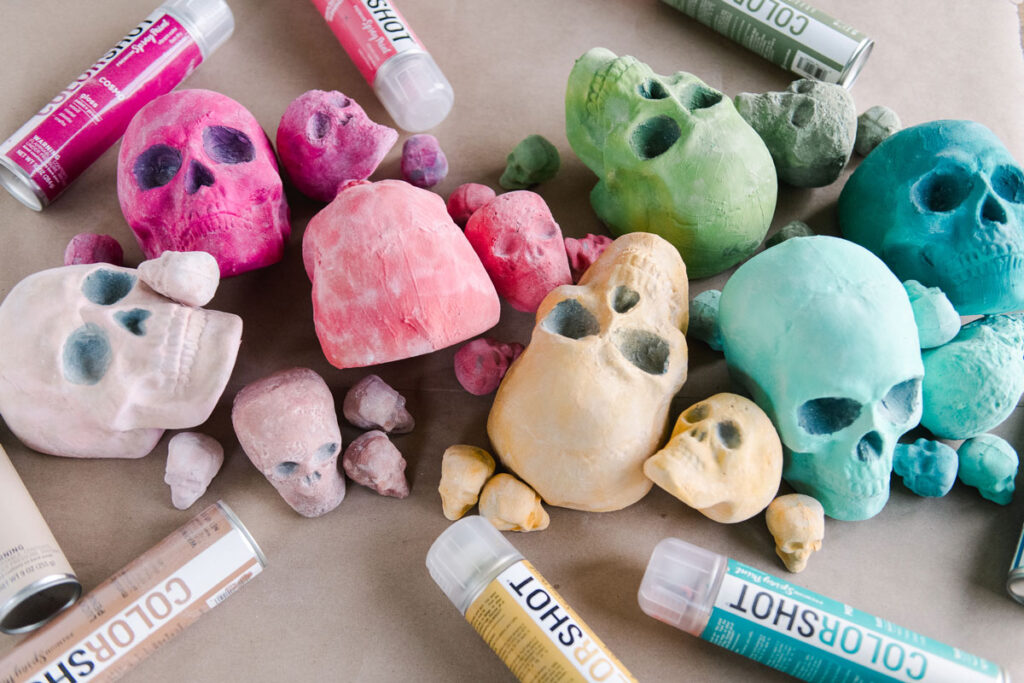 And now it's time to display your amazing DIY work ANNNNNNND think about how you an faux flock your next holiday items to add color and texture! 🙂 YAY!