My top 5 Olympic Party ideas + DIYs! :)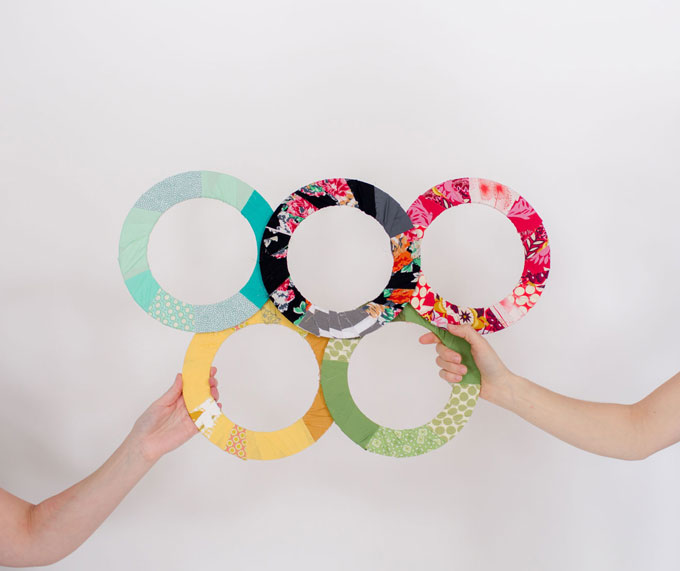 If you know ANYTHING about me, you know that I absolutely LOVE LOVE LOVE (like LOVE with a capital "L") the Olympics. The stories. The competition. The Mom's crying in the stands cheering on their hard-working, beloved kids. The winning. The emotions. The medal count. The coverage. NBC. ALL. THE. THINGS!!!! Do ya feel me!??! 🙂
So, DUH…….of course I throw an olympic opening ceremonies party! Every year. It's like a tradition on the Steffen household! 🙂 Its on the calendar for the next 40 Olympics already (ok, maybe that's an exaggeration, but you get the idea that we clear our schedules and make this a BIG priority)! 🙂
I've put together some great DIYs + party ideas + my TOP 5 things to make your Olympic opening ceremonies party the best ever this year!! AND, be sure to follow along on INSTAGRAM to see some additional projects that I will be making and pulling together as the day comes closer…WEEEEEEEEE! 🙂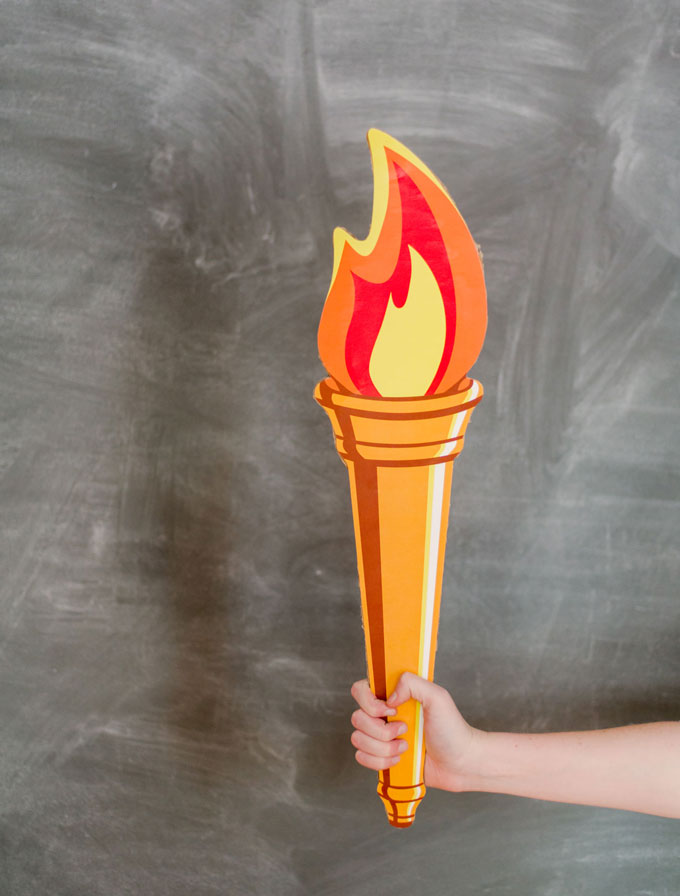 First thing is first.
ONE | MUSIC! Because don't you just feel like standing up and fist pumping with tears in your eyes when you hear the "olympic song"?!?!? Because the answer should be YES!
I put together a little OLYMPIC party tunes playlist on Spotify….feel free to follow or download the playlist HERE! 🙂
TWO | ATTIRE! 🙂
I mean, who doesn't love a future Olympic athlete, amiright? (although, disclaimer…..this photo was for the summer Olympics a few years ago, but change out her tank top for a leotard and she EASILY could be a figure skater in training)! 🙂 Scrounge up some leggings,an oversized sweater and some earmuffs. Or grab some leotards, mittens, leg warmers and fluffy, knitted hat. Anything that screams bobsledding or skiing or skating or luging……..remember the more spandex, the BETTER! 🙂
ORRRR, you can always snag one of our "DO YOU BELIEVE IN MIRACLES" shirts or "The Olympics are on shirts" from the oh yay studio shop! 🙂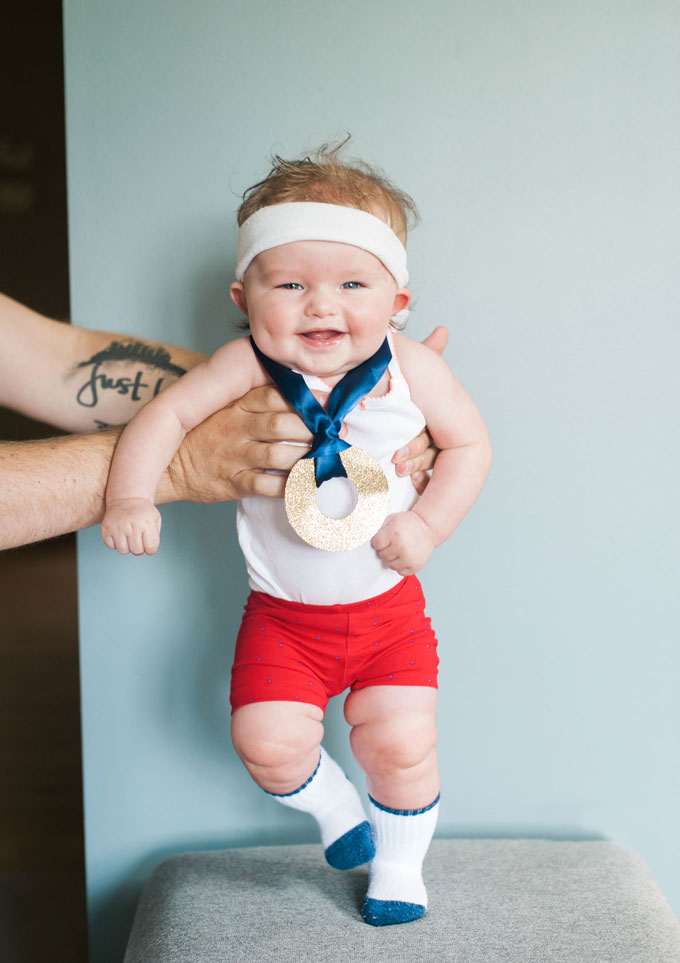 THREE | OLYMPIC RINGS! 🙂
SO! I admit…I've wanted a non-cheesy Olympic decoration for our home for a LOOOONNNNNNGGG time! 🙂 SO! DUH! I made one. Some cute, Olympic rings to hang in our kitchen near our chalkboard medal count (more on that later)! 🙂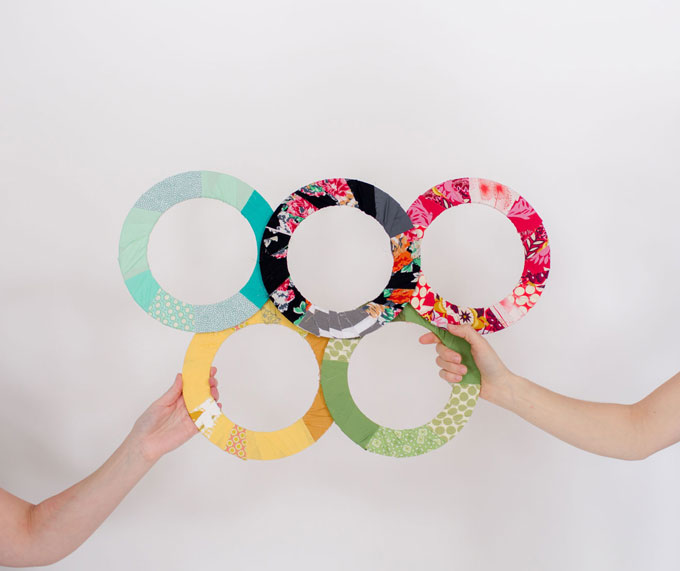 Supplies:
Floral Craft Rings
Fabric Scraps (in the "olympic colors")
Glue gun and glue
Instructions:
1. Sort through the fabric scraps and choose the red, blue, green, black and yellow colors. Rip any scraps into longer, skinny scraps (I would suggest no wider than 1 inch in width, and as long as you'd like)
2. Start each ring with one scrap. Put a dab of glue on the ring, adhere the scrap and let the glue harden. Then pull (semi-tight) to start wrapping the fabric around the ring…adding a dab of glue at the end of the fabric scrap to adhere it to the ring.
3. Overlap scraps and continue wrapping fabric until the entire ring is covered 🙂
4. Lay the rings out in order, overlapping some, and glue together as shown in the final photo! 🙂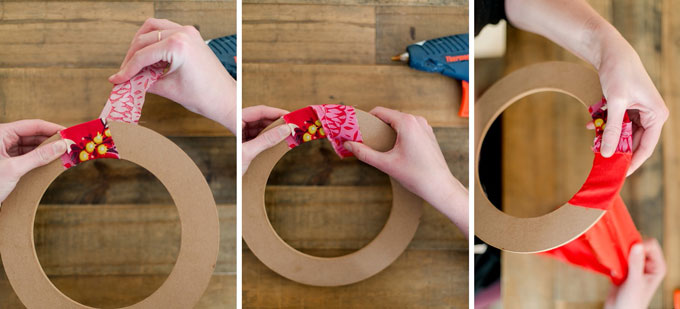 FOUR | DESSERT! (yum, the cutest cake EVER)! 🙂
Who doesn't love a happy RED, WHITE, and BLUE cake to make the games official? 🙂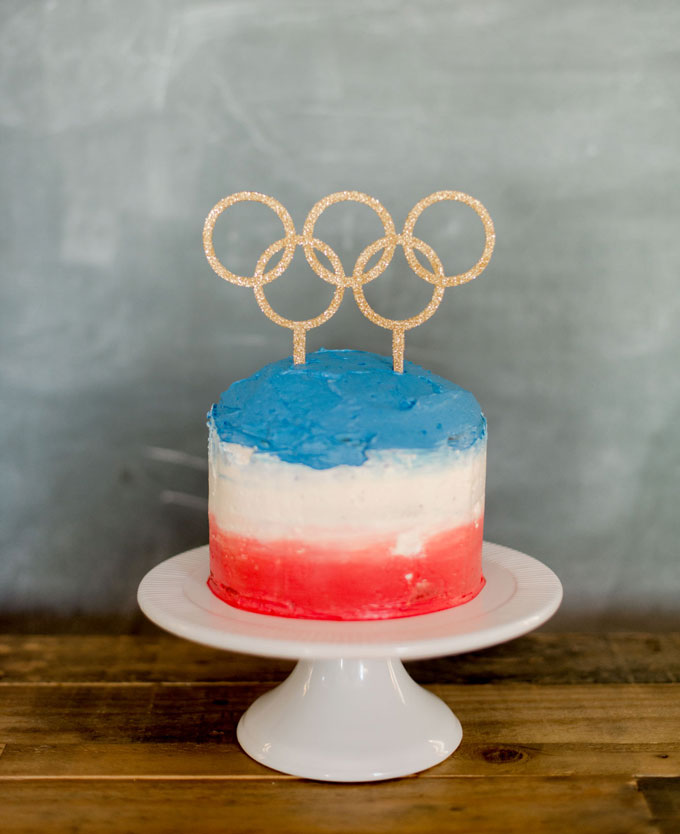 DIRECTIONS:
1. Bake your yummy cake (tip for fast and ease: Use a boxed cake mix and add an extra egg + swap out the oil for butter, YUM!) 🙂
2. Mix frosting (my fave frosting is 2 sticks of room temperature butter whipped for 3-5 min + 1/2 cup of powdered sugar + a splash of almond extract for the yummiest flavor)
3. Portion out the frosting into thirds (one red, one white and one blue). Add food coloring and mix to desired colors! 🙂
4. Begin with white in the middle and "thickly" (if that's a word) slap the frosting onto the cake. Don't worry about it being perfect, you want it to ombre up and down towards the other colors, so the perfection doesn't matter! 🙂
5. Do the same with the red and blue frostings. Again, don't worry about messiness.
6. Smooth out the frosting with a knife filling in any portions of cake that are uncovered. Make sure the frosting is thick enough around it's entirety.
7. Use a cake smoother to run around the outside of the cake to smooth it out and perfect the "ombre" look. Smooth out to your desired look and then stand back smile. Then add an awesome Olympic cake topper for the perfect finishing touch! 🙂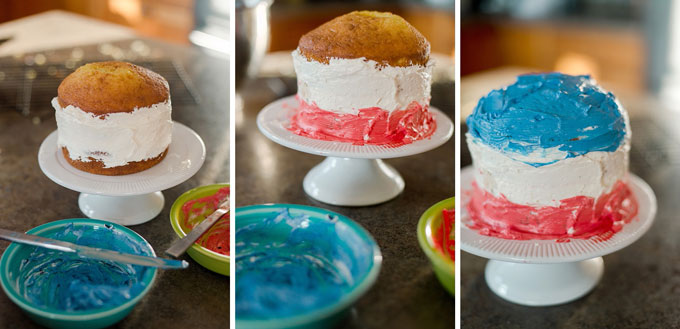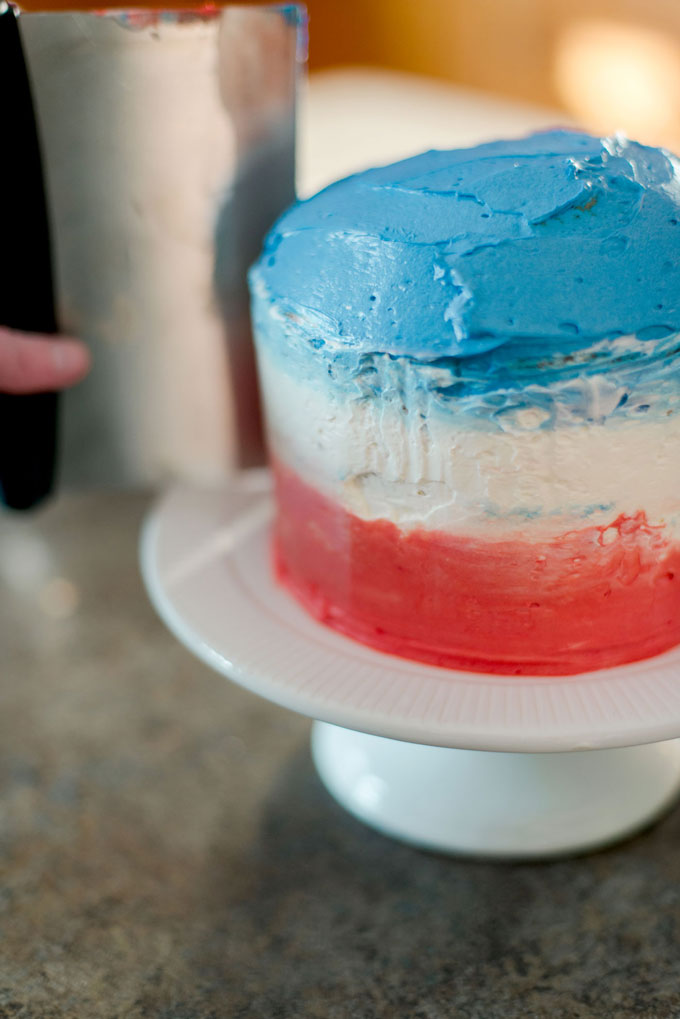 FIVE|Pics to remember the night by!
Because everyone FOR SURE wants to remember the epic emotions of chanting "USA USA USA" together….my plan to to snag some awesome Instax photos of my friends to share with them for their fridges after the night ends. I love sending snail mail (and receiving it)……..so I want to take some pics (and they will be Instax Polaroid style), scan them in and then mail them to my friends after the games. Theres something so nostalgic about having printed photos to bring a warm smile to your face, and what better way than from a fun party with friends, eh?! 🙂
Watch along on Instagram, how we pull this off exactly…..but the Polaroid are ordered and the ideas are flowing! 🙂
CHEERS to the games friends! We are counting down the minutes until we see our athletes march into that opening stadium! 🙂
Oh, and don't forget to follow along on instagram for all of the extra goodies I will be whipping up as the games approach!!!!