Introducing the summer of HOMEMADE ice cream sandwiches + Strawberry Graham ice cream sammie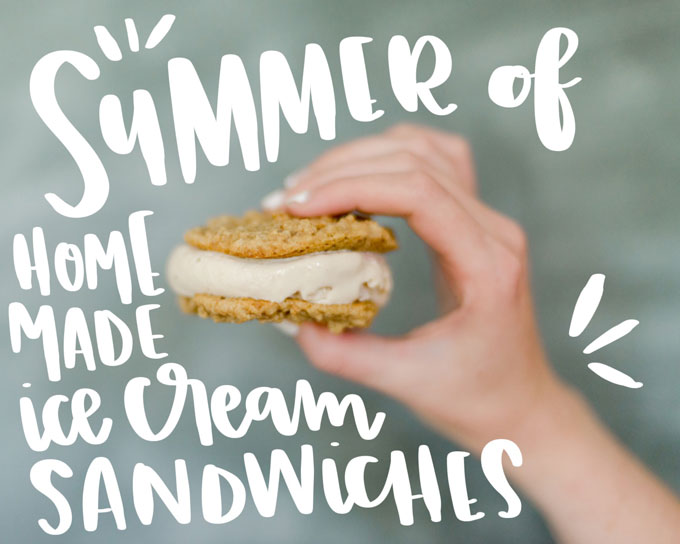 Recently my son has been into cooking shows, particularly the Spring baking championship on the Food Network! 🙂 SOOOOOO! One day he asked if we could do some competition of our own…..we chatted a bit and came up with the idea of a cooking CHALLENGE for our summer! And guess what we landed on?!?! A wholllllle summer of homemade ice cream sandwiches! YUP! Ya heard me. Zeke came up with a HUGE list of flavor combinations that he wants to try (and let's be honest, he is five, so some of these flavors need some "tweaking"…..like the Mango Coconut peanut butter ice cream with a chocolate chip, caramel cookie). But we are SO SO SO SO SO SO excited to embark on this journey and share ALLLL of our homemade ice cream sandwich recipes as we go! 🙂
These are our "Rules" that Zeke and I established:
1. Choose a new flavor combo every week
2. Have the MOST FUN POSSIBLE while making the ice cream sandwiches
3. Share our process with pics and recipes and everything NO MATTER the outcome (because, duh this is about the process rather than perfect, Instagram worthy photos)! 🙂
**oh, and I plan to use hashtag #ohyayicecreamsammie in social media so that you can follow along! 🙂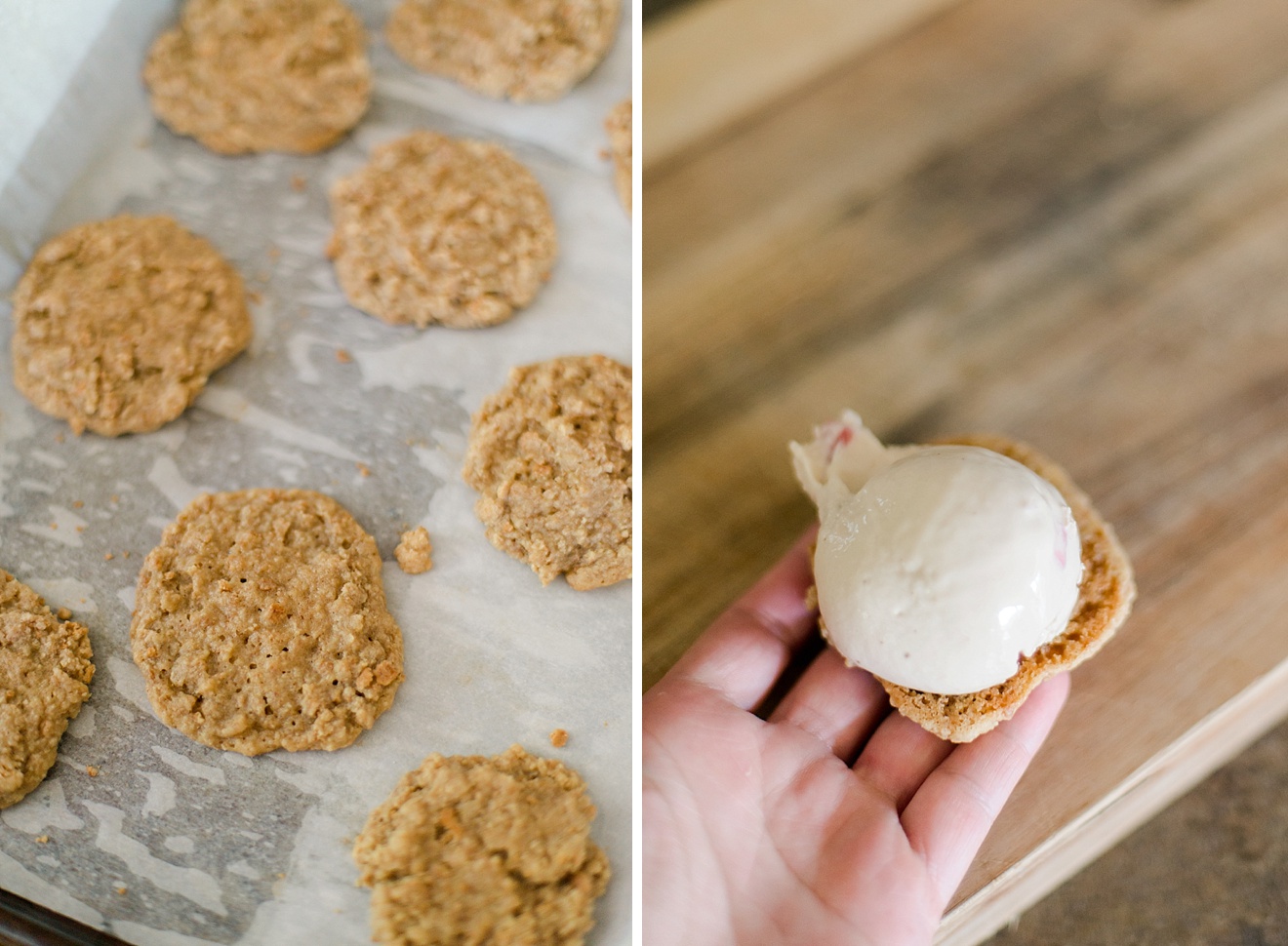 SOOOOOO! I have to be honest and say we've already learned SO much this first week! We chose a fresh strawberry ice cream and paired it with a (SUPPPPER yummy) graham cracker cookie for our first attempt! 🙂 We have our ice cream "base" recipe down pat….and now it's just about adjusting and adding and changing things up to make it the best and yummiest ice cream to include in a homemade sandwich recipe! 🙂
Now, let's just say that if we made this recipe again, I would FOR SURE "roll" chopped up fresh strawberries around the outside of the ice cream sandwich to give it one more "umph" of strawberry flavor! But mannnnn oh man, this is one gooooood recipe! 🙂
Be sure to grab the recipe below AND follow along this summer with our WHOOOOOOLLLLE summer of homemade ice cream sandwiches! 🙂 I really REALLY can't wait to see how this all turns out! 🙂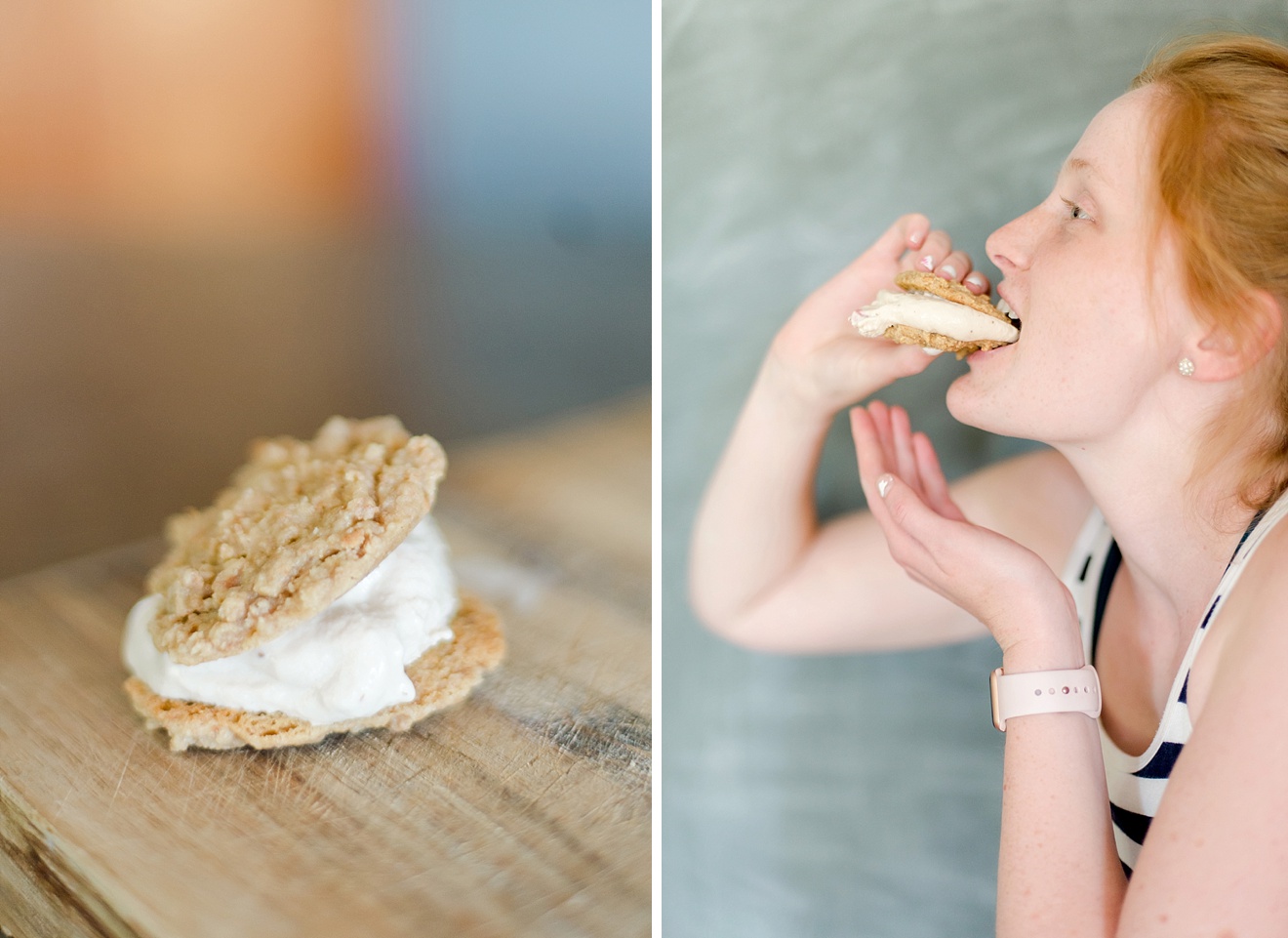 Strawberry Graham Ice cream sammie
A fresh Strawberry ice cream recipe with a SUPPPPPER yummy graham cracker cookie that is perfect for EVERY summer get-together! 🙂
Servings
:
8
finished cookies
Ingredients
Strawberry Ice Cream:
2

cups

cream

1

cup

milk

2/3

cup

sugar

splash of vanilla

1/8

tsp

salt

1

container of strawberries

6

egg yolks
Graham Cracker cookies:
1/2

cup

1 stick butter, room temperature

1

cup

brown sugar

2

teaspoons

vanilla

1

egg

1 1/2

cups

graham cracker crumbs

3/4

cup

all purpose flour

1/2

teaspoon

baking soda

1/4

teaspoon

salt
Instructions
Strawberry Ice Cream
In a small pot, simmer cream, milk, sugar, and salt until the sugar and salt dissolves (approx 3-5 min)

In a separate bowl, whisk together the 6 egg yolks until combined

When the mixture on the stove is ready, add about 1/3 of this hot mixture to the whisked egg yolks whisking constantly as to not curdle the yolks. Then whisk the yolk mixture back into pot with cream. Return the pot to the stove until the mixture reaches about 170 degrees on the stove (or thick enough to coat the back of a spoon)

Strain the hot mixture through a fine strainer into a bowl

Puree or blend 8-10 strawberries, then stir this into the hot mixture.

Cool mixture in the fridge for about 4 hours, or until cool. Then churn in your ice cream maker according to the machine's instructions.

Dice up the remaining strawberries and add to ice cream in the last minutes of churning!

Put back into freezer and freeze until desired hardness
Graham Cracker cookies:
Preheat oven to 350 degres.

In the bowl of a stand mixer, cream together the butter and sugar until creamy.

Beat in the vanilla and egg until well combined.

In a medium bowl, combine the graham cracker crumbs, flour, baking soda, and salt. Gradually add to the butter mixture until just combined.

Using a medium cookie scoop, drop balls of dough onto a parchment lined baking sheet. Bake for 7 minutes. Cookies will look slightly underdone, but should set up nicely as they cool.
Recipe Notes
The graham cracker cookie recipe (minus the chocolate chips)  is from the AMAZING buns in my oven blog! 🙂 
https://www.bunsinmyoven.com/graham-cracker-cookies/