Simple air fryer donut recipe + our summer of donuts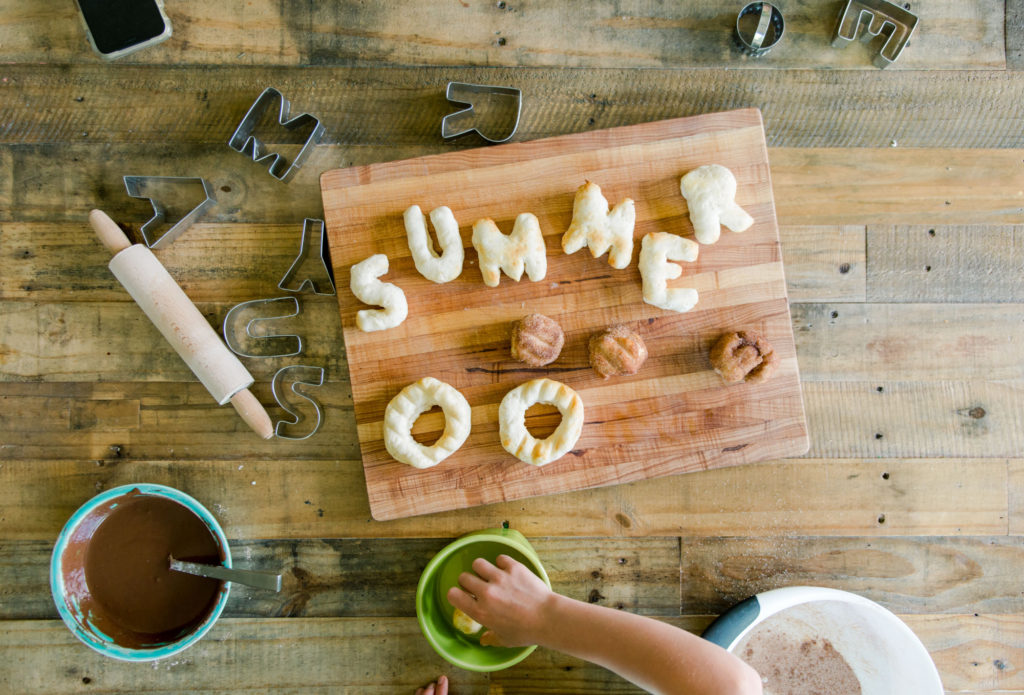 If you followed along last year, then you know that my son, Zeke, and I tackled a wholllllle summer of homemade ice cream sandwiches. Each week we would look at our list of flavor ideas and pick out an idea and get stared with the ice cream base and the cookie (or brownie or waffle or donut……..). It was a GIANT success IMO…..I mean, who doesn't LOVE a whole summer of tasting yummy cookies and perfecting our ice cream base recipe!? 🙂
SOOOOOOO! This year, Zeke asked to do it again! AND since we have been trying to nail down our best and most favorite homemade donuts for the past few months, what better way than to make the the SUMMER OF DONUTS?!?!?! 🙂 We have our flavor ideas on a big list and will tackle our recipes each week……some with fillings, some with add-ons, some with a simple classic flavor. Our goal is to walk away from this summer with fun in the kitchen and some sugary treats in our tummies! 🙂 And today, I started off this big adventure (he has a sleepover from the last day of school, so he wasn't much help and I decided to kick this off with a fun-ol-bang) with a simple, *literal* 15 minute EASY air fryer donut recipe using store-bought biscuits.
(like for real, you can whip this up and wow your family in less than 20 minutes)! 🙂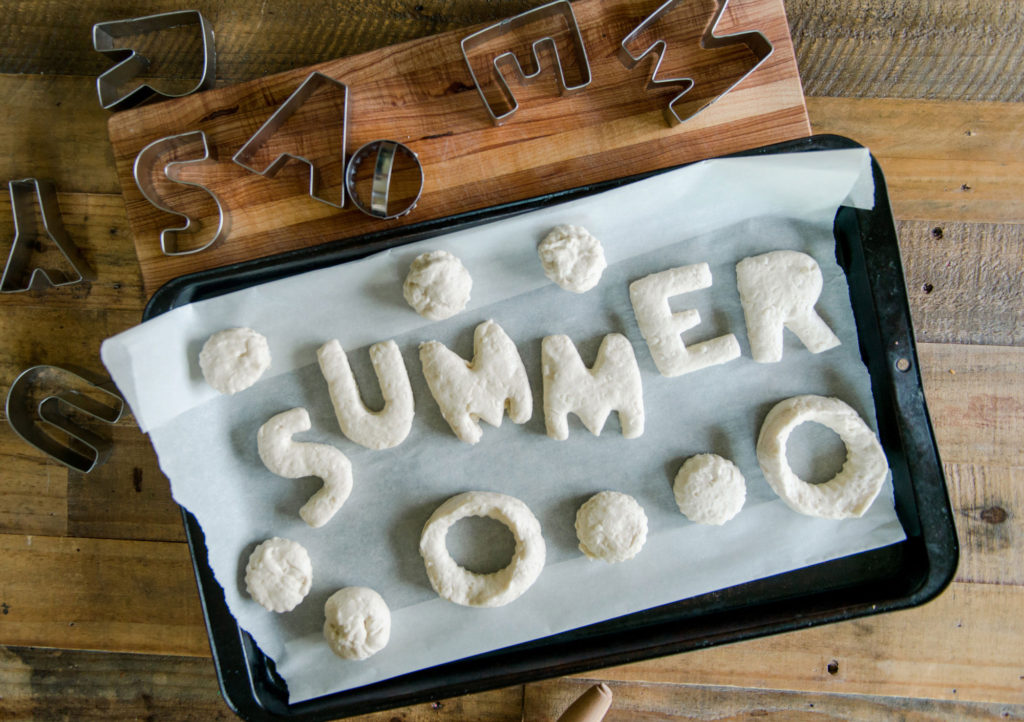 These EASY biscuit air fryer donuts are GOOOOOOOOD! We've been testing out yeast air fryer donut recipes and those are like just one step below the fluffiness and softness of these (I am DETERMINED to *NAIL* our own homemade recipe soon though)! And do I even have to mention just how easy it is to simply pull the dough out of the fridge and get to frying right away?! 🙂 Like, SO EASY! 🙂
So, next time you are at the store, I suggest you grab a few packages of these Pillsbury Grand biscuits so that you can pull them out and make them whenever the inspiration strikes! 🙂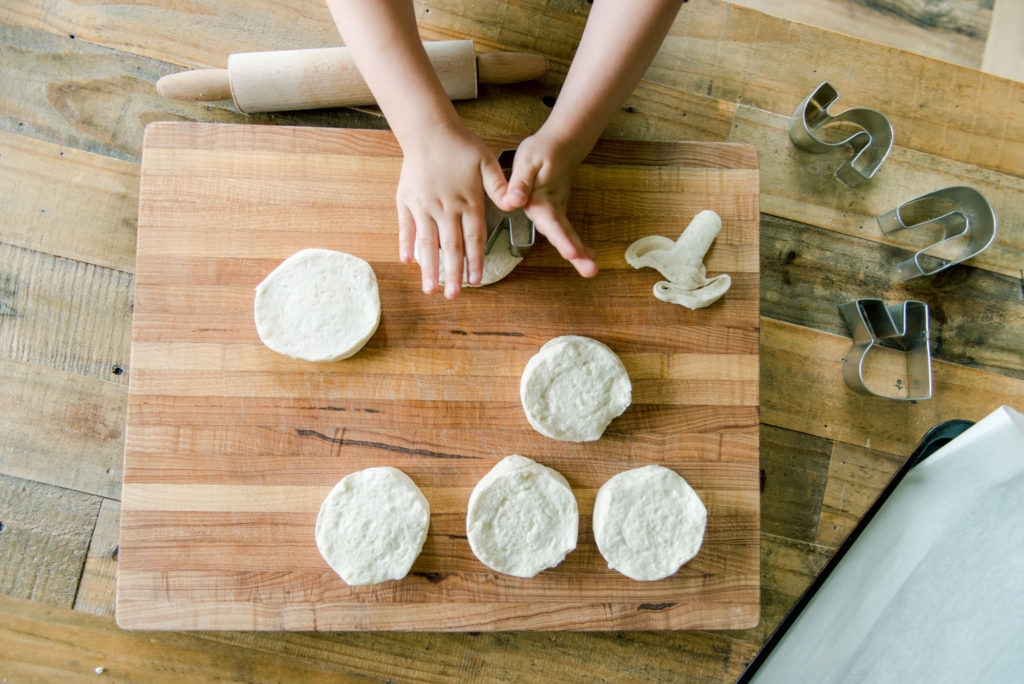 **NOTE, we decided to roll the dough out just a bit so that the cookie cutter letters could fit, this step isn't necessary if you are just making regular circles and donut holes 🙂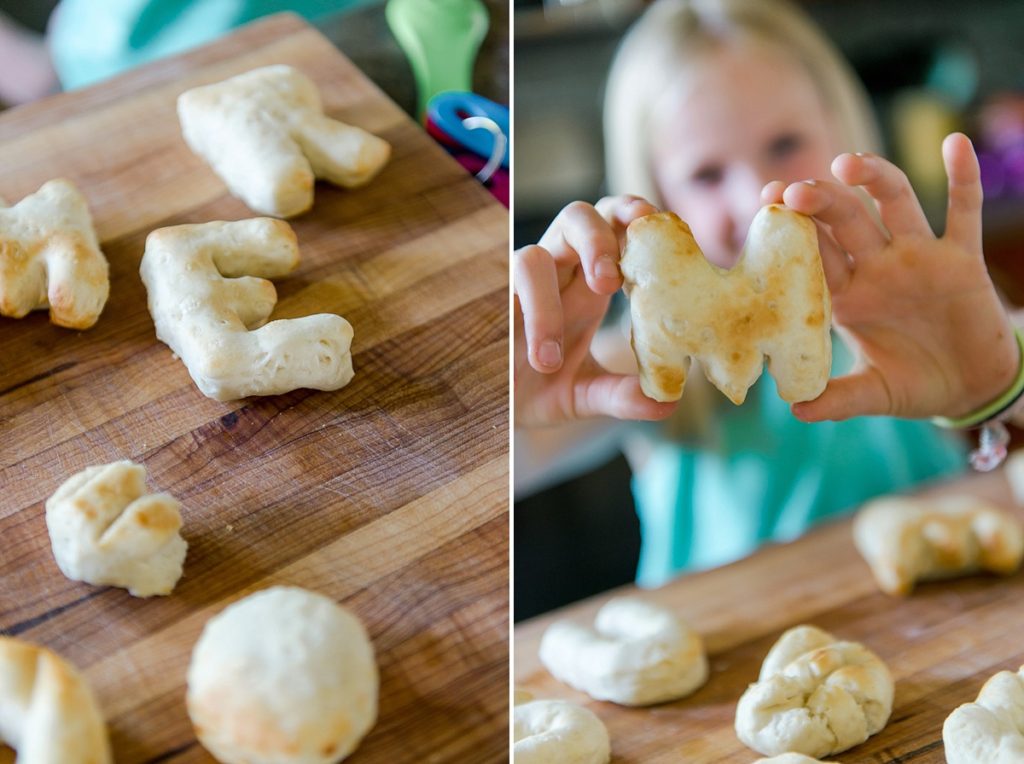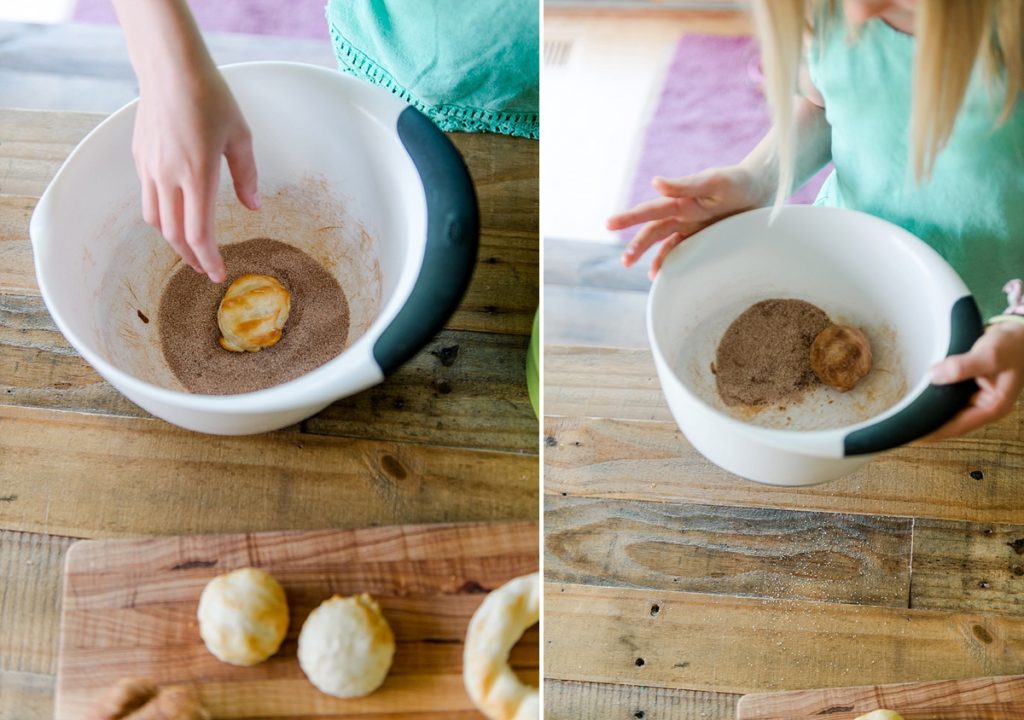 Easy air fryer donuts
Use store-bought biscut dough to make delicious and SUPER EASY air fryer donuts!
Ingredients
1

package

Pillsbury Grand Buscuits
Dark Chocolate glaze
2

tbs

cocoa powder

1

cup

powdered sugar

2

tbs

almond milk

(or any milk of choice)

1

splash

vanilla or almond extract
Cinnamon/Sugar coating
ground cinnamon

granulated sugar

4

tbs

melted butter
Instructions
Pull donuts out of the container, lay them on a cutting board and cut to desired shape. You MUST cut them at least with a round cutter (donut hole) out of the center because the entire biscuit WILL NOT cook in the fryer all the way through with the right consistency.

Prep your air fryer by turning it to 350* and spray your fryer basket with non-stick spray.

Place enough donuts in the fryer leaving enough room around each so that they have a chance to "puff up" and cook without touching. Cook until just golden brown on the edges.

(Note that each air fryer is a bit different. Ours took 3-4 minutes at 350* with the Ninja Foodie. ANNNNNND also note that the first batch alway takes just a touch longer, because everything is reaching tempterature inside the fryer).
Make glaze/coating
To make the cinnamon sugar coating: mix ground cinnamon and granulated sugar together in a larger bowl. (mix almost equal parts, with just a bit more sugar than cinnamon)

Melt butter in a smaller, microwave safe bowl.

Once the donuts are cooled, roll them around in the butter and then toss with cinnamon/sugar mixture! 🙂

To make chocolate glaze: sift your cocoa powder and poweded sugar together in a bowl (IMPORTANT step to make sure your glaze isn't lumpy). Then mix in your milk + extract until the conistancy is thick, but "dipable".

Once the donuts are cooled, dip them by turning them upside down and dipping the top in and out of the chocolate glaze. ANDDDD you can even allow the glaze to set and dip a 2nd time if you are ambitious and can wait without gobbling them up! 🙂