Halloween, to me, is filled with handmade costumes – the tradition dates back to when I was a little girl in my Mom's sewing room in awe of what my Mom was sewing/creating per my request! And ever since having kids, I have done the same for my kids and to my beaming surprise, they have *almost* become more "into this" than I have! The kids trade off years for deciding on what we will all be and this year it was decided that we would be our fave movie-watching candies! I mean, because COME ON, sweet candy and salty popcorn are *literally* made for one another! 🙂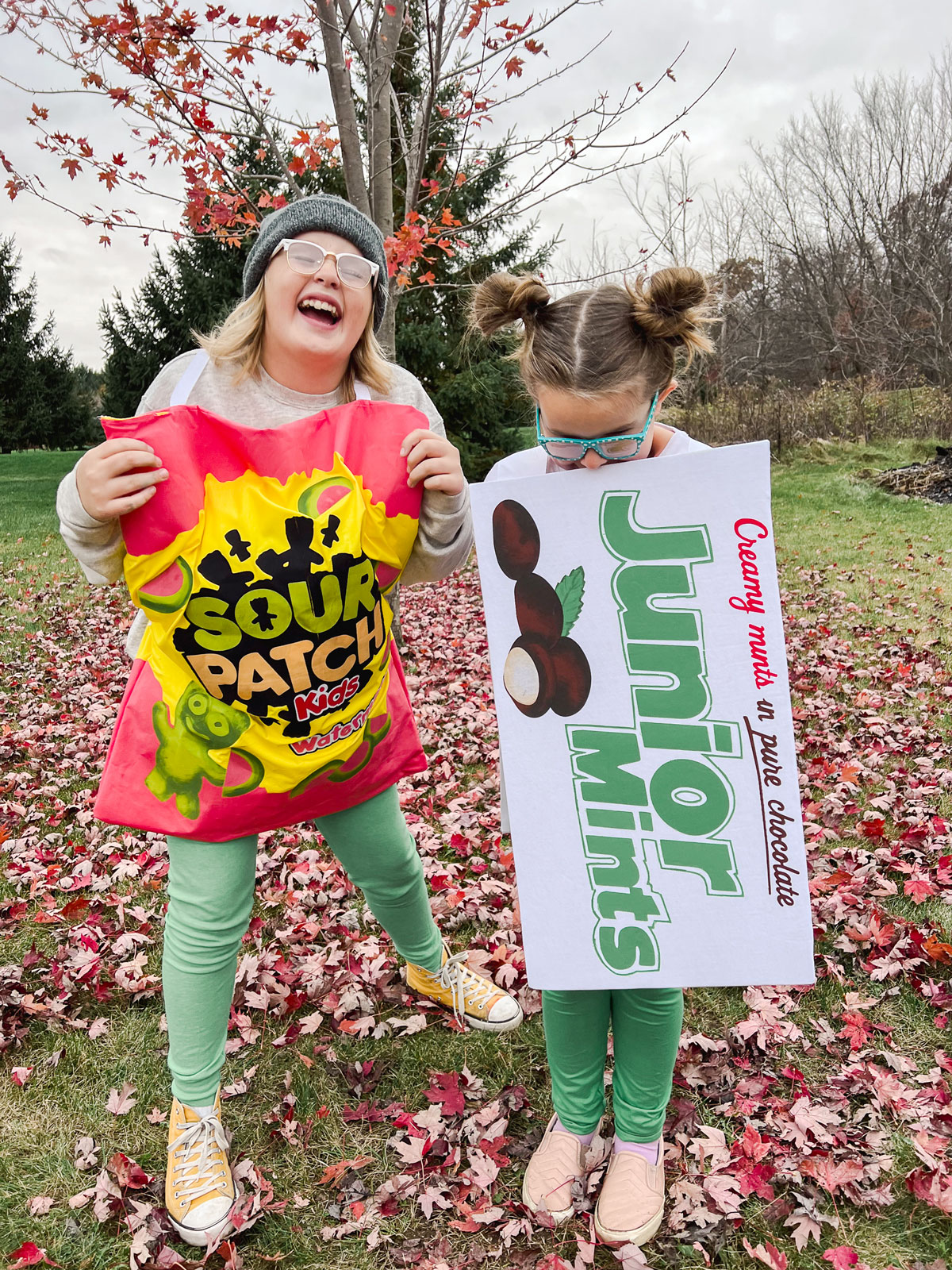 Zeke requested to be a bag of Sour Patch Kids (specifically the watermelon ones because apparently those are *THE BEST* according to him)!
Esther wanted to be Junior Mints (her fave)
My husband, Aaron, loves salty more than sweet to his request for movie night is always a nut roll
And I LOOOOOVE LOVE LOVE me some Milk Duds!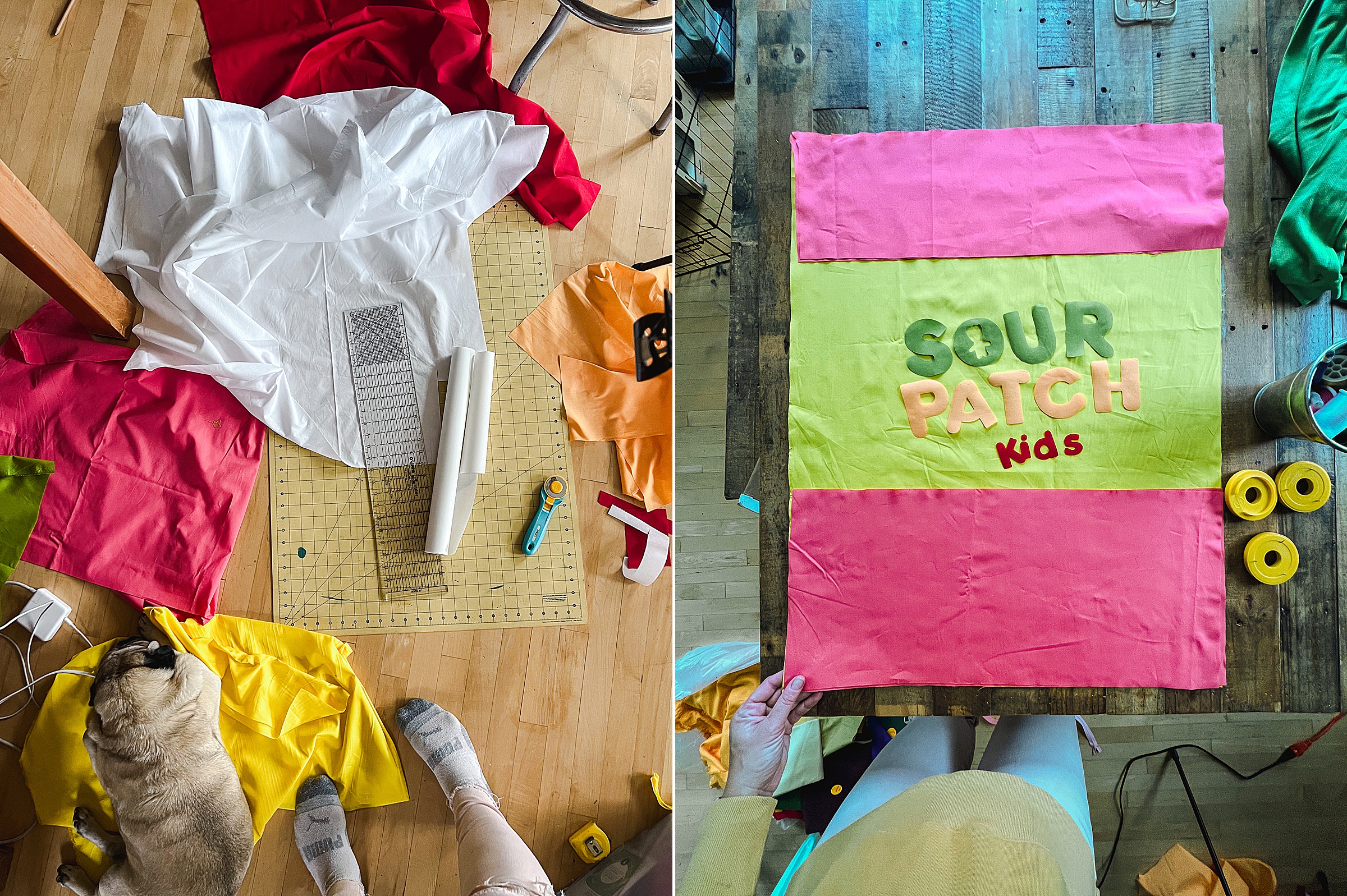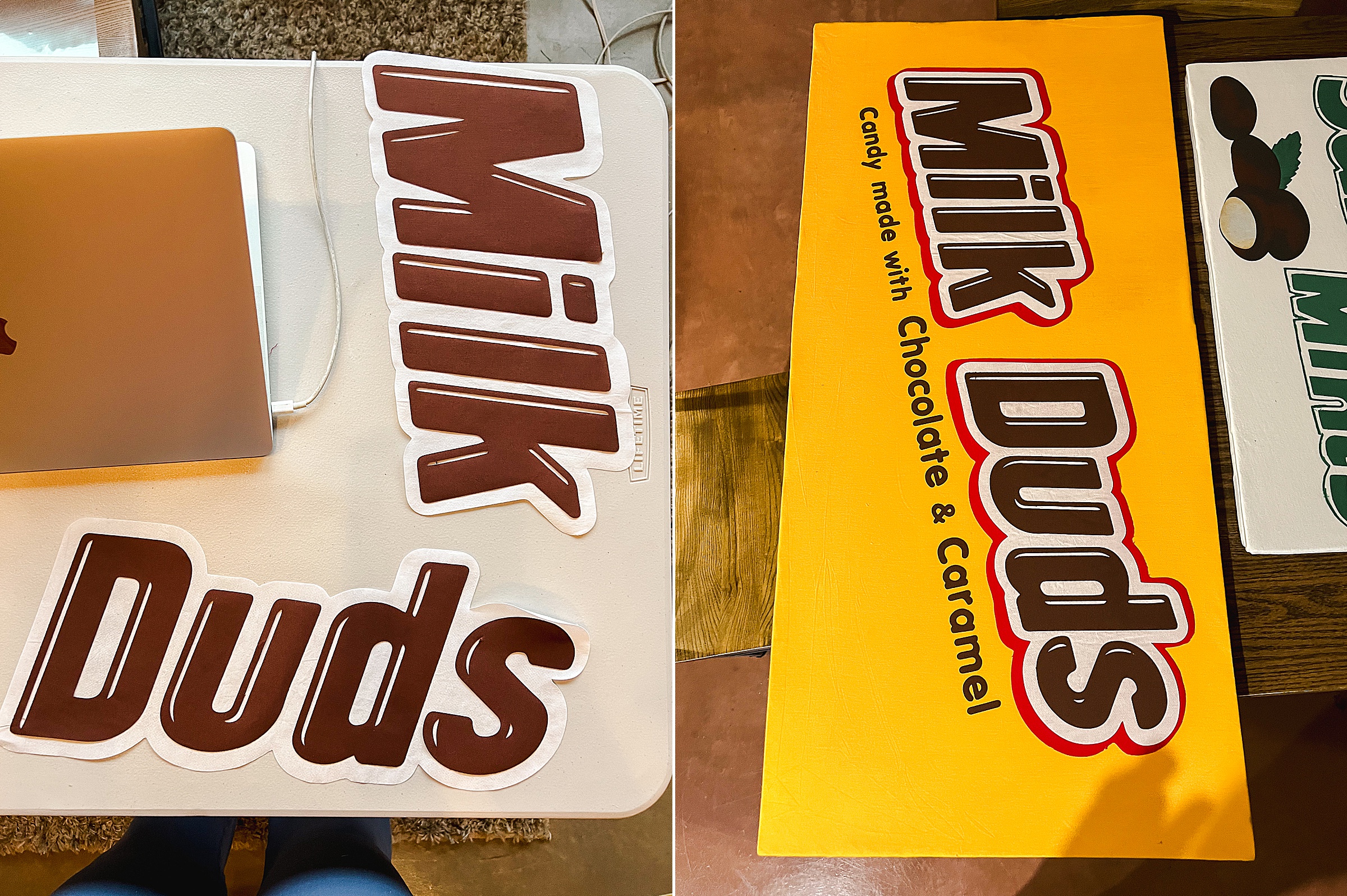 SOOOOO to the fabric store I went. Each costume was mostly made of fabric. Basically I measured what size the costume needed to be on each person (smaller for Esther, the Junior Mints and larger for Aaron, the nut roll). Then I measured how big (as best as I could to the smallest amount) that each "element" needed to be on the costume – the lettering, graphics, etc!
The main part of each costume was made from fabric. The measured lettering, graphics and details were all drawn out on my iPad (with the Procreate app and apple pencil) and cut on my Cricut from fabric with iron-on interfacing on the backside. This made it SOOOOO easy to just iron each element onto the fabric. I painted the nuts, nut roll, most of the elements on the Sour Patch bag and the junior mint mint leaf and mints (painted also onto fabric with interfacing on the back).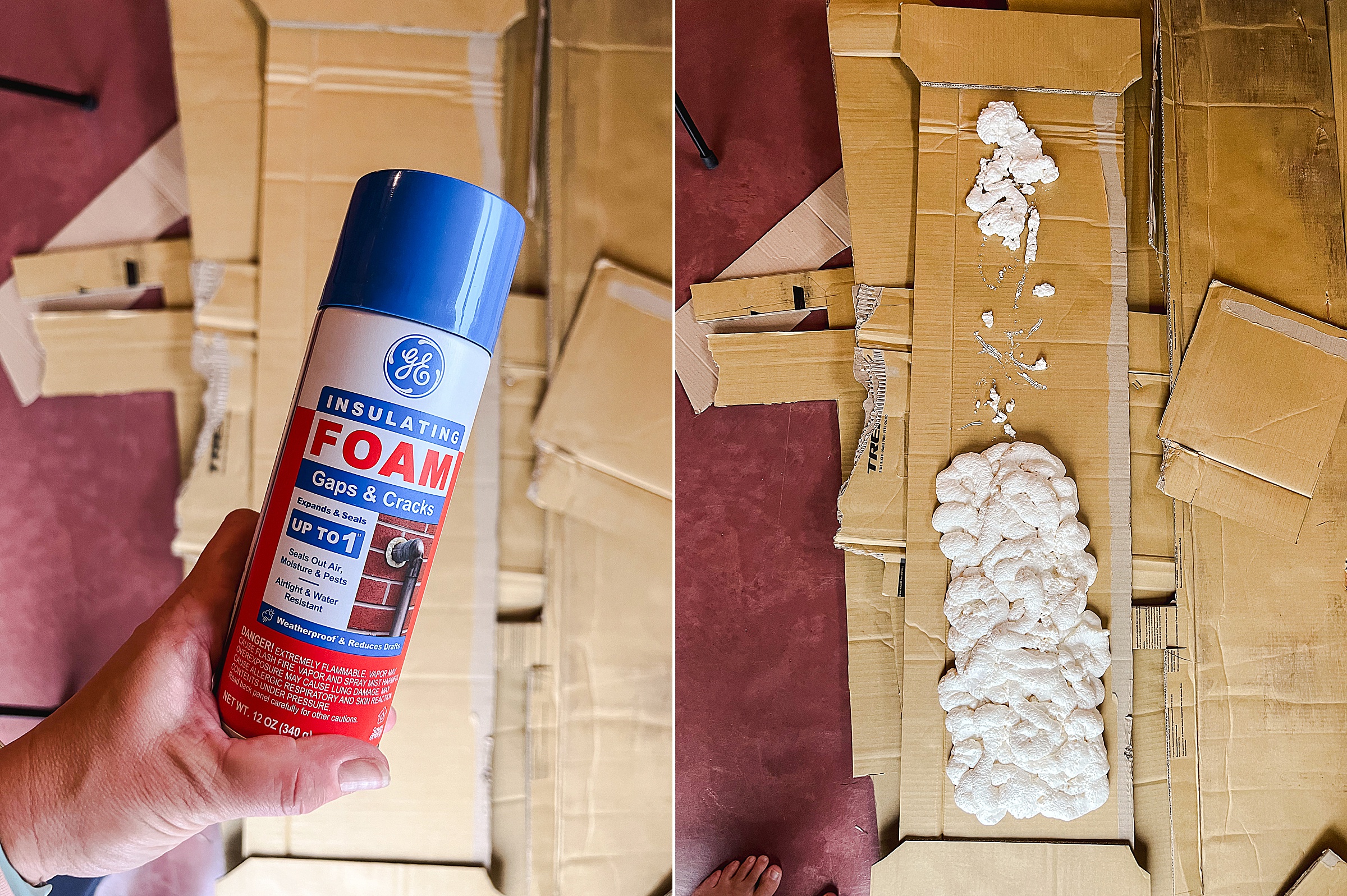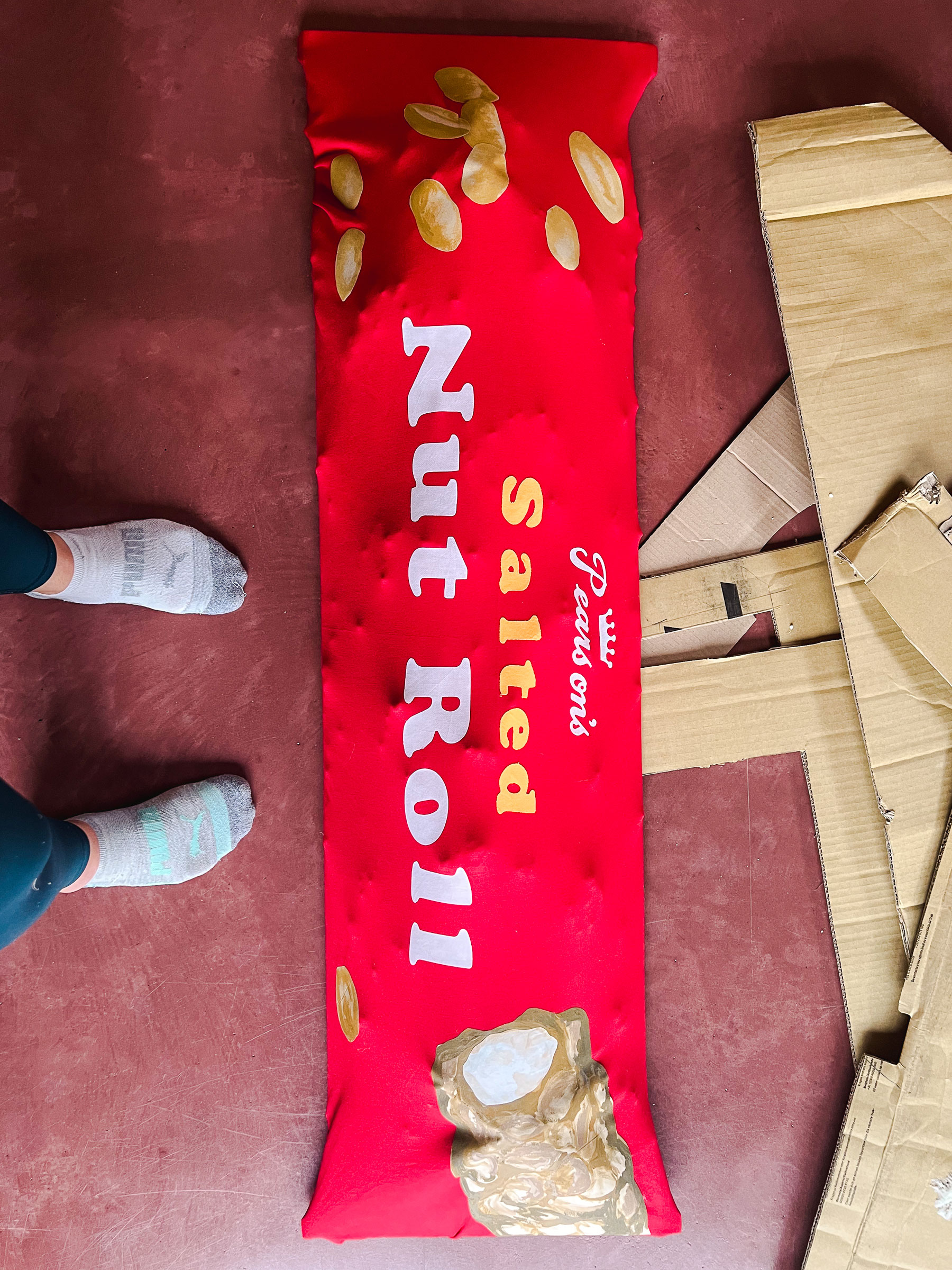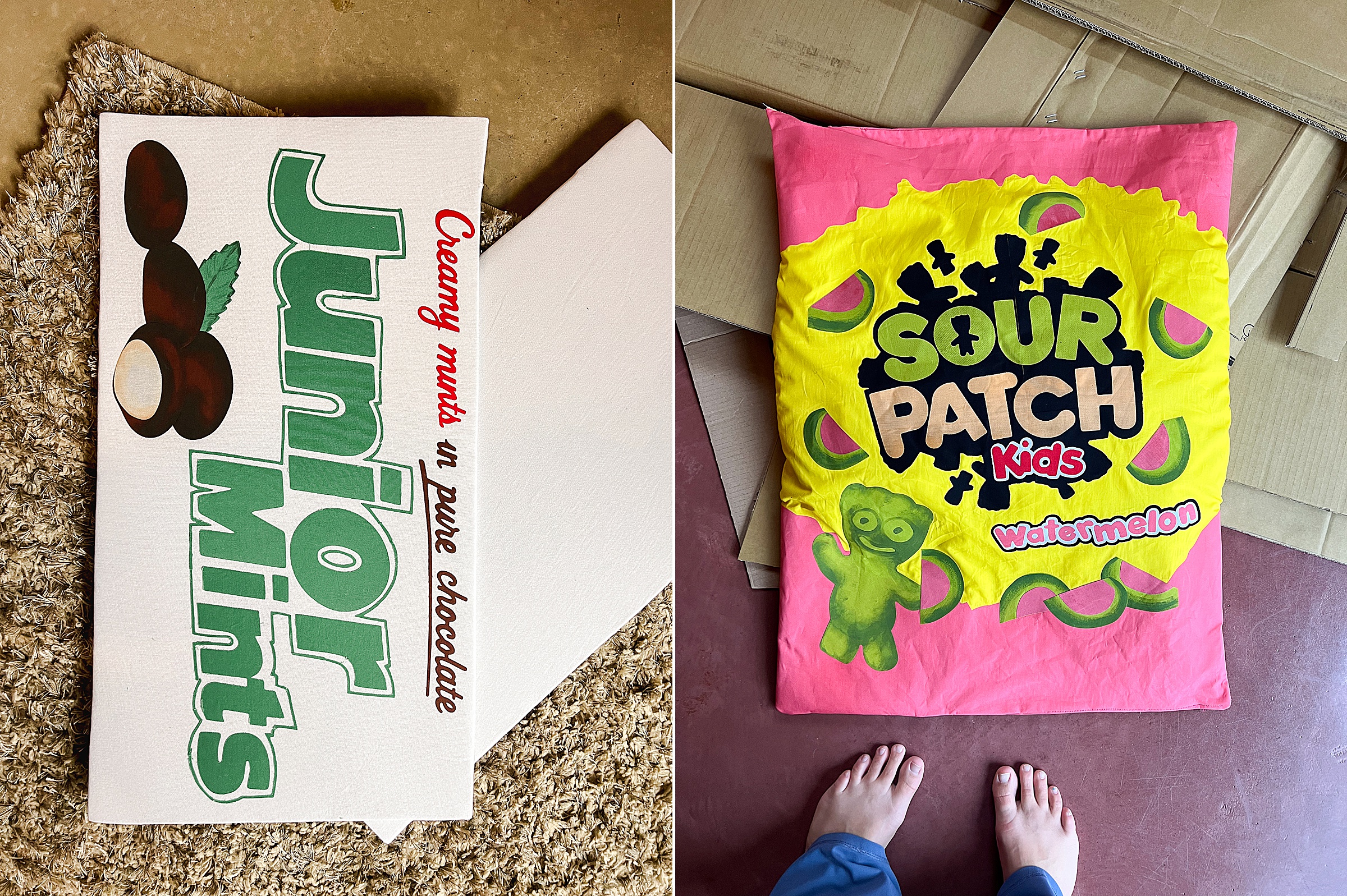 I then just hot glued the Junior Mints and Milk Duds onto boxes cut to size (basically sandwich boards with ribbon going over our shoulders). The Sour Patch kid bag was 2 pieces of fabric for each side of the bag with batting in the middle to make it "puffy". ANNNND the nut roll (one of my faves) was spray foam hardened onto cardboard with the fabric hot glued over top – this worked out so well because it was light weight but gave the bumpy and textured illusion of the actual nut roll under the fabric! 🙂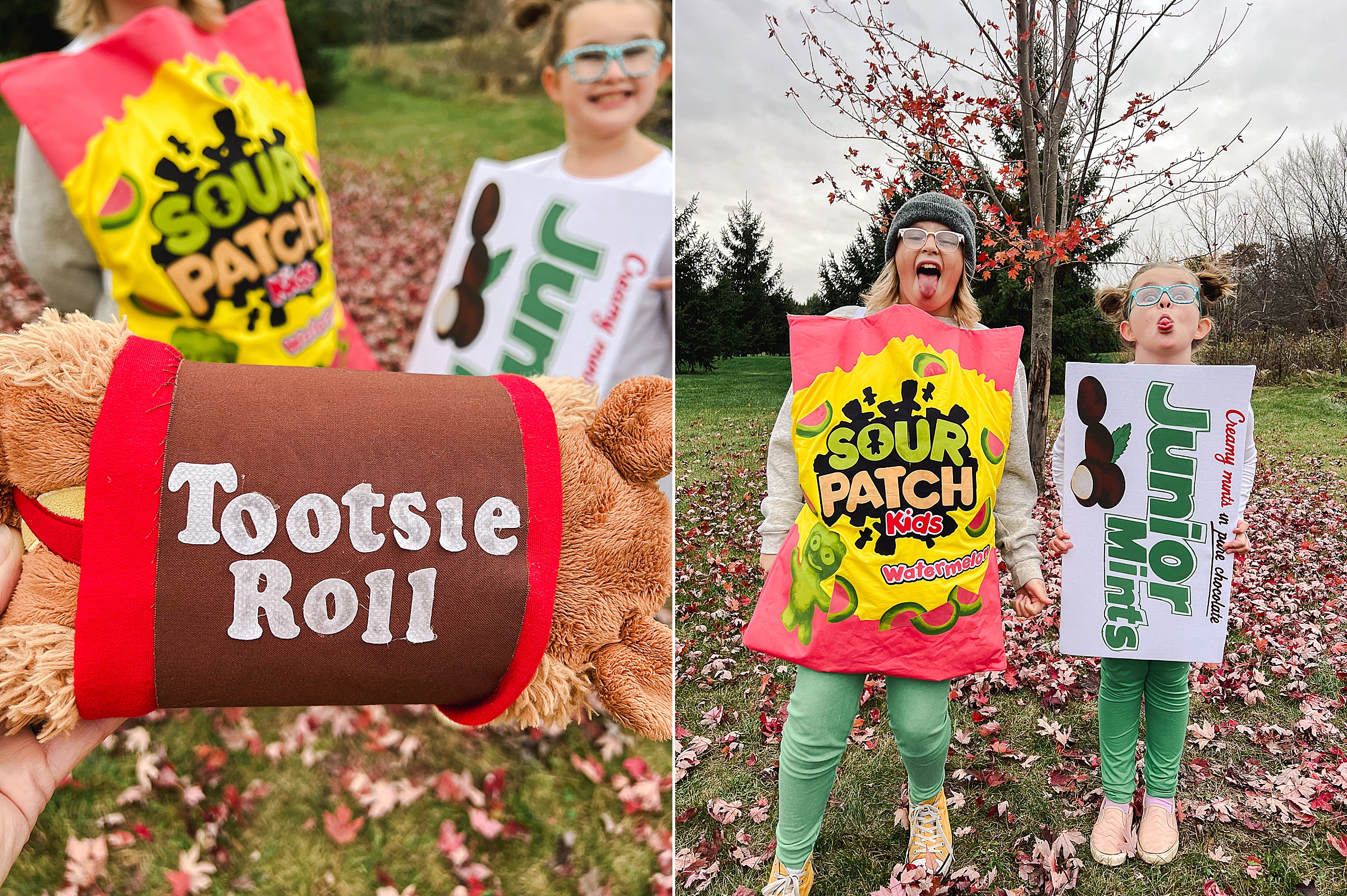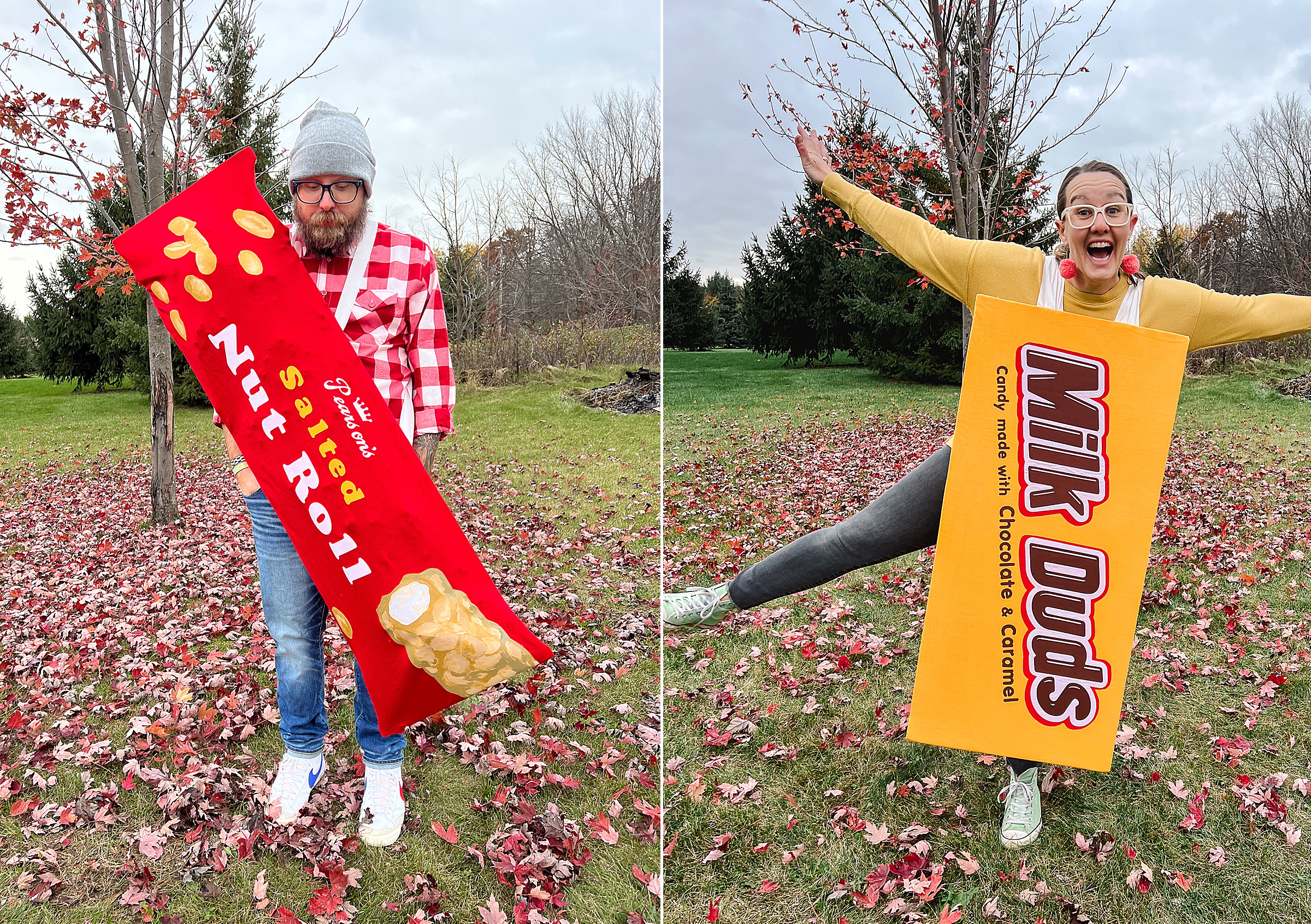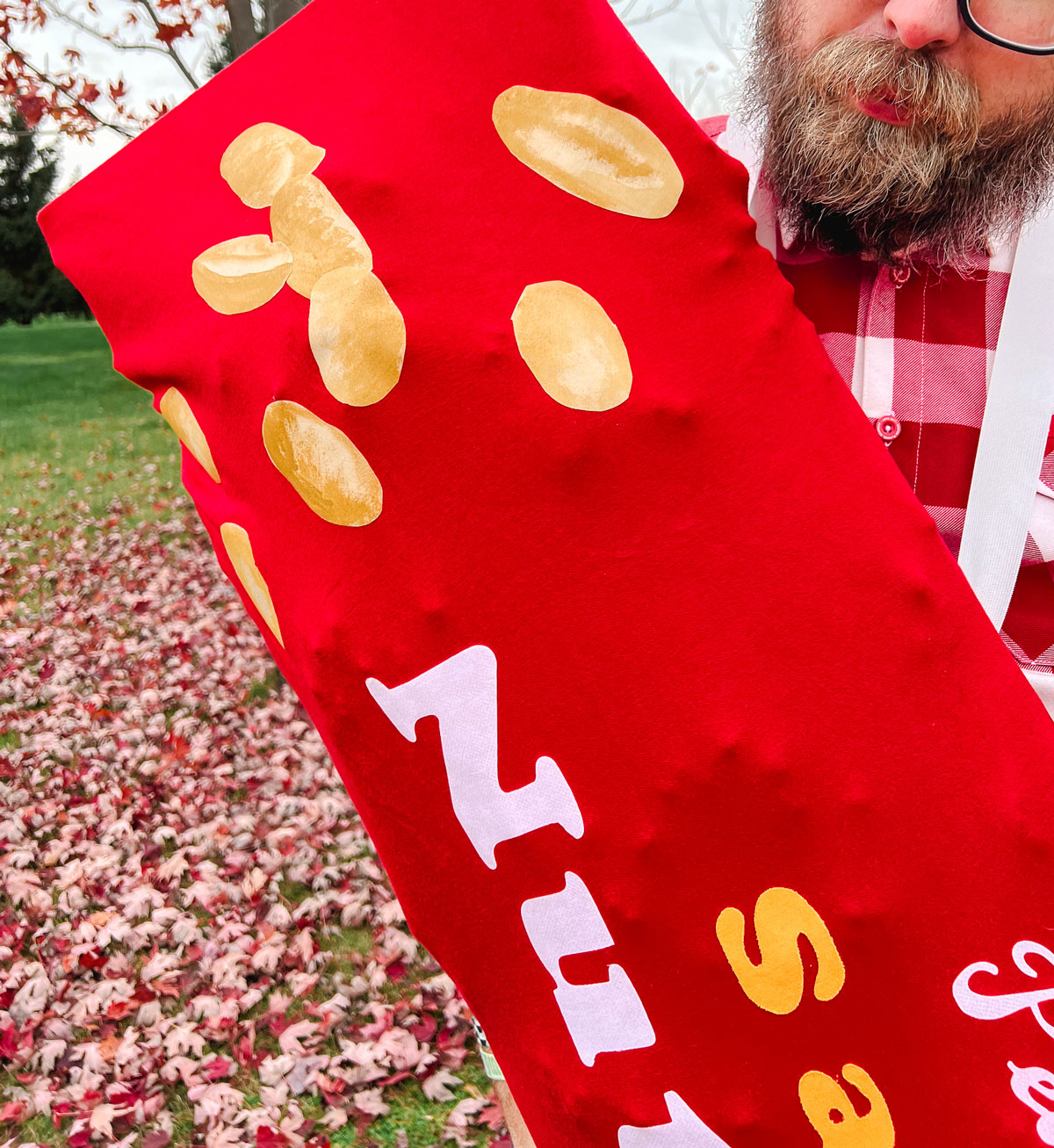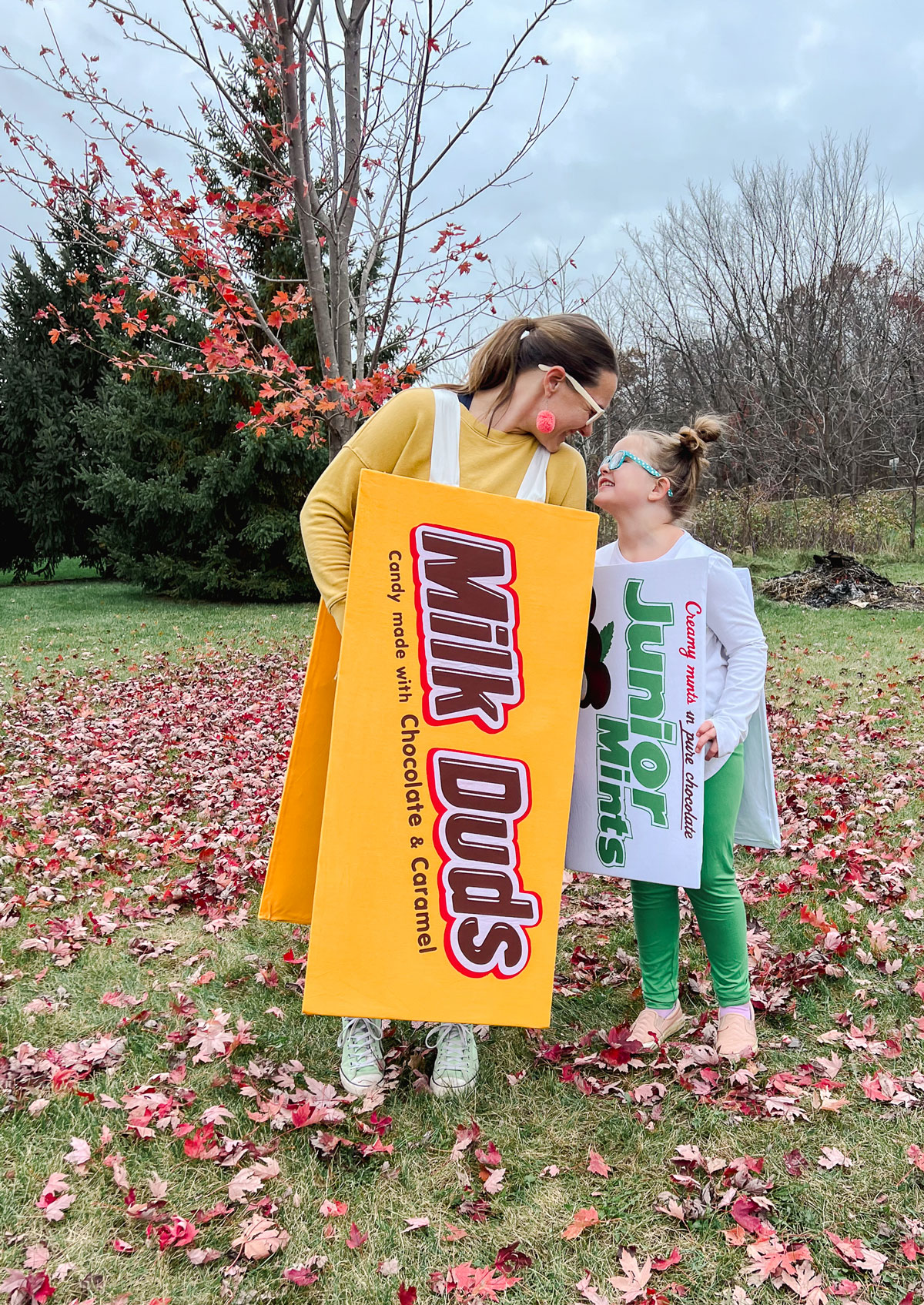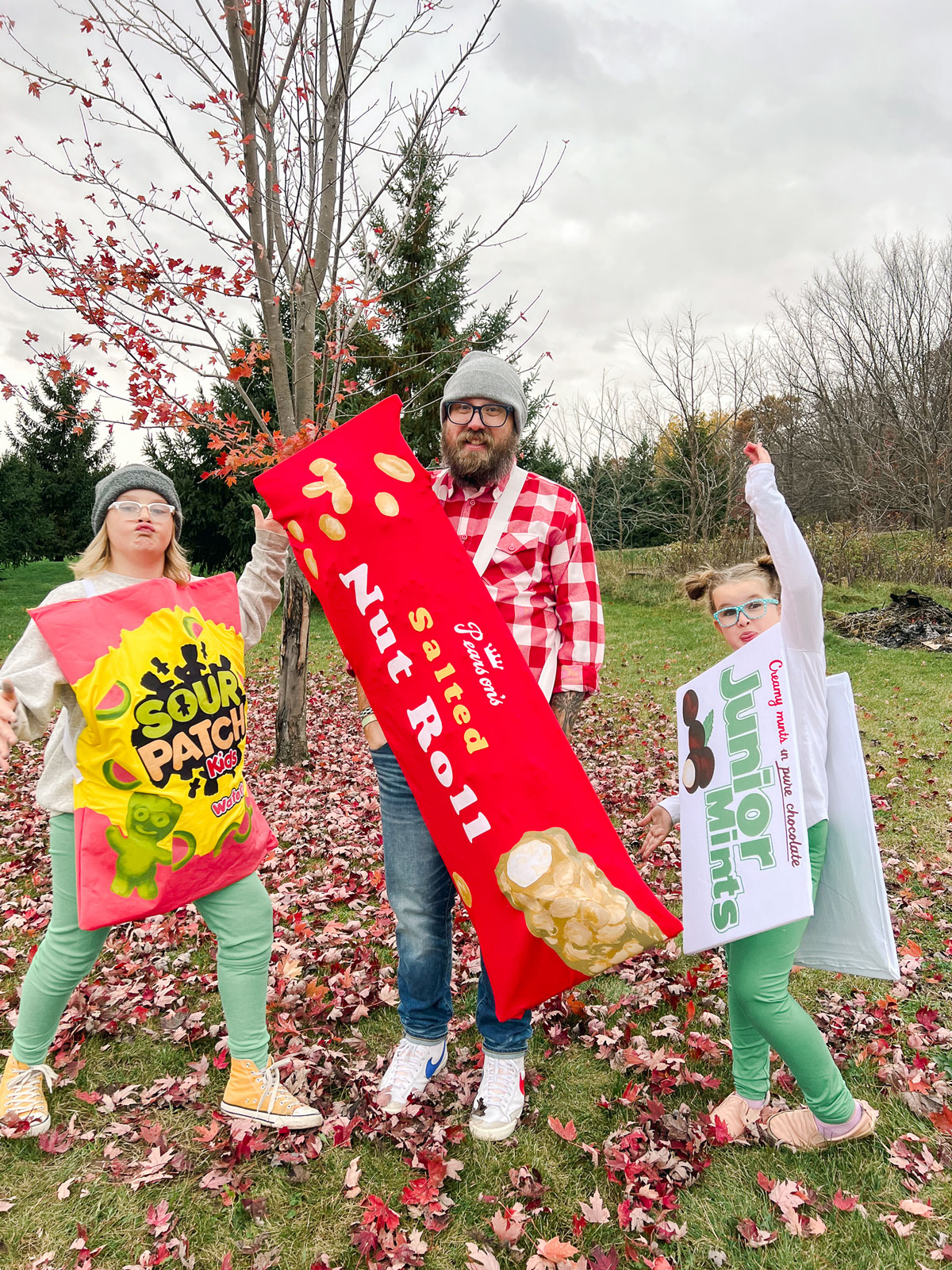 You can check out some video footage of making these costumes HERE (although not a ton because I tend to get so "into" what I am making and forget to take much footage….ha)!
All in all, this year is a success in Halloween-ing I think!
Some may say we are quite a SWEET BUNCH!!!! HA! 🙂