SUPER EASY kids shoes tie dye DIY!
*this project is in partnership with Create Basics tie dye + Walmart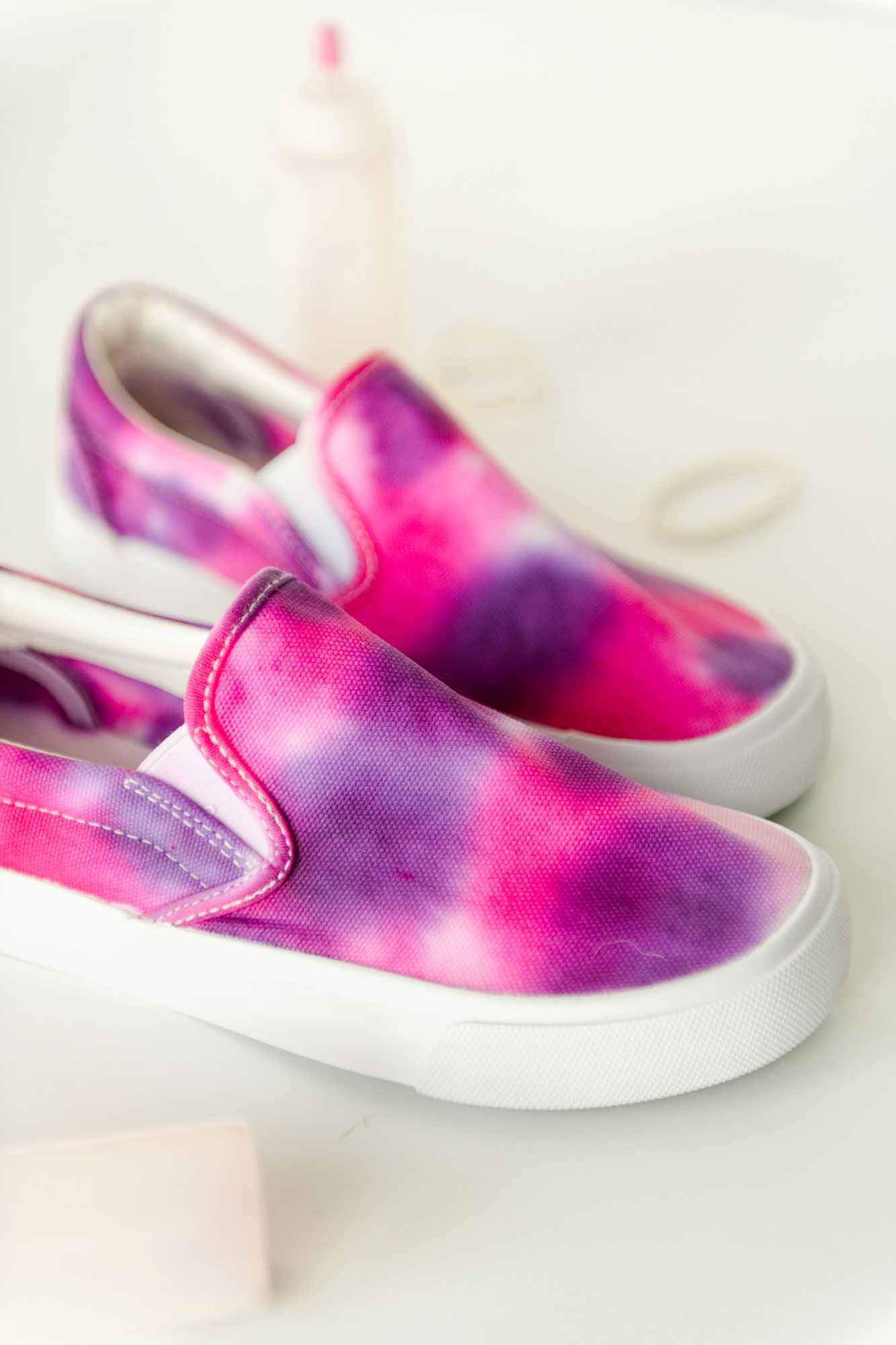 If you have a birthday party coming up, TIE DYE! If you need something fun to do on a rainy day, TIE DYE! If you need to cover up some stains on apparel or SHOES, TIE DYE!
Can you just tell that my answer is often TIE DYE! As a Mom of kiddos, this *legit* is my answer to a fun afternoon OR covering up some stains on clothing or furniture or even SHOES these days! 🙂
YES YES YES! You can tie dye shoes! They are simple and easy and honestly, like all other tie dye, doesn't even need to be remotely "perfect" in its approach (which is quite frankly the best part)! 🙂 You can use old scuffed up shoes that can't seem to get clean again, OR you can purchase a pair of new ones (quite inexpensive at Walmart I must say, which can make this a great birthday party idea too)! 🙂
And 1 pack of this "Princess" Create Basics dye, with only 3 colors to make it simple and quite exciting for my pink-loving daughter, can dye up to 3 pairs of shoes FOR SURE — so a little in supplies, truly does go a long way! 🙂
MATERIALS:
A pair of (preferably) white canvas shoes – and these do not have to be new! 🙂 
A package of Create Basics "Princess" tie dye pack 
A tray or cookie sheet or something to "catch" the dye in
A plastic bag to keep shoes from drying overnight
A sink to rinse/wash out the dye 
Optional painters tape (or masking too)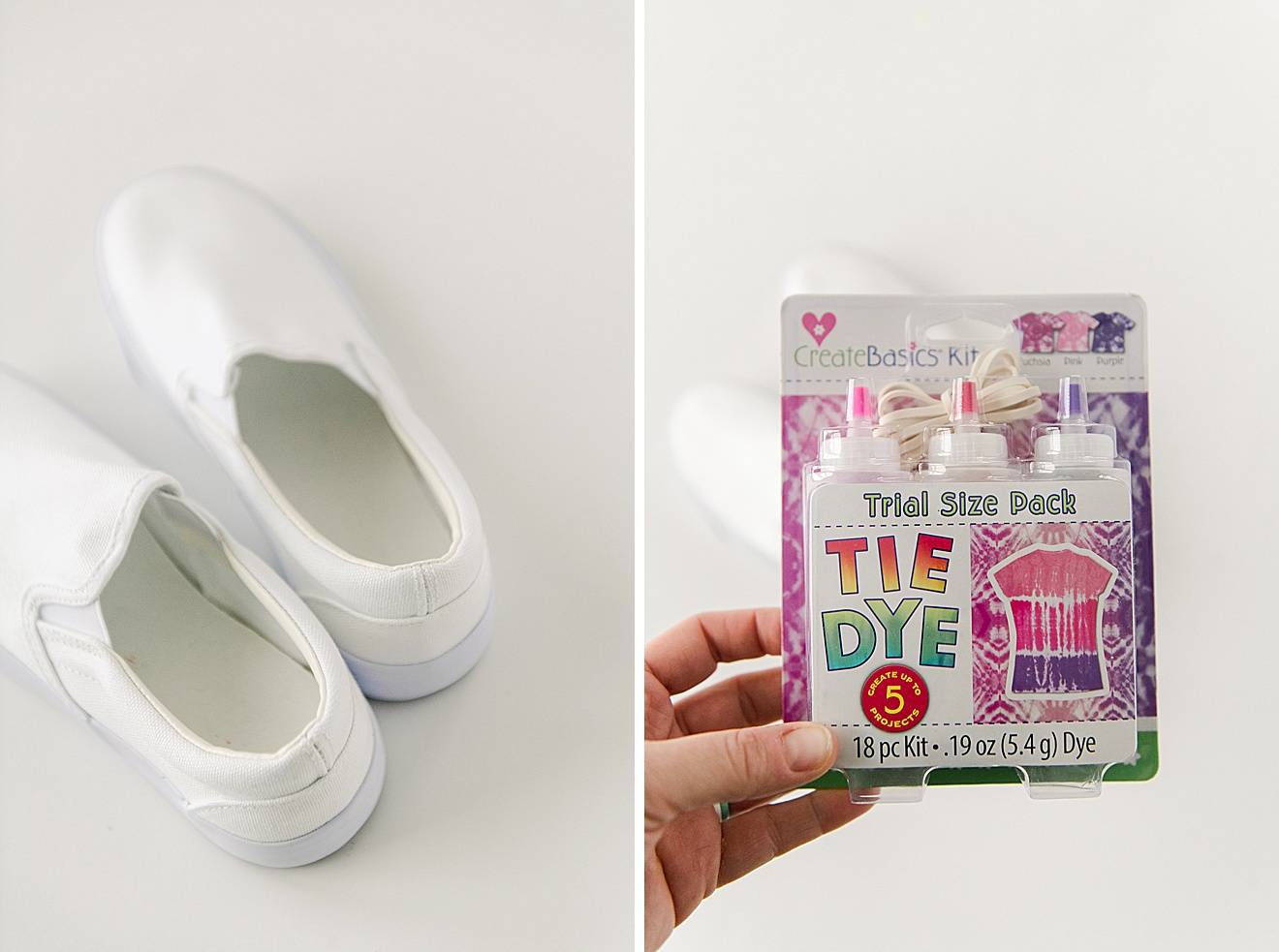 INSTRUCTIONS:
1. If using old or previously worn canvas shoes, just give them a good wash to get all dirt off before dying 🙂 As they are washing, you can prep your surface to protect your table or work area. A long time ago I pushed an old cookie drying rack + jelly roll pan from a thrift store and this has forever become my tie dying "station"! 🙂 You can reference the instruction that are included in the Create Basics dye kit for tips and ticks for setting up a clean work space for tie dying.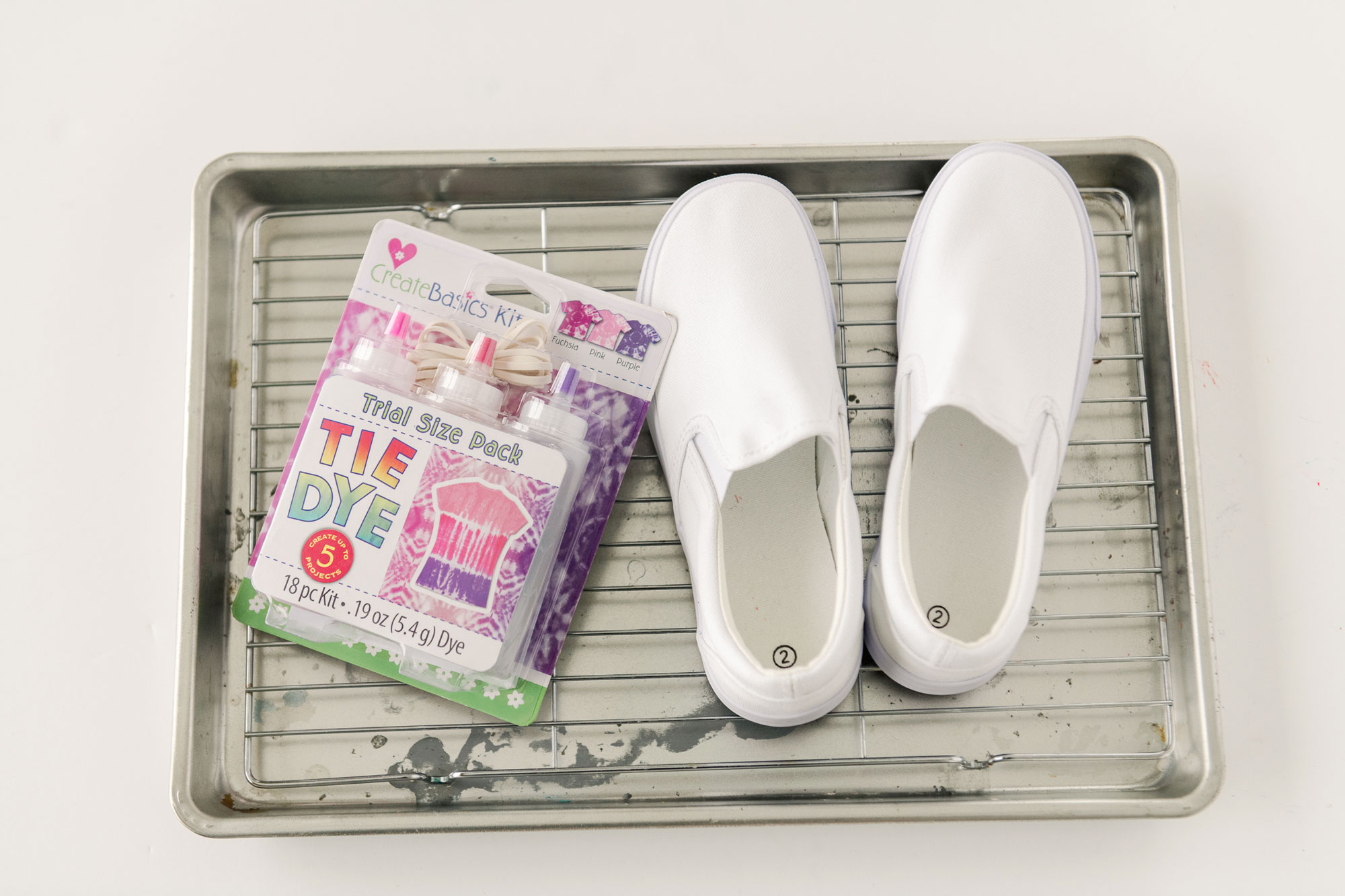 2. Submerge your shoes in water and allow the canvas to soak in the water….this will help the colors to blend and bleed into one another a bit better (I often do this with thicker canvas items). And then you have the option to dry off the souls and rubber parts and cover with tape if desired! 🙂 I have found that anything other than a cotton or fabric material, this dye doesn't soak into (rubber, finished leather, etc) so I didn't cover my souls….but you TOTES can if you're worried! 🙂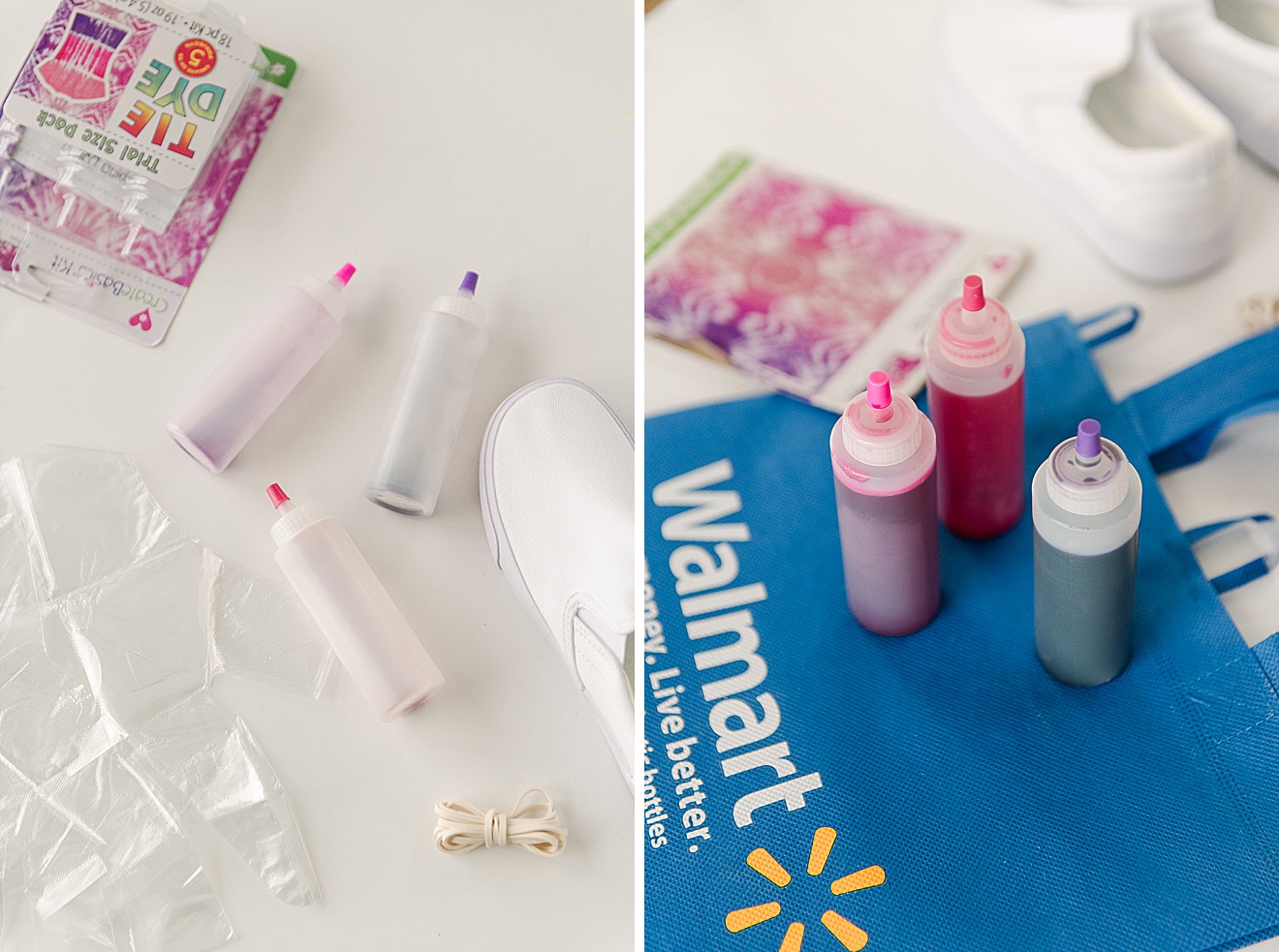 3. Mix your dye by removing the bottles from the Pretty in Pink Dye kit and filling all 3 colors to the fill line instructed on the bottle! Carefully shake the bottles to make sure all of the dye is mixed well!
**tip: cover the top of the bottle with a paper towel while you shake to be sure no dye squirts out while mixing.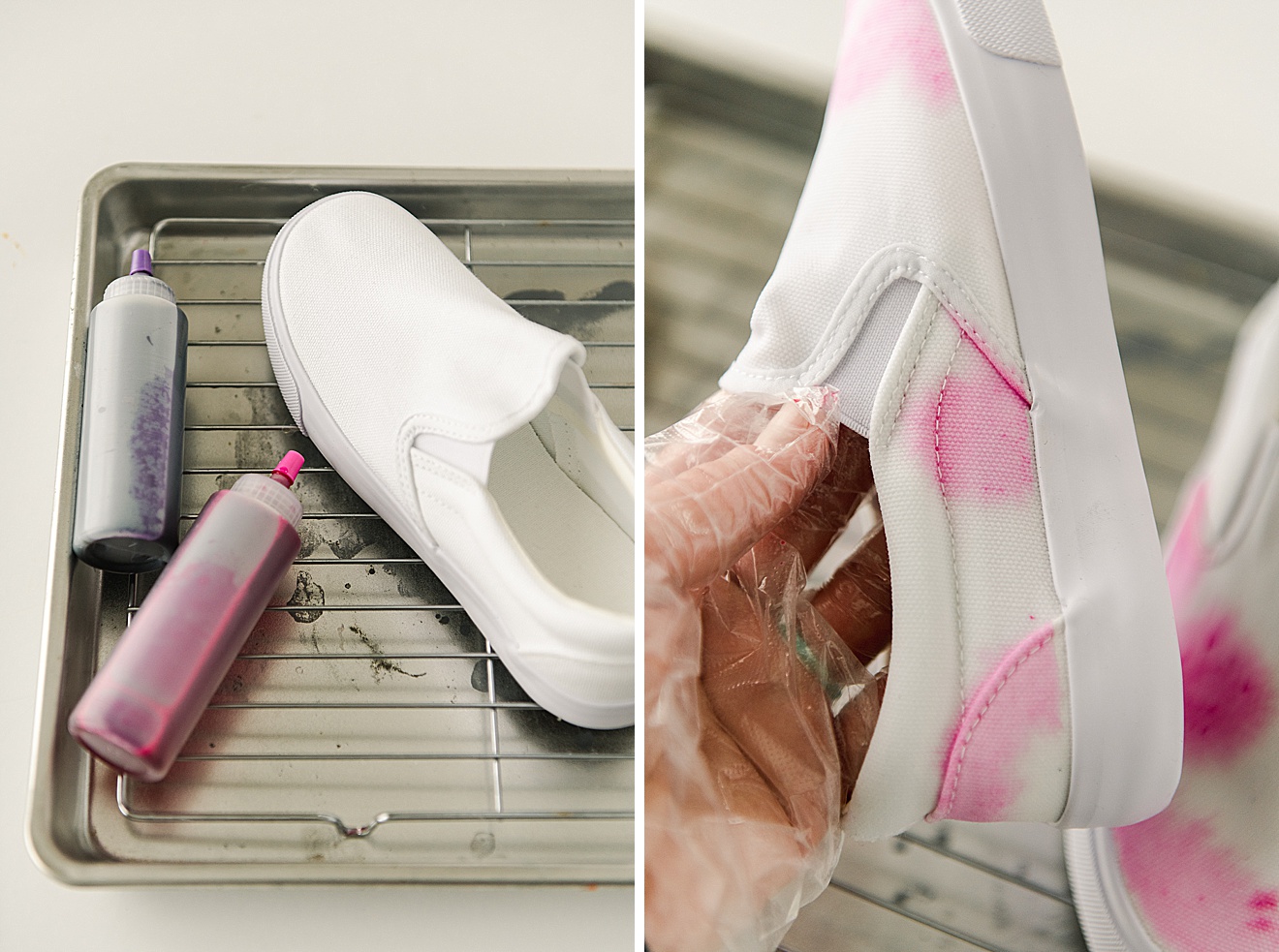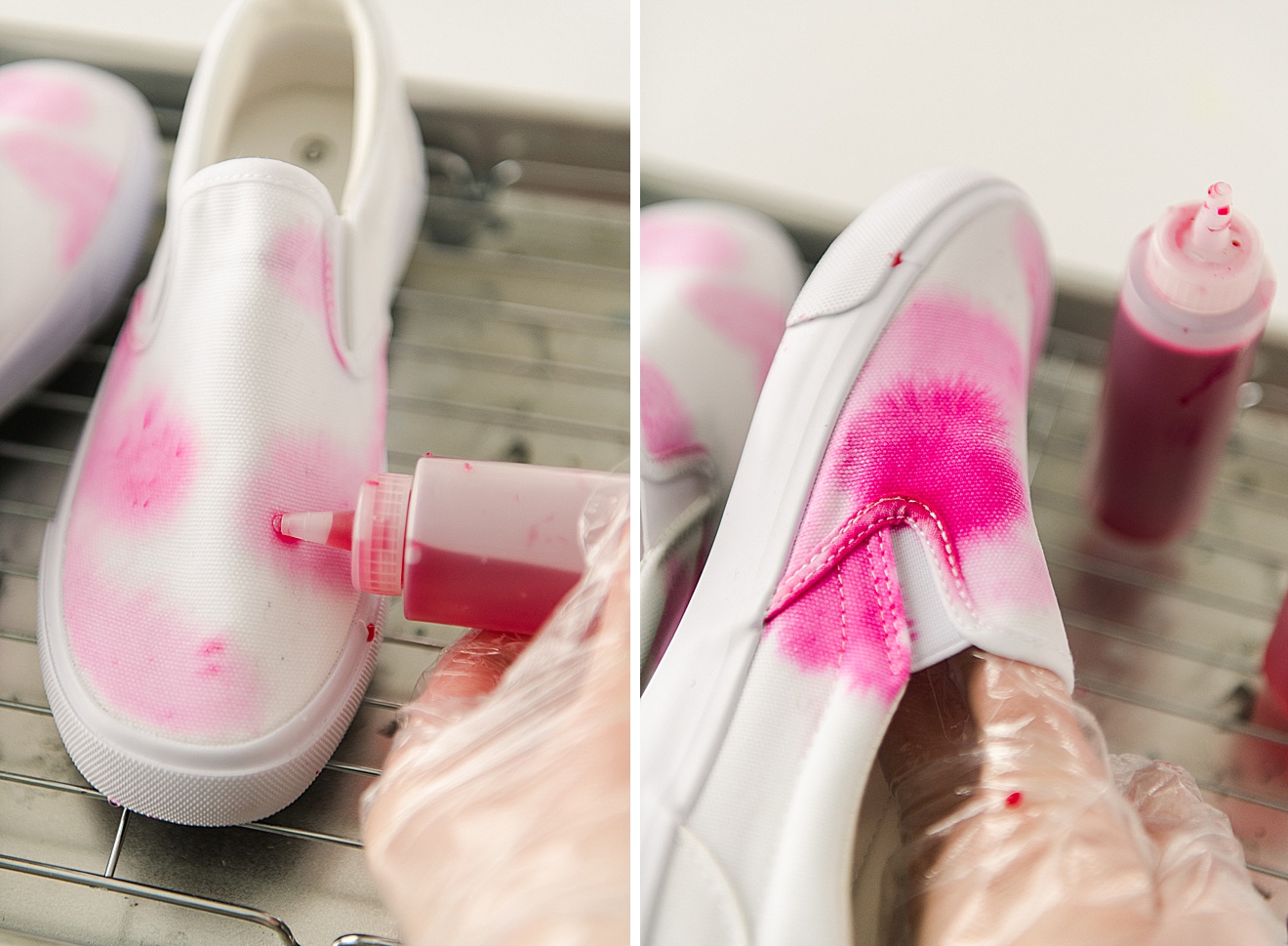 4. TIME TO DYE! 🙂 Here are a few tips when dying shoes with this Create Basic dye kit )
GO SLOW! The dye spreads quickly so take your time and go slow 🙂 
Squeeze a small amount of dye at a time. Put the tip of the bottle to the canvas shoe and then squeeze gently, you will get a feel for how much to squeeze after the first couple dye circles….you can see how big or small the circles spread as you keep going 🙂 
Begin with the lighter pink, then do the darker pink (fuchsia) and then the purple. You will want to layer in this color order so that you don't loose your lighter colors or light color blending as you add the darker purple at the end. Then at the end, you can add more colors overtop of what is already placed – either more light colors or even go over top of the colors that you've already squeezed. Just go slow and enjoy watching the colors spread (LEGIT, this is one of the coolest parts of this project….seeing how the colors bleed together). 
You can dye the insides of the shoes if you'd like – JUST BEWARE, that the first few times you wear them there is a slight possibility that the residual dye can come off on your socks (but, heck….if that happens, just bust out some more dye and make some tie dyed socks too 🙂 OBVI 🙂 
You can wipe off the souls as you get dye on them….I did at the very end, although there wasn't much (if you go slow enough)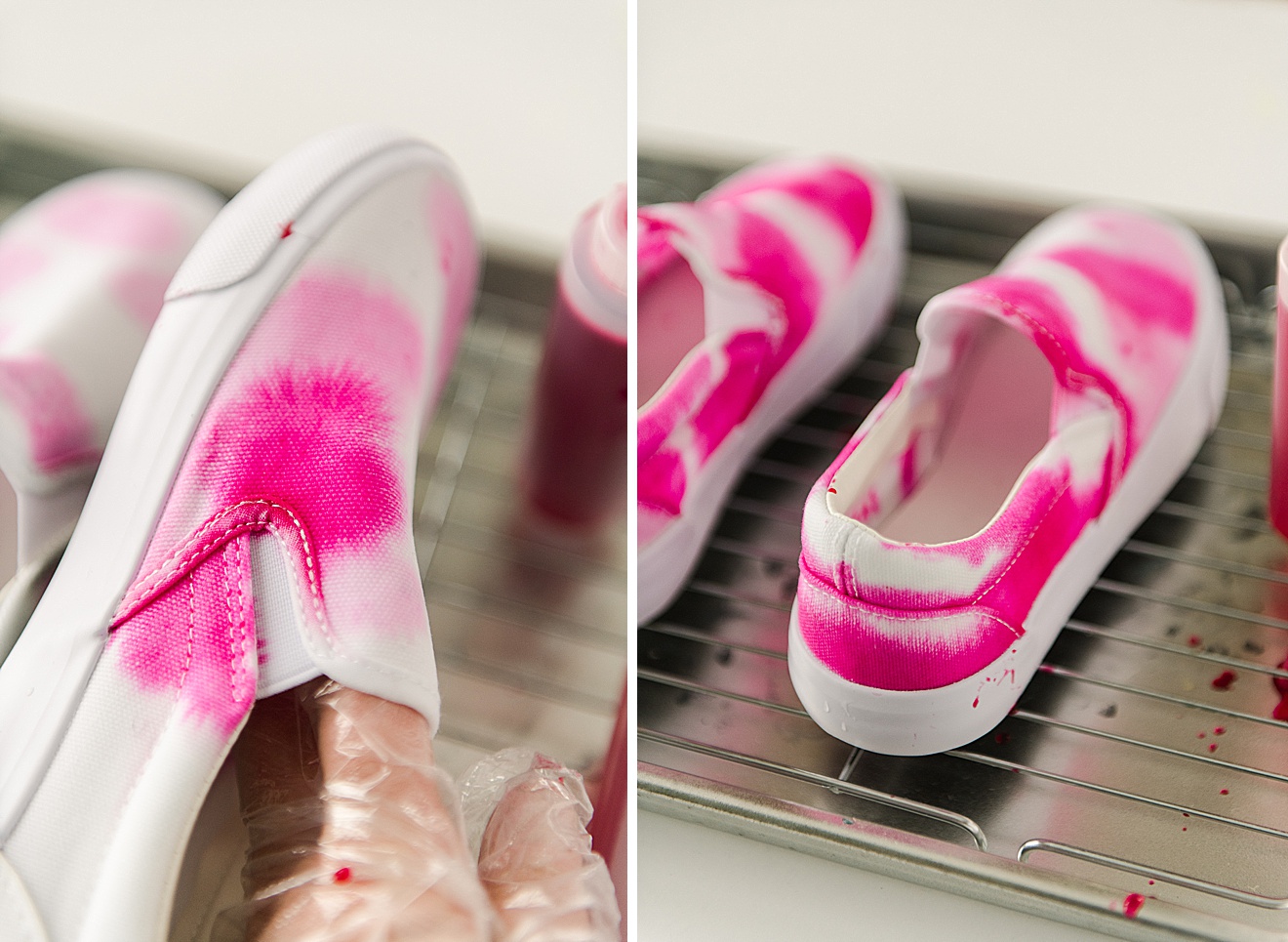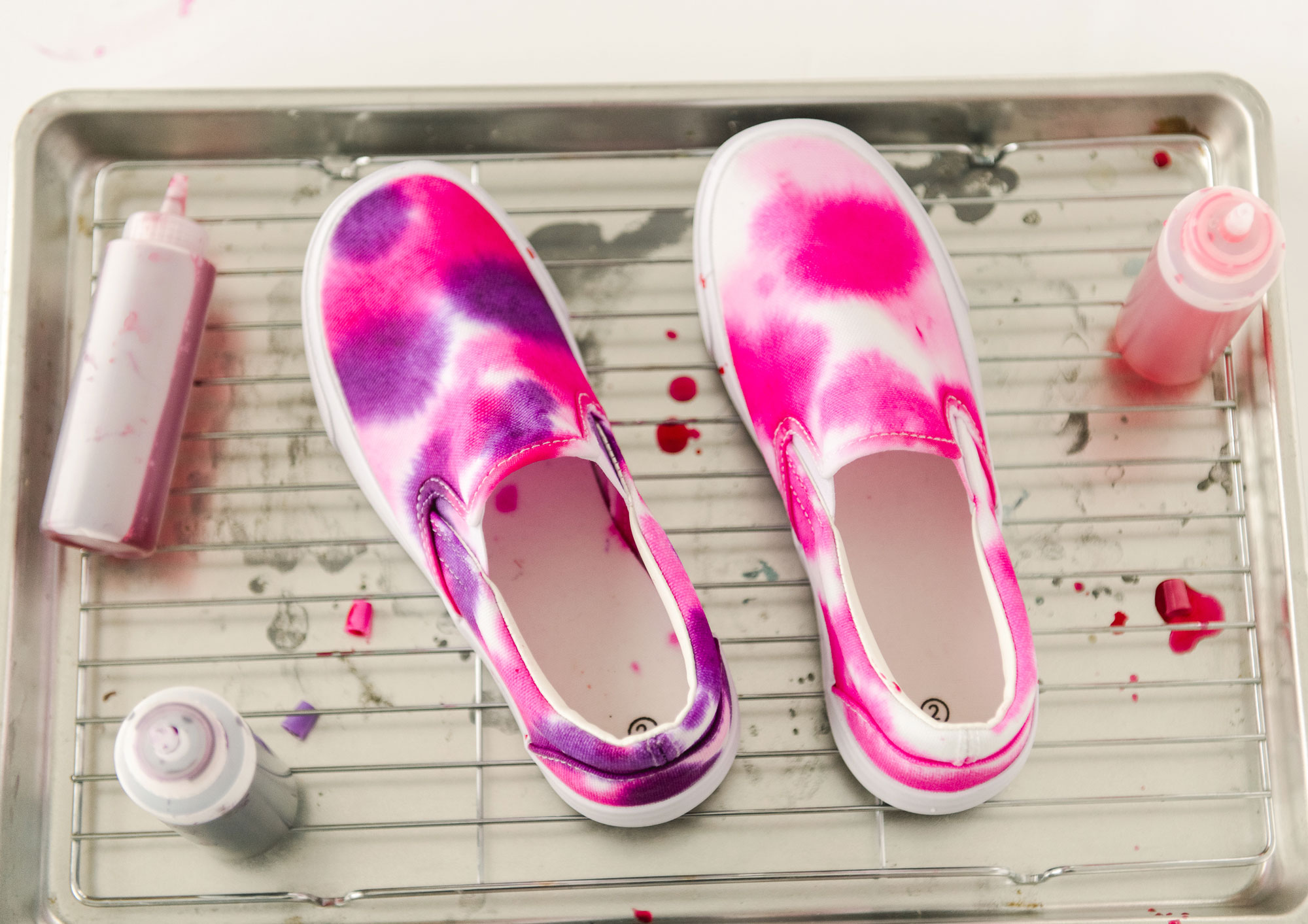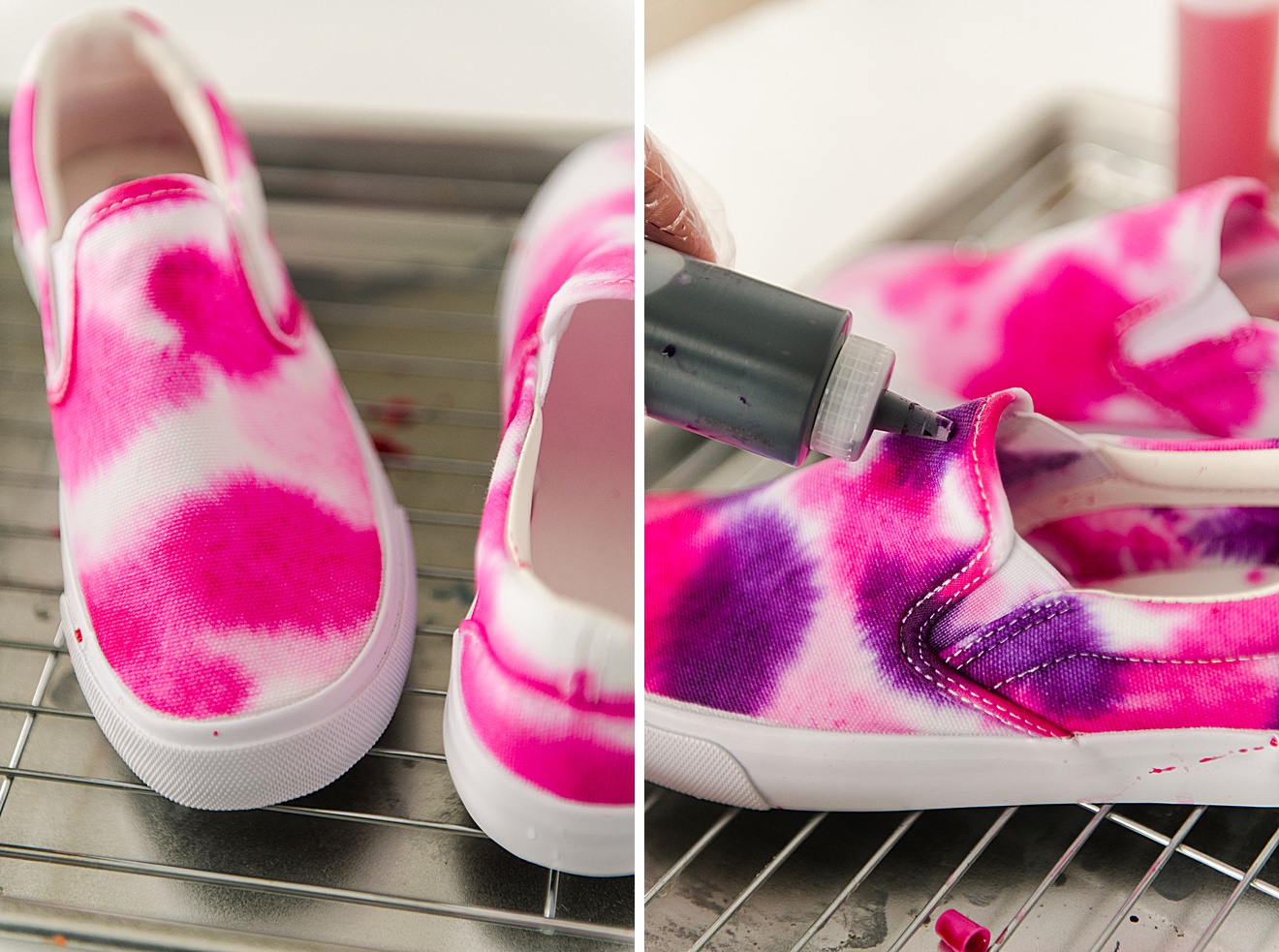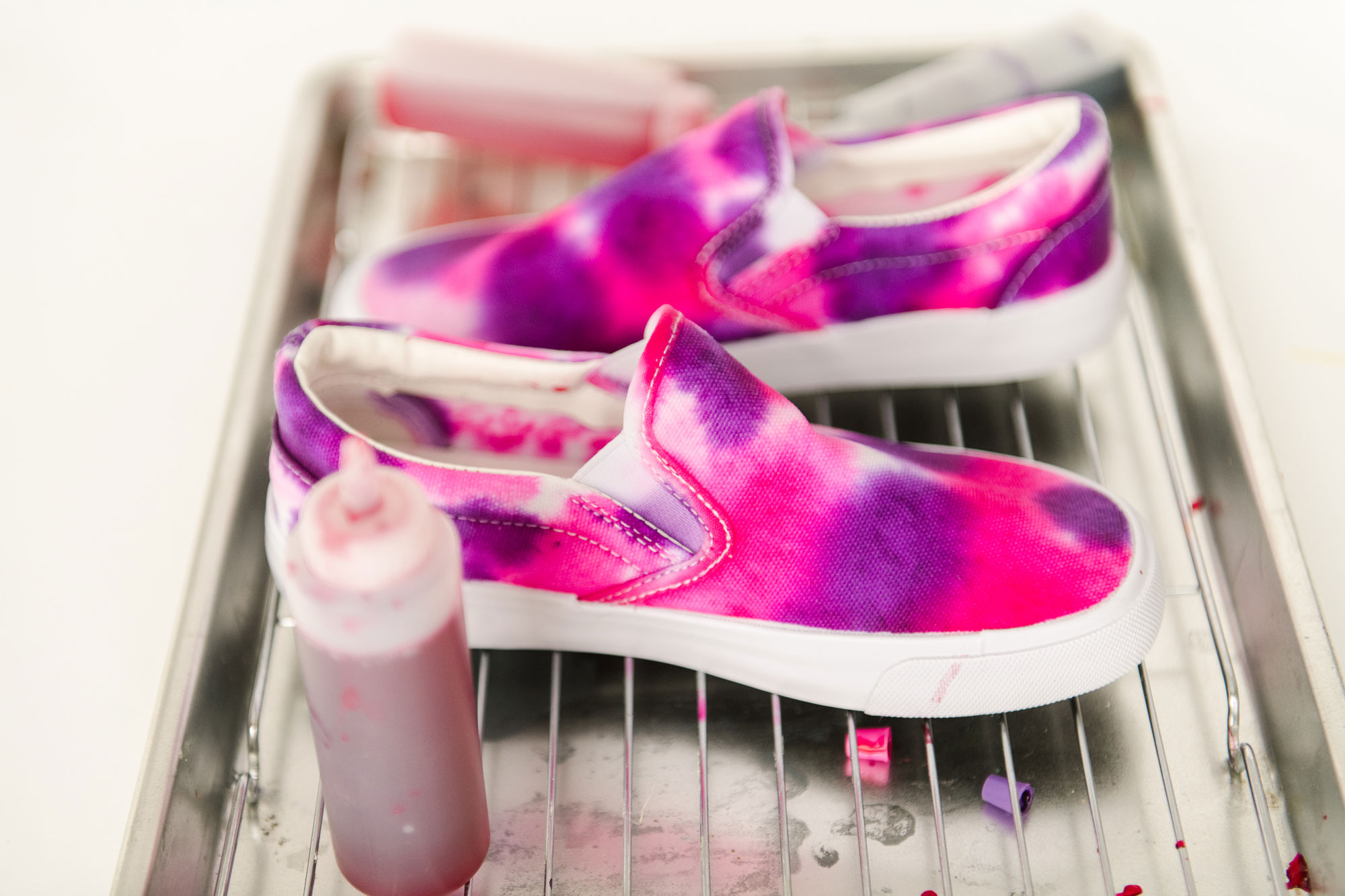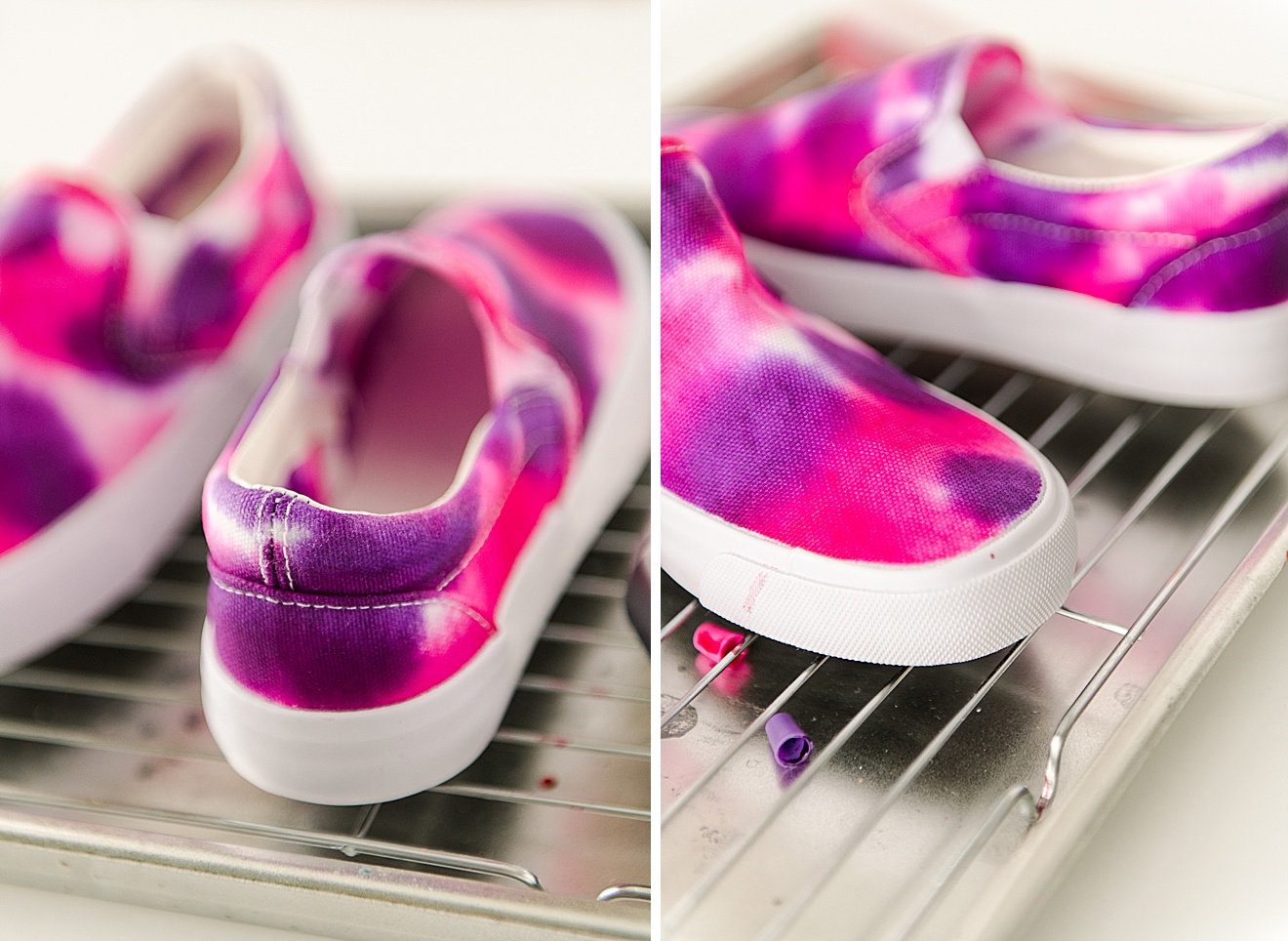 5. When all of your colors look amazing, set your shoes aside and tie them up tightly in a plastic bag to sit overnight. Be sure to seal tightly——you don't want the dye to "dry" on the canvas….you just want them to sit and permeate! 🙂
6. The next morning we raced to see how the shoes turned out! WEEEE! This is the fun part! 🙂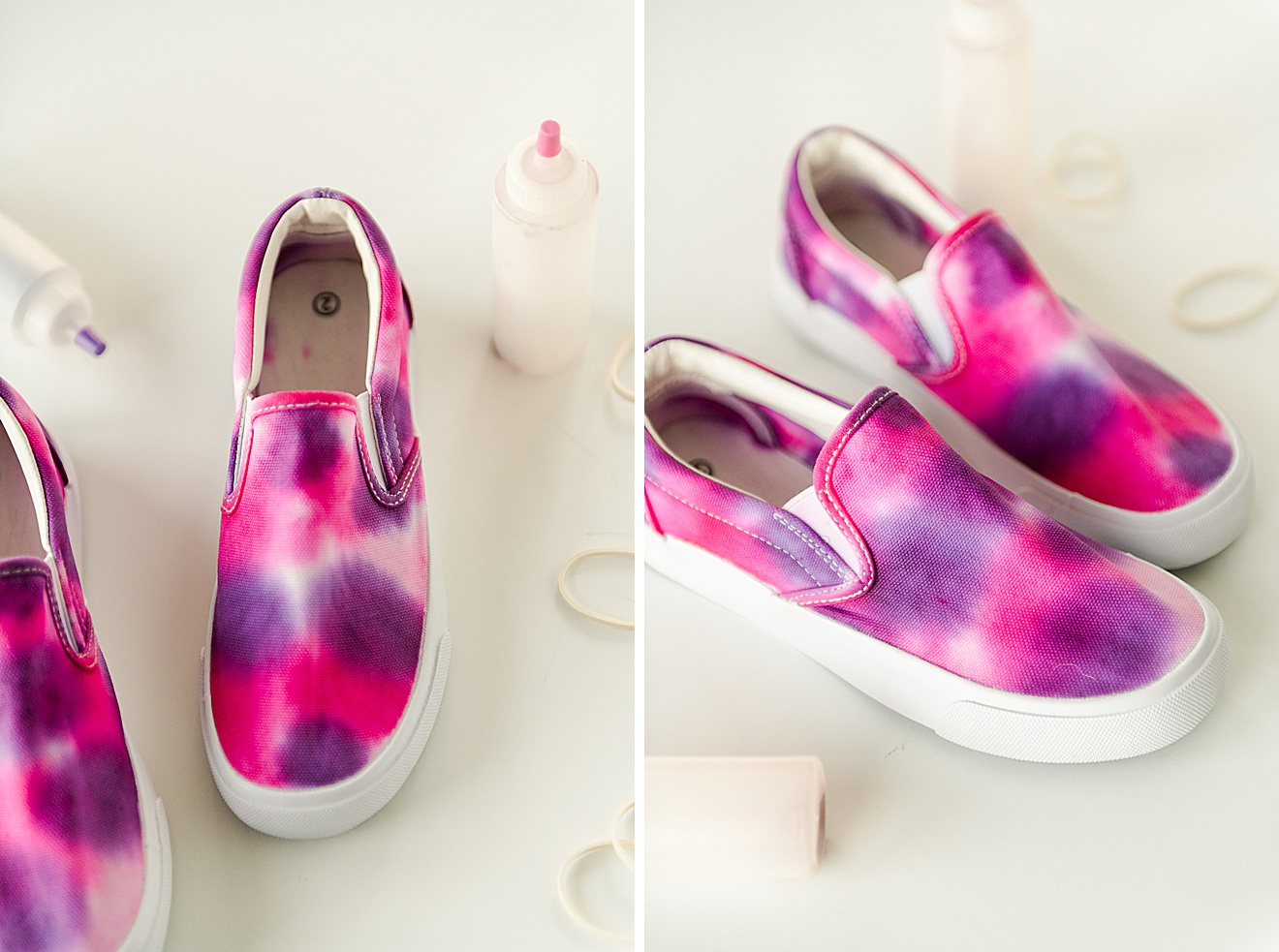 Run cold water and give the shoes and good rinse AND scrub. I started by just rinsing out extra dye until the water ran clear and then I grabbed a dollop of dish soap to just lather up and give one more scrub…..not much dye was left to remove, BUT I just wanted to be sure that Esther didn't get dye on any other "special" outfit that she wears with these (you could also throw them into a quick cold cycle in your washing machine if you'd like)!