Stairway wall mural + my creative challenge for 2020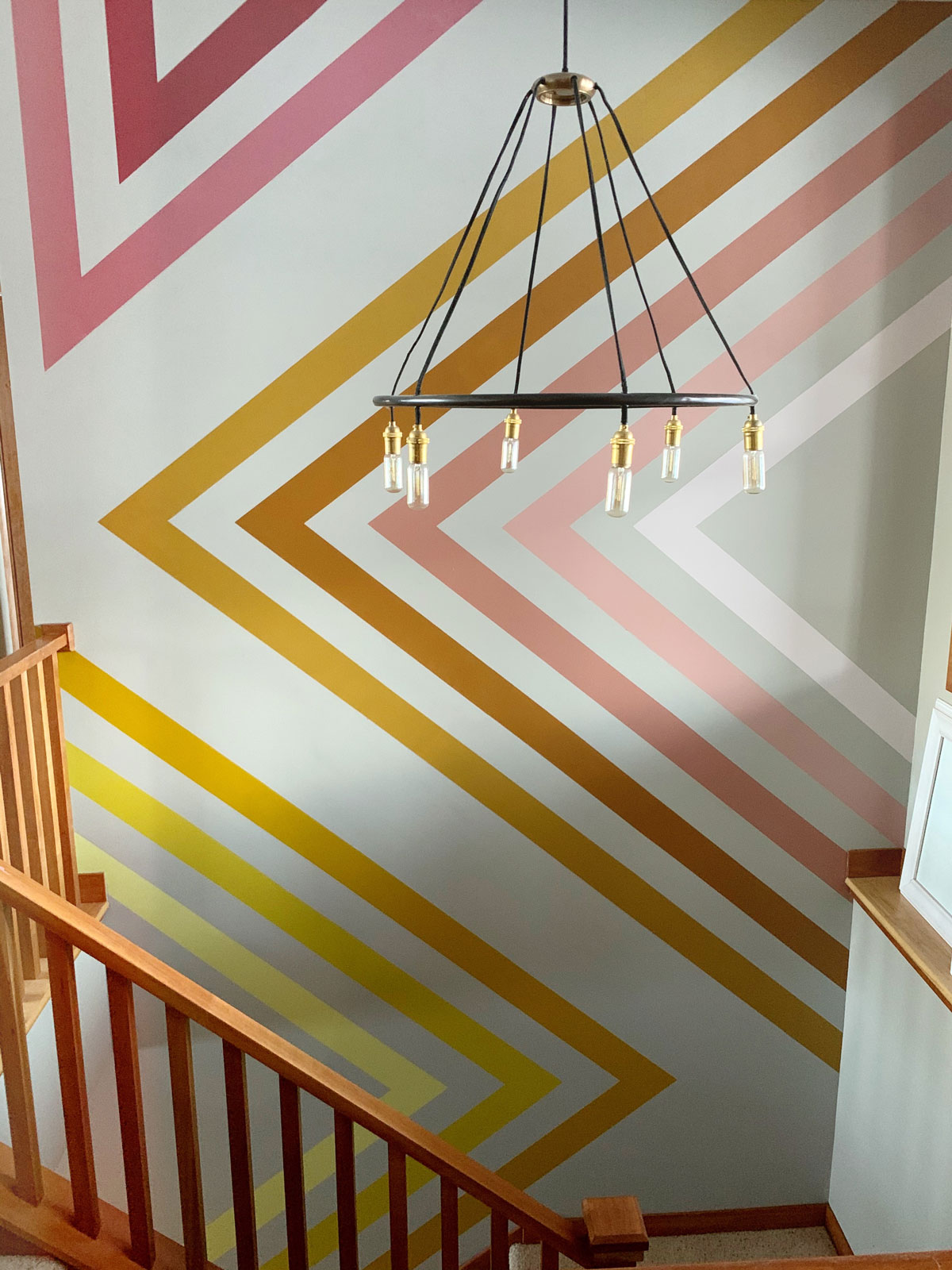 If you haven't been following along on my instastories, then you maybe have no idea of what 2020 could potentially look like for me! At the start of January, I did a wrap up of my 2019 costume challenge (more HERE) and was asked if I was going to continue with it. I hemmed and hawed and thought on it for a few days. But after realizing that I had already completed the 2019 creative goals of WHY I started the costume challenge, I knew that I didn't want to continue. BUUUUUT I DID love the idea of a creative challenge for the year: a year to "focus" on something that has natural deadlines and pushes me with time and creativity and design. I loved that each month, specially with the costume challenge, that I needed to complete one by the last day of the calendar month, I loved that it forced me to use new materials and work with ones I hadn't in awhile and I loved that it inspired me in other creative ways. SOOOOO, this 2020 year I am embarking on a new challenge: the year of painting.
YAY!
Now I'm not talking small canvases: I'm large wall murals, installations, a few storefront displays! I am SOOOOO SO excited about this. AND TODAY, I am sharing my FIRST wall painting. From our own home: our stairwell!!!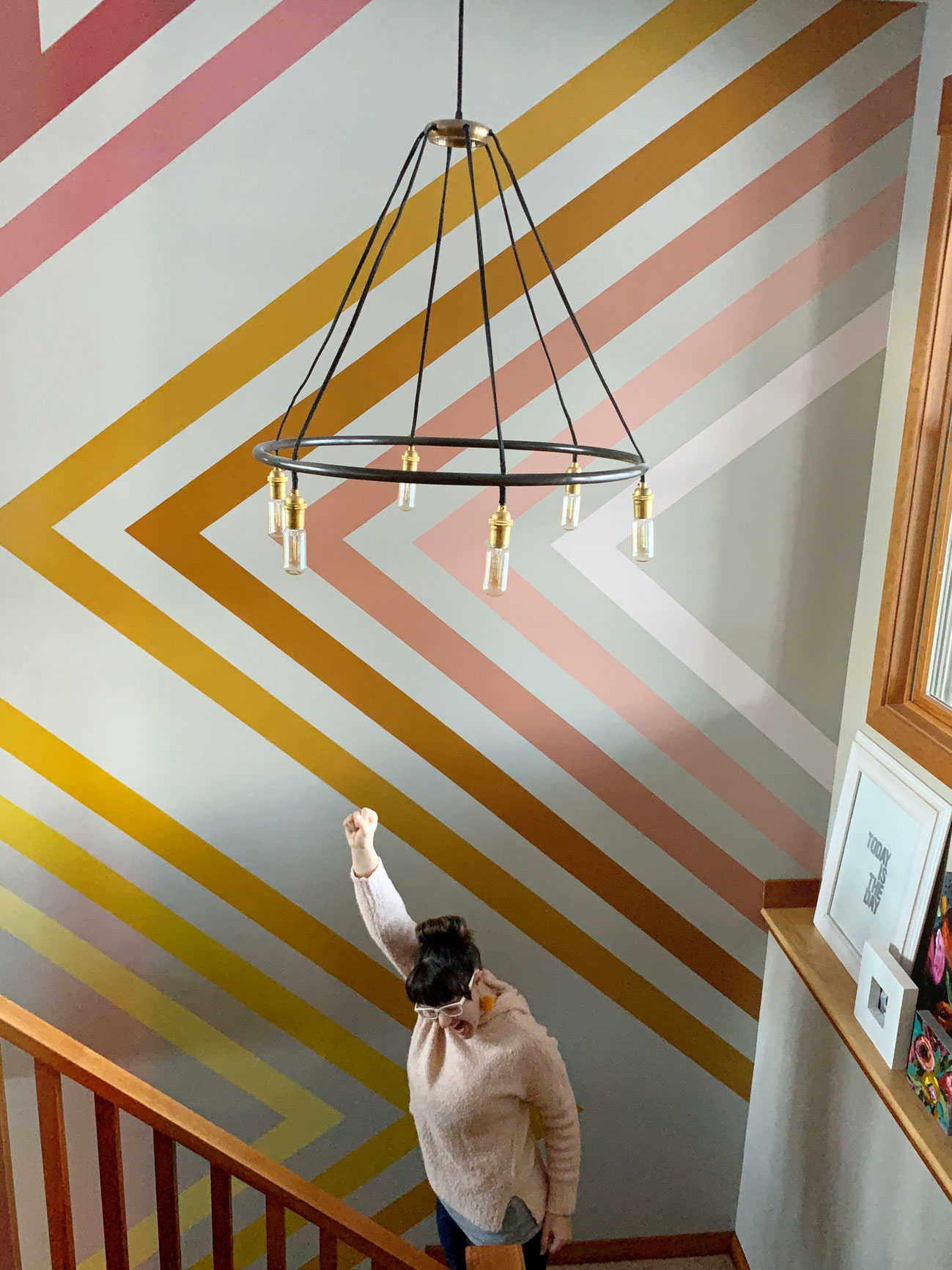 When we first moved in, this wall was grey (like you'll see I paint it back to before painting the triangles). The first painting I did on it was colorful chevrons, but then that got old so I painted it a sold purplish/magenta (which I never really loved). SOOOOOO, I *KNEW* this would be an amazing first spot to tackle! 🙂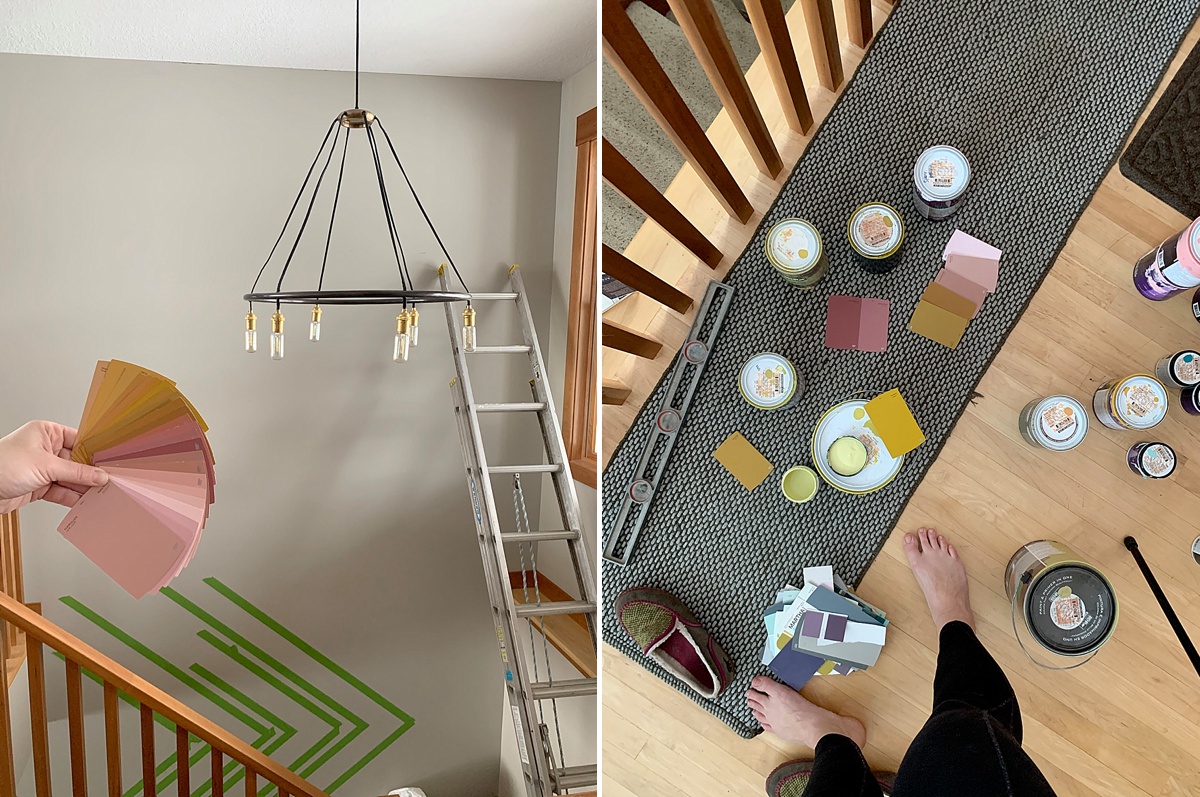 This spot is tricky to say the least (just tune into my IG stories to watch my amazing ladder balancing acts)! But I am excited at how much it got brightened up with this design over that original purple.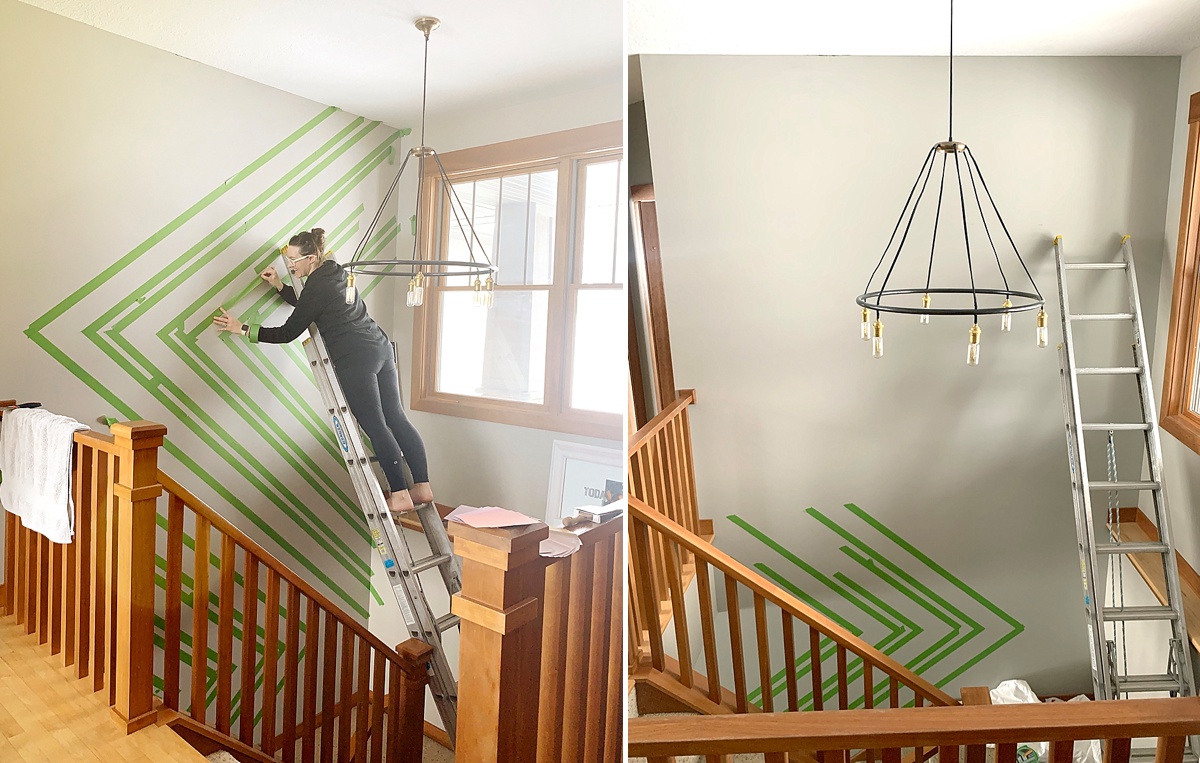 I posed the question of what should be painted on IG, here were the choices: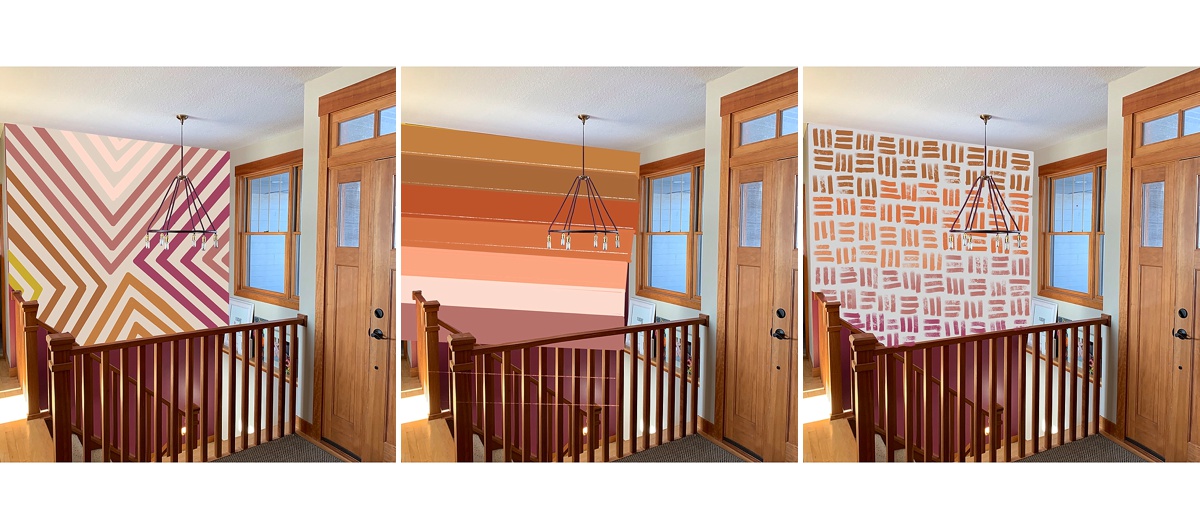 Obvs option A got beat out (which I didn't love at first, but it quickly grew to be my fave after chatting with a few people)!
You'll also notice that the first sketch I posed on IG isn't actually what the wall turned out to look like. When I started to tape, I realized that my original sketch would leave the triangle ending in the middle of the stairs at a weird angle. So I followed the line of the 2nd set of stairs and began there.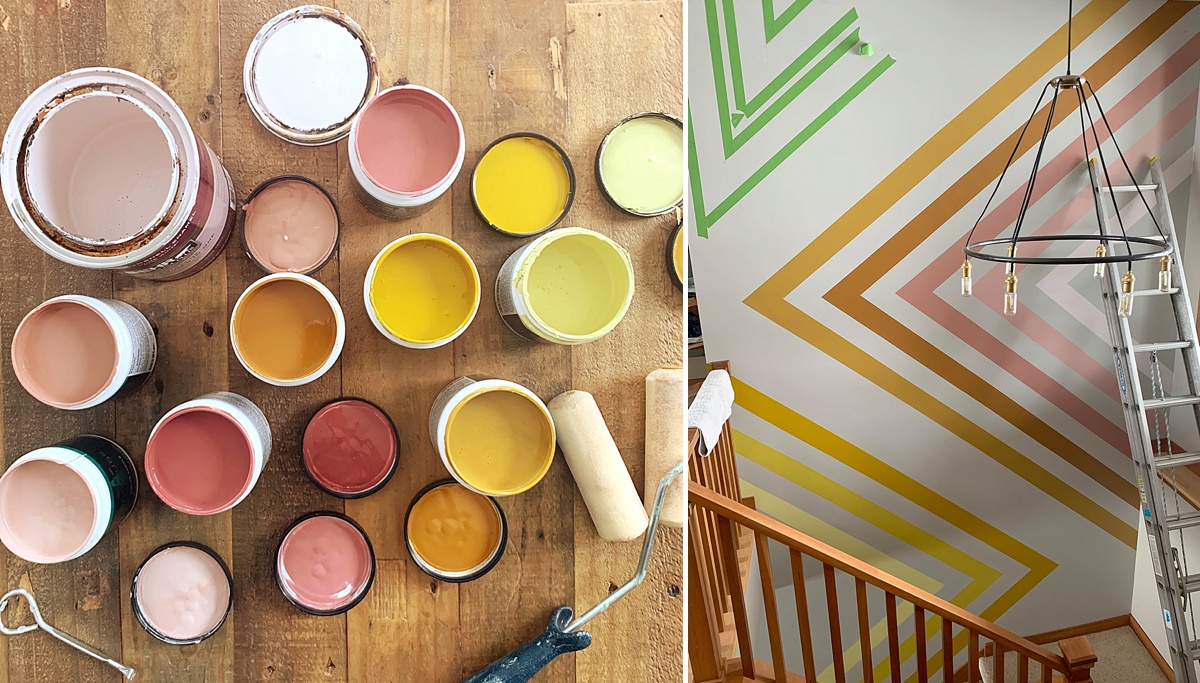 If you want to see some fun videos of how the process went, head to my IG story highlights to watch the fun!
Oh, and here are the colors that I used for this project (from right to left going down towards the stairs and then the top two purple):
Behr Purls and Lace
Behr Retro Pink
Behr Smoke Blush Rose
Behr Dessert Clay
Behr Karat
Behr Tumeric
Behr Dangerous C Raph
Behr Buttery Willow
Behr Spiced Potpouri (top purple)
Behr Heirloom Rose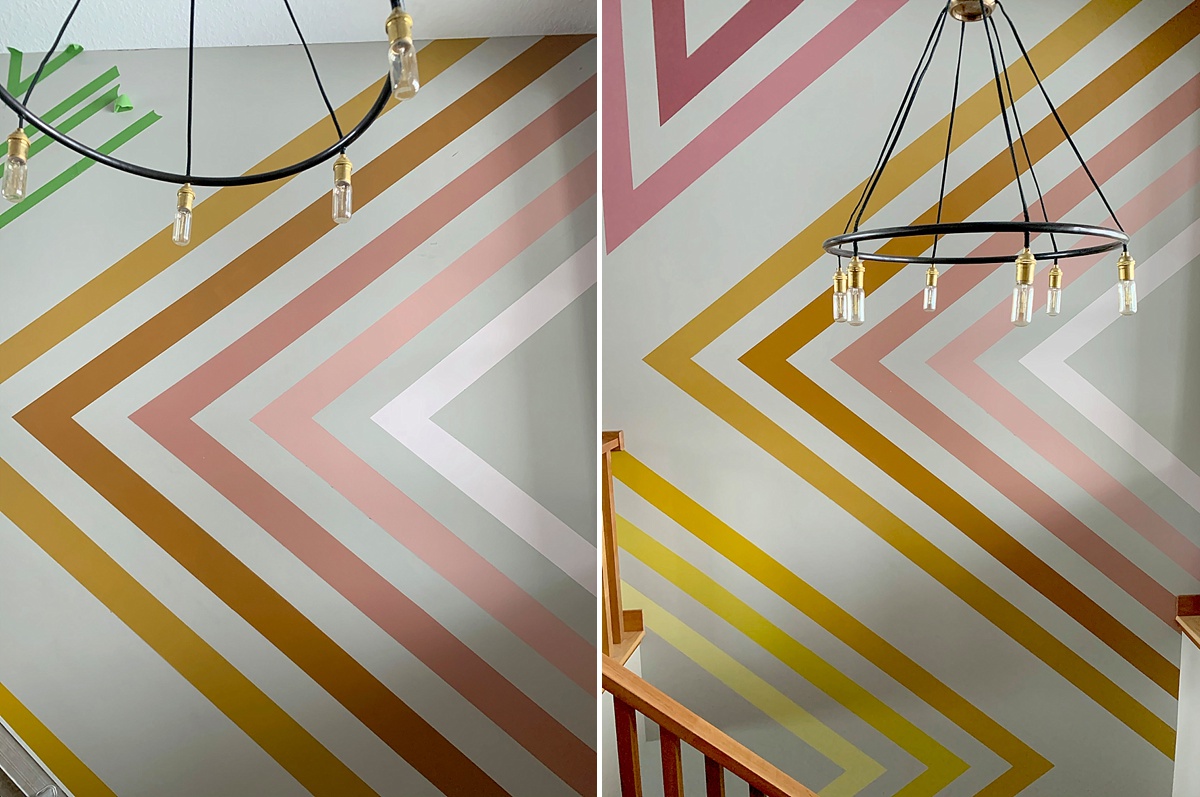 But for now…….I give you the finished product of the stairway mural painting! TAAAHHHHHDDAAAA! I am thrilled and proud and so excited about it. IT add color and brightness and lots of "pizazz" when you enter our house and I believe that ALL houses have to have some element of pizazz! 🙂 I hope you love it as much as I do! 🙂