How to use the Janome Free motion Couching foot to draw with yarn! :)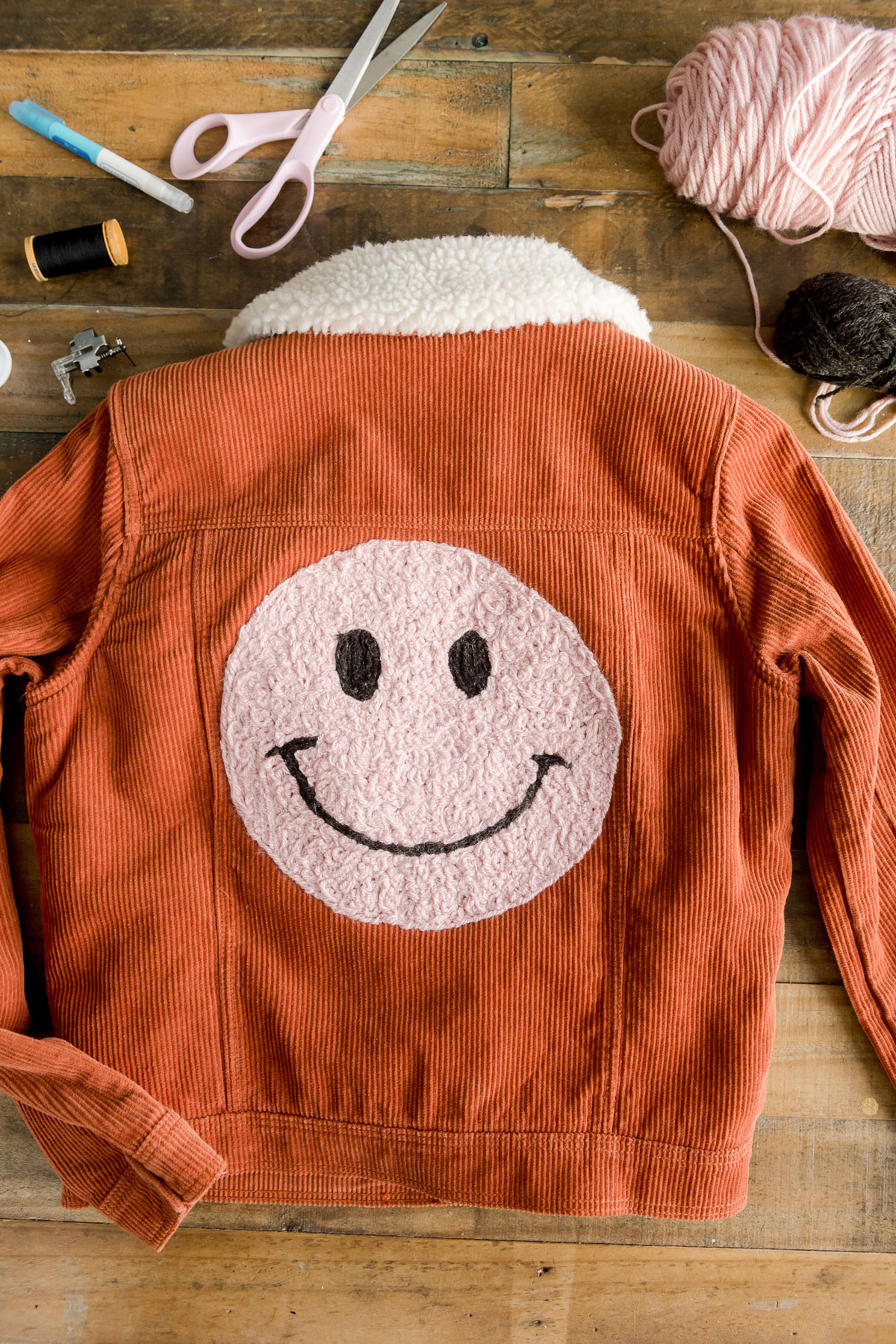 Did you know that you can draw with your sewing machine! YES DRAWWWWW! You heard me right! It is because of the amazing COUCHING FOOT that Janome makes that allows you to free motion draw! 
What the heck does that mean?
Well free motion means that you don't have the feed dogs (those "gear like" things that are below your foot that grab your fabric and help move it through when doing straight stitching) so you are able to move your fabric allll around in any which direction. Quilters use this often to draw those amazing designs on their finished quilts with thread.
And a couching foot is what allows cord, yarn or thicker thread to be "attached" or adhered to the fabric using the zig zag stitch! It kinda pulls the yarn through the hole on the foot and uses the zig zags to go "through" the yarn to attach it.
If this peaks your interest, keep reading because I want to share my tips and tricks for using the Janome free motion couching foot (or any couching foot for that matter)! 🙂
OK! So this is actually SOOOO simple and I am convinced that you will be hooked once you understand the basics! PROMISE! 
The Janome couching foot comes in a pack with 2 plastic pieces (one is likely already attached to the metal "foot holder piece"….I'm sure that's the official terminology :/ ) If you flip over the plastic parts, you will see 2 numbers.
The #1 is for fine couching (like sock yarn, thick thread or thin string)
The #2 is for thicker couching (like worsted weight yarn, thicker string, etc)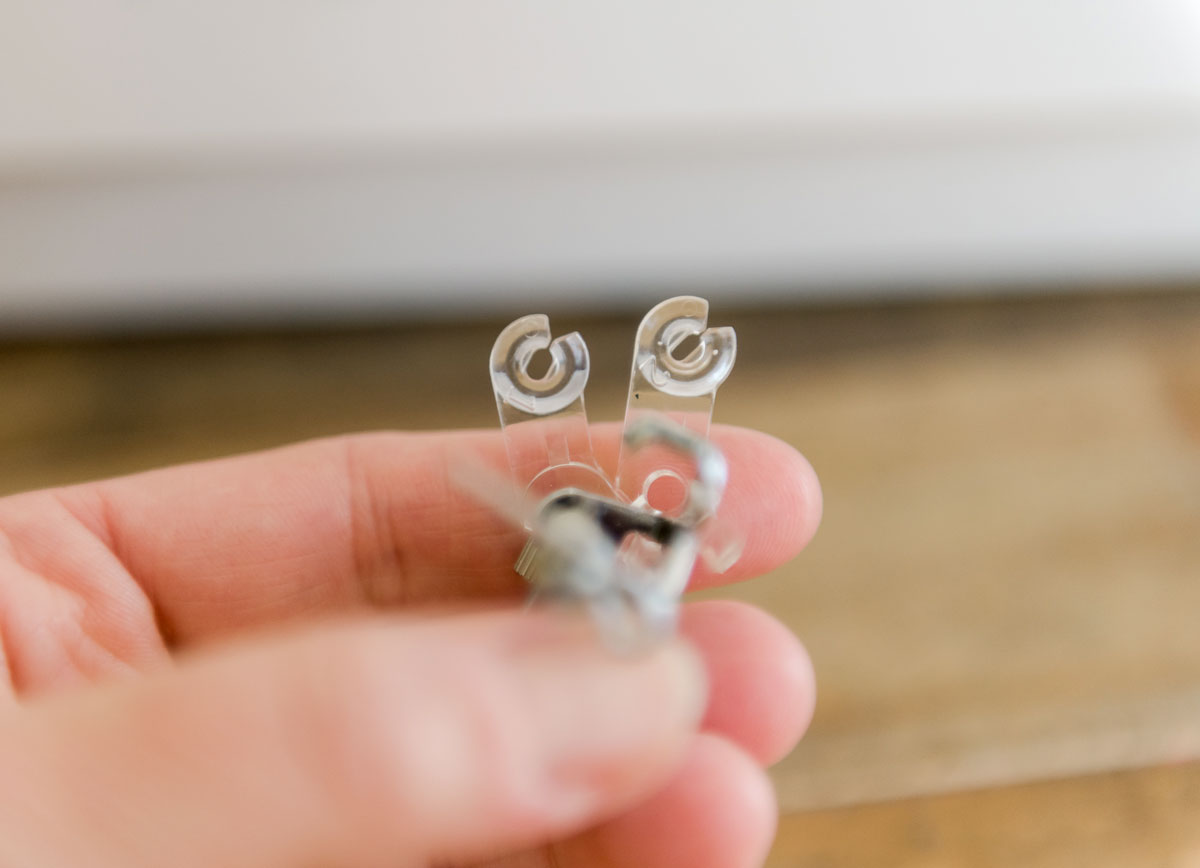 You can change them out depending on the thickness of yarn, cord or string that you are couching with.
There are 2 steps to using your couching foot: the first is to prep your machine and the second is to GET STITCHINGGGGGG and playing around with stitch drawing (as I call it)! 🙂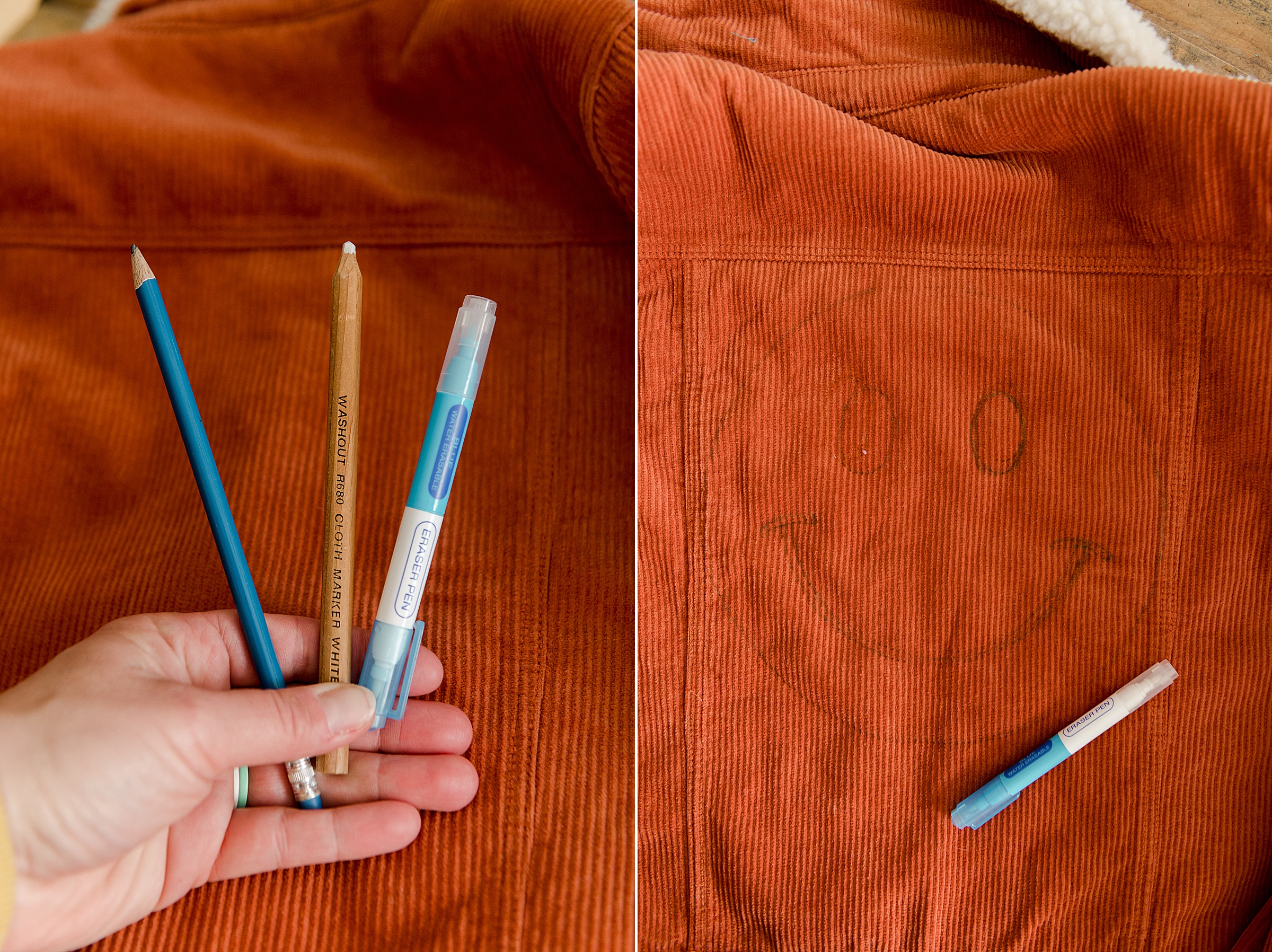 STEP ONE: Prep your machine and get the foot ready
Remove the screw holding the regular foot and foot holder in place and attach the free motion couching foot – make sure that you have already attached the plastic #1 or #2 to the couching foot holder depending on the weight of your yarn.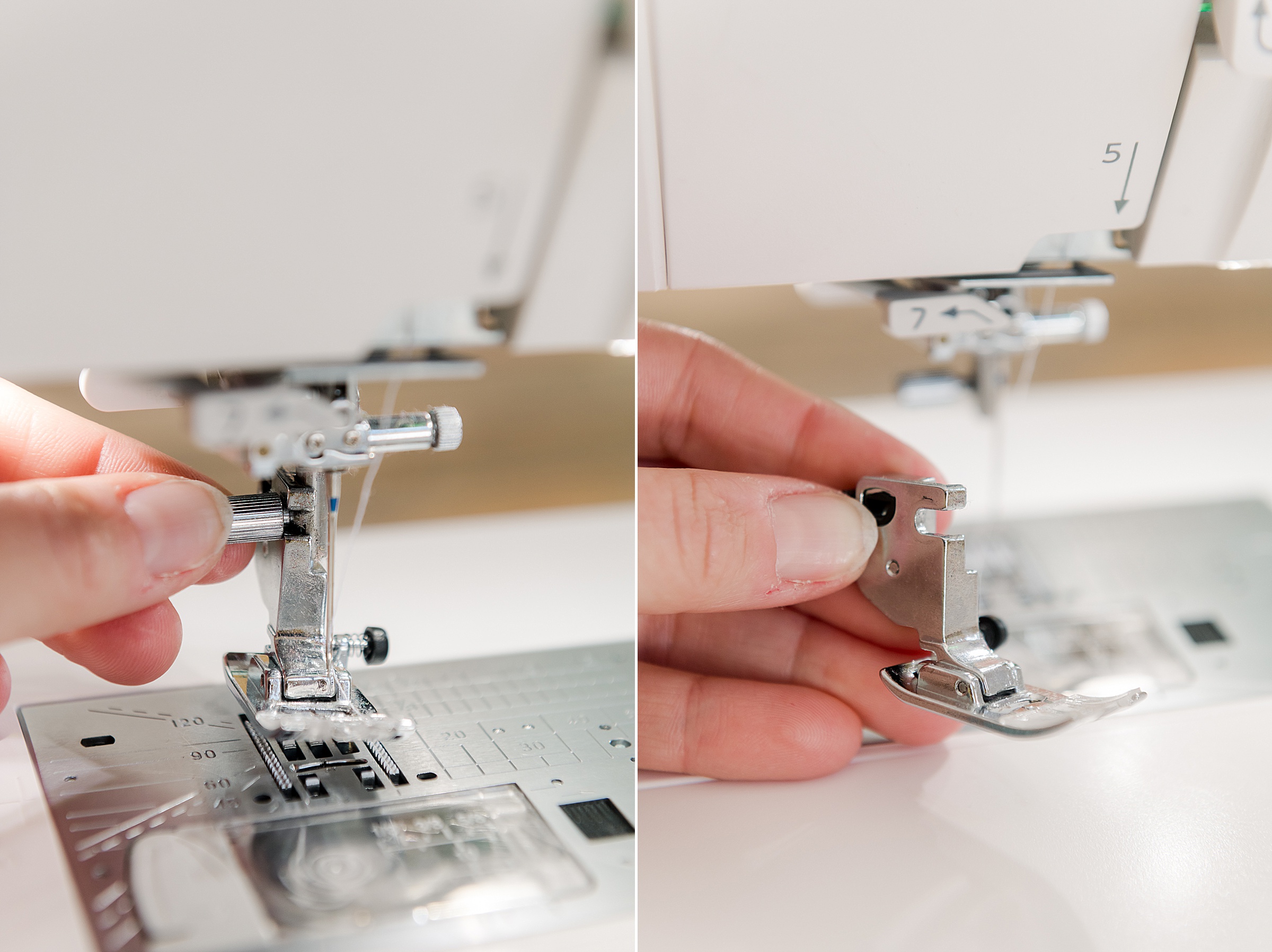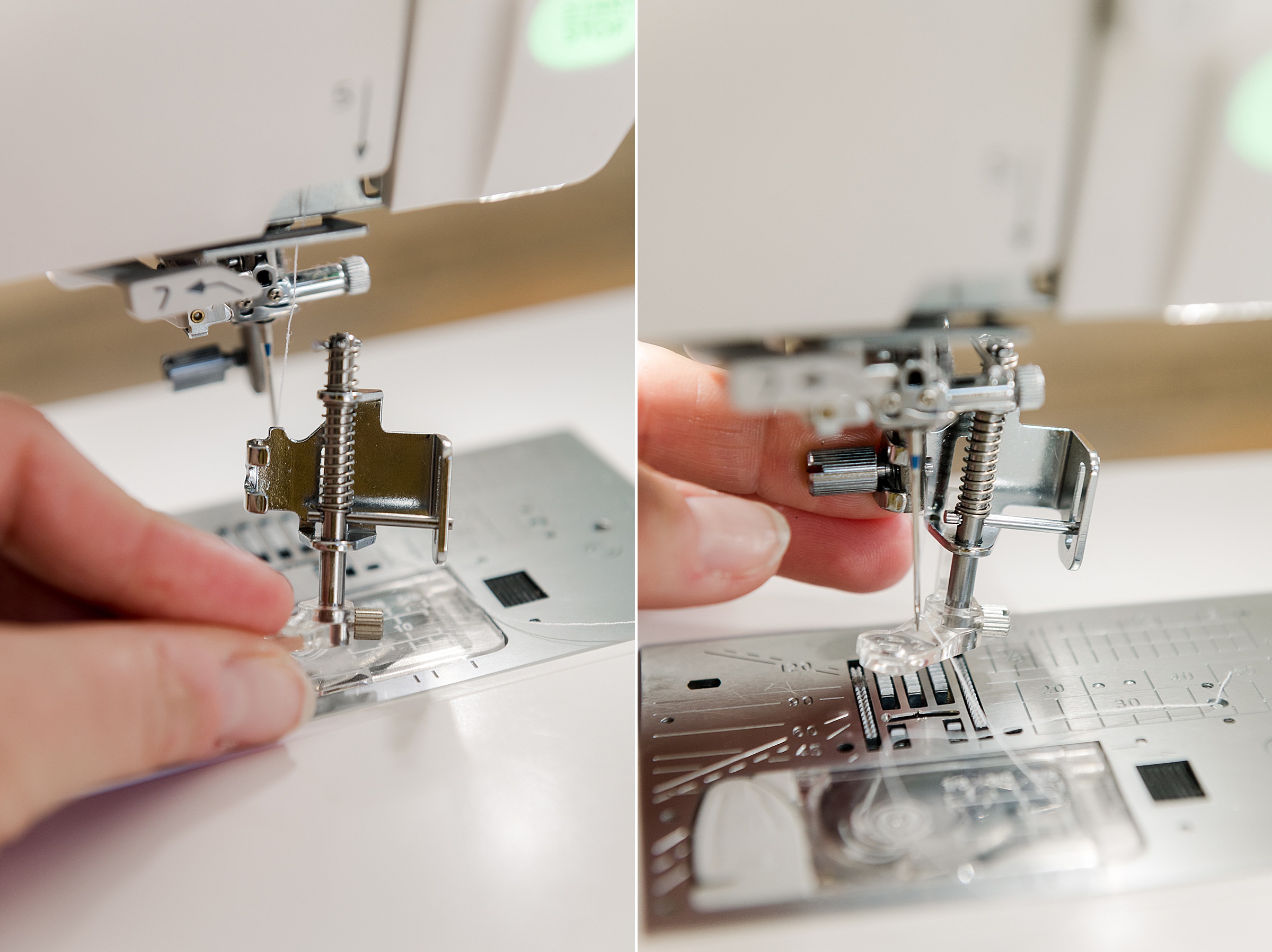 Lower the feed dogs – you can consult your manual or google your exact Janome machine to get the manual. The 9450 has a bar on the right side of the machine by the on/off button that lowers and raises the feed dogs.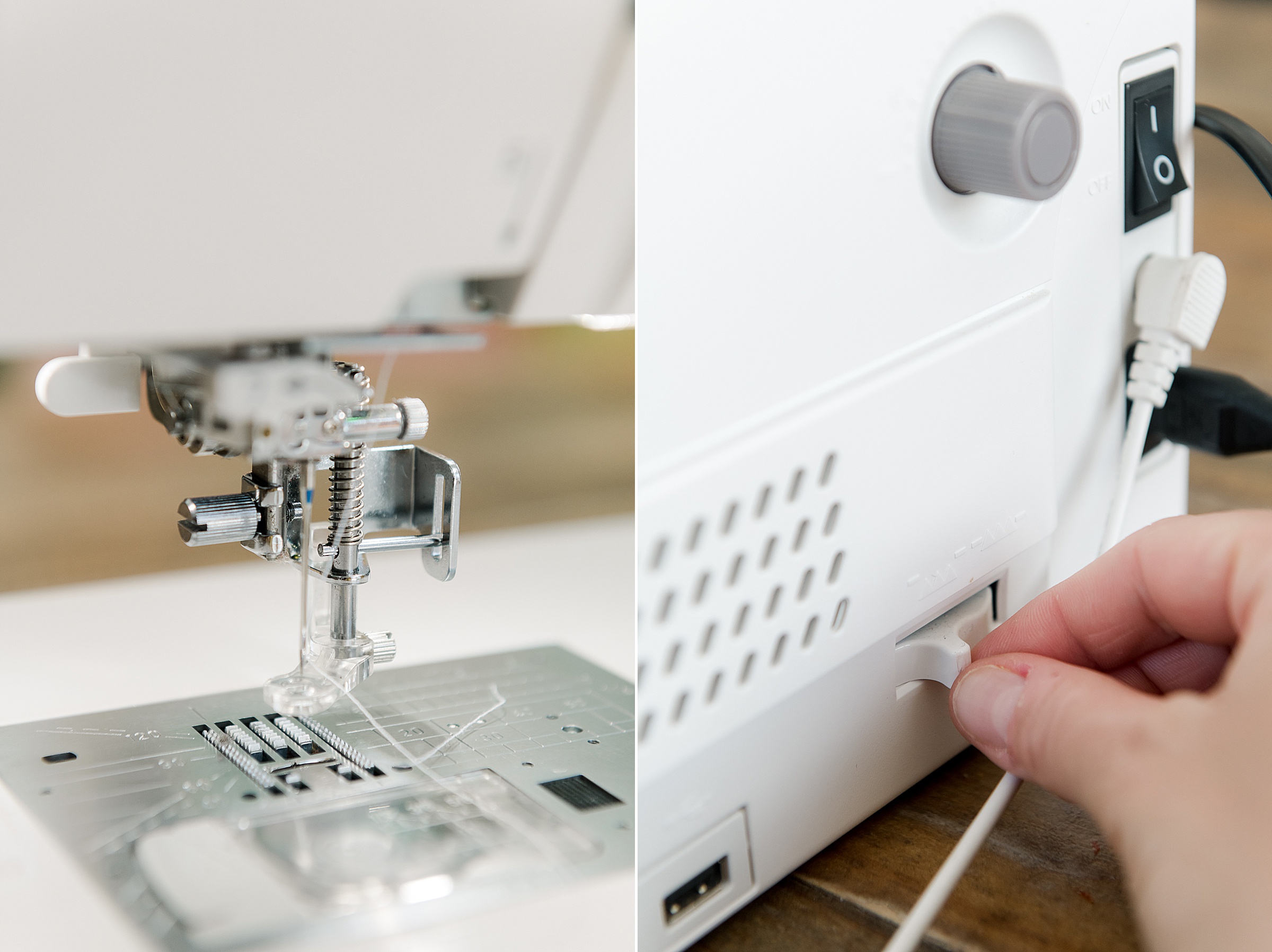 Turn your machine on 🙂
Set your stitch to zig zag stitch (you may notice with your machine….it does with mine……that the "kind" of foot holder is already recognized since you've already installed it, so only a few options for stitching are available with the feed dogs lowered. Either way, choose your zig zag stitch on your machine.
TIP: Make sure that your zig zag stitch isn't set to any wider than 1.5mm (this is in the display screen or by lowering/raising the numbers) 🙂
Run your yarn into the small hole of the couching foot to get started. 
TIP: I choose to run my yarn through the back of the couching foot (kinda through the opening on the foot holder itself) to keep from getting tangled. This isn't necessary, just a tip! 🙂
Give your couching a test on a scrap piece of fabric to get the handle of free motion AND of how fast/slow to move your fabric (because remember you don't have the feed dogs to grab and pull your fabric through, your fabric will freely move as you are couching depending on where you move your hands)! You will want to grip the fabric flat with both hands kinda making a triangle in the middle where the foot/needle is so that you can control where the needle/foot/fabric is moving as your pressing the presser foot! 🙂
**Keep this scrap fabric nearby to test as needed when couching!
STEP TWO: Get to stitchingggggg 🙂
This is the fun part! Just give it a go and pay attention as you go so that you can see your design come to life! 🙂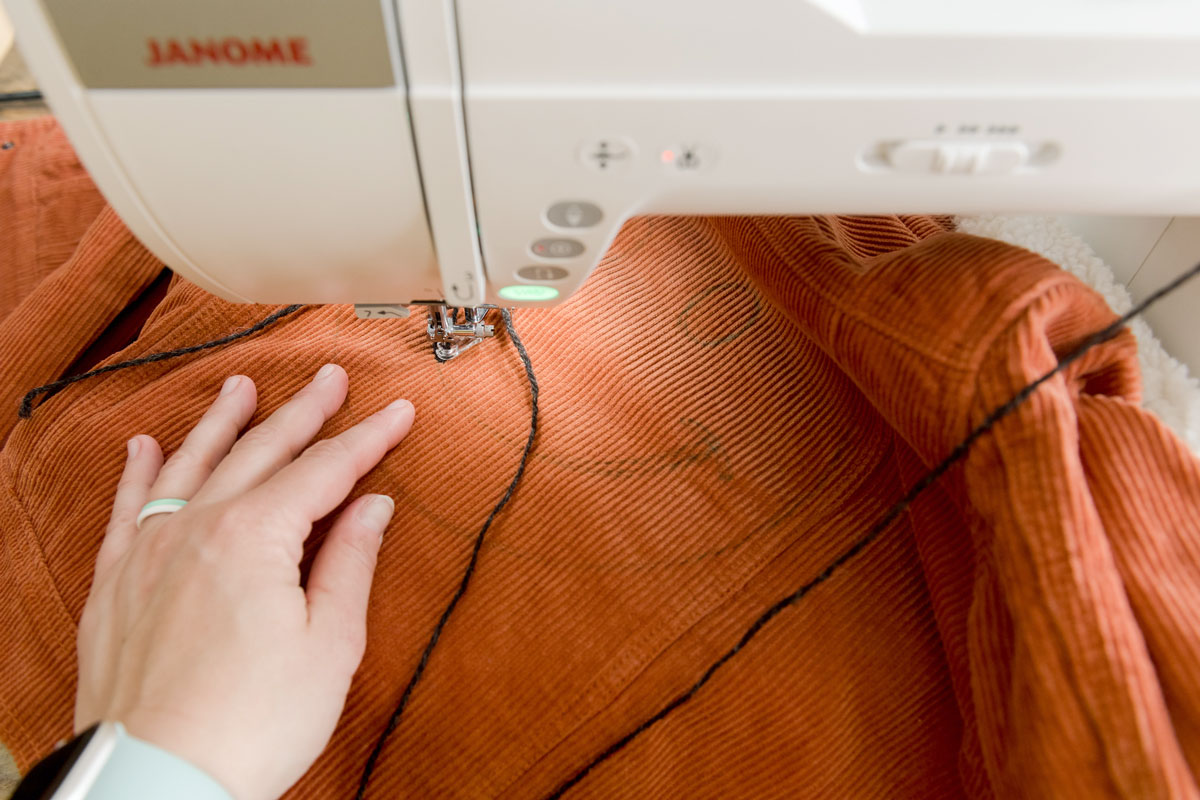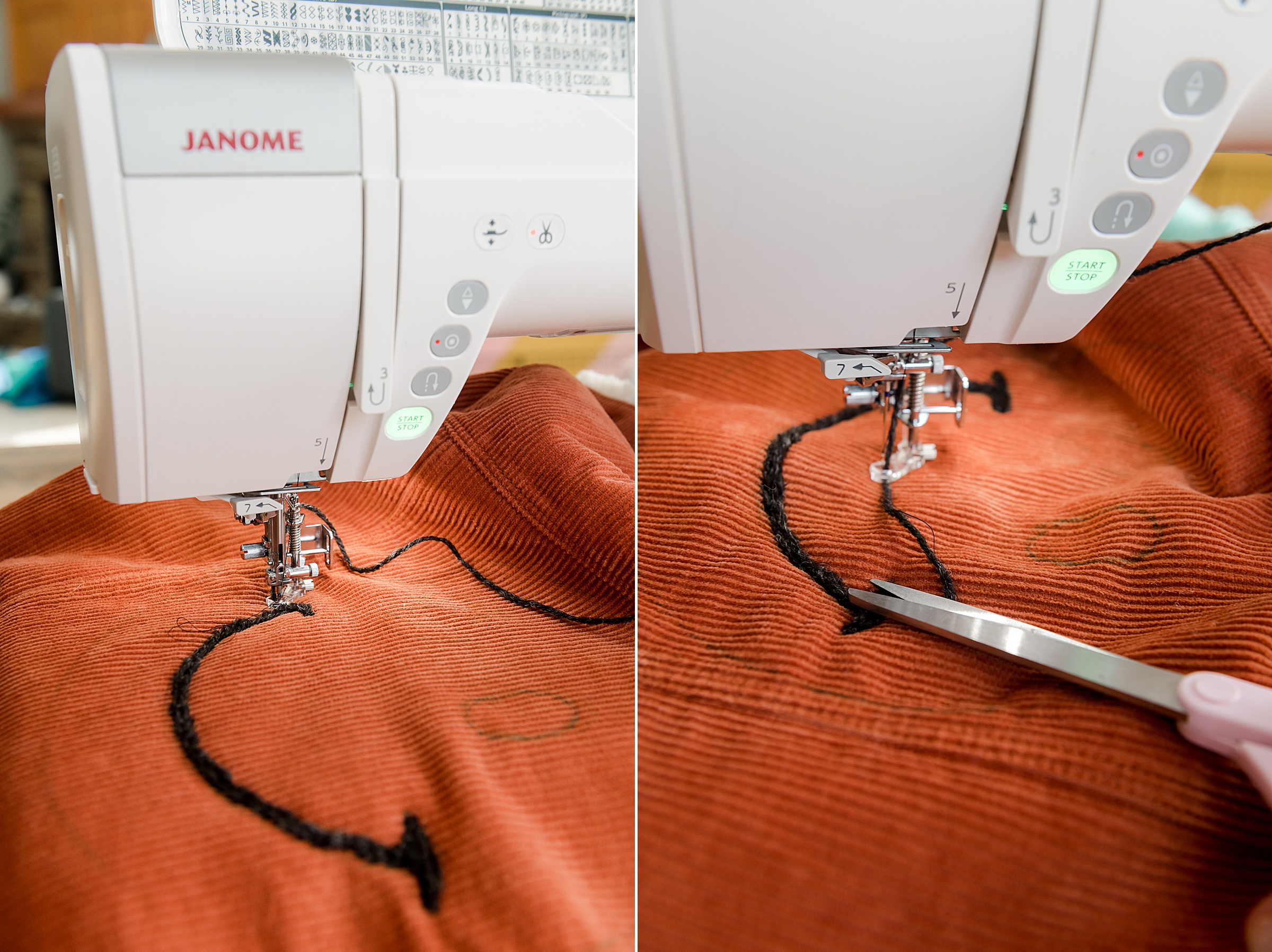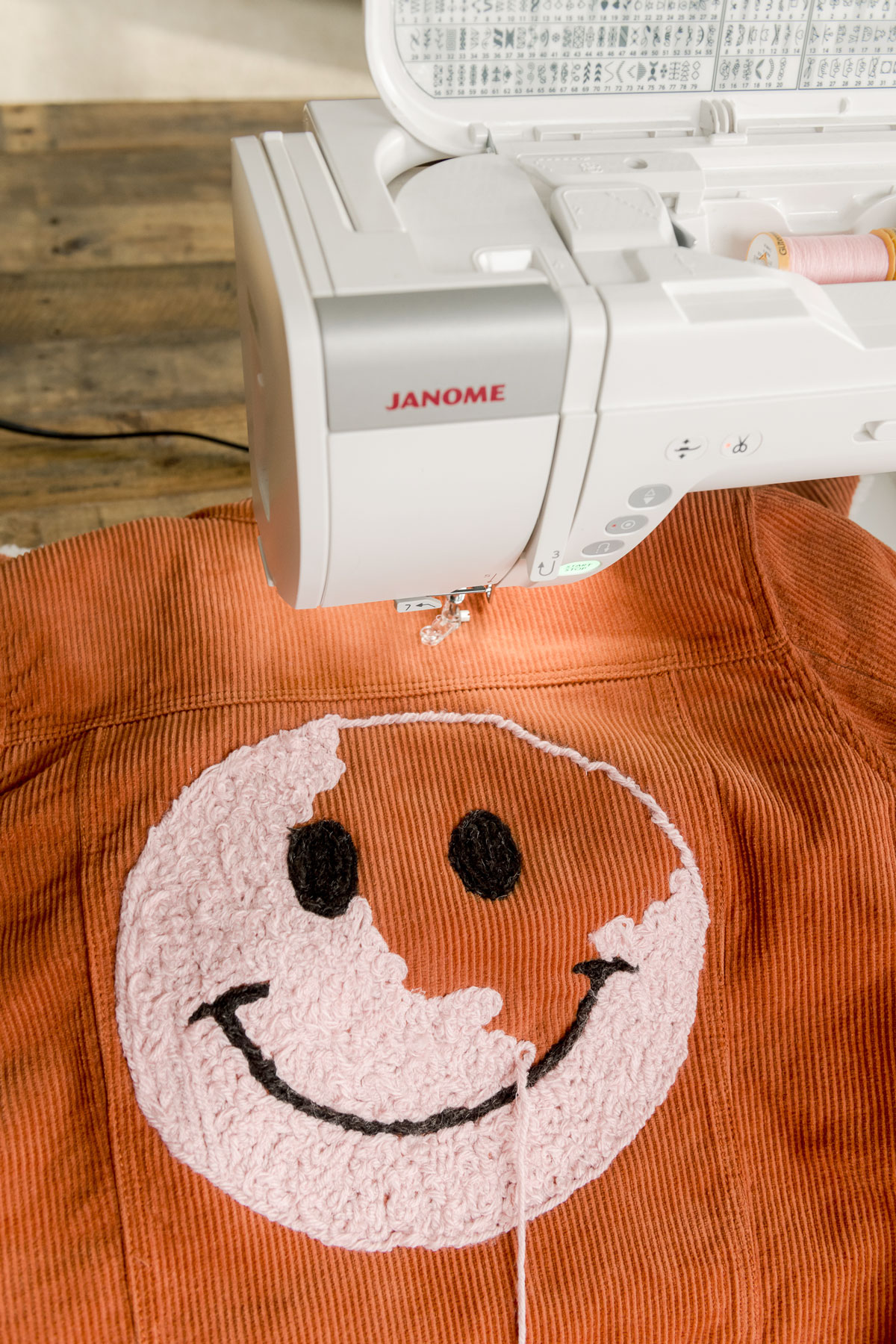 Here are some tips that I find helpful:
To begin, I just anchored my stitch with a anchor stitch a few times before I got going wth the zig zag (my machine has a button to push for this)! 🙂
The pace of your stitching is KEYYYY! Meaning, how fast or slow that you move your fabric through the machine…..if you go to fast, the zig zag stitch won't attach very well to the yarn and it seems to pull away more. If you go too slow, then the yarn seems to pile up and get jammed in the machine. Although I did find that if I error on the side of slower, that works better. But practice this to get your own rhythm! 🙂
Yarn or string that is too separated isn't ideal. I tried using a worsted weight yarn that was very "separat-ey" (I know that's not a word…..) but it seemed as though the strands of the yarn were coming apart and very loose to begin with which meant that the zig zag stitching had a hard time "grabbing" the yarn to adhere it.
Outline first and then fill in. I found this to be SOOOO helpful so that your lines are crisp and neat…..kinda like painting! 🙂
Be sure your yarn has slack to move – if it gets stuck or snagged, the zig zag stitch won't be able to "pick up" the yarn because it will be too taught. I decided to loop my yarn over the back of my machine (or tucked "behind" the little bobbins holder for winding bobbins on top of the machine). Just be sure it can easily be pulled from the skein when stitching.
To stop sewing, simply lift your presser foot, cut your thread and cut your yarn as needed.
Each time I had to refill my bobbin, I would cut the thread but NOT cut the yarn……I was able to easily pull out the bobbin and retread it, then retreaded the machine and pickup where I left off with the yarn by sticking the yarn back into the couching foot hole. Not necessary, just cuts down on all the little strings! 🙂
Go slow and HAVE FUN! This is so much like painting because you are in FULL control of where the yarn/thread go and you can fill in and draw anything and everything you want as it comes to life right in front of your eyes! 🙂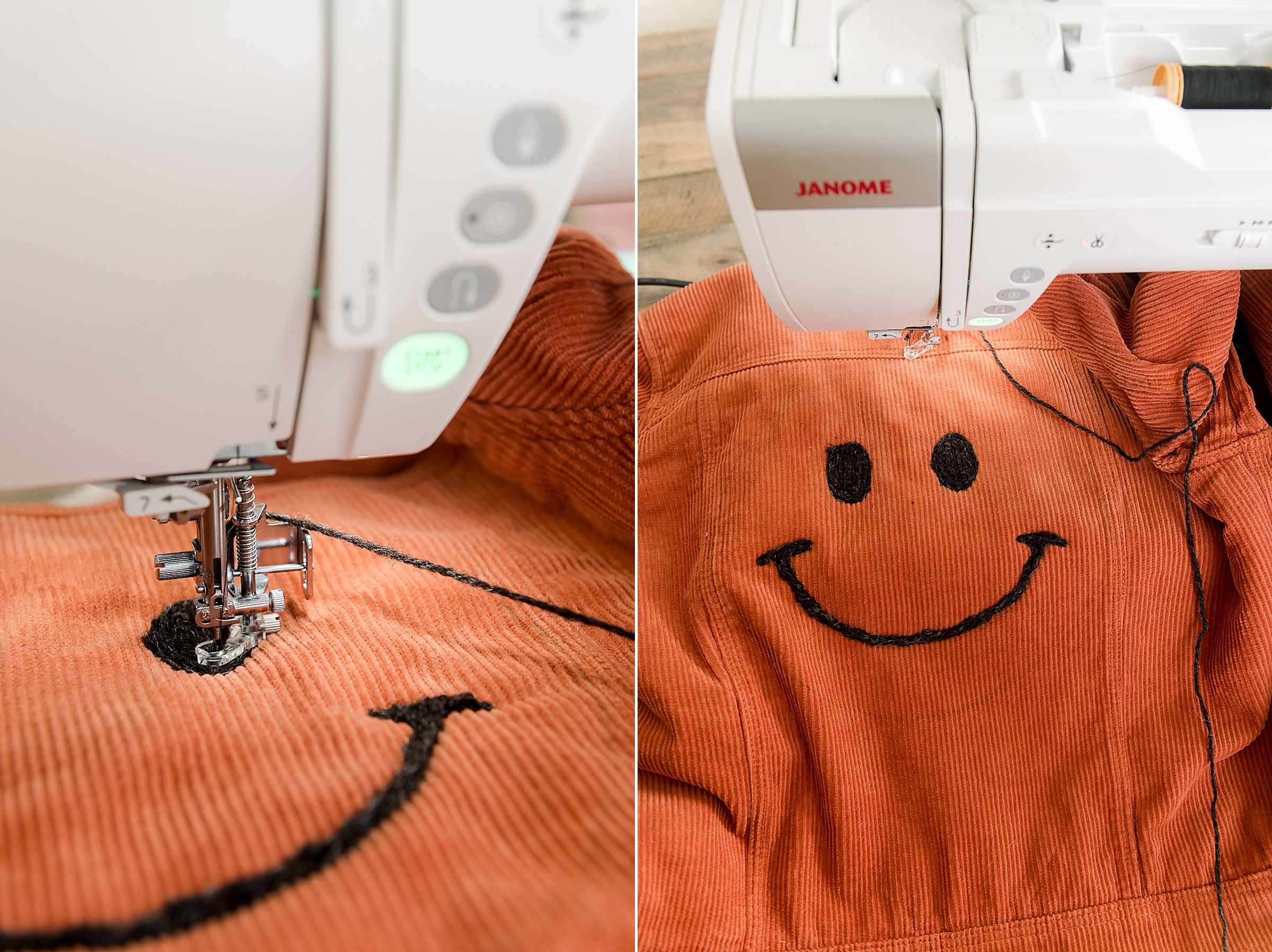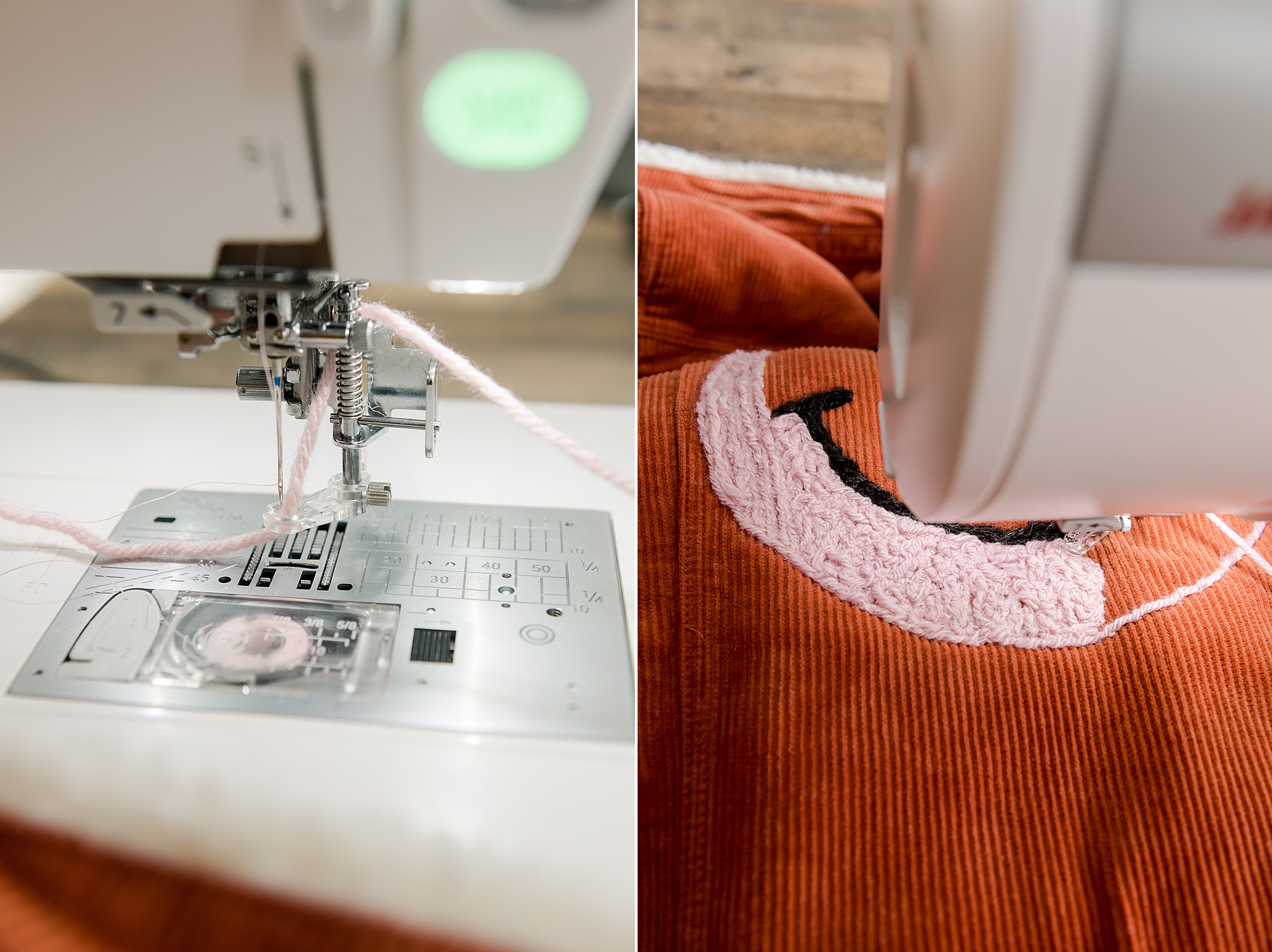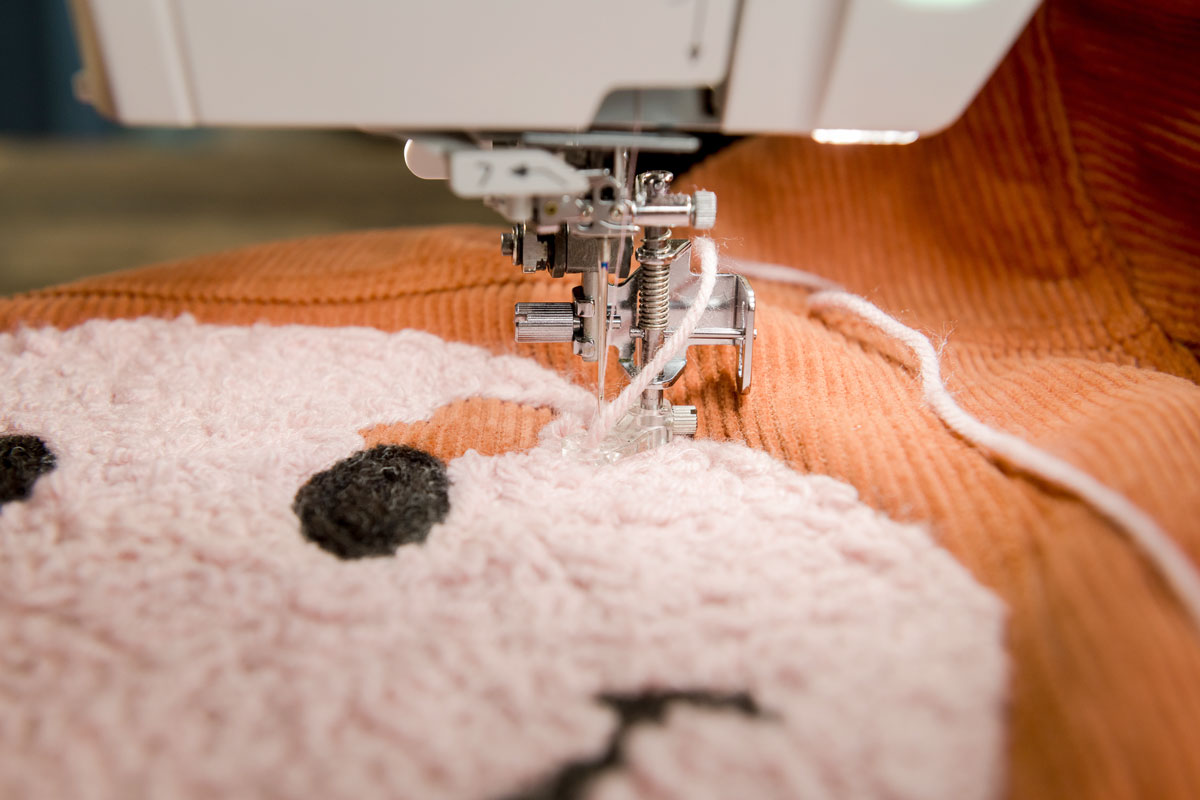 OKKKKKKKKK!
I think that's about it! I hope that this inspires you to try and test out some fun couching techniques — this Jacket was purchased for my daughter on clearance from Target so adding this happy sailing face to the back only took me about an hour and a old skein of yarn and some thread! I mean, the sky is the limit to customizing clothes, backpacks, patches, pillows, beach towels and MOOOOOREEE 🙂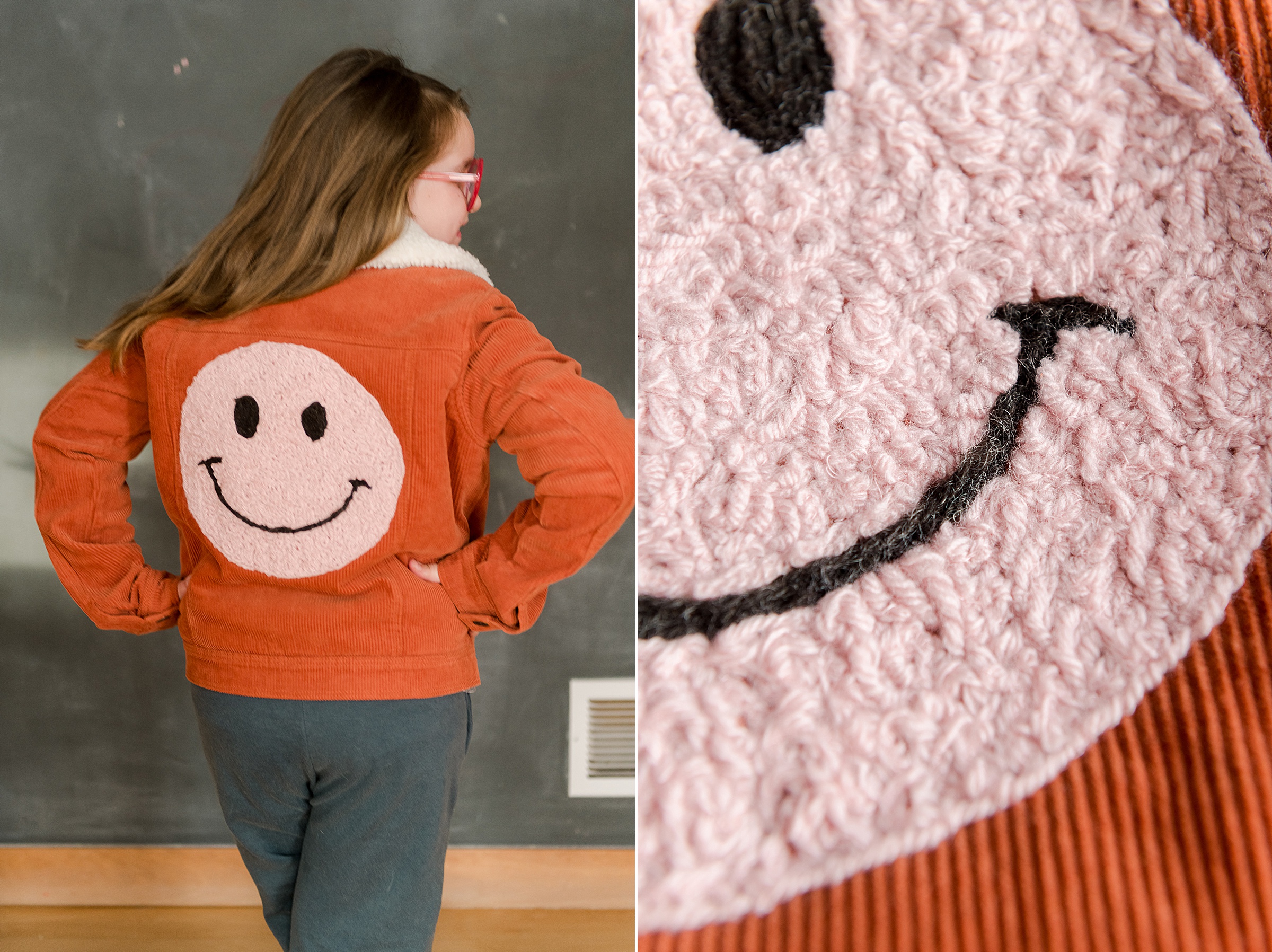 YAY! HAPPY SEWING! 
And as always, if you have a question let me know….I'm happy to help best I can! 🙂