Custom color mixed tie dyed shoes! (like mix your own colors….gah!)
*this project is in partnership with Tulip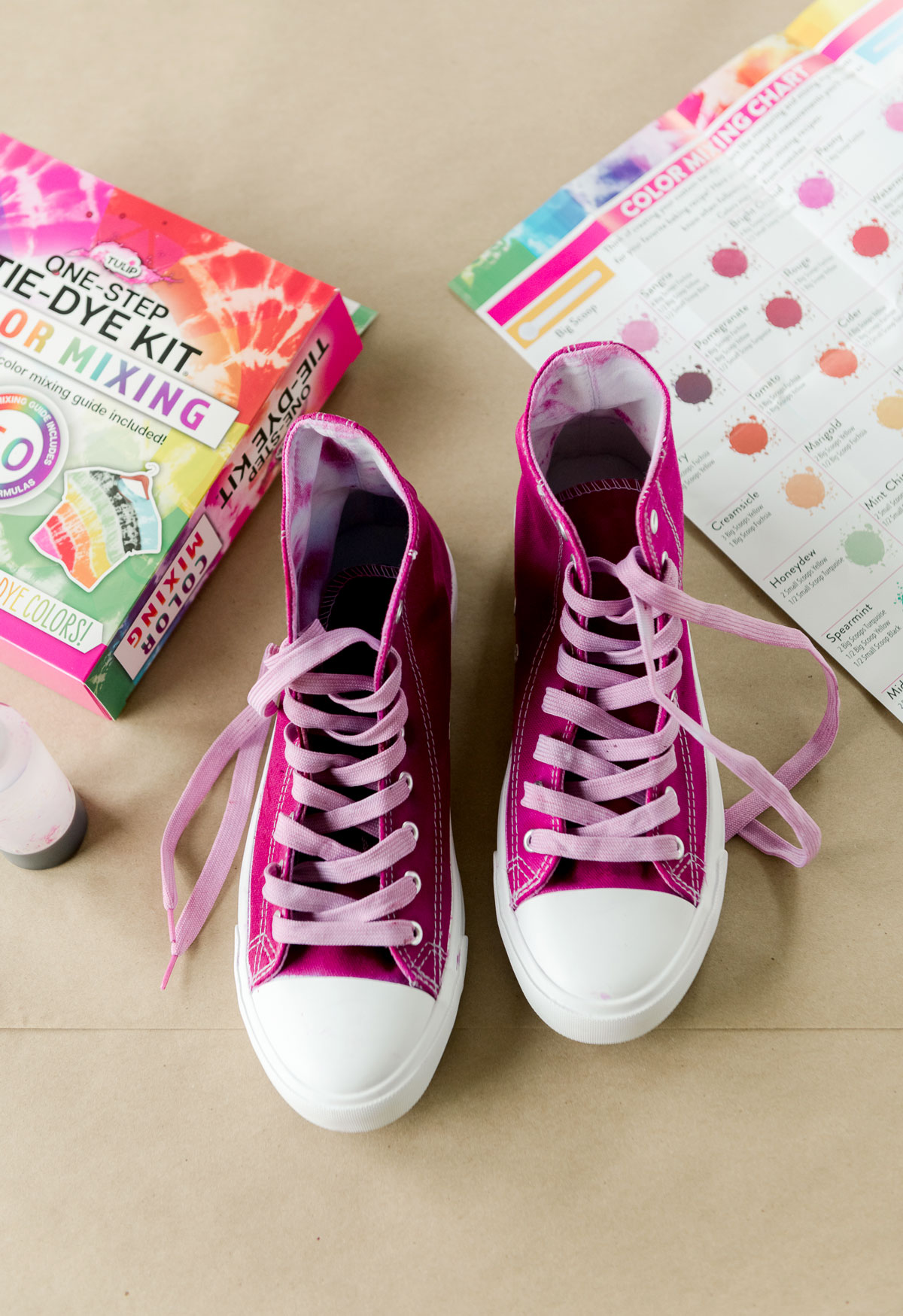 OKAY OKAY OKAY! I have raved about Tulip tie dye for like ever (I mean, they legit are the best, easiest and most colorful IMO) which makes tie dying SO successful and SO MUCH FUN to do as an adult or kid! BUT LET ME TELL YOU that they just came out with a new kit that includes HOW TO MIX YOUR OWN COLORS! 
Did you hear me?! Mixing colors! This is my favorite thing in all the land! LIKE ALL THE LAND! Mixing colors and pairing colors together and Tulip just made this into a kit for dying!
So of course I grabbed myself a pair of chucks and got to work mixing a custom dye for a custom tie dyed pair of shoes! WEEEEE!
The first thing you will notice when you unpack your Tulip tie dye color mixing kit is that there are LEGIT soooooo many options to mix your favorite colors which is so cool! I love the chart that is included because you can easily visualize pairing colors together, matching them with other decor or evening fantasizing about ALLLL of the projects to make with this dye! HA! 🙂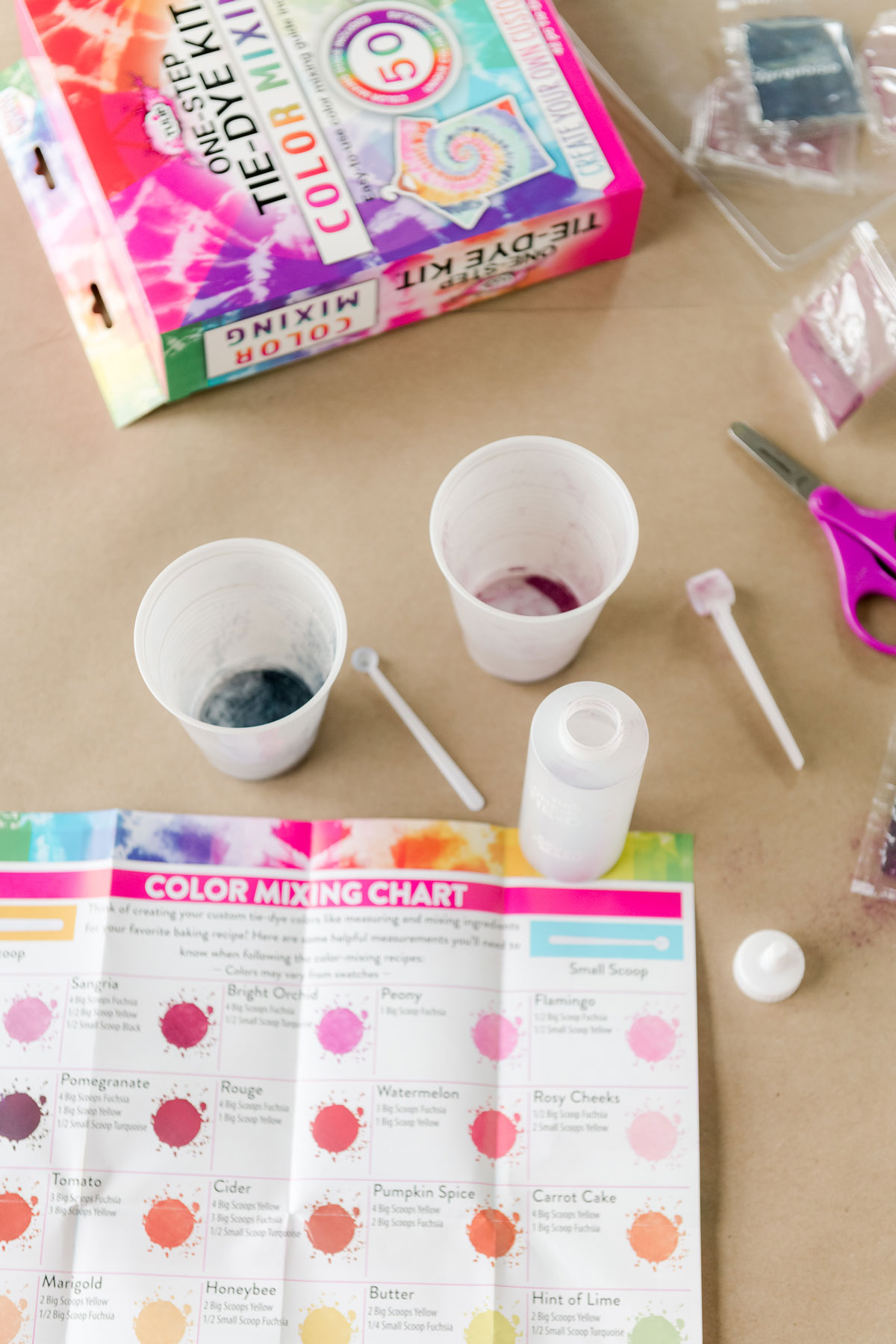 MATERIALS:
A box of the Tulip Tie Dye Color Mixing kit (and this kit has enough to dye sooooo many items….)
A pair of white chucks (or any pair of canvas shoes)
A rack for placing the shoes in to dye
A baggie for sealing the shoes to let the dye sit overnight 
optional (I recommend highly) – a few paper or plastic cups to scoop dye from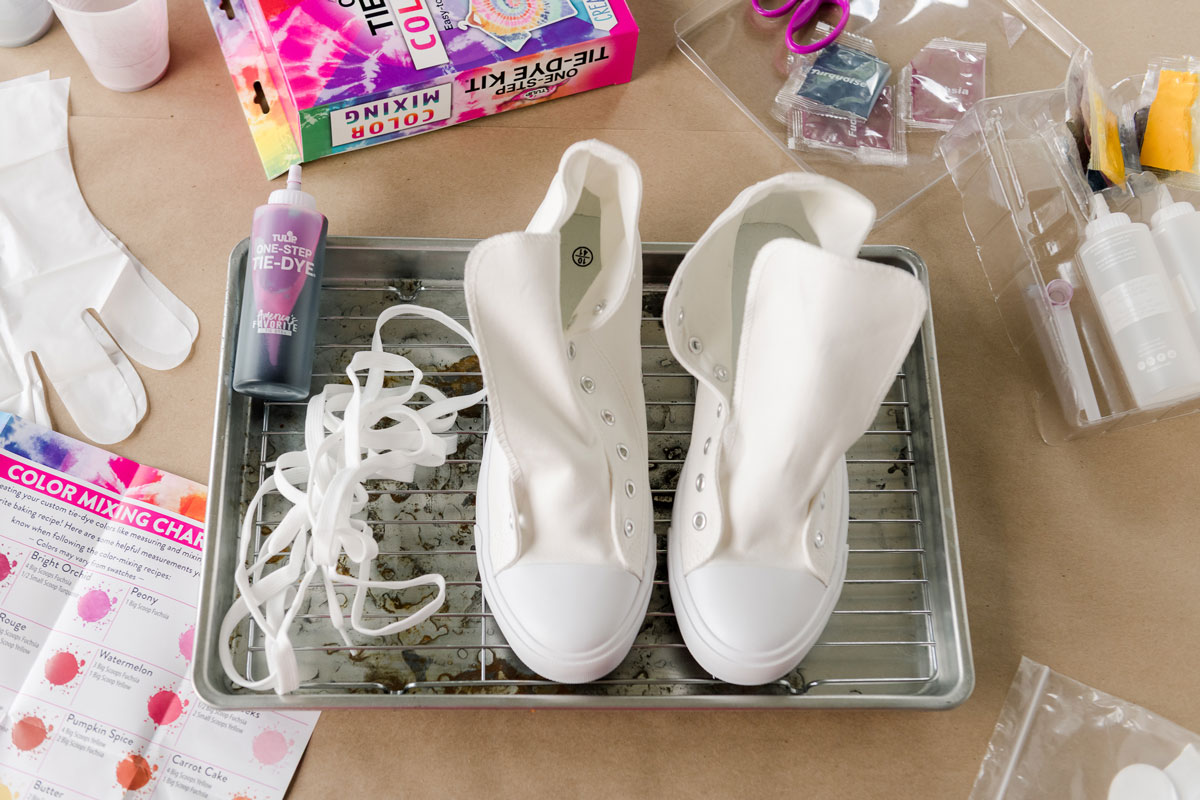 INSTRUCTIONS:
1. Wash your shoes if they are ones you already have to get off any scuffs or grossness from wearing them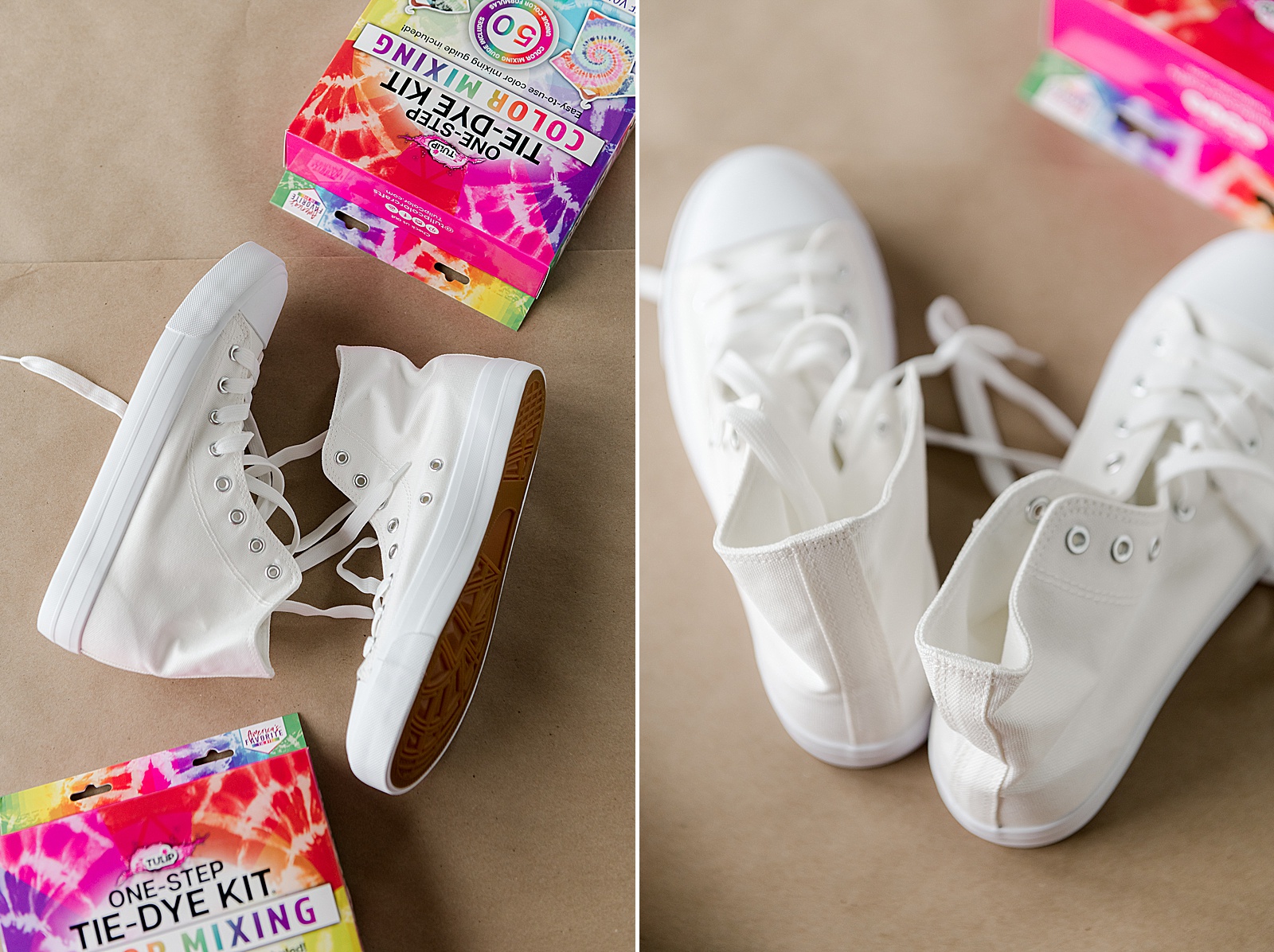 2. Then open Color Mixing kit and open up the color mixing dye chart to choose from ALLLLLLLLLLLL the amazing color options (like so many)! — and then contemplate laminating the dye chart for future reference or to frame because the colors are LEGIT! 🙂 HA!! Ok, just kidding…..kind of 🙂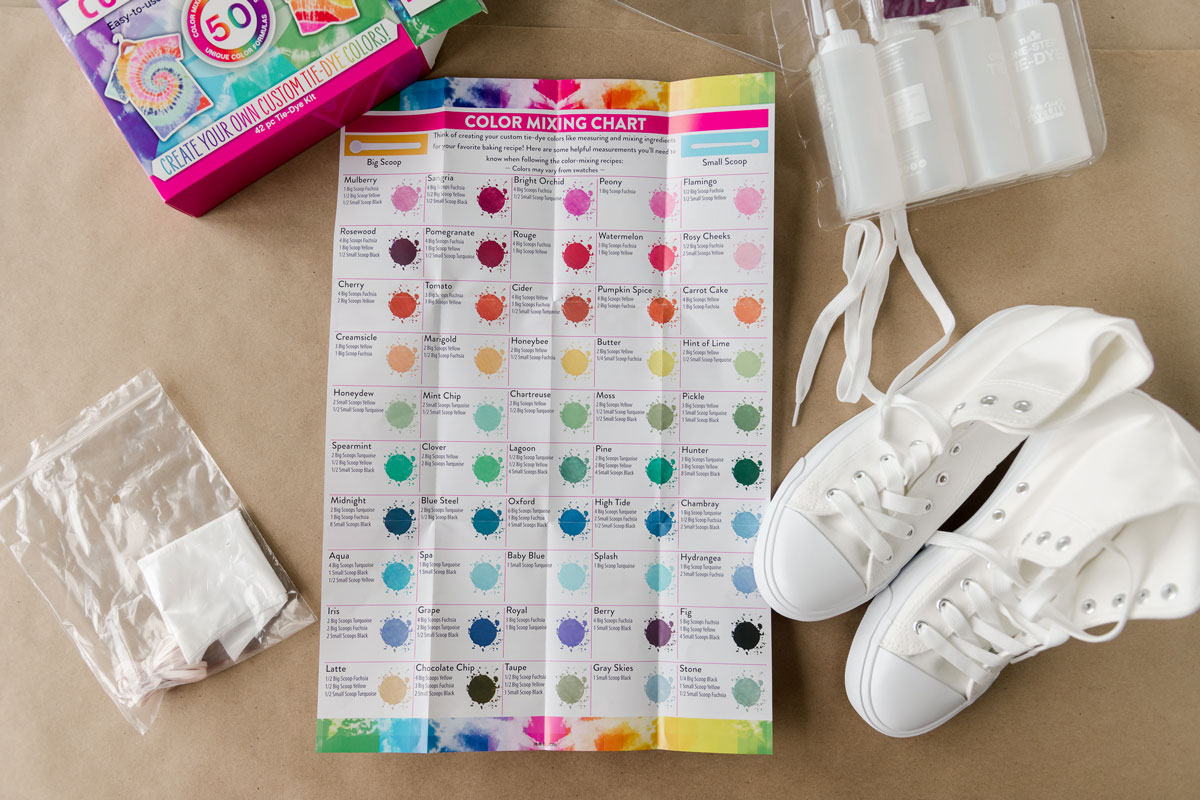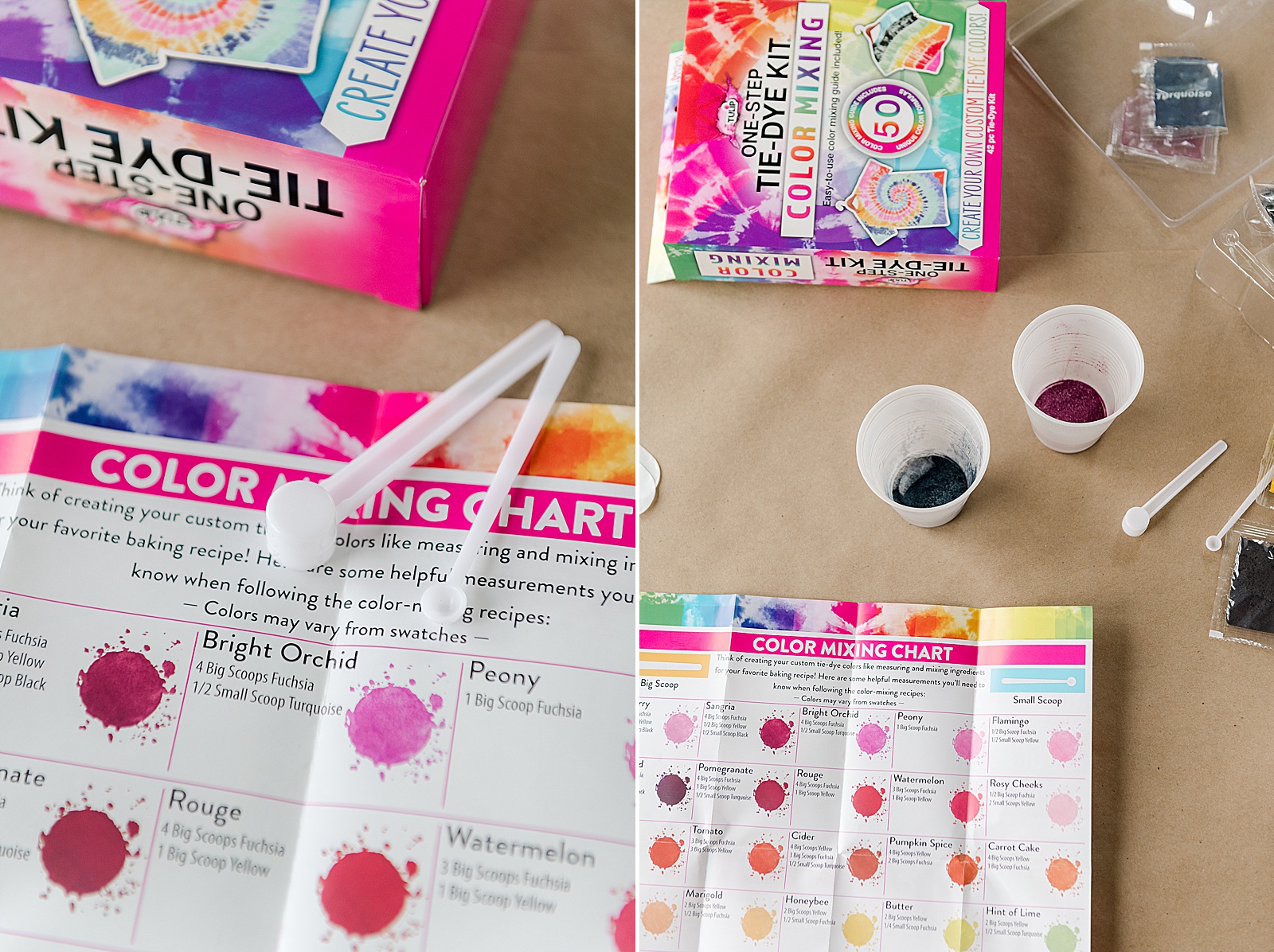 3. Once you've decided what color, open up the kit and follow your "recipe" for mixing your dye from the powder. There's an included "big scoop" and "small scoop" (well 2 of each actually) and clean bottles to pour directly into as you scoop!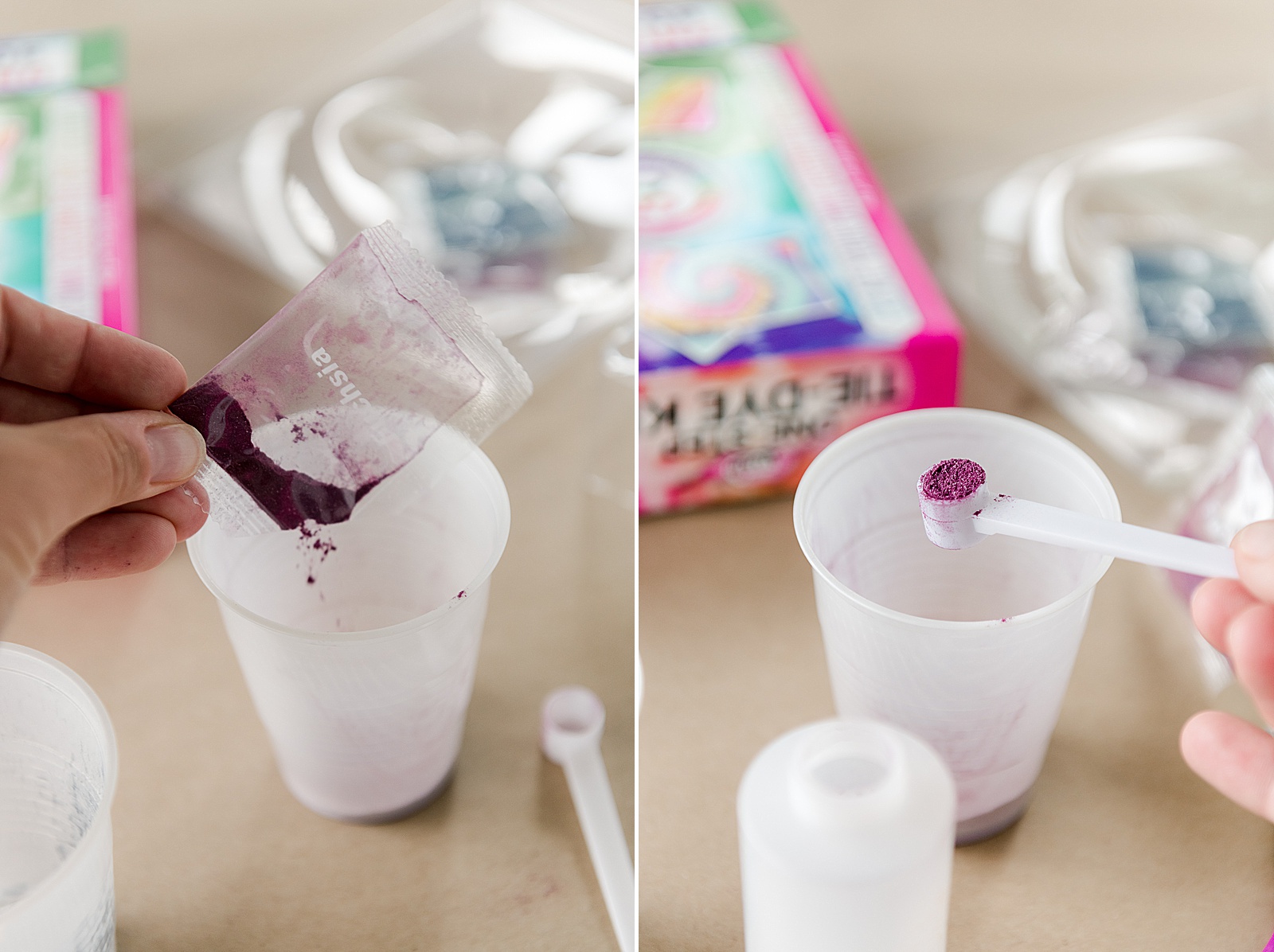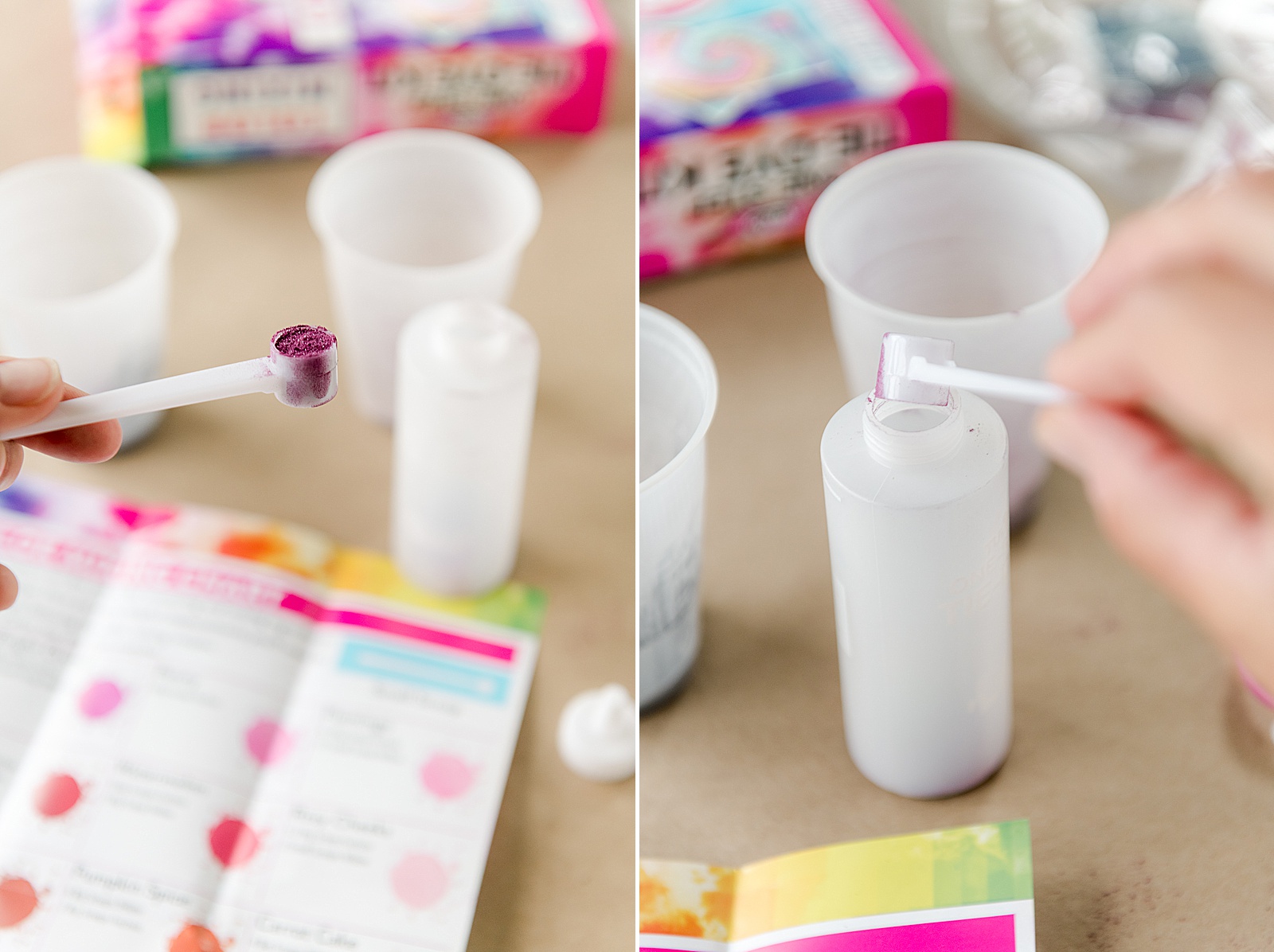 When all of your dye powder is in your bottle, fill to the fill line (marked on the bottle) with water. Then shake to mix up
A few tips on mixing the dye:
Pour your dye packets into some plastic or paper cups before scooping – it's a HECK of a lot easier to scoop from a cup than a small plastic sleeve 🙂 – you can then put any unmixed leftover powder dye back into the plastic sleeves after mixing OR you can put them into a operate baggie for future use – like I said before, there's enough powder in this kit to mix LOOOOTS of colors! 🙂 
Be sure to wash or rinse out the scoops of dye before dipping into another color – it won't matter for the mix you're putting into the bottle…BUT you certainly don't want any black powder to be mixed with yellow unintentionally for future mixing 🙂 
Do not add water to your dye bottles until you have put ALL the powder into the bottles – powder first THEN water 🙂 
I like to use warmer water to mix with the powder dye – I feel like it dissolves the powder dye quicker and better 🙂 
You may want to use a paper towel to cover the top when shaking to mix – sometimes little drops get loose and you certainly don't want to dye your walls accidentally 🙂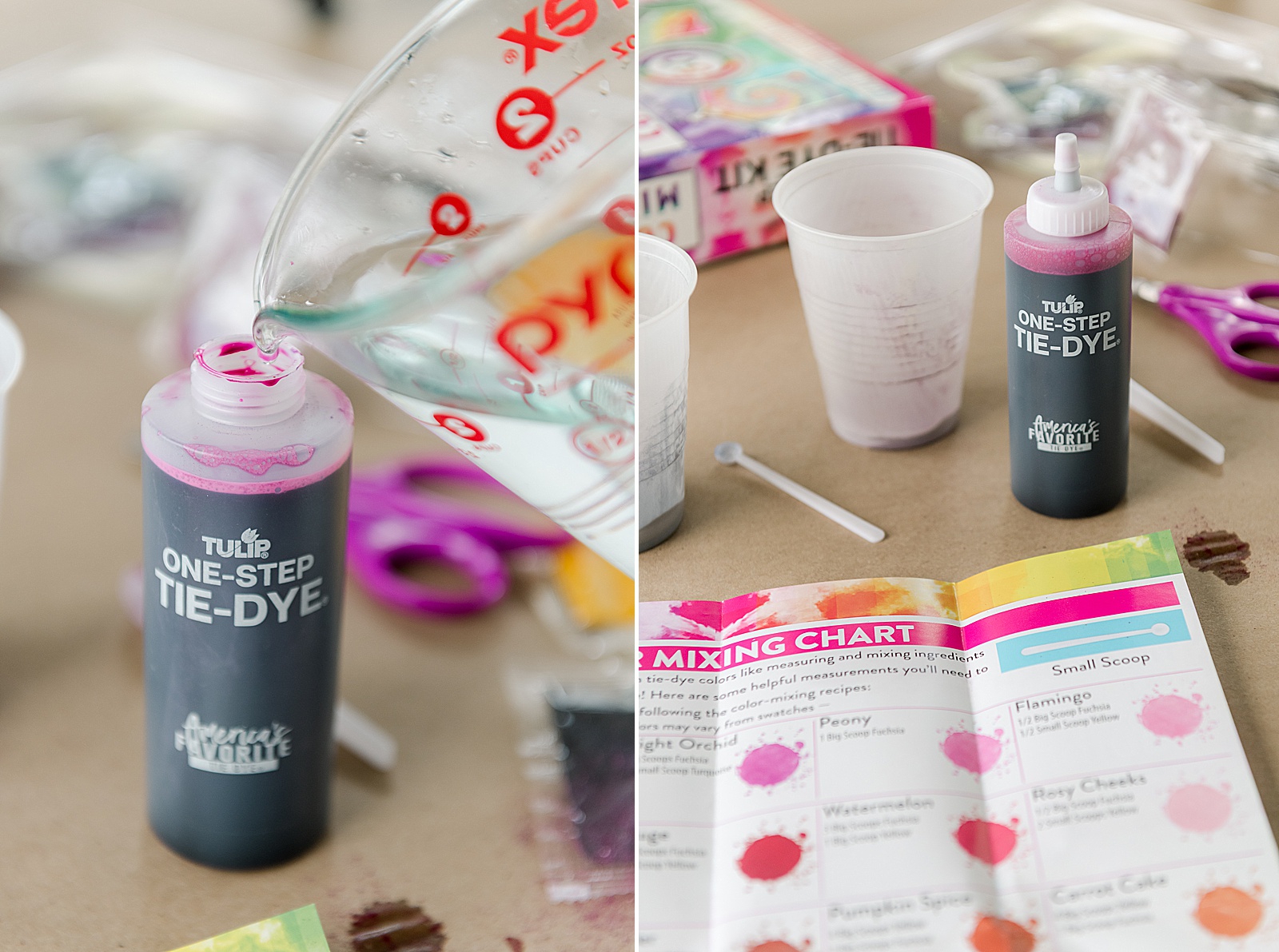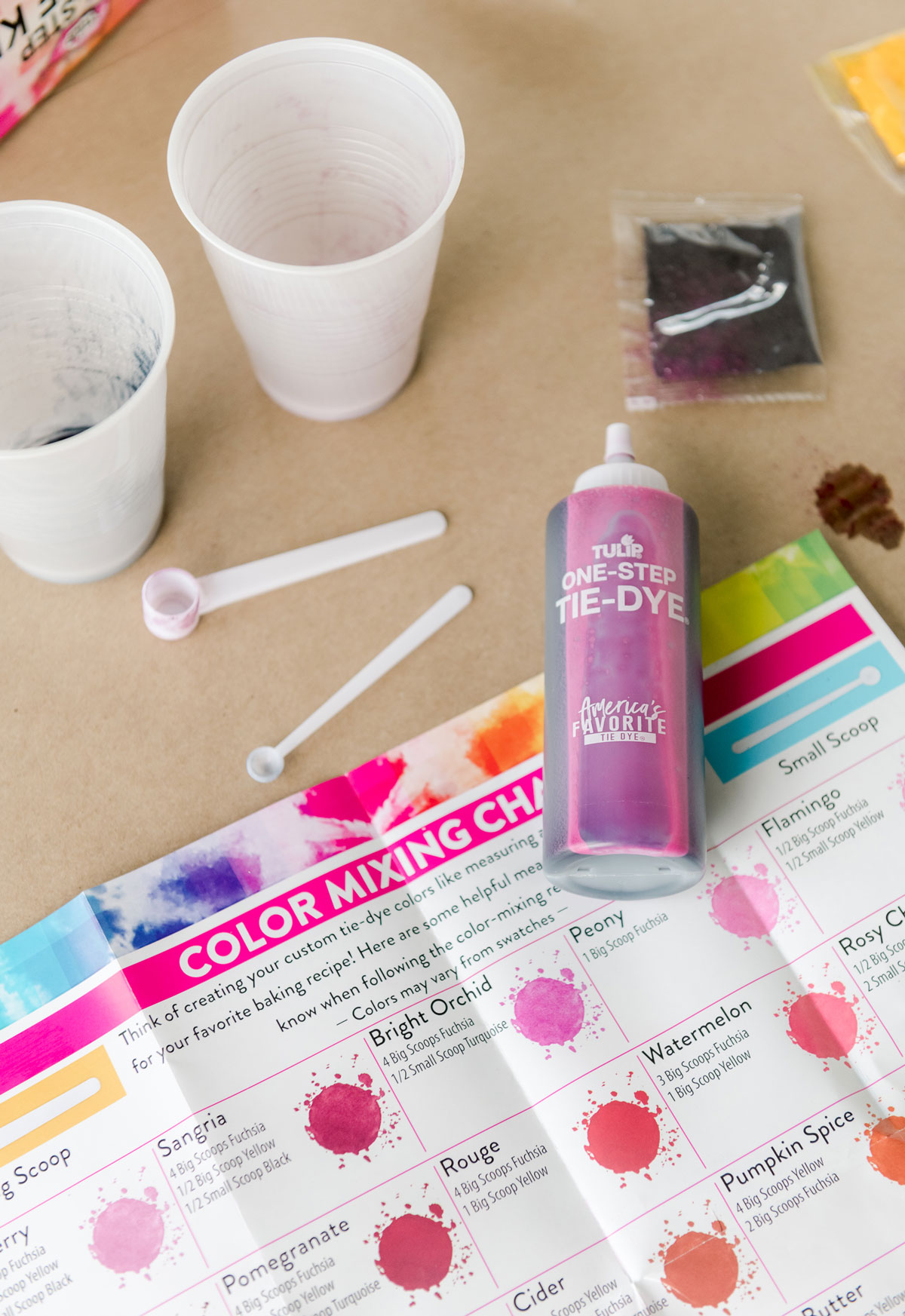 4. Now it's time to dye with your newly mixed, custom dye!!!! Take the laces out of your shoes (if you have them) and set them aside. Pull the tongues out of the shoes so they are more exposed and set the pair of shoes onto a wire rack over a tray or pan to catch excess dye.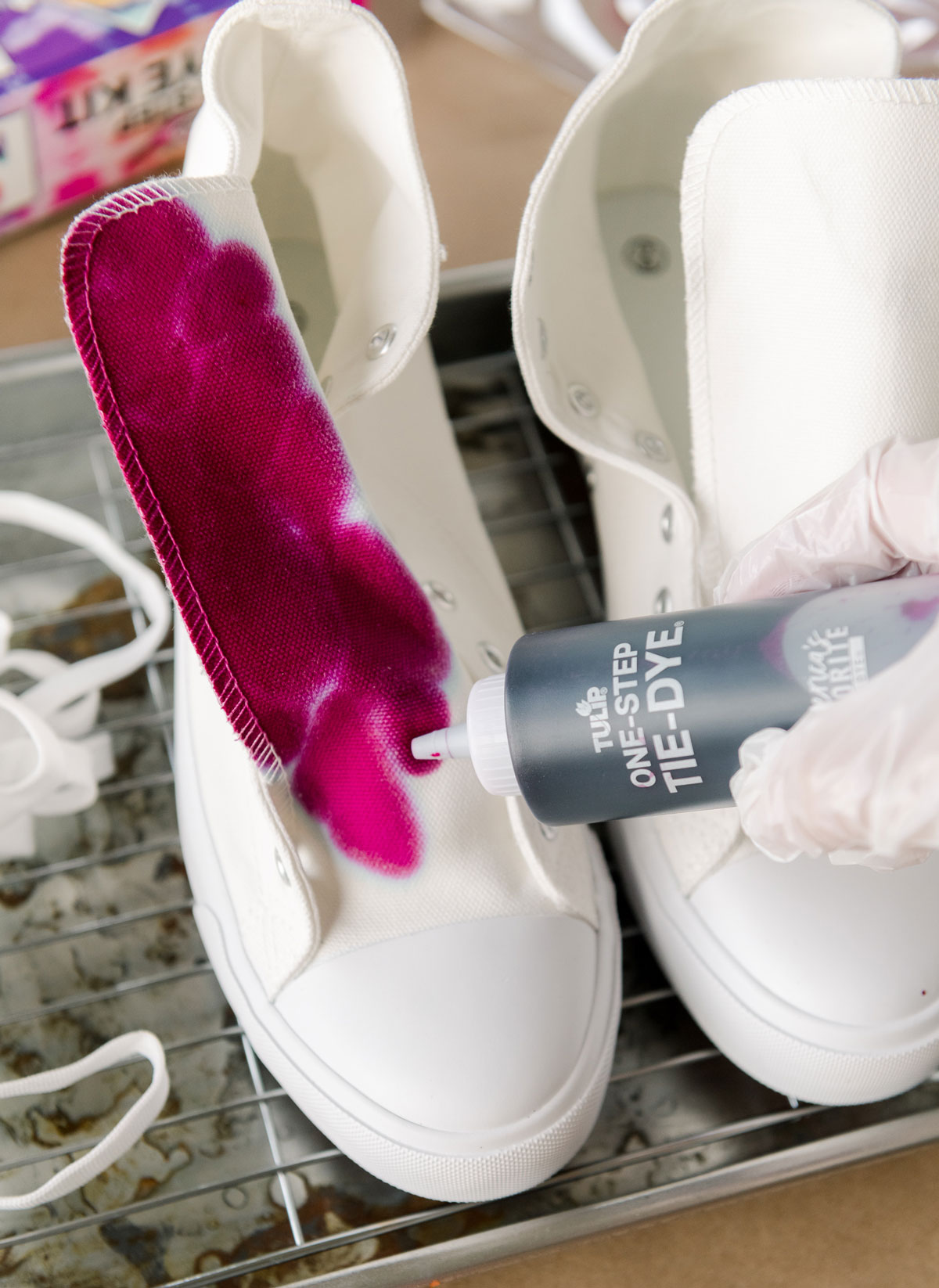 Here are a few tips for dyeing your shoes!
I feel like the dye works best if you go slow and touch the tip of the dye bottle to the shoes. Squeeze gently as you dye to saturate your shoes — if you squeeze too much too fast, the it just squirts everywhere!
Be sure to get the tongue too – I actually started with the tongue and then moved to the sides of the shoes and then the back 
I chose to not dye the insides of the shoes….but you totally can! I didn't want to "waste" any dye on the inside part that nobody sees 🙂 
I also didn't mark off or tape over the soles of the shoes – my soles are rubber which means that they are a non-porous surface (won't suck up water) SOOOOOO they didn't take on any dye as I was dying them. At the very end I took a paper towel and wiped any drips so that it didn't sit on the rubber, but if you're feeling cautious, you can totally use some painters tape to tape off the rubber soles or bottoms 🙂 
When you've covered both shoes, don't forget to dye the laces
I went back over the parts of the shoes that I could see slight variations in color and added a "2nd coat" to the dye……it seemed to just give it a more even coverage 🙂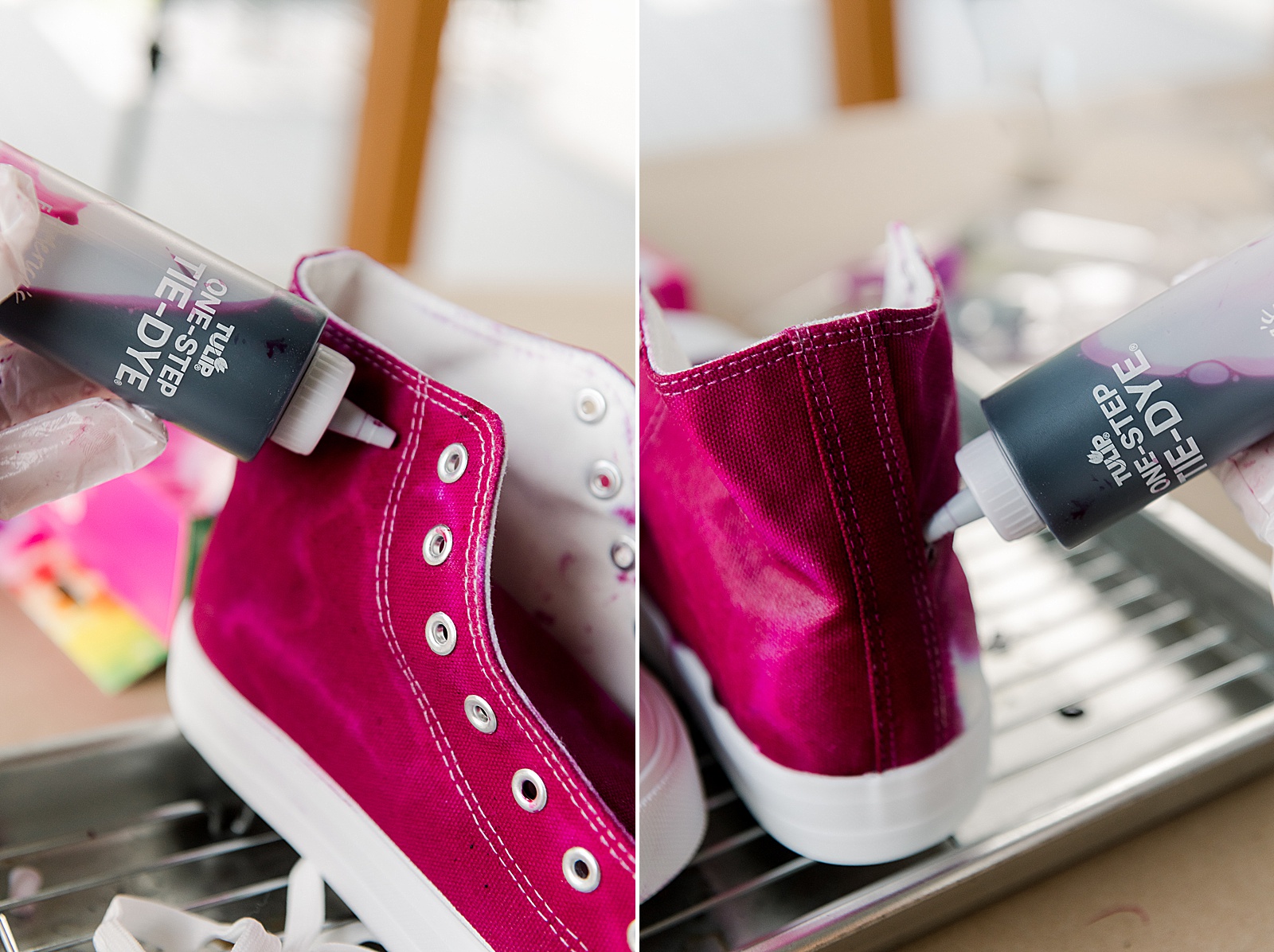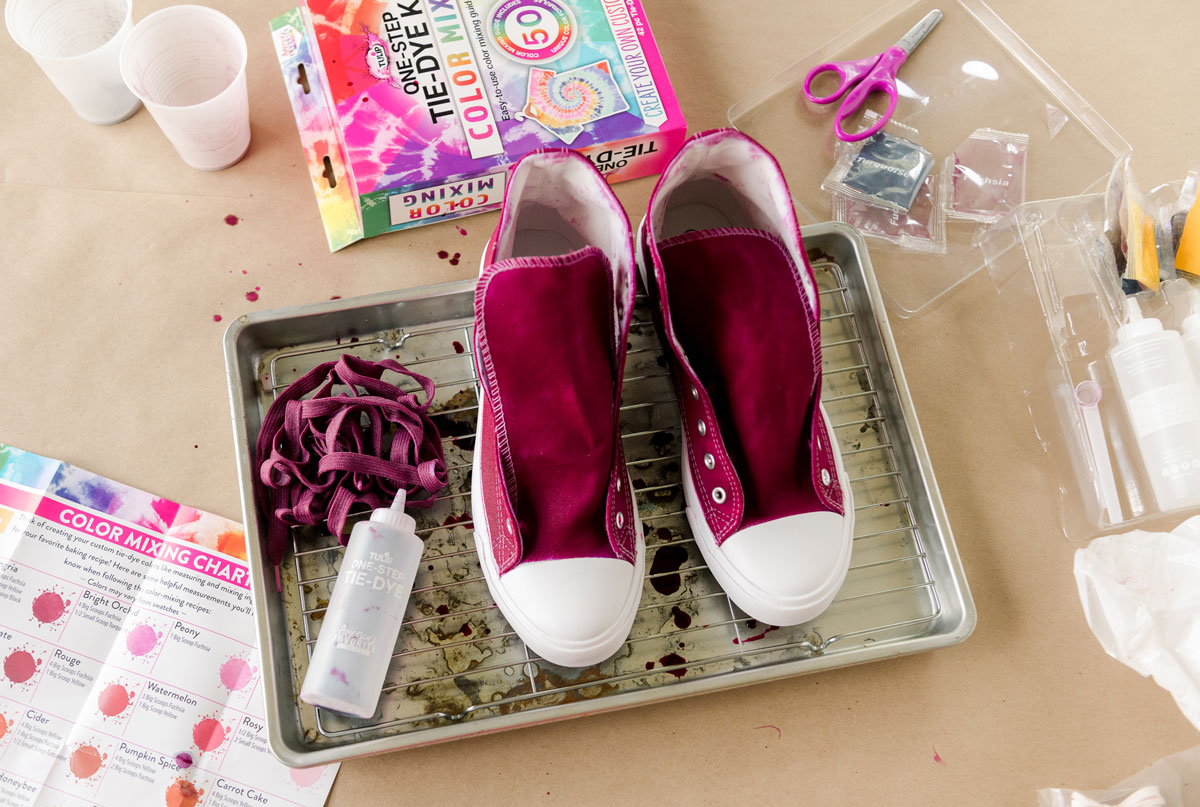 5. Once you are done dying, put the shoes and laces into a plastic bag and let them sit overnight (at least 6 hours….but I like overnight). And be sure that the bag is air tight sealed…you want the dye to remain wet as it sits overnight so that the dye penetrates the fibers as much as possible! 🙂 
6. When the shoes have sat to let the dye soak, you will want to rinse them (super well) under cold water to get rid of any excess dye that is in the shoes…..this takes a bit of time but be patient to get rid of any excess dye because you don't want to dye your socks when you wear them for the first time. Also be sure to rinse out any excess dye in your laces (although there will likely not be much)! 🙂
The turn the shoes upside down to let drip dry for a day or so (or you could also throw them into the dryer if you want to speed up the process)! 🙂
Then lace your shoes back up once dry and war them proudly around town as you tell everyone that you are now a color mixing tie dye expert! HA! 🙂