The best Easter dessert to surprise your neighbor | aka: colorful Easter egg Krispy treats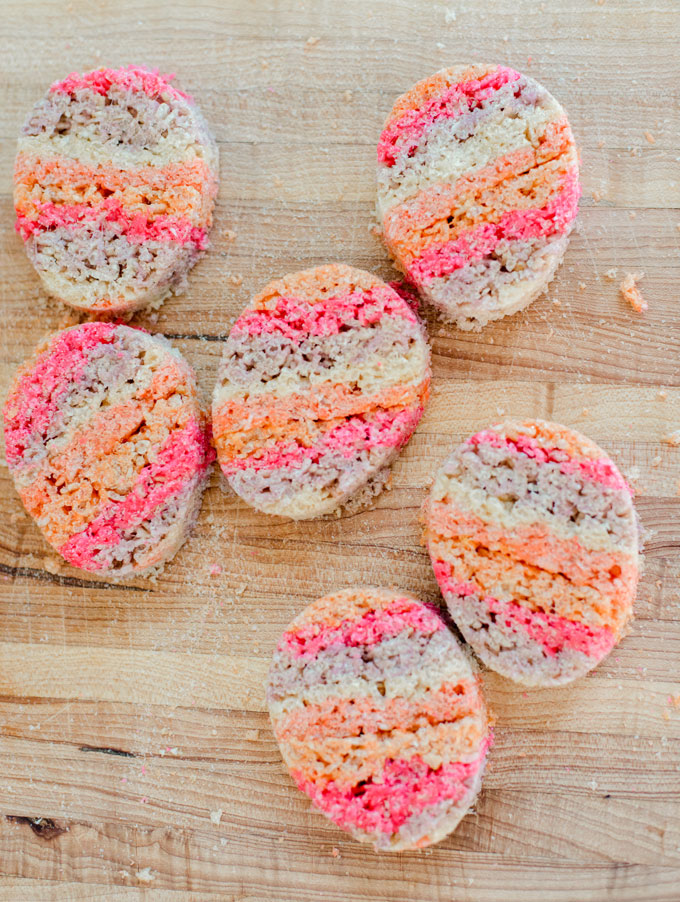 We had an ABSOLUTE blast making these super yummy, REALLY colorful and festive Easter egg Krispy treats…..maybe it was because I ate TONS of the yummy "leftovers" after we cut out the egg shapes (the perks of the job, eh?! 🙂 And the best part (if you ask me) is that you can color the Krispy layers in any color combo that you want……all pink shades, ombre blues, or even rainbow fun! 🙂 Really, the sky is the limit! 🙂
Today I'm sharing this awesome and super great Easter recipe that is sure to make your family light up! OR if you bring a plate to your neighbors house, they will just LOVE you even more! I PROMISE that! 🙂
ANNNNND I'm sharing my *secret* ingredient for all of my baking…OK, maybe not so secret because I DO share it everywhere, but the secret ingredient to make these the MOST delicious is to use ALMOND EXTRACT in the marshmallow mixture! 🙂 YUM YUM YUM! And bonus, it will make your house smell even BETTER! 🙂
And CLICK HERE to watch the tutorial video that we made for these Krispy eggs! 🙂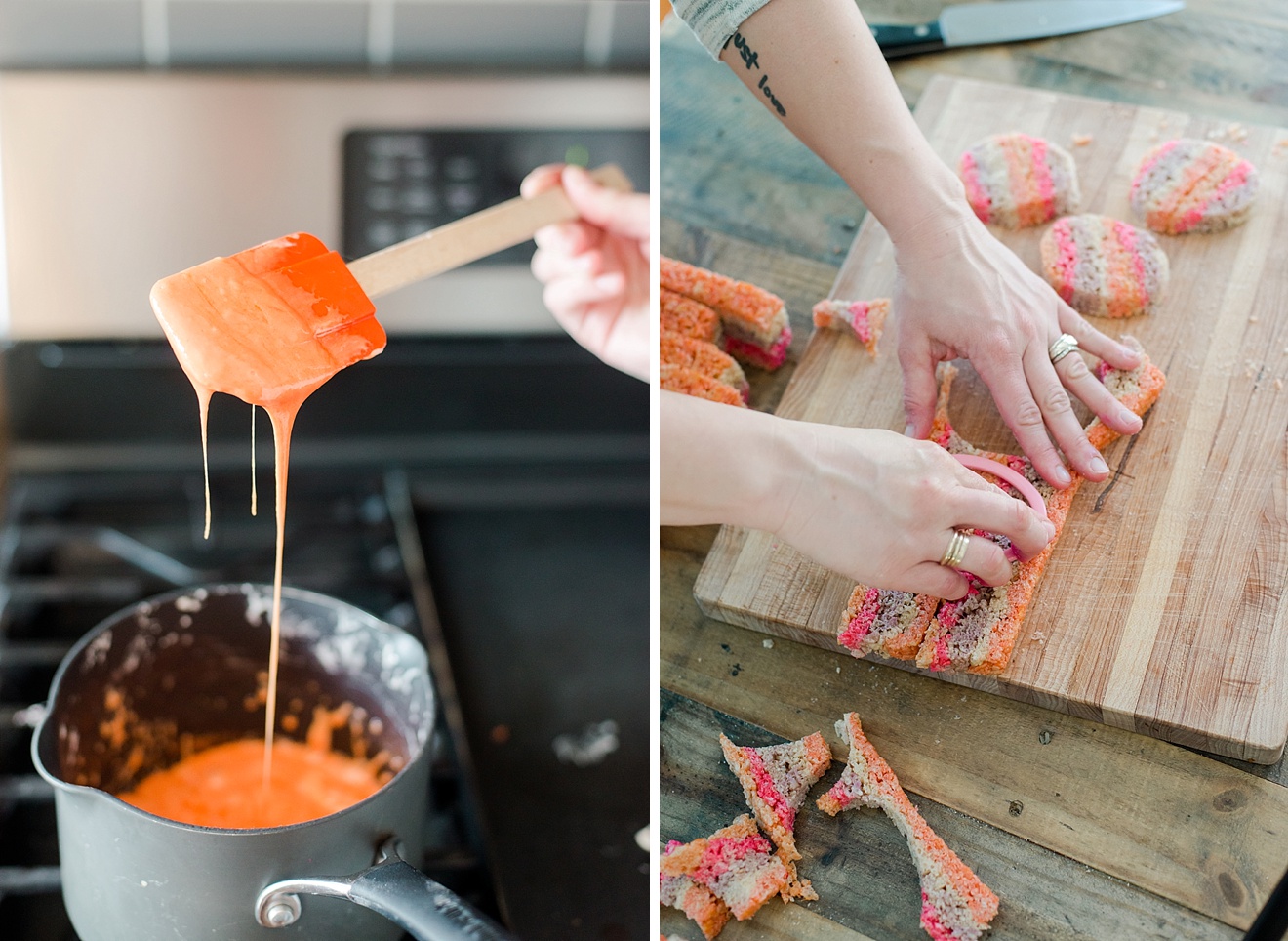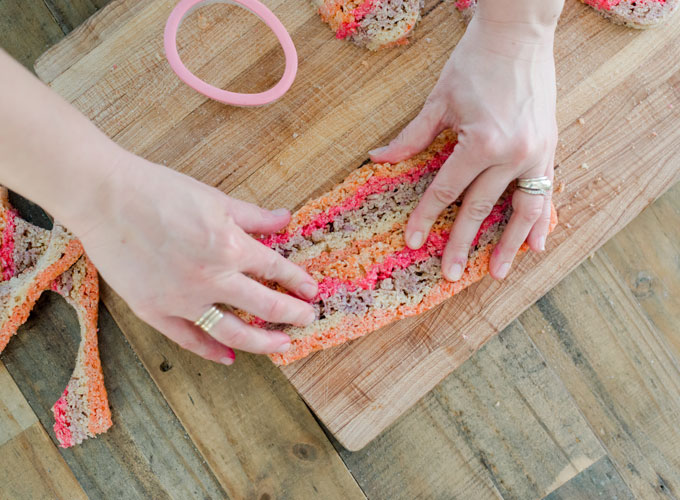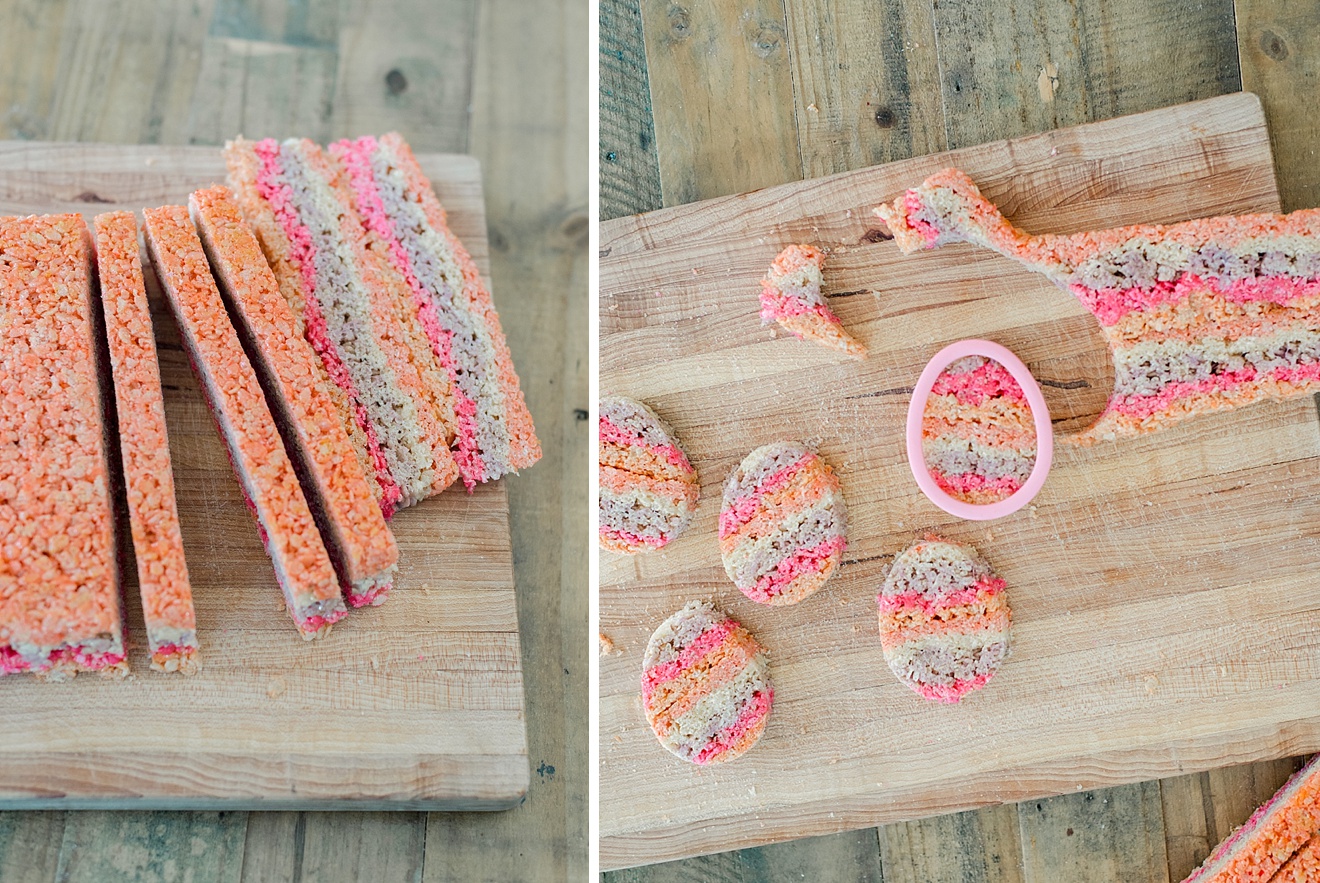 And, as always, if you make these please tag @ohyaystudio on social so that we can drool along with you at your yummy creations! 🙂
HAPPY EASTER EVERYONE!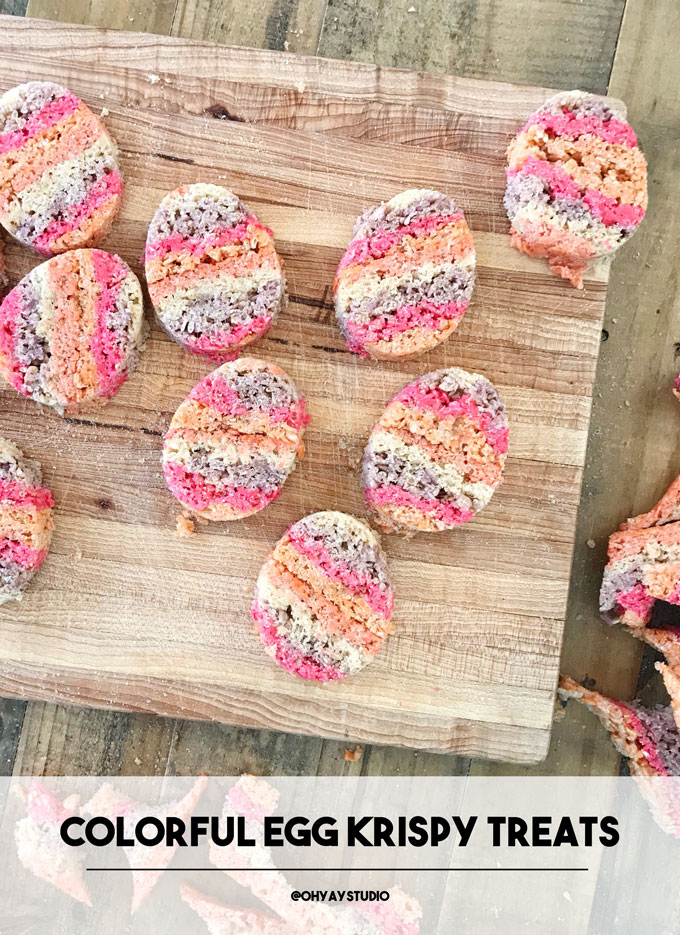 Colorful Easter Egg Krispy treats
The best and most colorful Easter dessert to surprise your neighbor
Ingredients
10

cups

Marshmallows

15

cups

Rice Krispies

A large box should do

Cooking spray

9x13 pan

Food coloring

Egg shaped cookie cutter

Wax paper
Instructions
Spray your 9x13 pan generously with cooking spray

Add 2 cups marshmallows and 2 tbs of butter to a saucepan and heat up until melty and gooey . Then add the *secret ingredient*…a splash of almond extract. YUMMY YUM YUM!

Add 5-6 drops of food coloring to the bubbly, marshmallow mixture, then remove from heat.

Add 3 cups of rice Krispies to a mixing bowl and then transfer the marshmallow mixture and mix allllll together

Dump the Krispie/mallow mixture into the bottom of the cake pan and spread out (as best as you can) with a spatula. Then use a piece of wax paper (the size of the cake pan) to press down and spread out the layer of Krispies. Push down just a little so that it creates a dense, lovely layer of gooey goodness! 🙂

Repeat steps 2-5 to create FIVE full layers of color.

Loosen the edges of the Krispies with a knife, turn pan over and then pop the Krispies onto a cutting board.

Cut the Krispies into about 1-1.5 inch strips, the width of the pan (I found using a bread knife worked best). Lay 2 slices of the Krispies flat and push the long ends together to make a "wider" Krispy.

Cut the Krispies with the egg shaped cookie cutter and eat AS MANY as your little heart needs! OR bring some to your neighbors to make them LOVE YOU! 🙂
Recipe Notes
I did one of the layers as "natural" crispy without food coloring….I loved the contrast it gave 🙂
If you love your krispies extra gooey, feel free to add in MORE marshmallows to your mixture in step 2.
After you spread out each layer with the spatula, let the mixture cool for just a minute so that when you press down with the wax paper, the Krispies are less likely to stick to the wax paper.