The best air fryer yeast donut recipe EVER!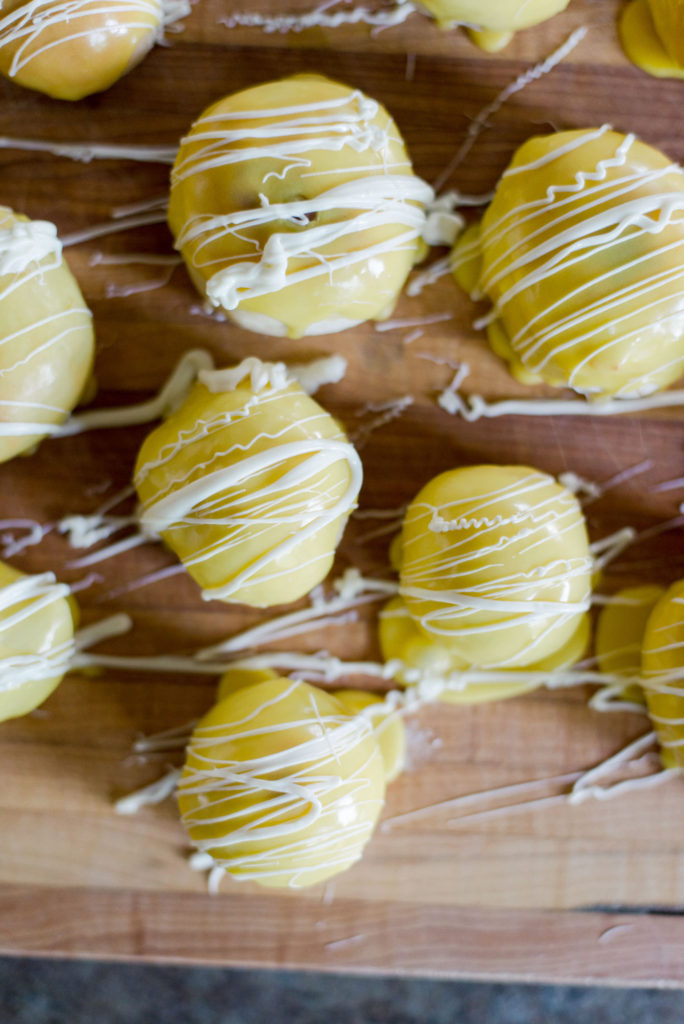 If you have an air fryer then you know that one of the best things to make in them is DONUTS! And there is an easy recipe for air fryer donuts that uses store-bough biscuits and will NOT leave you disappointed. BUT BUT BUT if you are wanting to make something more custom, filled with amazing flavors and glazes and fillings and things, then this Air Fryer yeast donut recipe is the one you NEED in your life! 🙂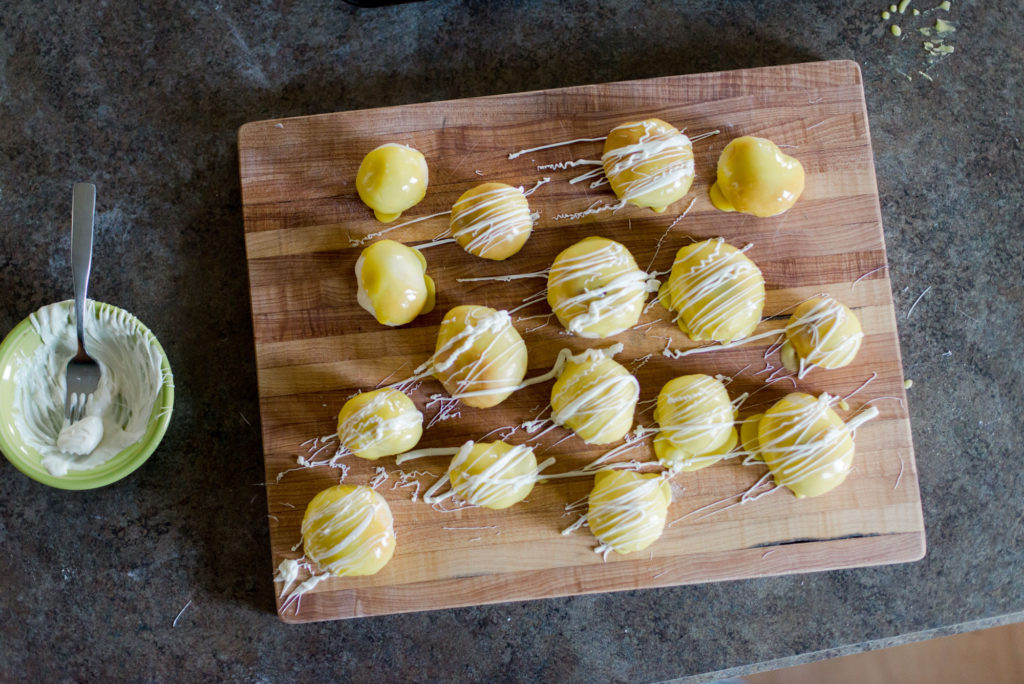 I have read up on frying donuts in oil and TBH, I just am not into it. I've tried it and they do taste so so so YUMMY, but I hate the smell of the hot oil that seems to seep into every cushion and bit of clothing in the house. And oil is SO SO SO dang messy! 🙁
We got an air fryer for Christmas and HOLY BANANAS, it has changed my cooking game in many ways! We have a Ninja Foodie and it's *incredible* and incredibly easy to use, clean and store! (triple win, eh?)! I did try a typical yeast donut recipe in the air fryer and it wasn't quite the same….they didn't turn out as pillowy and wonderful. SO, leave it to me, to hit the ground running and figure out how to make wonderful, happy, pillowy, tasty donuts for any and all amazing holiday, celebration or Friday morning! 🙂 And golly gee, I think we've got it.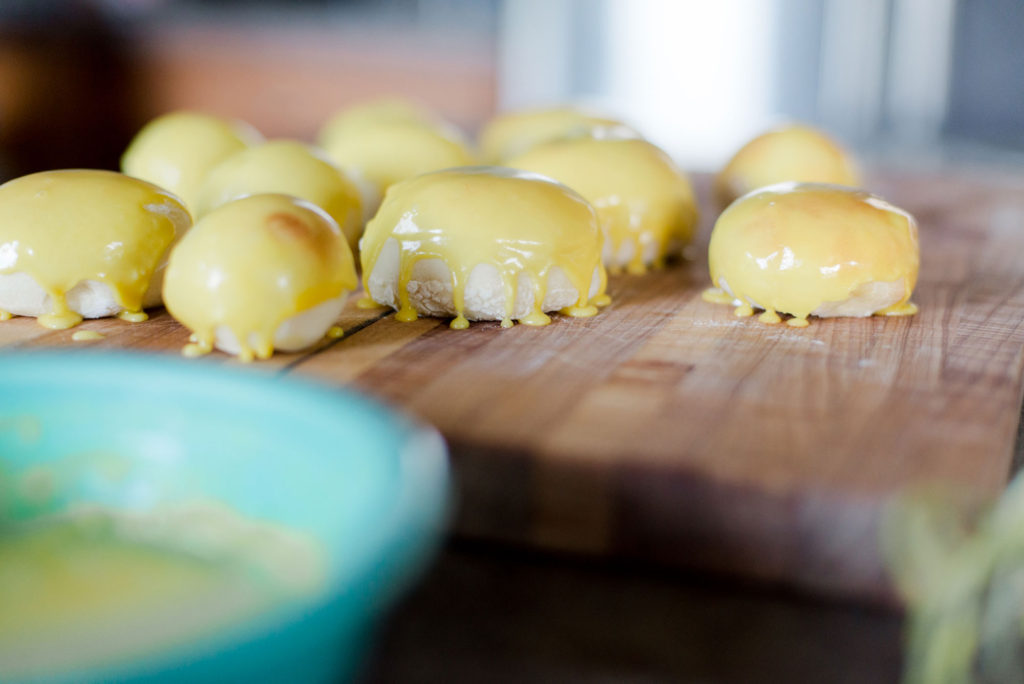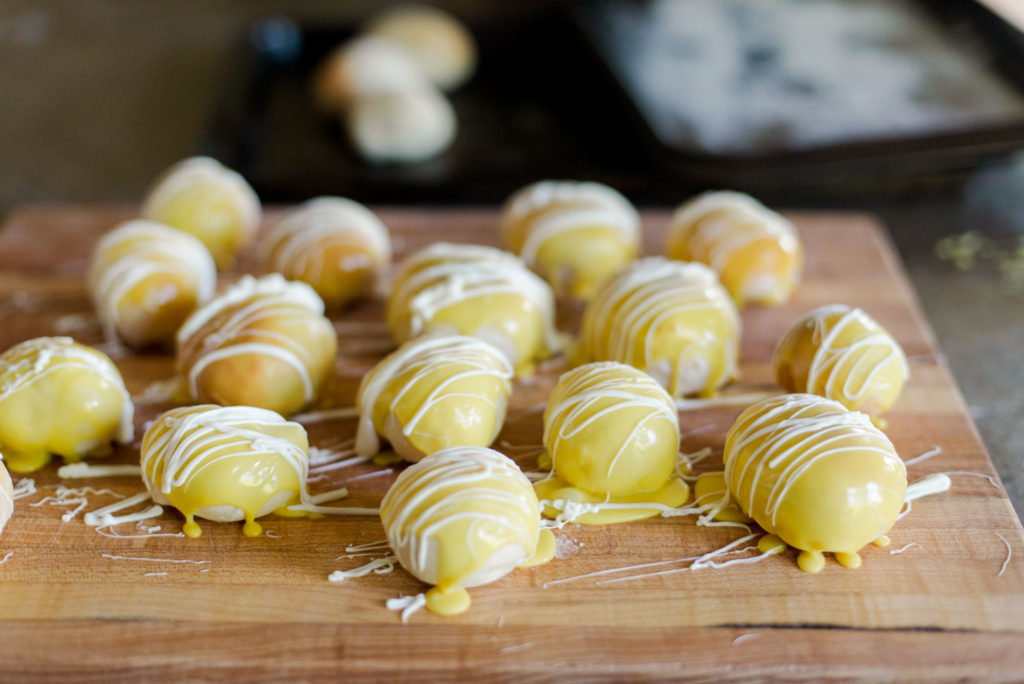 I typically make the dough the night before we need them. This give the dough plenty of time to rise and cuts down on the morning "making time" (hellloooooo beauty sleep). The dough takes about 20 minutes to make the night before and then it takes another 40 minutes or so in the morning to cut, allow to rise, cook, cool and add any flavorings/glazes! 🙂
These photos are topped off with a butter lemon glaze and a white chocolate drizzle and let me tell youuuuuuuuuu, mmmmmmmmm! It is SO GOOD! 🙂 To make the butter lemon donut glaze, whisk 2 tbs of melted butter with 1 cup of powdered sugar, 2-3 tbs of lemon juice (fresh or bottled) and a splash of milk (small splash). It will be thick and delicious and so lemony! 🙂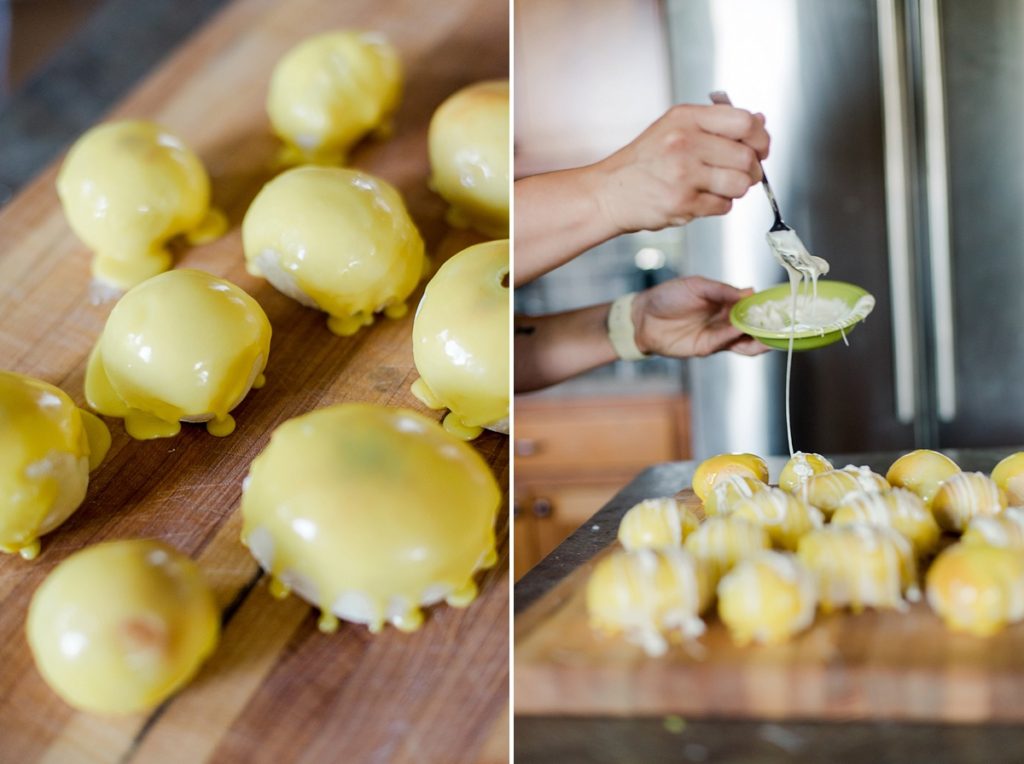 AND PLEASSSEEEEEE follow along on our summer of donut journey that Zeke and I are on; a new flavor combo every week as we keep perfecting our kneading technique and glaze dipping! 🙂
Air fryer yeast donuts!
The best and most delish air fryer yeast donut recipe that will make EVERYONE in your life so happy to know you! 🙂
Ingredients
6

tbs

warm water

1 1/2

tsp

yeast

3

cups

flour

1/4

cup

granulated sugar

1

tsp

salt

4

tbs

butter

5

oz

buttermilk

or milk + lemon juice

1

egg
Instructions
Prep the yeast
In a small dish, sprinkle yeast over 6 tbs of warm water. Add a small pinch of sugar to help get the activation started. Let sit for 5 minutes or until it starts to activate and get foamy
Dry ingredients into bowl
In your stand mixing bowl mix 2 cups flour, 1/4 cup sugar, 1 tsp of salt together. Then make a hole in the center of the dry ingredients for the wet.
Wet ingredients
Melt 4 tbs of butter and mix together with 5 ounces (just under 2/3 cup of butter milk and 1 egg. (If you don't have buttermilk, mix just over 1/2 cup of milk with just under 1 tbs of lemon juice. Let sit for 3-5 minutes to thicken. Place all of these wet ingredients in the center of the dry ingredients along with your activated yeast.
Mix
Mix everything in the stand mixer with the dough hook attachment. Mix for about 3 minutes then start to add up to 1 additional cup of flour. Basically you will be adding just enough flour to make the dough pull away from the sides of the bowl and remain in a clump; sometimes this will end up being less than 1 cup additional. Once the consistency is correct, mix for 5 minutes.
Kneed and let rise
Remove the dough from the mixer, sprinkle a thin layer of flour onto a flat surface and kneed 100 times. Then coat the sides a mixing bowl with some flour and place the dough in the bowl. Use saran wrap (press and seal works amazing) to tightly seal off the bowl (make sure that there are no drafts in order for the dough to rise as much as possible)! 🙂

Let rise overnight or until the dough is double in size.
Roll out + rise again
Turn on your oven to 350* for exactly 2 minutes, then turn off. Fill an oven safe bowl with boiling water (from a tea kettle) and place into the hot oven (the steam from the water will help with the 2nd rising AND prevent the donuts from getting crust on them)

Remove the dough and cut in 1/2. Place one 1/2 of the dough back into the tightly sealed bowl (you don't want it to get a crust from sitting out….it won't rise again properly). Roll out 1/2 of the dough about 1/2 inch thick and cut with a round cookie cutter (no more than 2 1/2" in width….if the donuts are too big, the center will not finish cooking before the outside is too crispy). Take the remaining dough (from what you just cut) and pinch off chunks to roll into smooth donut holes measuring about 1-2" . (You can try and re-roll out the rest, but I have found that those don't rise as well again AND the shape is always SUPER wonky, so donut holes work very well).

Then carefully (without squishing) place the cut donuts onto a lightly floured baking sheet and place into the oven until they rise again and are double in size.
Airfry (YUM)
Remember that all air fryers are a bit different, so be willing to test a bit to get them EXACTLY how you want them. We have a Ninja Foodie and set it to 350* on the air crisp setting. Place 3-4 donuts on the air frying rack for 2-4 minutes. You want them donuts to be *BARELY* brown on the outside. Too brown, they will be overdone and tough, not enough brown and the dough will still be raw. The idea is to get the donut just done enough so that they are chewy and full of gorgeous pillowy air! 🙂

Repeat frying for all remaining donuts.

Remove the donuts from the air fryer and allow too cool. Once cool, you can fill with pastry cream, jam or custard. And glaze with chocolate, glaze, or cinnamon/sugar! 🙂 YUM!