Moroccan rug costume + my love for Disney's Aladdin as a kid!
When I was little, I LOOOOOOVE LOVE LOVED the movie Aladdin (the songs, the colors, the locations, alllll the things)! And I remember so clearly playing Aladdin on the playground with my friends. Many of the girls would argue about who's turn it was to play Jasmine while I just smiled knowing that I nobody would fight me for the role of the carpet. I love it's personality, kindness and sense of humor (the way he lifted his tassels all the time as if to shrug his shoulders!). So, this month's installment of the costume project is a DIY Moroccan rug costume which I am SO SO SO excited to share with you! 🙂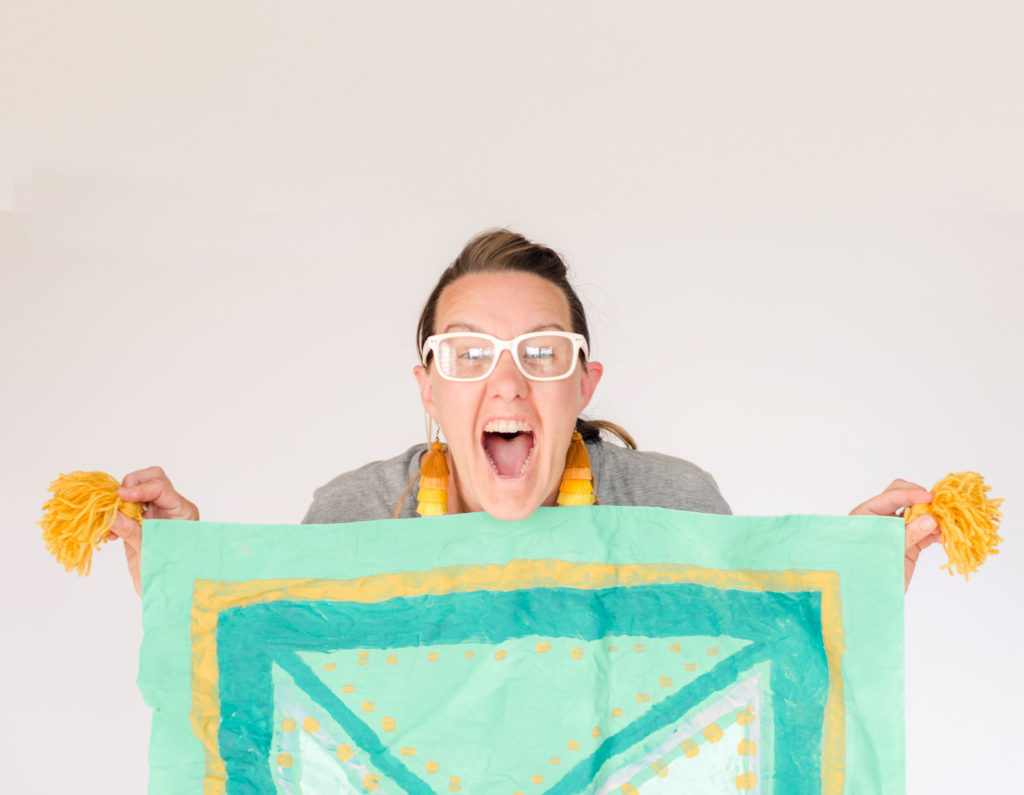 The costume is *VERY* easy and the bulk of it is painting, which I was stoked about for this month. Remember that the goal of this Costume challenge is to push my limits with materials and shapes and techniques. I am not the *best* painter in the world, but I wanted to challenge myself with something colorful like this rug…..and it proved to be *super* fun! 🙂 I referenced rugs online as I was painting and just made up my own color scheme and design. It did prove to be a challenge to paint over and through the "wrinkles" and creases that I had made while drying with glue…..but all in all, it turned out quite well! 🙂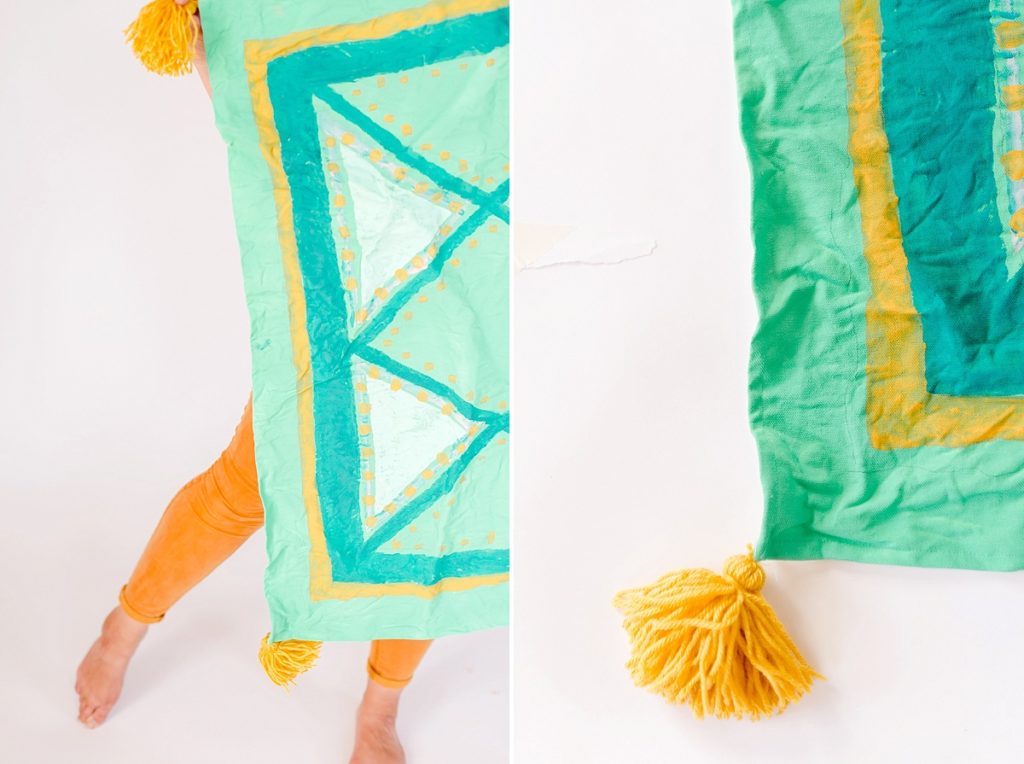 Materials:
About 1 yard of canvas fabric
Elmers glue
1 can of spray paint (in background color of choice, I chose an aqua green)
Fabric paint + brushes
yarn for tassles
sharp tapestry needle
2-3 feet of twine or ribbon
hot glue gun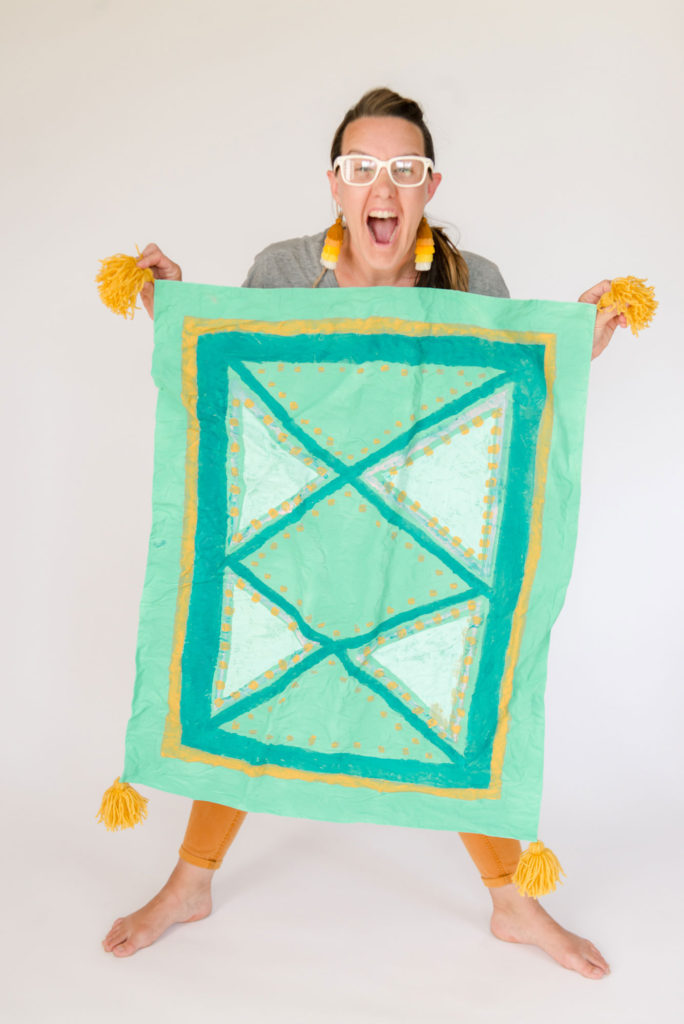 Instructions:
Hem Fabric
Fold the edge of the fabric over about 1/4 inch and then again another 1/4 inch to create a hemmed edge. Stitch in place along the length of the side and repeat this process with all 4 edges of the fabricHem Fabric
2. Starch with glue
In a large bowl, mix *about* the ration of 1 part glue to 2 parts water. Mix well and then soak your fabric in the glue mixture for 5 minutes to fully absorb. Pull the fabric out and ring or press out excess into the bowl. Then lay the wet fabric onto a flat surface to dry, flattening or smoothing out any creases or areas as desired (you can also add in any creases or "folds" at this time too). Let dry for 24 hours or until fully cured.
3. Paint
In a well ventilated area, spray your rug with the spray paint. You may need to coat 2 times in order to get an even color. Sketch out your design with pencil on the rug and begin to paint or fill in the shapes and details.
4. Add tassels
Make tassels by wrapping your yarn 50-70 times around a piece of cardboard (I used cardboard approx the size of a playing card). Without letting any of the string "go", cut along one side of the yarn bunch to make a bundle of long yarn pieces all about the same size. With another piece of yarn, tie it around the middle of the bundle of yarn and secure tightly. Fold the bundle in 1/2 around the the yarn that was just tied. Then with one more piece of yarn, warp it around the top portion of the bundle to make a "knob". Wrap a few times and then tightly secure. Snip the loose ends and then give your hassle a haircut to the desired length! 🙂 
Make 4 tassels and then attach to each corner of the rug with a sharp tapestry needle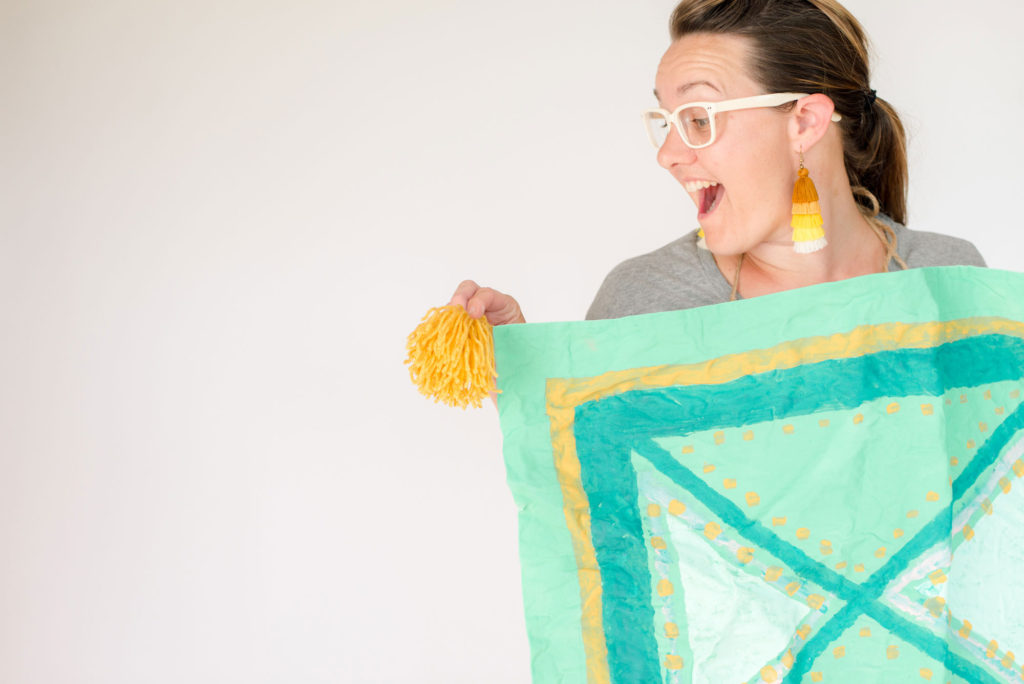 5. Add halter 
Cut a piece of ribbon or twine about 2-3 feet long, then cut in 1/2. With a generous amount of hot glue, attach one end of each of the twine pieces to the back of the rug about shoulder width apart. Allow to dry completely and then tie together as a halter around your neck to wear! 🙂