Recycled cardboard Mother's Day locket!
This project is in partnership with Walmart Photo and their awesome same-day photos!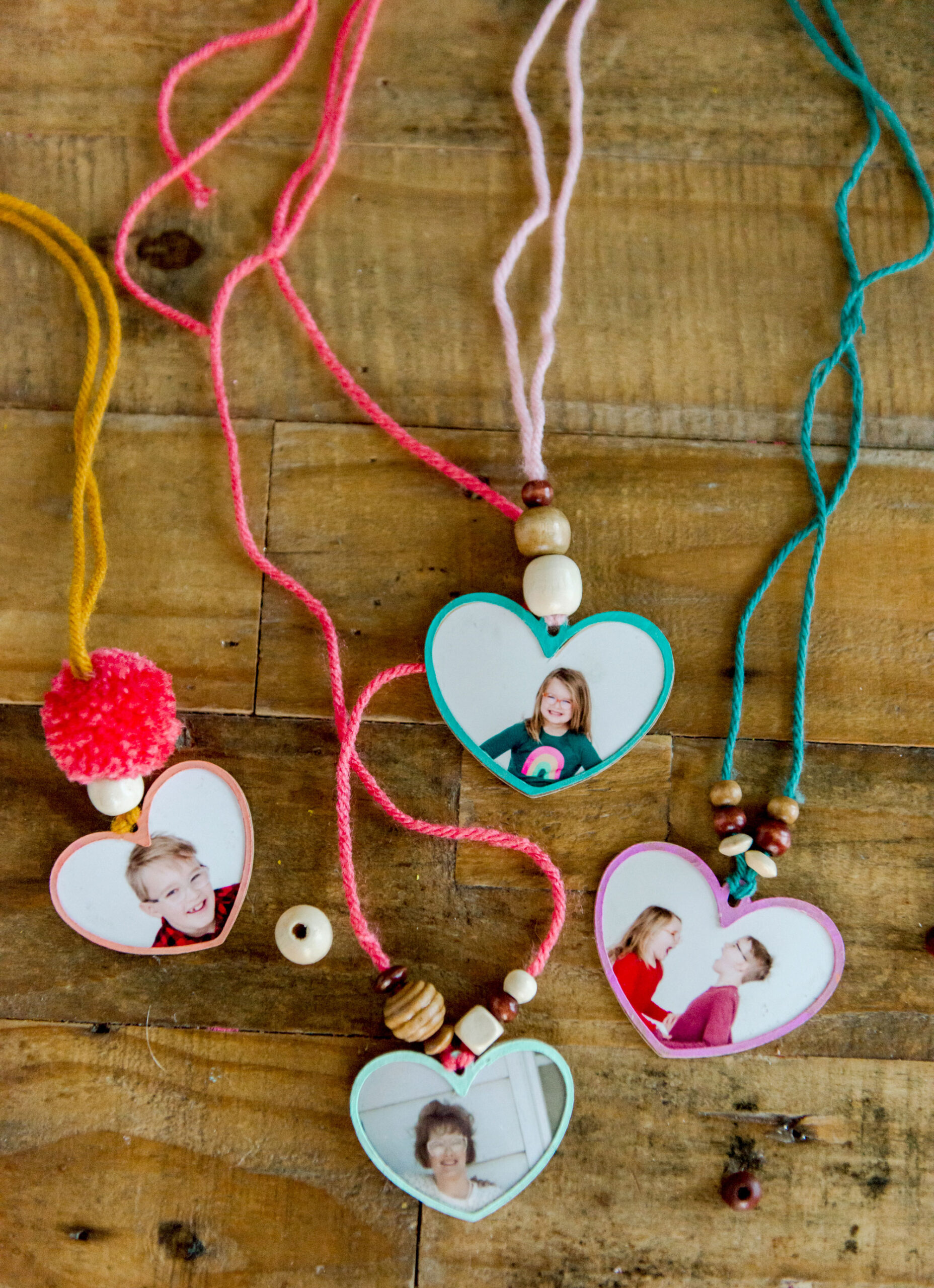 The cool thing, to me, about Mother's Day is that I have an opportunity to not only celebrate the Mother figures in my life that are still here with us, but I also have a day to brag about and share stories about my Mom now that Esther is old enough to understand.
And with this Mother's Day DIY, I had a pretty awesome and special time doing just that with my little Esther as I told her a few stories about my childhood, talked about characteristics that I LOVED about her Grandma Jill and just took the chance to bring my Mom to "life" so that Esther sorta-kinda can have a picture of who my Mom, her Grandma, was! 🙂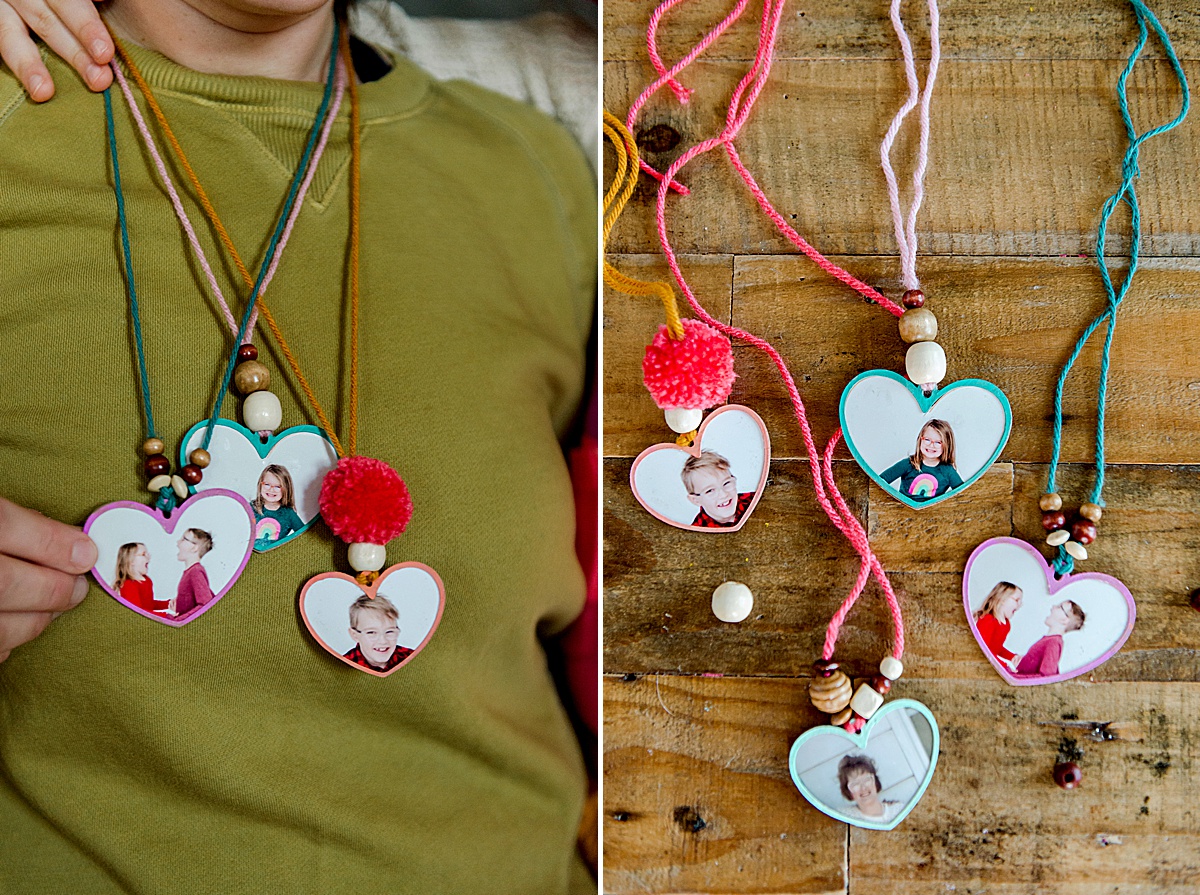 I know that not all Mother's Days are like this for those grieving (trust me, I've had my fair share of crying days and "this is not fair" moments!) Hear me say that if Mother's Day is full of grief, it's ok! Feel that 100% because it's ok to miss and cry over the things that you loved dearly! But now that I have kids, a daughter specifically, that I can share stories with, I feel pieces of redemption coming together to weave joy and memories and laughter into days like Mother's Day again! And I am here to embrace it and talk about my Mom every chance I get, especially to her little Granddaughter! 🙂
SO! This heart shaped locket DIY is one of the more simple and adorable DIYs that you can do at almost any age (I PROMISE)!
MATERIALS:
An extra cereal or granola bar box OR cardstock in any color of choice 🙂 
Your favorite photos
Scissors
Heart PDF or SVG file (download SVG HERE, download PDF HERE)
School glue glue or hot glue (supervision of kiddos with hot glue is a MUST)
Any embellishing supplies like markers, paint, glitter, sequins or beads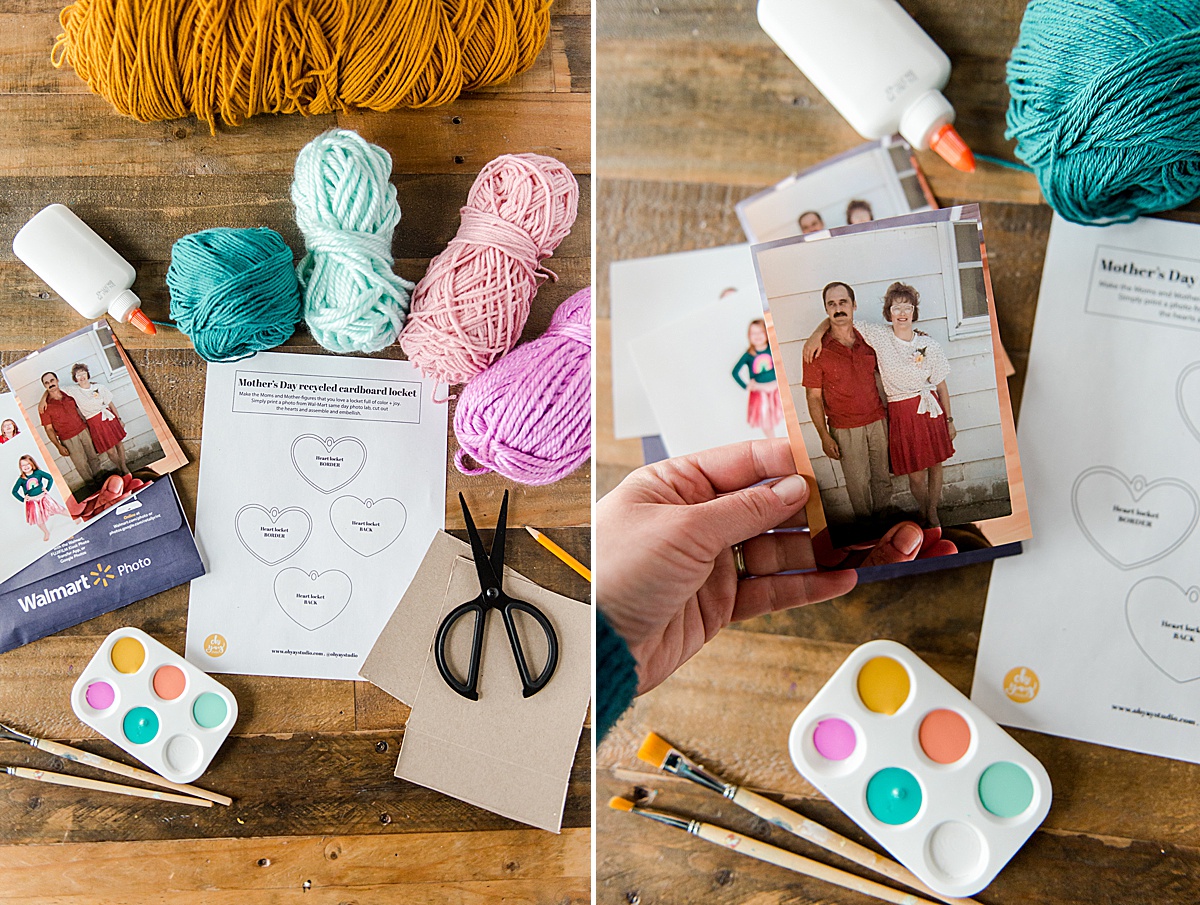 Print out your favorite keepsake-quality photos from Walmart Photo (legit, simple upload and ULTRA fast printing). I chose the 4×6 and 4×4 prints as they tend to work best for the smaller sizing and ahem…….the $0.09 pricing for those 4×6 prints CAN NOT be beat! 🙂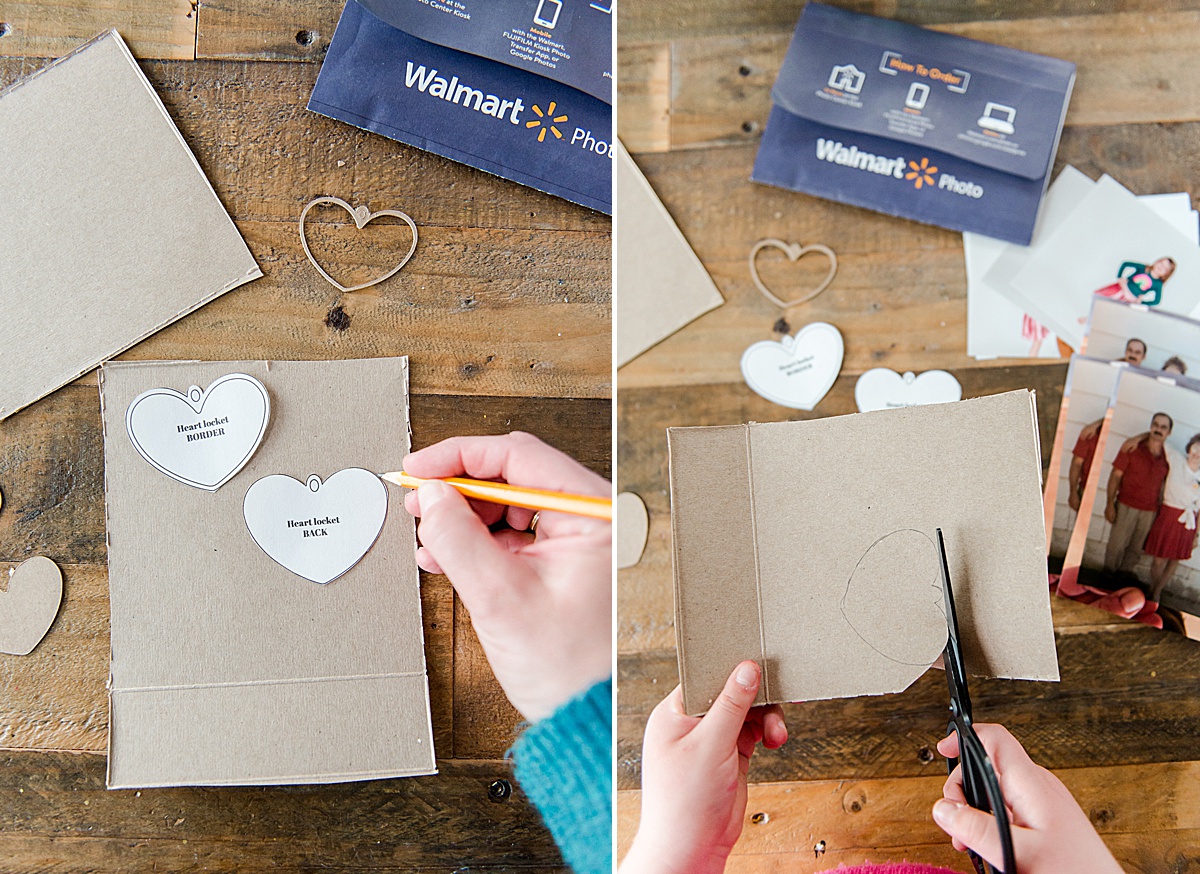 2. With the template provided (DOWNLOAD PDF HERE or the SVG HERE) cut out your heart shapes from your cardboard or cardstock. Be sure to cut out one heart shape locket BACK and one locket border for each complete necklace that you want. If you are using the SVG file in your cutting machine, feel free to resize the heart to whatever finished size that you'd like 🙂
3. Put any protective paper or extra cardboard down, and embellish the hearts as desired (we just did colorful paints because I wanted the photos to stand out). Allow to dry.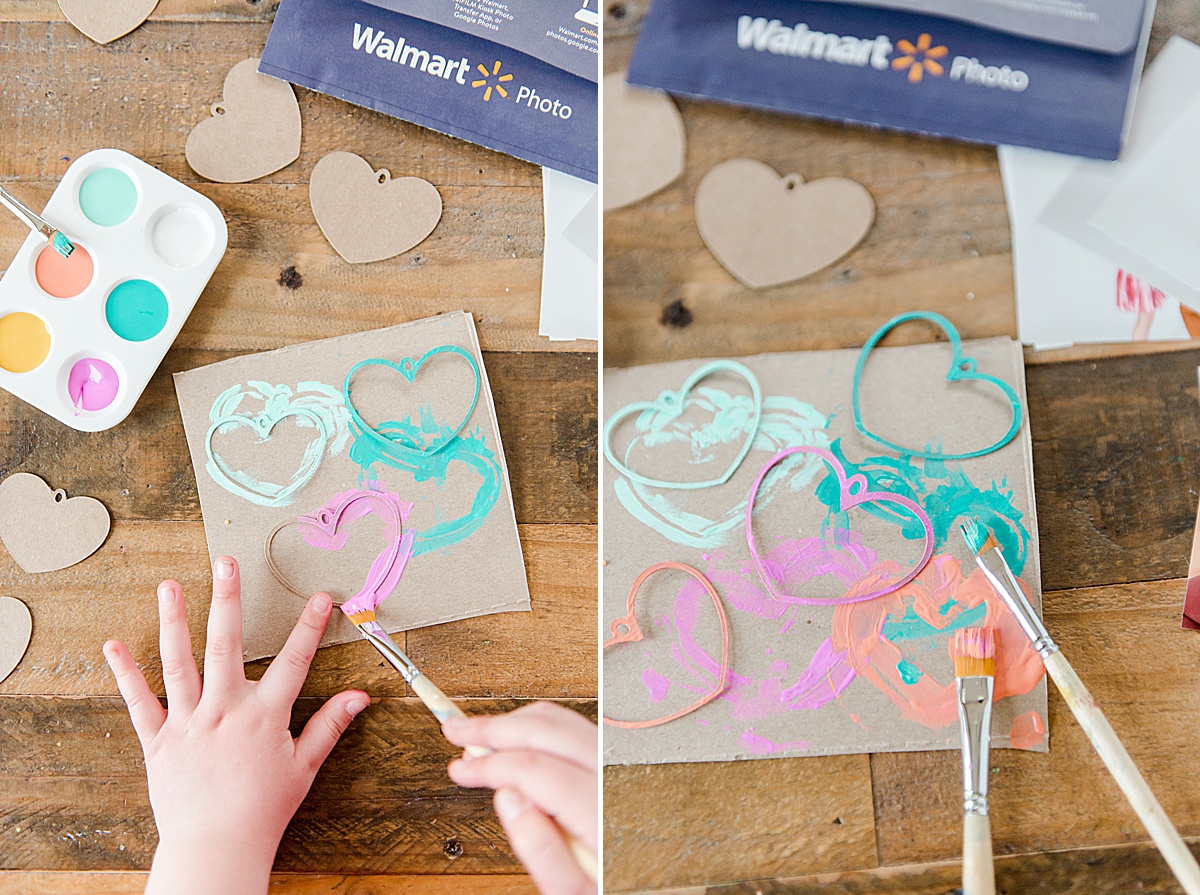 4. While your paint is drying, trace + cut out the heart shapes from your photos (use your PDF as a template for exactly where to cut).
5. Assemble your lockets by layering the backing, the photo, then the border. Use glue to tack each layer down. Then embellish any string as desired and thread the necklace! If the locket is a gift, wrap up the super cute handmade keepsake for your most favorite Mom or Mother-figure on Mother's Day!