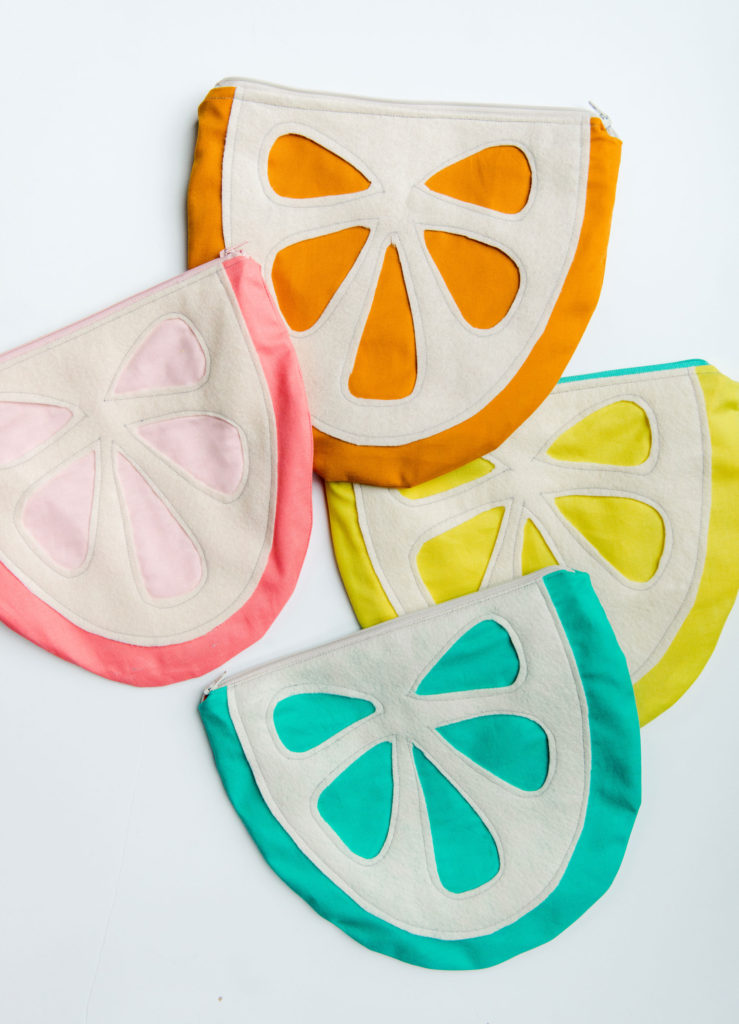 Did you read this last line of the title?! 🙂
YUP! Janome! Only my favorite sewing machine company! Like ever! I am now on their maker team and have the honor and *pure excitement* to be sewing on one of their newer and most amazing machines that replaced my Mom's 12 year old Janome (my ever-so-loved work horse of a machine that I have loved for so long)!
So, of course I *knew* that my first project had to be incredible and colorful and useful and something that I just loved. So became the fruit slice summer swimsuit wet bag (that will hopefully rid my car of that stale-pond smell that exudes from wet swimsuits and towels that end up in the back of our car week after week in the summer)! 🙂 And let me tell you that this DIY is colorful, playful and easy enough that your kiddo can sew right along side you! 🙂
ANNNNNNDDD today I am sharing the full pattern + tutorial, yayyyyyy! 🙂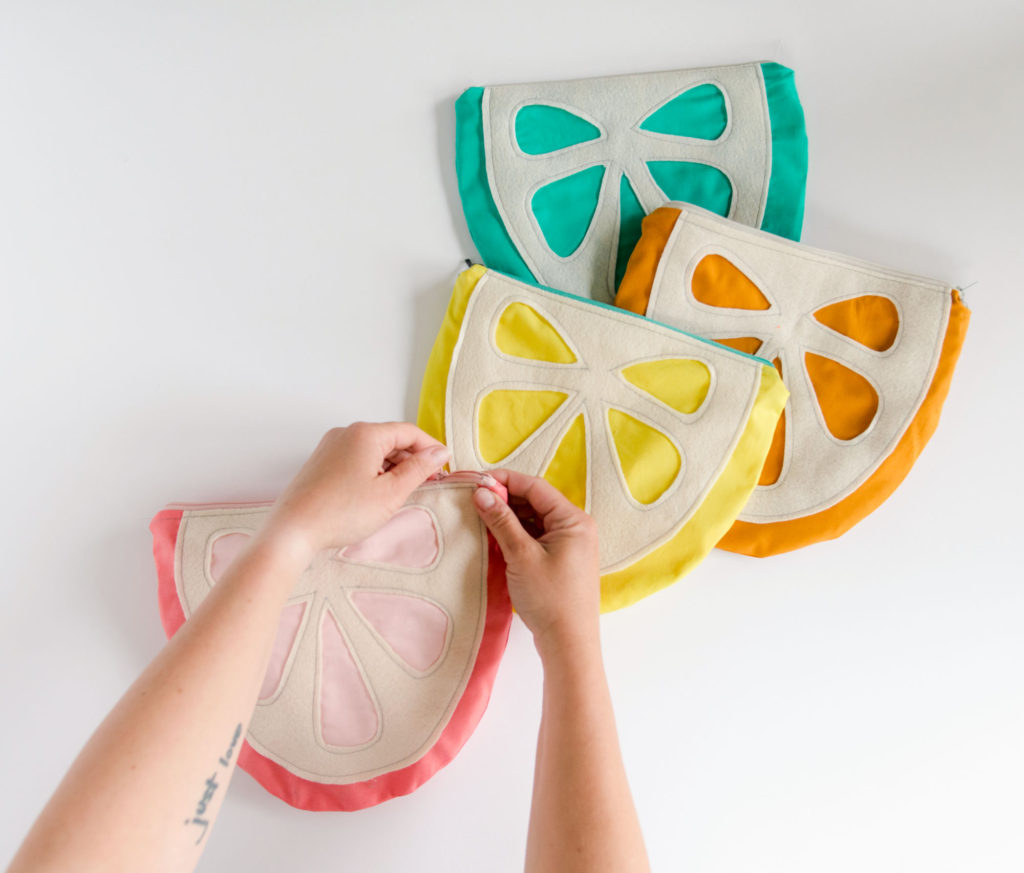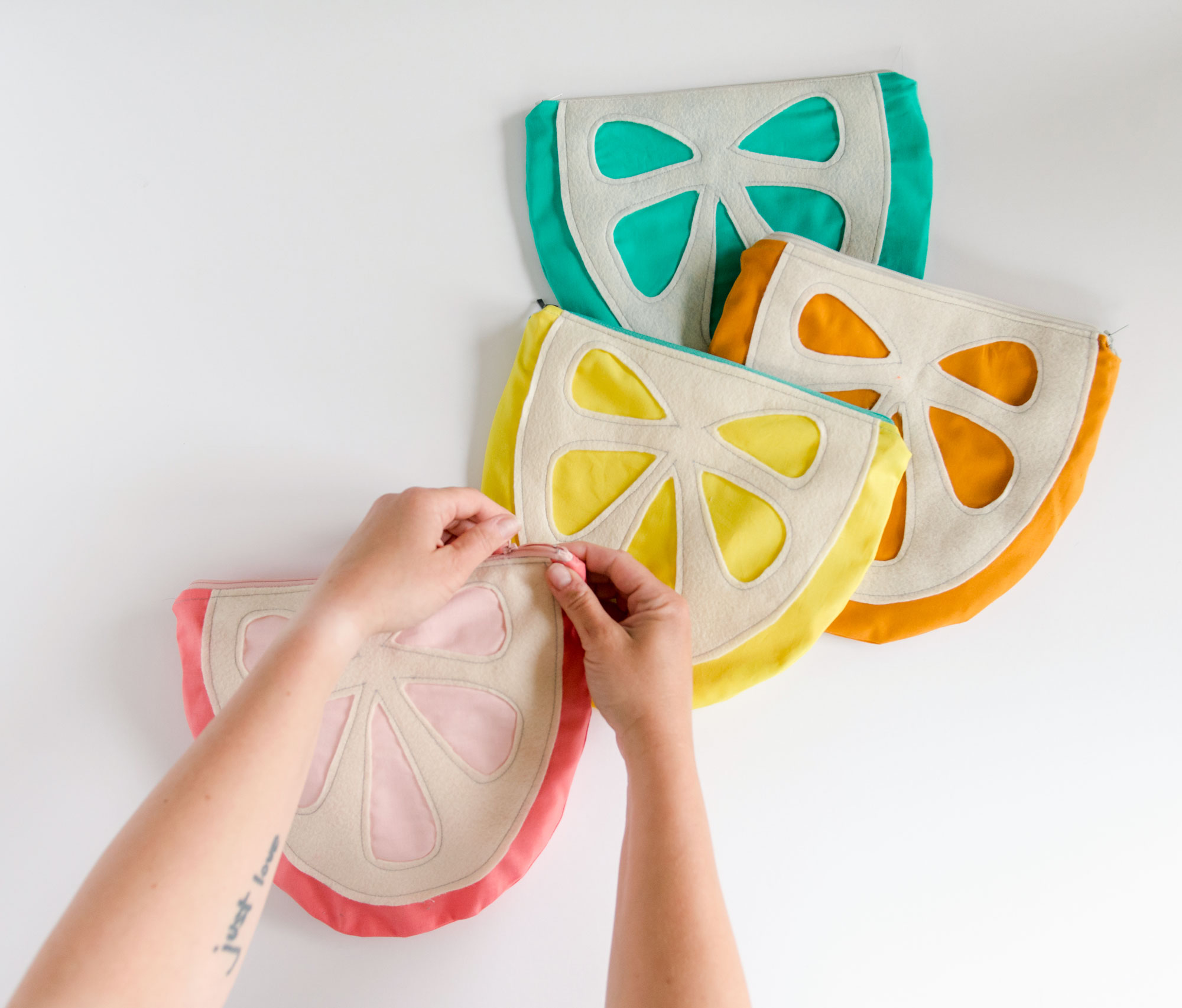 Supplies:
Pattern (download here)
Zipper in coordinating color
Sewing machine + coordinating thread
Zipper foot for sewing machine
Iron
1/2 yard of your background fabric (you really could get away with 2 fat quarters but a regular 1/4 yard won't be wide enough)
fat quarter of white felt
1/2 yard of your inside lining (I used cloth diaper fabric, and again you could get away with 2 fat quarters if you were piecing together)
optional fat quarter of coordinating fabric (light pink for the inside of watermelon)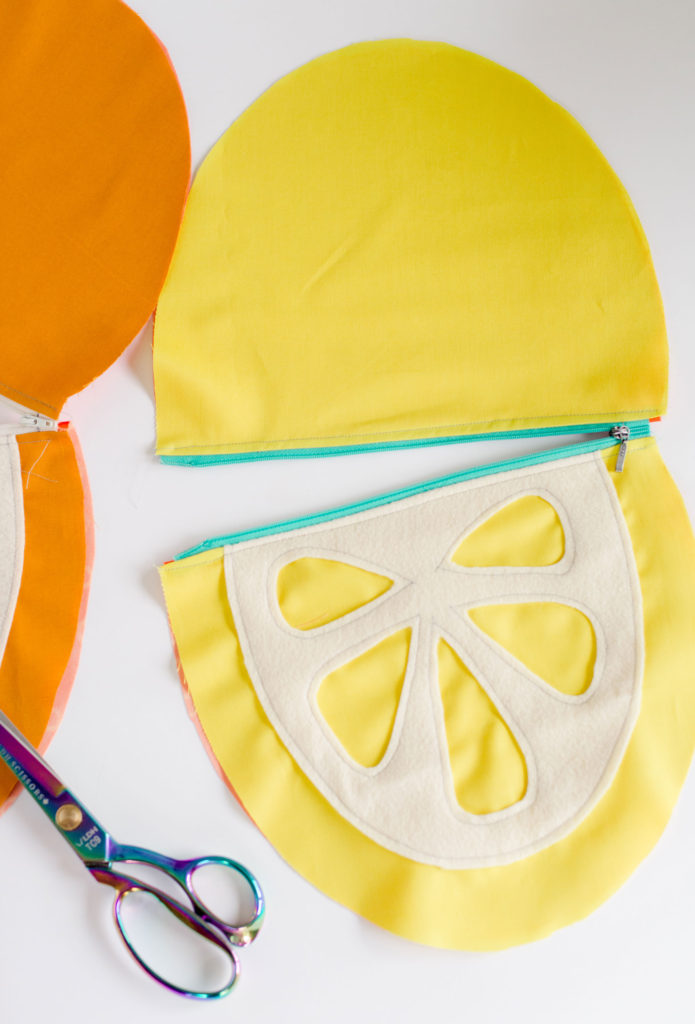 Instructions:
Cut out pieces
Out of main color, cut 2 background fruit shapes (Piece A)
Out of white felt, cut 1 inside fruit shape piece (Piece B)
Out of your lining fabric, cut 2 background fruit shapes (Piece A)
If you are doing the watermelon (or have a coordinating color you want to include), cut 1 inside fruit shape along the dotted line (Piece C)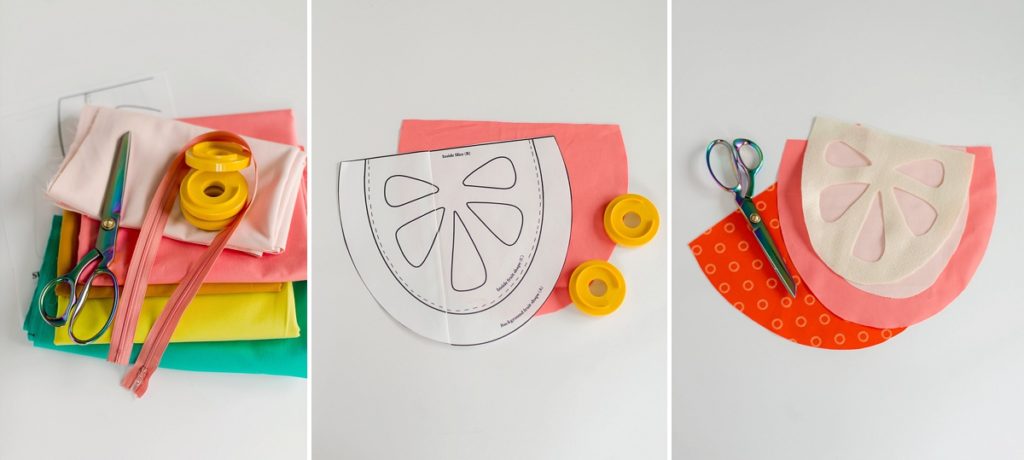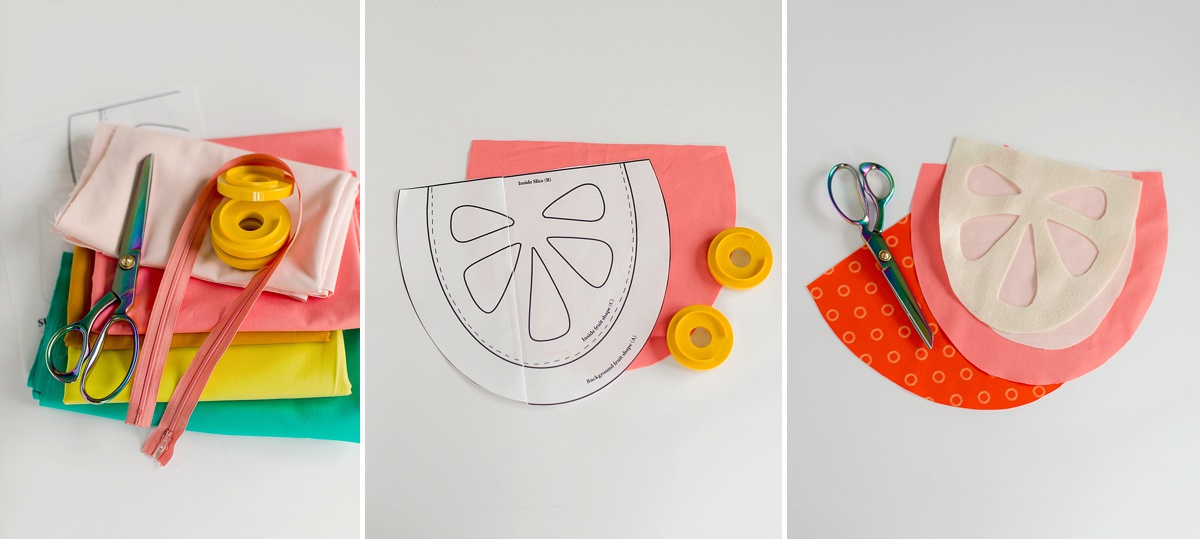 2. Assemble front of fruit
Lay the felt fruit shape (Piece B) on top of one of the fruit shapes (Piece A). Lining up the top edges, slowly stitch around the felt piece and the inside "seed holes".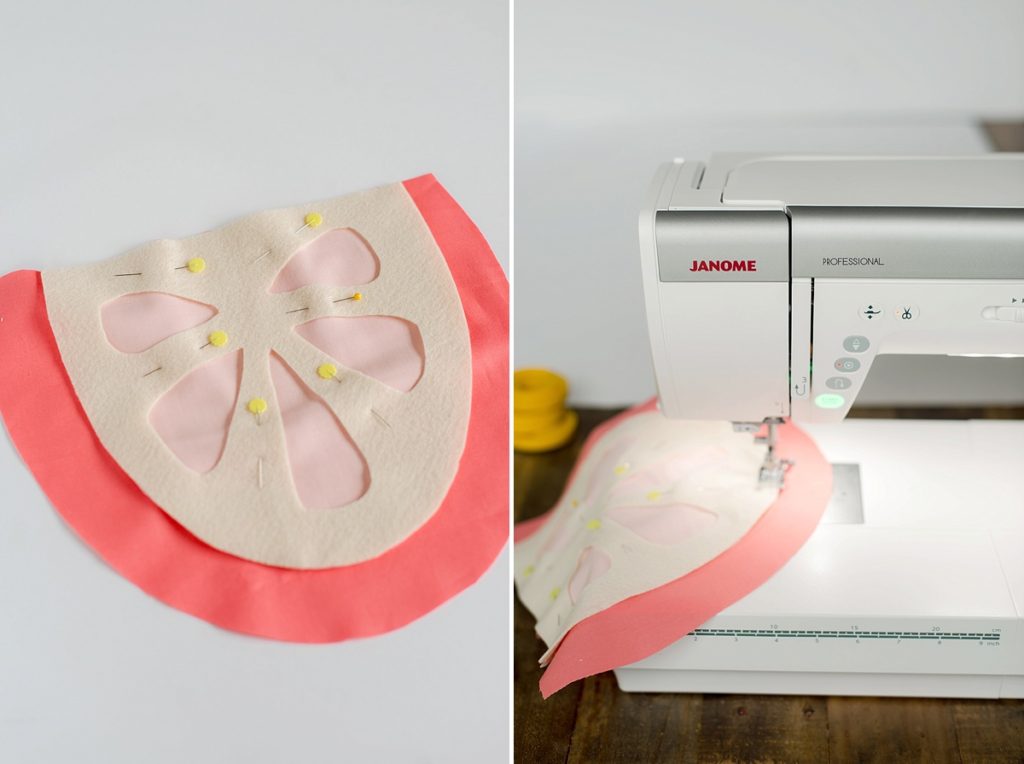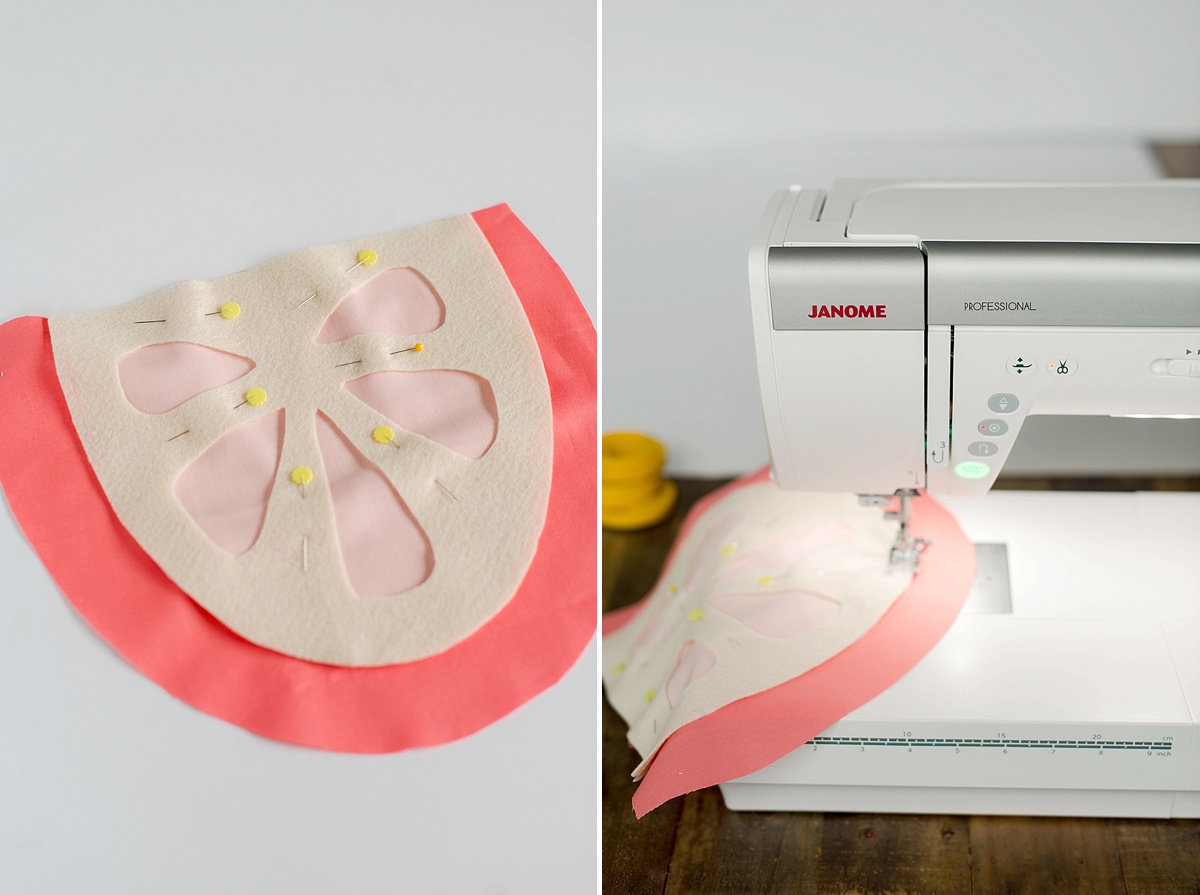 3. Attach the zipper
Sandwich the layers as follows: lining fruit piece right side up, then lay the zipper and line up with the top edge, then place the front fruit piece right sides down. Pin in place. With your zipper foot, stitch all 3 layers together.
Repeat with the other lining piece + background fruit shape.
Tip: When sewing the zipper, begin the stitch below the "pull", sew down the edge to the end. Then go back up, open the pull and sew the remaining top portion. This will ensure that you will get a straight, beautiful seam without the bulk of the zipper pull getting in the way of the foot while sewing.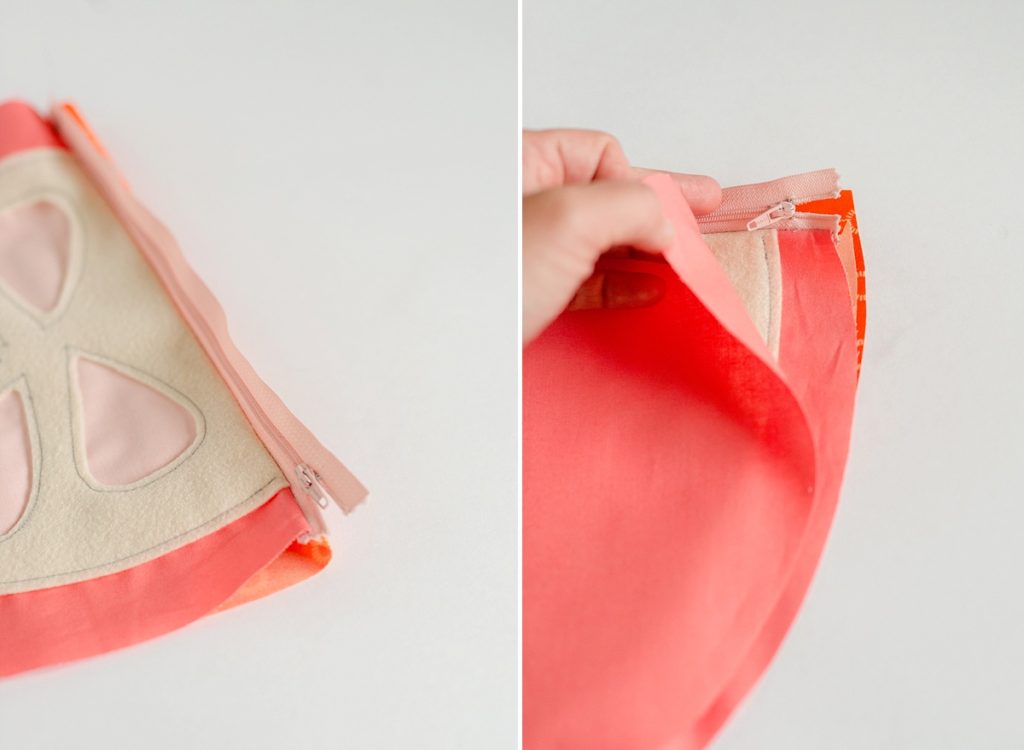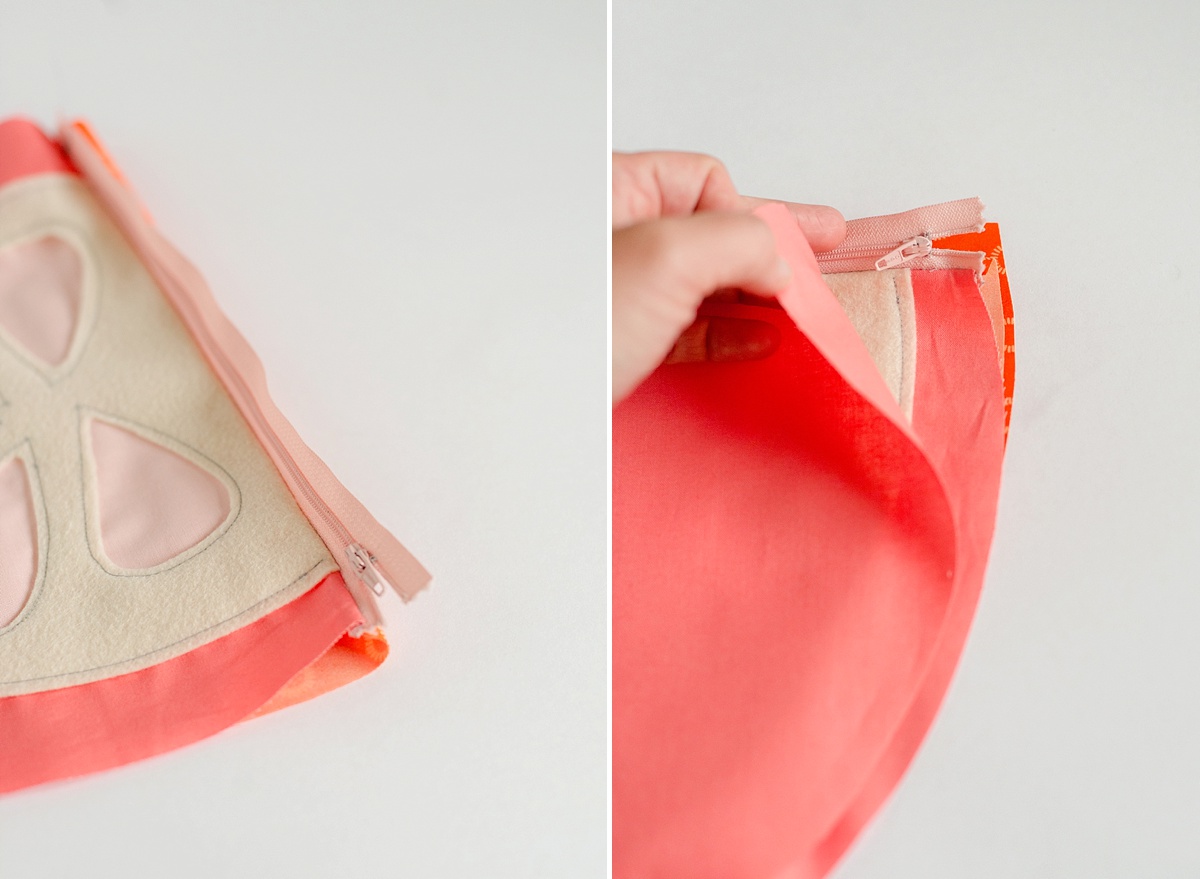 4. Iron open + top stitch
With your iron, press the zipper seams open so that they lay flat. Then top stitch along the top parts of either side of the zipper, sewing the lining to its respective outside fruit shape.
Note: When ironing, do a test with your lining fabric to be sure it can withstand the heat your iron is set to (since you likely have a lining cloth or some other waterproof material)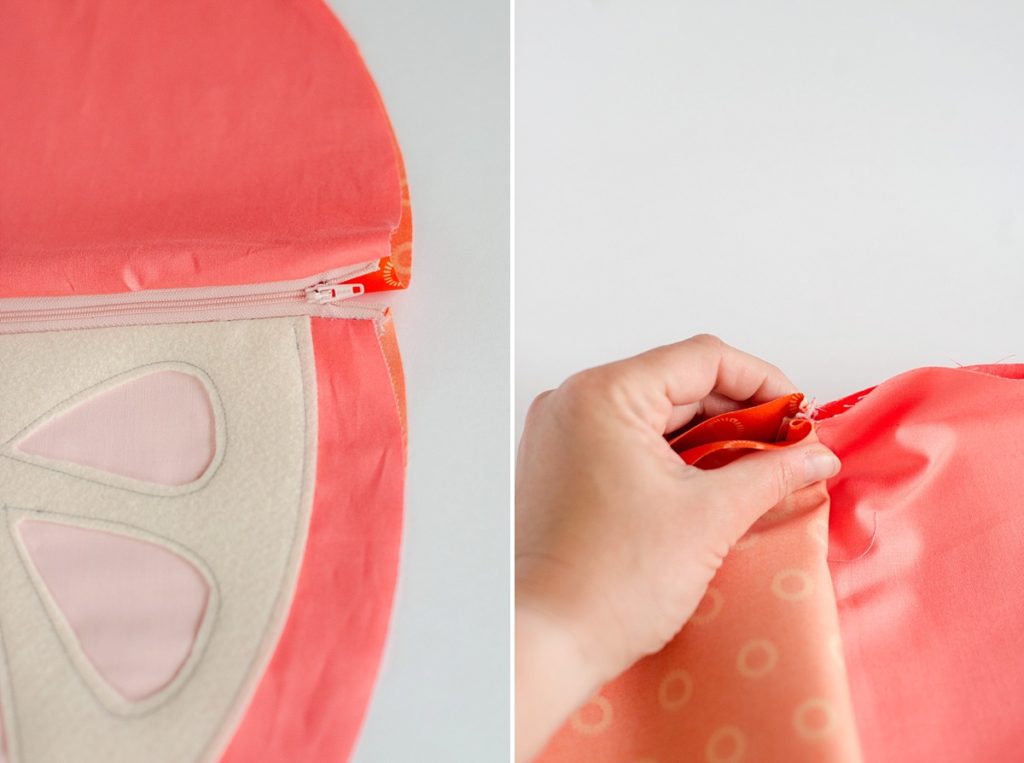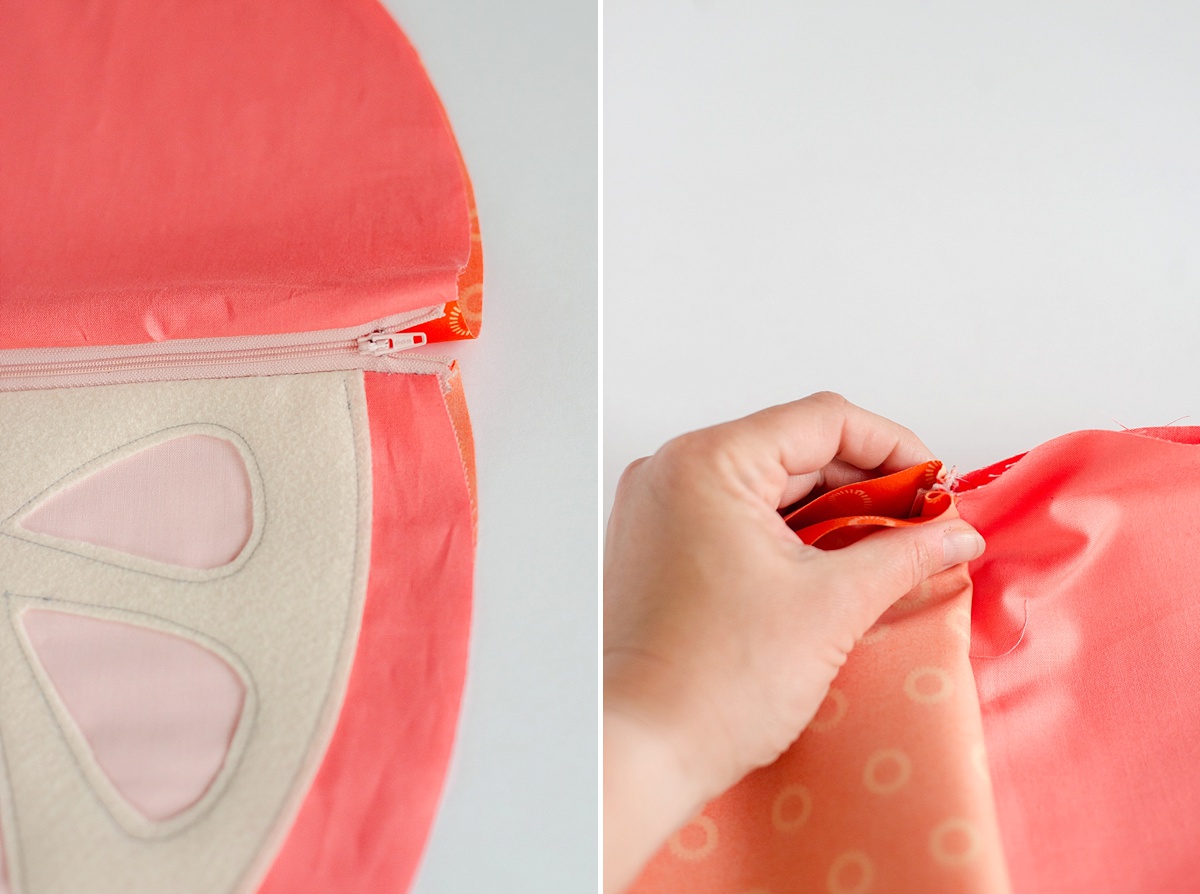 5. Open the zipper!!!!!
This is *SUPPPPPER* important otherwise you won't be able to open your wet bag! 🙂
OPEN THE ZIPPER!
6. Pin + sew front together
Open up your bag and then line up the 2 lining pieces with one another as well as the front background shapes with one another. Pin in place, being careful to line up the 2 areas where the zipper joins (this is important to make sure the zipper is straight across when finished).
Stitch all the way around the bag, leaving a large enough opening on the lining portion to turn the bag when done.
TIP: Make sure that your zipper edges fold towards the lining and not out towards the front when you are pinning. (see above pic)
7. Clip inside seams
With scissors clip around the round edges of both the lining and the front.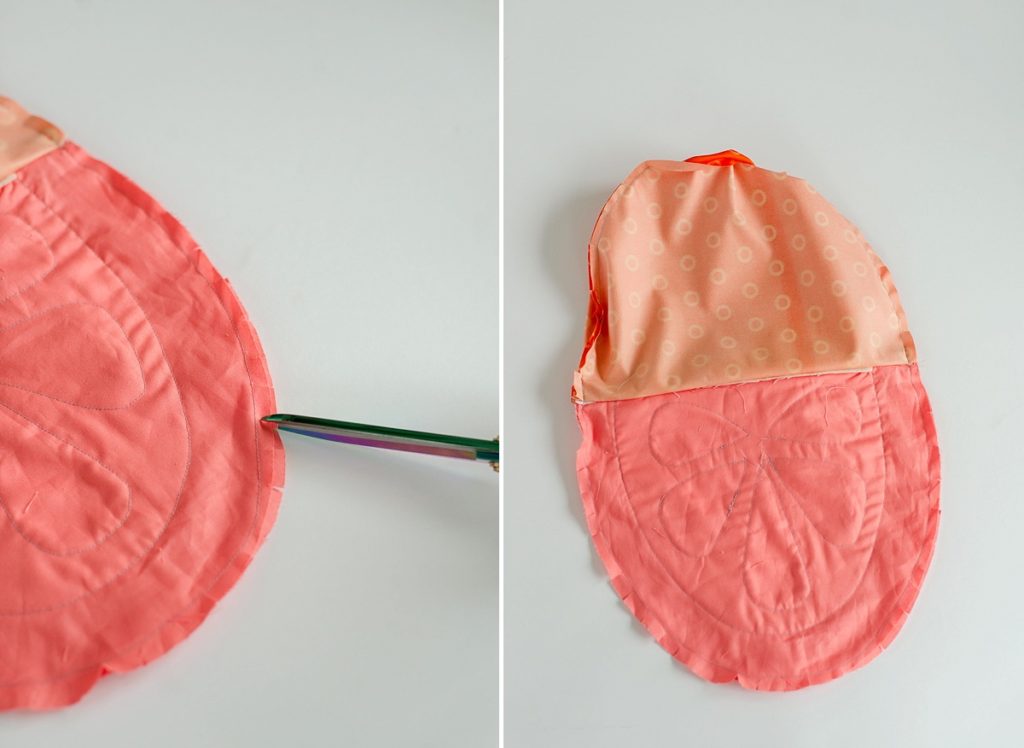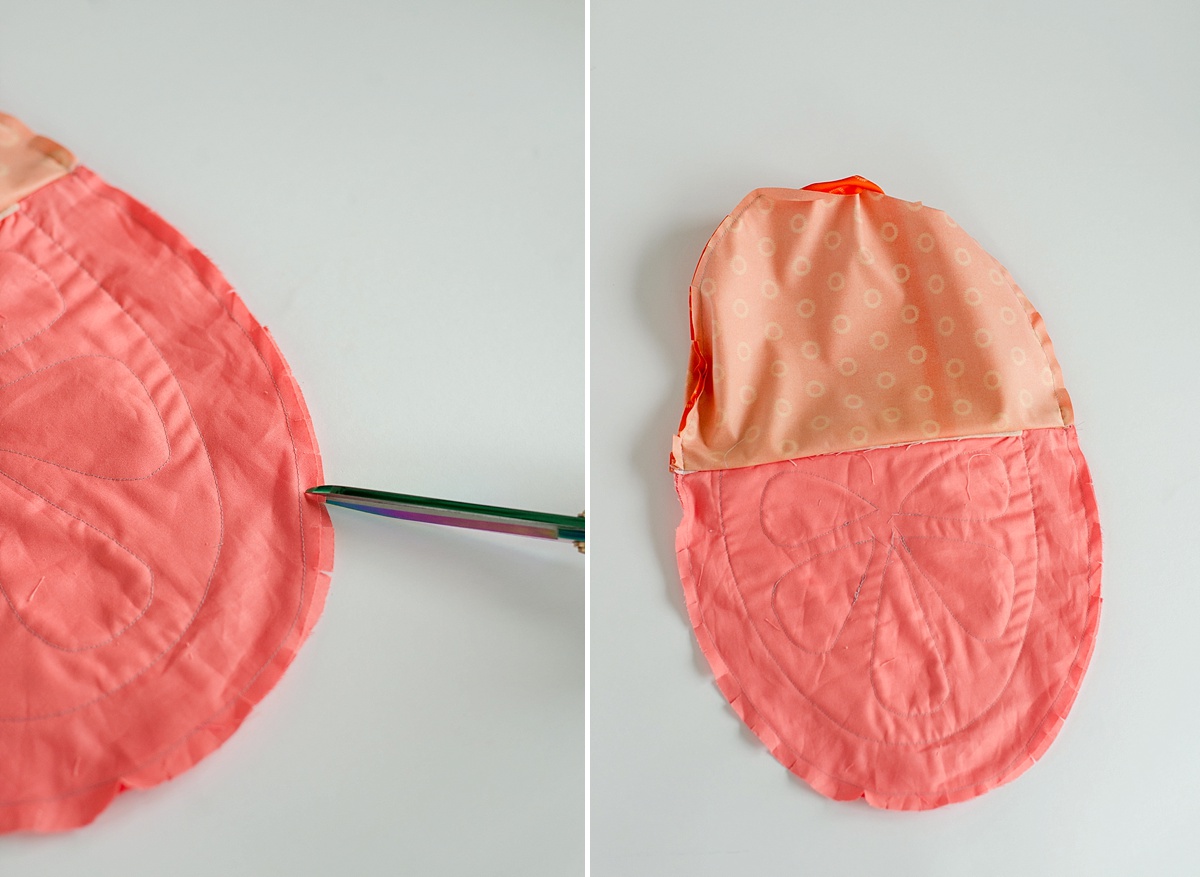 8. Finish!
Turn the bag right side out and polk all of the corners of the fruit shape with your fingers to smooth the edges. Then turn edges of the lining opening (where you pulled the bag through) inward to mimic the seam allowance and top stitch closed.
Press the bag with an iron + fill with goodies for the beach! 🙂