Plush Felt Dog Christmas ornament or stocking tag :) 
*this project is in partnership with Aleene's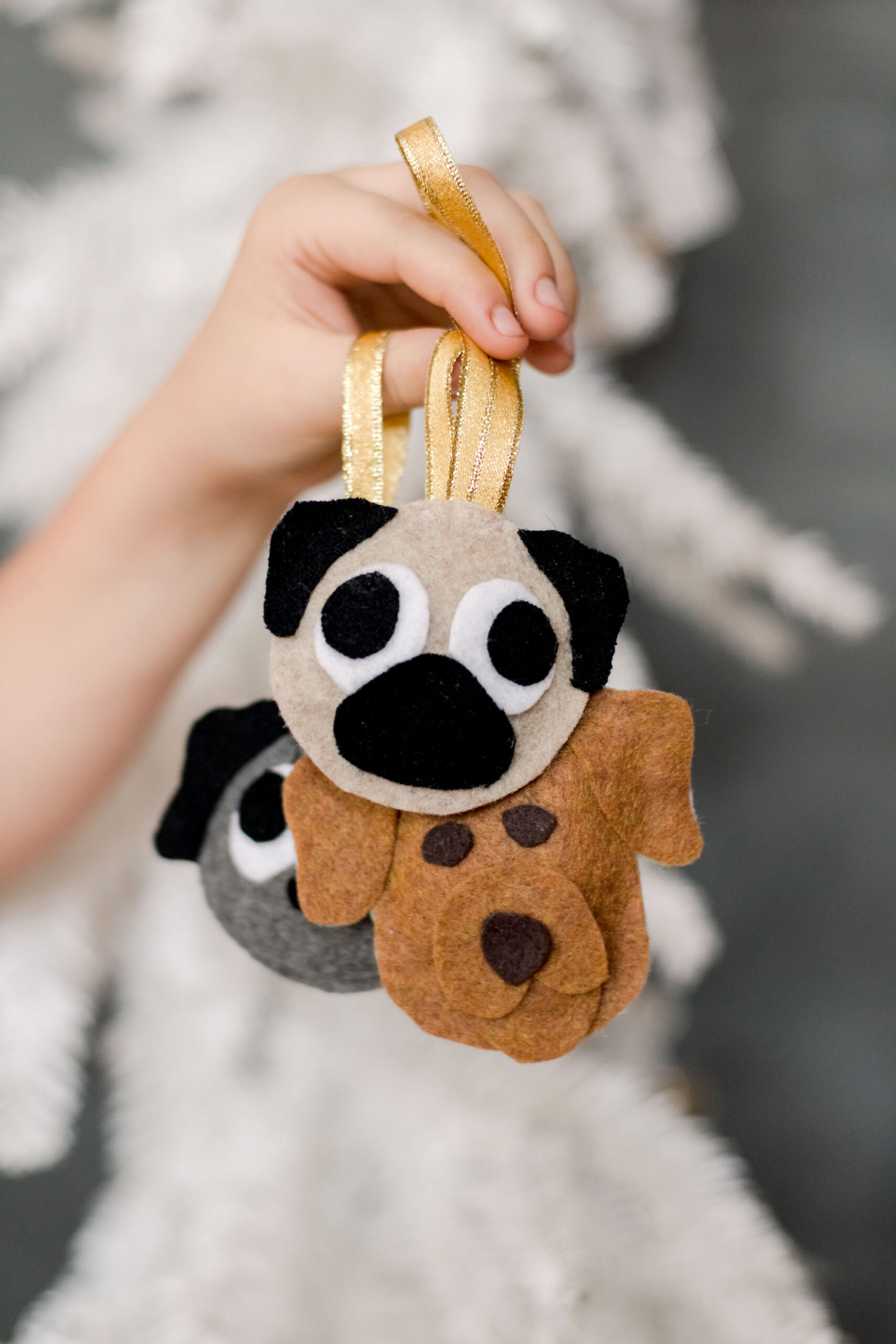 People who have pets surely love their pets (and don't worry, we are one of those families)! In fact, we currently have 3 (THREE!) dogs at our house (yup….that's lots of food feed and poo to clean up). BUUUUT of course we have to include them in our Christmas celebrations by making them their very own custom Christmas ornament for our tree this year! 🙂 ANNND you can customize this idea to look like your favorite pooch too!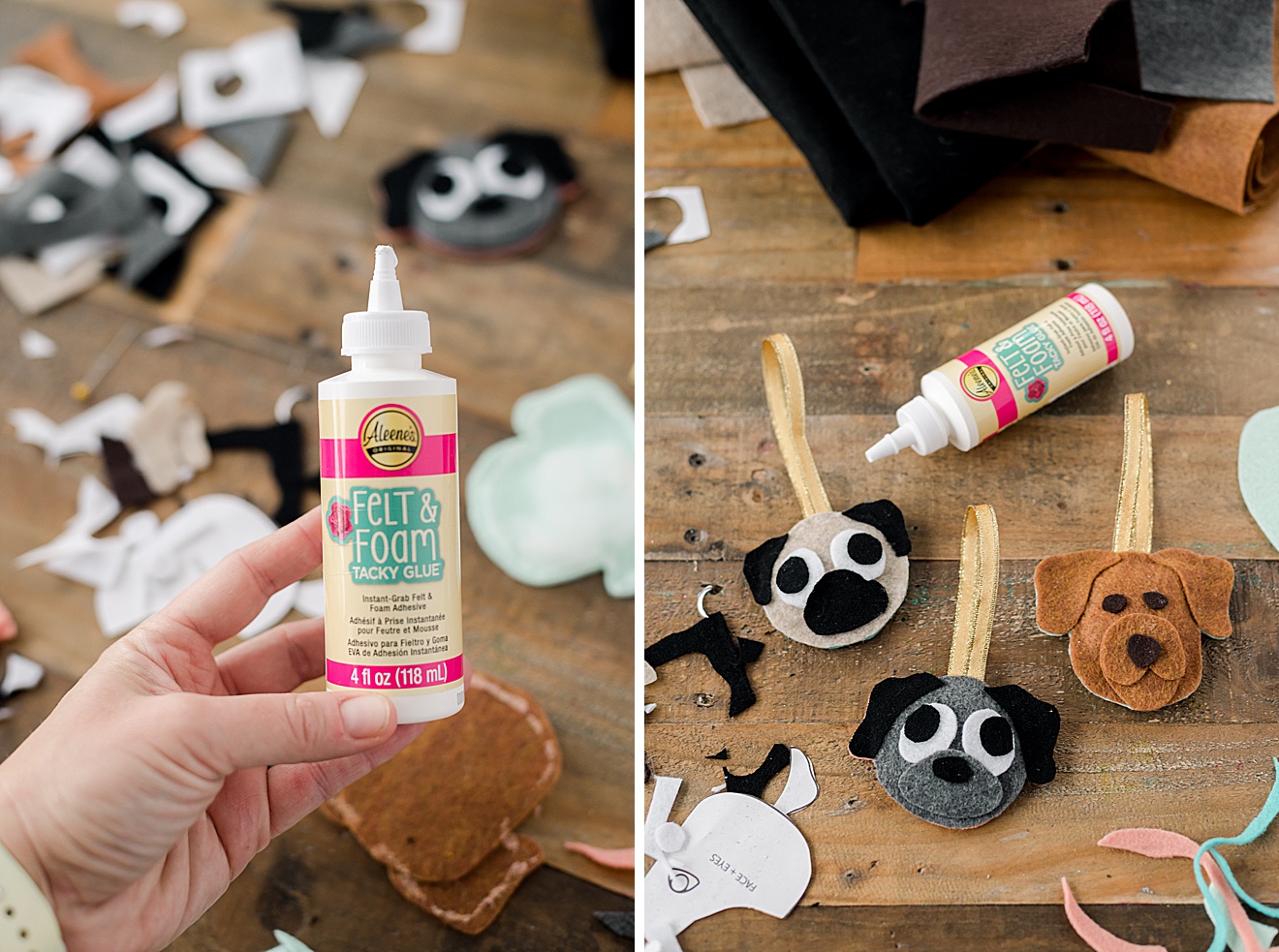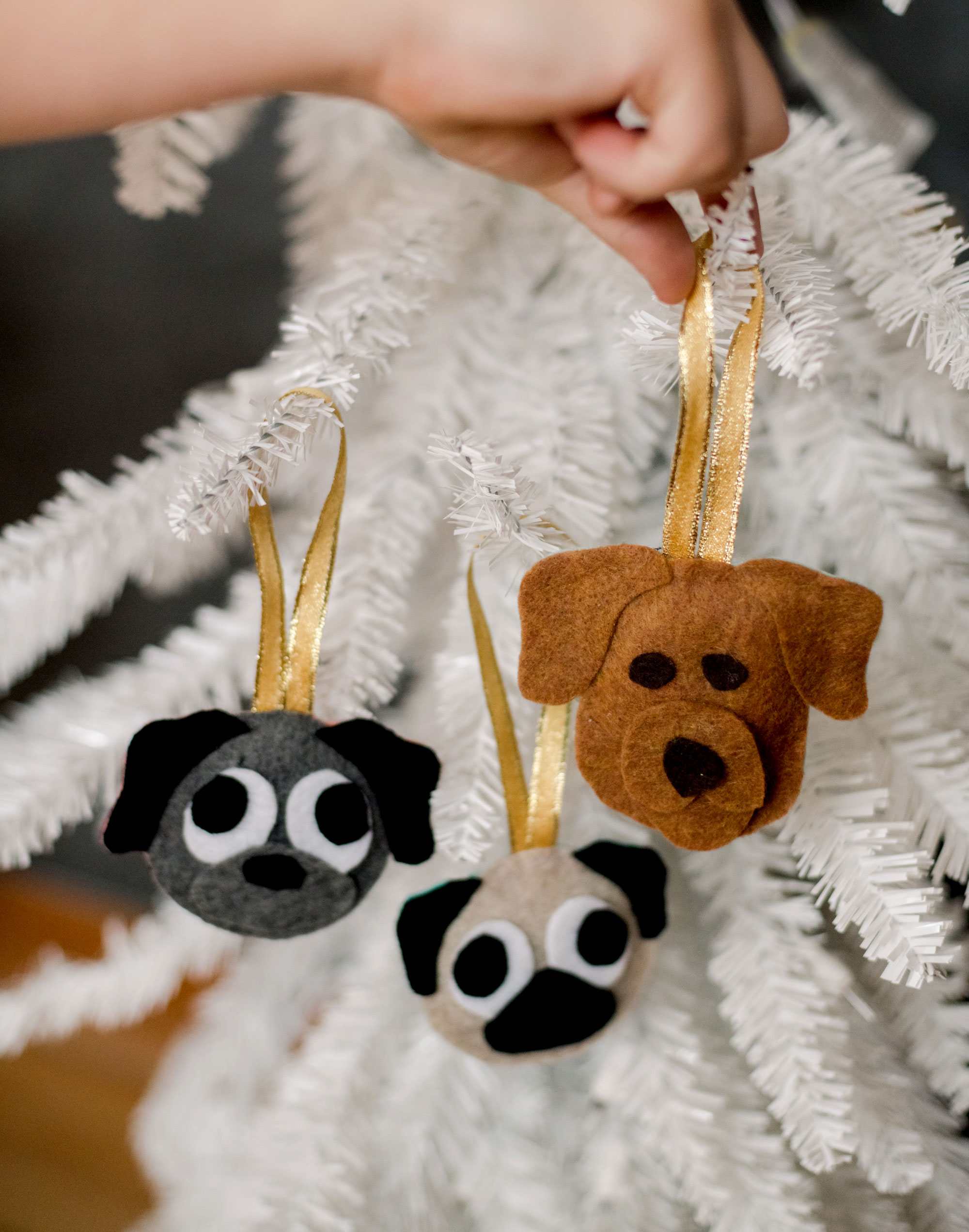 If you don't have a pug or a lab (Milton is technically a mix from a rescue, so we aren't quite sure what he is…..but a lab type face) you can customize these ornaments. Just google or look at your pup's face closely to get the idea of how large the snout is, how wide the face is and where the ears lie on the head. The idea is that these ornament are broken up into a few shapes: the head, ears and snout and then you can add eyes and nose all in the shapes that mimic your pup! 🙂
MATERIALS:
Felt in various different colors (coordinate with your dog) 🙂
a bottle of Aleene's Felt and Foam tacky glue 🙂
Scissors (sharp ones cut best on felt)
Straight sewing pins or a fabric marker/chalk for tracing the pattern pieces
optional bit of poly-fit or stuffing
ribbon or string for hanging
INSTRUCTIONS:
1. Using the PDF instructions, cut out the pieces of your dog (or dogs) according to your pup's coat colors and features 🙂 
PUG PDF PATTERN DOWNLOAD HERE
LAB PDF PATTERN DOWNLOAD HERE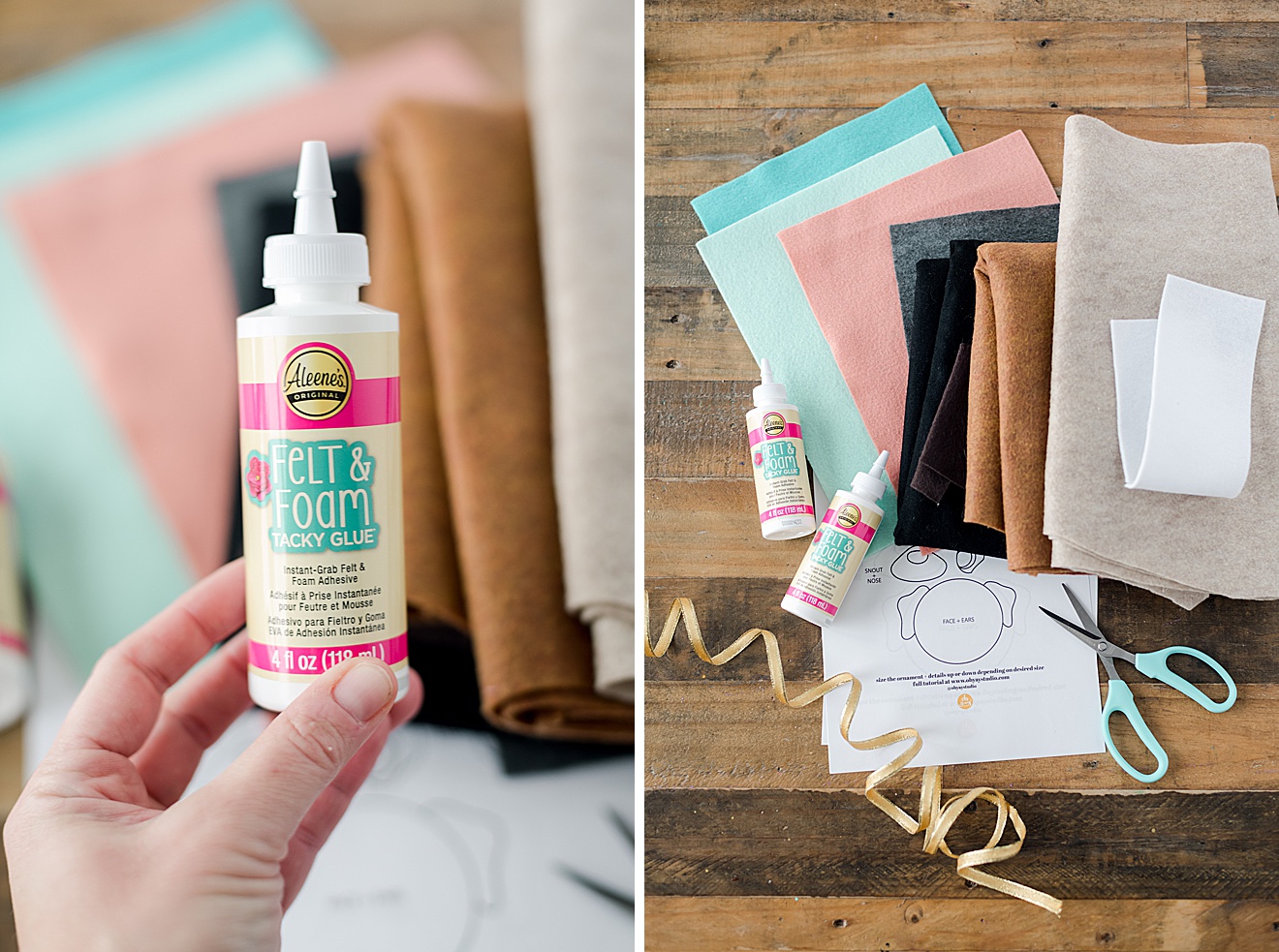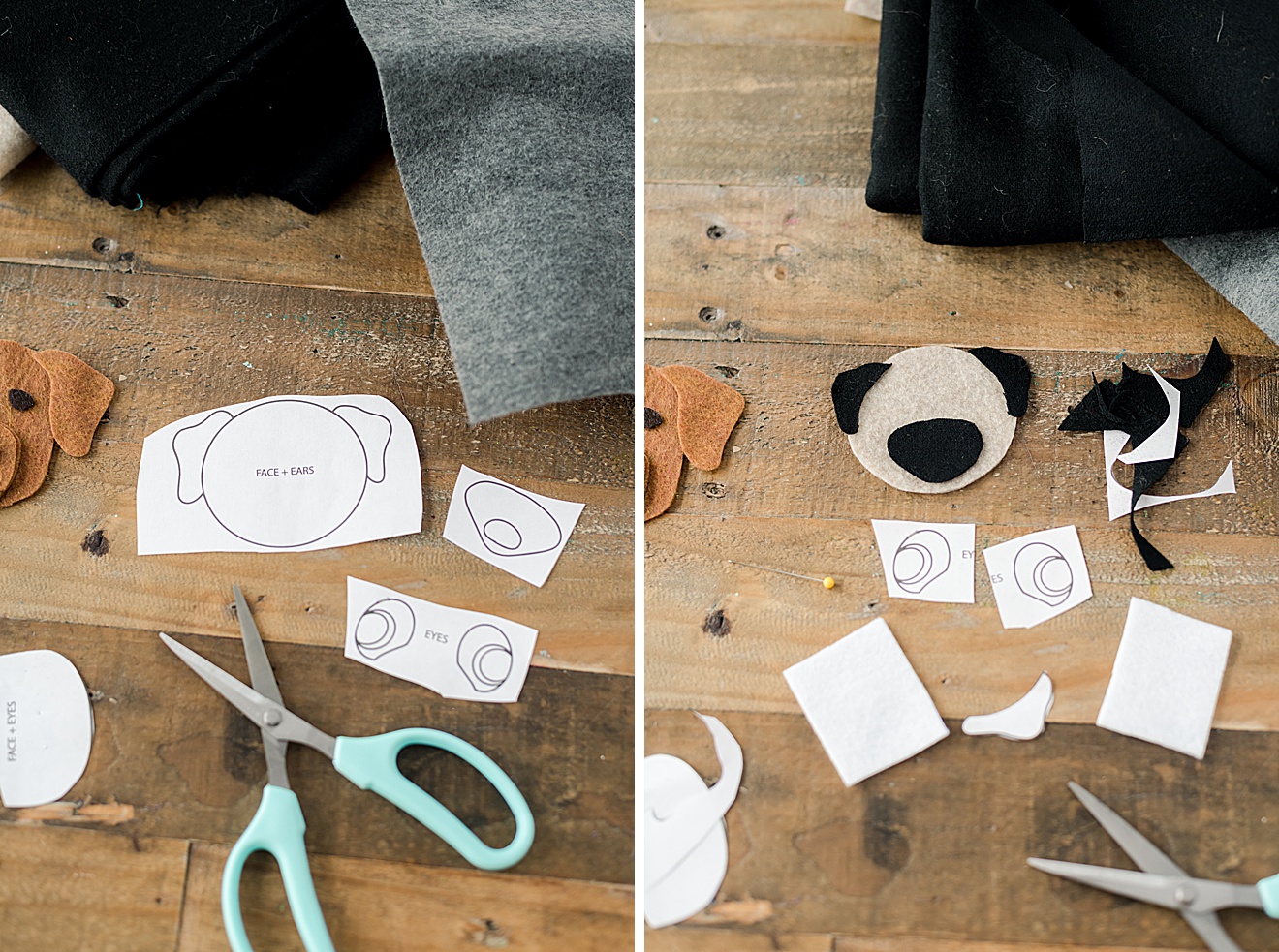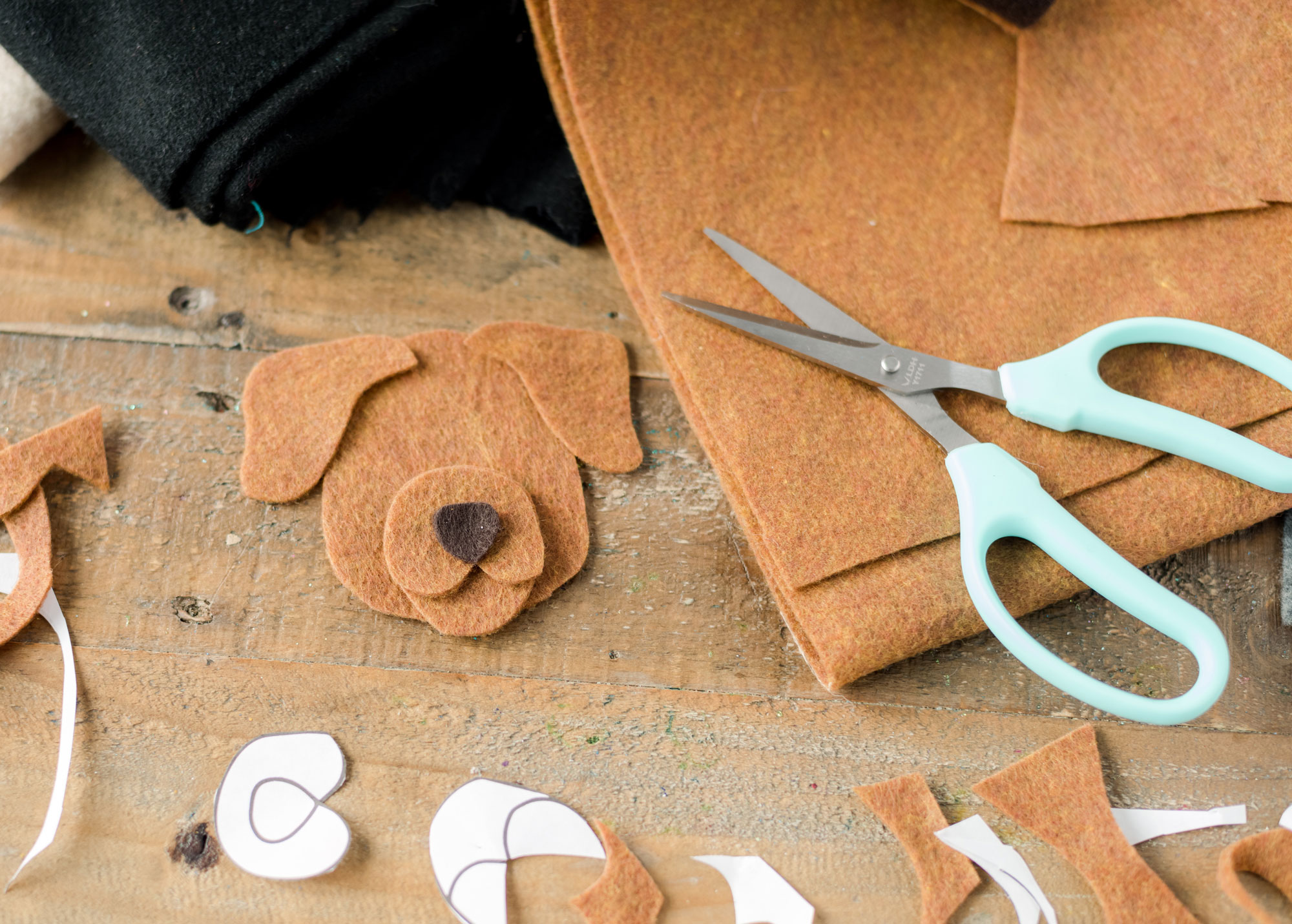 2. With your Aleene's felt + foam tacky glue, begin to tack down and glue down all of the features on the front of the pups face. Then set the face aside to dry completely 🙂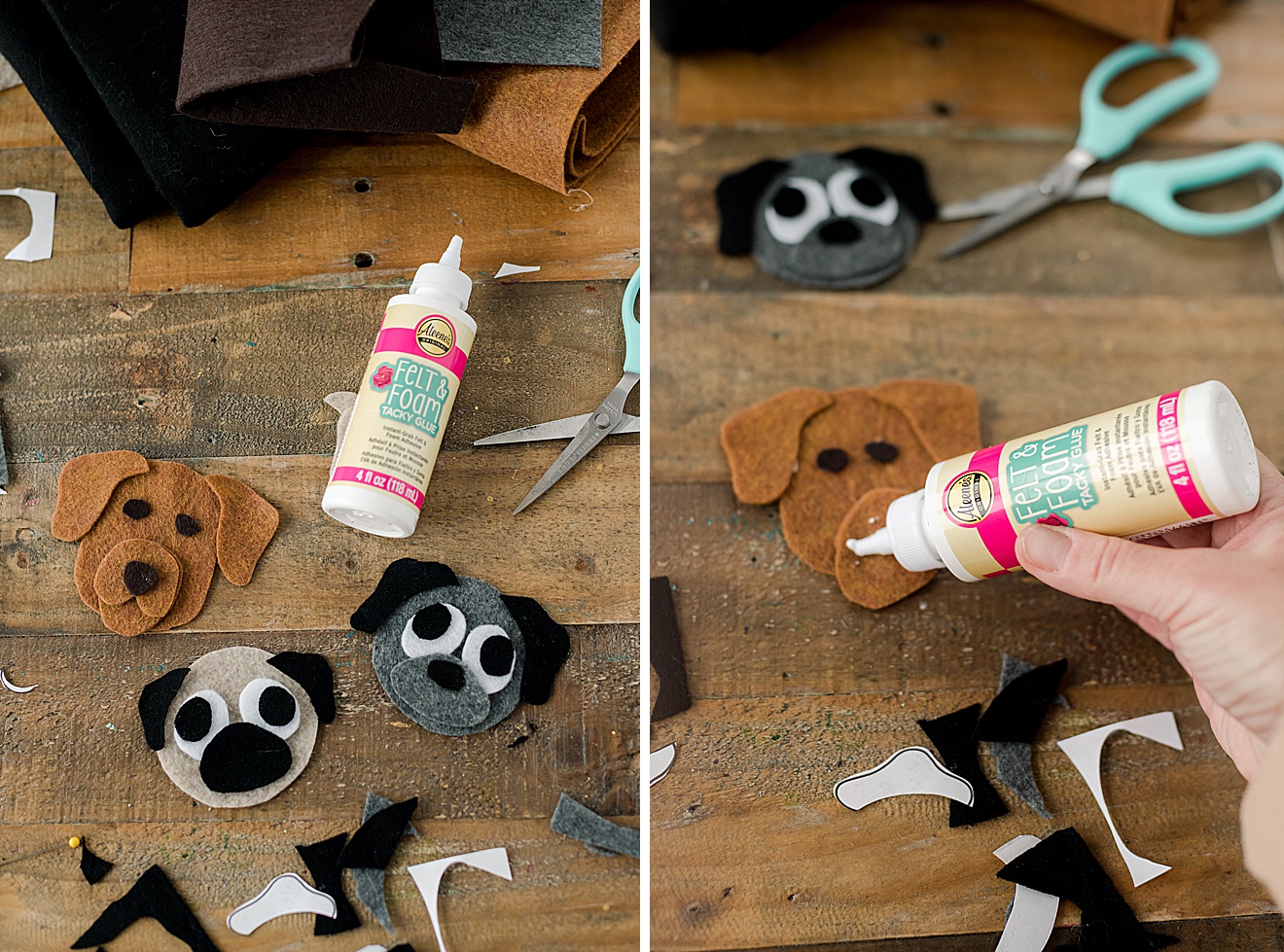 Here are a few pointers with this awesome glue:
It's thick, so be sure to cut a large enough hole on the bottle when you first begin
The more the merrier with the glue (don't be stingy)…and if you use too much, just wipe it off with a cloth (it's SUPER EASY and forgiving that way)
Hold the tip of the glue slightly above the felt. Since the felt has texture to it, the top can get "caught" or clogged if you drag it across the surface too much 🙂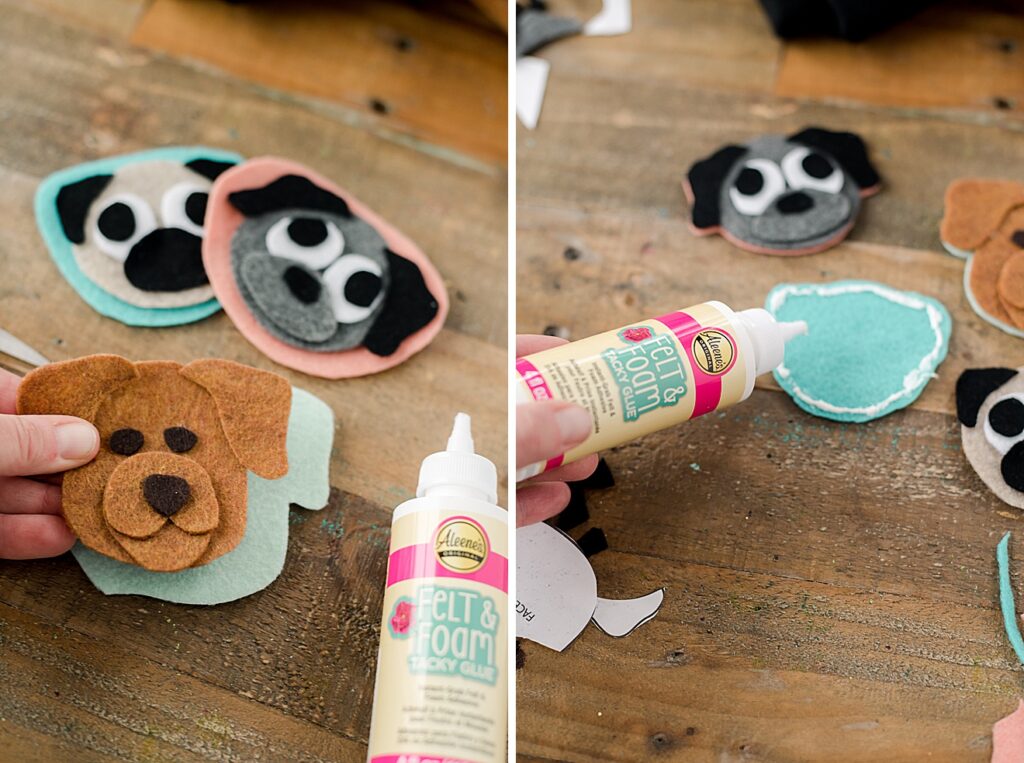 3. When your face is dry, lay it over top of another piece of felt (I used a colorful piece) for the backing. Trace or cut around your completed face to get the exact size of the backing.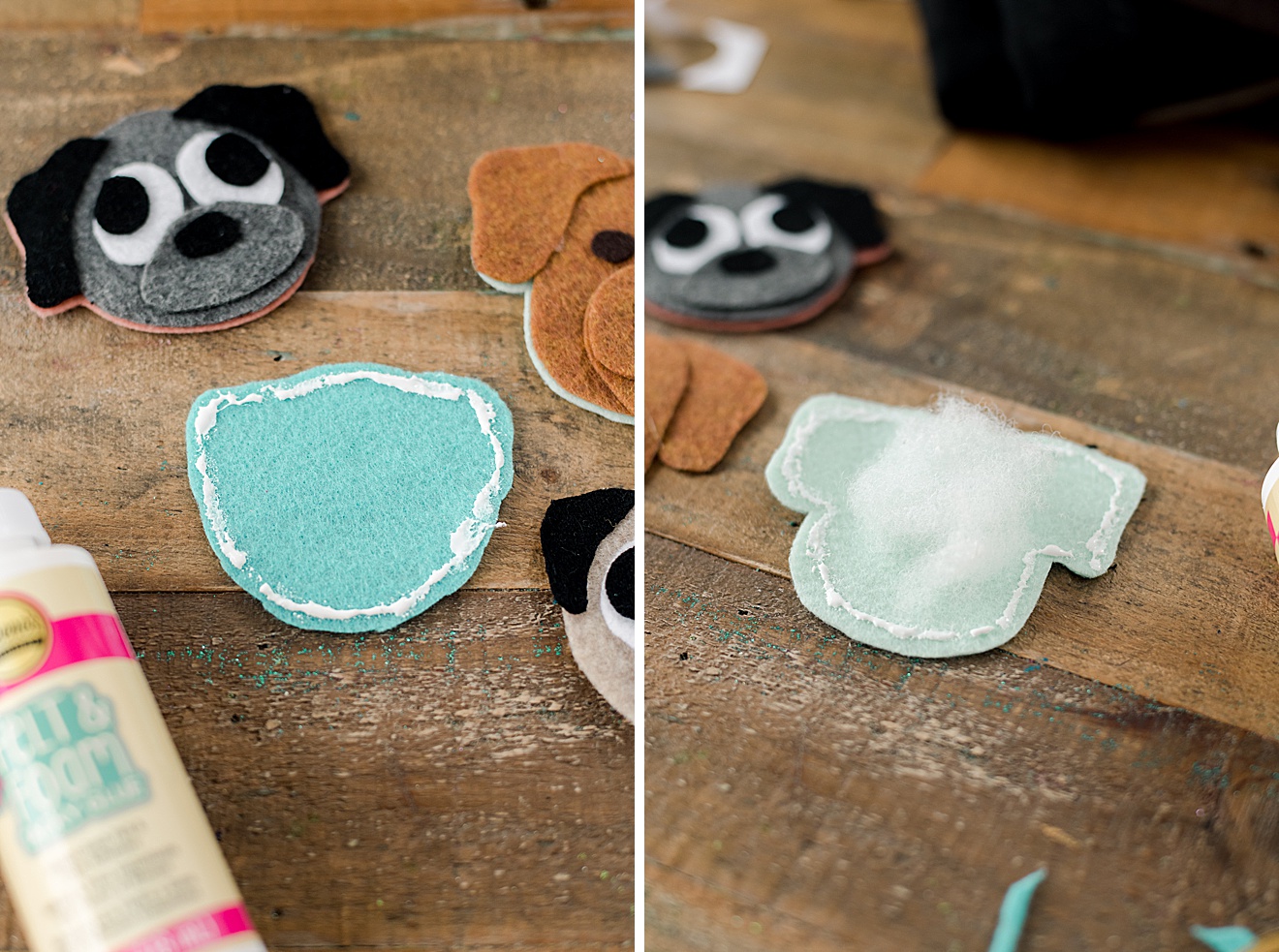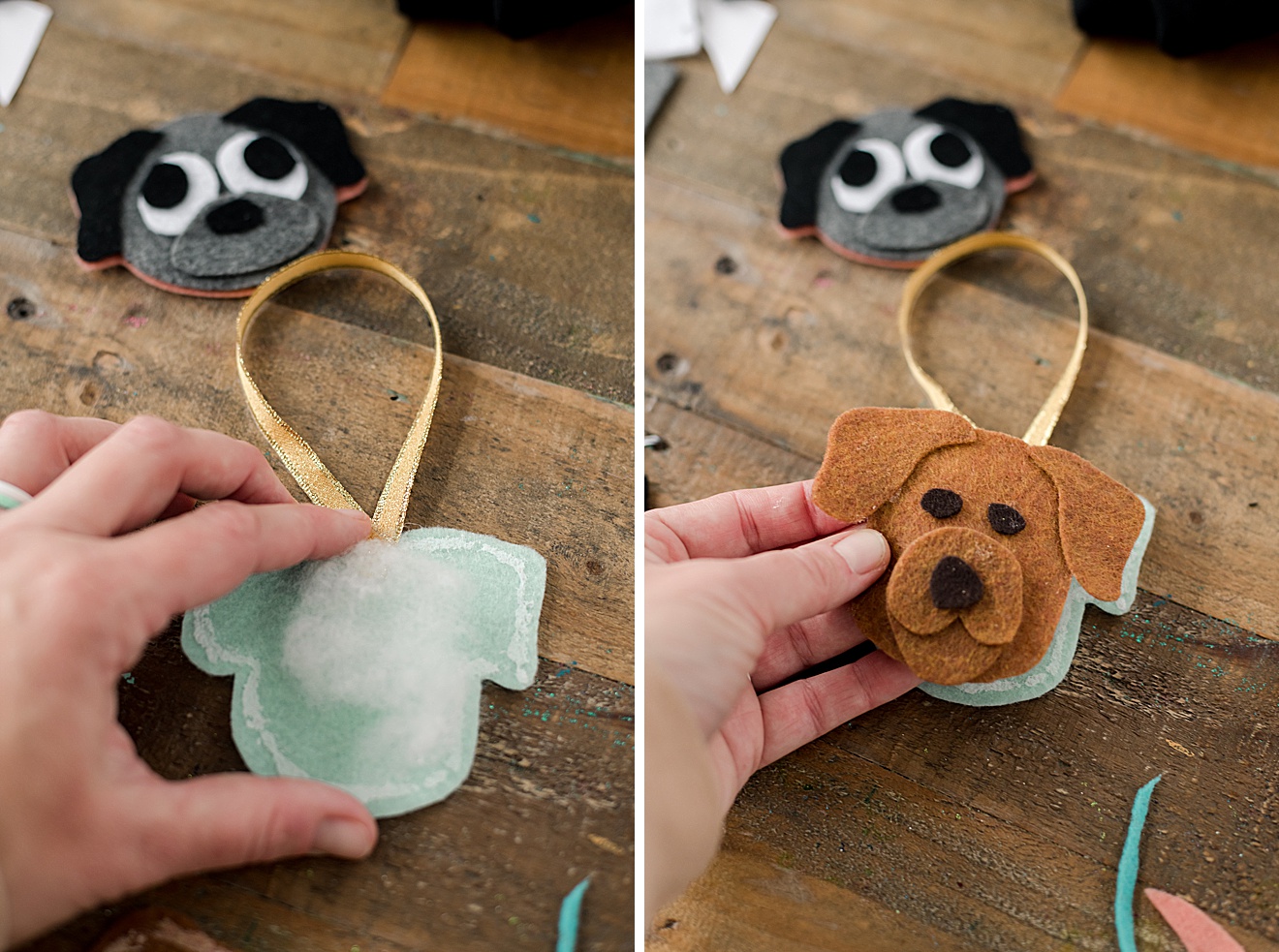 4. Cut a piece of ribbon for the top. Then begin assembling the whole pup head 🙂
With your felt + foam glue, run a bead of glue around the outer edge of the backing piece, (then lay a piece of polyfil or stuffing inside the glued edge if desired), put the piece of ribbon over the glue near the top and then lay the pup face on top of everything. Squish down the edges and make sure that you have all of the edges covered in glue (add more if necessary). Set aside to dry (I put a book or something heavy over the pup as it dried to be sure that it all stuck completely 🙂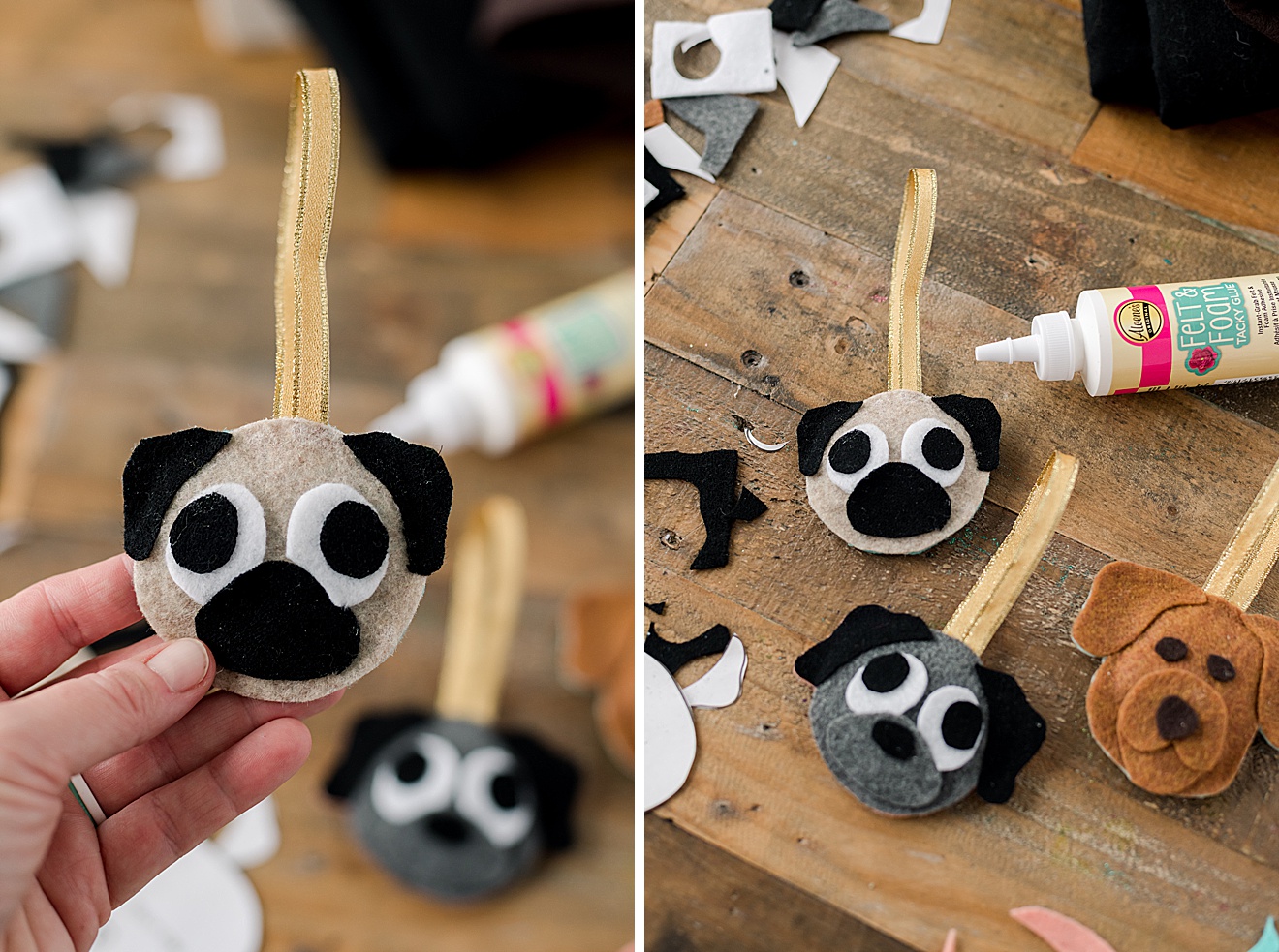 Then hang your pup on your tree or as a stocking tag for your holiday season 🙂