How to re-cover outdoor cushions | A quick + easy DIY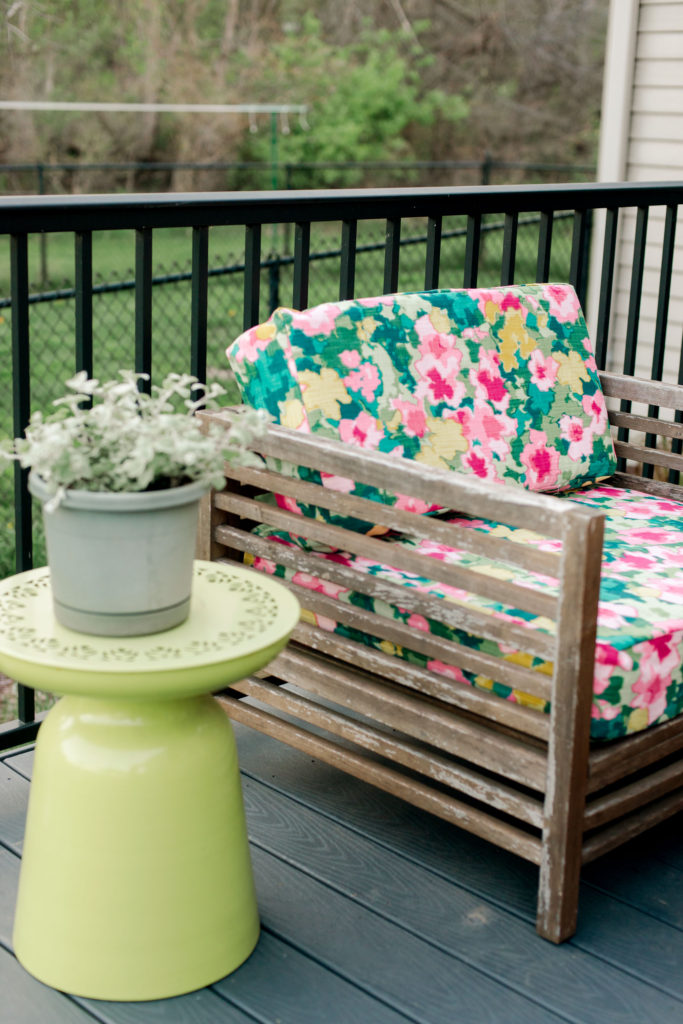 The way that I choose to re-cover is not an exact science and I don't measure a whole ton (maybe that's a good thing, maybe that's a bad thing) but I have found that it works AWESOME and I have sewn many things using this method before! 🙂 Essentially I use the existing cushion covers as a "pattern" for the new cushion covers which omits loads of math for seam allowances and things that I don't love doing. I am so excited about how these cushions came out and I hope that this little tutorial on how to re-cover your own outdoor cushions inspires you to tackle this DIY!! 🙂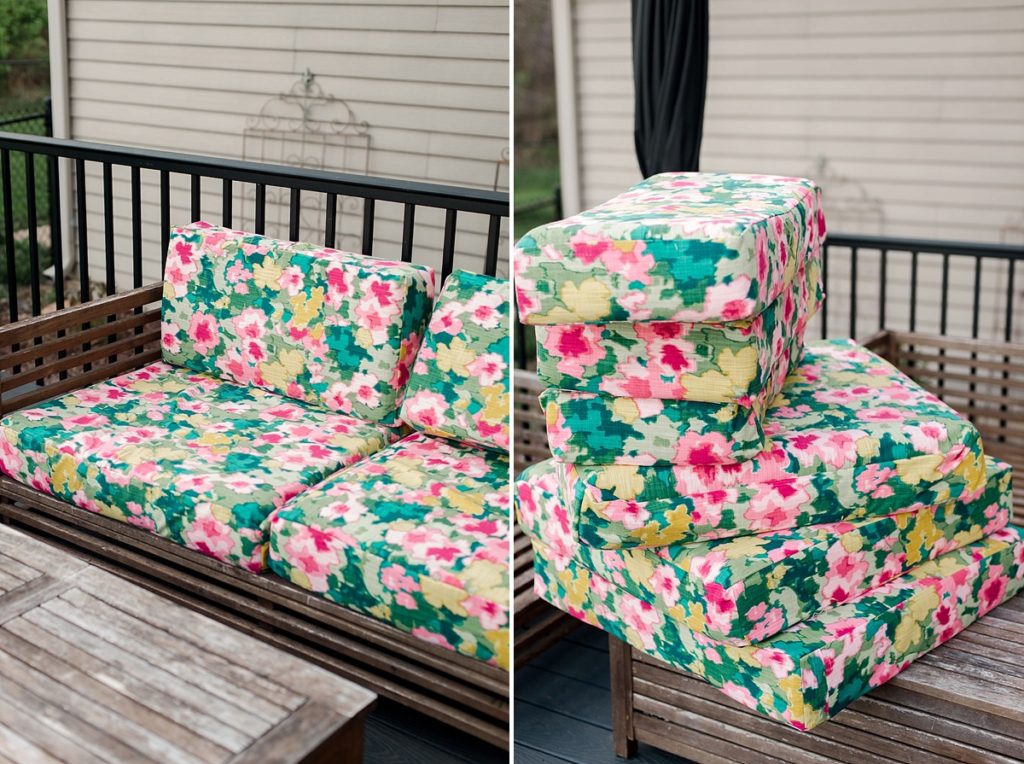 Supplies:
New recovering fabric (measure from your old, existing covers to get a rough idea)
Old cushion covers (to measure from + make pattern)
Seam ripper
Tape measure
Sewing machine with coordinating thread
Pinking sheers
(and maybe a glass of wine or 2)

STEP ONE : Make Pattern
Remove your old cushion cover from your cushion and start to gently rip the seams apart (you want the pieces to stay in tact as best as possible). Basically we are getting our pattern pieces from our old cushion covers. I ended up with a front, back and 2 side pieces. You may want to label the pattern pieces with a marker once you have them all laid out and cleaned up so that you know what is what in case you get interrupted or need them for future use.
NOTE: I decided that I didn't want to do zippers like the first cushion covers had (ACK, zippers are not necessary in cushion covers like these IMO), SOOOOOO I decided to still "use" the piece with the zipper, but just omit the zipper part.
TIP: You also can IRON your pieces so that they are COMPLETELY flat and there is less room for seam allowance error because of folding, etc.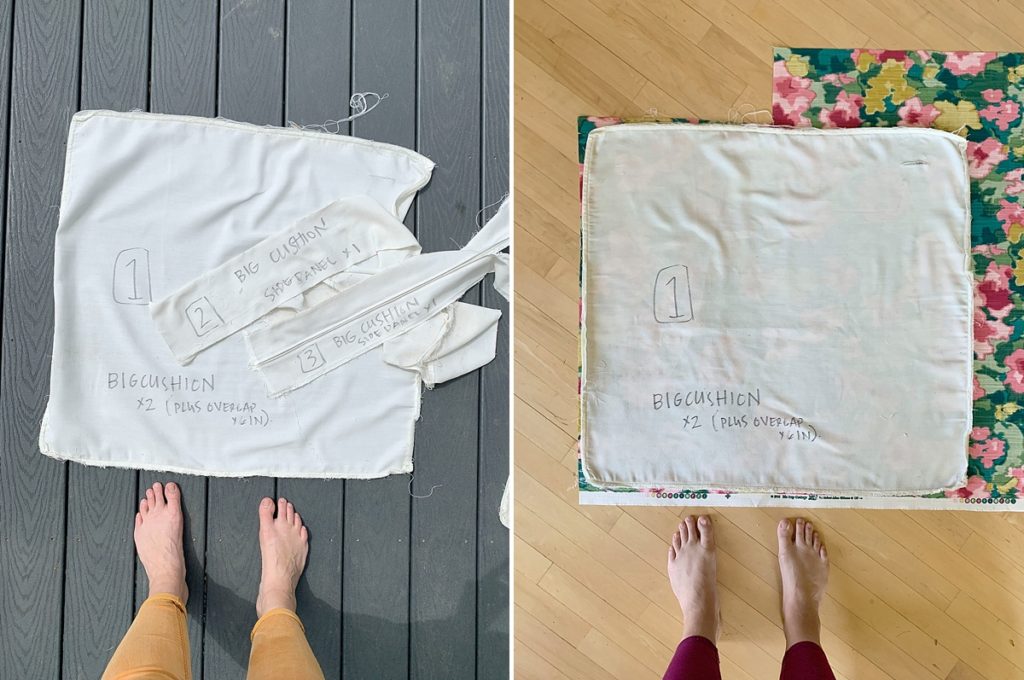 STEP TWO : Cut Fabric
Lay out all of your pieces onto the new fabric. Begin cutting out pieces one by one.
NOTE: Because I decided to omit the zipper in my re-covering, I wanted to make a back "flap" for the cushion to easily come in and out. SOOOOOO when I cut the back panel, I actually cut it 12 inches longer so that I could cut in in 1/2 and make 2 pieces with a 6″ overlap for the back side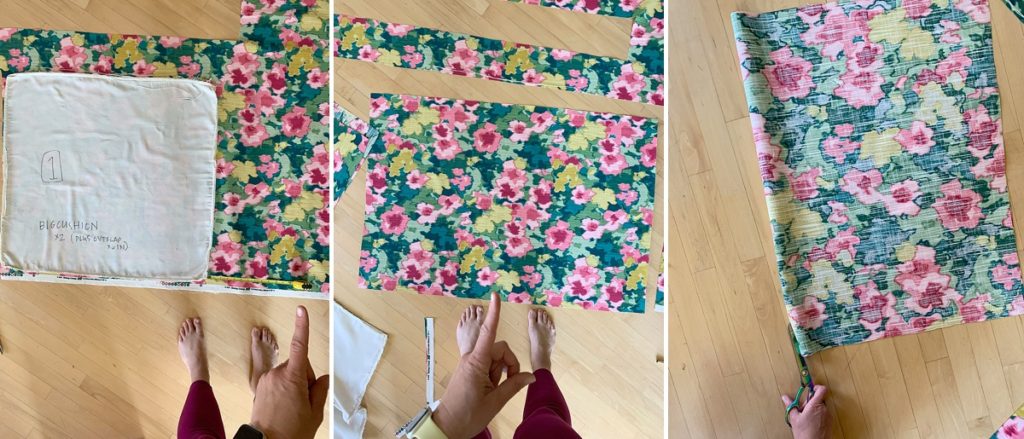 STEP THREE : Sew
I began by sewing my back 1/2 cut sides (basically roll hemming them) so that there weren't any fray or loose ends inside. Then I began pieces each panel back together. You can sort of get an idea of how this can happen while you are seam ripping your old cushion covers apart. Basically I started with the back (hem), then sewed the sides to the front panel, followed by the back side.
TIP: When you are sewing the sides onto the front or the back, try and make sure to line up the corners as best as possible so that the edges are square. I did this by lining up the corner and holding (or pinning) in place each time I started to sew the side panels.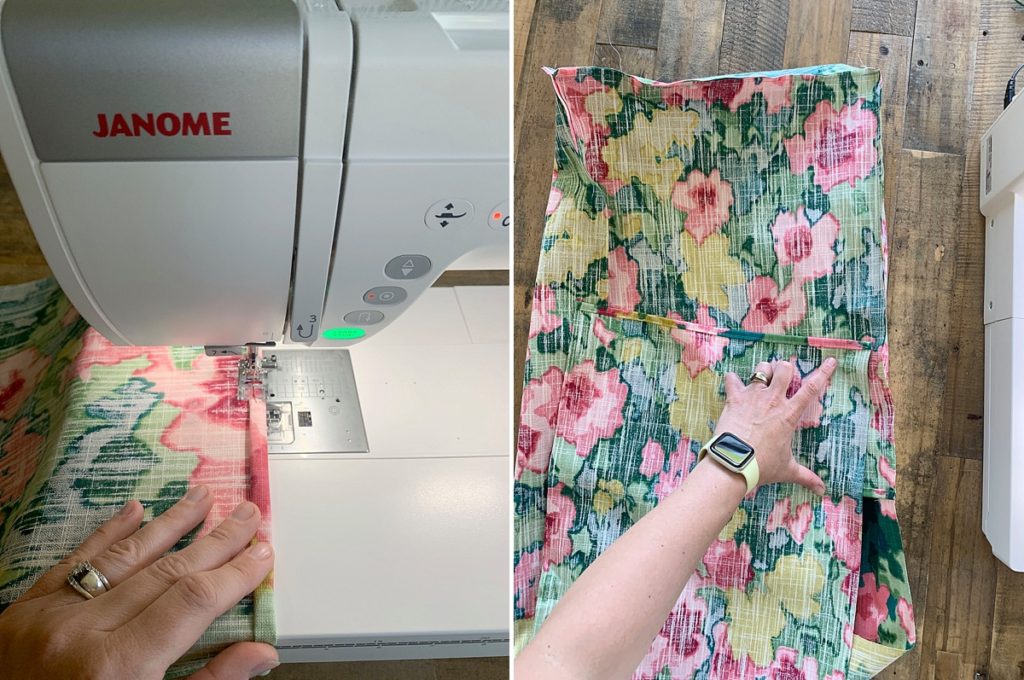 STEP FOUR : Try on and Make any adjustments
This is the moment of truth!!!! Shove the cushion form back into the new cushion cover and note of any adjustment that need to be made. Sew those adjustments as needed! 🙂
The final step is to turn your new cushion cover wrong side out, take your pinking sheers and trim allll the inside seams to prevent from fraying or weak points in the sewing as they get jumped on, worn and loved! 🙂