How to make an easy bomb pop popsicle costume!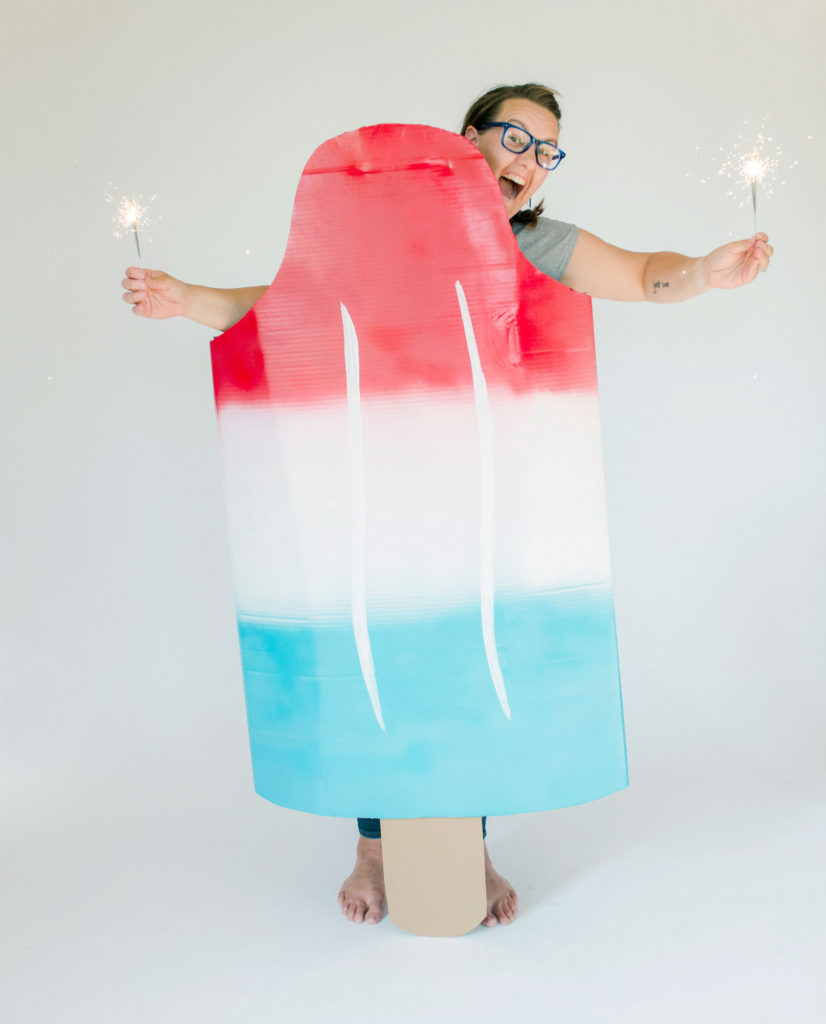 What is more 4th of July than a red, white and blue bomb pop popsicle?!?!? It celebrates everything that is summer with its ice cold deliciousness and its bright and happy colors, right?!?! 🙂 ANNNND what is more fun then dressing up as a bomb pop for your back-yard BBQ or 4th of July parade, eh?!?! 🙂 THIIIIIS bomb pop costume is the July installment of my 2019 costume challenge!!!! 🙂 And I promise that this bomb pop costume is so easy to make (like SOOOOOO easy, only taking me a few hours total) and only involving a handful of supplies! 🙂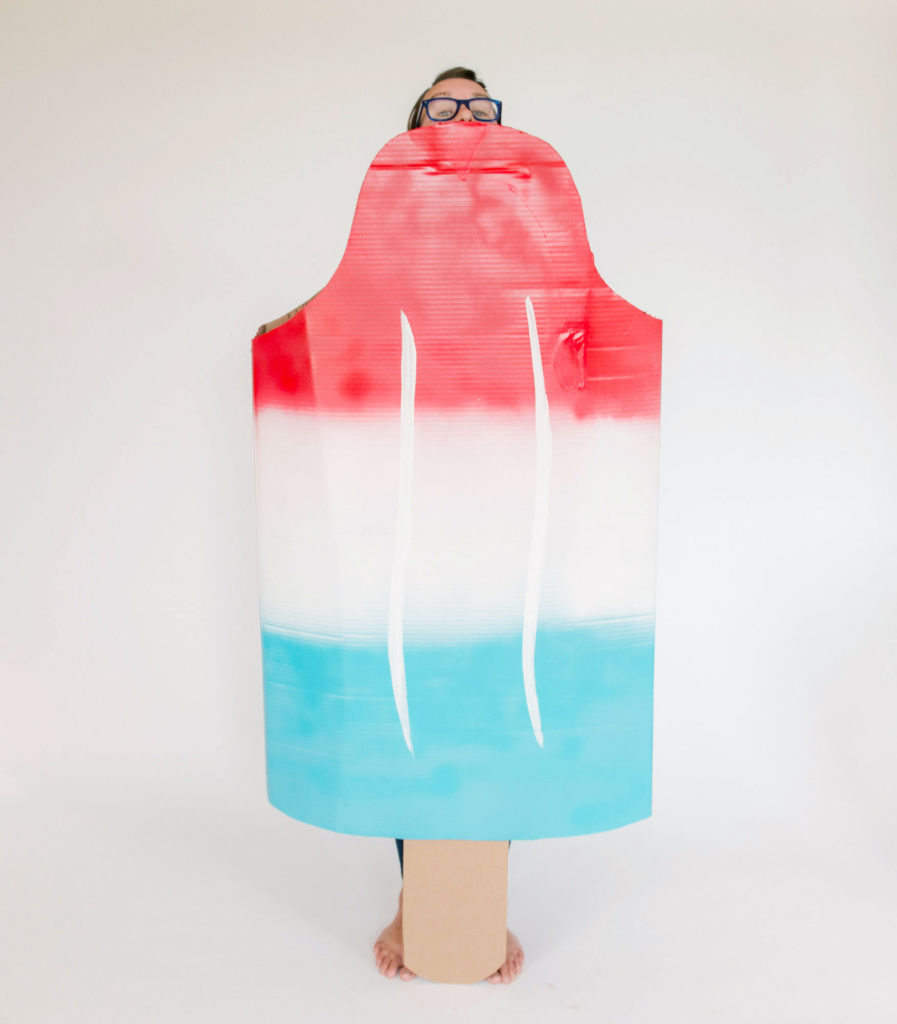 Supplies:
2 GIANT pieces of cardboard
spray paint in red, white and blue (I used rust-oleum brand, "oasis blue" and "apple red"
white acrylic or craft paint with paint brush
a roll of duct tape
box cutter or x-acto knife
optional hot glue gun/hot glue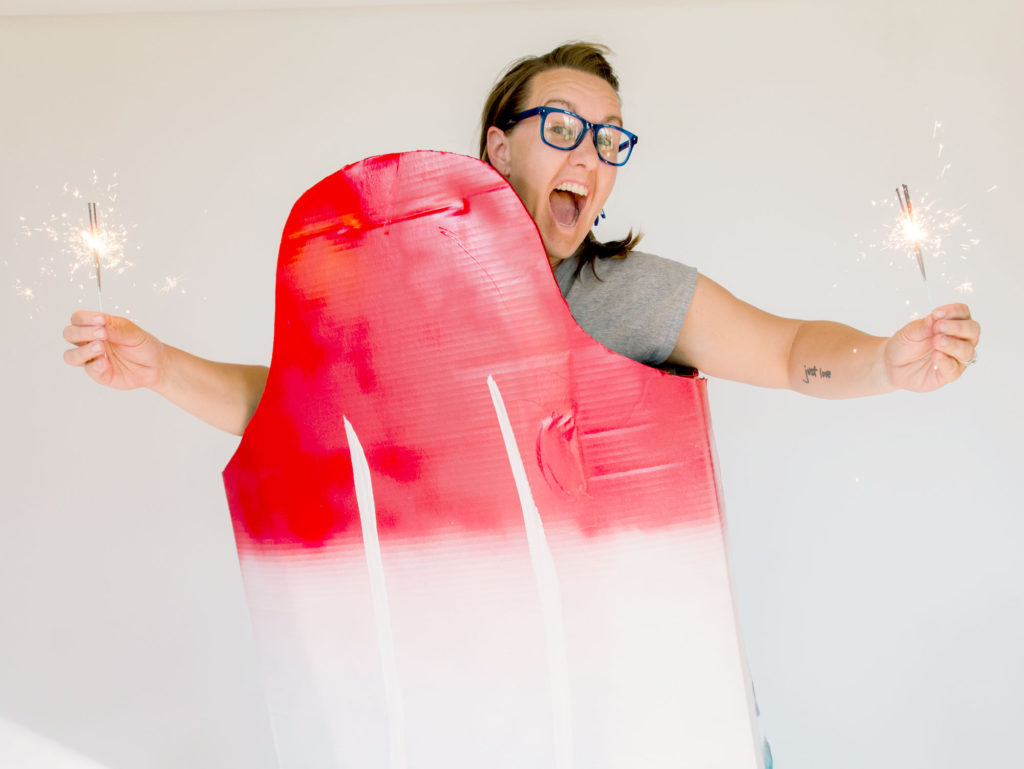 Instructions:
Cut out all pieces
With one piece of the cardboard, draw and cut out the shape of the bomb pop popsicle (minus the stick). Make sure to leave the "sides" of the box" available to wrap around your body.
Then trace the cut out shape to a 2nd piece of card board and cut out again.
Draw the shape of the stick on a scrap piece of cardboard and cut out. Set aside.
2. Paint popsicle
With spray paint (in a ventilated area, wearing a mask if you prefer) begin spraying the blue, white and red colors onto the box. Spray paint is wonderful and easy to "blend" so make sure to cover the area well BUT try and keep the "lines" blurred so that it resembles the original bomb pop color transitions.
Cover with a few coats of spray paint or until you think the color is saturated enough.
Then with your white craft paint, give the popsicle a it's bumpy definition by painting 2-3 wavy or straight lines vertically down the front of the bomb pop.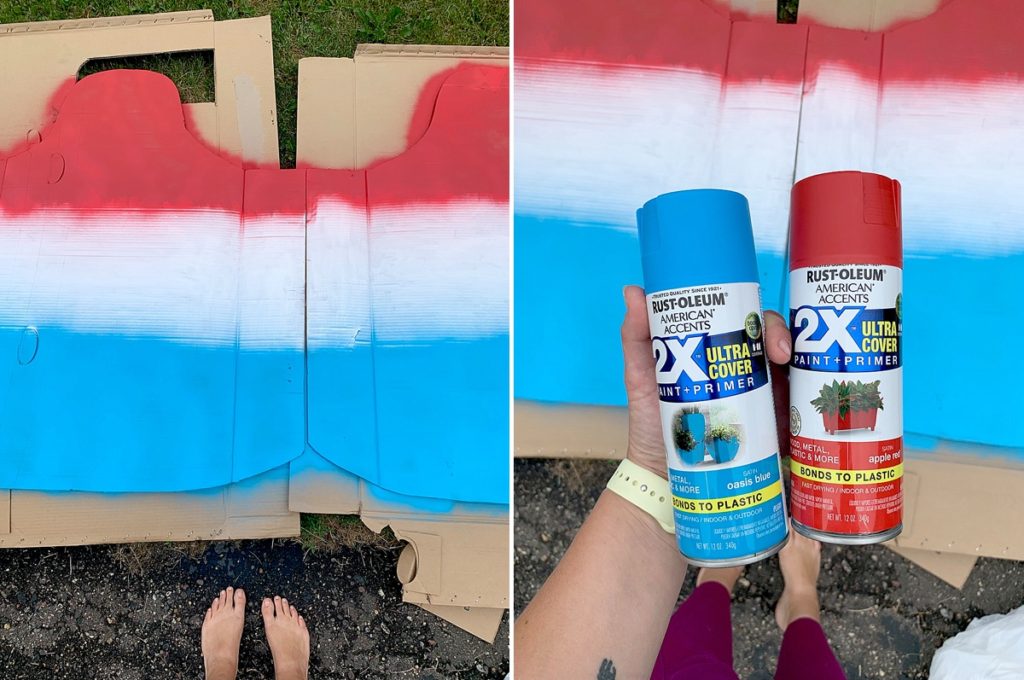 3. Assemble popsicle
Using your duct tape (or hot glue) begin by attaching the front of the popsicle to the back of the popsicle, one side at a time. Now you will have a "box" popsicle and you can attach the stick to the inside front. Make shoulder straps OR handles out of duct tape for the inside of the popsicle. (I made handles because that seemed easier to carry and dance in 🙂