Galentine's day party chocolate dessert ideas!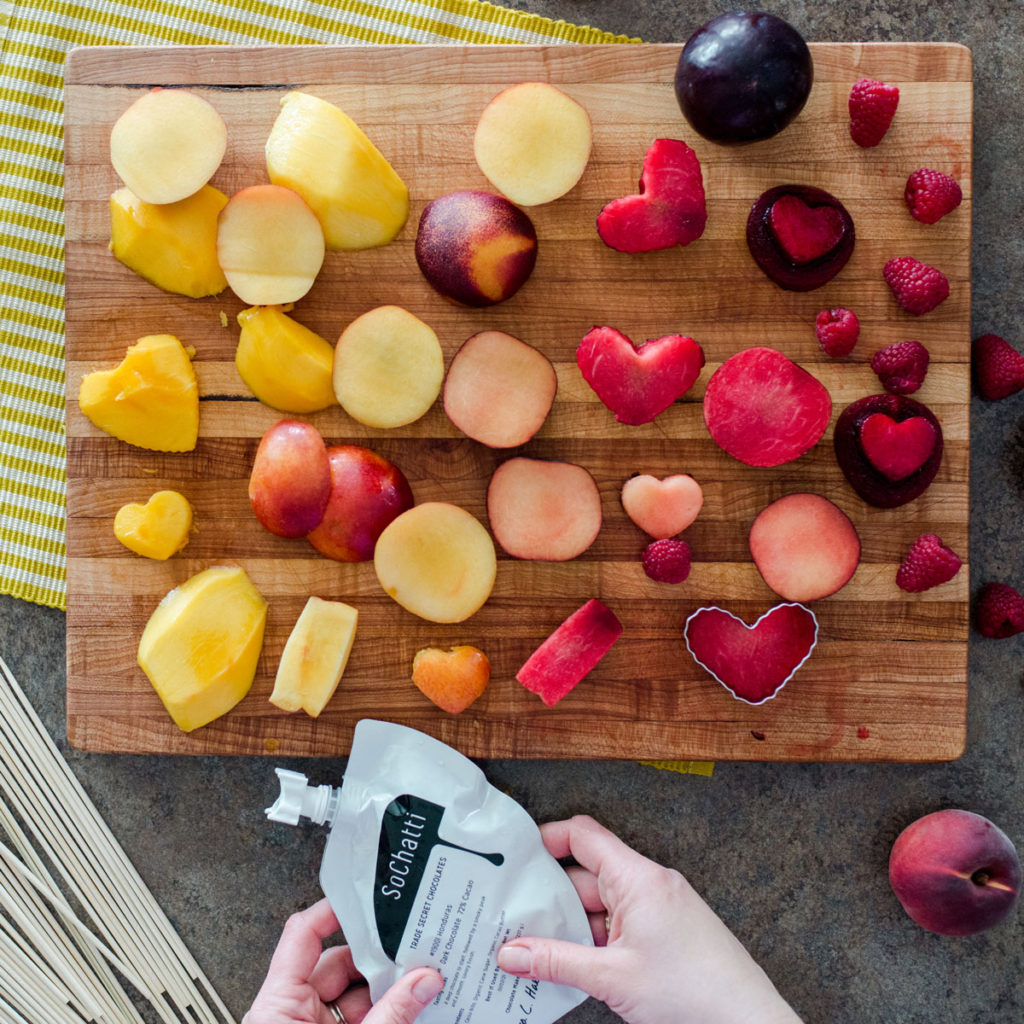 Leslie Knope coined one of the most *AMAZING* holidays ever (IMO): GALENTINE'S DAY! 🙂 Feb 13th! The day that gal pals get together to celebrate friendship and fun and their love for one another! ANDDDD if you have known me for any length of time, you know just how much I looooooove Leslie Knope AND Galentine's day! SO much so, that every year I throw a party for some of my faves! 🙂

Well today, I wanted to share with you some of the prep that is going into my big Galentines party this year: the food, the ideas, the techniques and of course, the chocolate! 🙂

Let me break it down for you! There are 2 things that I think are ESSENTIAL for throwing a great party:
Ease of prepping (a balance between great ideas and easy execution is the sweet spot for me)
Sweet Treats
(ok, well three) TUNES! Can't forget the tunes!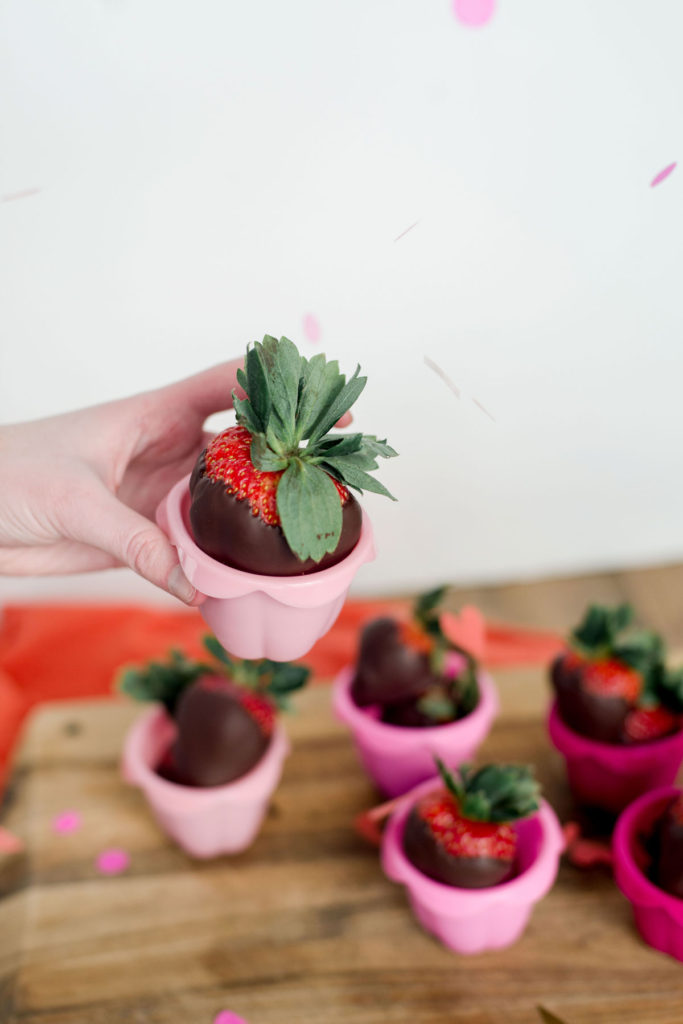 This year, for me Galentine's day will be focused on simple and yummy desserts and I am eager to celebrate with SoChatti, an *INCREDIBLE* and super yummy chocolate product that will change the way that you throw parties (and I don't say that lightly)! 🙂 SoChatti is made with only three simple ingredients (cacao beans, cacao butter and cane sugar), making it vegan, gluten free, nut free and kosher!! (WOAH!) Ditch the double boiler for drizzlable and dunkable creamy, thick, delicious chocolate that makes party planning and throwing a BREEZE! It comes in a pouch that you warm up in warm water and use like a piping bag, making recipes quick on the execution AND the clean up ANNNND it doesn't compromise the flavor (in fact, I think this stuff tastes BETTER than any other product I've tasted; this stuff is legit! 🙂 SoChatti uses responsibly sourced cacao beans from places around the world and just like coffee and wine (two of my favorite beverages EVER), which makes every batch unique, depending on the origin of the bean. Snag the new SoChatti Tasting Set that they just launched on Amazon, which features three different varieties from Peru, Tanzania, and Honduras. TRIPLE YUM! 🙂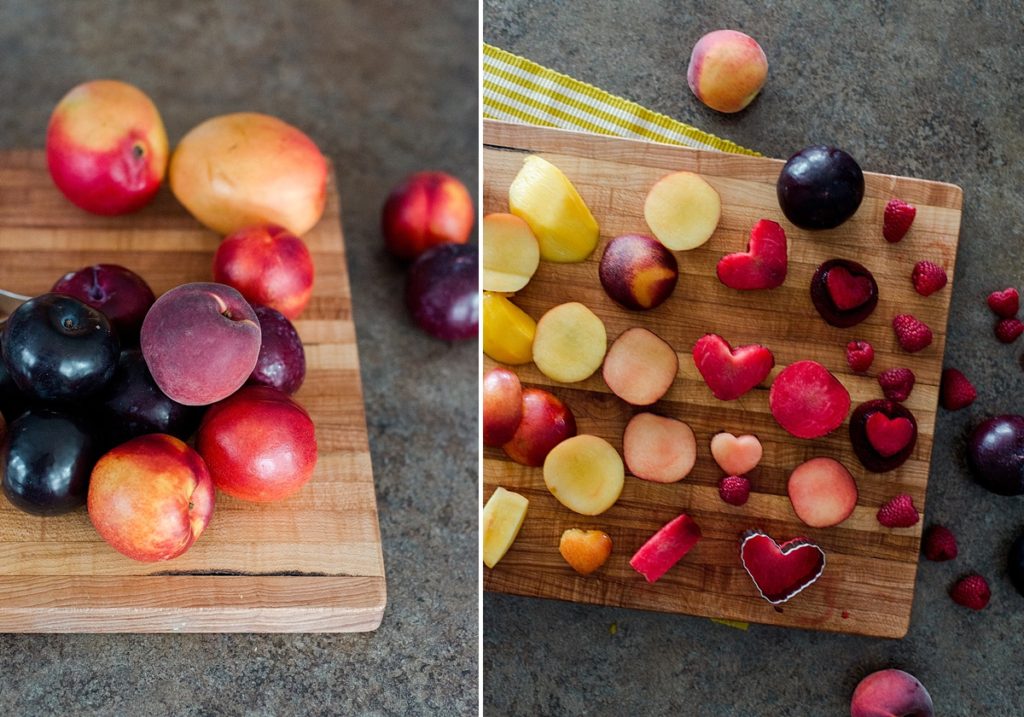 First off, a Galentine's day ombre kabob! What's better than food on a stick? (answer: nothing). I wanted something visually appealing that was easy to pick up and eat at any point in the party. This idea is simple really; snag an array of fruit from the store (raspberries, plums, peaches, nectaries, mango and anything else that you love). Cut the fruits flesh from the pits in the largest "chunks" that you are able to and then use your variety of heart shaped cookie cutters to make them festive.
Snag some kabob sticks and start arranging your designs in an ombre pattern. Then finish off the kabobs with a generous drizzle of SoChatti chocolate. This is the *easy* part because all you need to do is drizzle from the SoChatti pouch that chocolate comes in! No piping bag, no double boiler, no extra dishes, nada!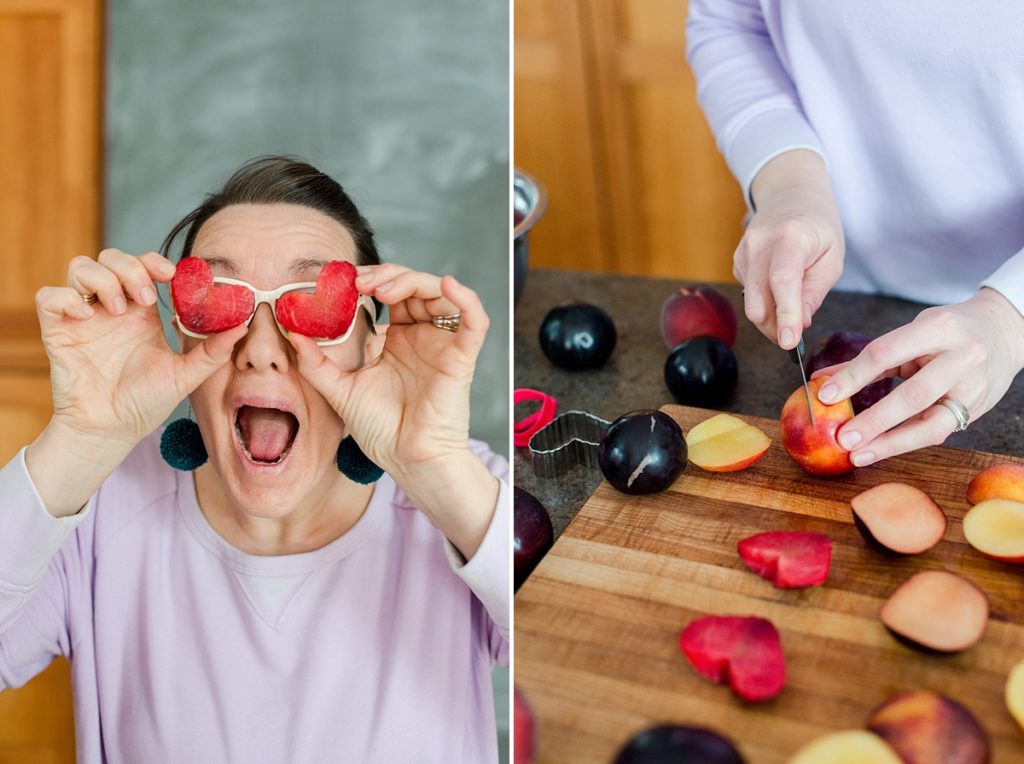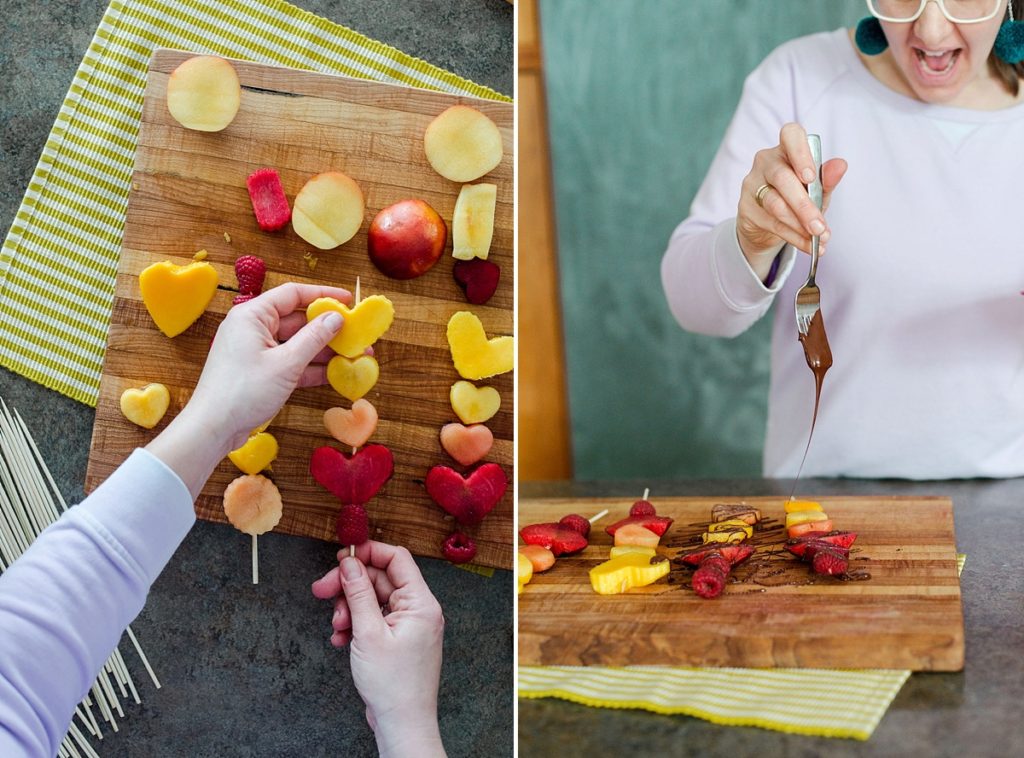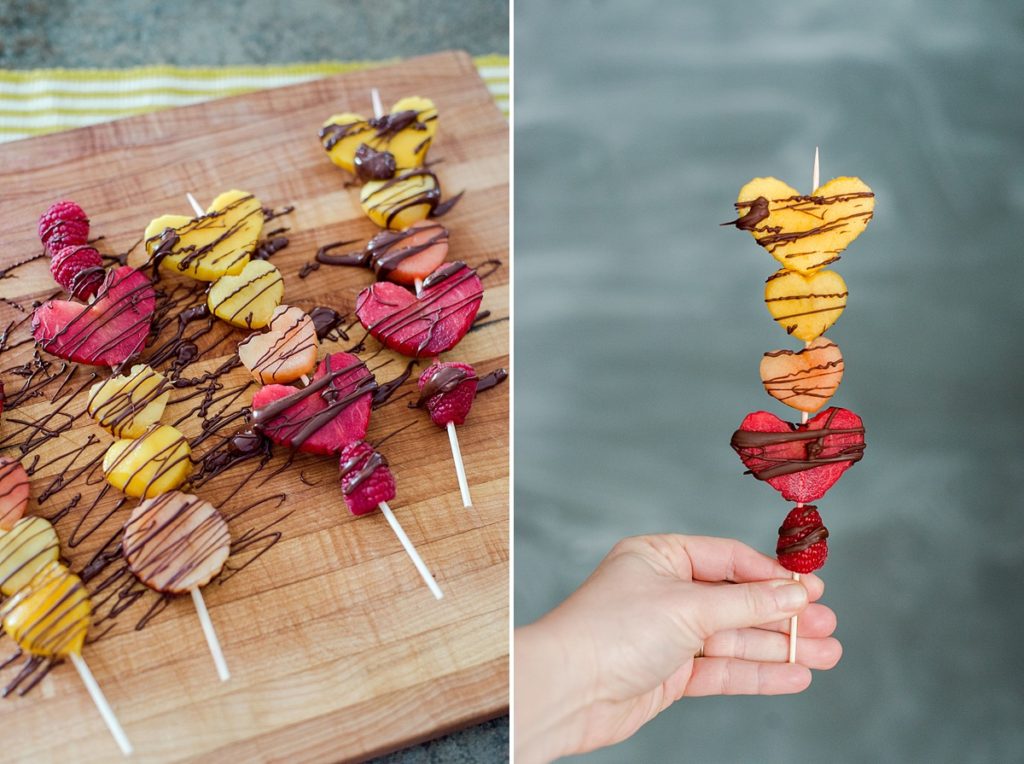 Of course every chocolate centered party *MUST* include the ultimate chocolate covered strawberry! And let me tell you that I've tried this SO MANY times with varying amounts of luck, but SoChatti. SoChatti makes it nearly impossible to get it wrong! (Open the heavens and hear an amen from everyone that's ended up with chunky chocolate covered fruit before, ME)!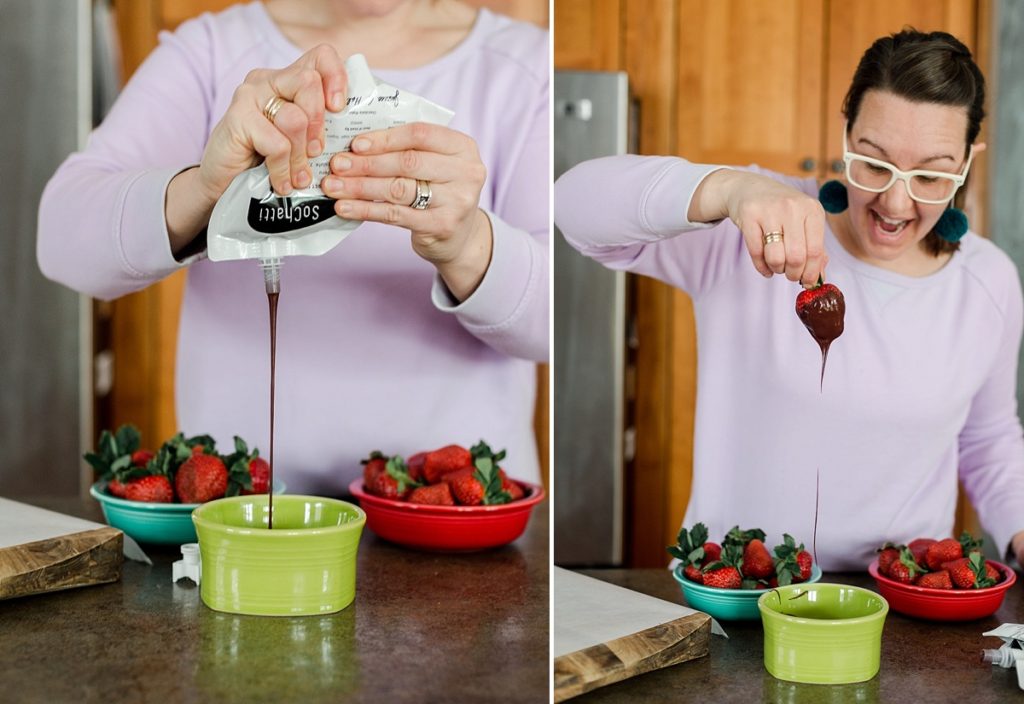 A few chocolate dipped strawberry tips:
Make sure to pat the strawberries dry when you bring them from the refrigerator. Excess moisture will cause the chocolate to repel sticking! 🙂
I used only a small amount of chocolate at a time in the dipping bowl (You could easily drizzle, but I chose to dip). Don't use the entire pouch at one time because as you dip the strawberries, it can bring down the temp of the SoChatti and it can harden faster. I used about 1/3 of the pouch at a time and it seemed to remain soft and runny, the perfect dipping consistency! 🙂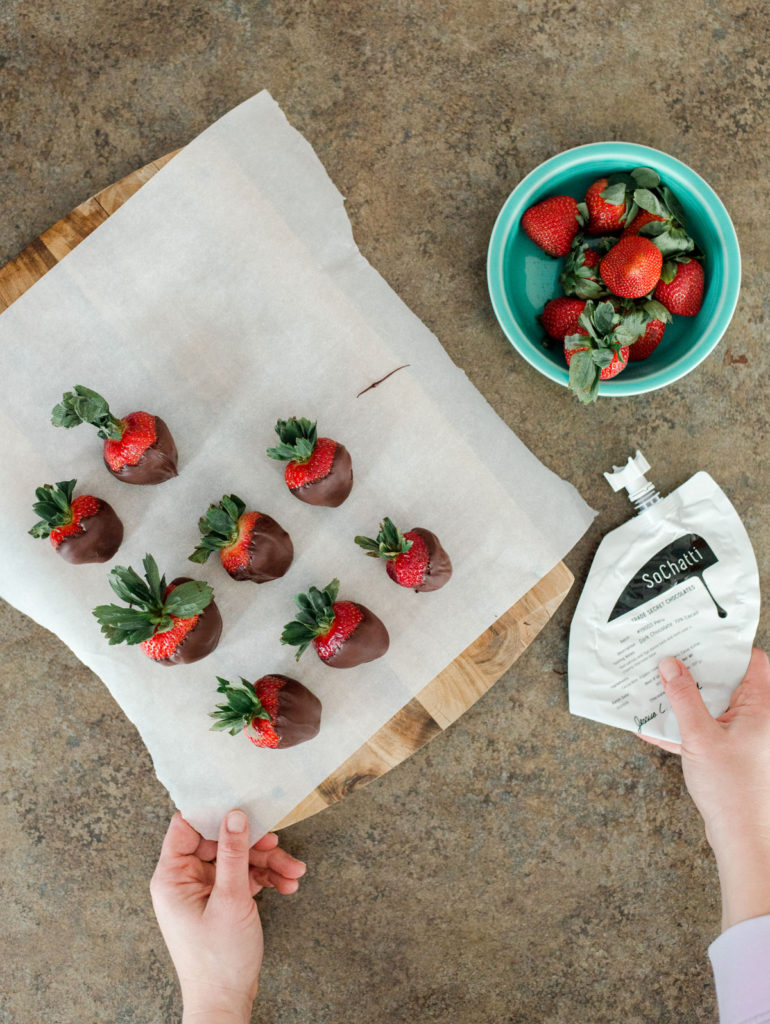 Again, I wanted something simple and easy for people to pick up during the party, so I am serving pink single serve portions of chocolate dipped Strawberries! Double yum!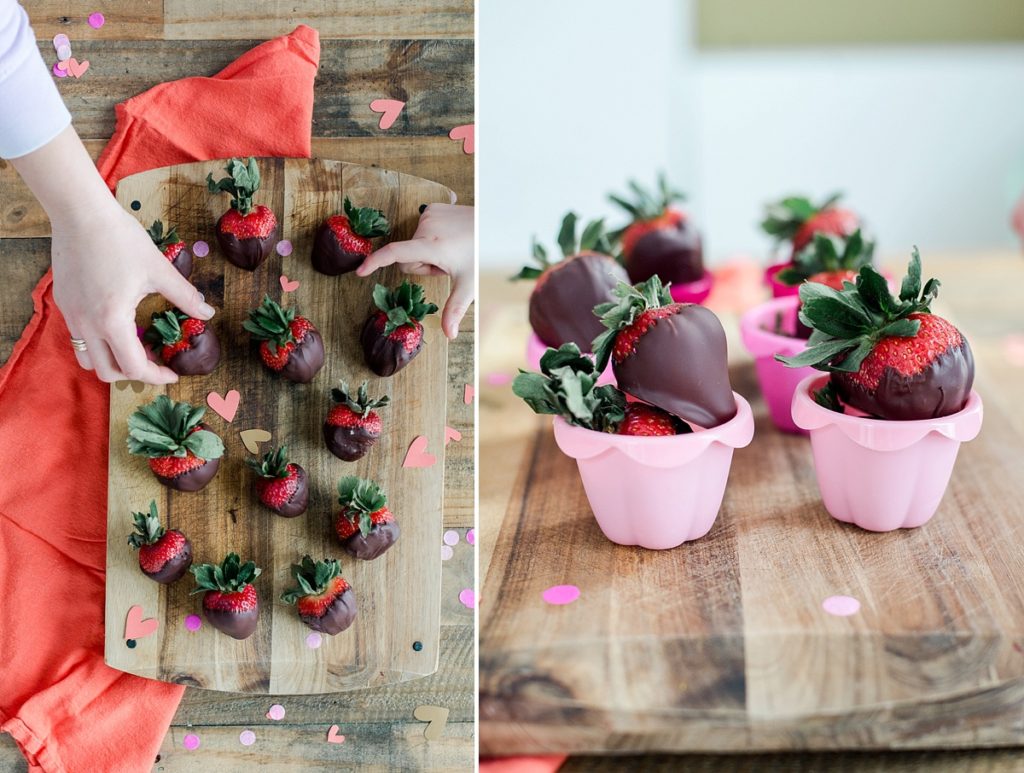 And of course I just *HAD* to make a baked item! And YOU GUYS! I finally did it: I mastered the cookie cake that I've been working over in my head for awhile! WEEEE! 🙂 And in a heart shaped pan, no less! This recipe for a chewy, chocolaty, chocolate chip cookie cake is to die for and is the perfect dessert to prep for a Galentines party. It's a fast bake that yields plenty of portions for guests WITH the ability to decorate it in any way you want (BE MINE or XOXO anyone???) 🙂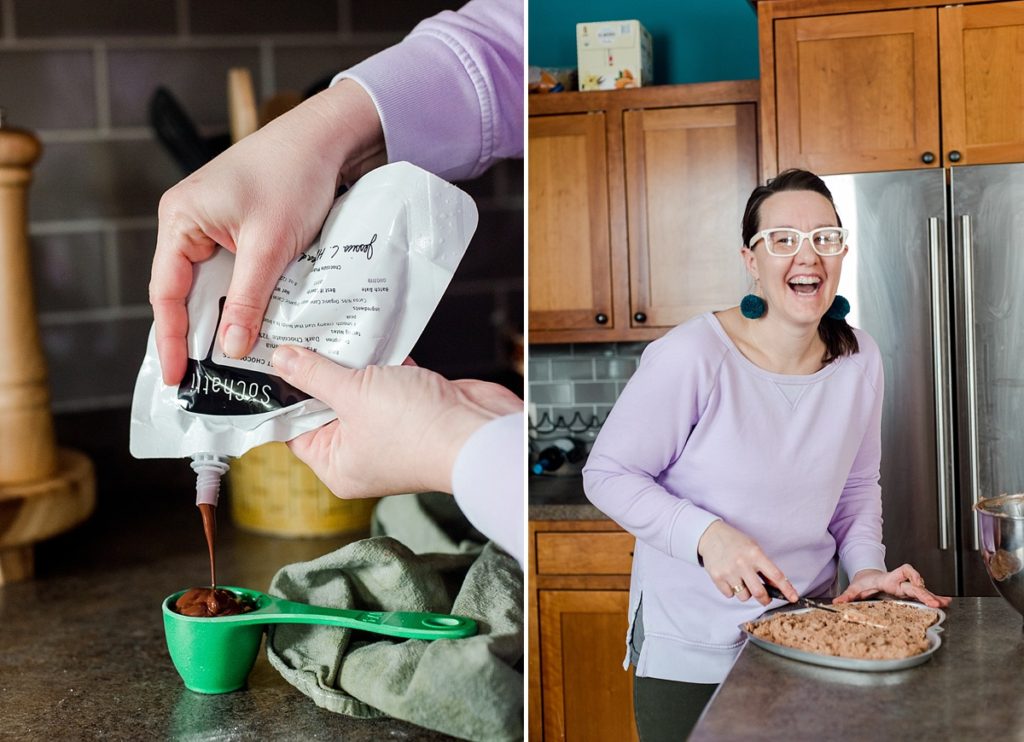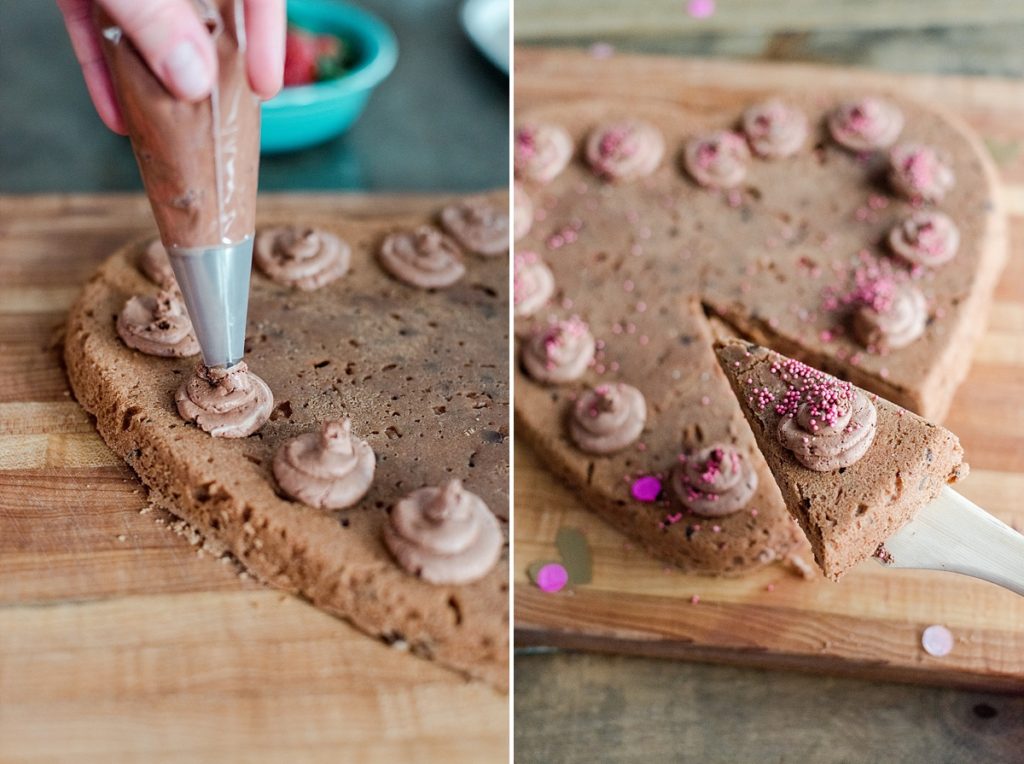 The full recipe is below and PLLEEEAAASSSSEEE tell me if you make this cake because I may just come knocking at your door for an extra piece! 🙂 You can also find more recipe inspiration on the SoChatti website! 🙂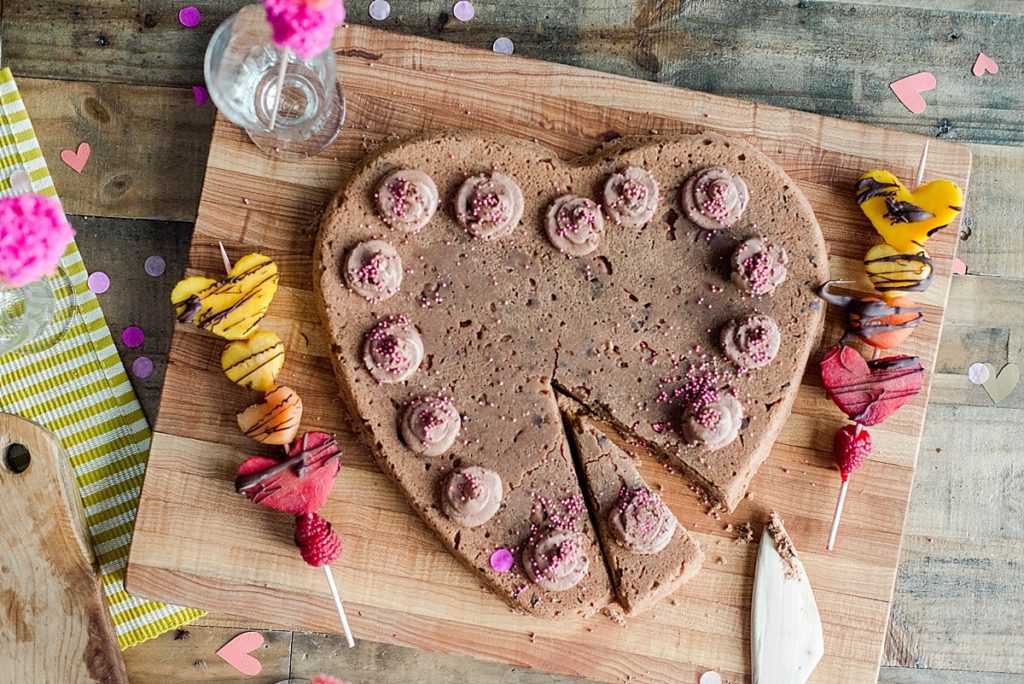 Chocolate + Chocolate Chip cookie cake
Ingredients
For cookie cake:
3/4

cup

butter

room temperature

1

cup

brown sugar

1/4

cup

sugar

1/2

cup

SoChatti chocolate

I used "Honduras"

2

eggs

2

tsp

almond extract

1 3/4

cup

flour

1

tsp

cornstarch

1

tsp

baking soda

3/4

tsp

salt

1

cup

chocolate chips
For SoChatti buttercream frosting:
1/2

cup

butter

room temperature

1/3

cup

SoChatti chocolate

again, I used "Honduras"

1/2

tsp

of almond extract

1/2 - 1

cup

powdered sugar

depending on how sweet you like it
Instructions
Preheat oven to 350 degrees, spray your heart shape pan with nonstick cooking spray (spray the corners and sides extra)! 🙂

In a stand mixer, cream together butter, sugar, and brown sugar until light and fluffy, about 3-4 minutes. Scrape the sides of the bowl frequently during mixing. After about 3-4 minutes add in the SoChatti chocolate and mix for an additional 2-3 minutes until well combined.

Add eggs, one at a time, and vanilla until well combined


In a separate bowl, combine flour, cornstarch, baking soda and salt until well combined. Add this flour mixture to the butter mixture until just combined (you do not want to over mix). Add in chocolate chips until divide evenly amongst batter.

Bake for 14 minutes, depending on the depth of your cookie pan. For thicker pans, bake longer, for thinner pans, bake shorter. (note: Our pan was about 1 inch in depth and 12 inches wide). Once you can insert a toothpick into the center of the cake and remove "cleanly" then you will know that the cake is done. Set aside to cool.

TIP: You can cover the cookie with aluminum foil halfway through baking if the cookie is browning too much.


Once the cake is cooled, run a sharp knife along the inside edge of the pan, invert onto a large cutting board or serving platter to decorate and serve! 🙂

To make frosting: whip butter on high speed in your stand mixer for about 5-7 minutes or until light in color and fluffy. Add in SoChatti chocolate and whip together for an additional 5 minutes or until fluffy and creamy. Cream in almond and then begin adding in the powdered sugar 1/4 cup at a time until you have reached the desired sweetness (the fun is tasting as your adding to get the perfect amount of sweet)! 🙂

Using your favorite piping bag and tip, decorate the heart shaped cookie cake and serve to your favorite gal pals!

TIP: If you don't have a piping bag, a large galling zip lock bag will work just fine to pipe words or decorations. Just smush the frosting to the corner of the bag, seal the bag and cut a small hole in the corner for the frosting to come through.

SO! Tell me, are you planning a Galentine's day party? If so, are there any of these recipes on your menu?! 🙂
OH——and in case you were wondering, Season 2, episode 16 of Parks and Recreation is Leslie Knope's Galentine party, so queue it up!! HAPPY GALENTINE'S DAY YOU POETIC NOBLE LAND MERMAID! 🙂

This post was created in partnership with SoChatti. All content and opinions are that of my own! Thank you for supporting the sponsors that keep Oh Yay Studio thriving with joy! Read more about my editorial + disclosure policies if you're interested!