Cozy Coupe to Ice Cream Truck Makeover
*this project is in partnership with Colorshot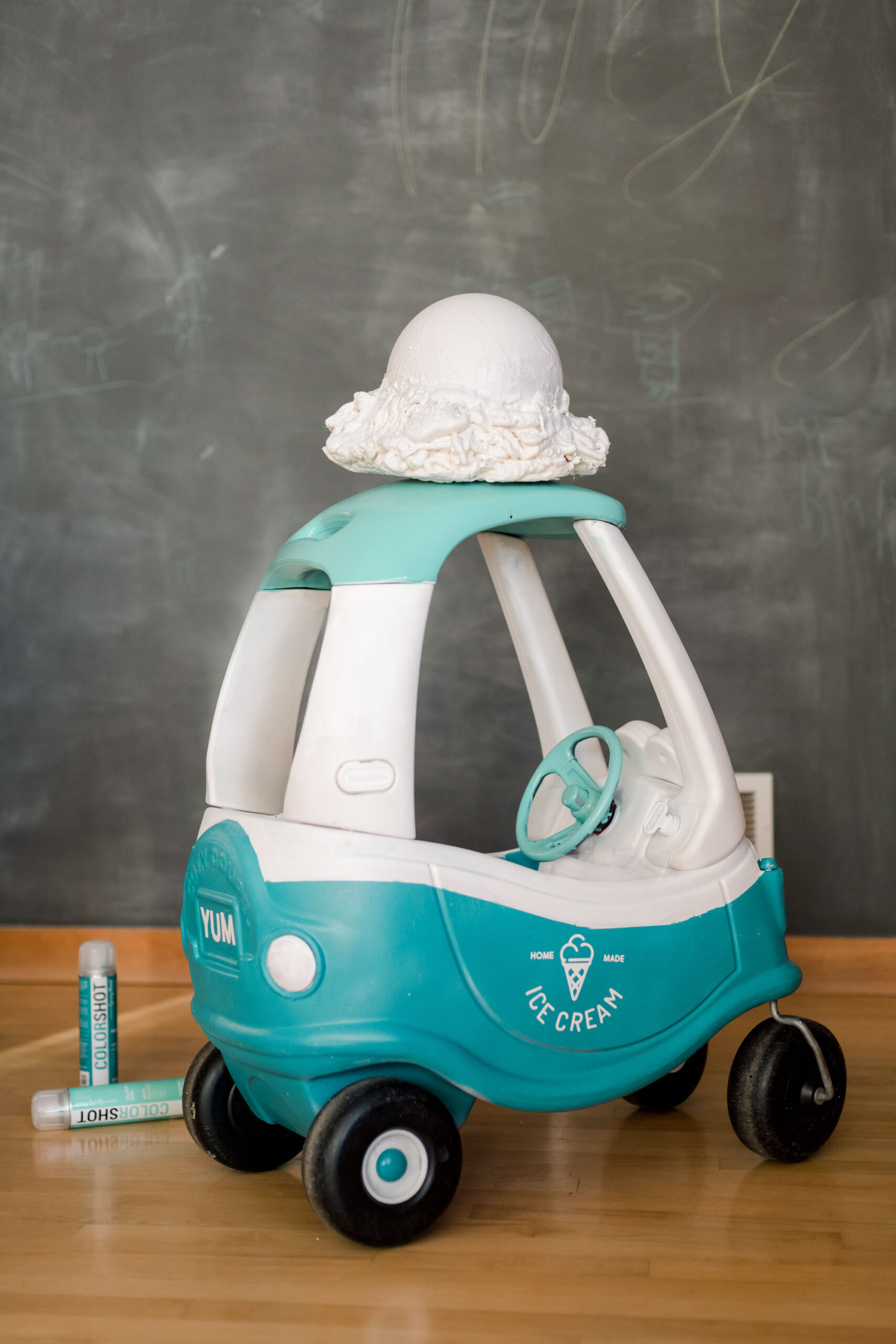 We've all seen them…….old, sun-faded Cozy Coup cars from Little Tykes that are just sitting at a garage sale or thrift store! And let me tell you just how FUNNNNN it is to give these little cars new life anddddddd reveal them to little kiddos (gasp….just one fo the best things)! And today I am using the *AMAZING* Colorshot spray paint to turn an old Cozy Coupe into a happy ice cream truck for endless hours of imaginative play 🙂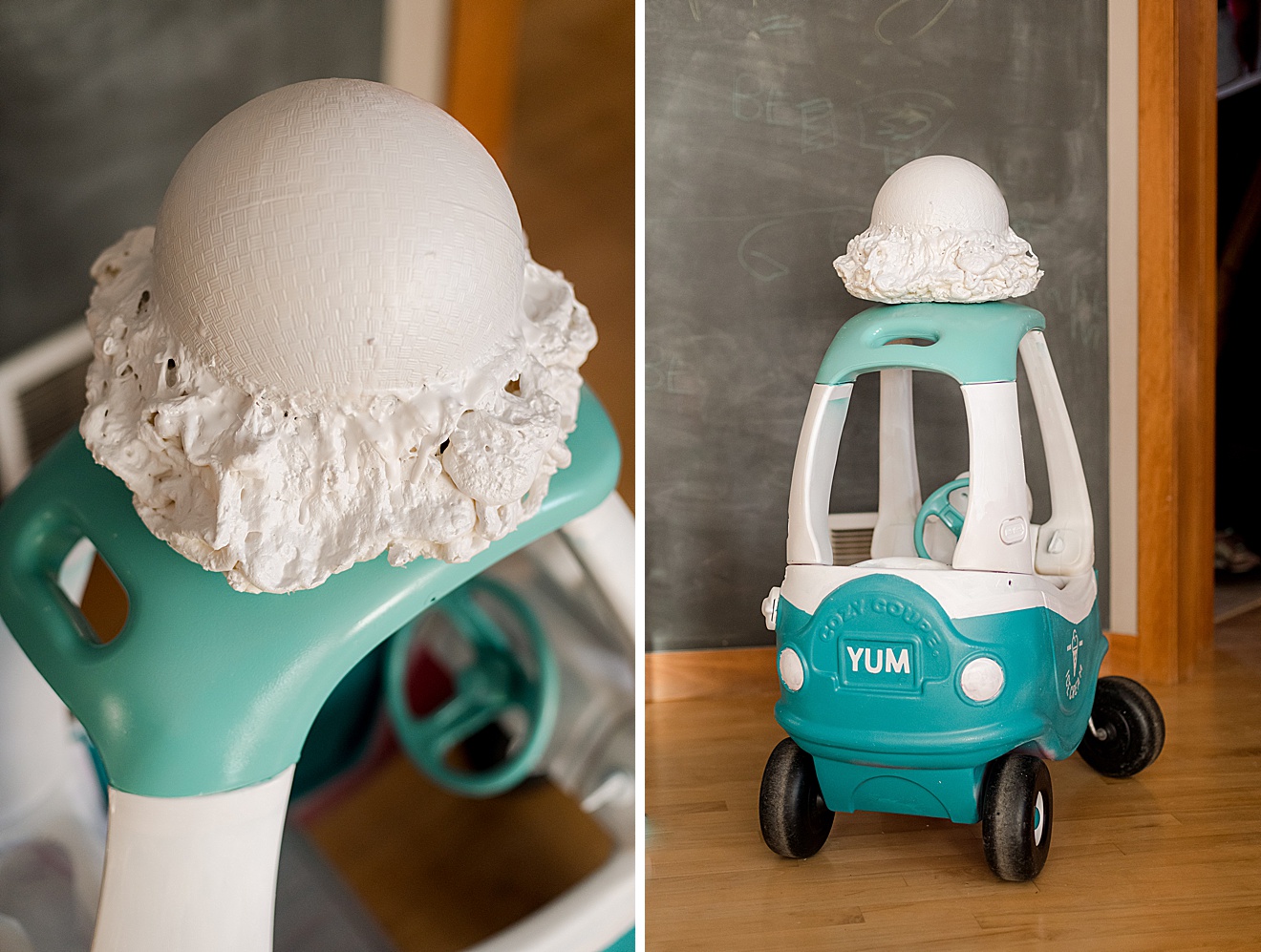 I have to be honest that I was skeptical and how "easy" this would be……but legit, this is just taking apart the Cozy Coupe (which is honestly the "hardest" part) and then letting your imagination and Colorshot spray paint fly to make something full of life and color! We are a house full of kiddos that love our play kitchen and love to dress up as chef's SOOOO this ice cream truck was an obvious answer so that we could "serve" ice cream to all of our stuffy friends!
MATERIALS:
An old Cozy Coupe that needs some love (you can find these for cheap at thrift stores on FB Marketplace, etc)
A handful of Colorshot spray paints
A screwdriver, rubber mallet and pliers for disassembly
A drop cloth for painting
optional sticker vinyl for the side panel logos or license plate letters
MATERIALS for the oversized ice cream scoop:
A ball of any size (something that fits the top of the coupe…we used an old kickball)
A can of insulation spray foam (I used "Great Stuff")
A can of Colorshot spray in your ice cream color
optional Aleene's tacky glue for added "drips"
E6000 or super glue for attaching scoop to top of coupe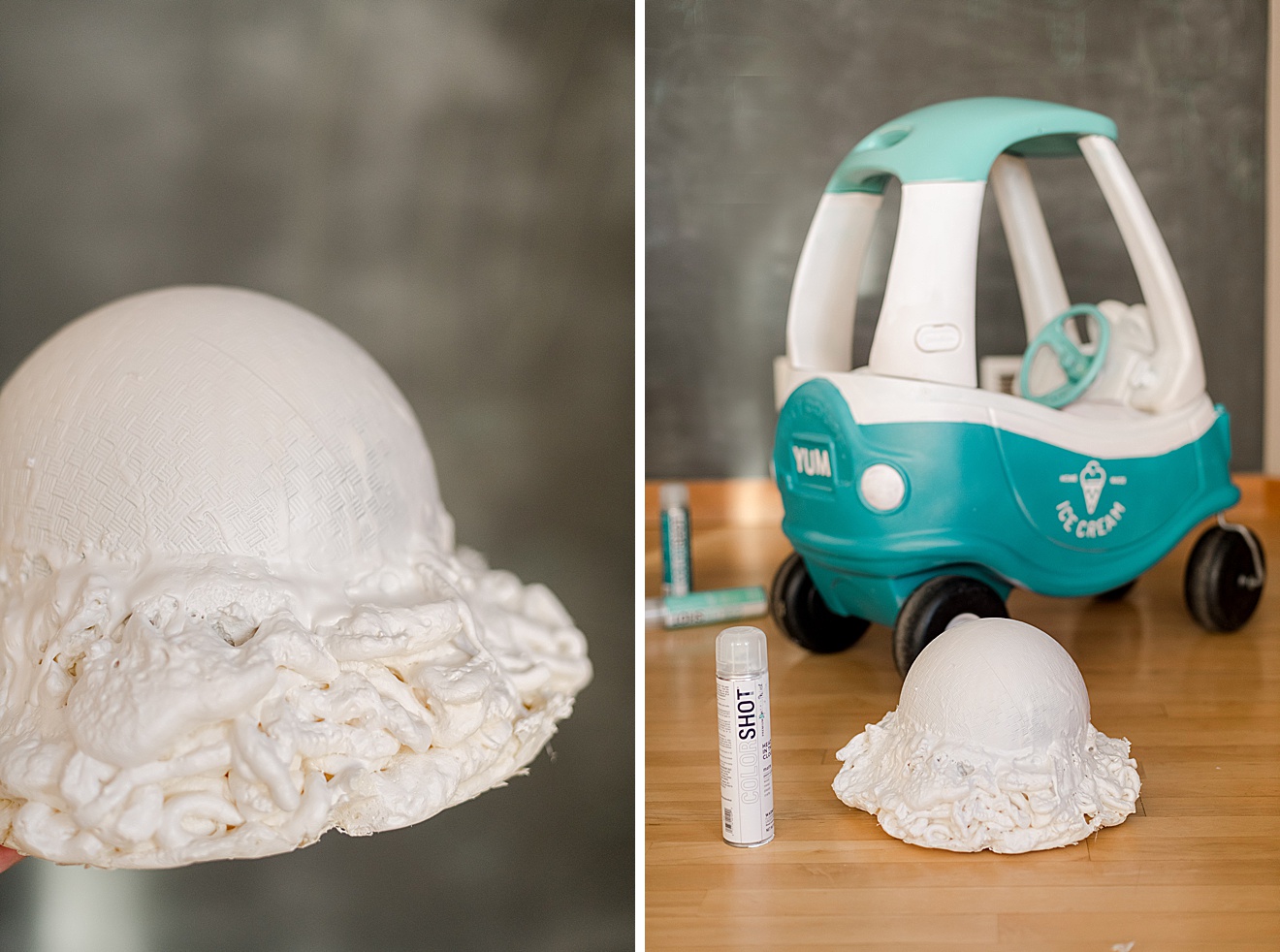 INSTRUCTIONS:
1. Disassemble your cozy coupe. Some of them a bit different, so just look around your car to find your "secure points"….most of them have a few bolts or screws that hold them together. On the one that I had, they were 2 red roundish cover looking things below the back pillars on the main body. These are long plastic screws; I used pliers to get them away from the body and then just pulled and tugged and twisted until they came out. Then the top part of the coupe came off easily. The door came off pretty easily as well. I chose not to take off the wheels, bit if you wanted to, just pop off the red caps over the screws and (with force) unscrew the wheels from the joint 🙂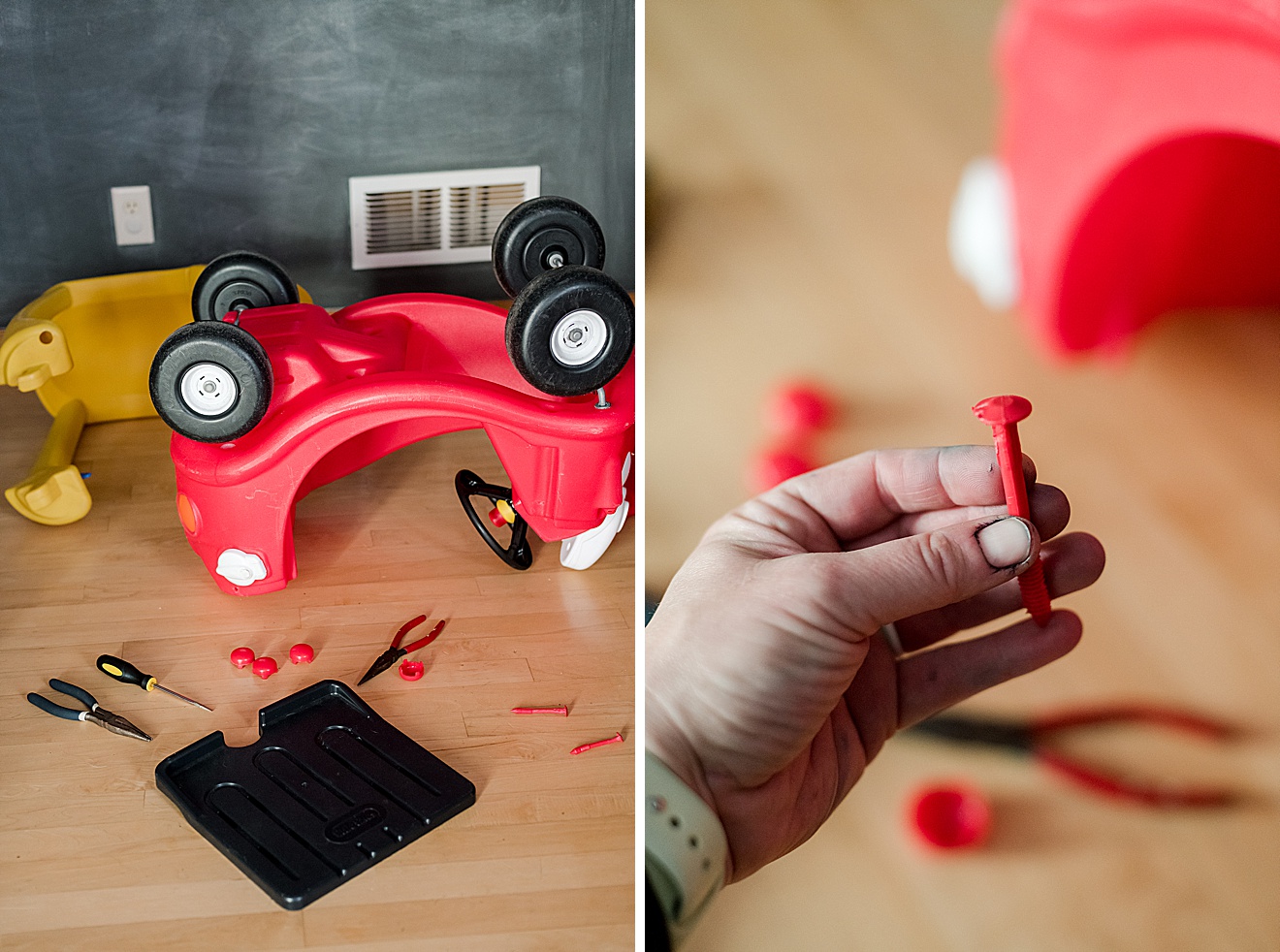 2. Clean the coupe SUPER well! Soap and water or wipes and spray….whatever you can do to get any grime, dirt or "friends" living in the coupe! Ewwww.
Set aside to dry!
3. Tape off any areas that you don't want painted. I chose to not paint the wheels, so I first taped (and used recycled bags) to cover up the wheels. Tape off any other areas that you don't want getting covered in paint.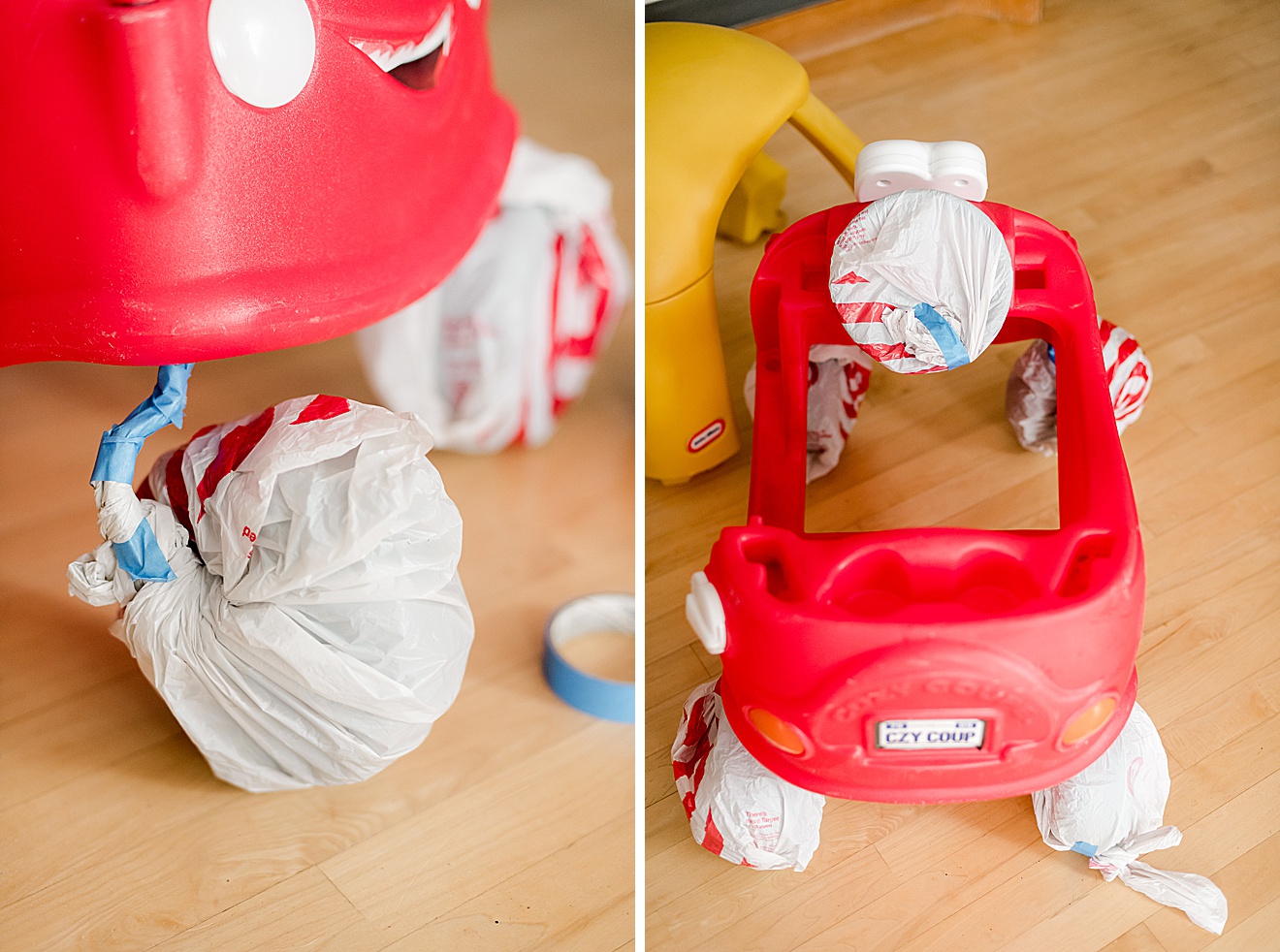 4. Bring your coupe to a well ventilated area and put down a spray cloth or tarp. Lay out your coupe parts and being your painting process! I chose to do the first coat in the Colorshot white primer (not necessary, but 2 coats IS necessary to cover, so why not start with primer so that I can save and use the colors).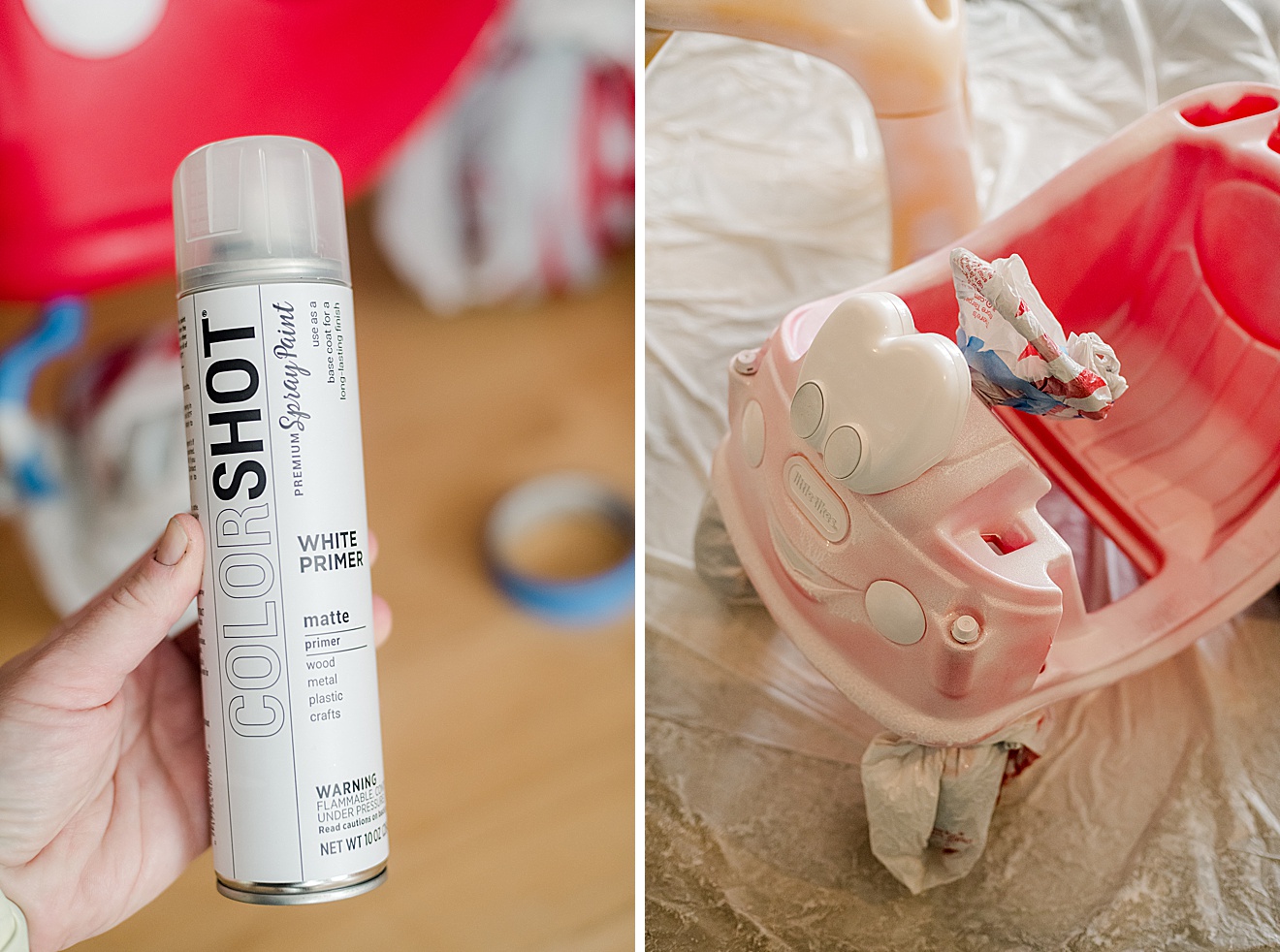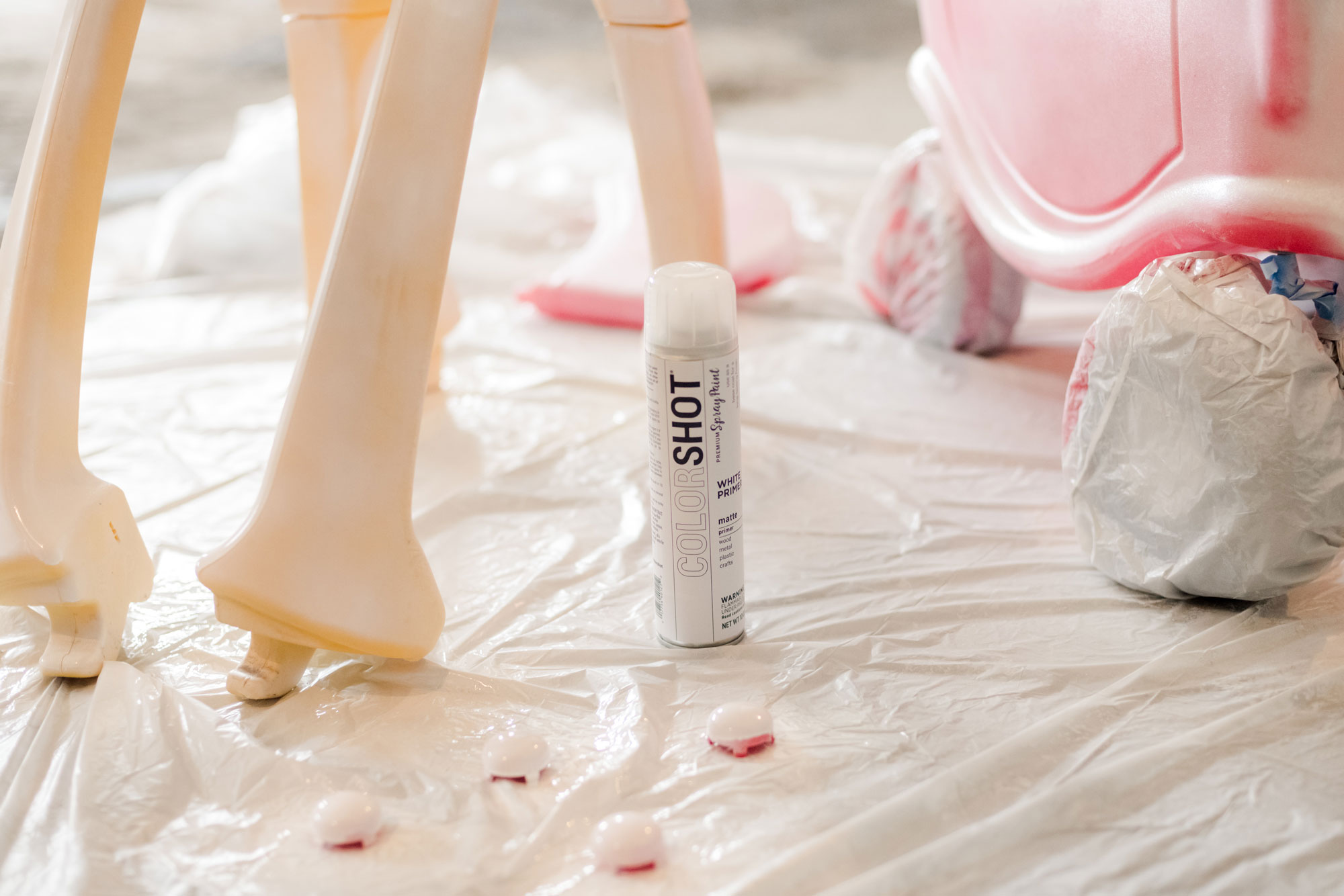 Colorshot spray paints are AMAZING because they are all paint + primer in one and go on in a beautiful, light spray which I love! So once your primer is dry, begin to paint off your areas of coverage and paint with your colors.
I wanted to give the ice cream truck a two-tone look like many other ice cream trucks, so I taped off the bottom body portion and added some minty-teal color to the bottom as well as the little wheel caps and then the a teal for the top roof of the coupe 🙂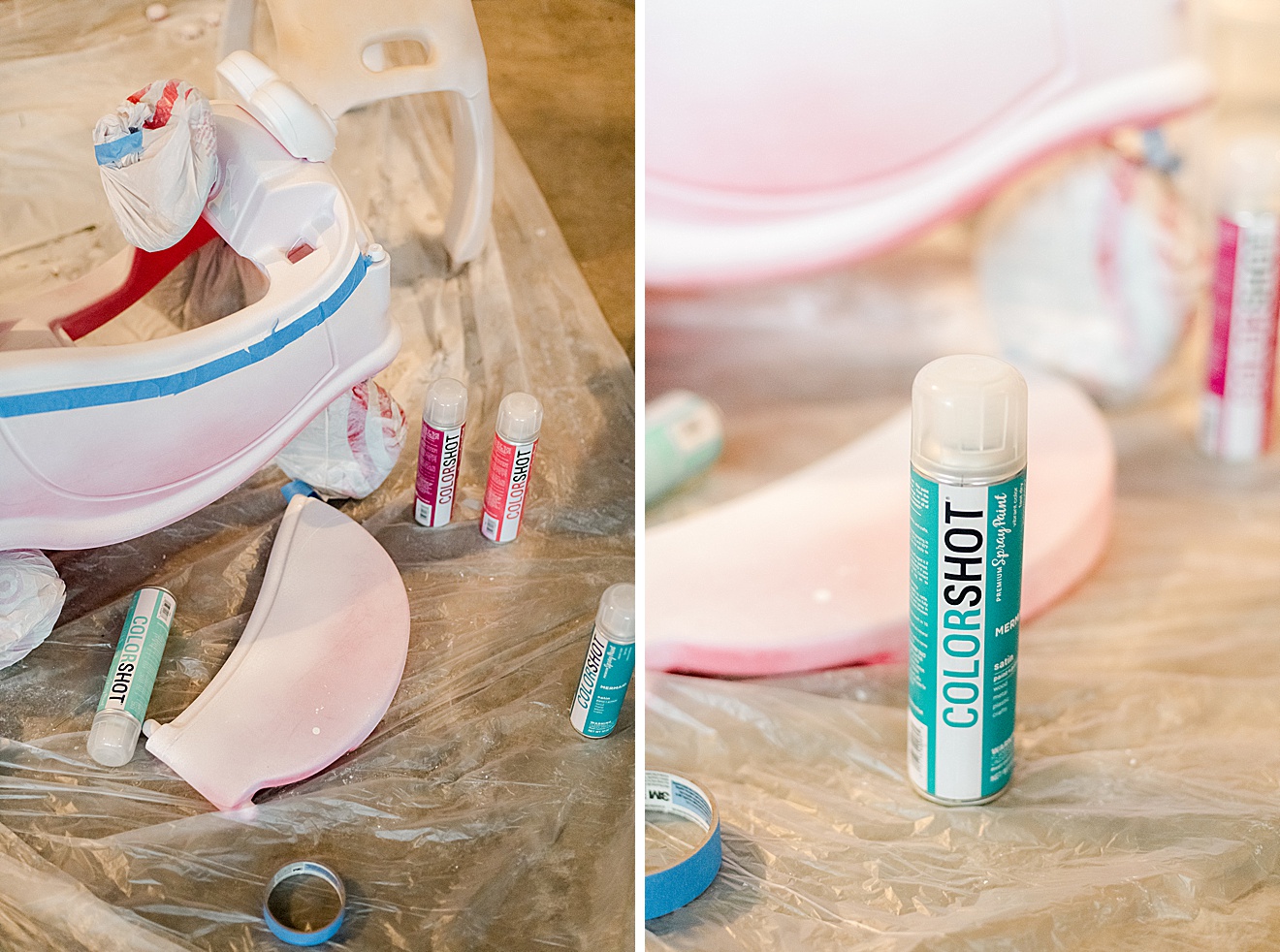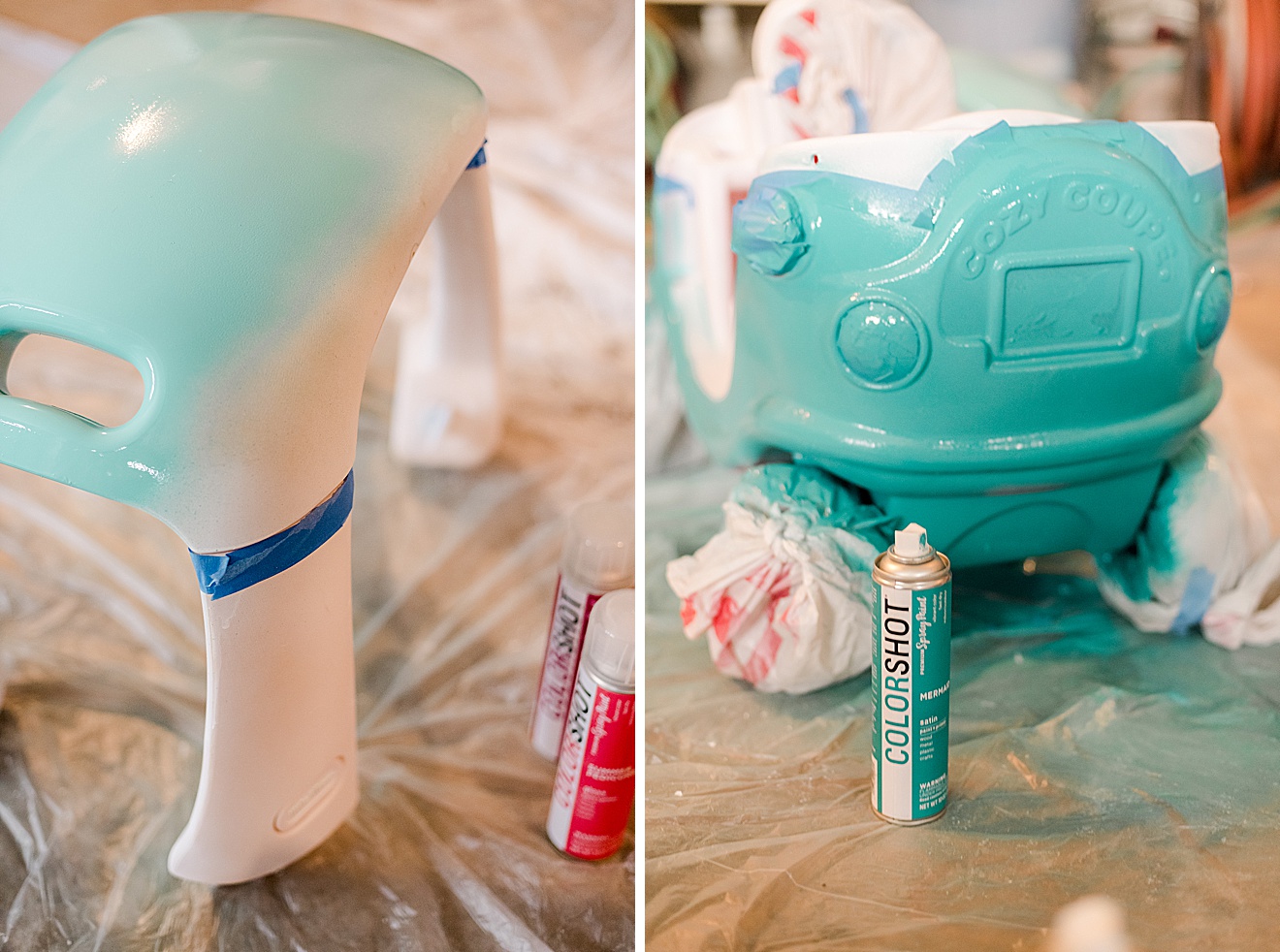 A few tips when using Colorshot spray paints:
Shake for a solid minute so that the paint is all mixed. Colorshot paints are SUPPPPER pigmented (thats why they look so great, so just be sure to shake thoroughly)
Make sure that you hold the can about 6" away from the coupe when spraying. Too many people hold it too close and not only get spray drips with the paint, but it takes longer to dry between coats which makes the final product uneven in coverage! The spray coverage of this paint is AMMMAAZING – like the best that I've honestly ever worked with
Wait about 1ish hours between coats (I waited an hour after priming to begin taping + painting off additional details) which makes this a semi-fast project compared to other spray paints which cure in about double or triple this time 🙂
The colors of Colorshot spray paint I used were:
White primer (matte)
"Island girl" for the rooftop and the steering wheel
"Mermaid" for the bottom part of the body + the small center covers of the wheels
"Head in the clouds" for both the giant ice cream scoop + columns + upper part of body of cart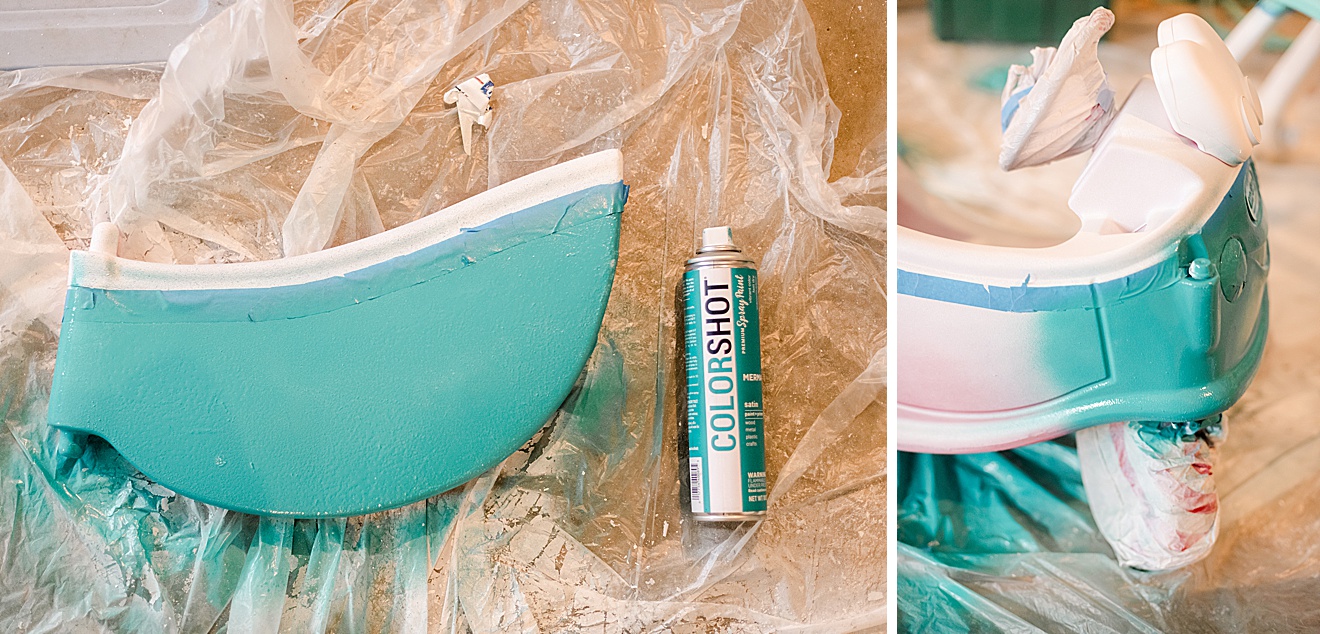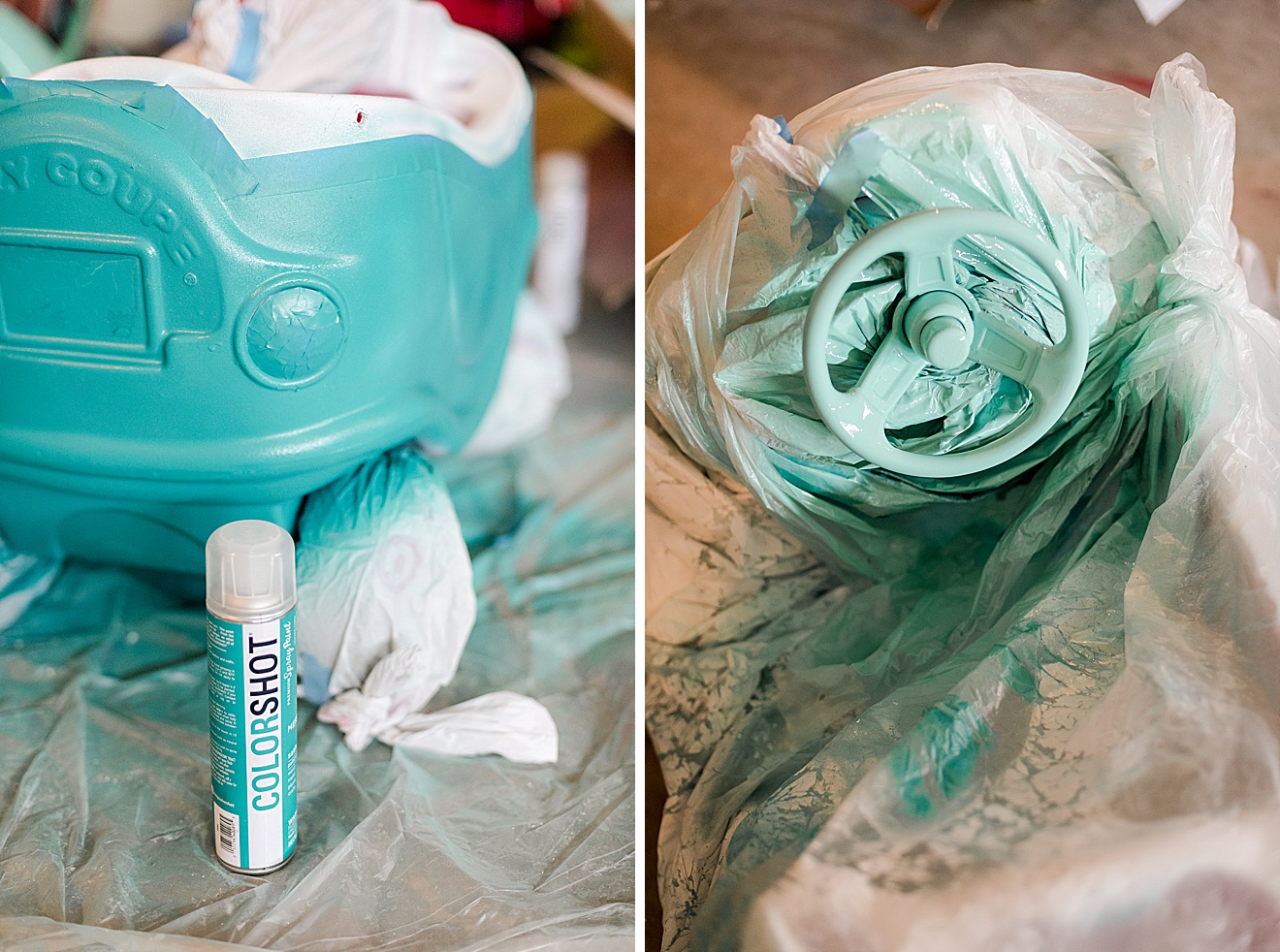 5. Between the coats of Colorshot spray paint on the Cozy Coupe, you can begin to work on the oversized ice cream scoop! Lay your ball on top of some extra cardboard or a wax paper sheet. Begin using your spray foam to create the dolloped "edge" around the bottom 1/3 of the ice cream scoop. The spray foam will expand a bit while it dries. I also found that I sprayed a layer around the bottom of the ball, then came back about 20 minutes later when it was semi-sturdy to add a few more layers….this helped the foam stick to the ball better.
Once dry (it takes about 8 hours or so….I just left it overnight), you can trim if needed, but then spray paint a few layers of Colorshot white to the scoop. You could also use a color to make this an oversized sorbet scoop, add sprinkles, a cherry or even layer a few dollups of ice cream on top of one another. For real, this could be a really cool prop or part of a Halloween costume too! 🙂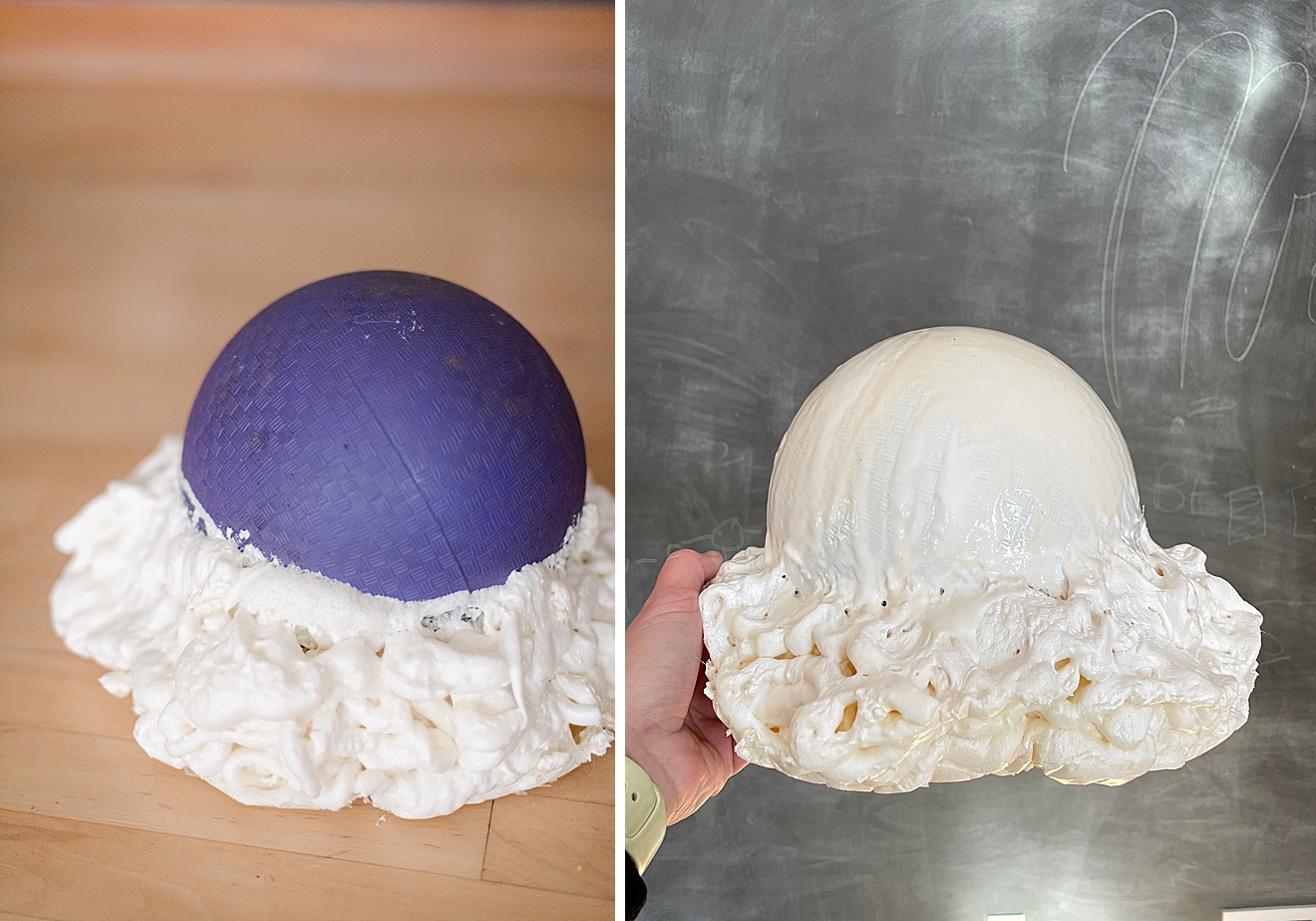 6. When everything is good and dry, begin removing tape + assembling your Cozy Coupe back together. You will put your coupe back together the same way you took it apart (well, backwards, actually…but you get the point).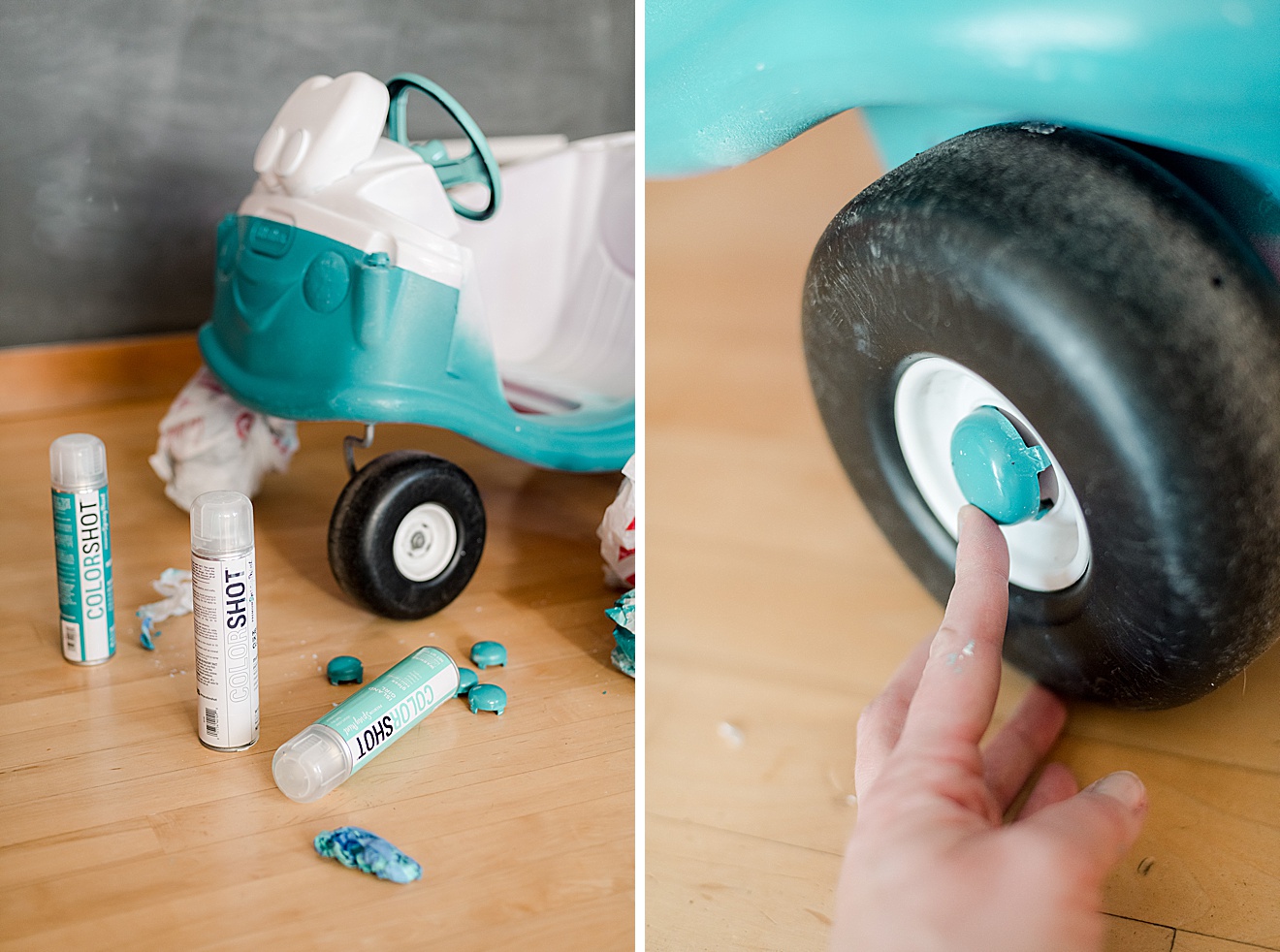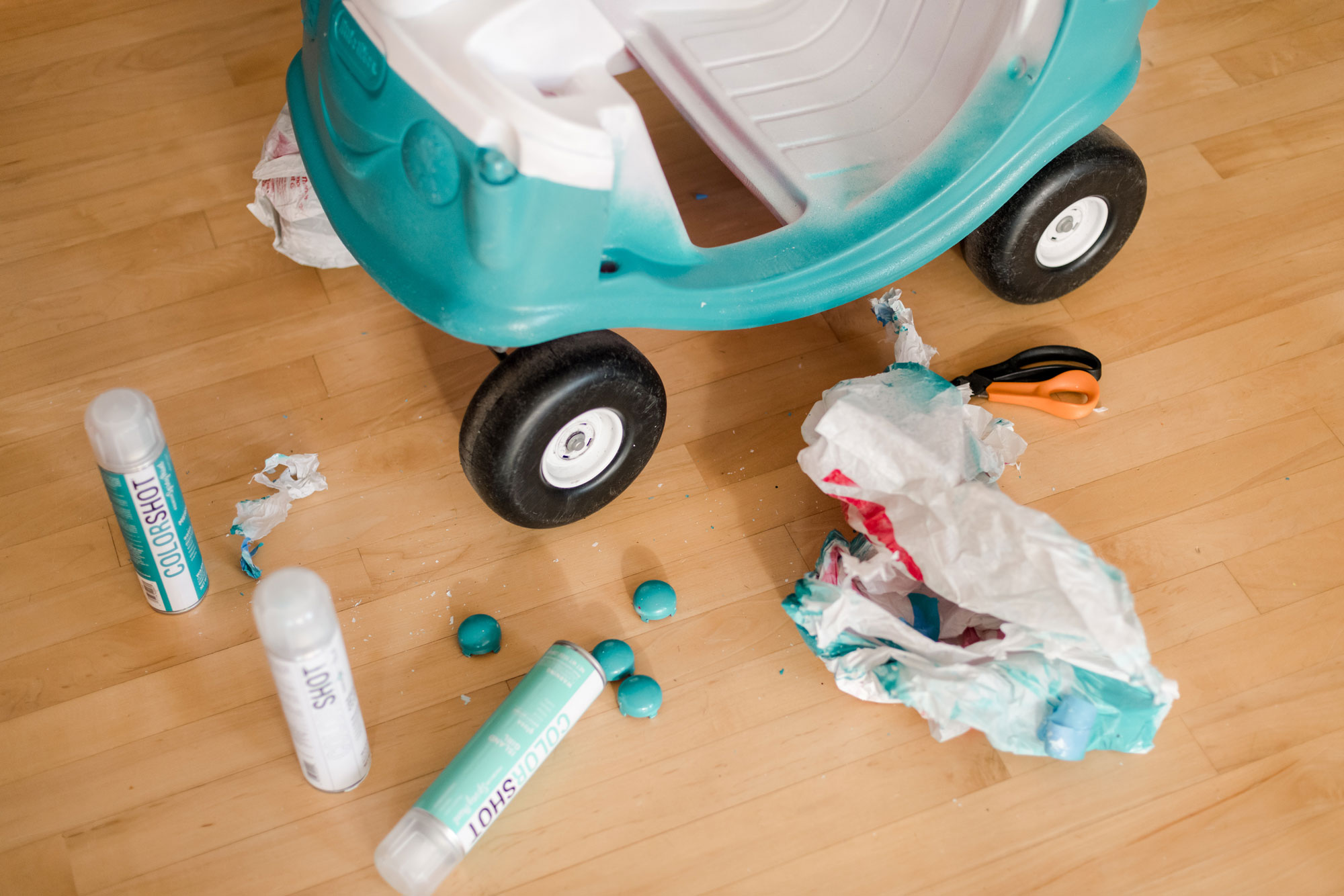 7. Add any optional detailing, like the side panel logos and the lettering on the license plate (or anything else that you or your kiddo want to add).
I used my Cricut to cut out the vinyl (DOWNLOAD the SVG file HERE if you want tom make the "Handmade Ice Cream" logo) 🙂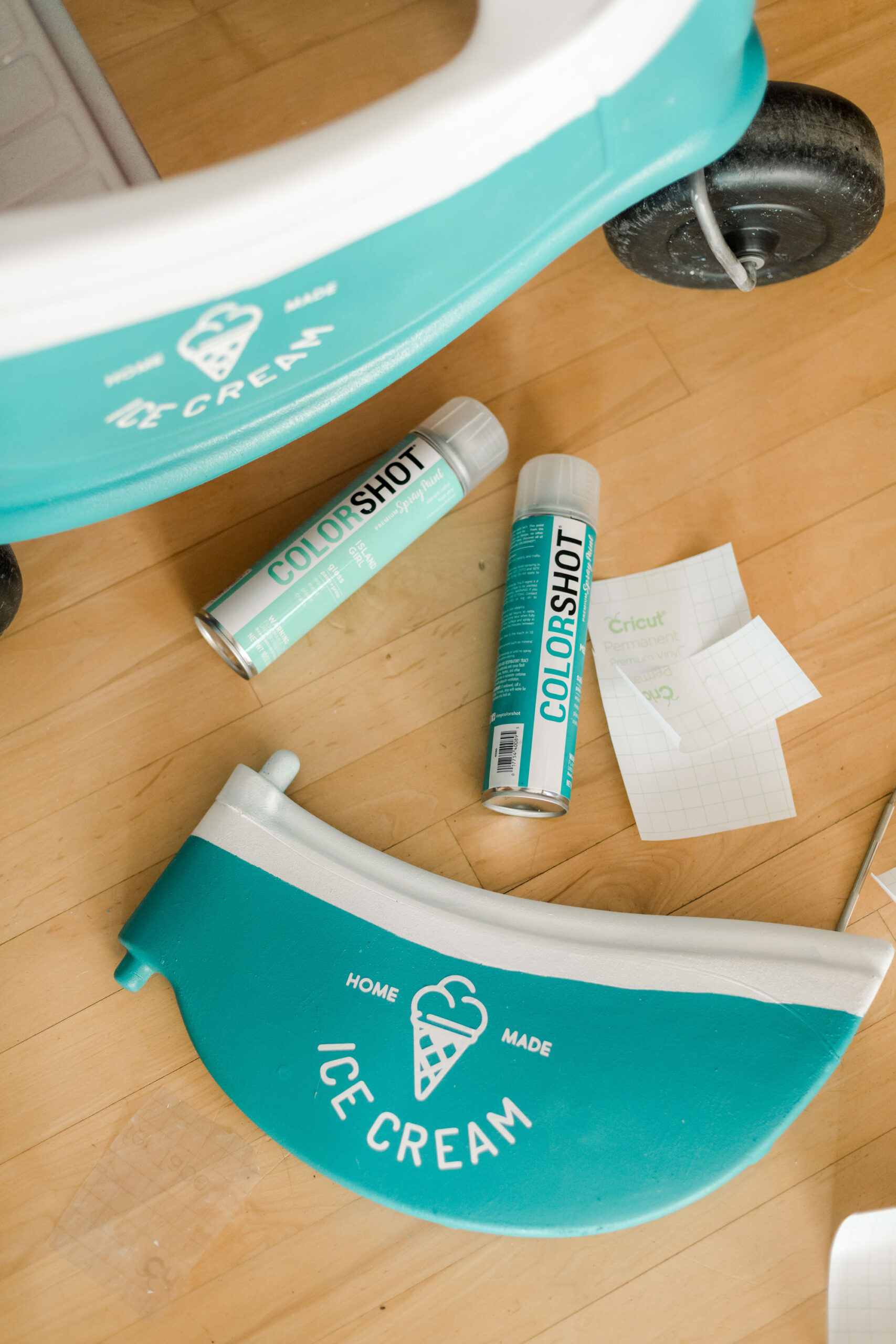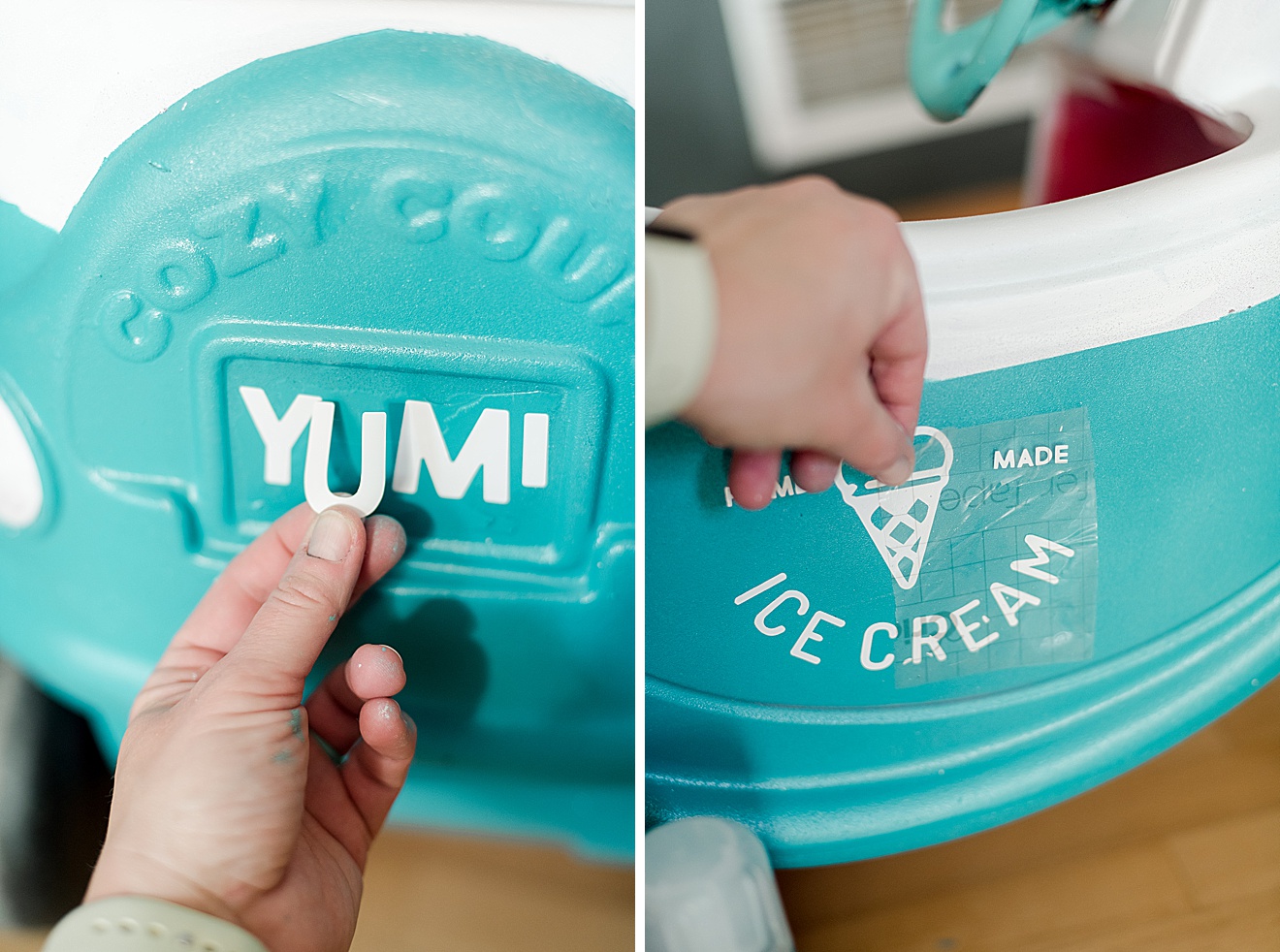 TAA DAAAAAAA! 🙂 I love this little coupe and I hope that it inspires you take an old coupe (or something else that needs some love) and give it some new life and a lot of new color 🙂