A Cardboard Encanto Casita DIY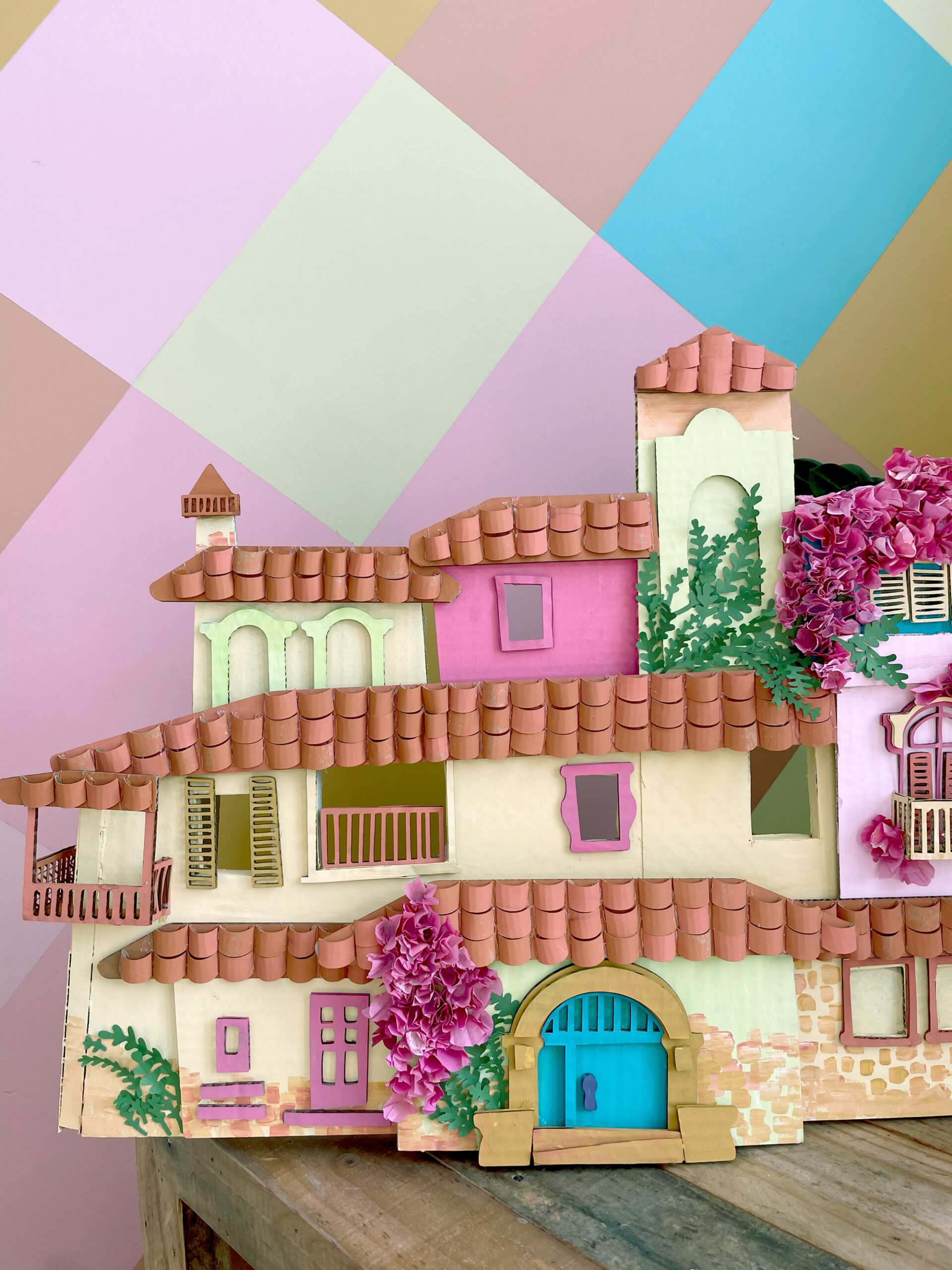 Esther (well our whole fam actually…..) is in LOOOOVE with Disney's latest animated movie (as is the rest of the whole world because it's SO good) ENCANTO! 🙂 Esther asked for the Encanto dolls for her birthday, which she happily opened last weekend BUUUUUT she then asked for the casita (the beautiful, colorful, magical house that is the set of the majority of the movie) BUT none were to be found online that were available under the $100 price tag (yikes)! SOOOOO what a little cardboard, hot glue and paint can't do?!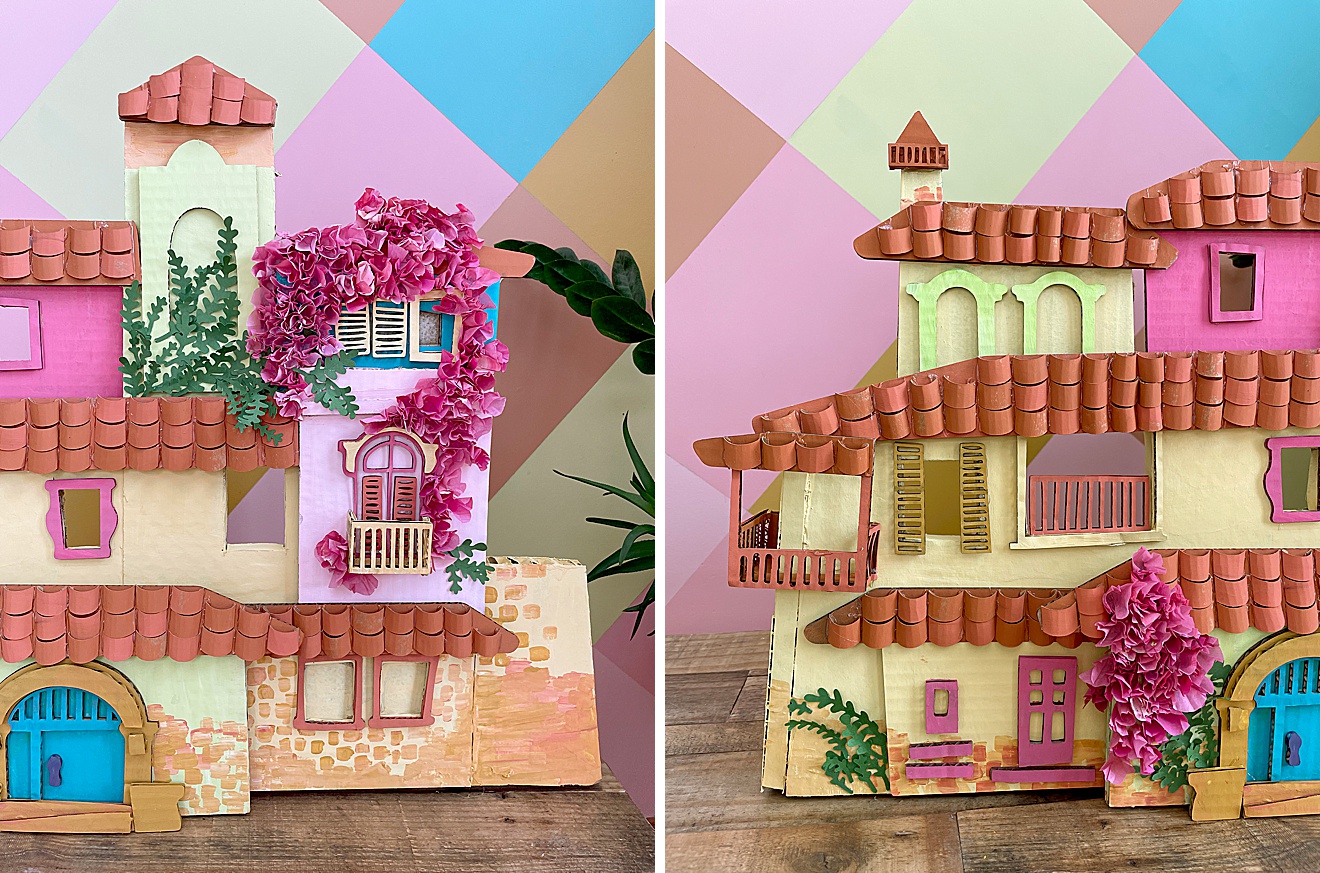 If you want to make one of the yourself, honestly I say GO FOR IT! 🙂 We have scads of cardboard boxes that are waiting for some summer bonfires in our garage so I raided the pile and found some SUPER THICK stuff that came from a television box for the basis of the Casita! Other than cardboard, here are some supplies that I used to make it:
Acrylic paint – reference that house online for mixing the exact colors (I think I mixed every color which wasn't hard, but I just didn't have the exact vibrant Columbian inspired colors on hand) 🙂
An X-acto knife
A straight edge
A cutting mat or extra cardboard for protecting your surface
some white or yellow spray paint primer – Colorshot is one of my favvveeee spray paints 🙂
Hot glue – lots 🙂
Cardstock for the terracotta shingles + greenery
Pink tissue paper for the foliage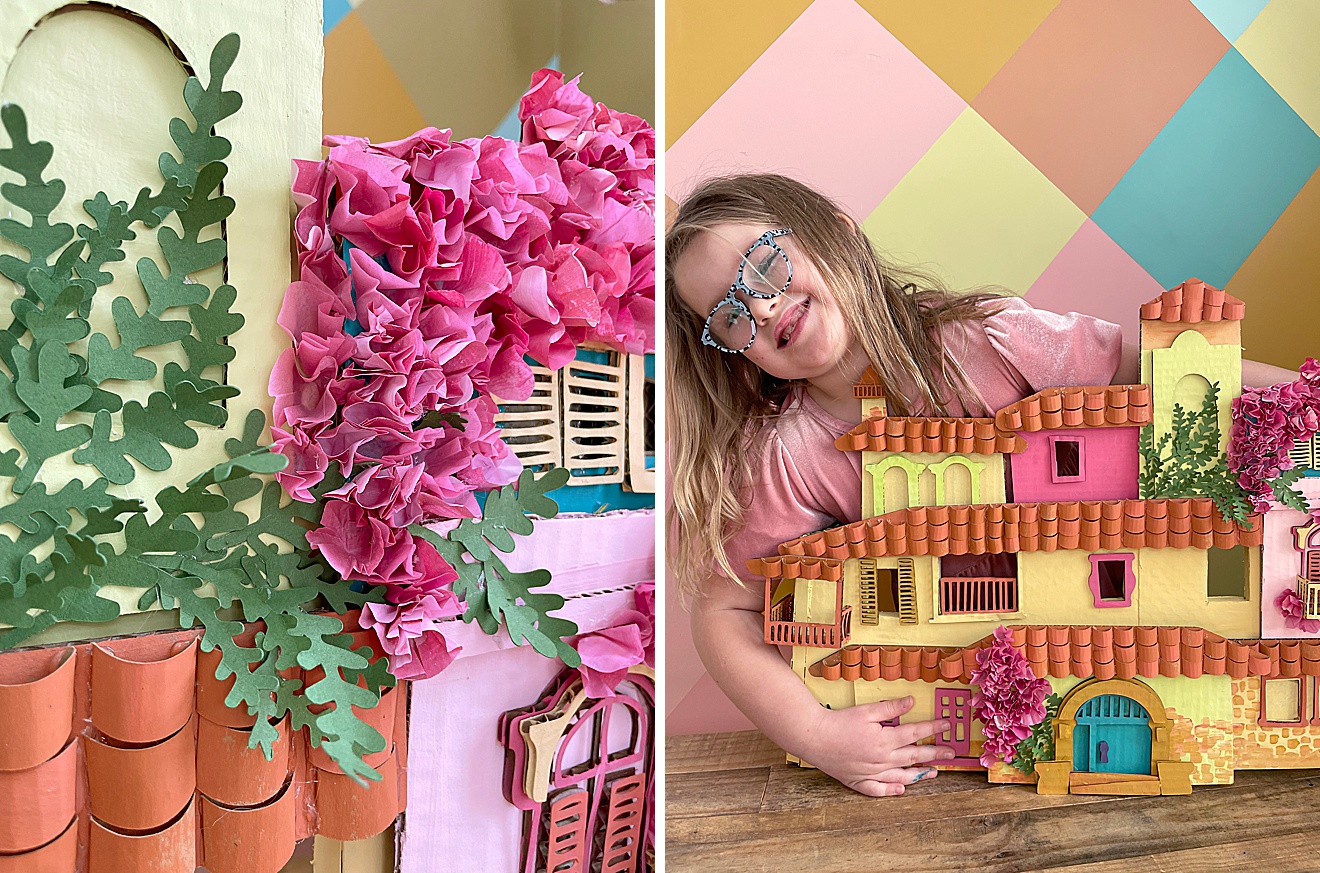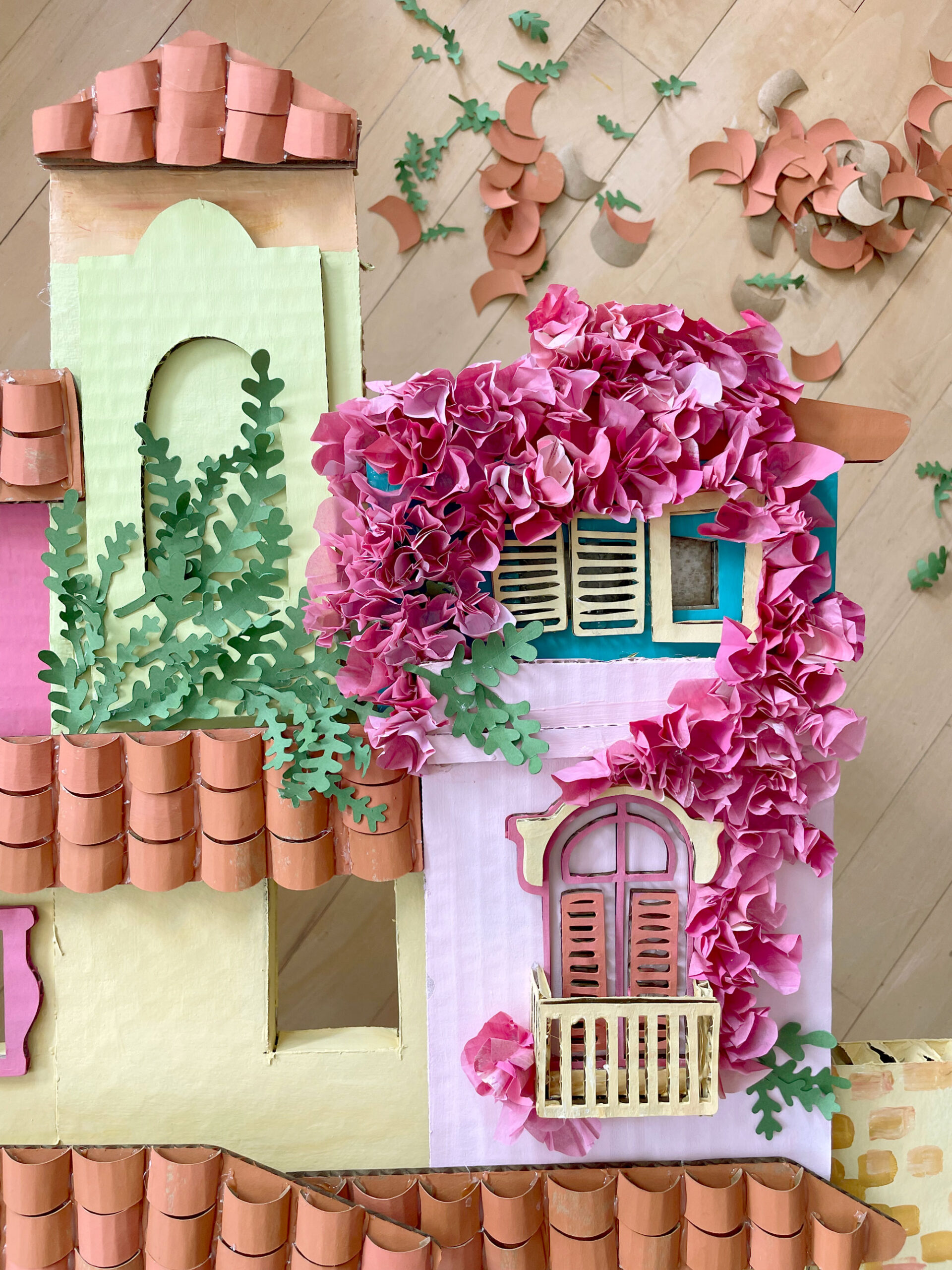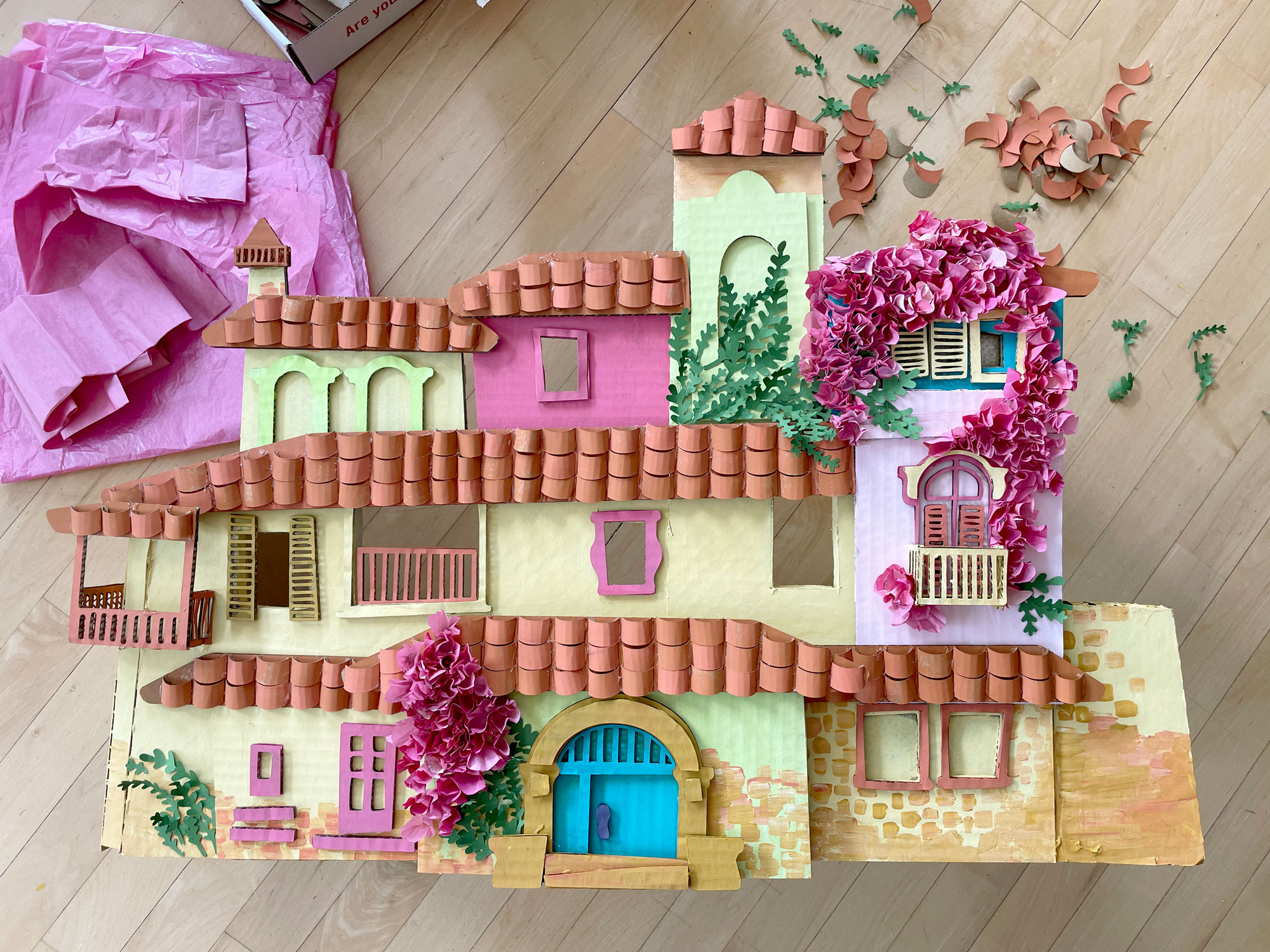 The first thing I did was measure out the house to get the "base" done….they were essentially lots of rectangles that fit together for the house – nothing on this house is exact so I'm sure I got some measurements wrong, but the whole house measures approx 32″ across……so starting with that measurement, I was able to figure out where the rooms "fell" from the outside.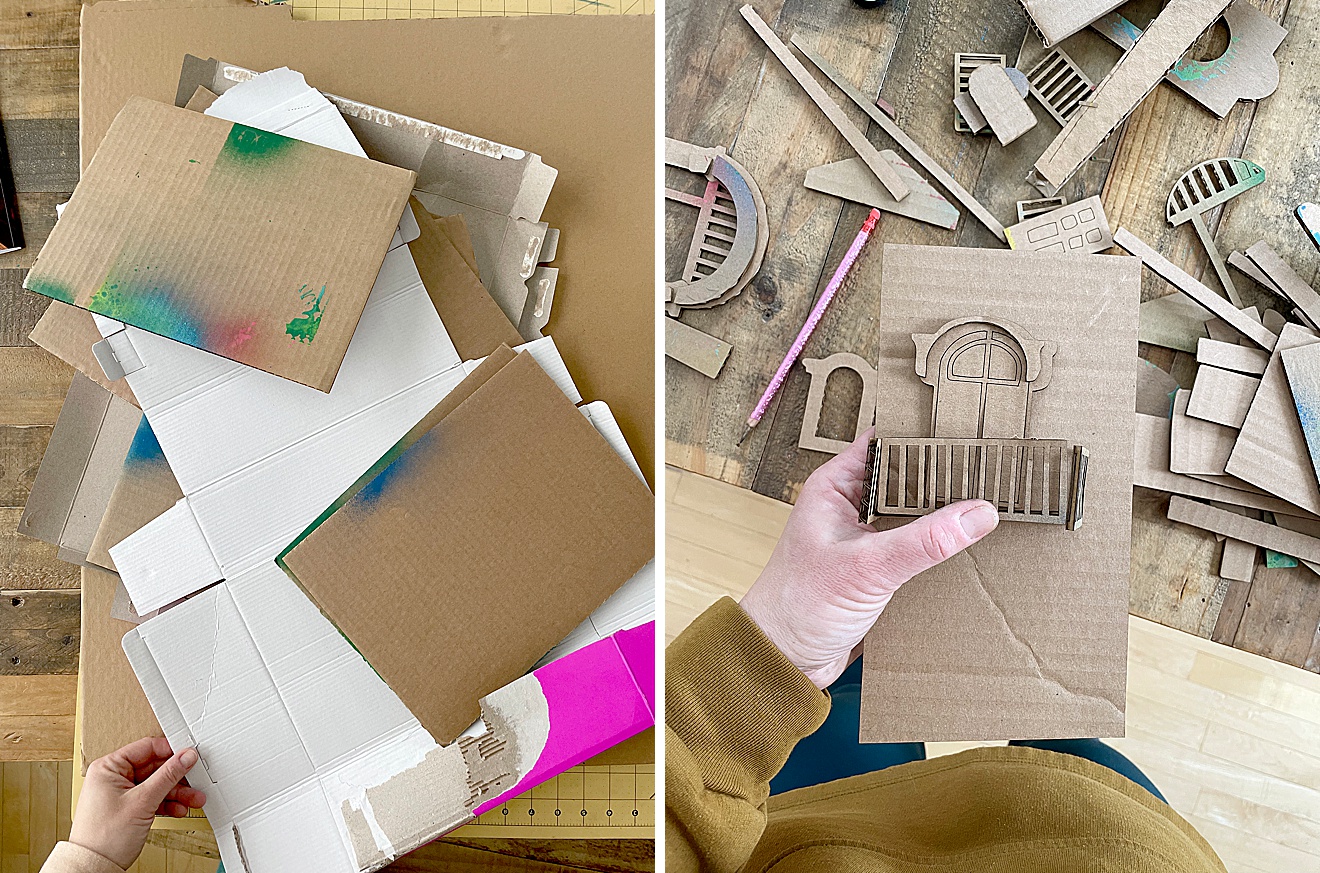 I hot glued all pieces together for the 'base" and then spray painted it with some Colorshot spray paint to give it a good primed base (sometimes cardboard sucks paint in…..so I always spray first to avoid 900 other layers of acrylic paint later)
Next up is PAINNNNT paint PAINT! This is the fun part! Mixing the colors and seeing the Casita come to life! 🙂 Reference a photo of the movie if needed but also feel free to add your creative flair of colors if you choose to make one of your own! 🙂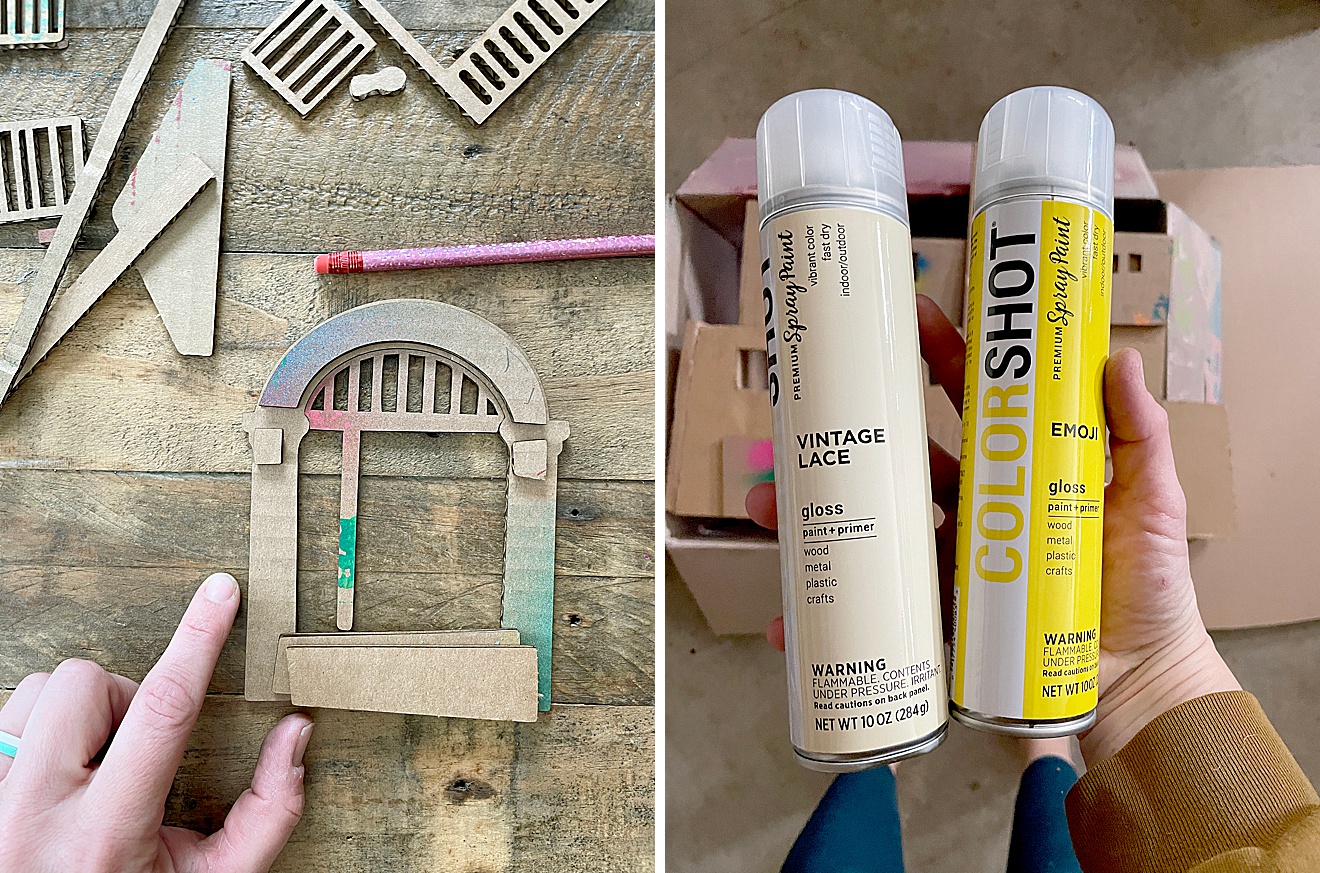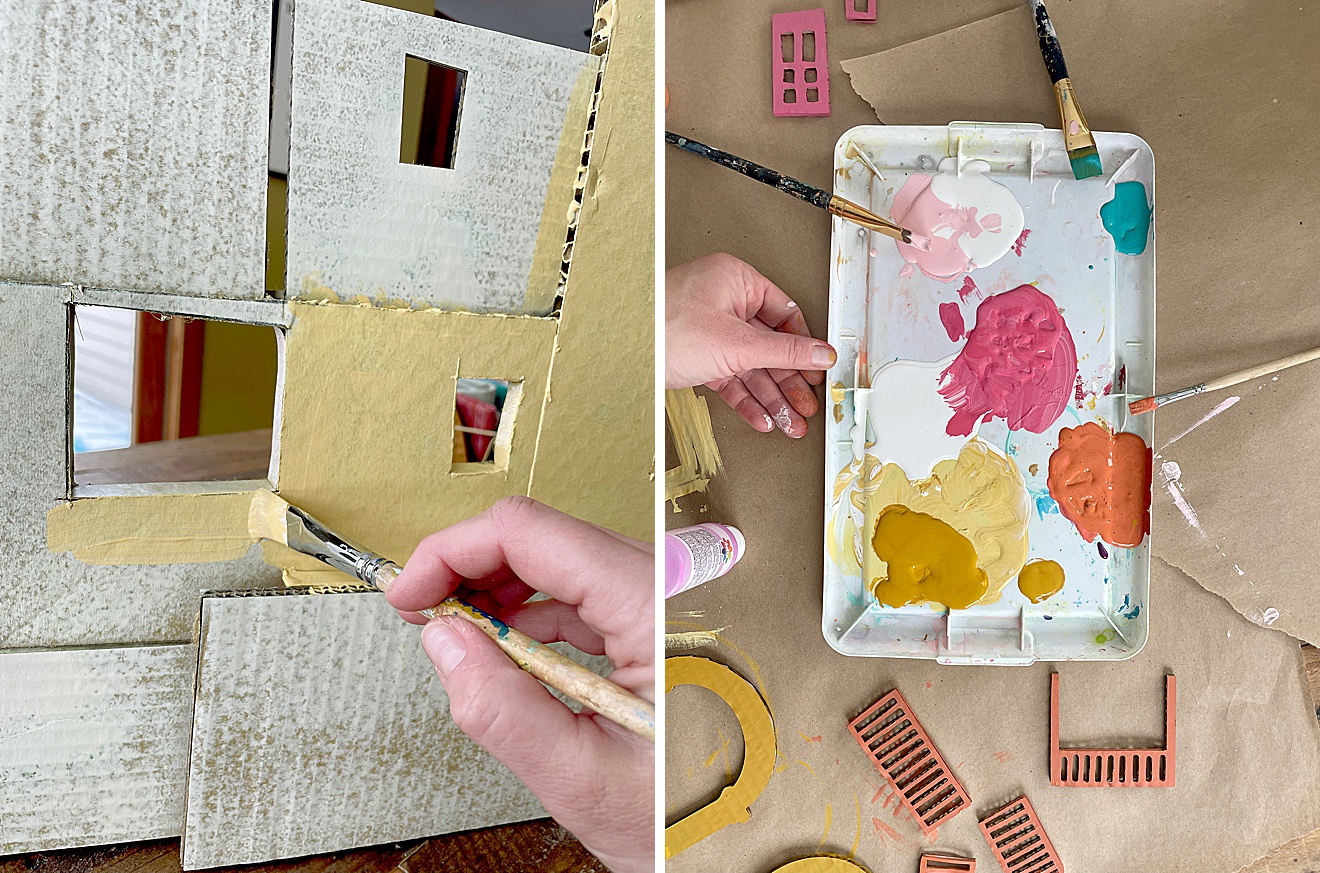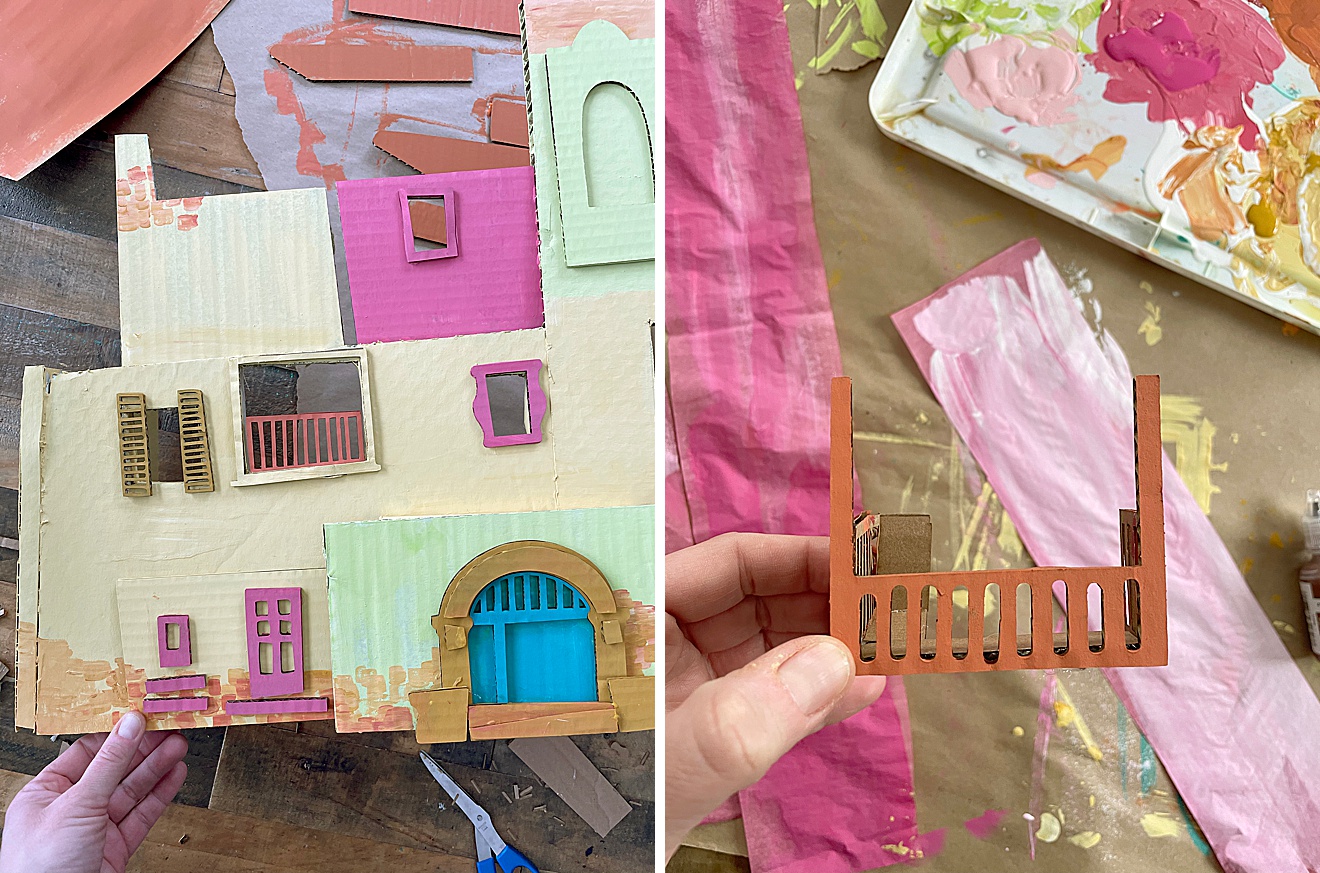 I used my Cricut to cut out some foliage that I had drawn! They are just some fern shapes that I had on my ipad that I sized down to fit the Casita scene!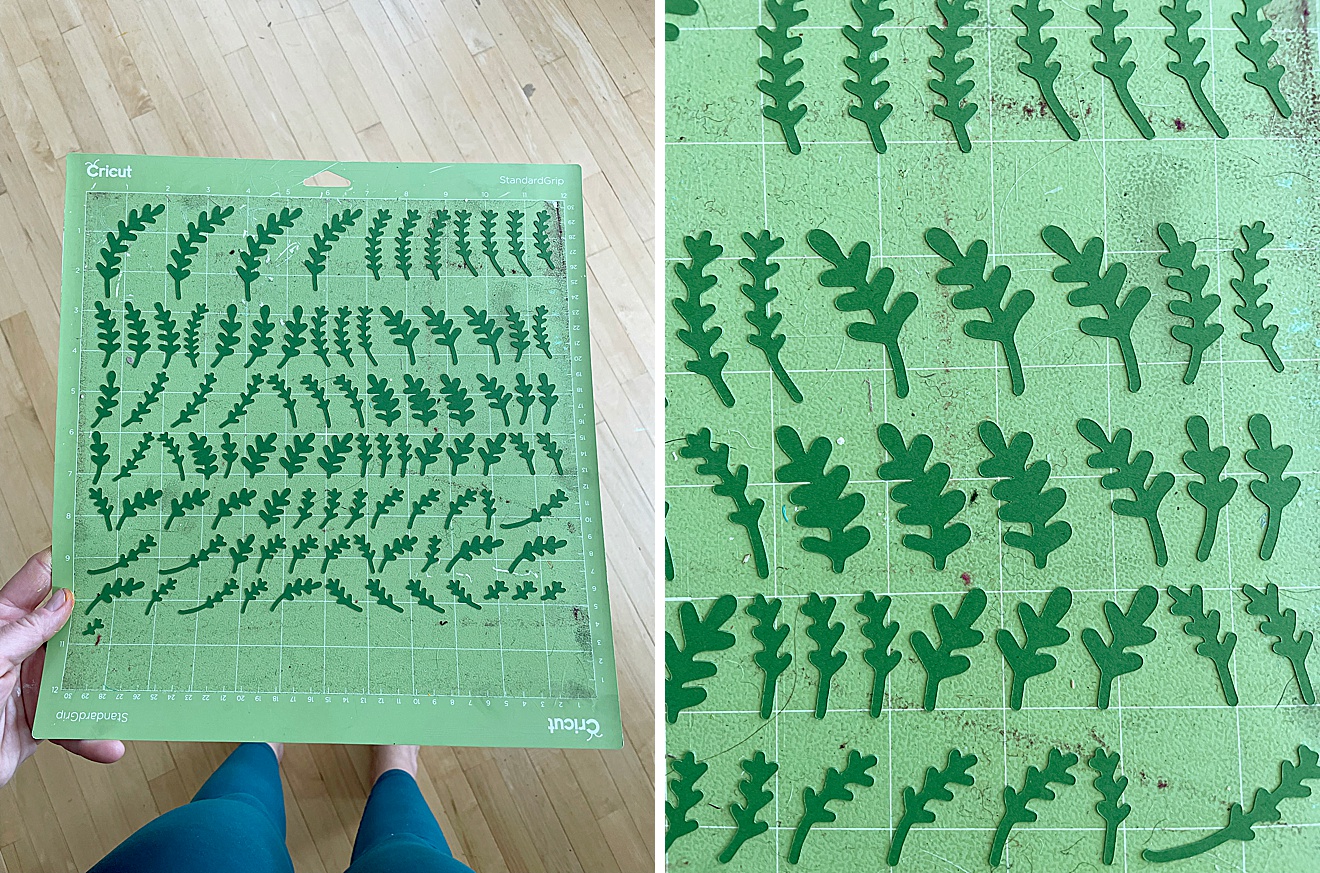 I also cut out the roof shingles from cardstock on my Cricut. I didn't have any paper that was terracotta colored, so I took a few pieces of kraft color and just painted it with some terracotta paint! 🙂 VOILA!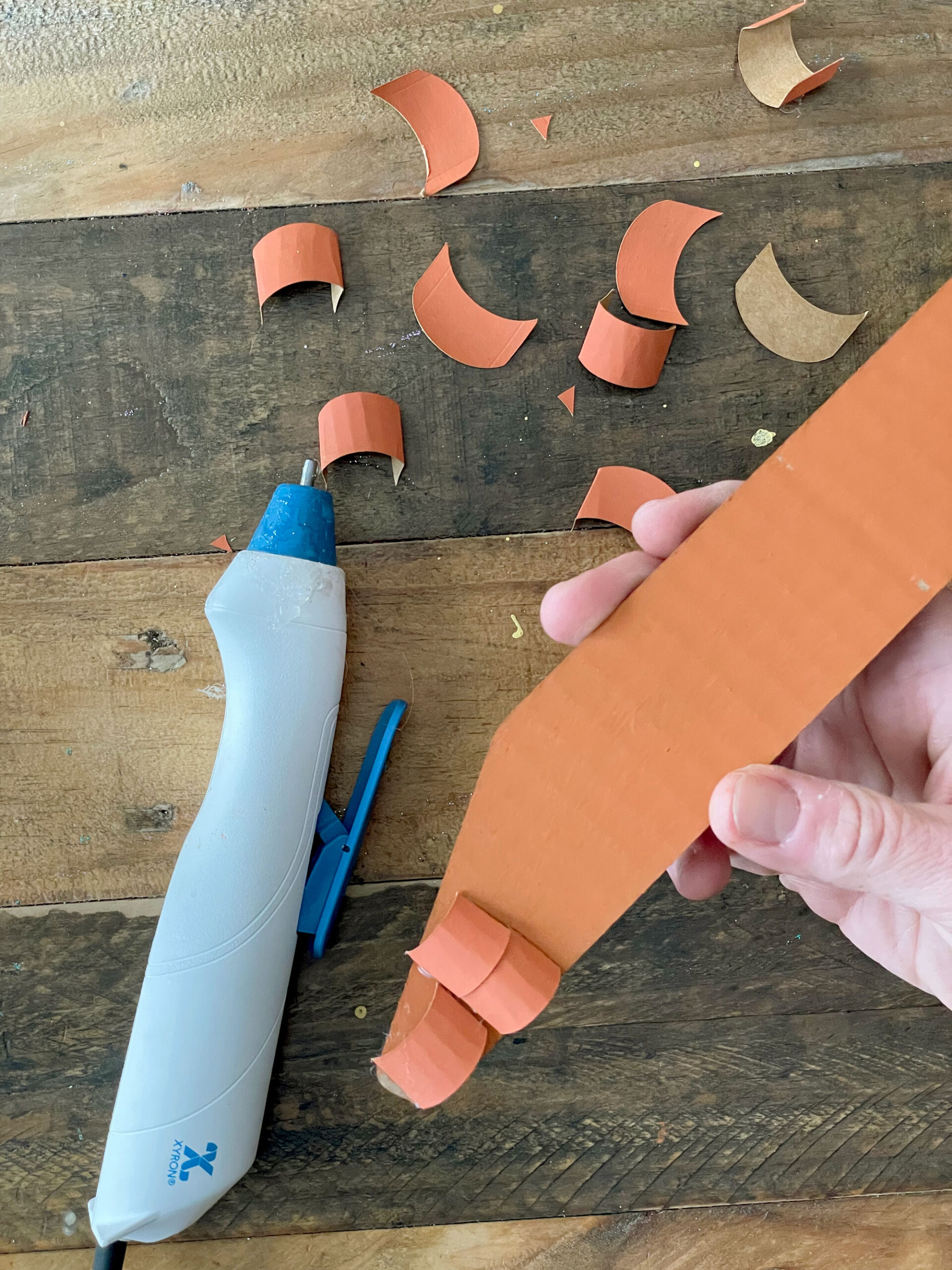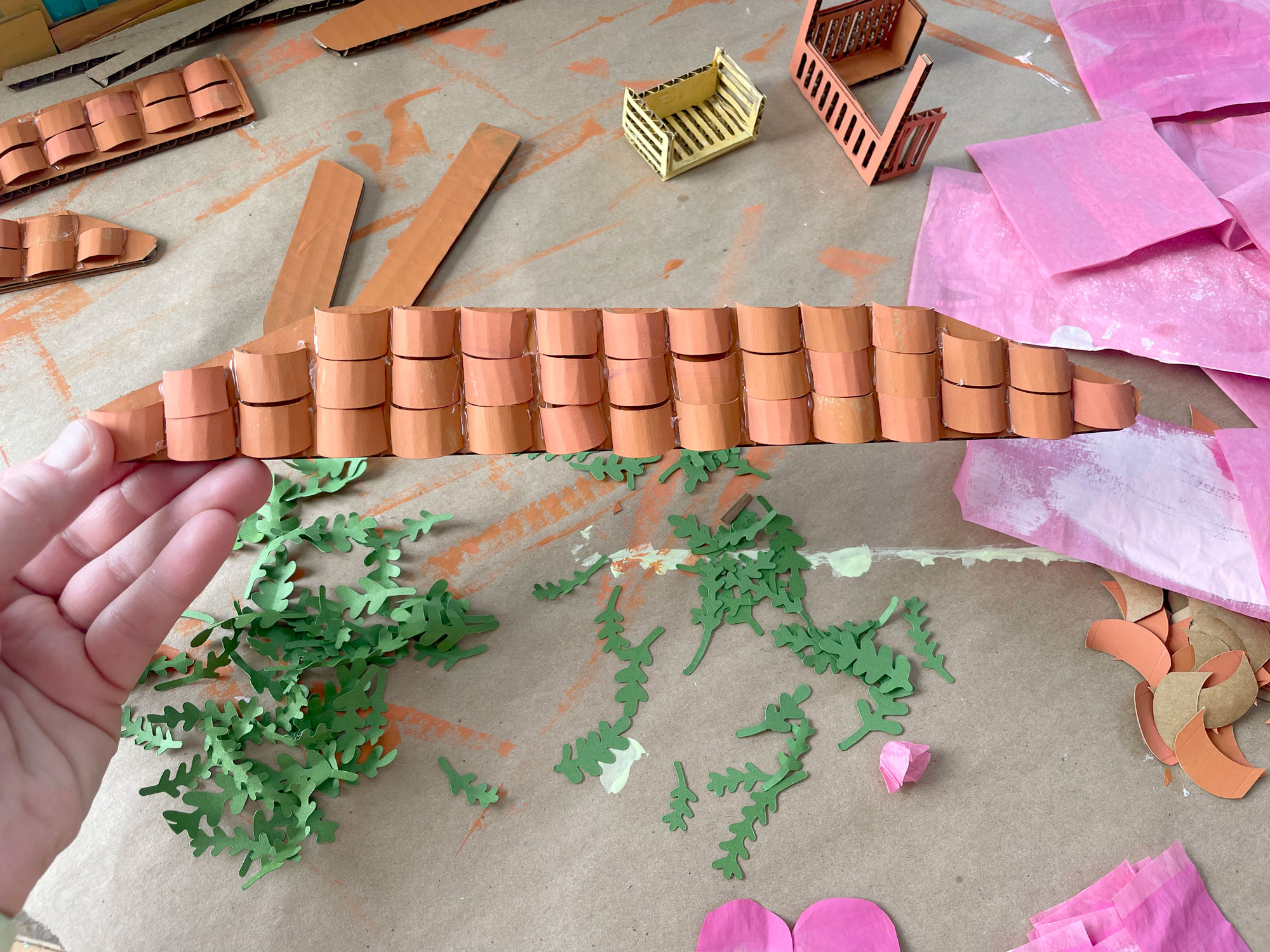 I wanted the flowers to be delicate and flowy like the captivating ones in the movie, so tissue paper was just the trick for the florals along the Casita. BUUUT again, I didn't have the right color pink (I only had a light pink) so I just painted some strips of tissue paper (not evenly and not even consistently which adds to the color when they are cut) 🙂
The tissue paper flowers were just strips cut into smaller strips, cut into rectangle/squares and then with rounded edges. I placed each rounded circular form over the eraser of a pencil and then with a dab of glue, began to glue all of the florals to the house! 🙂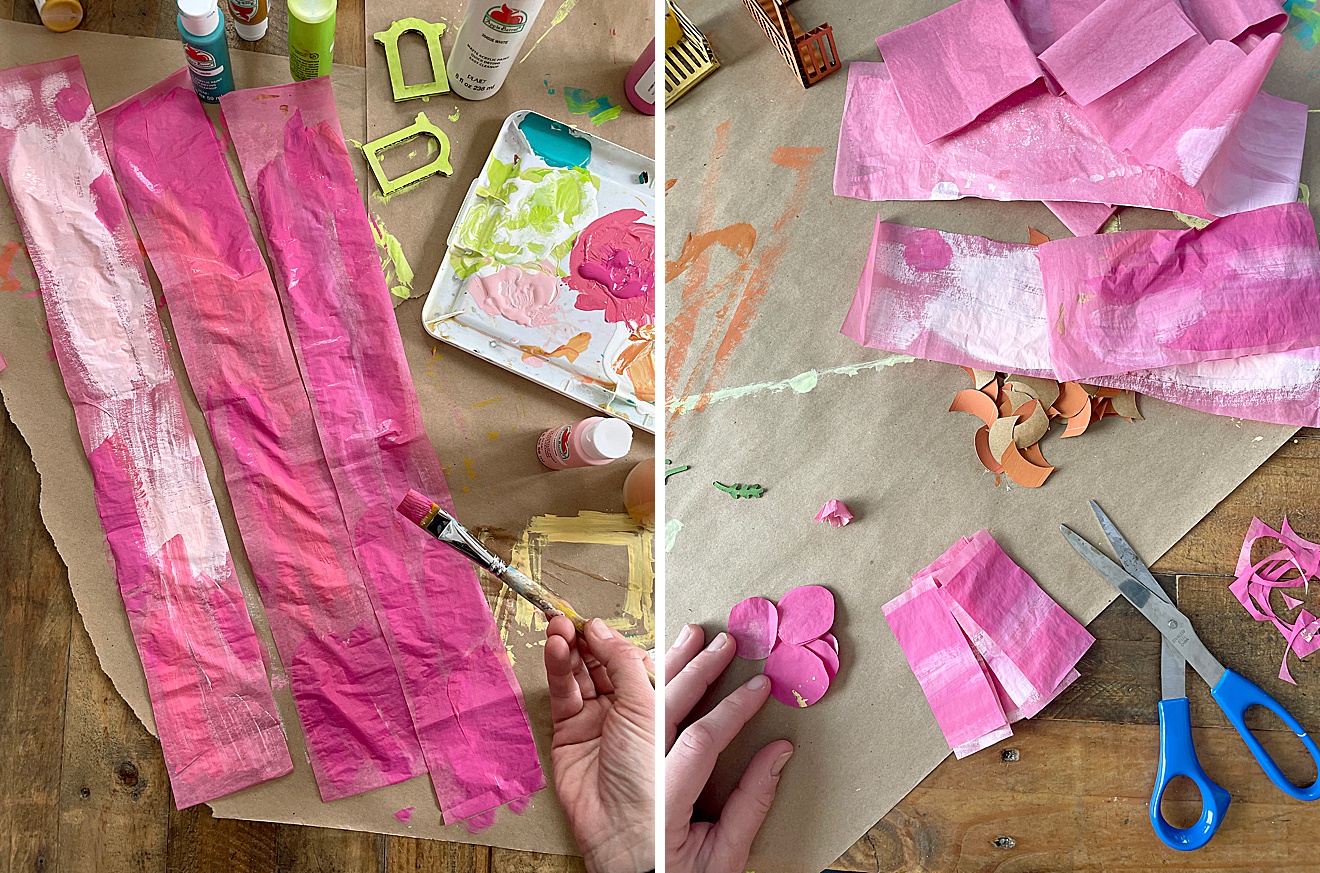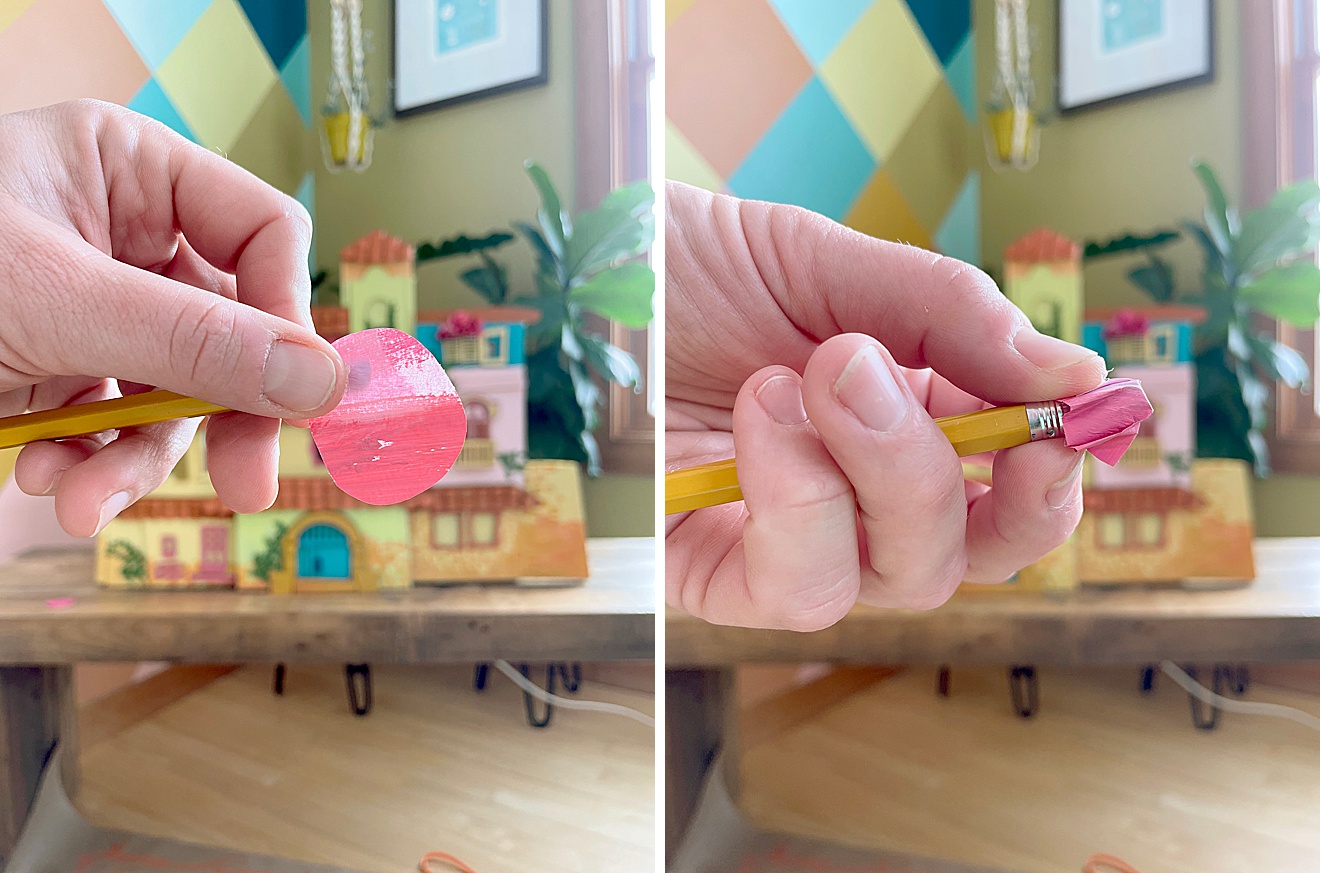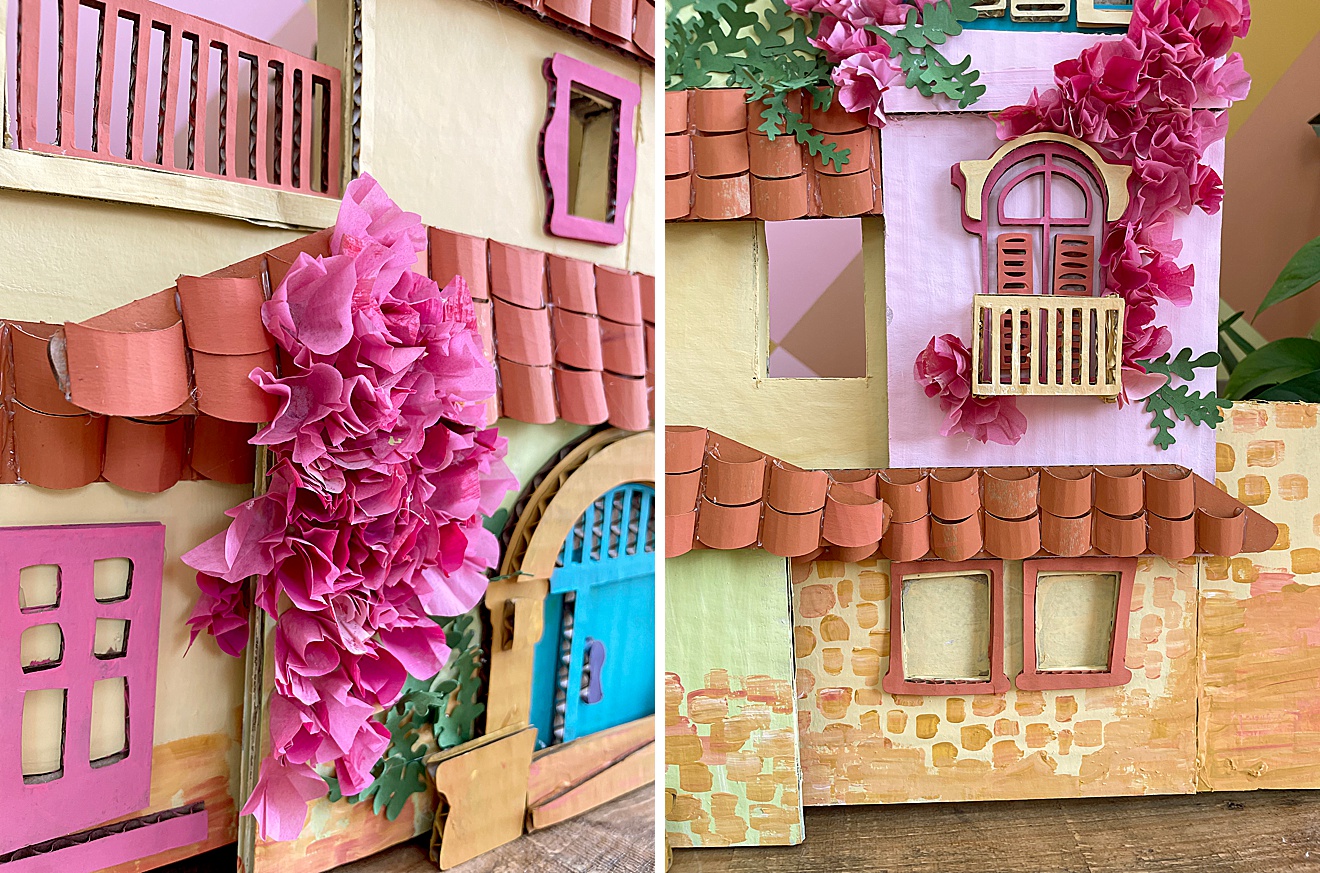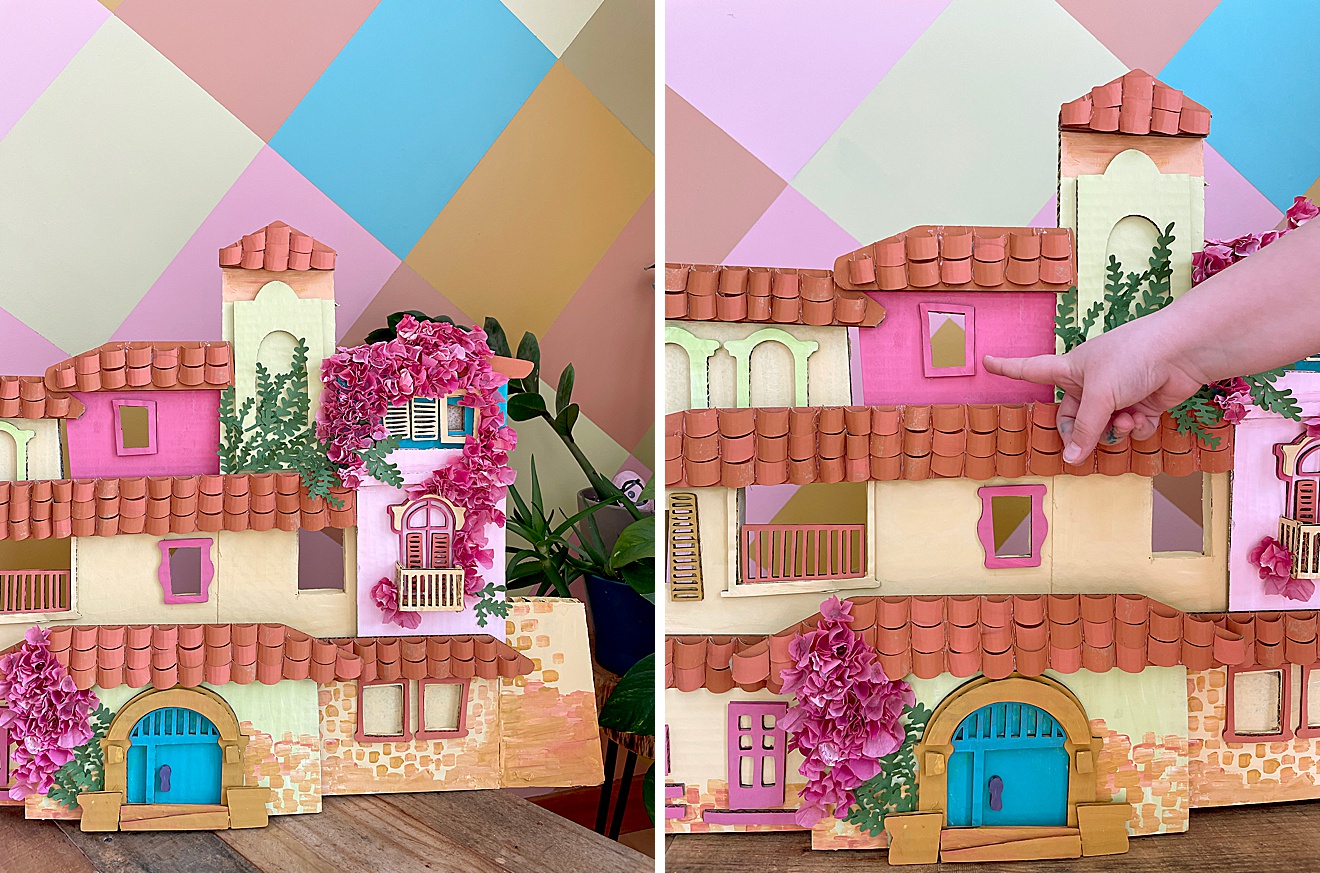 Honestly, ESTHER IS THRILLED with the result (has only requested that I make the magical candle for the window because apparently that is CRUCIAL to the scene! 🙂 !!!!
I loved the challenge of mixing the colors to match, figuring out how to make the shingles and florals and making something that my daughter will play with and (hopefully) remember for a lonnnng long time! And heck, we used up a handful of cardboard boxes that were just lying around in the garage….I say this project is a win for everyone!!! 🙂