Punky Brewster inspired bedroom mural!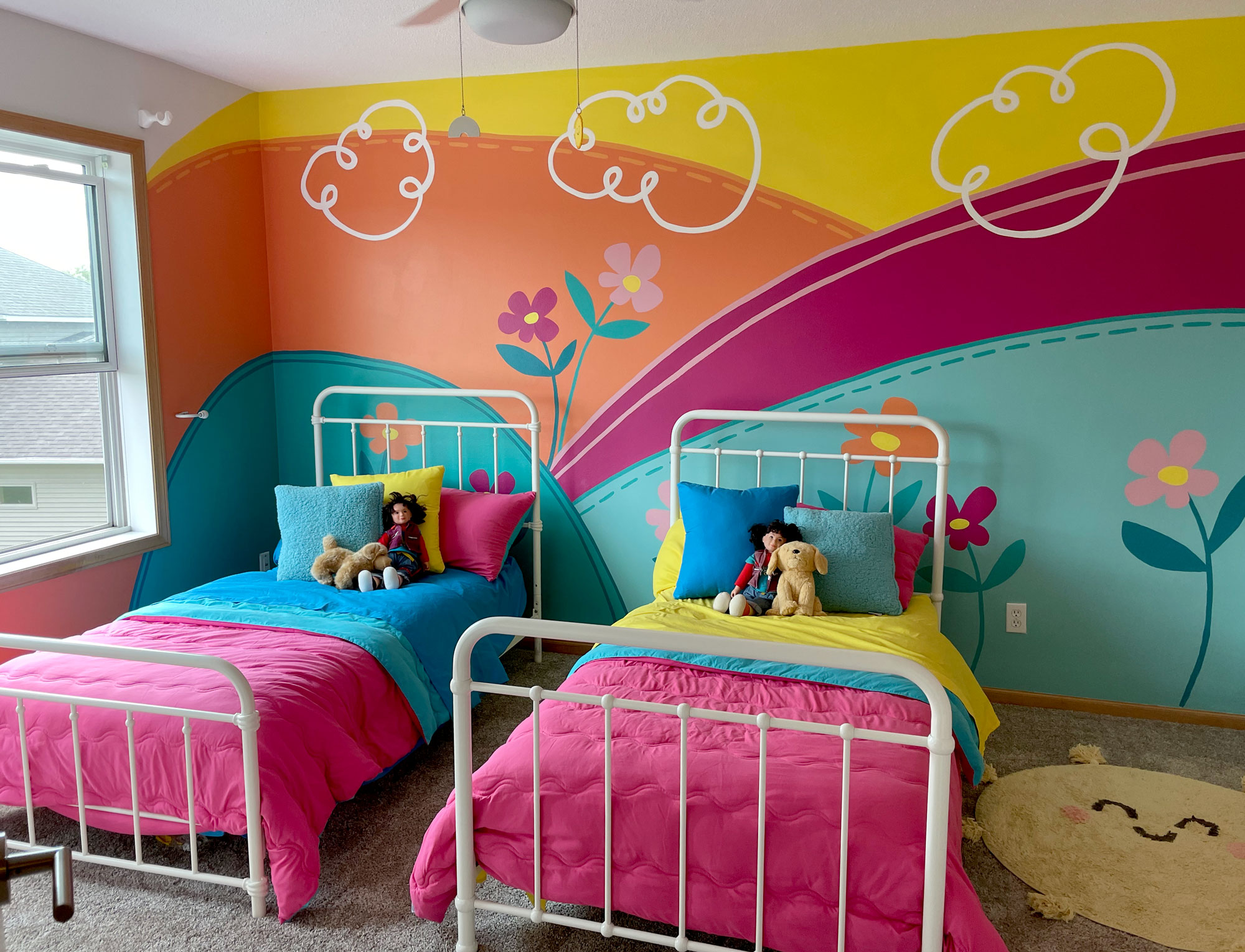 When a Mom contacts you and asks you to paint a mural for her daughter's room inspired by her fave childhood show (that her little girls now just LOOOOVE too), um….yes, I am 10238% in!
My friend Jenna has passed on her love for Punky Brewster to her little girls so when they decided to "upgrade" the girls room from their recent move, then OF COURSE I was honored to paint a part of this space that I hope inspires play and imagination and confidence for years and years and years! 🙂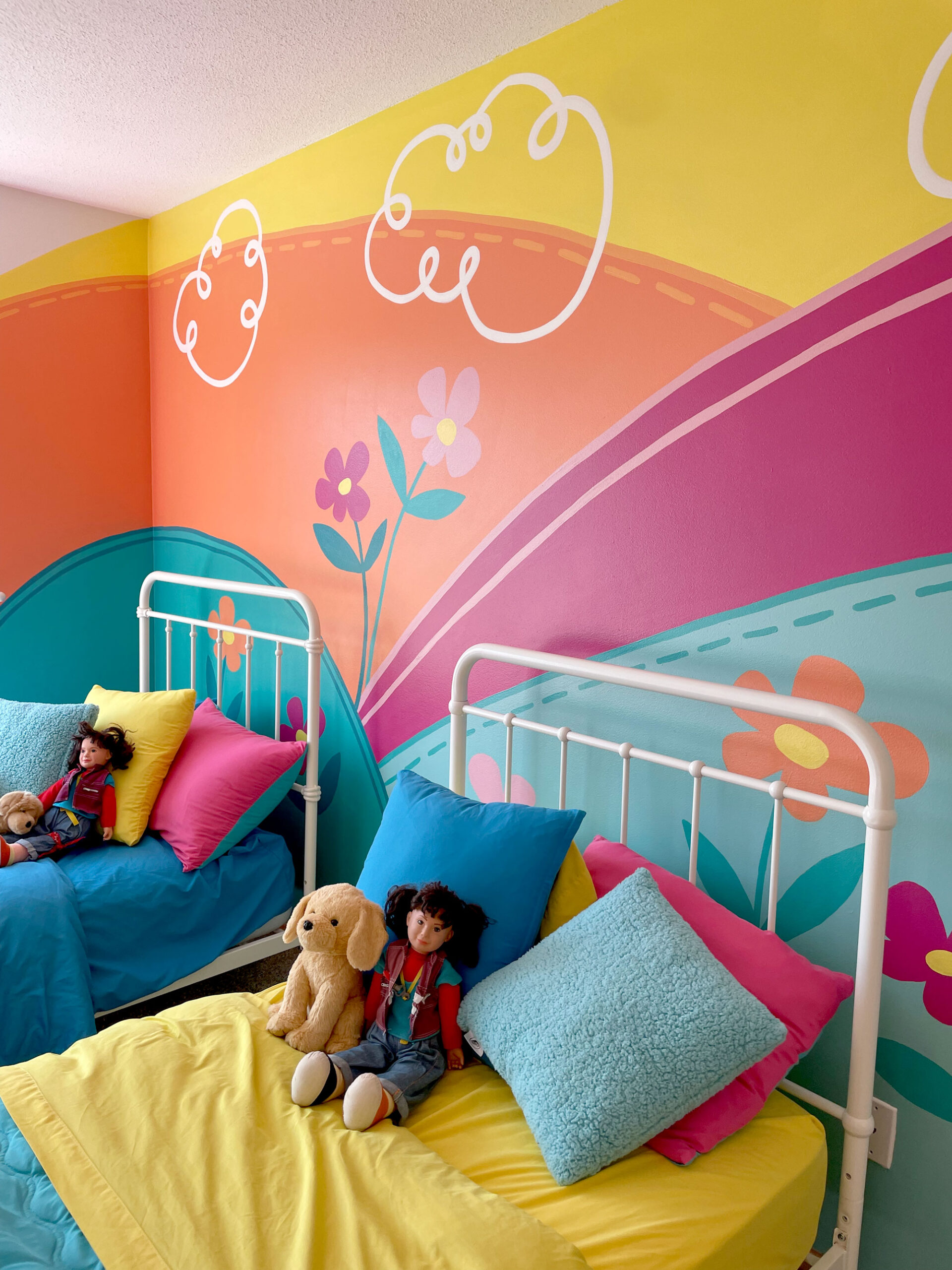 I 900% believe that our surroundings are the culprit to our inspiration and energy day by day (hence the reason why I love painting murals SO darn much and believe in the power of paint in our homes) ANNND I even more believe that in a kids space, these walls and surroundings can be the source for imagination and play and, quite frankly, can transport kids into their own world! I *SO* hope that this Punky Brewster space does this for the girls.
If you are a fan of Punky, you know that her original bedroom was bold enough to "blind a smurf" (according to Henry)…her room is full of colorful hills and florals and even a barn door and animals and clouds and looks like a cute, colorful scene that a kid would paint. So as Jenna and I went back and forth with some sketches, we landed on a more modern and updated color-scheme of Punky's bedroom! 🙂
Here is a screenshot of the original bedroom from the Punky Brewster series: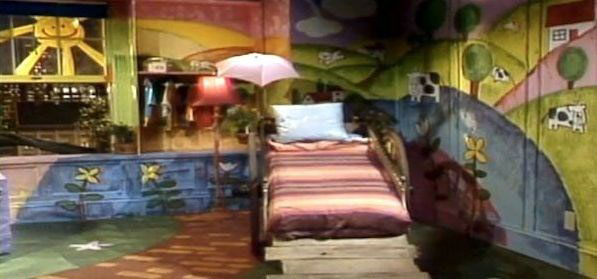 UPDATED PAINT COLOR I USED (all Behr Marquee paint…one of my faves):
Pink – Diva Glam
Bright blue/Tealish color – Tropical Sea
Orange – Orioles
Yellow – Buzz-in
Light blue – Undine
White was just a standard white, and then I did mix some white with the yellow and blue for some of the accents 🙂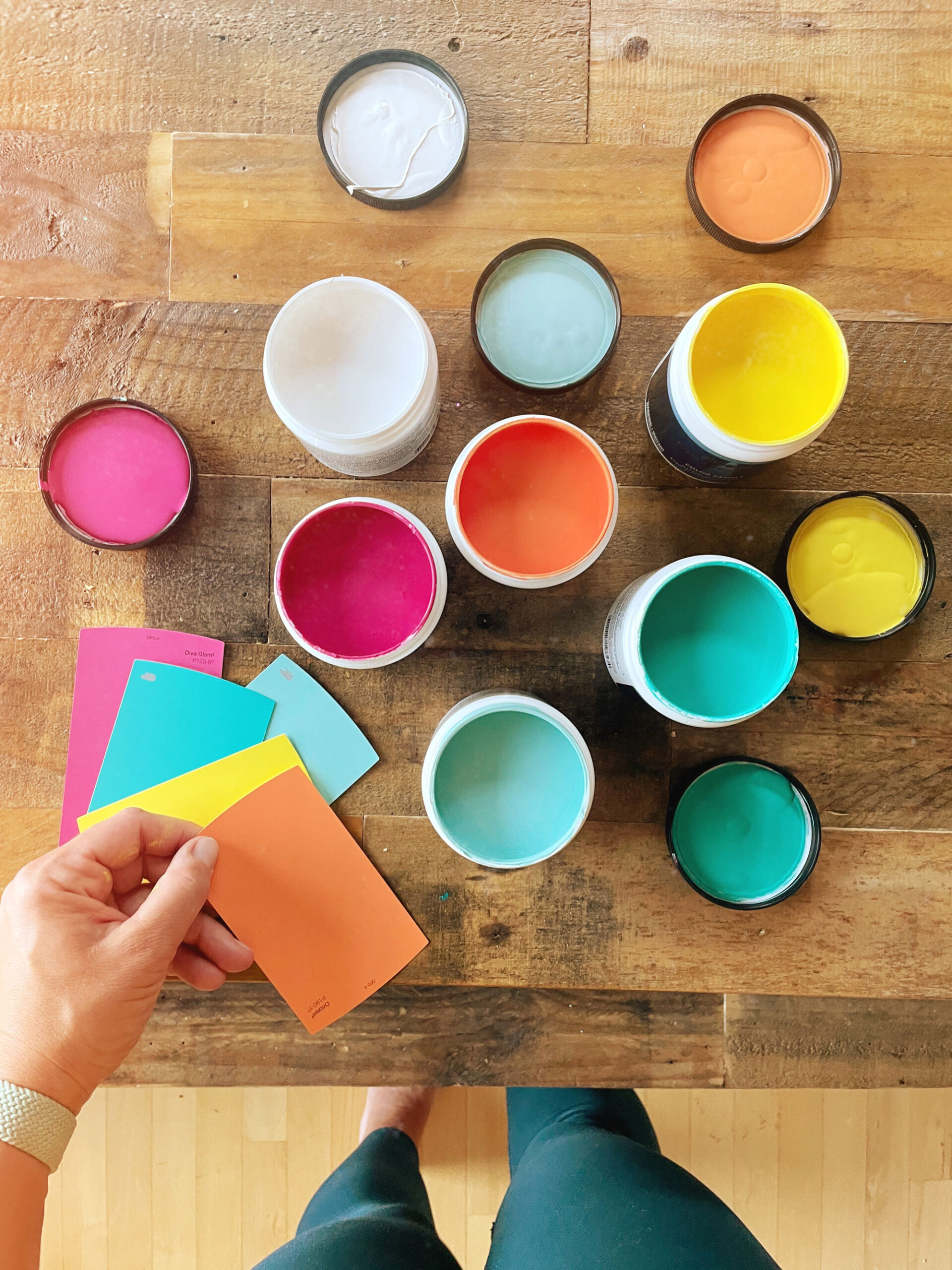 I first color blocked the wall with the big chunks (or hills) of paint. I always use chalk to write on the walls (WAYYYYY easier to erase and paint over than pencil…trust me)! 🙂 Those were easy and quick to paint.
I then added in the details (dashed lines, double lines, etc). They were more "eyeballed" just to be sure they were still precise but also offered the not perfect look to a kids room. (I mixed some white with some of the colors for these accents).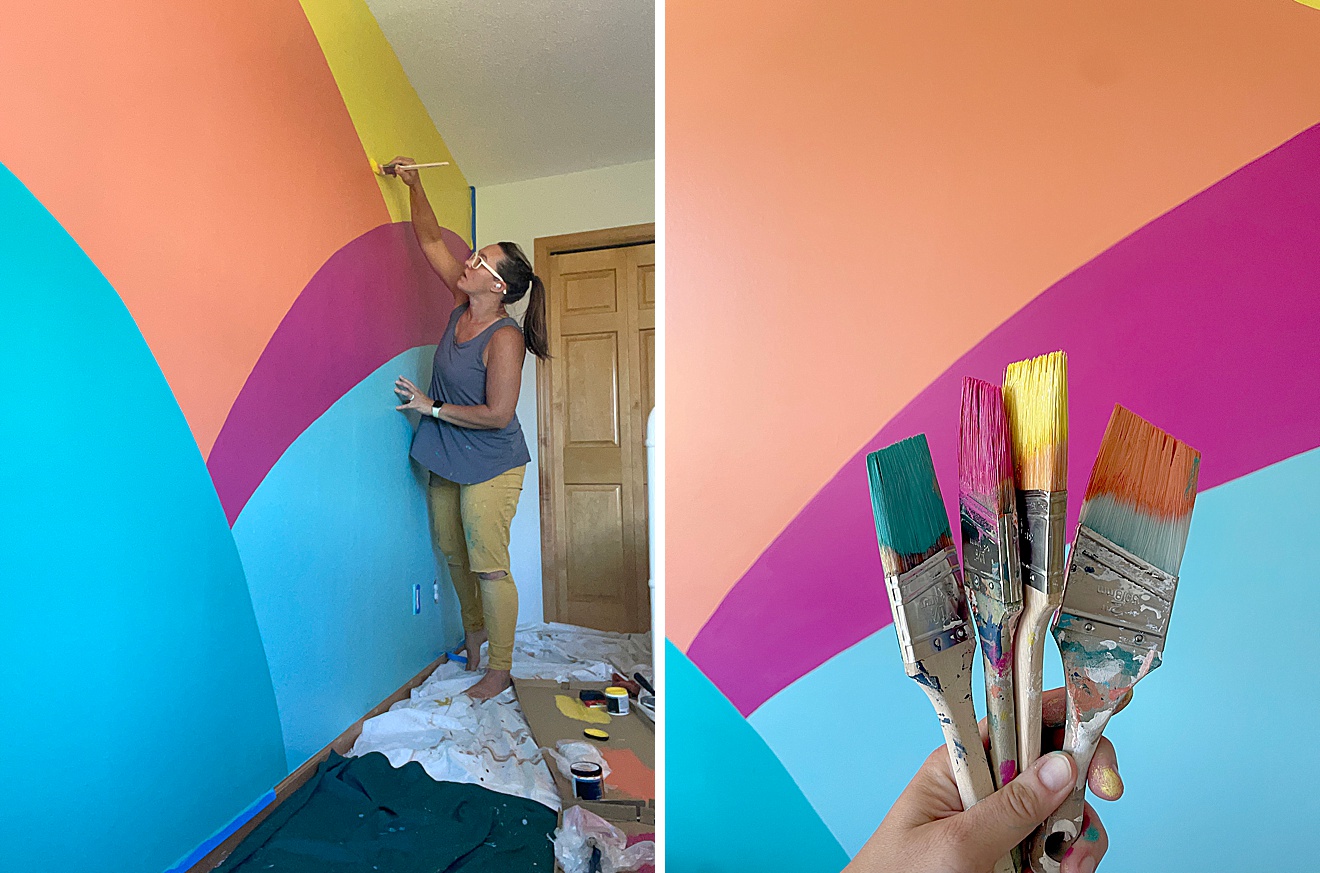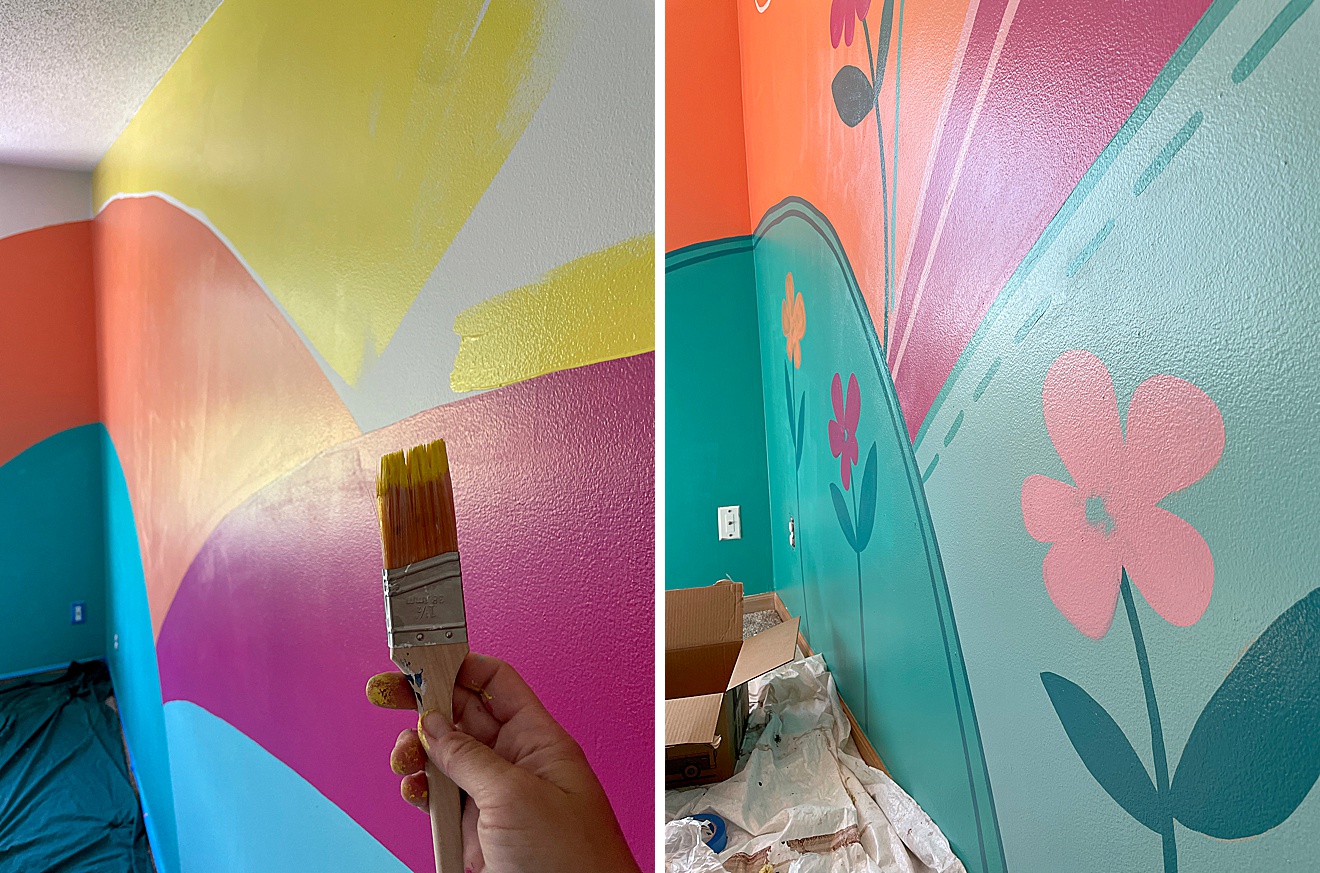 And last were the flowers and clouds. Again, I used chalk to sketch these out (I promise, you can erase 900 times if needed without a trace on the walls). I drew out the flowers similar to the original Punky room, but took the girls advice into account about which flower got what color in the end 🙂
I think this turned out adorable and such a modern take on the original Punky Brewster room! 🙂
The finishing touches, I think, are the sunshine rug and the Moon curtains (on their way to the room)…both the moon and sunshine Punky has painted on her window and window shade in the original show 🙂