An easy May Day basket template + HAPPY MAY DAY! :)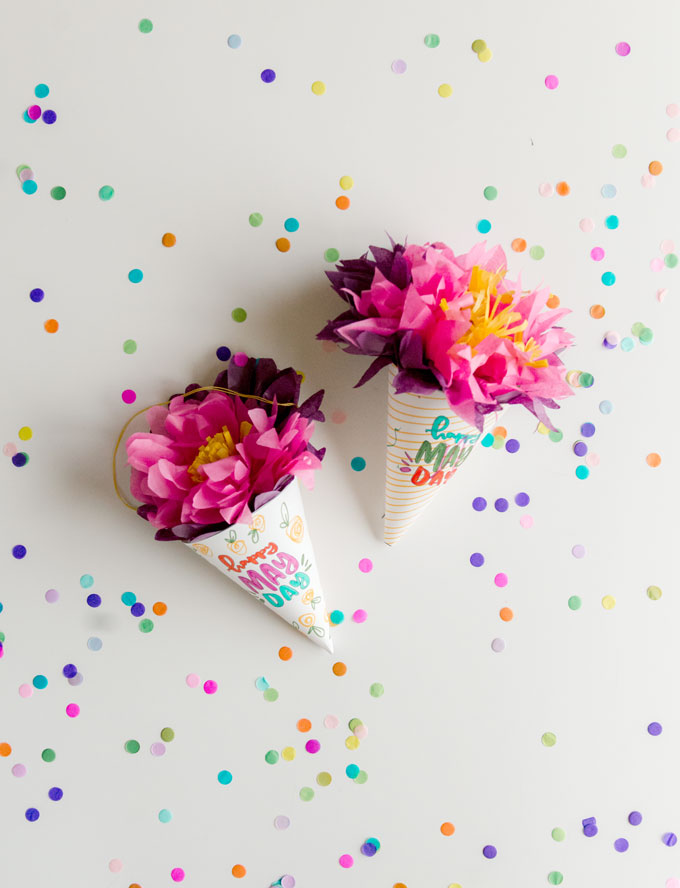 I remember as a kiddo, the week of May 1st, my Mom and I would make paper flowers and homemade cookies. We lived in the country where there weren"t too many neighbors to share our spring festivity with….so we ended up eating the cookies ourselves and just making a big vase of paper flowers for the kitchen table. And I remember the sun would beat down through the windows onto the bouquet throughout the summer and leave faded colors, worn edges and dusty pedals by the end of the season….so we would throw them away to make way for Christmas decor and start ALL over again each May! It was a ritualistic cycle that I LOOOOVEEED! SO MUCH!
So this year, I am bringing the tradition back for my kiddos. I had Zeke choose 5 houses that we will secretly and quickly delivery May baskets to. I think he most excited about imagining how much his friends will like the goodies….but either way I am cultivating the joy of spring and fun of surprise for friends….it's a win win really! 🙂
And, today I am sharing our template for our color-youreslf May Day baskets! They are so cute and so easy! 🙂 I told the kiddos to color the lettering, and then design around the edges….the idea is to make them as colorful as the flowers that are popping through the dirt! 🙂
We plan to fill baskets with some homemade baked goods, a giant paper flower and then some other dollar store treasures that Zeke had his eye on! 🙂 After all, the idea is to share the spring happiness and put a smile on your neighbor or friends' face…so bright colors, baked goods and dollar store treats are ON POINT! 🙂
DOWNLOAD the May Day Basket Template HERE!
So, HAPPY MAY DAY basket-making my friends! 🙂