Floral paint by number – a colorful DIY!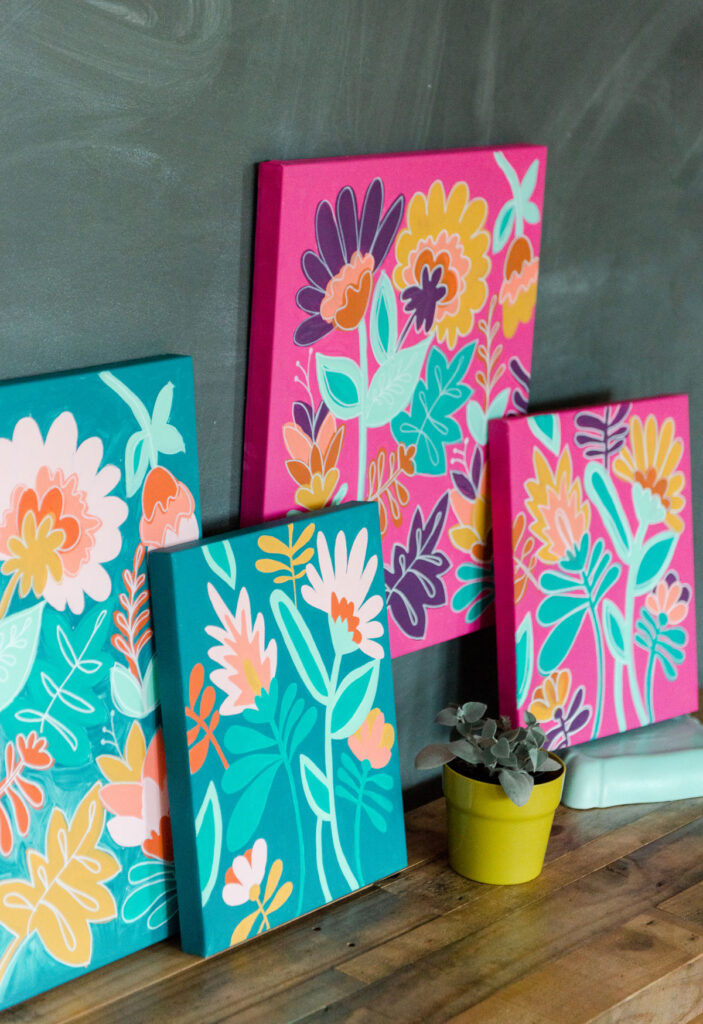 **this post in in partnership with Walmart Photo 🙂
I have been on a painting kick lately these days: bathrooms, bedrooms, unfinished walls, basically ALLLLL the things in my house I want to paint! AND with kids being home more, it does make it trickier to find multiple uninterrupted hours in a row to paint walls. SOOOOOO, I devised a plan (with the help of the same-day products at  Walmart Photo) to turn my painting passion into a family friendly project (genius?? I think so….or at least right now I do)! 

I doodled up 2 simple paint by numbers for canvases that you can upload to Walmart Photo and have ready in LITERAL HOURS! Talk about a great gift for a friend, great rainy-day project OR (hint hint) awesome summer at-home project! 🙂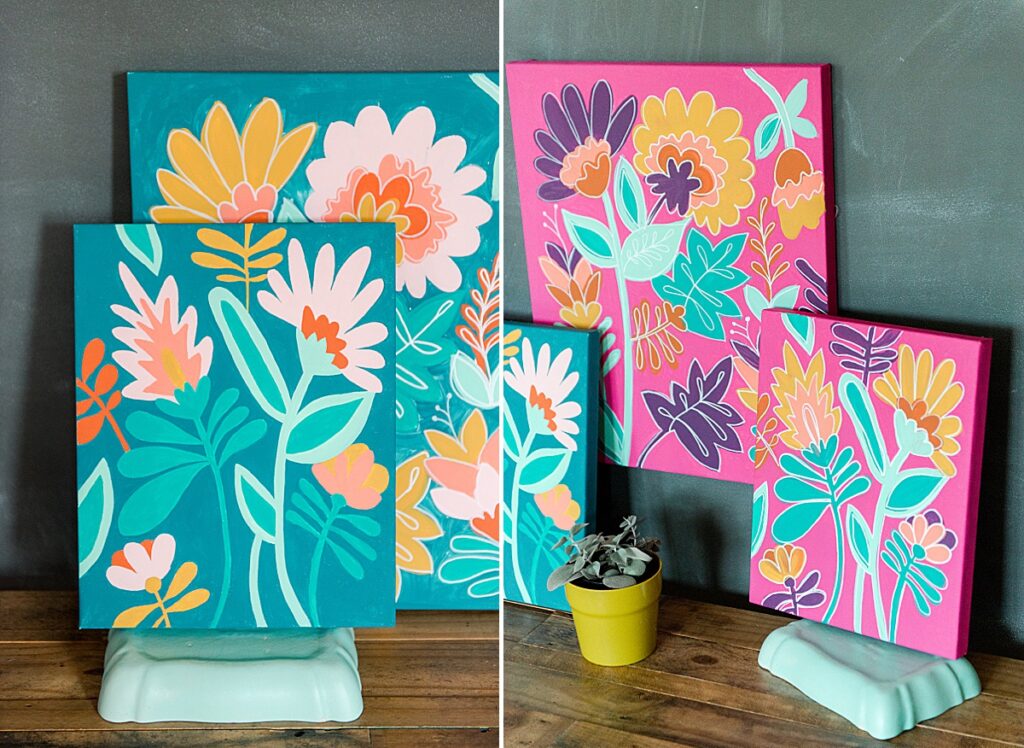 We raided our paint stash AND took the afternoon to paint! Paint-by-numbers are an easy project for kids because there are outlines, it offers a colorful afternoon AND it works on fine-motor skills…ANNNNNNDDDD it gave Zeke something he was *super excited* to put in his bedroom (so long for my idea of hanging both of our canvases together in the living room…but I am THRILLED he is proud of his work so I will happily sacrifice)! 🙂
The thing with these floral designs that I doodled are that they should be easy for both kids and adults. Using small brushes and taking more time will yield a more "traditional", clean and beautiful paint-by-number (the smaller blue canvas). Using larger brushes and taking less time will give you a more impressionistic look to the paint-by-number (the larger blue canvas + pink ones). I think that both are gorgeous and beautiful….I chose to outline the more impressionist ones with white paint pen to define the floral more (you can see how below in the DIY description)! 🙂
Feel free to print both or just one of these canvases! 🙂 I have all of my color recommendations below AND I (we) painted them in pairs so I have examples of 2 different color ways: blue and pink! 🙂
AND AND AND, paahllllleaseeee tag me if you are making these! I love love LOVE LOVE to see your color choices and final canvases!
Materials:
JPEG templates (download below)
11×14 same day canvas from Walmart Photo
16×20 same day canvas from Walmart Photo
Acrylic paint + brushes
optional: White paint marker for details + adding outlines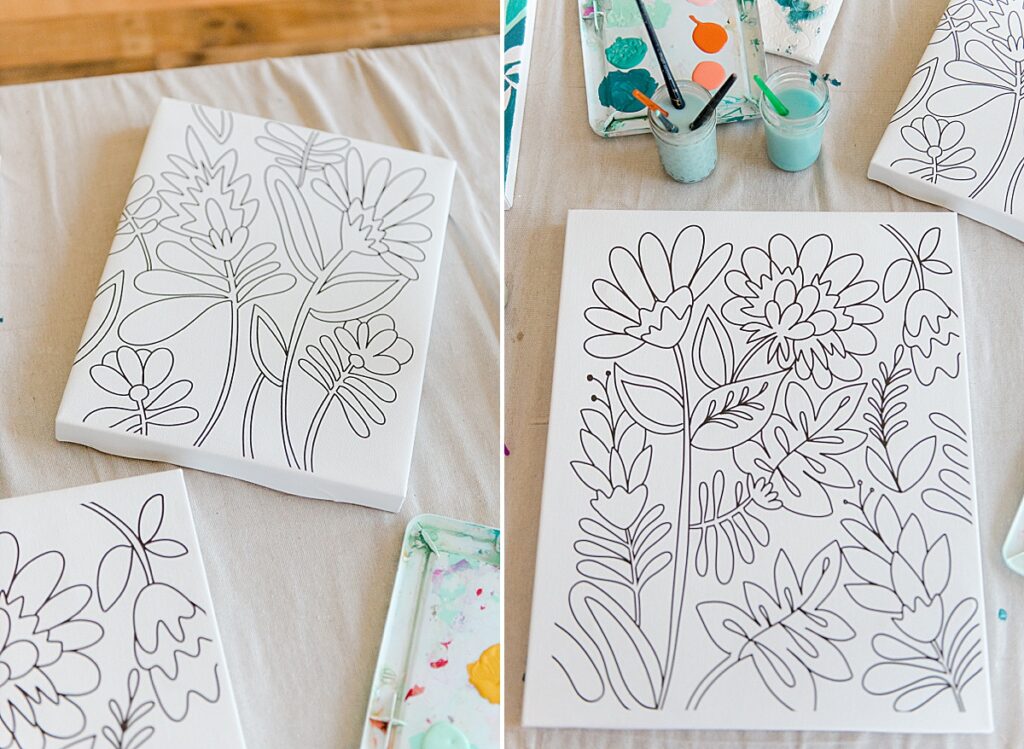 Instructions:
1. DOWNLOAD + ORDER
Download the JPEG templates BELOW:
11×14 FLORAL
16×20 FLORAL

Then upload the designs to Walmart Photo (they will LEGIT get them done in hours for you…..talk about an awesome last-min craft project for a rainy day, impromptu gift or fun family painting activity this summer.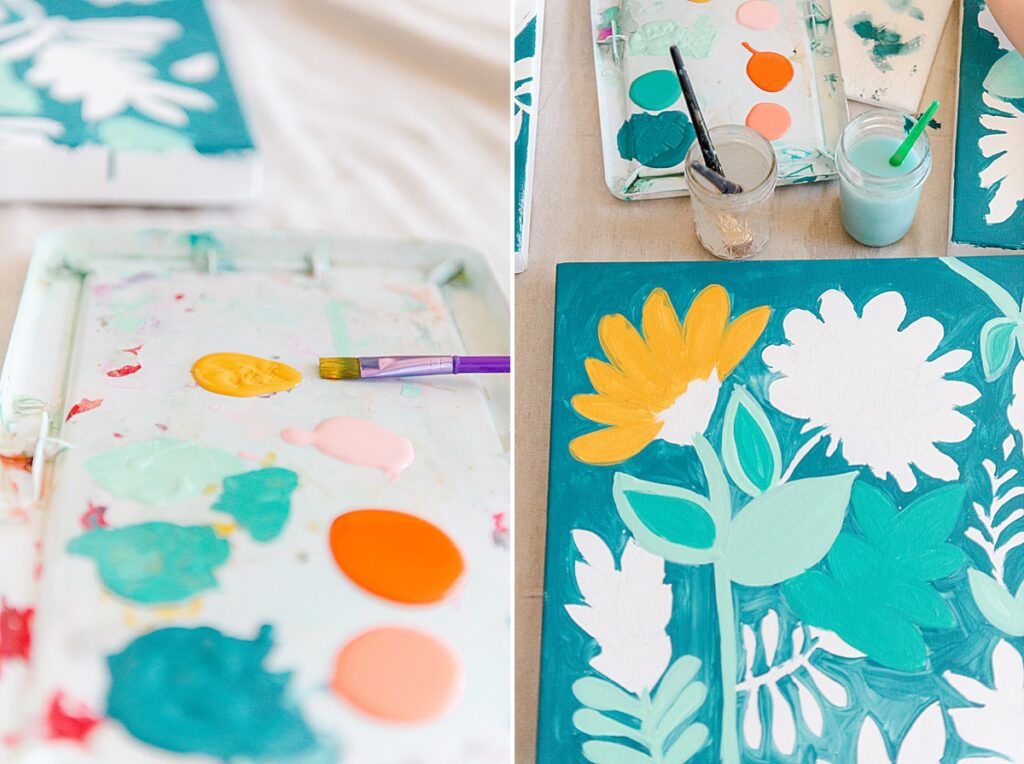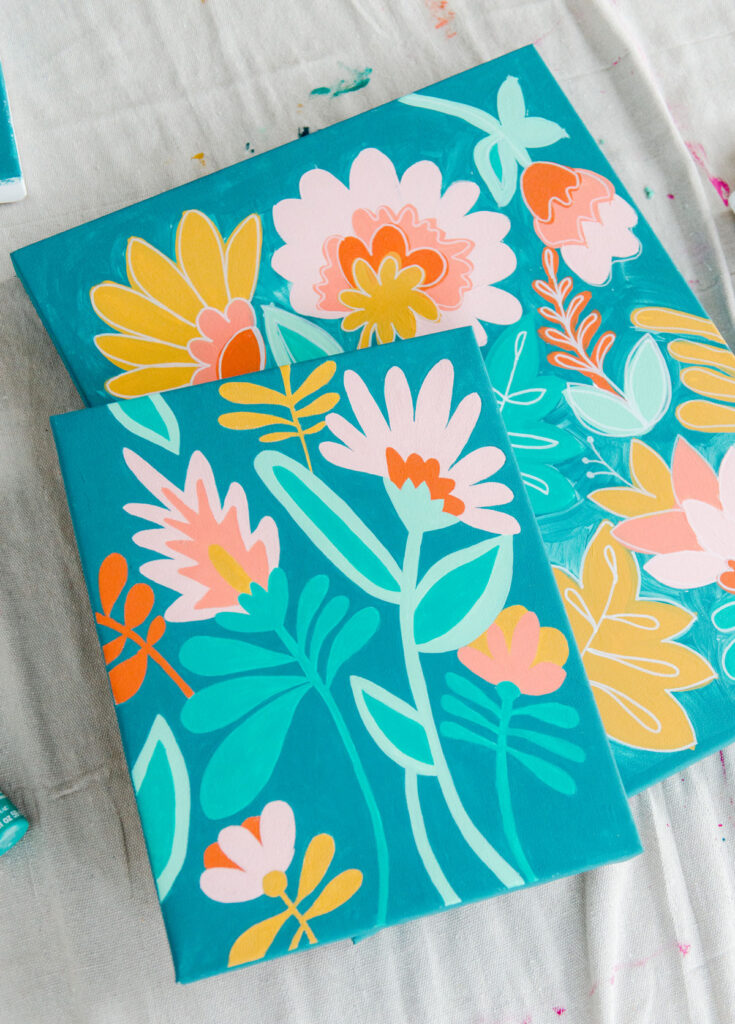 2. PAINT
I always begin by covering the whole canvas in a watered down white paint (not too watery or it will take FOREVER to dry) but this helps prep the canvas and lighten the black outlines. Be sure the paint is watered down, if you use straight white paint it may cover the outlines so much that you can't see them.
some painting tips:
1. Keep this blog post open so that you can reference shapes, colors and outlines as necessary. Keep referencing back when you feel stuck.
2. I kept reminding my 7 year old to hold the paint brush straight up and down for outlining. This helps get cleaner lines and straighter edges (like you will legit hold it straight up and down and only use the bottom flat part of the brush for outlining).
3. Begin with the background and work towards the foreground. This is how many will recommend that you paint…this way, you don't have to be exact with your background or any shape because you can always paint over it. Remember paint is always paint-over-able (that's FOR SURE a word)! 🙂
4. Smaller brushes will give you more precise detail and help you make the lines cleaner (like the smaller blue color-way canvas that our friend Maddie painted). Larger brushes will give you a more abstract painting with overlapping colors or shapes (like both of the pink canvases and the large blue canvas that I painted). I think both are beautiful! 🙂 (you can see the difference in the techniques in the pic above between the 2 blue paint by numbers)
5. You don't have to follow the color recommendations, make it your own! It's ok to remake shapes differently or change up colors or even just omit parts of the painting (by painting over them) all together! This is YOUR painting! 🙂 Have fun, let loose and just be in the moment as best as you can! 🙂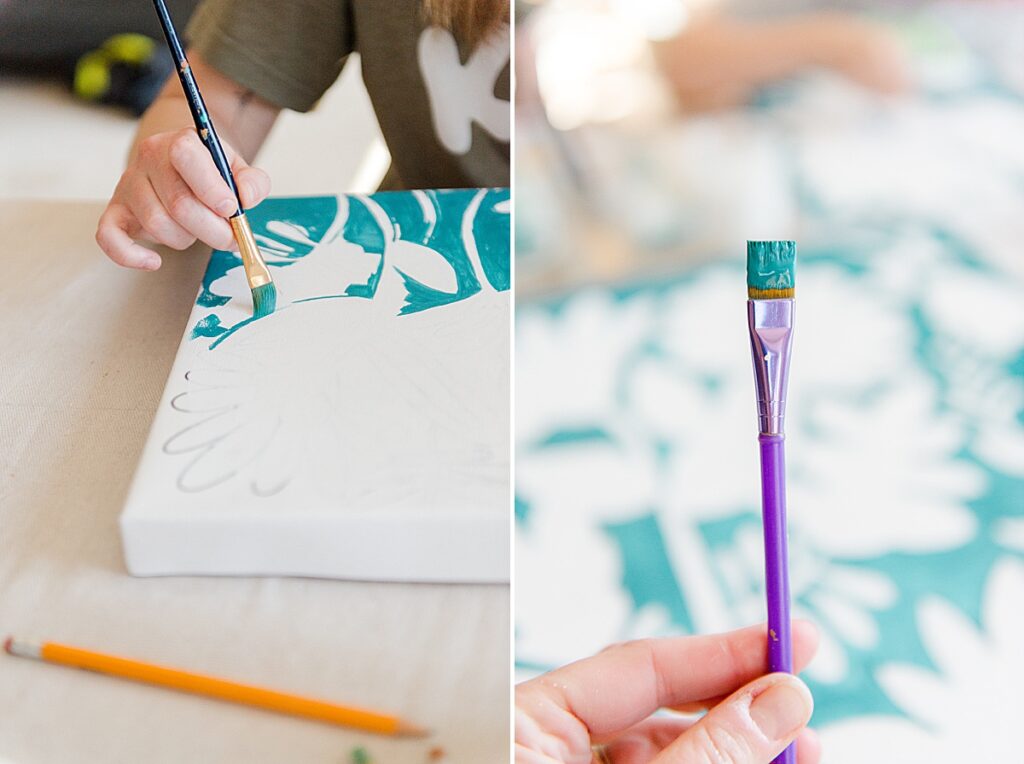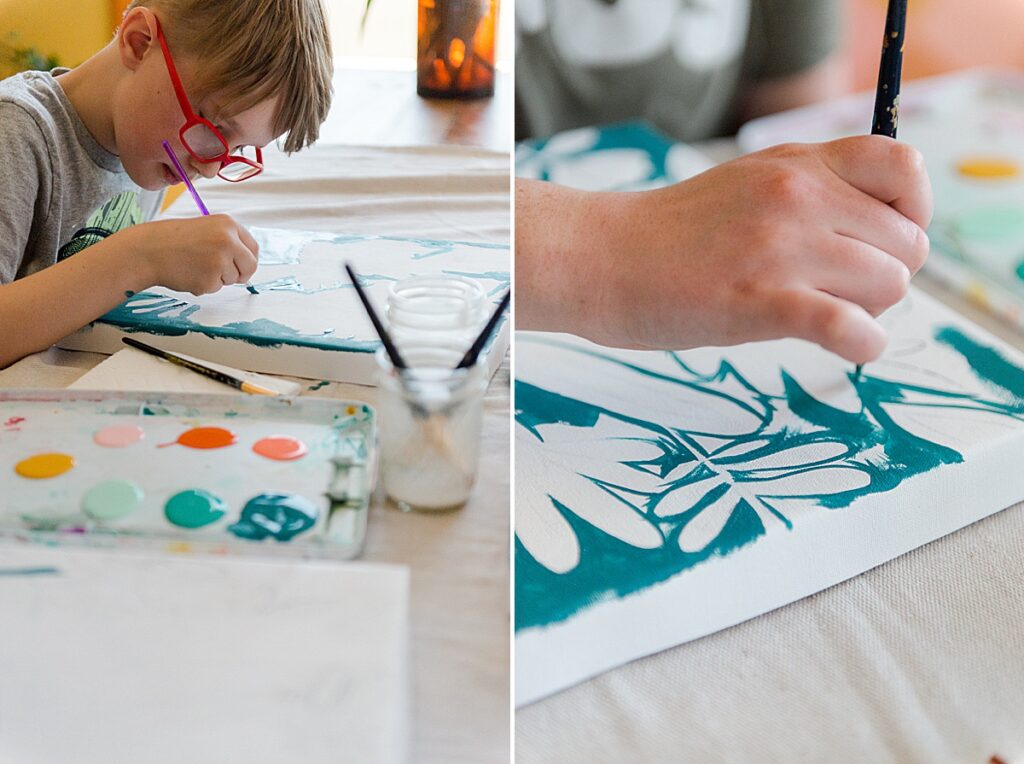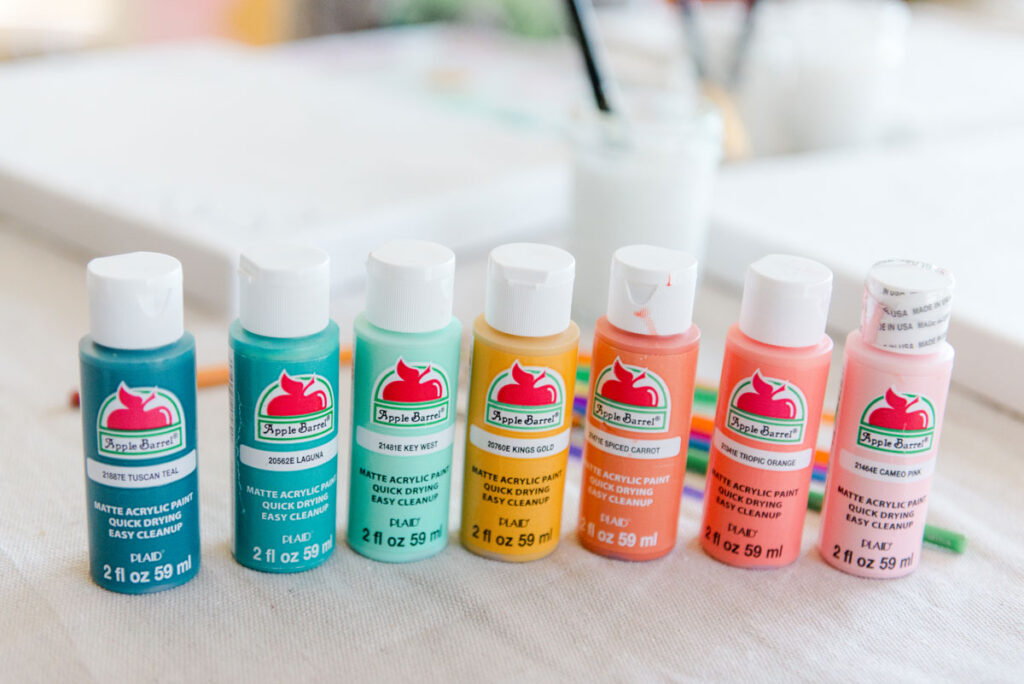 BLUE COLOR WAY paints (Apple Barrel acrylic paint from Walmart)
1 – Tuscan Teal
2 – Laguna
3 – Key West
4 – Kings Gold
5 – Tropic Orange
6 – Spiced Carrot
7 – Cameo Pink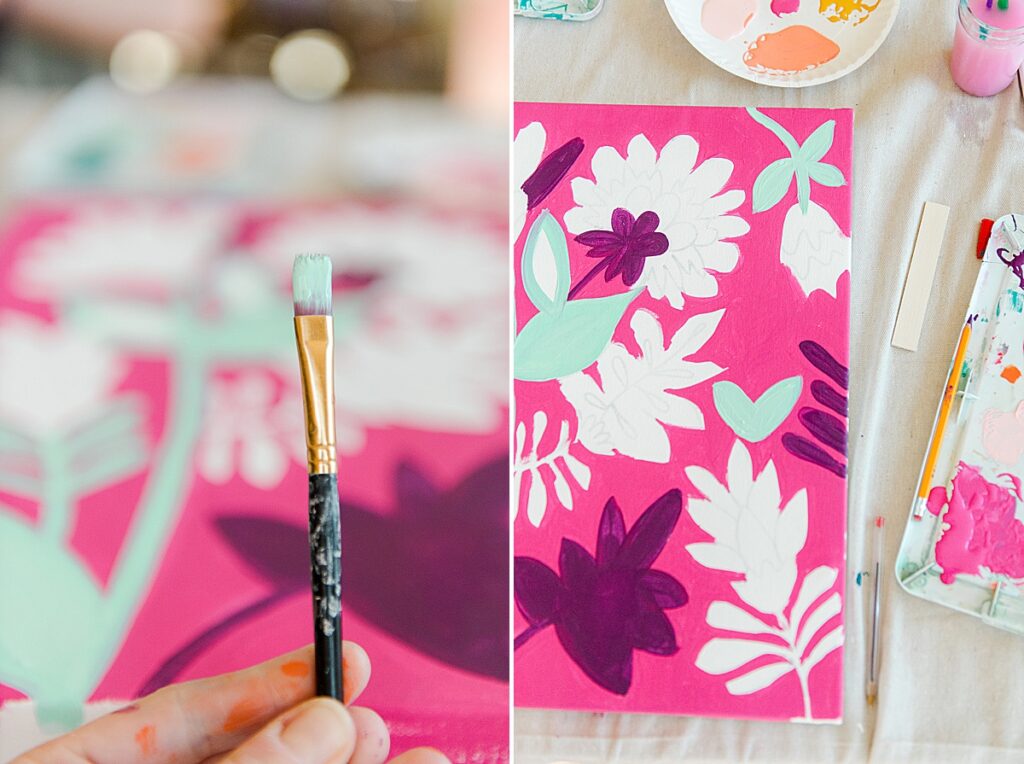 PINK COLOR WAY paints (Apple Barrel acrylic paint from Walmart)
1 – Bright Magenta
2 – Laguna
3 – Keys West
4 – Wild Iris
5 – Tropic Orange
6 – Terra Cotta
7 – Kings Gold

3. OPTIONAL OUTLINING
With your white paint pen, outline the flowers and add details where you want details to be. Reference the original design if needed and make your final touches to your painting (this is especially helpful if you chose to paint a little less "carefully" and went more of the impressionistic route)!