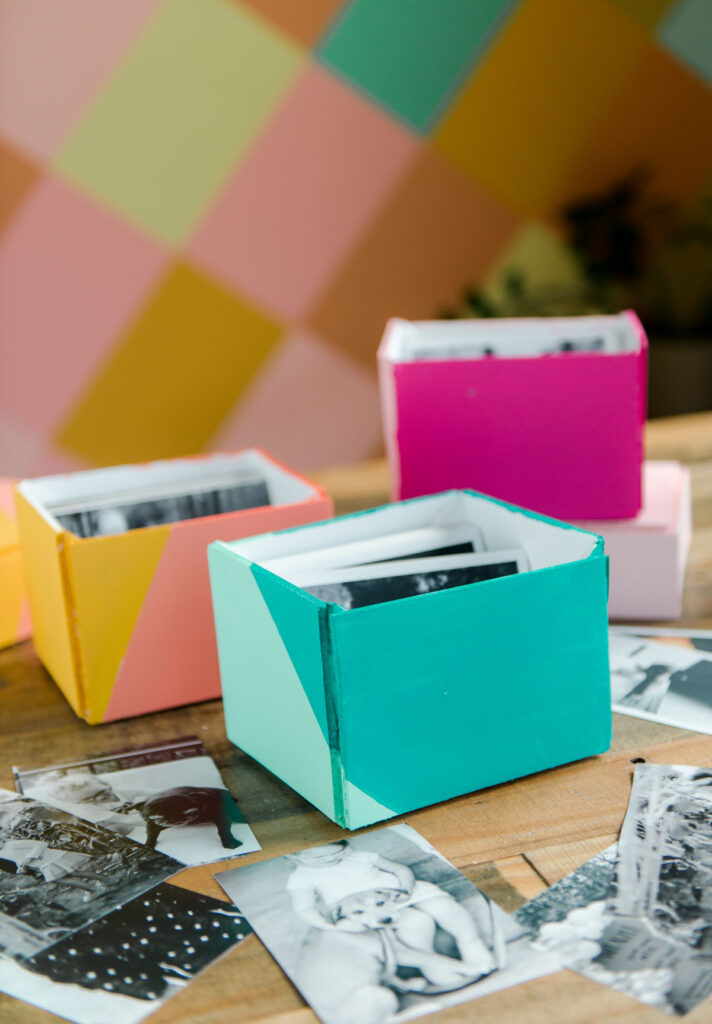 **this post is in partnership with Walmart Photo 🙂
Welp! I think that we can agree that I have 2 problems in life:
1. I take too many photos (maybe I'd argue that this isn't reeeaaaallllly a problem)
2. I am terrible at organizing closets (oy)
The one problem I DO NOT have is printing my photos. Being a wedding photographer for 10 years showed me just how SUPER DUPER important it is to print photos; to touch them and look at them over and over again (like it would make me SO SAD when I would hear of clients allowing ALL of their memories to live on hard drives, discs, computers)! One of my favorite things in life is going through photos and laughing and crying and reliving memories that are so so so special.
SOOOOOO! I came up with an ultra easy and very cheap (hellloooooo literally $2 worth of materials) way to *try* and stay organized with my photos so that they don't just willy-nilly take over our closets. These foam core storage boxes are a simple folded box pattern and, surprisingly enough, they are plenty sturdy to hold up to 150 4×6 photos.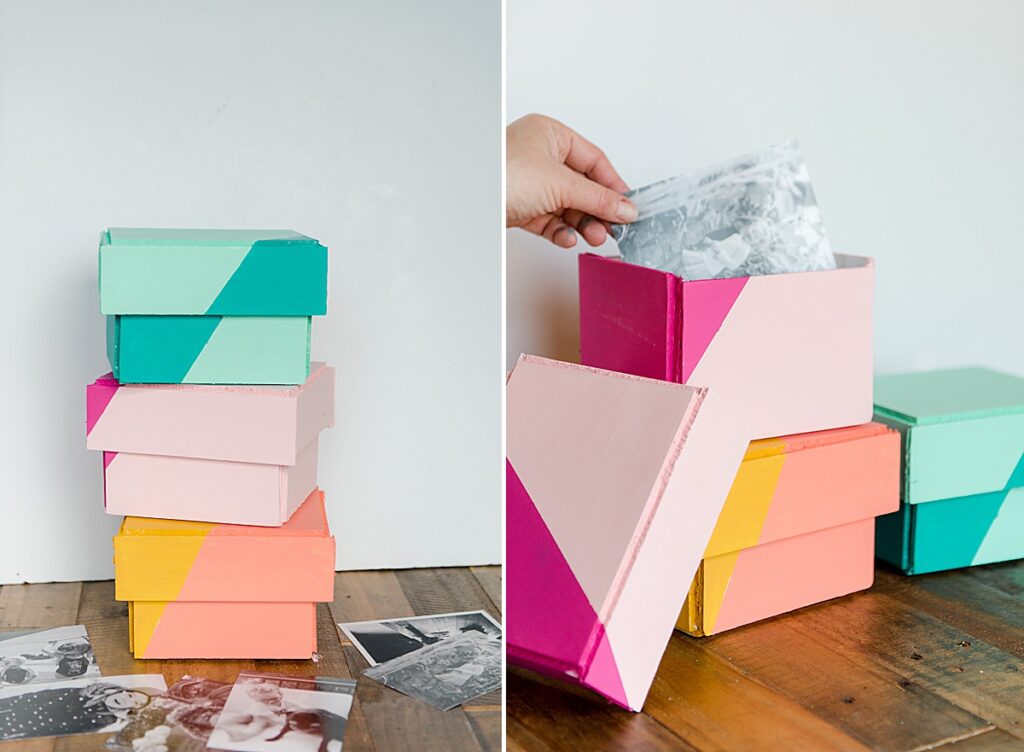 I have always loved the matte finish of the Walmart Photo lab, so of course I stuffed these boxes with photos of Zeke and Esther and then started one for the 2020 year! 🙂 I try and make it a habit to upload photos once a quarter straight from my phone so that I keep up to date with printing them (and I always add an extra few 4×6's to the order so that we can send some to the Grandmas and Aunties with a handwritten note….. It's a win/win)! 🙂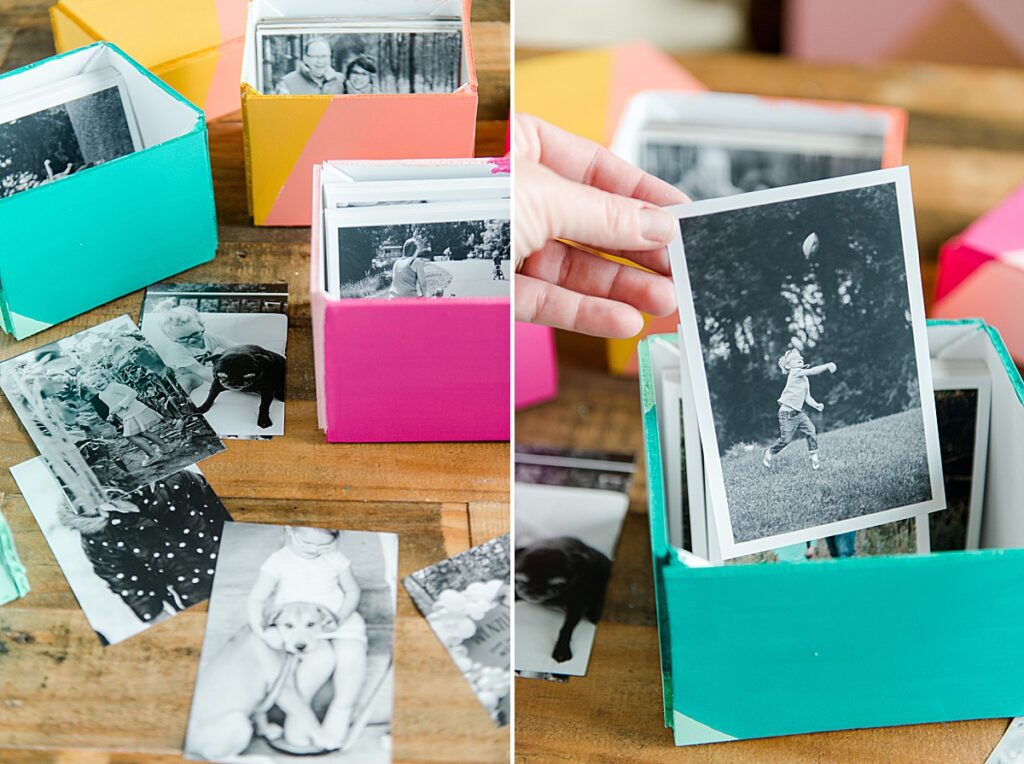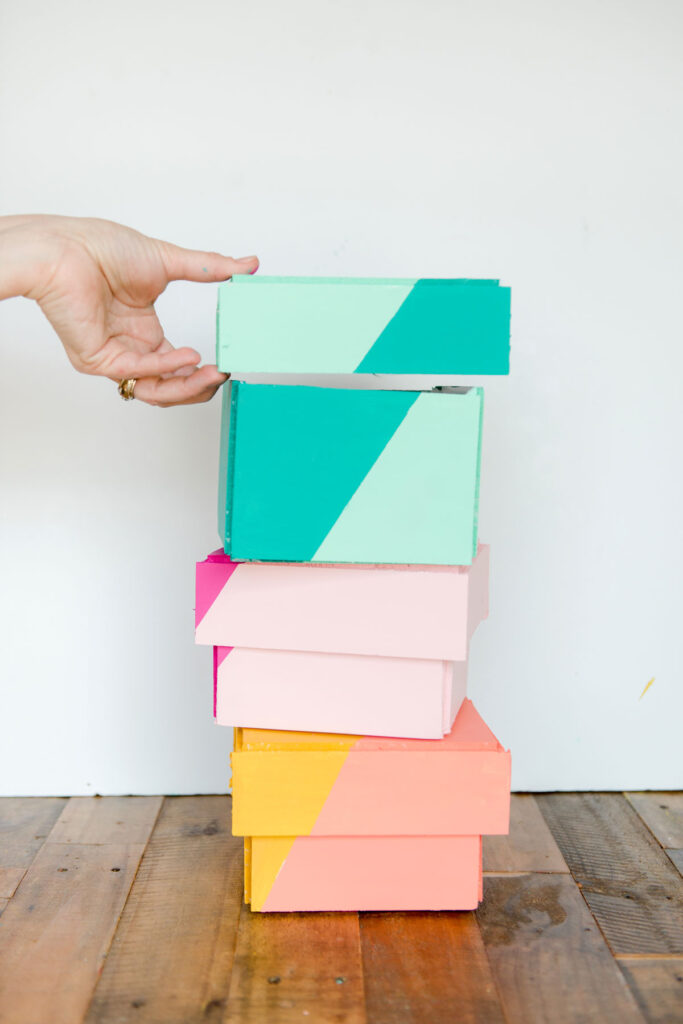 Materials:
Foam core board (or old cardboard boxes)
x-acto knife or straight edge for cutting
ruler
printer + computer paper + tape
hot glue gun + hot glue
optional paint or other embellishing materials
PDF pattern (BELOW)
your favorite 4×6 prints from Walmart Photo same-day printing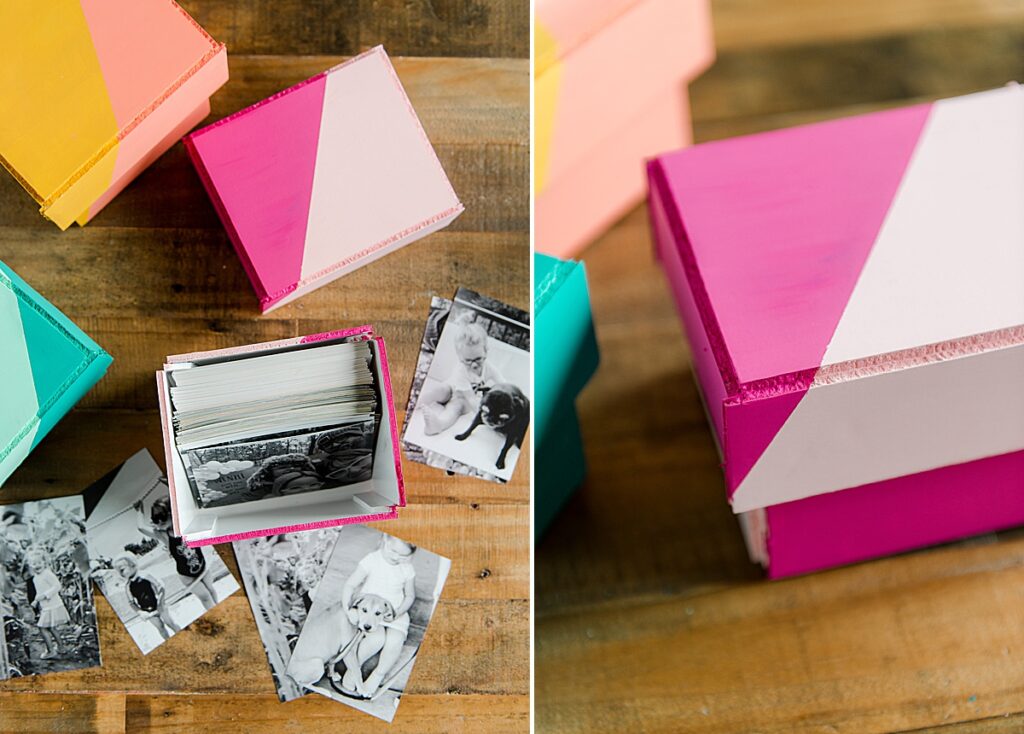 Instructions:
1. PREP TEMPLATE
Print the PDF for the top and bottom of the box HERE!
Tape the pieces of the pattern together by folding the sides of one piece of paper and overlapping to match up the lines. Then trim apart along the solid lines.
2. TRACE + CUT
Trace one top and one bottom to a piece of foam core board (or recycled cardboard). Line up your ruler as a straight edge and cut out the pieces with an x-acto knife. On the solid lines, you will cut all the way through (and be sure to note that the solid line goes "further" on the insides of the top). On the dotted lines, you will "score" or perforate those lines; basically you will cut them similar with your straight edge ruler and x-acto knife, but you won't go all the way through the board. Keep it about 1/2 way through so that you are able to bend or "snap" those lines straight to fold.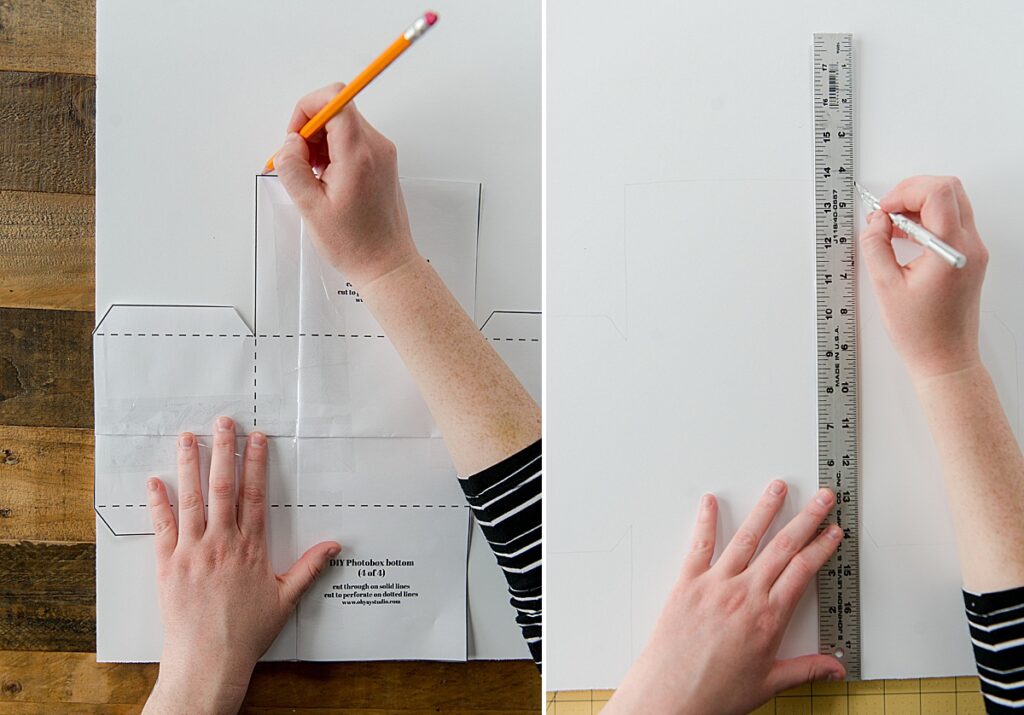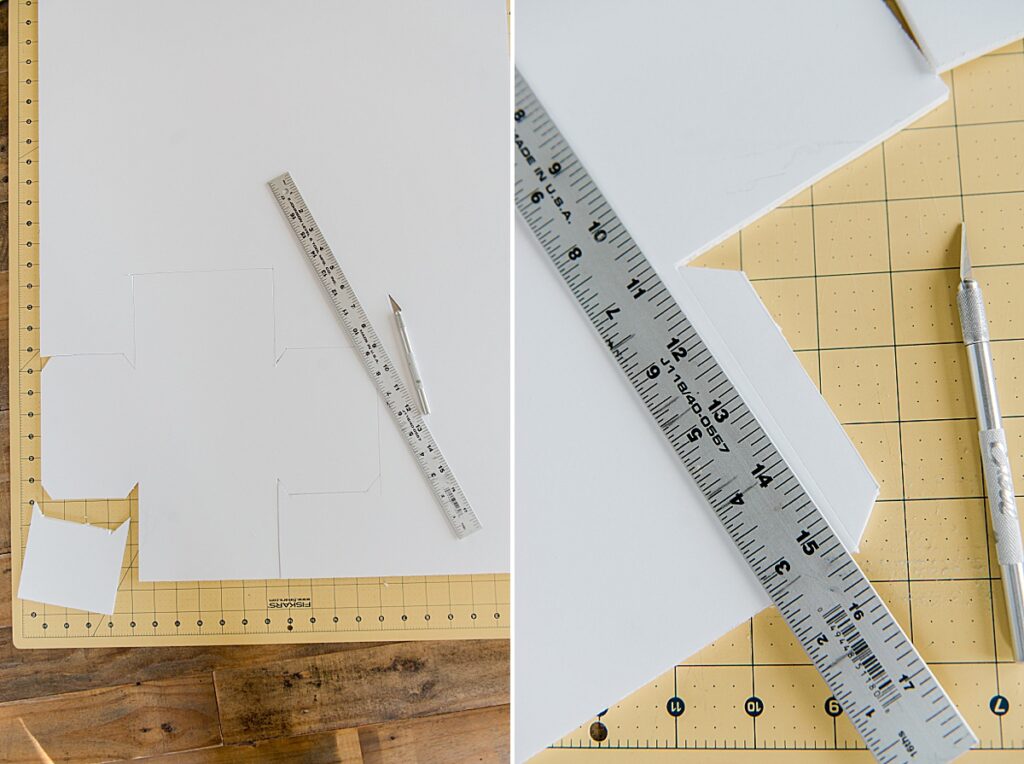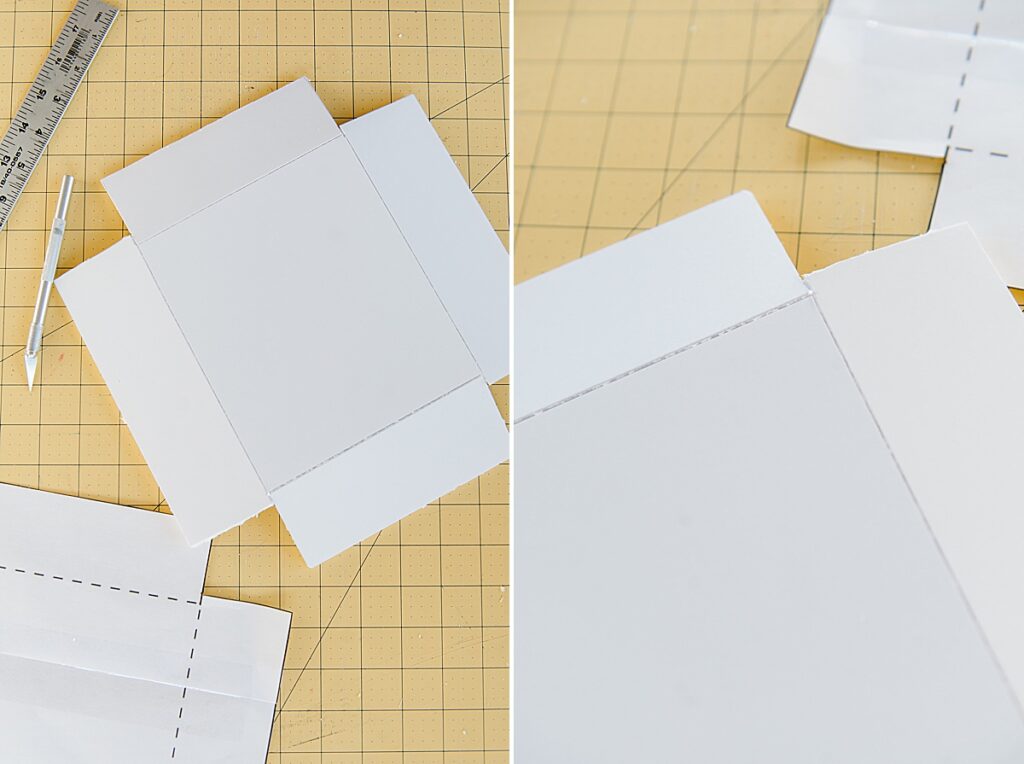 3. GLUE
Bend the edges of the perforated sides. You will start to see the shape of the box take place when you do this. Then run a bead of hot glue onto the tabs of the bottom box and a bead of hot glue along the inside edge of the longest sides of the top box. Hold in place until the hot glue completely cools. Continue glueing until all sides of the bottom or top are finished.
4. FINISH
Embellish, paint or decorate your boxes.  I used washi tape to divide out the sections and then paint them. You could use pom poms, tassels, stickers, markers, cut up postcards from your vacation….anything your heart desires! 🙂 
You may want to decorate one box per person in your household, or decorate one box per year, or one box per family vacation. However you want to divide up the storage of your 4×6 prints, sort your prints and store them in your location of choice! 🙂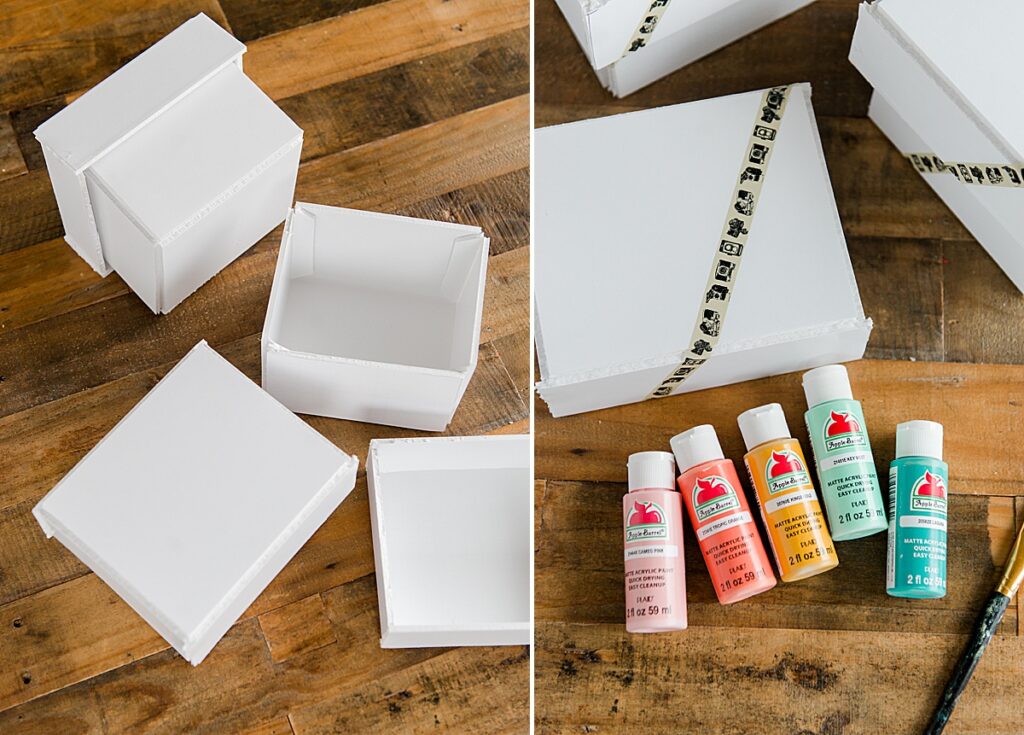 **note: paint colors I used were Walmart's "Apple Barrel" brand: Kings Gold with Tropic Orange, Key West with Laguna, and Cameo Pink with Bright Magenta