Coconut Milk Coffee ice cream recipe (plus a yummy brownie)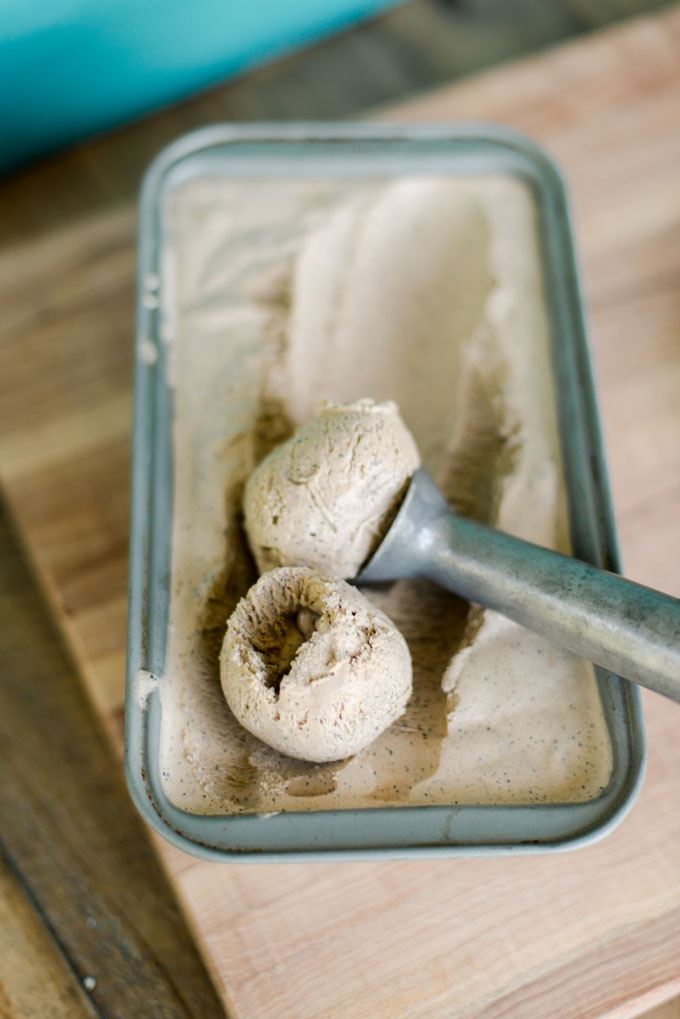 We've been spending the *WHOLE* summer making ice cream sammies and coming up with new and exciting ideas and recipes and testing and eating and testing and eating some more. It's been SO FUN and truthfully, it was all my 6 year old's brain child to do this! 🙂 BUUUUUT now that school has started, I decided that it was time for a MOMMY ice cream sammie to celebrate the first week of school done AND to give myself a little treat, YUM! 🙂
SOOOOO! Today, I am sharing with one of the yummiest and creamiest and coffee-iest coconut milk, coffee ice cream recipes EVER!! 🙂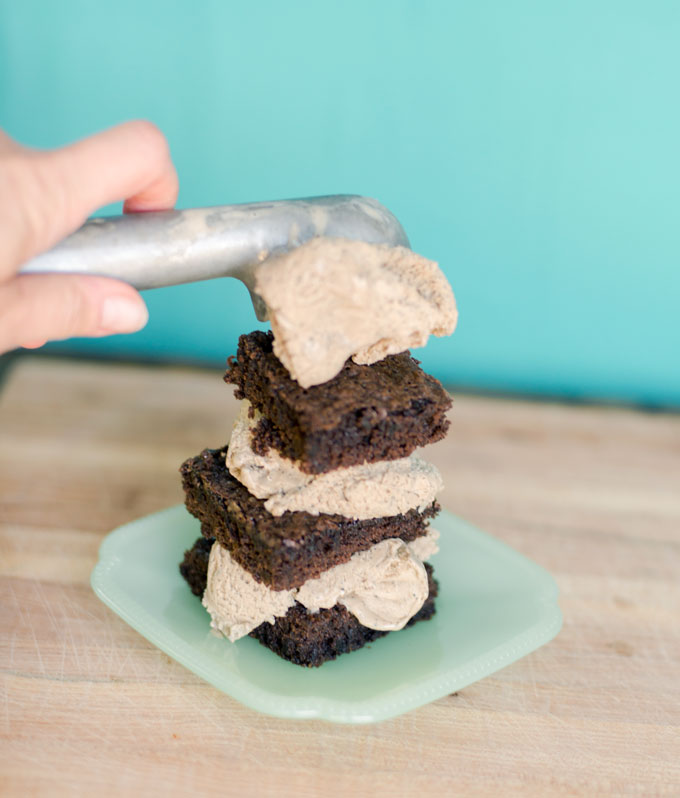 This recipe is pretty similar to other recipes that we've tried out this summer! The MAIN difference is the subsitztuion of the sweet and condensed milk opposed to the sugars that we've been using all summer on other recipes. I have read a handful of articles that claim to make the *BEST* homemade ice cream you HAVE to use sweet and condensed milk. The claims are that they make the ice cream creamier, the texture is more consistent of store bought AND it lasts longer in the fridge. To be honest, I don't love the flavor of this ingredient, but I thought I'd give it a try.
And here's my verdict! I LOVE IT!
I don't know if it makes the ice cream creamier (I think that has more to do with the base recipe itself, IMO) BUUUUUT I *do* agree with the claim that it makes the texture more consistent of the store bought varieties. In recipes past, I've struggled with how rock hard the ice cream can become if left in the freezer for a few days. I can honestly say that we made this ice cream a few days ago and today, when I scooped it for the 3rd time, it was the same semi-soft consistency as the first day it was made! #winning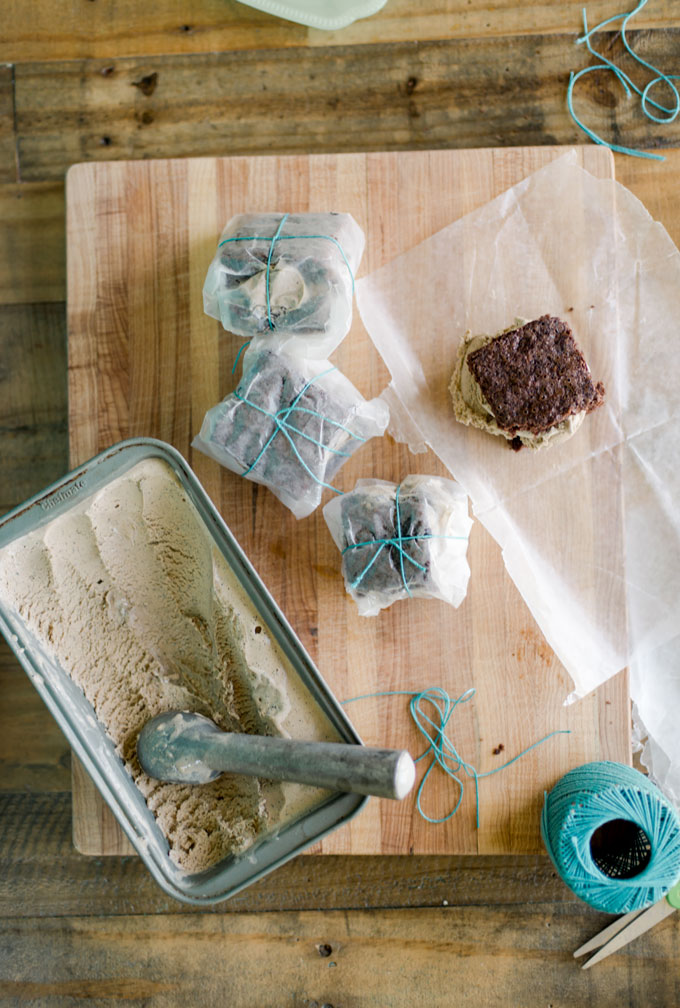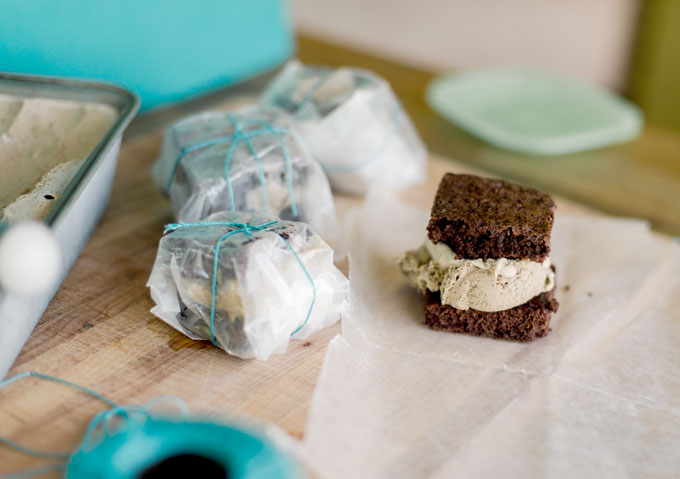 Coconut milk + coffee ice cream with a brownie
The creamiest and most delish coconut milk coffee ice cream! 🙂
Servings
:
6
ice cream sammies
Ingredients
Ice cream base:
1/4

cup

coffee grounds

2

cans coconut milk

pinch

of salt

6

egg yolks

2/3

can of sweet and condensed milk
Brownies:
1

Package of brownie mix!

We used Ghirardelli, YUM!
Instructions
1. In a saucepan, mix together the 2 cans of coconut milk, the 1/4 cup coffee grounds and pinch of salt. Bring to just before boil, then remove. Strain through cheesecloth (or I use a paper towel in a strainer) or fine mesh sieve to get the bulk of the coffee grounds out. Once this is completely strained, set aside

2. In another saucepan, whisk together the sweet and condensed milk with the egg yolks until smooth. Add the coffee mixture and while staring consistently, bring the ice cream base up to 170 degrees *WITHOUT* letting it boil. The mixture should coat the back of spoon.

3. Cool mixture in the fridge for about 4 hours, or until completely cool. Then churn in your ice cream maker according to the machine's instructions.

4. Put back into the freezer and freeze until desired hardness! 🙂 YUM!

5. Assemble ice cream with brownies, serve and INDULGE! 🙂