A bouquet of newly sharpened pencils costume (and how much I love "You've Got Mail")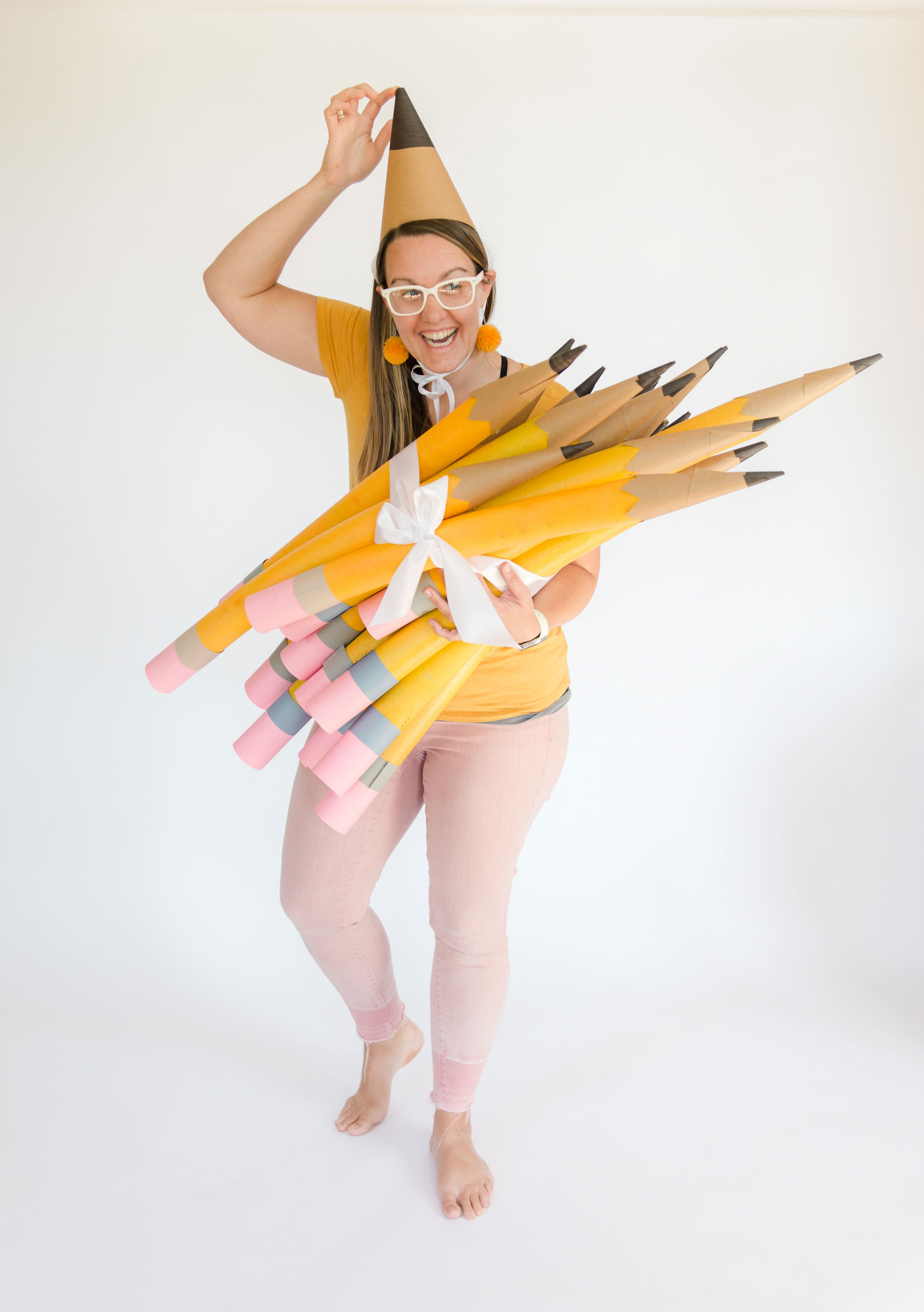 "What will NY152 say today I wonder. I turn on my computer. I wait impatiently as it connects. I go online, and my breath catches in my chest until I hear three little words: You've got mail. I hear nothing. Not even a sound on the streets of New York, just the beating of my own heart. I have mail. From you."
BEST . MOVIE . EVER! So, naturalllllly just *HAD* to make a "You've Got Mail" inspired costume for this month's installment of my 2019 costume project……..can you tell what it issss????
"Don't you love New York in the fall? It makes me wanna buy school supplies. I would send you a bouquet of newly sharpened pencils if I knew your name and address."
A BOUQUET OF NEWLY SHARPENED PENCILS!!!!!!!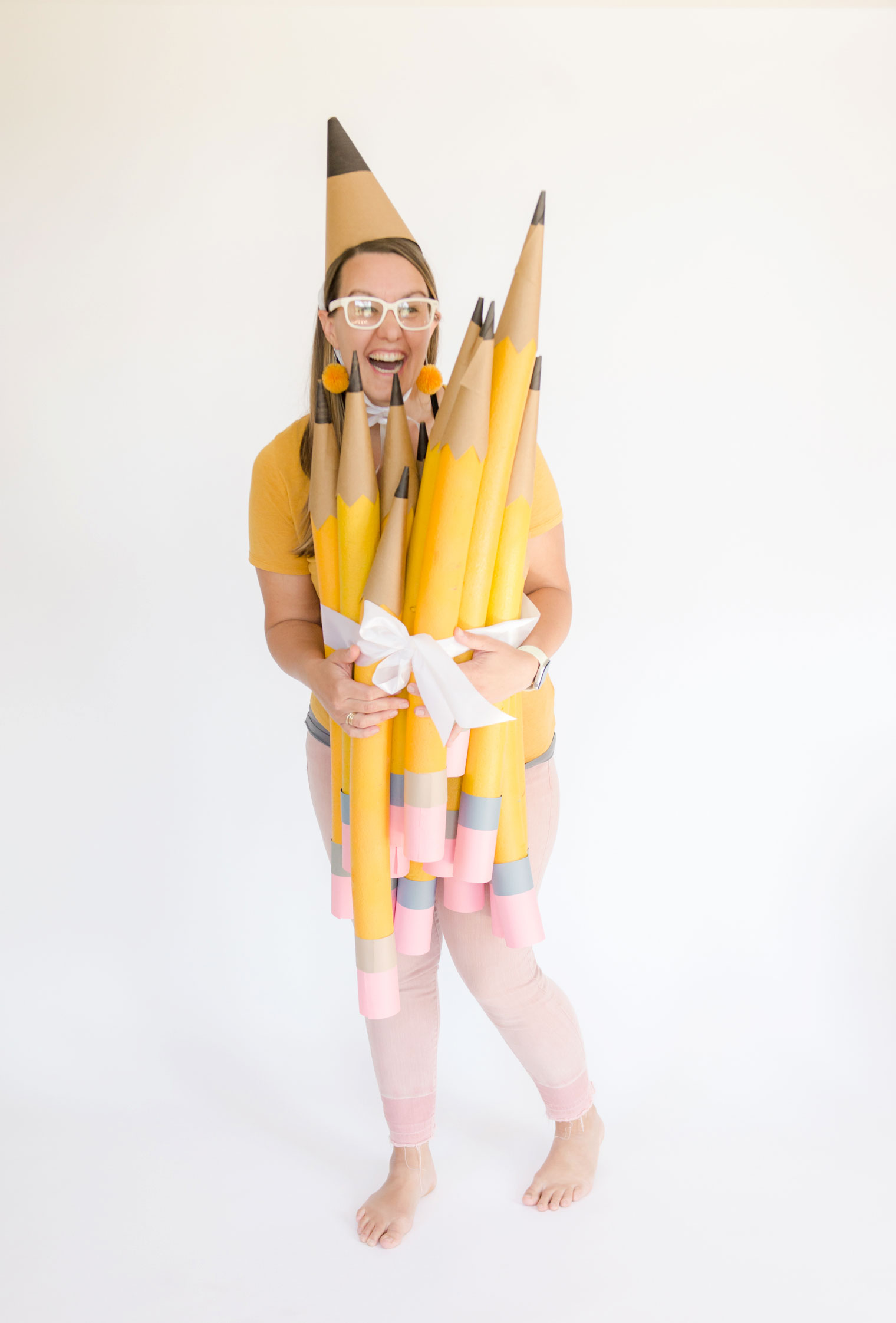 I have had this costume idea ever since I announced that I was doing this monthly costume challenge! I didn't quite know how I would make it all happen (like the materials or techniques) but I just KNEW that I had to pay homage to my ABSOLUTE FAVORITE movie of alllll time!
These pencils are SO easy, LIKE SO EASY! And the whole thing probably cost me about $15 with about 2 hours of work (give or take with dry time from spray paint).
I detail the FULL tutorial below, so please PLEASE make some of your own for your kids play room or your school room or just for simple September "back-to-school" decor for your home. ANDDD since these are just pool noodles, I am now imagining that you can make crayons or markers in just the same fashion, with similar materials (and if you do, please tag me or share because I'd LOVE to see)!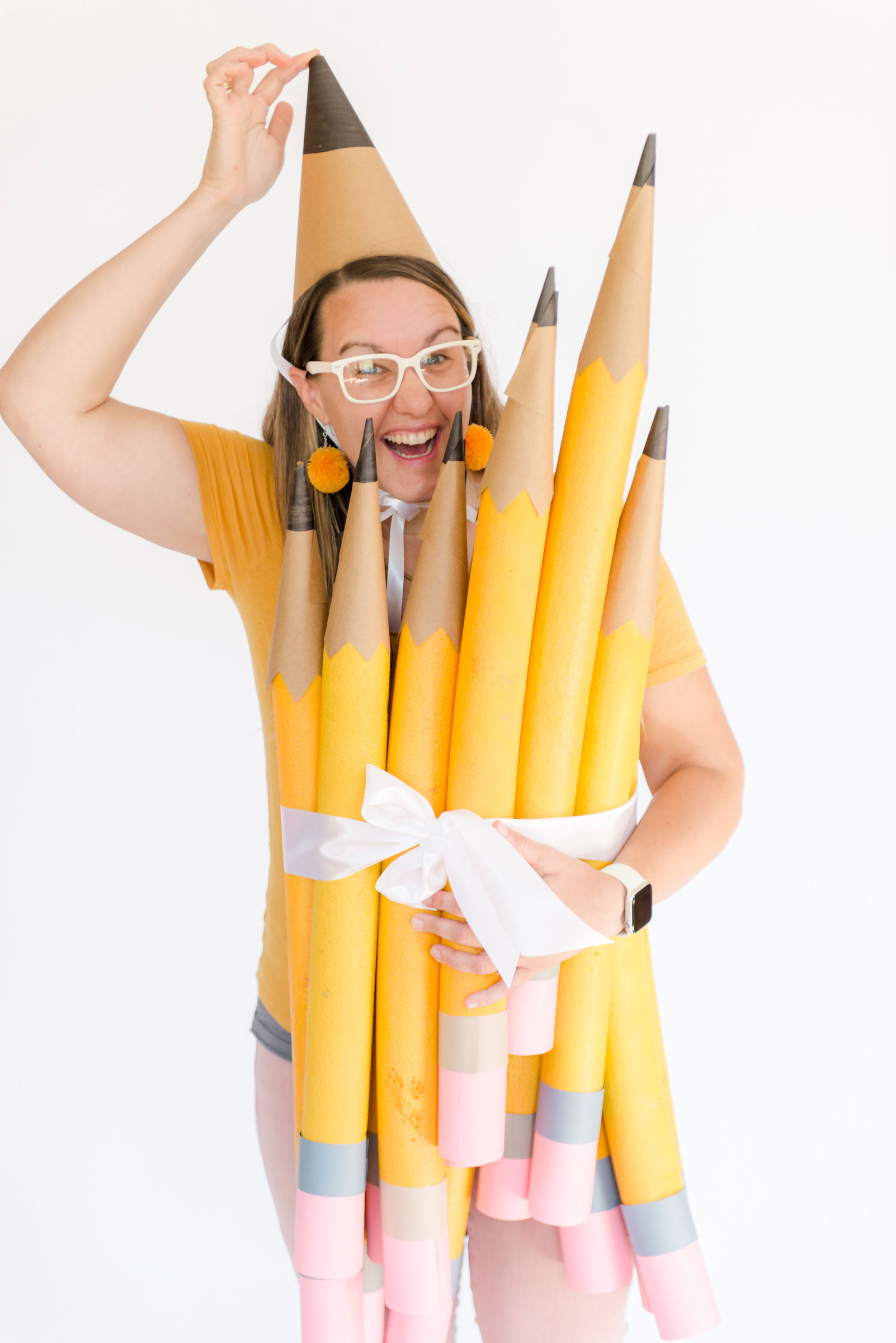 MATERIALS:
Pool Noodles | 1 noodle for every 2 pencils
Spray paint | I couldn't find the "right" color yellow noodle, so I used Rustoleum "Marigold" color
pink construction paper/card-stock
grey construction paper/card-stock
kraft construction paper
a black sharpie
hot glue gun
Paint noodles + prep other supplies
If you are painting your noodles, spray them in a well ventilated area. I sprayed the noodles about 4 times because I had to spray, let dry, turn, spray, let dry, turn, etc until full coated. Once they are fully coated, cut the noodles in 1/2 so that you get 2 pencils out of each noodle.

2. Prep your paper pieces by cutting out the following
* 2″ strip of the grey construction paper/card-stock
* 4″ strip of the pink construction paper/card-stock
* a cone shape out of the kraft construction paper (I used a full 8.5×11 and cut from one square edge all the way around so that I could roll/fold it easily). Also, color in a 1/2 moon shape of the tip with a sharpie for the graphite.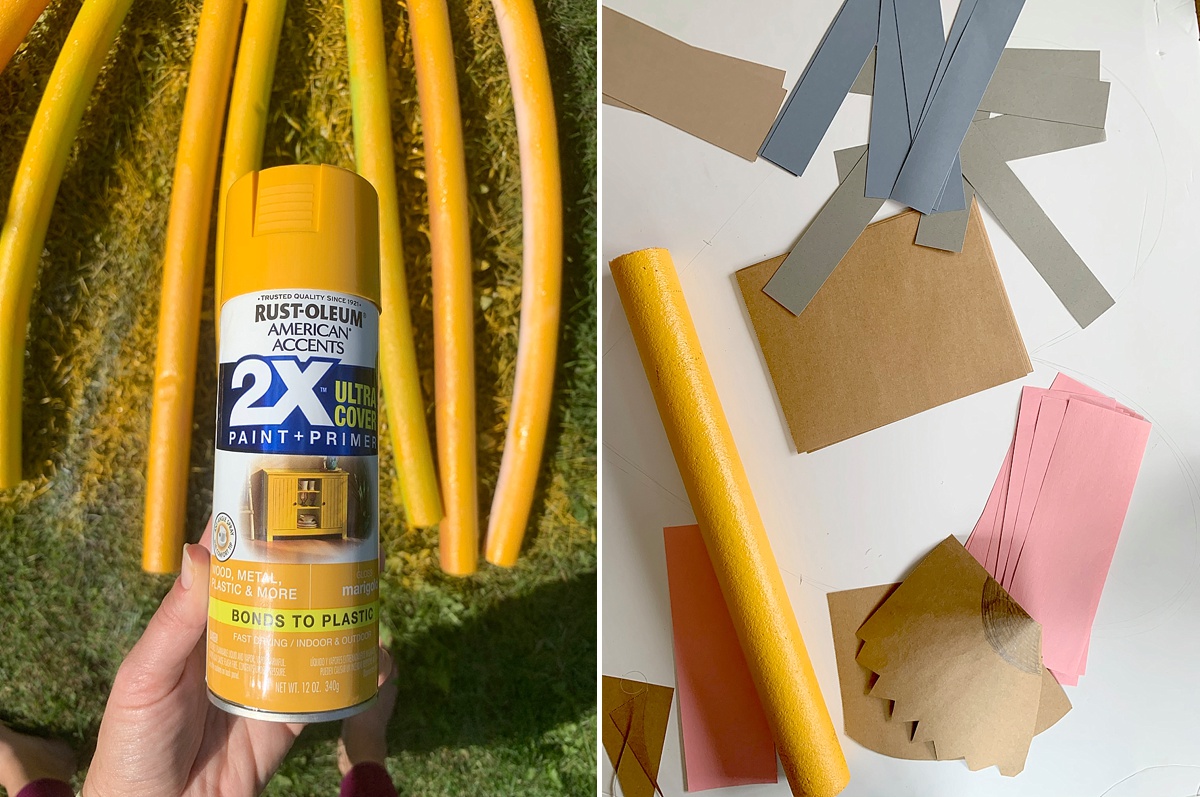 Add paper pieces + embellish
Begin by rolling your kraft colored paper into a pointed tube. I rolled it up and made sure that it would "fit" on top of the pencil without too much gaping between the pencil and top. Hot glue closed. Then take some scissors and cut triangles along the bottom of the pencil tip to make the "jagged" sharpening edges. Then hot glue the pencil tip to the top of the noodle.

Begin by wrapping the 4″ strip of pink card-stock around the bottom of the noodle (my card-stock was hanging over the bottom edge a little to cover up the bottom of the unfinished noodle). Hot glue in place.
**note about the hot glue on the noodle: if the hot glue is too hot, it will melt the noodle. So if you need to, place the glue on the paper, let cool off/dry for 10 seconds and then stick it on

Next, wrap the 2″ grey card-stock onto the pencil, overlapping the pink eraser just a bit.