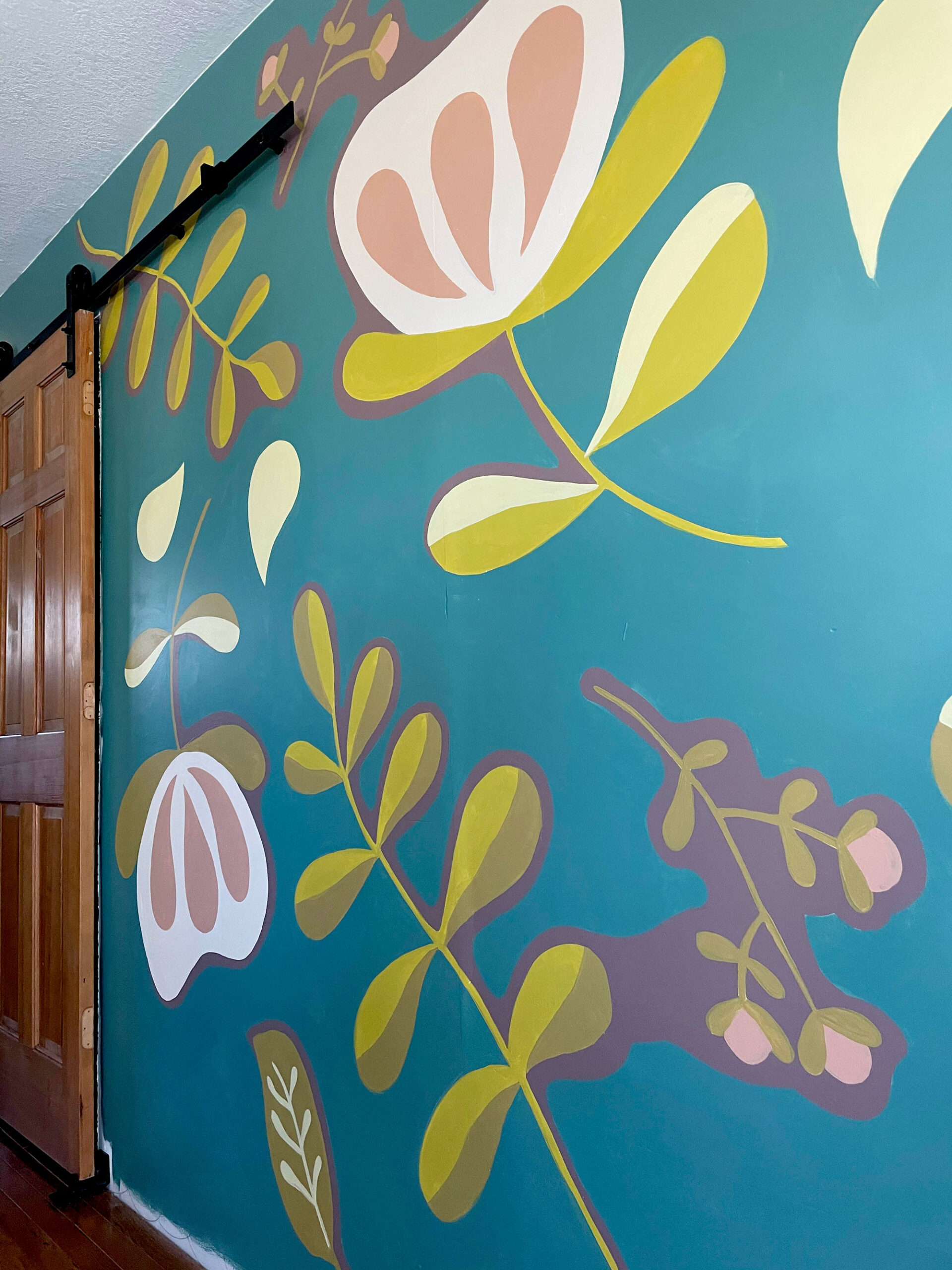 If you haven't noticed already, I've been on a mission to paint ALL THE THINGS! (and by all the things, I mean just all the plain walls or walls that look like they could use some love or color in my house or anyone else's house that I know right now……seems simple, right?)! Well, when my friend Katie moved last year (to THE cutest old, downtown Hudson, 1900's charming home) I eyed up her playroom wall right away! They have the kind of home that has the tall ceilings, adorable woodwork and perfect charm….she has 4 kiddos, so a playroom was a *must* when they moved in. And what better place to put a colorful, floral mural in, than a playroom?! eh?! 🙂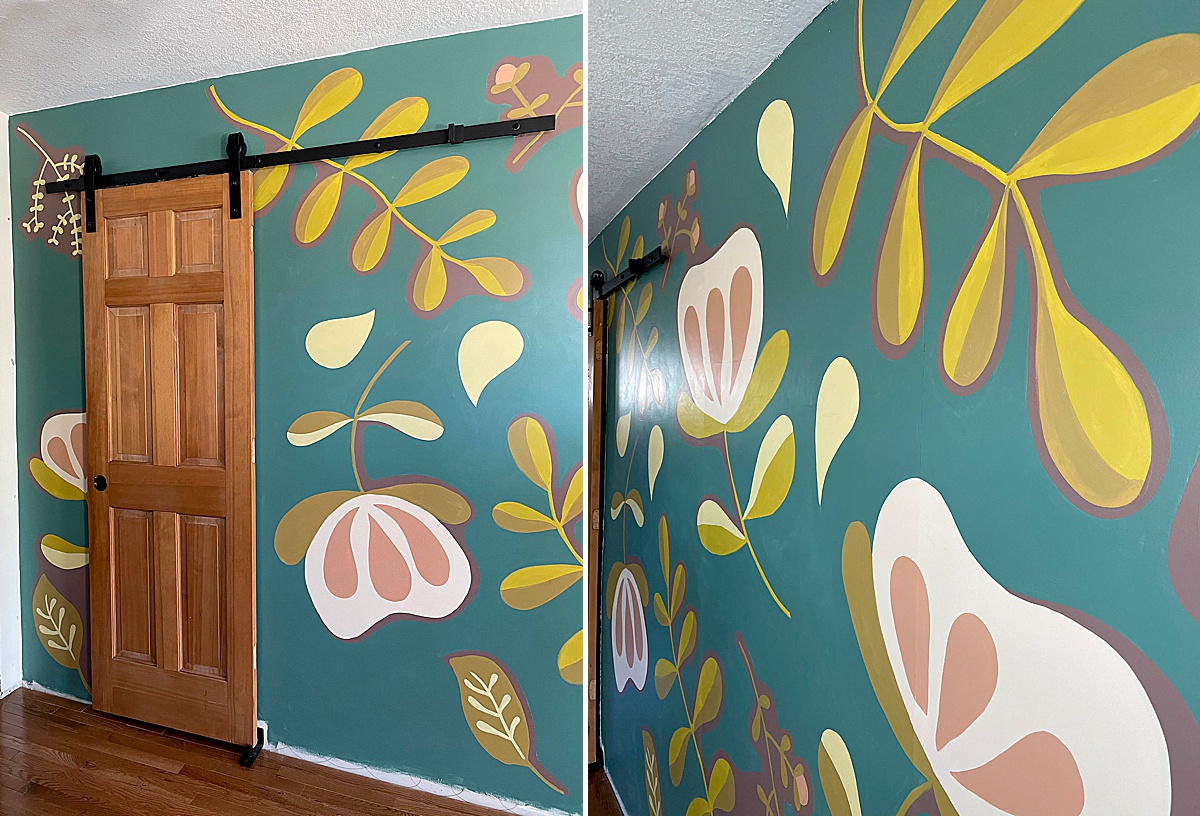 I knew that I wanted something happy and colorful and that has "movement"! Katie has been in the process of taking down wallpaper in her home (off of plaster walls none-the-less….send her some wine). She's been slowly removing and renovating each room and many of these rooms have floral or natural inspired wallpaper (but not the cute, as-seen-in-anthropology kind…..the 1980's kind that isn't to be coveted). BUUUUUT we had been talking about how the "trend" of floral wallpaper right now is QUITE adorable. So, of course no more floral wallpaper….BUT…..A FLORAL MURAL!!!!!!!!! Obvi!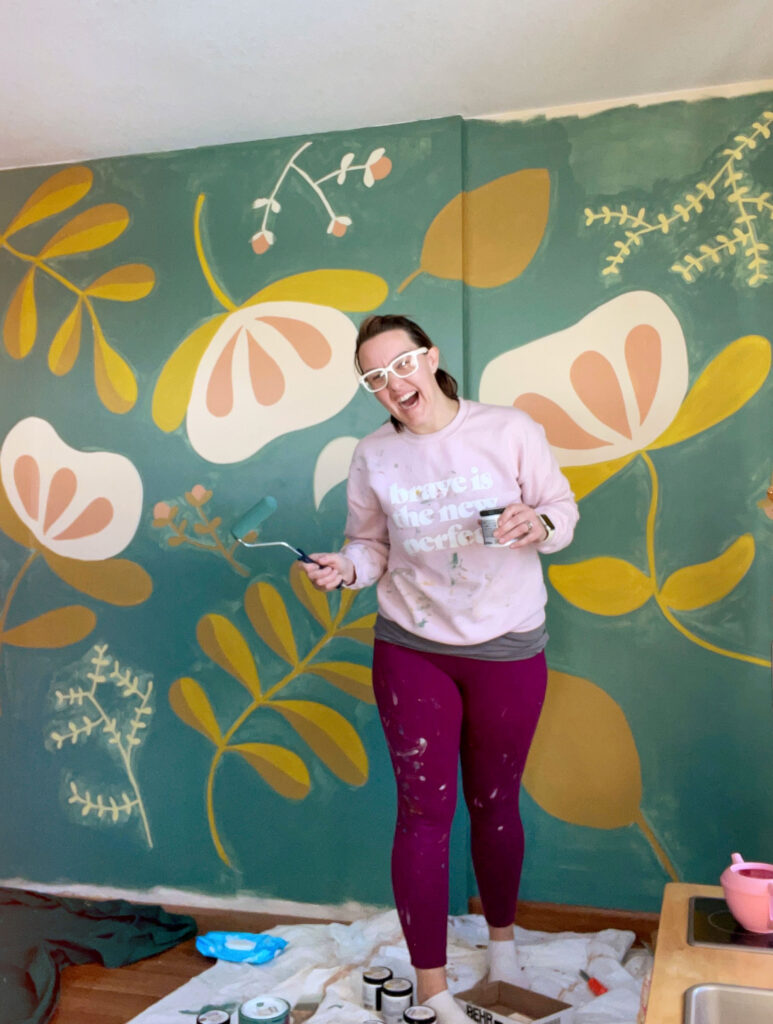 We played around with the color palette and landed on some warm, happy colors that (I think) compliment the woodwork AWESOME! AND, I wasn't set on a dark background at first….in fact, I had chosen a softer pinkish-brownish-orangish color. But this darker blue (Northern Green Woods to be exact) was just the thing to make these leaves, flowers and buds pop against the background!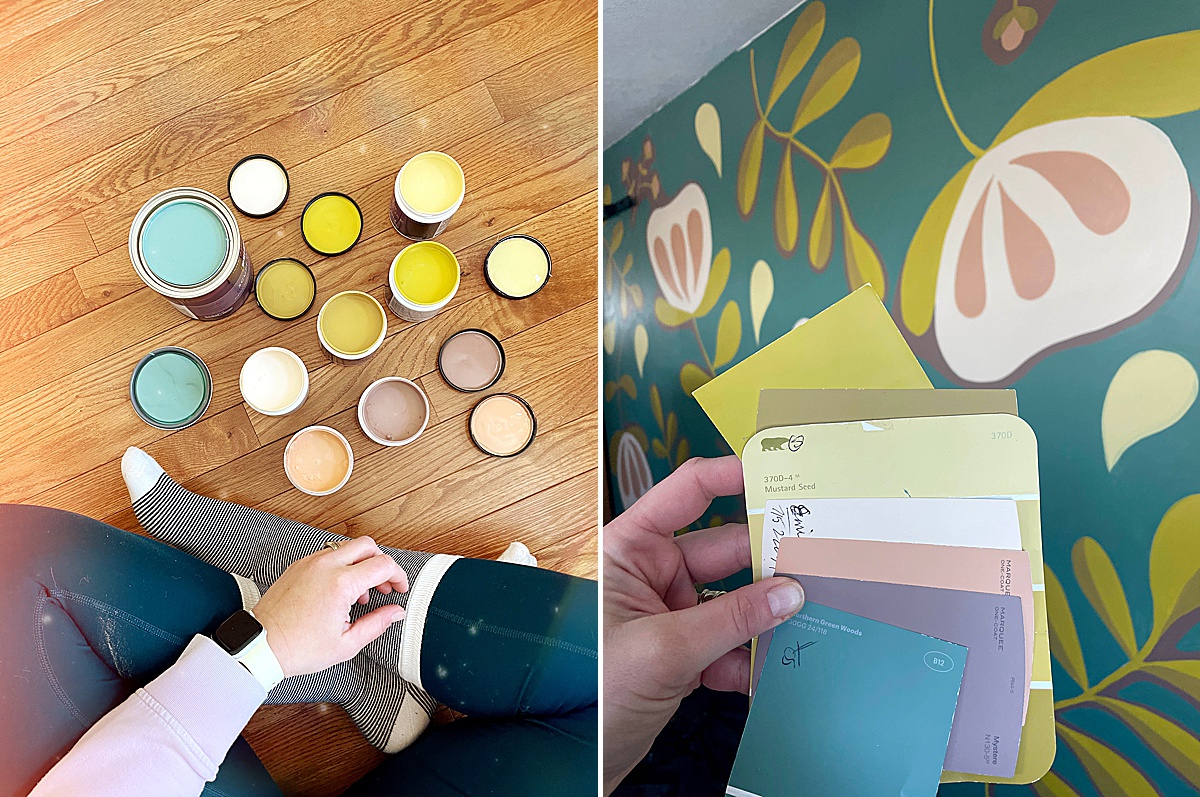 Here are the colors that we used (the Behr paint sample size…..in all colors except the darker blue background):
Northern Green Woods (Glidden color 30GG 24/118) in a full pint for entire background
Nairobi Dusk (Behr color PPU3-10)
Frosting Cream (Behr color M250-1)
Dangerous (Ralph Lauren color chip RL4317 matched to closest Behr color in their system)
Bitter Lemon (Behr color M310-6)
Mustard Seed (Behr color 370D-4)
Mystere (Behr color N130-5)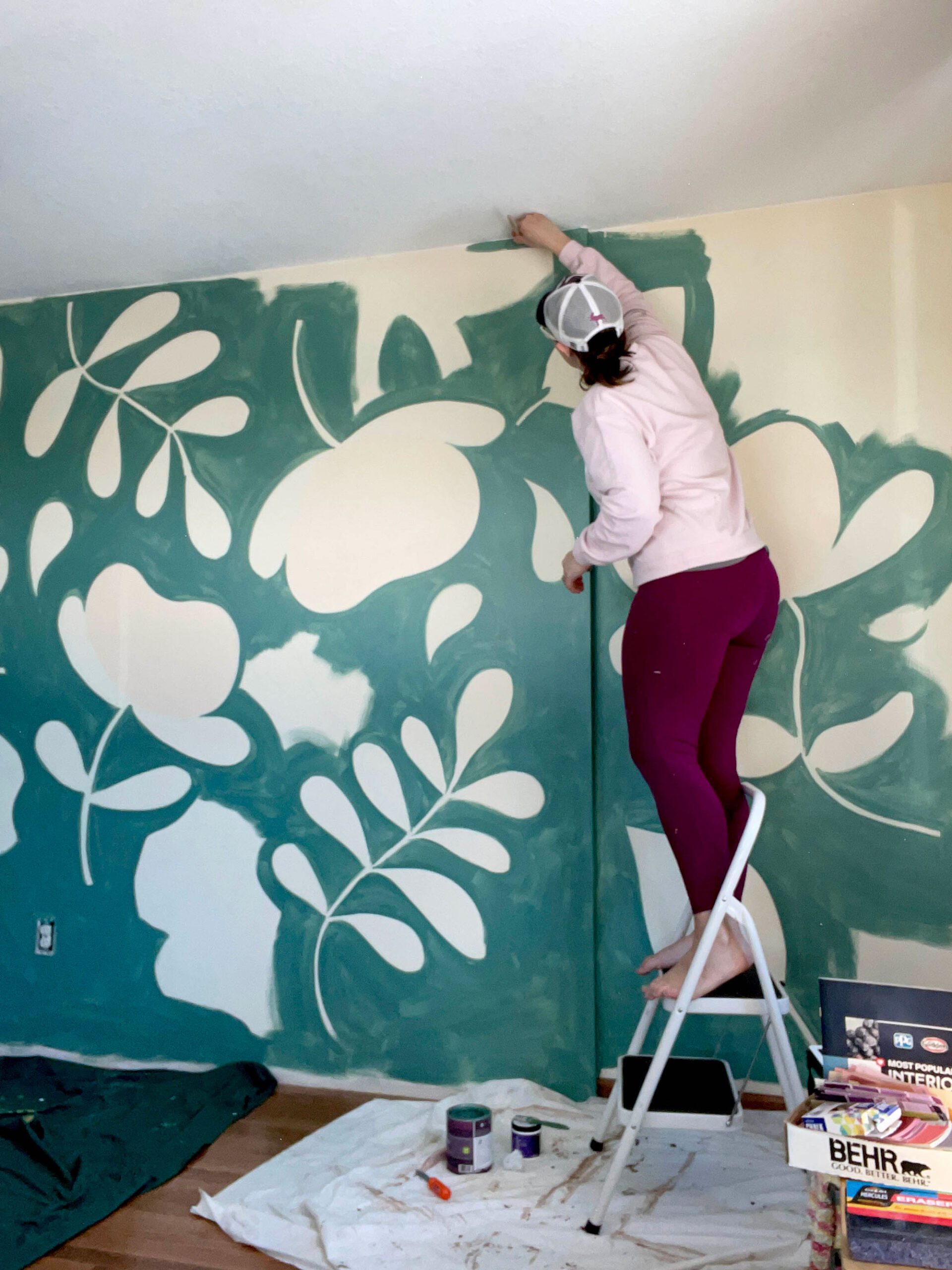 And the coolest thing, if you ask me, is that Nora and Lilia (Katie's teenage an almost teenage girls) decided to jump in and help! GUSH! To watch their excitement over the course of these 3 days as the mural came to life in color and shapes was just awesome! I kept pulling them from their schoolwork, but heck…..we called it a few days of "art class" if you ask me! 🙂
Oh—and one thing that that I loved that I (tried for the first time with this mural) and did was use chalk (instead of pencil) to draw out the shapes to begin with! It was WAAYYY better to paint over (ya know, because sometimes you have to paint over those pesky pencil lines a few times before they actually go away or use an eraser for about 384 hours when you're done). ANNNNNND I even was able to super simply erase a few parts that weren't proportioned correctly as I sketched directly onto the wall! 🙂 So, TIP for next time FOLKS! 🙂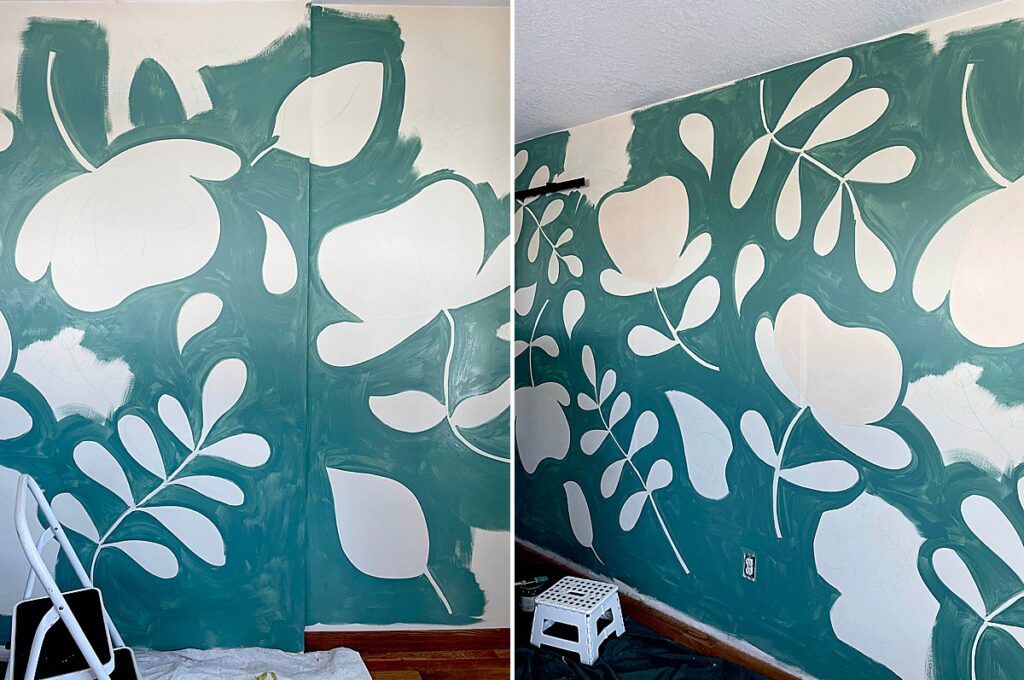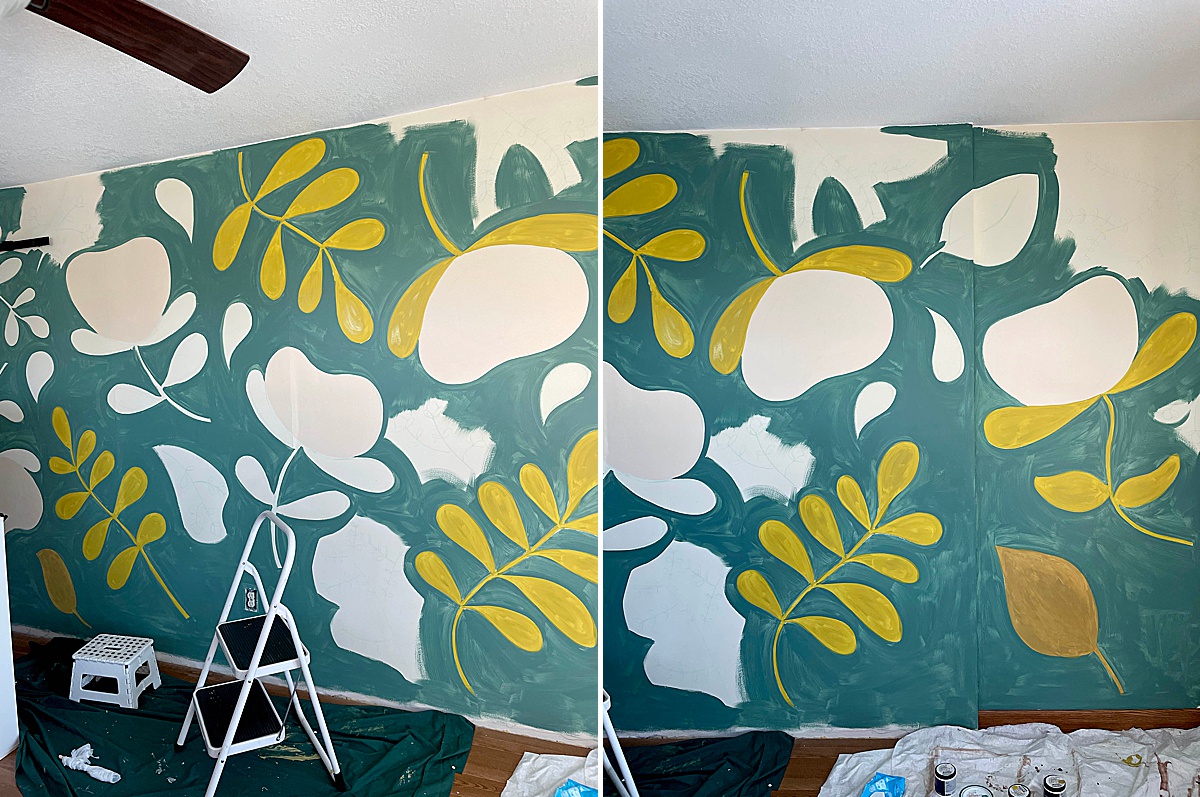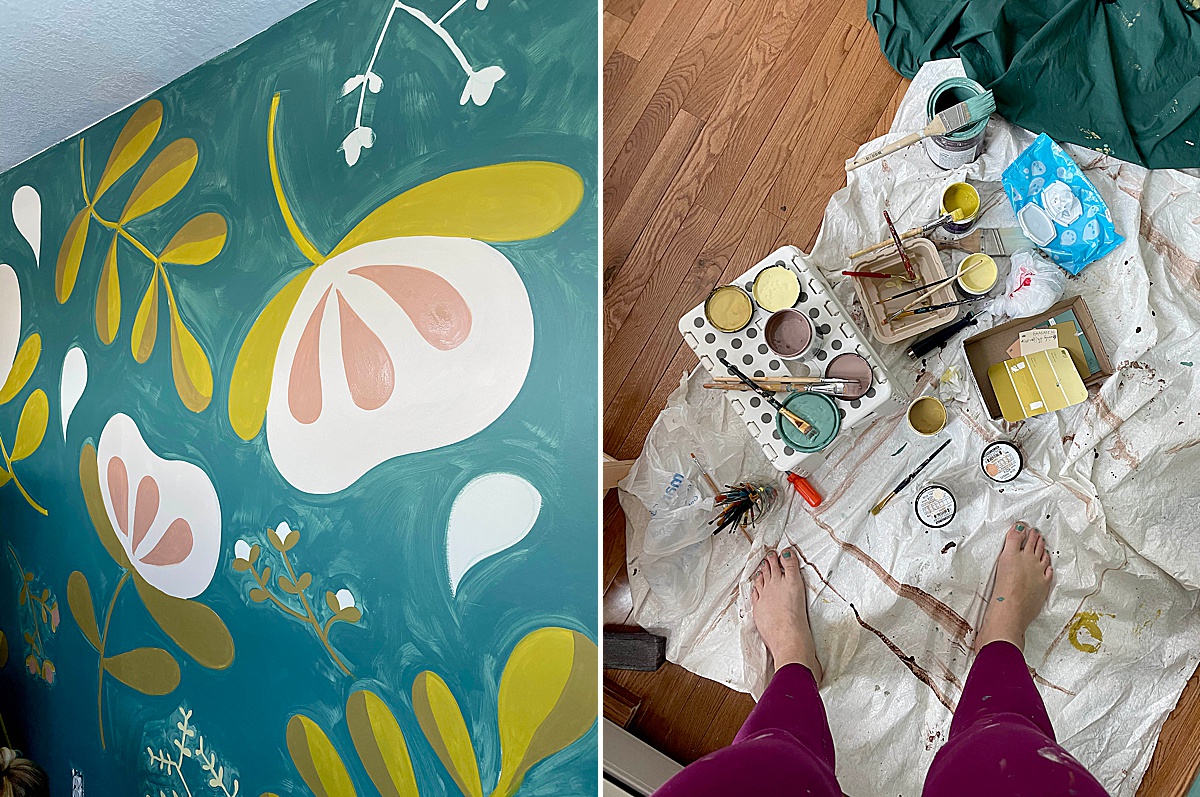 I am so happy with how this turned out. Not only was I able to make something happy in one of my friend's homes BUT I was able to try some new techniques, hang out and teach some awesome girls my go-to painting tips AND complete my first floral mural for the books! DOUBLE YAY! 🙂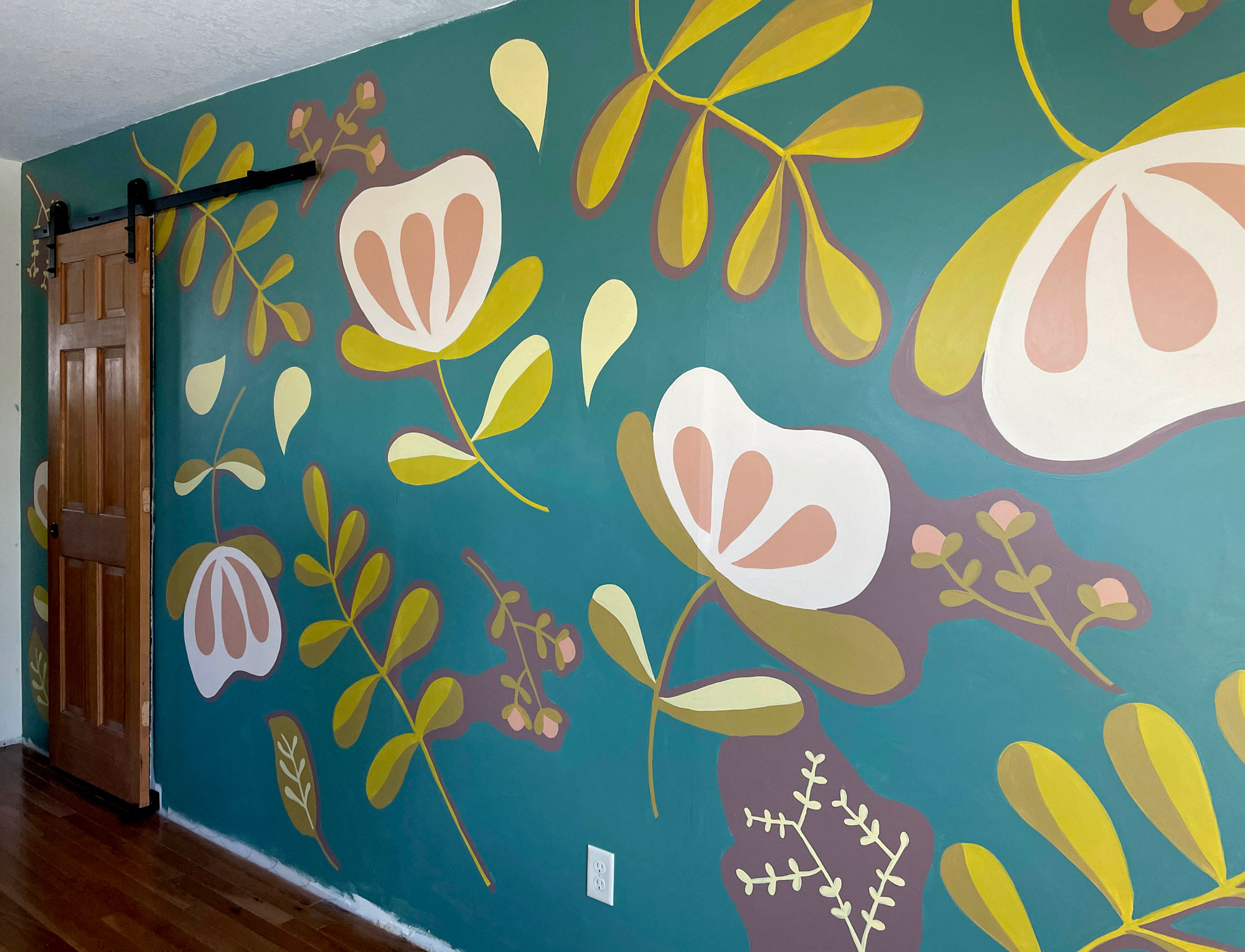 Cheers to more murals in the coming weeks (Heyyyyyyy what else do we have to do around this part of the country in these sub-zero temps eh?!) 🙂