My face in Country Living Magazine + my family memories!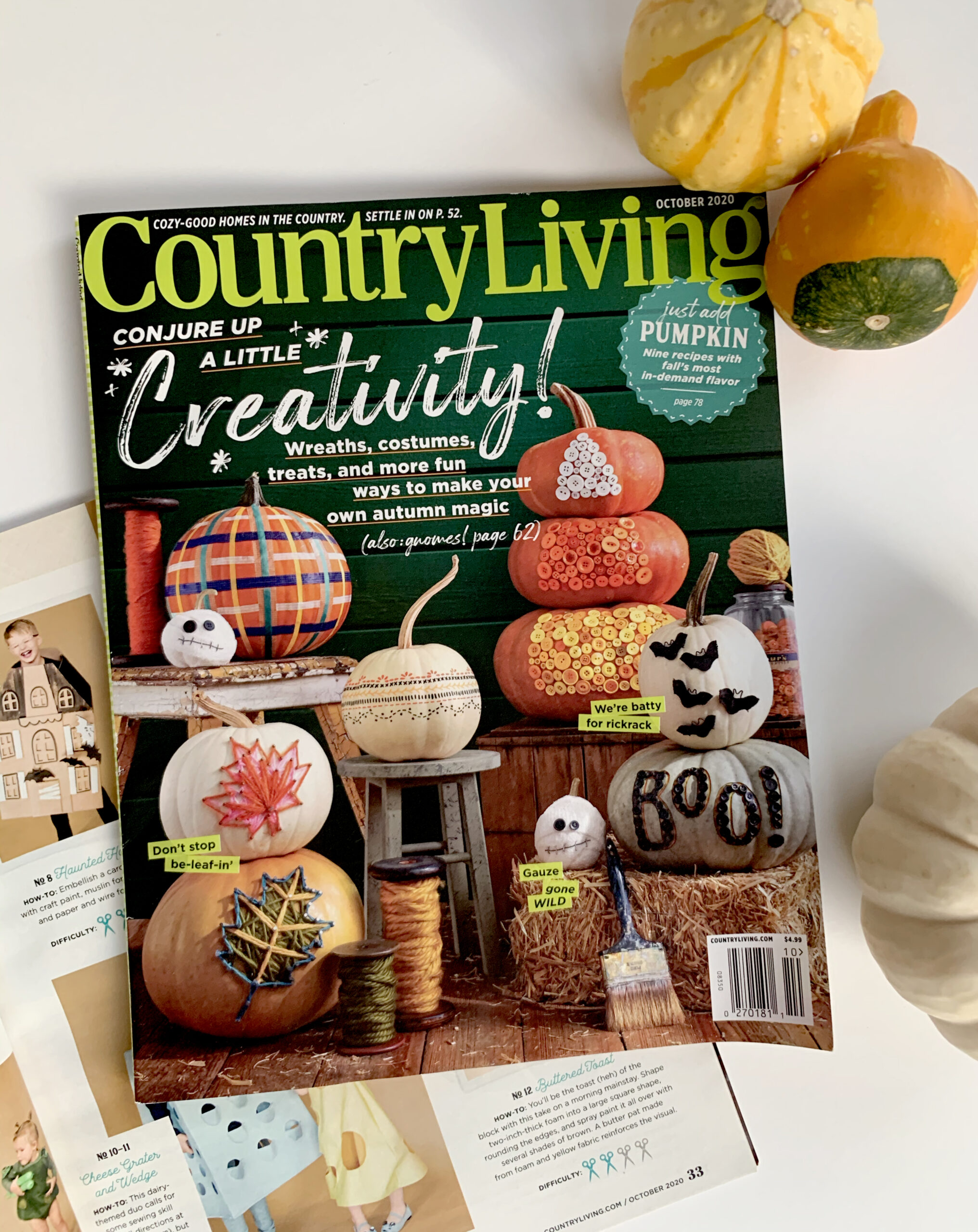 Nothing like a moment in the airport where I find the issue of Country Living magazine that MY FACE IS IN! WOAH! I nearly skidded past the neck pillows and dropped my latte when I saw the cover and raced over to grab it. It was 7 am before I was hopping a Labor day weekend flight to visit some friends in Arizona and it took everything I me to not burst into excitement to the sleepy-eyed cashier at the magazine stand!
If you are new here, let me just tell you that I LOVE MAKING COSTUMES! Like love love love it! As a matter of fact, in 2019 I set out to make 1 costume per month as a little "challenge" to my creativity (read all about it HERE)!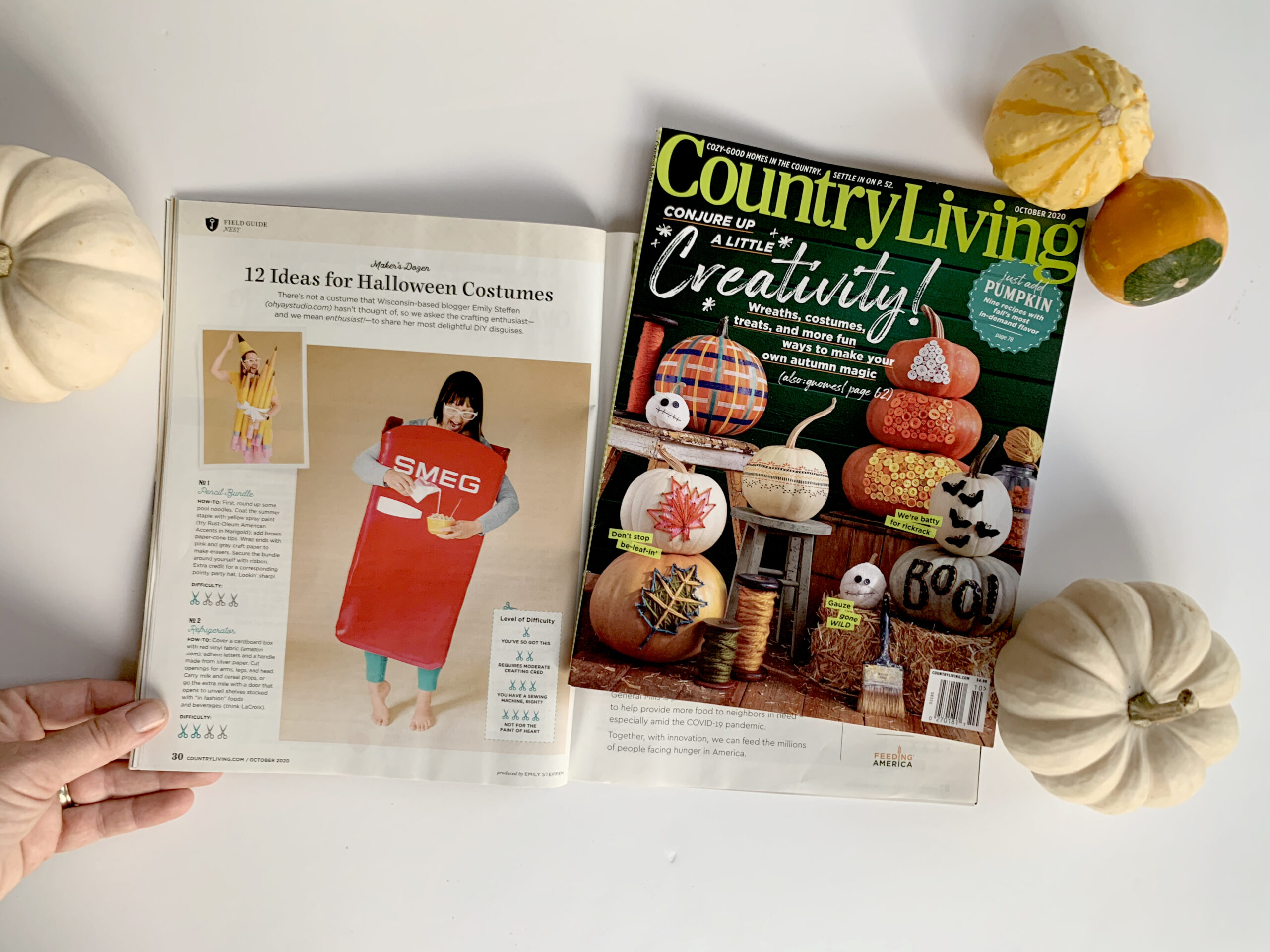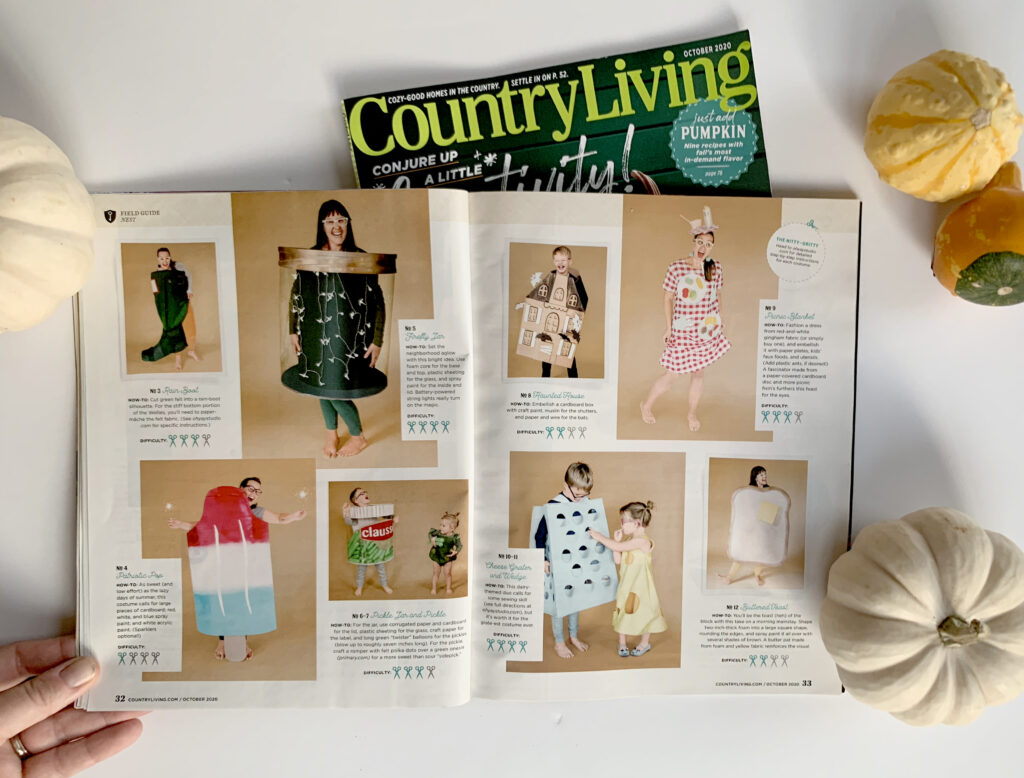 I LOVE COSTUMES! Why? Because it's nostalgic for me. My mom and I used to sit in her sewing room and make my Halloween costume together every year (ok, not my younger years….but my Mom still involved me as a little girl before I could work her sewing machine or have confidence with a hot glue gun)!
I have some incredible memories of my Mom dressing up as a hockey puck for one of my hockey banquets, getting her entire floor in a big law firm to dress up as the seven dwarfs (HA!)
My favorite memory is when she picked me up for my first year of Varsity hockey try-outs (ya know, first year Freshmen, trying to impress not only the coach but the upperclassmen with my hard work, skating skills and "cool" factor). She pulled up in the car, got out and started walking towards me in the parking lot dressed as a giant picnic table yelling "DID YA MAKE THE TEAMMMMMM, EMMMMM DID YA MAKE IT?!?!" OMGOSH! I thought I was going to die. I did the swift-teenager-walk towards my Mom with embarrassed eyes and motioned for her to get back into the car.
I really thought I would die. But now, NOW I think it's one of the best stories that displays just how fun and imaginative and bold my Mom was. Heck, she wore plastic food hot-glued to her body all day and even in the car on the way home as a grown woman all in the name of Halloween and fun! This is why it is even more special that my re-make of this picnic-table costume is in this issue of Country Living! *enter tears*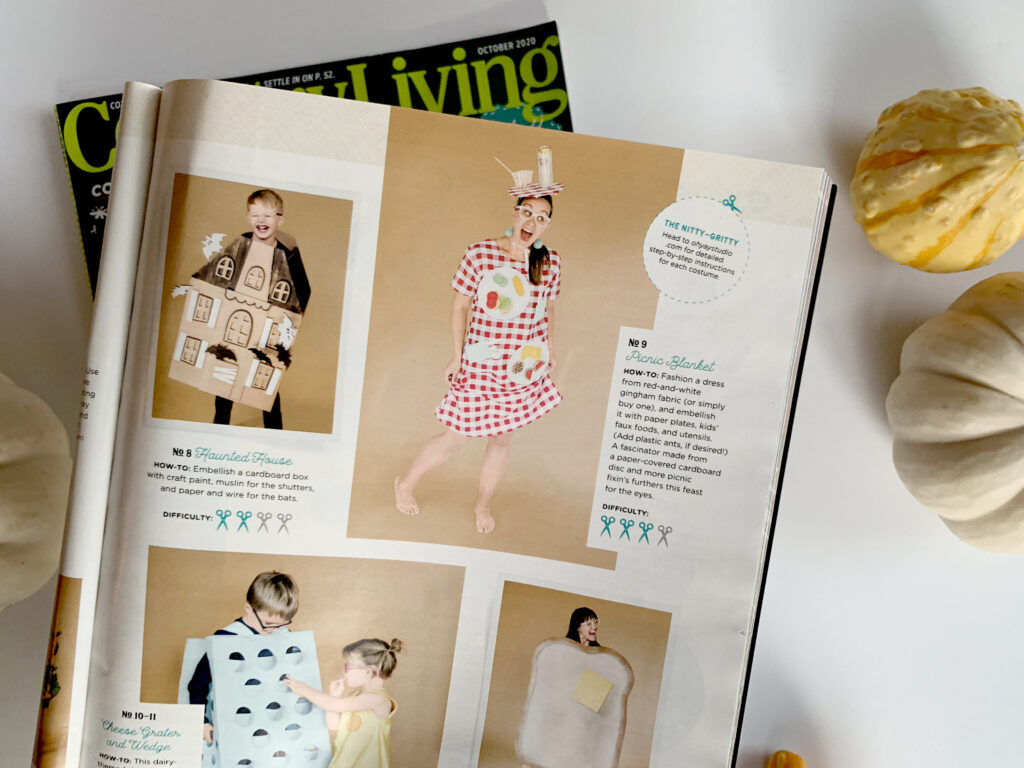 To see my face and ideas and creativity being celebrated in this magazine is beyond words for me. I am thankful, honored, humbled, excited, and straight up giddy that I can open this magazine at any time and see these creations in print.
And what's even more exciting for me is that it's costumes. These costumes honor a HUGE part of my story, my family, and my journey as a maker coming from this "tradition" I used to do with my Mom! I have been so intentional about passing this down to/with my kids and I am SO thankful that they have grasped on and jumped in just like I did (and boy, do I have some opinionated costume-ideators here! 🙂
SO THANK YOU COUNTRY LIVING! WHAT AN HONOR!!!!