How to make Hotel Transylvania 3 costumes + the day I got weepy over sewing!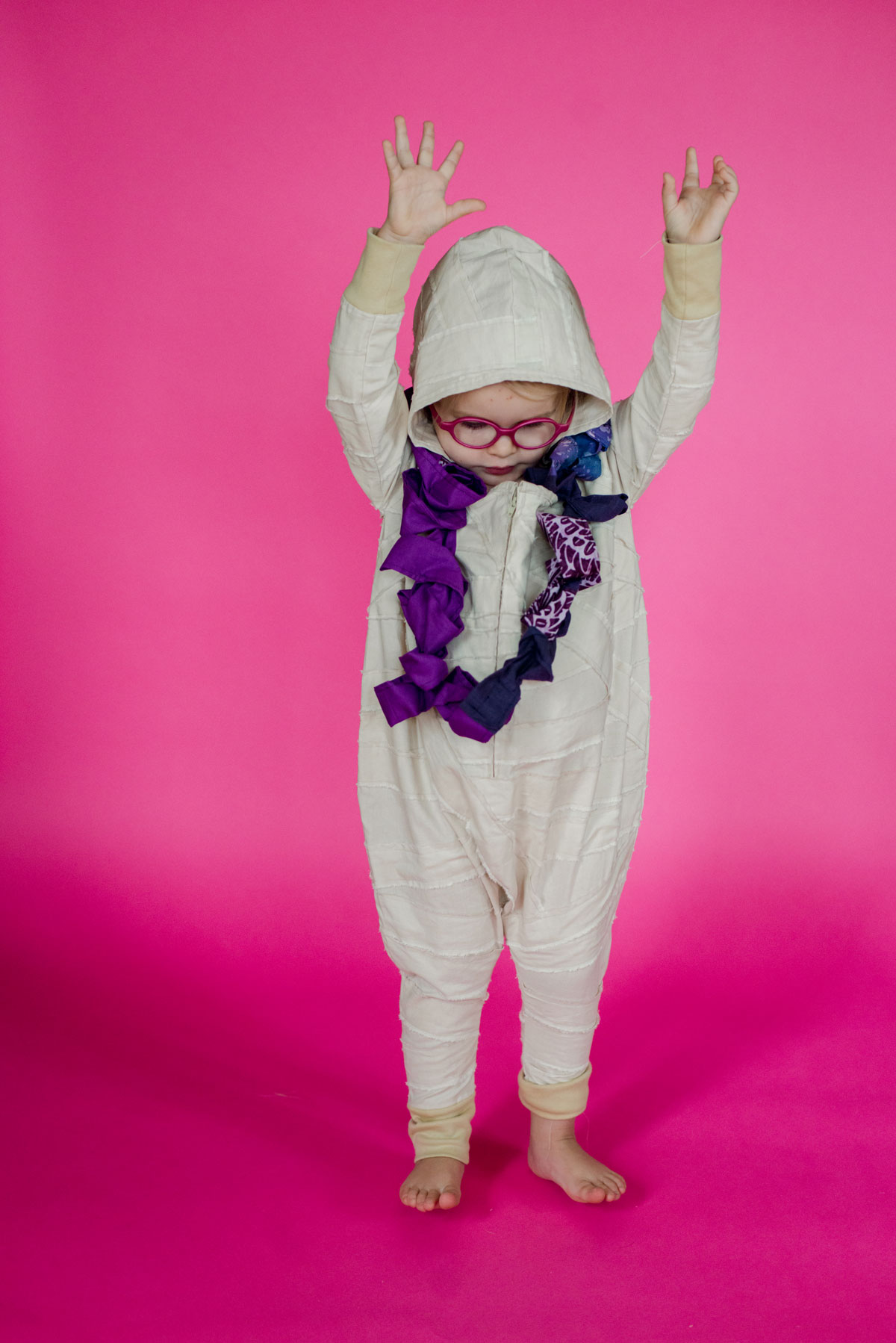 It started with an email!
An email on behalf of SONY and the Hotel Transylvania 3 movie team (!!)
I read the title, opened the email, and it was as if my posture changed, smile got bigger and heart opened out of excitement all in the matter of the 7 seconds it took me to read the words on my iPhone. It was an invitation. An invitation to let my creativity be explored and my imagination jump out of my heart onto a sewing machine. I set up a phone call the next morning with the team that works with Sony and Hotel Transylvania 3 to get all the deets. And that's where things became real.
Costumes,
Timeline,
Ideas,
Doodles,
Fabric store runs,
it allllll started! 🙂
You guys, I MADE COSTUMES BASED ON AN ANIMATED MOTION PICTURE IN HOLLYWOOD FOR A LARGE COMPANY THAT I NEVER EVEN KNEW WOULD EVER CONTACT A SMALL TOWN WISCONSIN GIRL LIKE ME!! (I feel like I'm yell-typing out of sheer excitement….so picture us standing in your kitchen sipping almond lattes while I share my heart with you for a moment! 🙂
I may be sounding melodramatic here. And perhaps I am. But this was, IS, a big deal to me. You see, if you know me in real life or have been following along here for any length of time, you know how important making costumes have been in my story. When I was little, Halloween was a world where I would dream and think and imagine what I wanted to be. I would talk about it for months with my Mom and we would come up with a plan and she would sit down at her sewing machine, let her creativity run wild and I would light up from the results she would come up with. Later on in life, she and I would sew together. Sometimes from a pattern and sometimes from a drawing. I STRONGLY believe that this is what helped shape my zest for making and my exploration with sewing ideas. It gave me confidence and gumption and, quite frankly, gave me a piece of my Mom that I *still* carry along with me every day. And, of course, the stories of her making picnic table or tubes of toothpaste costumes are stories I still tell my kids.
And now, even with little kids, I LOVE *love* making costumes! I believe *SO STRONGLY* in the idea of make believe and imagination and stories and play….this is why there is a closet in our basement full of previous years of Halloween costumes, various dress-up or other movie-character costumes. They pull them out and create skits or make-believe worlds and play, play play…..and gosh, I love it! 🙂 
So when that email came and was about costumes and sewing something imaginative and fun that would envelope the creativity and storyline of Hotel Transylvania 3, welp. I got excited (to put it lightly)! 🙂 
I spent the next week sketching and sewing and ripping out and sewing again and loving every late-night or messy moment that week.
And you guys, this movie! It's SOOOOOO good….the ending/moral of the story 100% drives home the point that everyone deserves to be accepted and loved even if they are a monster or human. COME ON, it's *exactly* what our kids need to grow up thinking in my opinion, right!?!?! 🙂 It's already been added to our collection of movies to bring out and watch for family movie night! 🙂 I 100%  recommend you grab a copy to keep in your stash for a rainy day AND you can even cook up some fun in the kitchen, like we did on our HT3 movie-premier night! 🙂
But now, onto these costumes that I bet you are DYING to see! 🙂 
Mavis costume
Mavis is a spunky mom that wears a super cute, summery black dress with big, pink tropical flowers for their vacation! I modeled the dress after a dress that Esther *loves* and then hand painted some flowers for a one of a kind look! 🙂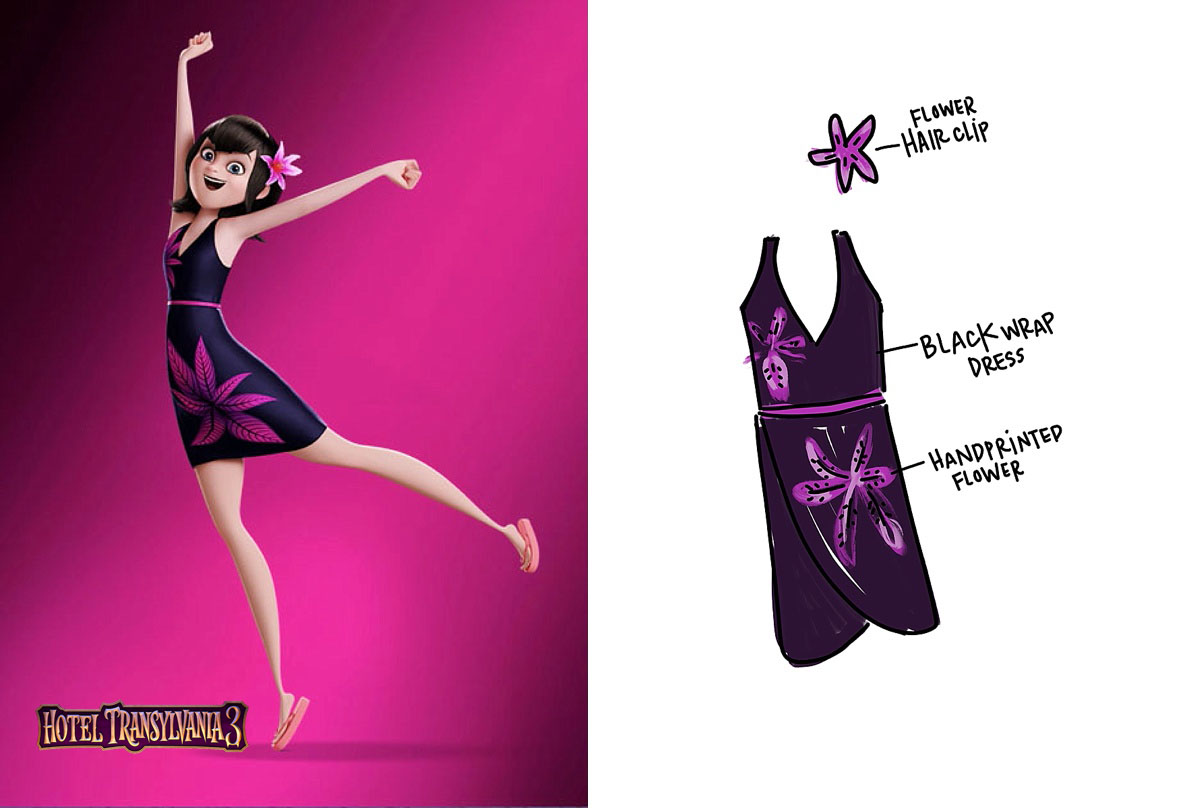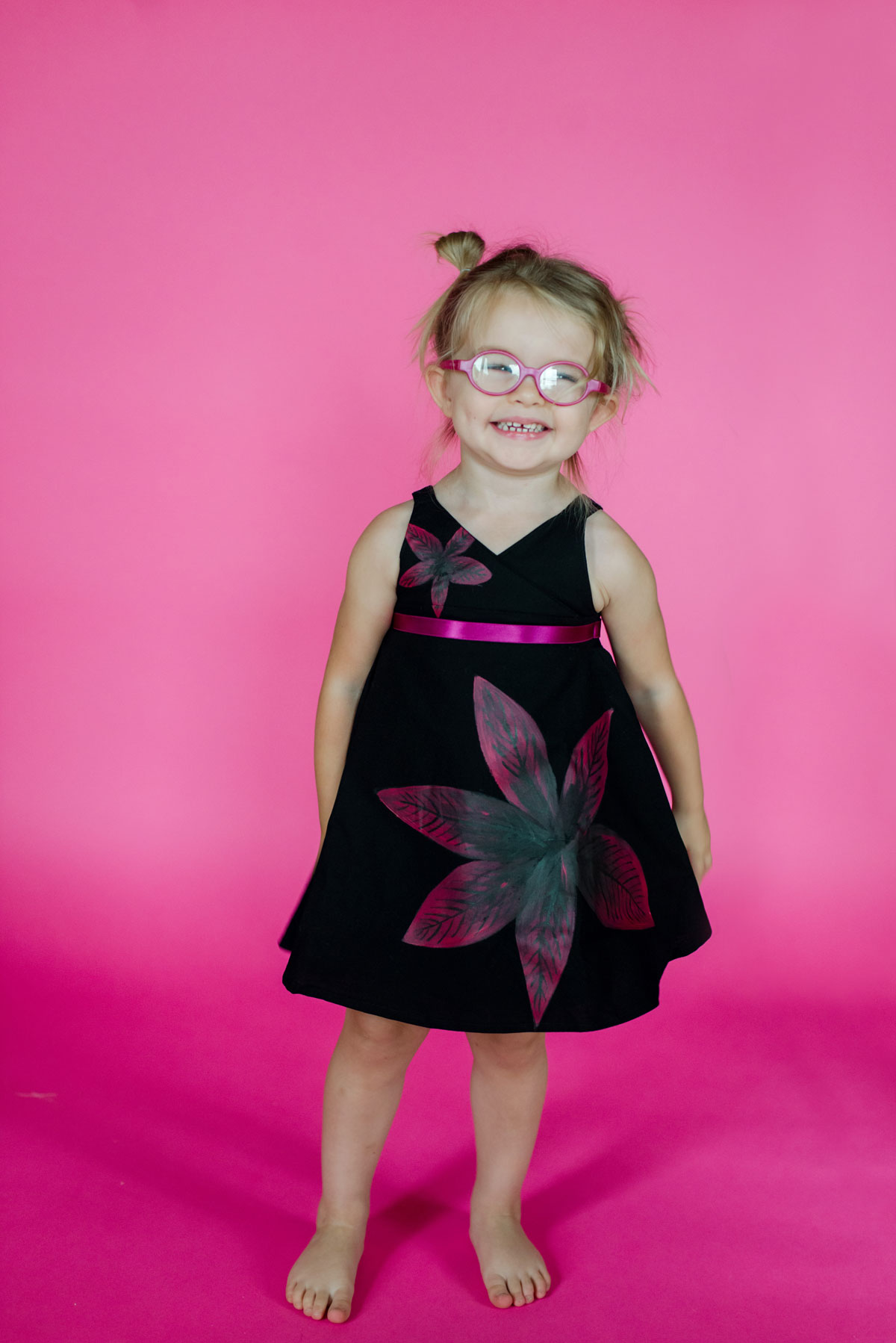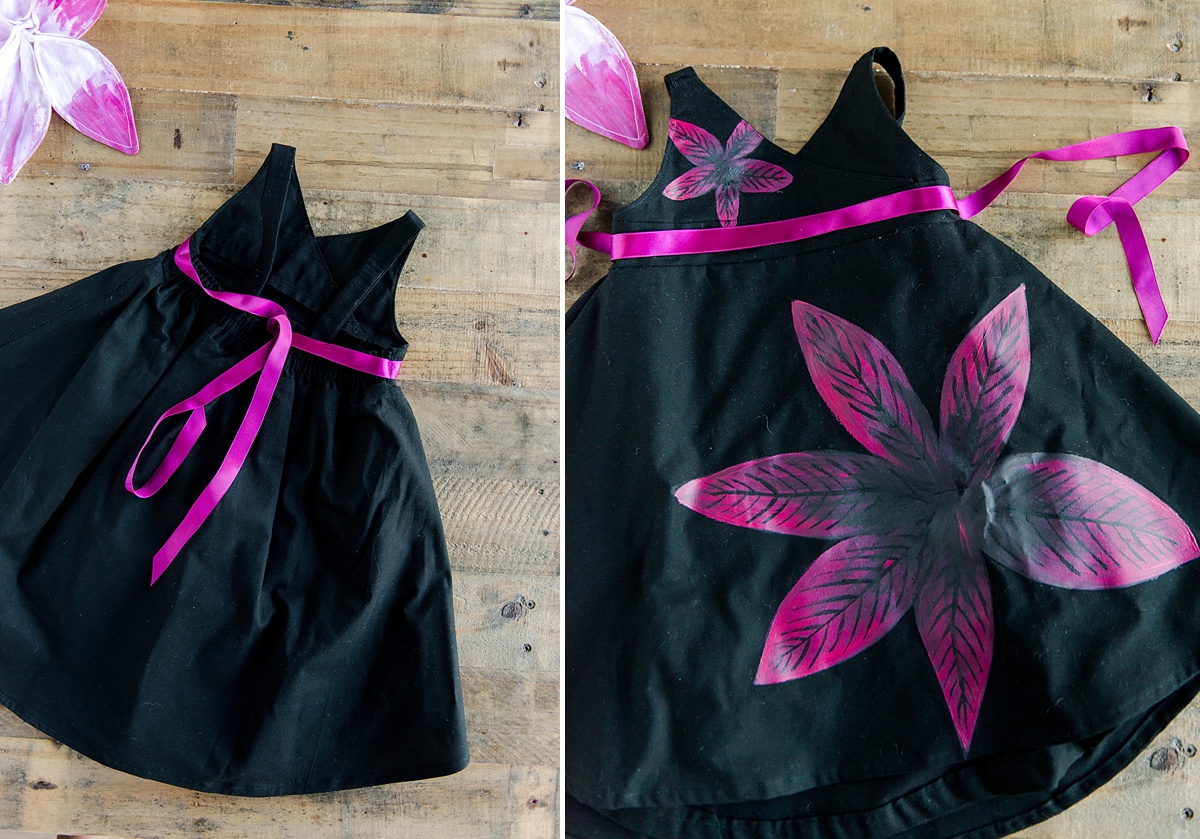 Drac costume
One of my most favorite parts of the whole thing was that I got to handprint some of the fabrics that I sewed pieces from. Like this print for the Drac shirt! 🙂 I wanted these pieces to be 100% handmade and 100% original (without compromising the essence of each character)…..so I set out to handprint this Drac fabric that he wears on the cruise in the movie.

It is essentially broken up into 2-4 different palm leaves/branches, the two hibiscus flowers and the skulls in the flower center. I drew the shapes, cut them out of wood to make the stamps and then stamped the day away with acrylic fabric paint! 🙂
Also, can we talk about these short shorts?!?!?! BAH! Can't you just see a little 4 month old in them with chunky little legs and high, black socks?!?!?! I die!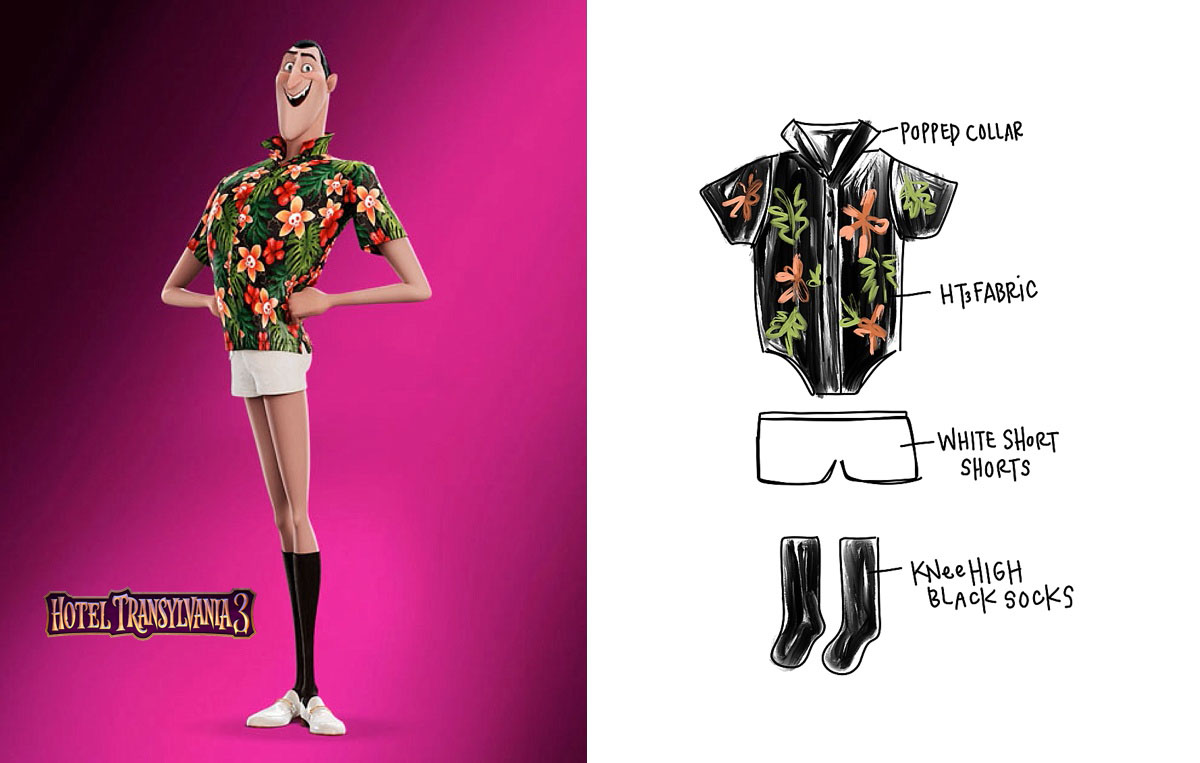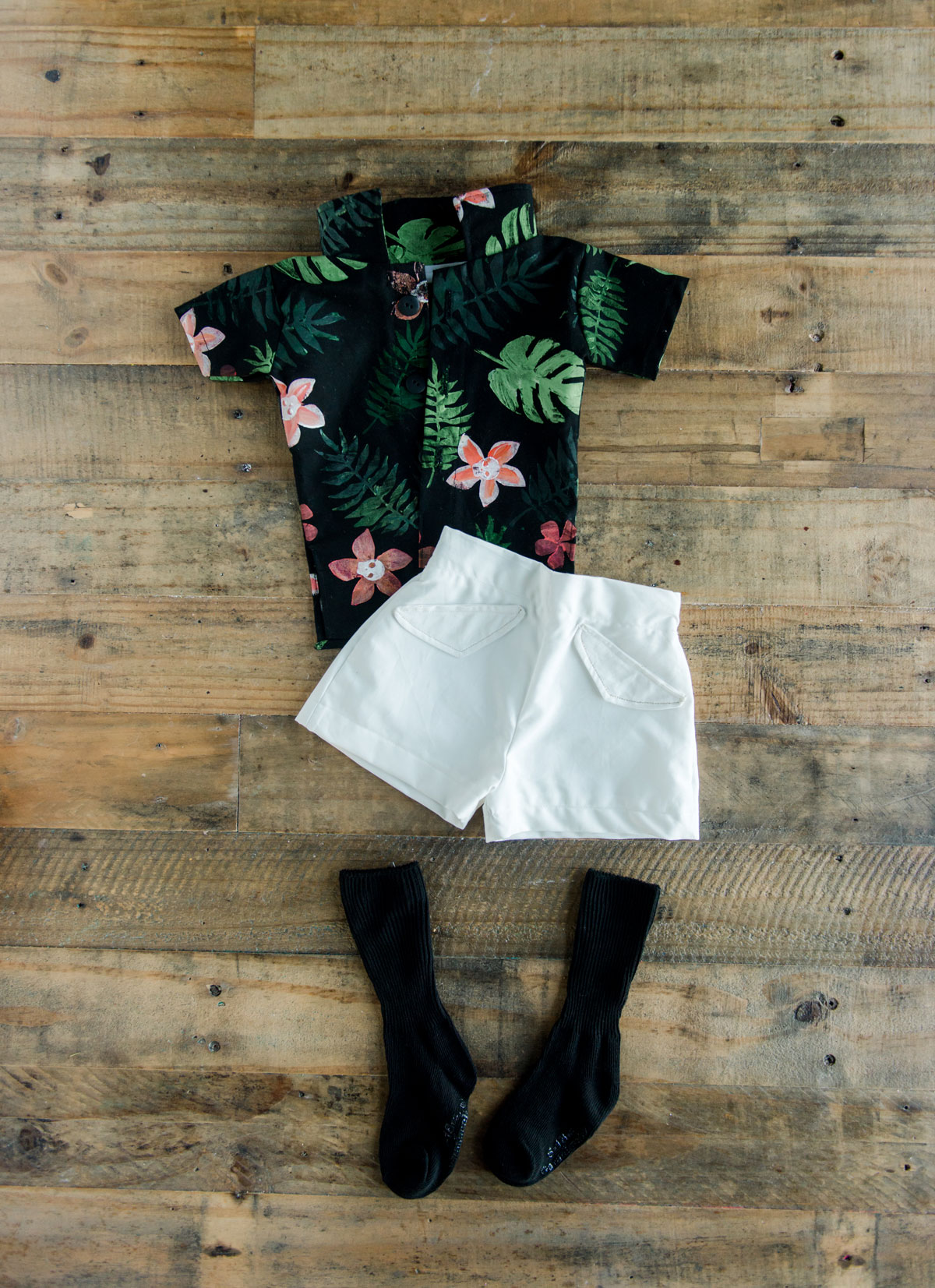 Murray costume
I had a vision for the Murray costume right away. I wanted a parachute-pant style jump suit covered in coffee-dyed fabric! And that's exactly what we did. I tore strips of fabric about 2 inches wide, ironed them, and then sewed them onto the jumpsuit pieces before sewing it all together. I added a fabric, purple lei that made it complete! 🙂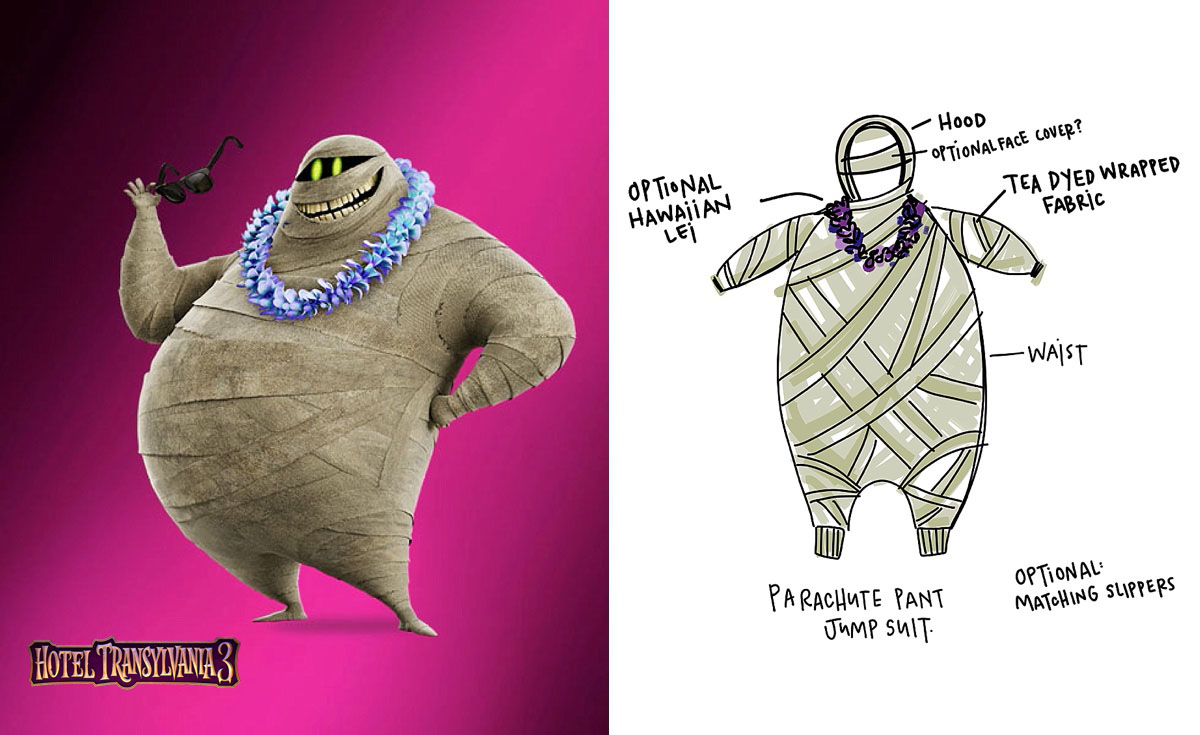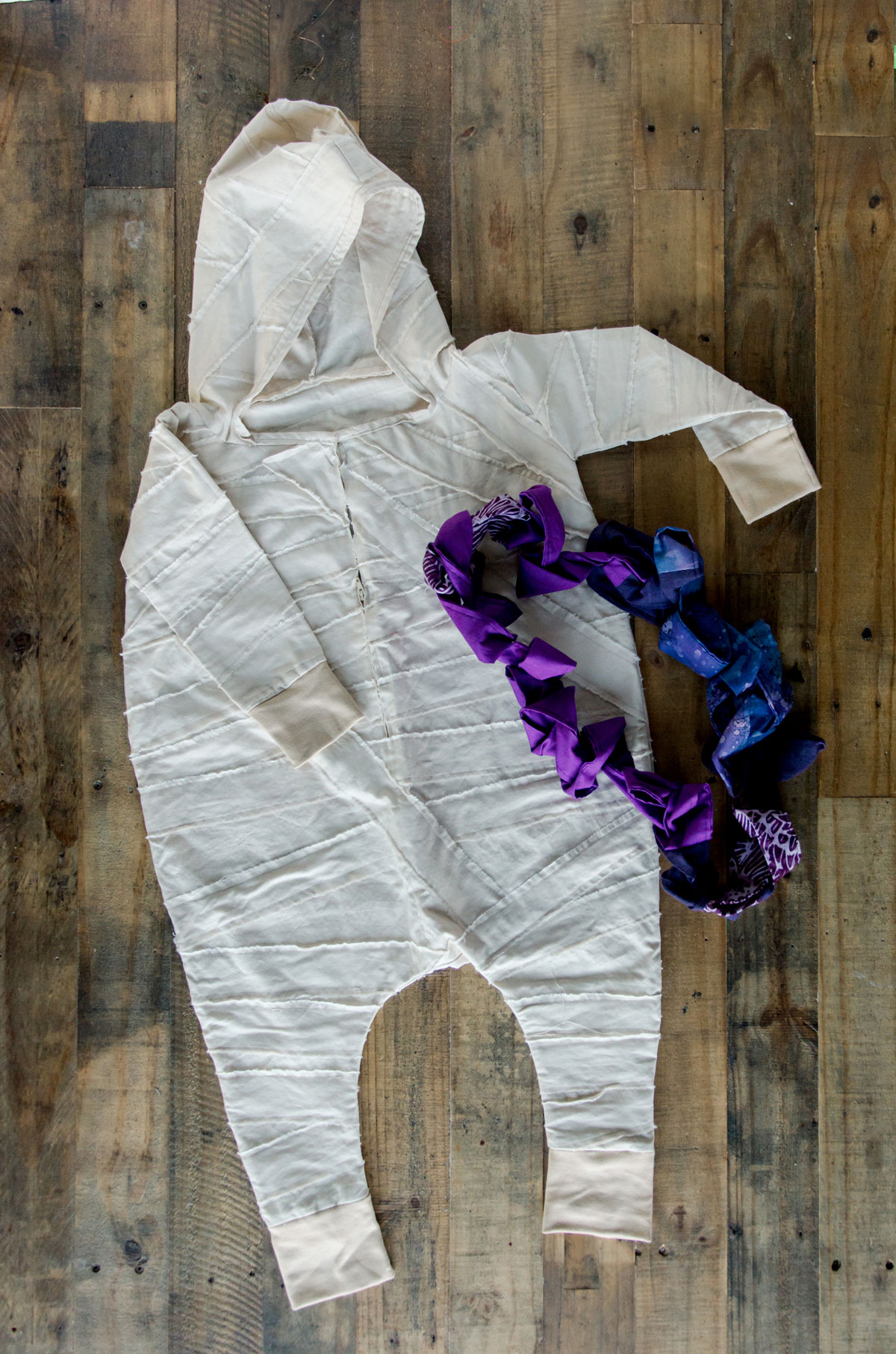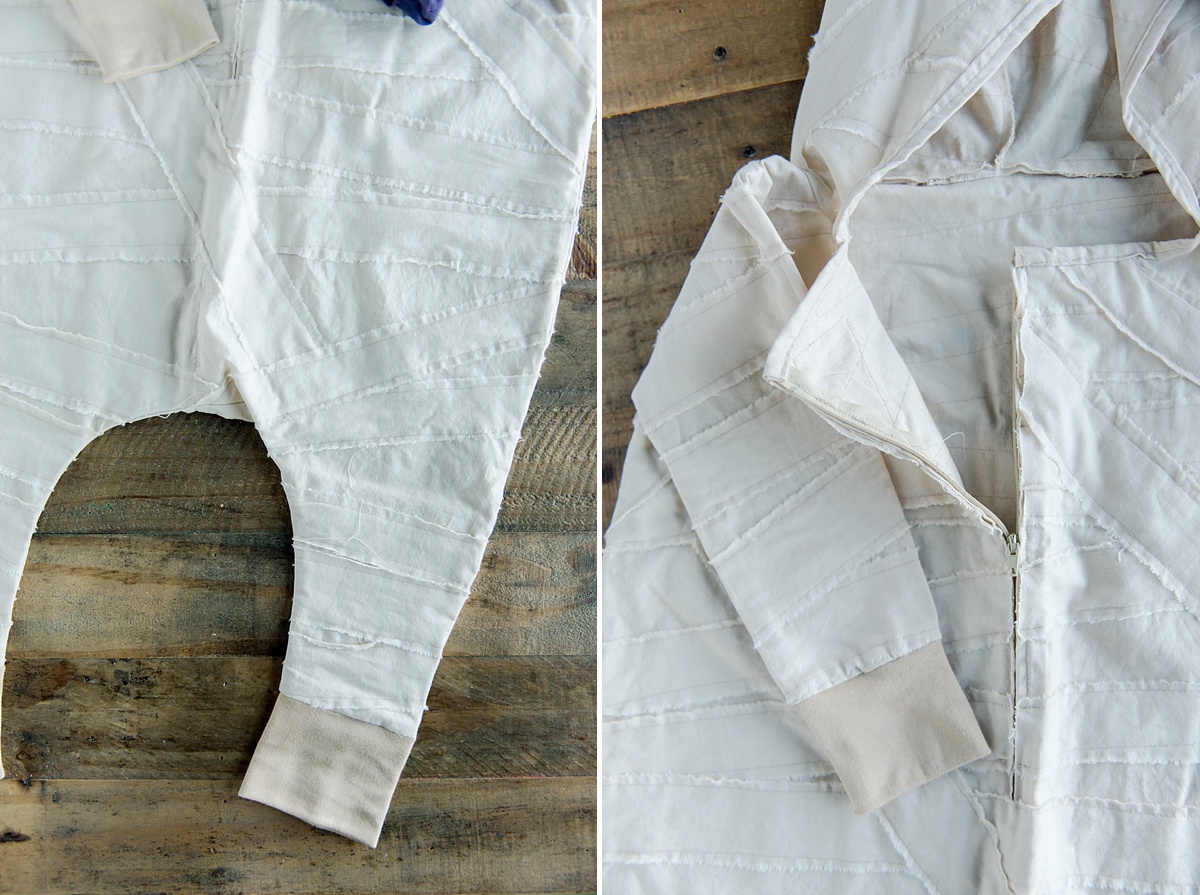 Blobby costume
BAHHHH! BLOBBY! He is a happy little, green blob that is either carrying things or loosing thing "inside" himself all the time, and in this movie, he has his summer sunglasses! This costume was essentially a modified sleep sac with a hood made out of thin, transparent green vinyl. I used a wrapping paper tube to stick inside of the layers so that it would "bubble" up and create the rolls of blobby. And, of course, we had to add his iconic sunglasses floating around!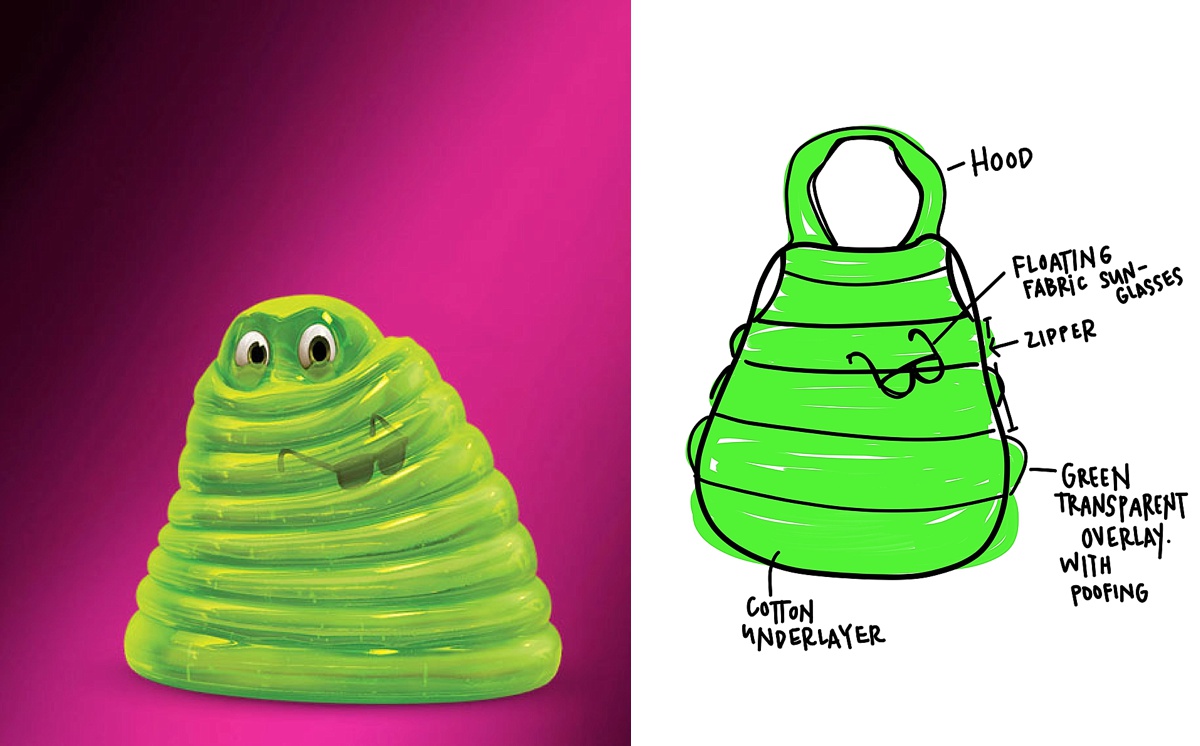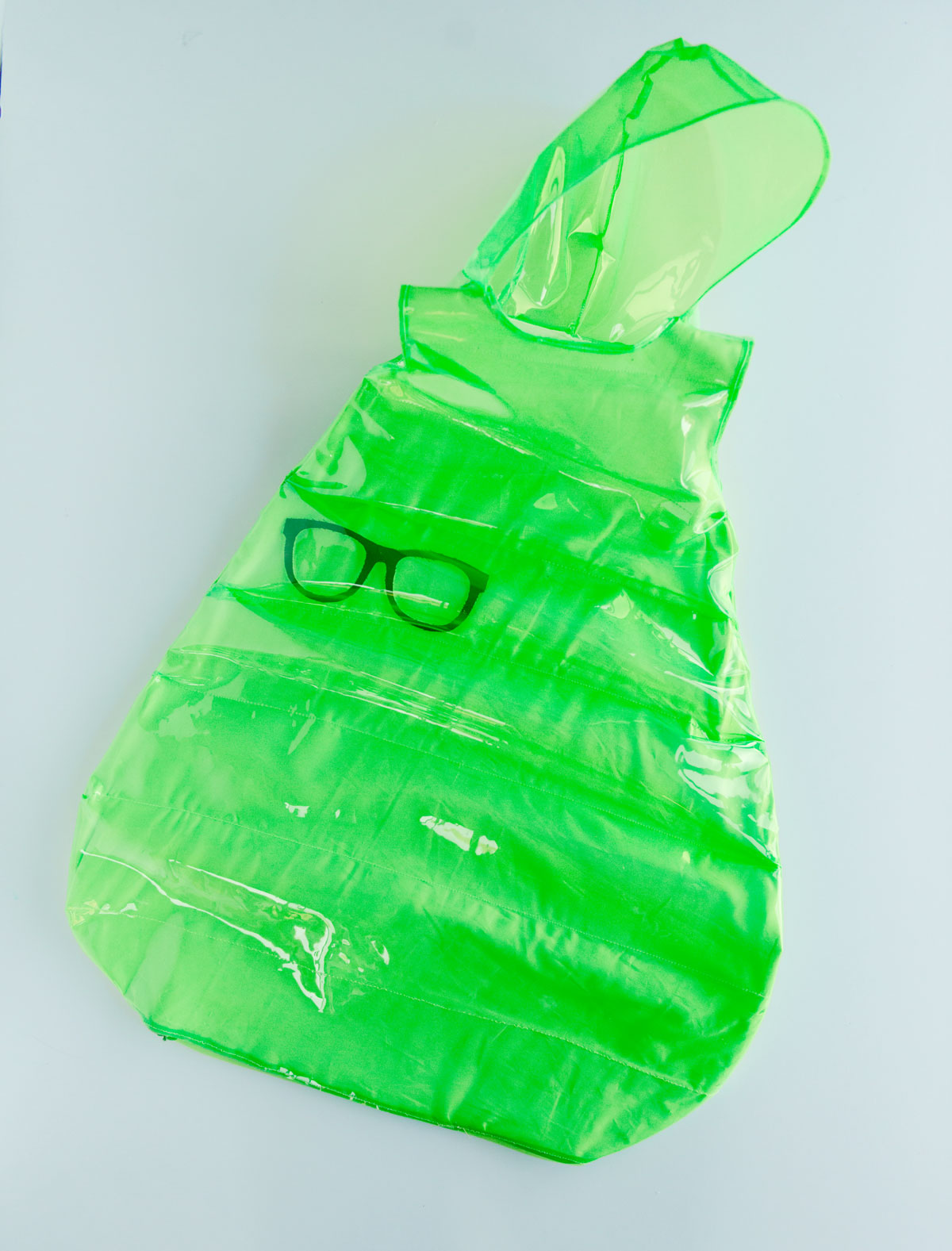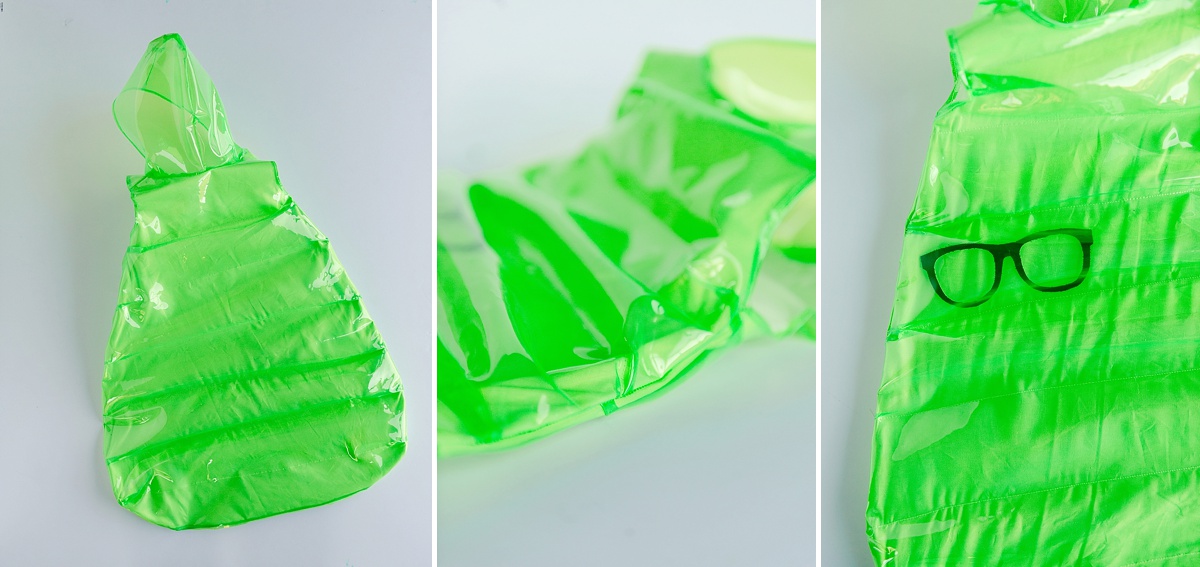 Winnie costume
This mischievous little girl is wearing an appliquéd nightgown with a studded, leather collar. The collar from a leather band with snaps around the edges (for decor and to adjust the size of the toddlers neck) and complete with a fabric gold medallion!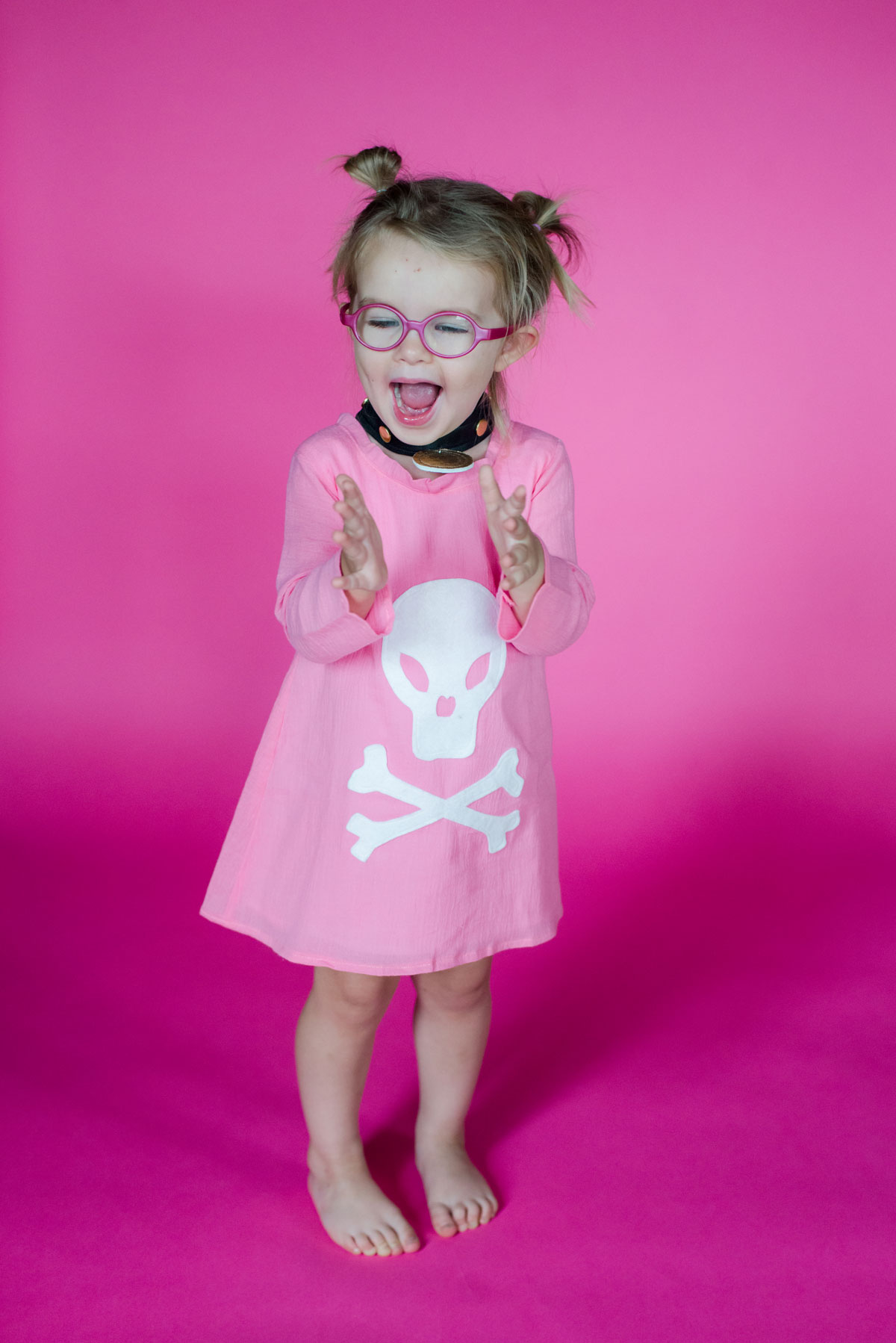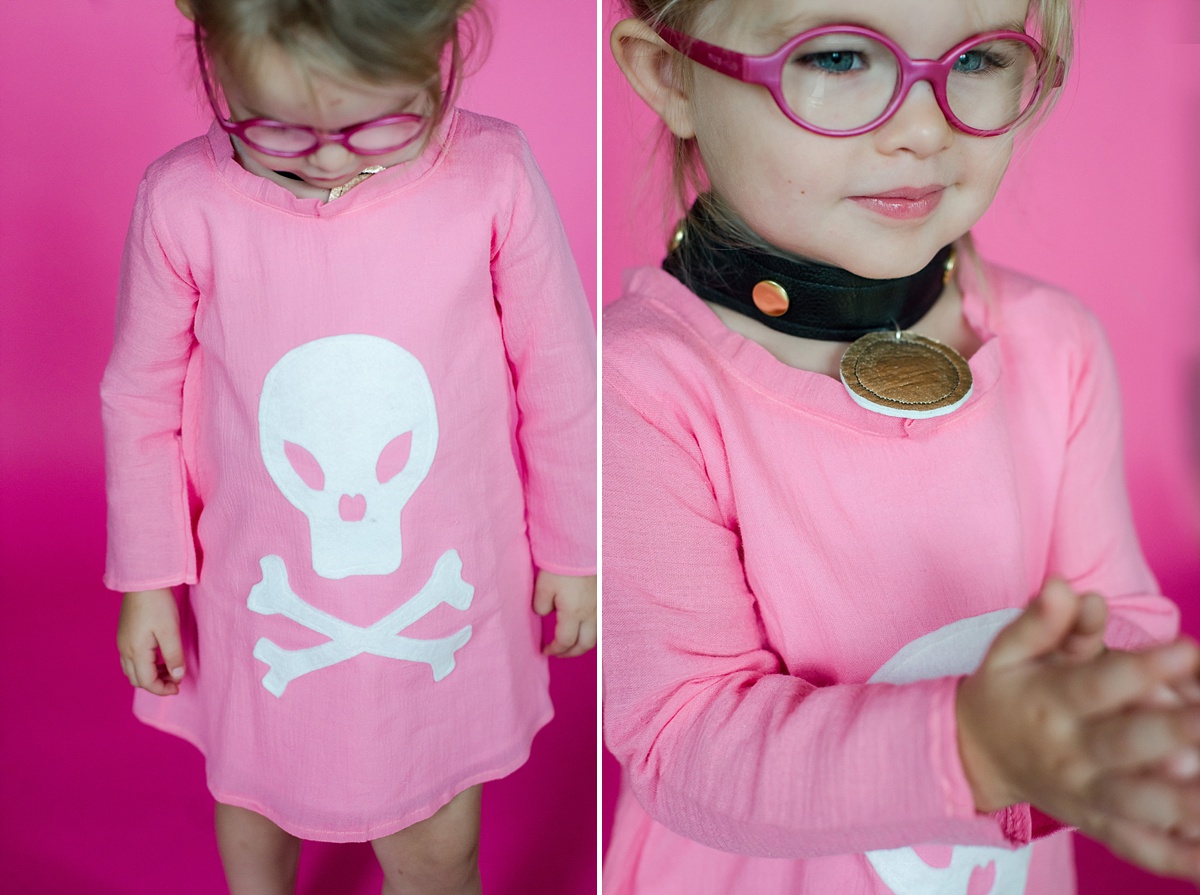 Dennis costume
The funnest part of Dennis is his wild and whacky hair! 🙂 This costume was for the 4 month old, so I knew a wig wouldn't do. The hat had to be soft enough for an infant's head and not to heavy. Sooooo, I used an orange baby hat and sewed floral wire inside made different widths and shades of orange, tan and brown ribbons. I then sewed the ribbons onto the hat and curled them! 🙂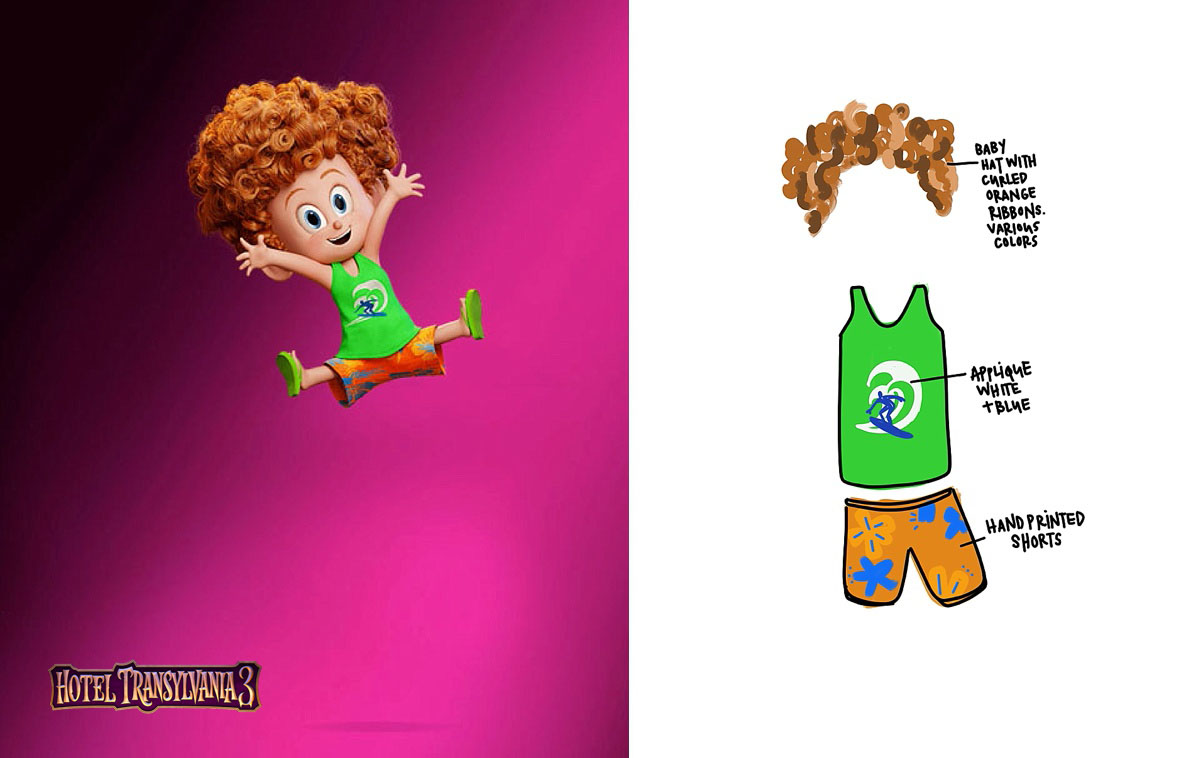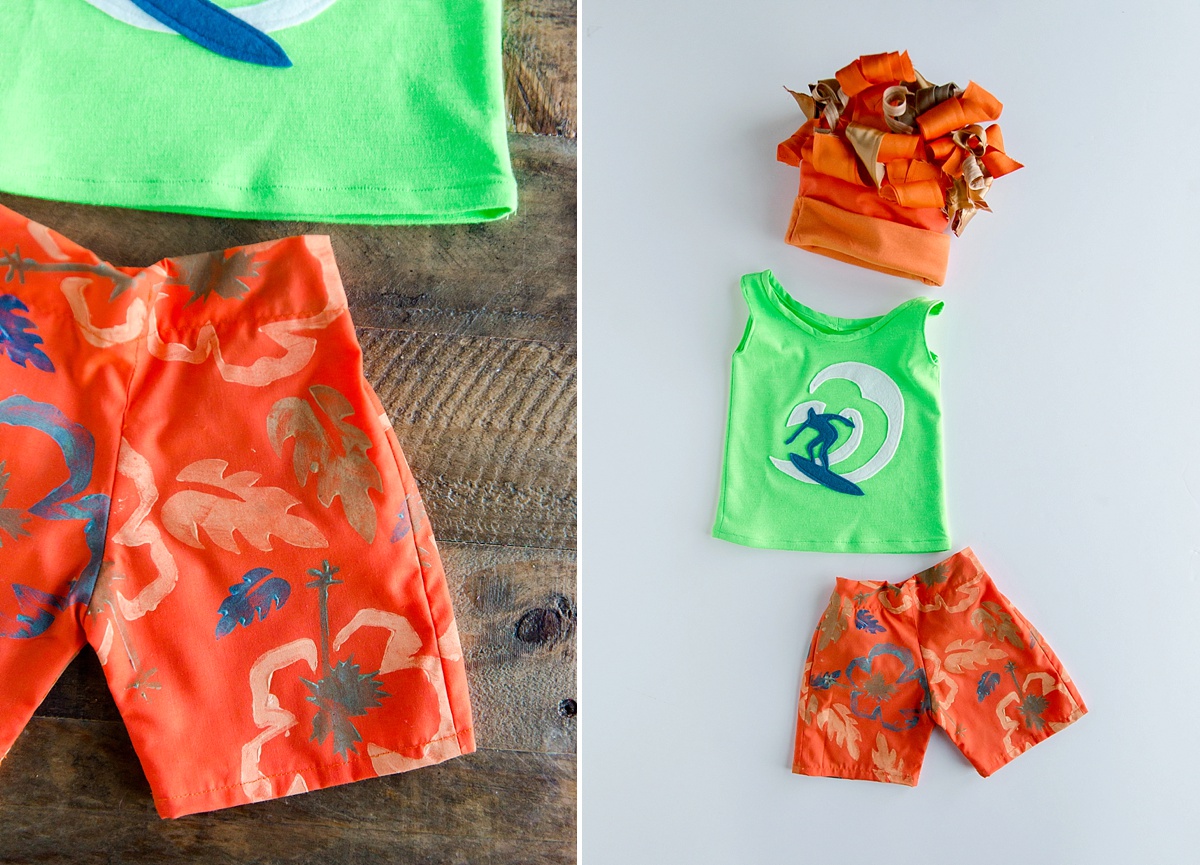 All of these costumes and ideas were created in partnership with Sony pictures for the Blu-Ray release of Hotel Transylvania 3! All content and opinions are that of my own!