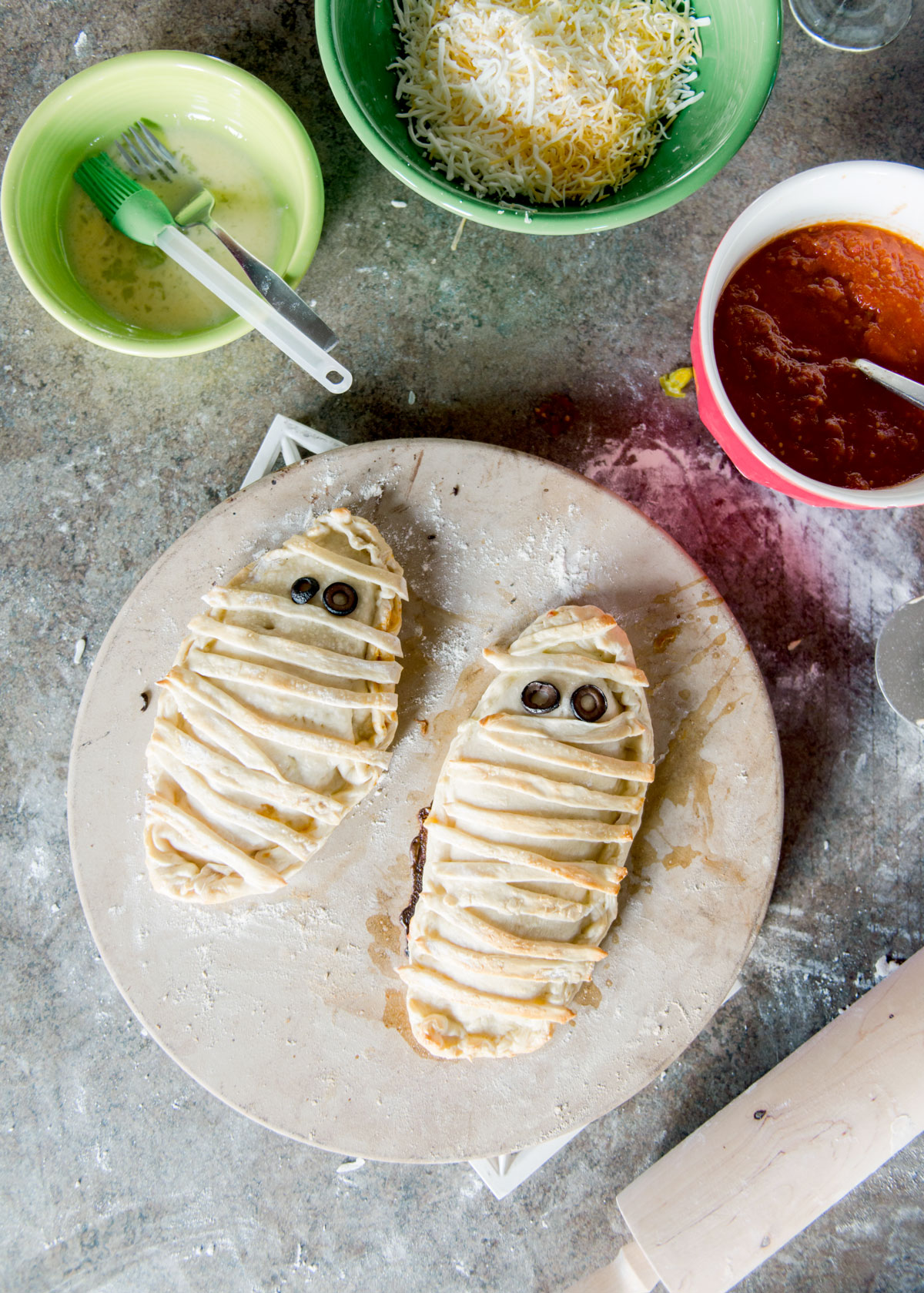 I have a little secret about the latest Hotel Transylvania 3 movie, but I can't share just quiiiiite yet. But what I CAN say is that there is a special place in my heart for this movie. Not only is it Halloweeny and supppppper fun for this time of the year, BUT I totally *love* the moral of the ending (spoiler alert) because it drives home the point that not matter who you are, where you come from, what you look like or whether you are a human or a monster, you deserve to be loved and accepted. Enter happy Mom tears here, amiright? Sounds like a perfect reason to have a Halloweeny, happy, fall movie night full of Murray the mummy pizza pockets and Blobby cupcakes (with a side of wine for Mom of course)! 🙂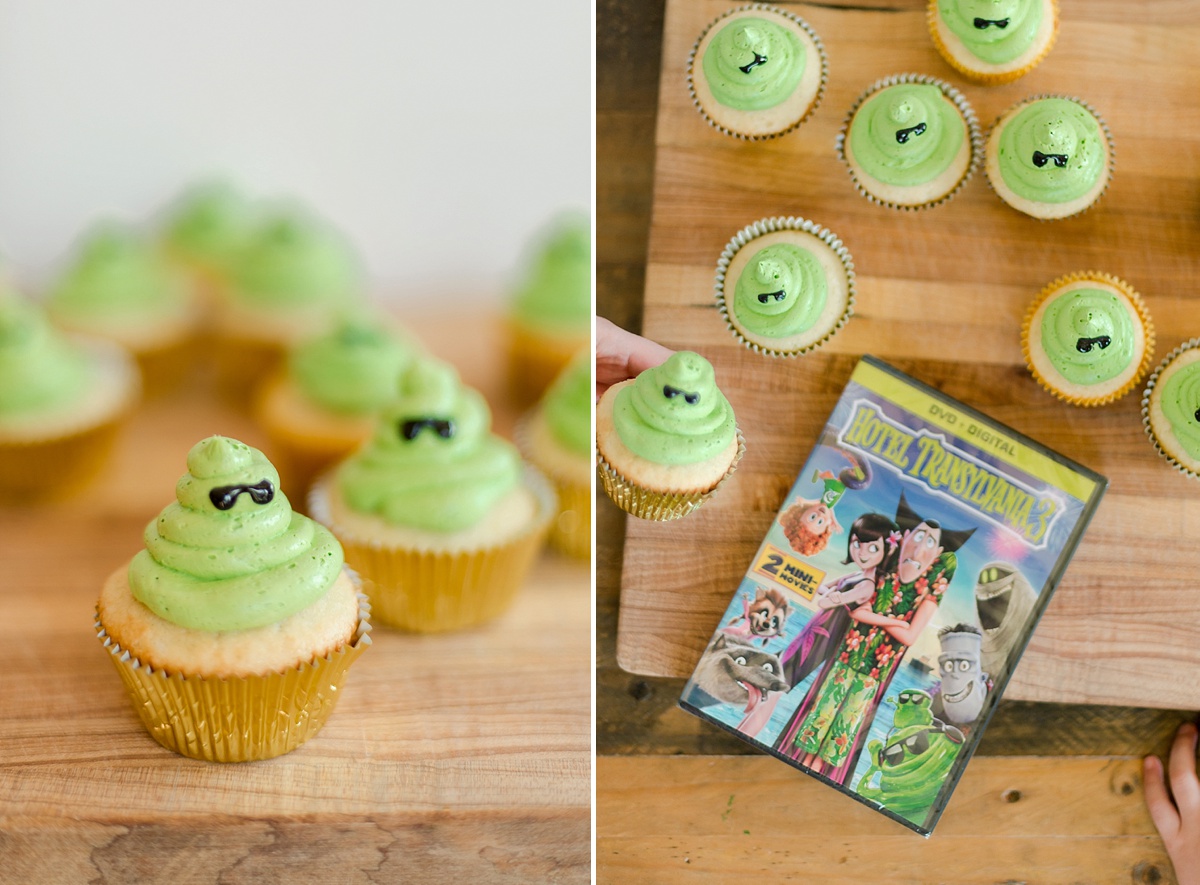 These Murray mummy pizza pockets are SOOOOOOO fun and so darn easy. They are filing and the kids will *love* to make them and see them come out of the oven looking mummified and delish.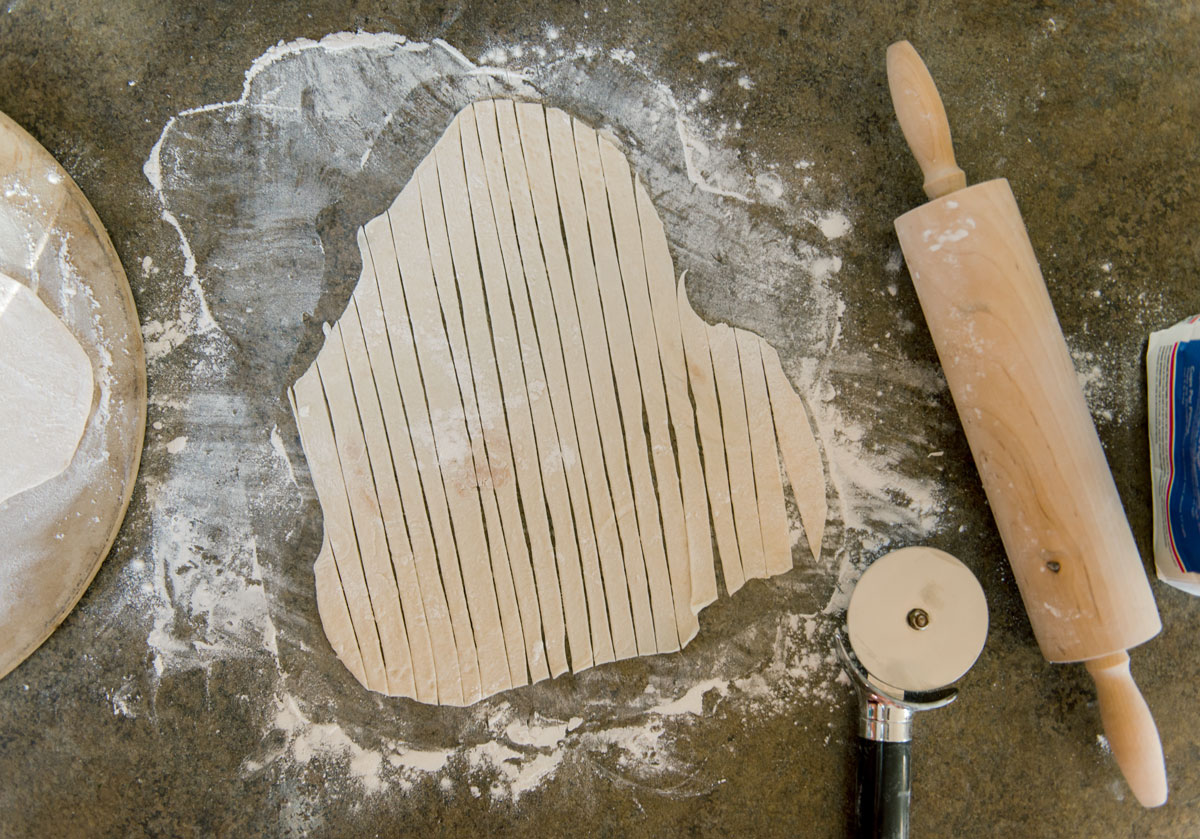 Murray mummy Halloween pizza pockets
An easy and fun Halloween dinner idea to celebrate and cuddle in for an awesome movie night!
Ingredients
3

cups

flour

2

tsp

olive oil

1

packet

quick rising yeast

1/2

tsp

garlic or garlic powder

1

tsp

salt

1

cup

warm water

2

eggs
Instructions
Combine 1 cup flour, salt, yeast, and garlic in mixer bowl (with bread hook attachment if available). Add olive oil and warm water on medium speed until combined. Then add the remaining 2 (or so) cups of flour to the dough mixture until the dough is soft and leaves the sides of the mixing bowl.

Lightly flour table surface, then kneed dough for about 5 minutes. Cover with towel or plastic wrap and let rest for 20-30 minutes.

Grease or flour your pizza pans and set aside. Divide the dough into 4 quarters. Begin by rolling out the dough very thin, then cut an oval-type shapes into the dough. Place oval onto the baking pan and top with sauce, toppings and cheese. Place another "matching" oval shape over the toppings. Pinch the outer edges of the oval front and back together, and slightly roll the edges.

Whisk 2 eggs and a splash of water together. Brush the egg mixture on top of the oval mummy. Roll out another portion of dough and with a pizza cutter, cut out strips of dough about 1/2 inch wide. Place these strips over top of the oval mummy to start creating the "wrapping" and press the edges down along the outer side to stick. Cut excess strips away from the sides and discard. Brush again with the egg mixture and add eyes (olives or sausage or peppers)! 🙂

Place your mummy in the oven and bake for 20-25 minutes, or until the dough is completely cooked and golden brown!

Serve with an extra portion of dipping sauce and watch with an awesome Halloween movie (like Hotel Transylvania 3)! 🙂