An easy Halloween pizza costume with removable toppings!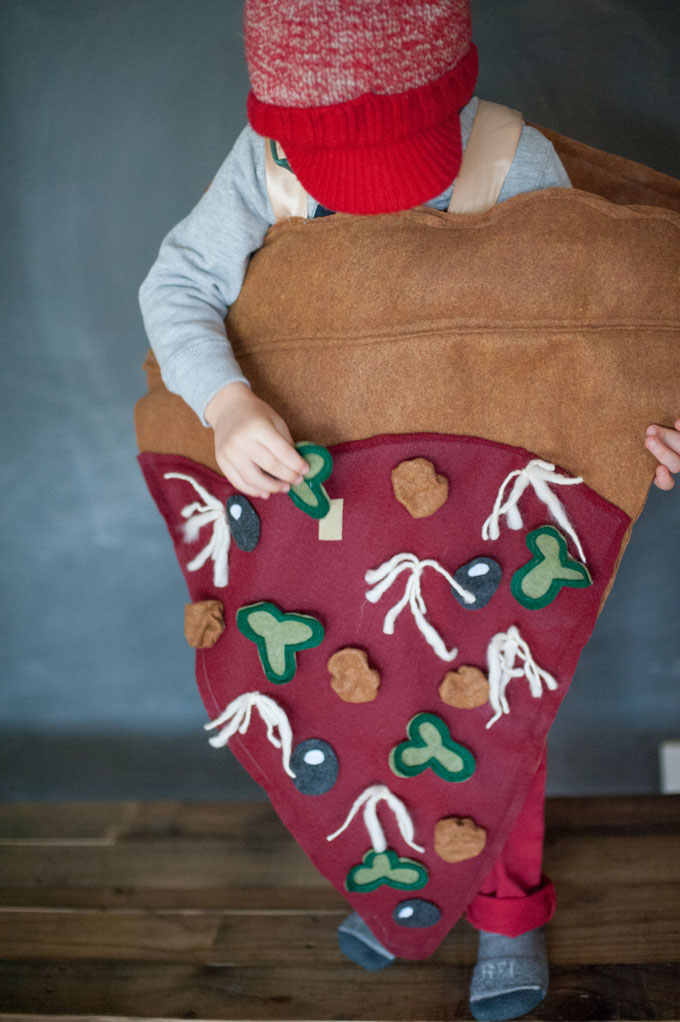 HALOWEEEEEEEEEEN! One of the most creative and super fun times of the year, if you ask our family. Every year, my oldest, Ezekiel comes up with his grand ideas for a Halloween costume. Some years it's based on his favorite things to do, other years it's based on his favorite foods….like this easy, DIY pizza costume with removable pizza toppings! 🙂
And who doesn't want to be a giant pizza for Halloween, eh?!?!?! 🙂 This costume proved to be easy to run in (gotta race from house to house to maximize candy opportunities) and was soft and easy to layer clothes under (these Halloweens tend to get cold up here in the North)! 🙂 
SOOOOOO, today I am sharing the easy tutorial so that you can make your own Pizza costume with removable (and rearrangeable) toppings!
One of our favorite Friday nights together have always been homemade pizza and movie night, I guess it seeped into his Halloween ideas for this particular year! 🙂 This is a *SUPPPER easy*  sandwich-board style costume that can truthfully be made without much prep! 🙂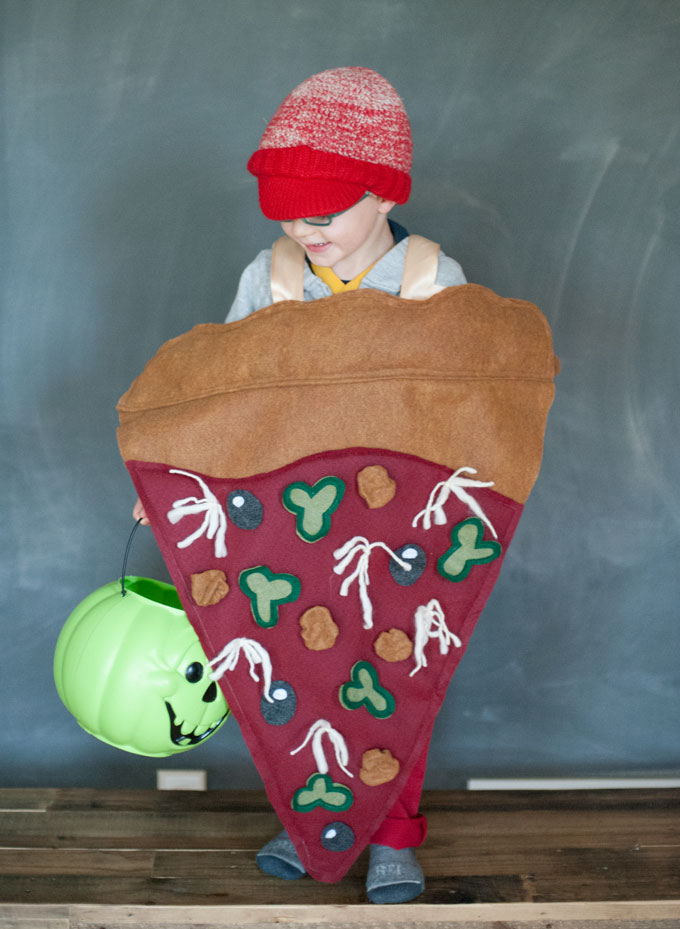 Materials
**note: you may want to measure your kiddo for exact yardage of the red and tan felt, because it is based on height

3 yards of brown felt for the crust
1 yard of red felt for the sauce
8×10 felt squares in black, white, tan, 2 shades of green, and whatever other colors for toppings you think you'd need
spool of 2″ thick ribbon in a tan or brown color
a bit of yarn in white, yellow or cream 
stick on velcro (you can use the sew-on type, but it would be much trickier)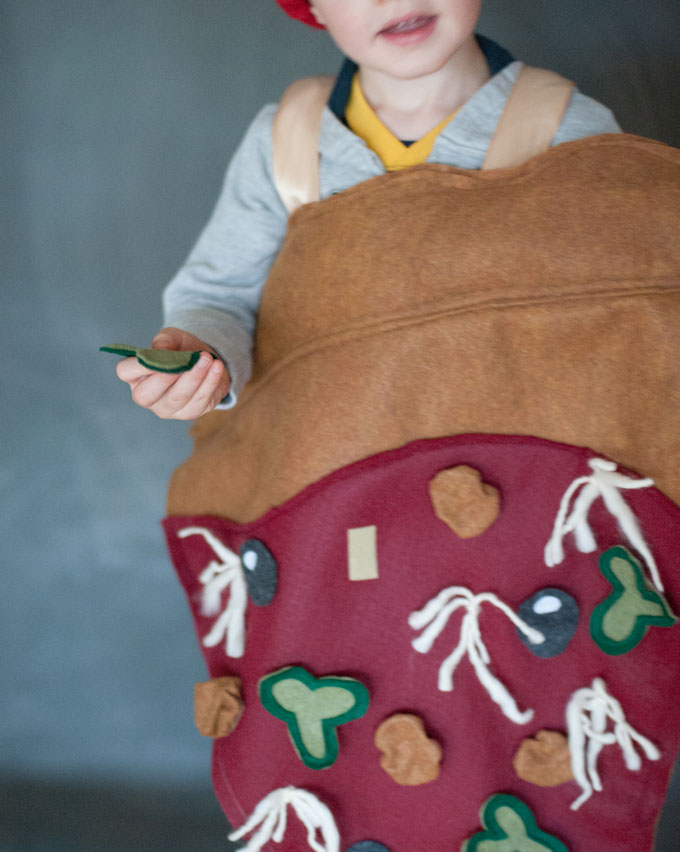 Instructions
Cut 3 big "v" pizza shapes out of brown felt. Make sure to add the zig-zag crust at the top.
Then cut out the red "sauce" shape for over top of the crust. Sew the red sauce onto one of the brown crusts with a 1/4″ top stitch. This will become the front.
Sew the other 2 brown pizza "v"s together with a 1/4" top stitch for the back panel.
Cut out 2 chunks of the 2″ thick ribbon. Place them onto the back and front of the pizza slices to make shoulder straps. Sew them onto the inside of each "v" and measure against your kiddo (or yourself) to get the exact placement
I added an extra brown puffy crust piece to the top of the front crust. I cut out another brown shape following the crust zig zag and bringing it down about 3 inches. I stuffed it with extra felt or polyfil to add some dimension before sewing it all the way around
Cut out your pizza toppings. Hot glue or sew any portions that need multiple colors on one topping. Tuft yarn together to make bits of cheese. Adhere the sticky velcro according to the instructions on the packaging. 
OH YAY! Please let me know how it all turns out if you make it! And, as always, tag #ohyaystudio on social so that I can comment and share myself!
HAPPPPPPY HALOWEENNNNNING and costuming! 🙂