Week Four :: Lemon Meringue Pie ice cream sandwich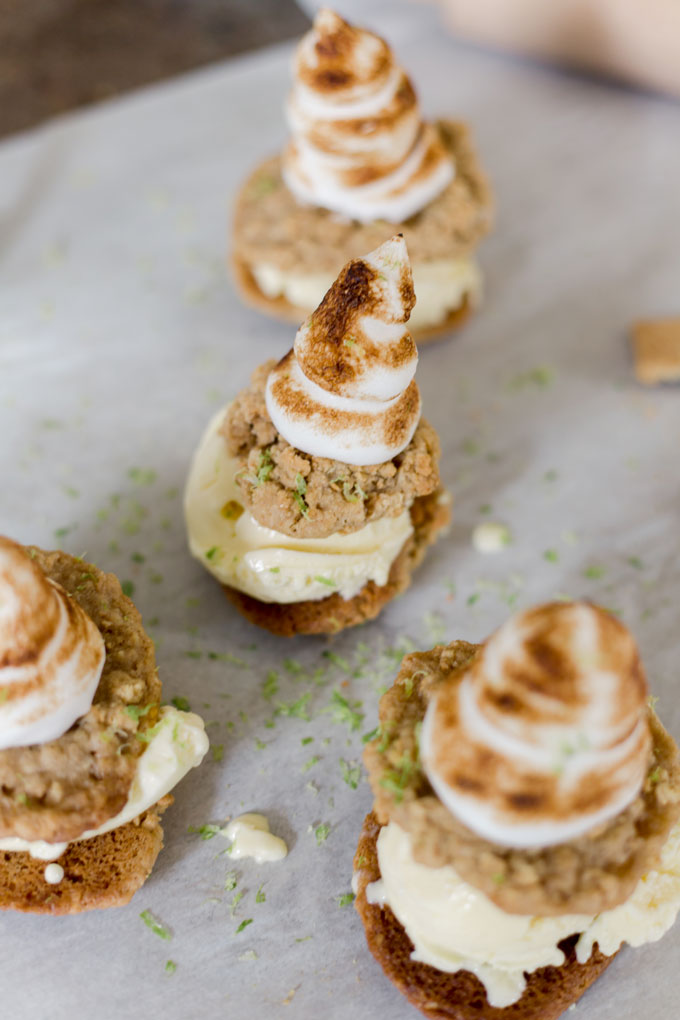 Since this weekend was Father's Day AND we also celebrated our 12th anniversary, we decided to do one of Daddy's fave flavors for our summer of Ice cream Sandwiches…LEMON! 🙂 Who doesn't love lemon meringue pies?!?! (If you don't love them then perhaps we aren't really deep friends!) 🙂 They are sweet, and tart and light and fluffy and just quite amazing. So! Today, we are sharing this recipe for our SUPPPPPPPPPER yummy lemon meringue pie ice cream sandwich!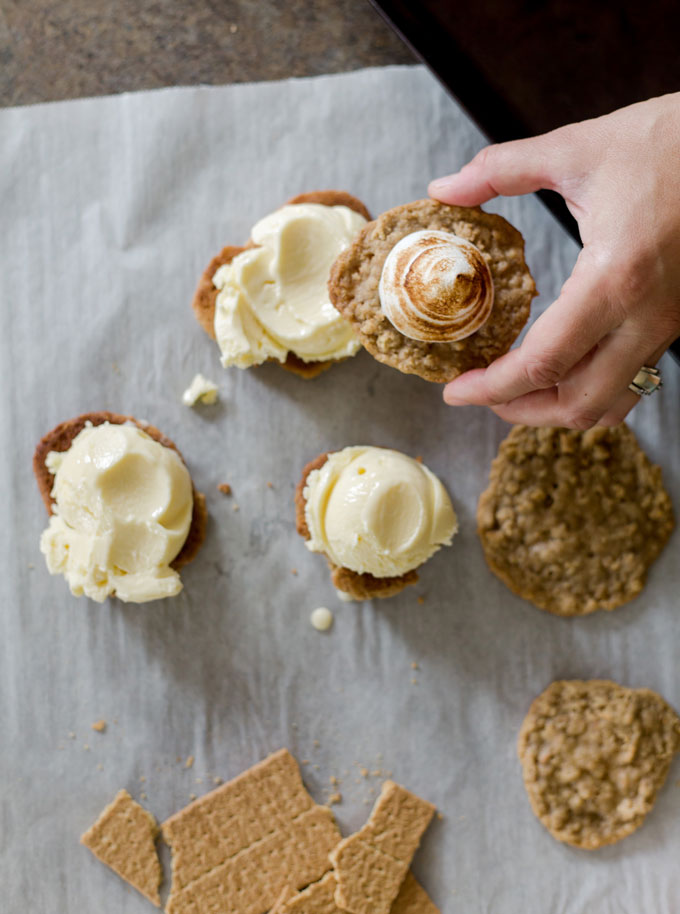 We started off with the idea to try and make the components of a Lemon Meringue pie……and the crucial parts were to make sure the lemon flavor was lemony enough AND to make sure that the meringue tasted sweet, light and fluffy! I think we hit both points with this recipe! 🙂
And let me just say for the record, if you don't love Lemon Meringue pie, please PLEASE tell me that you will make this super yummy lemon ice cream. It is BY FAR my fave that we've made…..the texture and the flavor is perfectly on point! 🙂 Grab the recipe below and let me know what you think!!! 🙂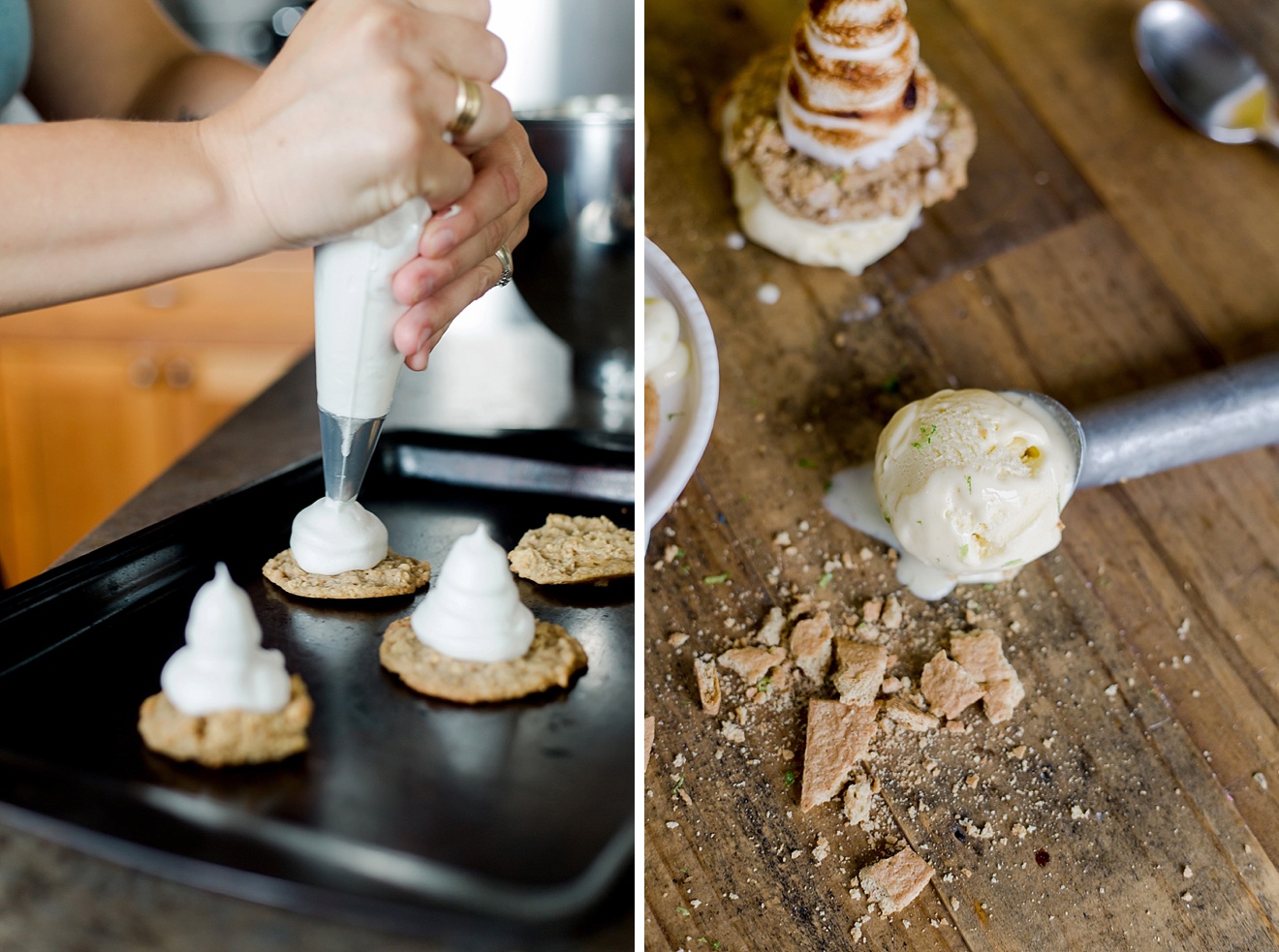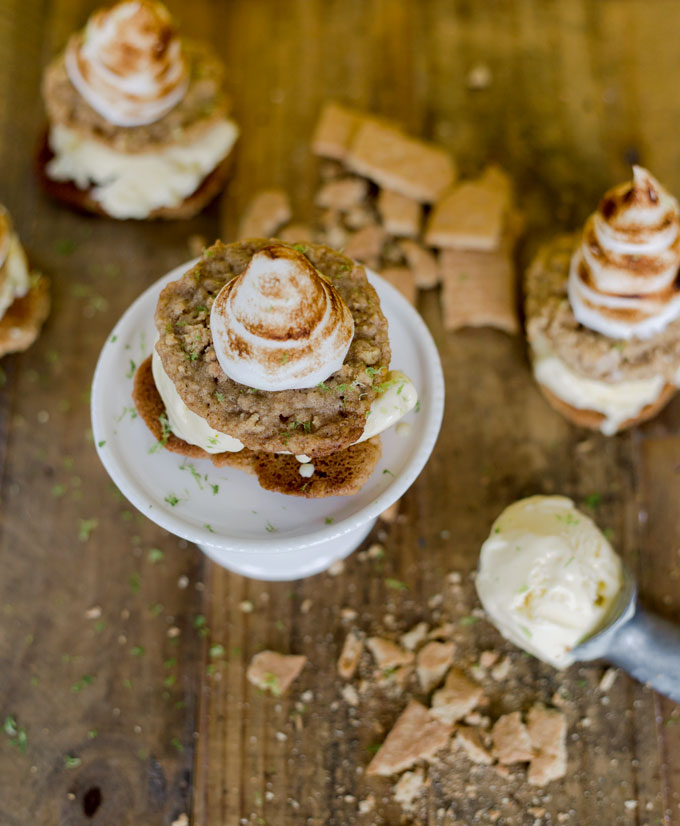 Lemon Meringue ice cream sammie
A refreshing and super yummy lemon meringue pie ice cream sandwich that is perfect for a summer treat!
Servings
:
6
ice cream sandwiches
Ingredients
Lemon ice cream:
2

cups

half and half

1/2

cup

lemon juice

5-7

drops of lemon essential oils

or sub with the zest of 1/2 lemon

3/4

cup

sugar

4

eggs

1

tsp

vanilla
Graham Cracker cookies:
1/2

cup

1 stick butter

room temperature

1

cup

brown sugar

2

teaspoons

vanilla

1

egg

1 1/2

cups

graham cracker crumbs

3/4

cup

all purpose flour

1/2

teaspoon

baking soda

1/4

teaspoon

salt
Meringue:
2

egg whites

room temperature

1/2

tsp

vanilla

1/8

tsp

cream of tartar

1/8

cup

white sugar

1/8

powdered sugar
Instructions
Make Ice Cream:
In a saucepan, whisk together the lemon juice, essential oils (or zest), sugar, vanilla and eggs. Then add in 1 cup of the half-and-half. Cook the mixture over medium heat, whisking constantly until it reaches a simmer.

Strain the custard through a fine sieve into a bowl. Cover and place in the refrigerator for about 3 hours or until cooled.

Whisk in the remaining half and half and then churn in your ice cream maker according to the manufacturers instructions. Place ice cream in an airtight container and place back into the freezer until desired consistency! 🙂
Make cookies:
Preheat oven to 350 degres.

In the bowl of a stand mixer, cream together the butter and sugar until creamy.

Beat in the vanilla and egg until well combined.

In a medium bowl, combine the graham cracker crumbs, flour, baking soda, and salt. Gradually add to the butter mixture until just combined.

Using a medium cookie scoop, drop balls of dough onto a parchment lined baking sheet. Bake for 7 minutes.

Cookies will look slightly underdone, but should set up nicely as they cool.
Make Meringue:
Allow egg whites to stand at room temperature for about 30 minutes. In mixer bowl, combine egg white, vanilla and cream of tartar. Beat with a mixer on medium speed for about 2-3 minutes or until soft peaks are formed.

1 Tbs at a time, add in the sugars until all sugars are combined and the mixture reaches hard peaks.

Put into large ziplock or piping bag to pipe onto the top of the cookies. We used the extra meringue mixture to pipe small dollops onto a cookie sheet. Bake for 30-35 min at 300* for a yummy and sugary treat! 🙂
Recipe Notes
Graham Cracker cookies adapted from: https://www.bunsinmyoven.com/graham-cracker-cookies/