Super MOM patch + free Mother's Day SVG file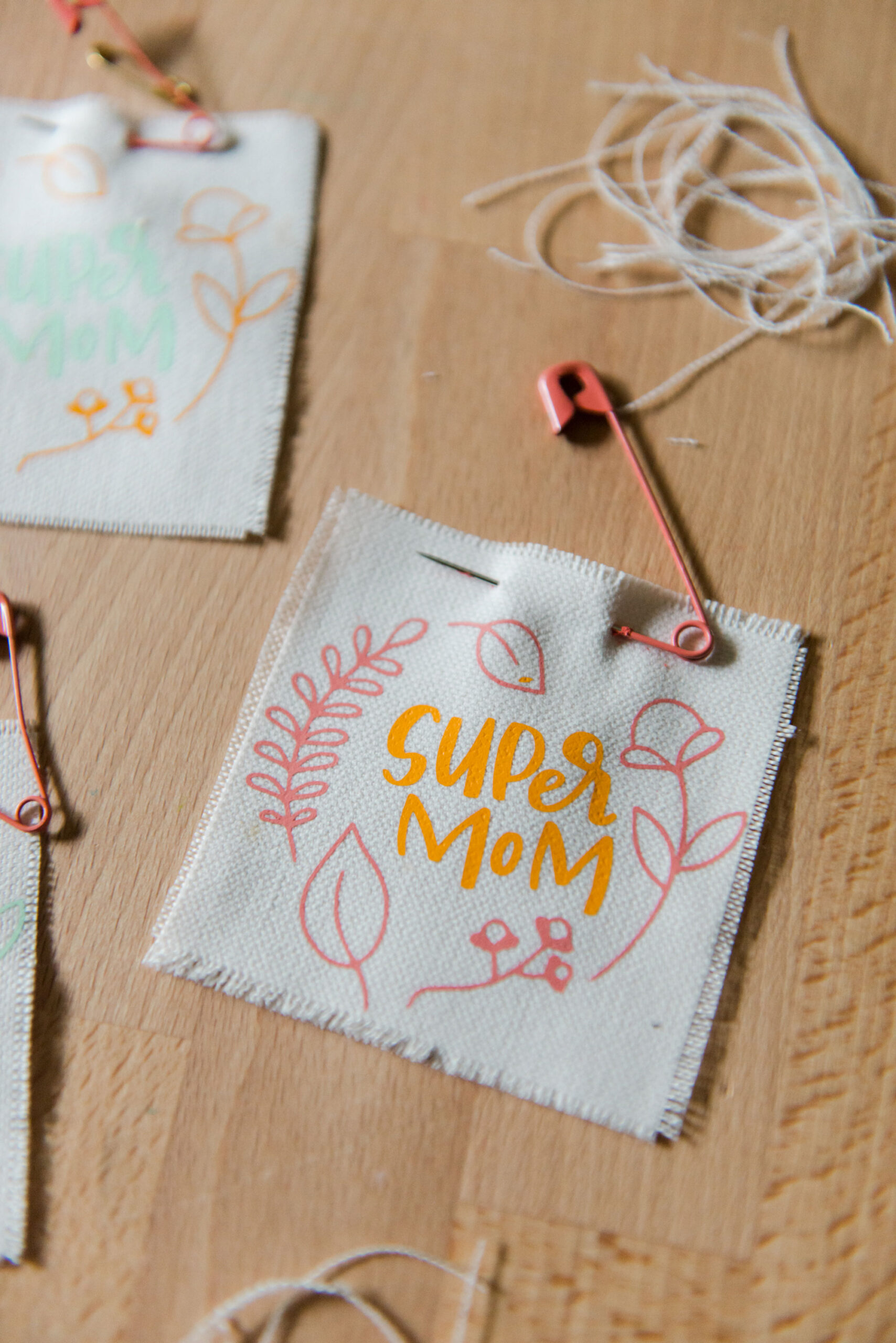 THREE CHEERS FOR MOMMMMMSSSS! 🙂
If 2020 has taught us anything, it's that people that serve deserve to be celebrated! LIKE A LOOOOTTT! And Mom's are amongst them! SOOOOO, today I am sharing a fast Mother's day "Super mom" patch SVG that you can make to pin on your fave SUPER MOM for Mother's day! I mean, heck…..I will LOVE wearing one of these around for the day!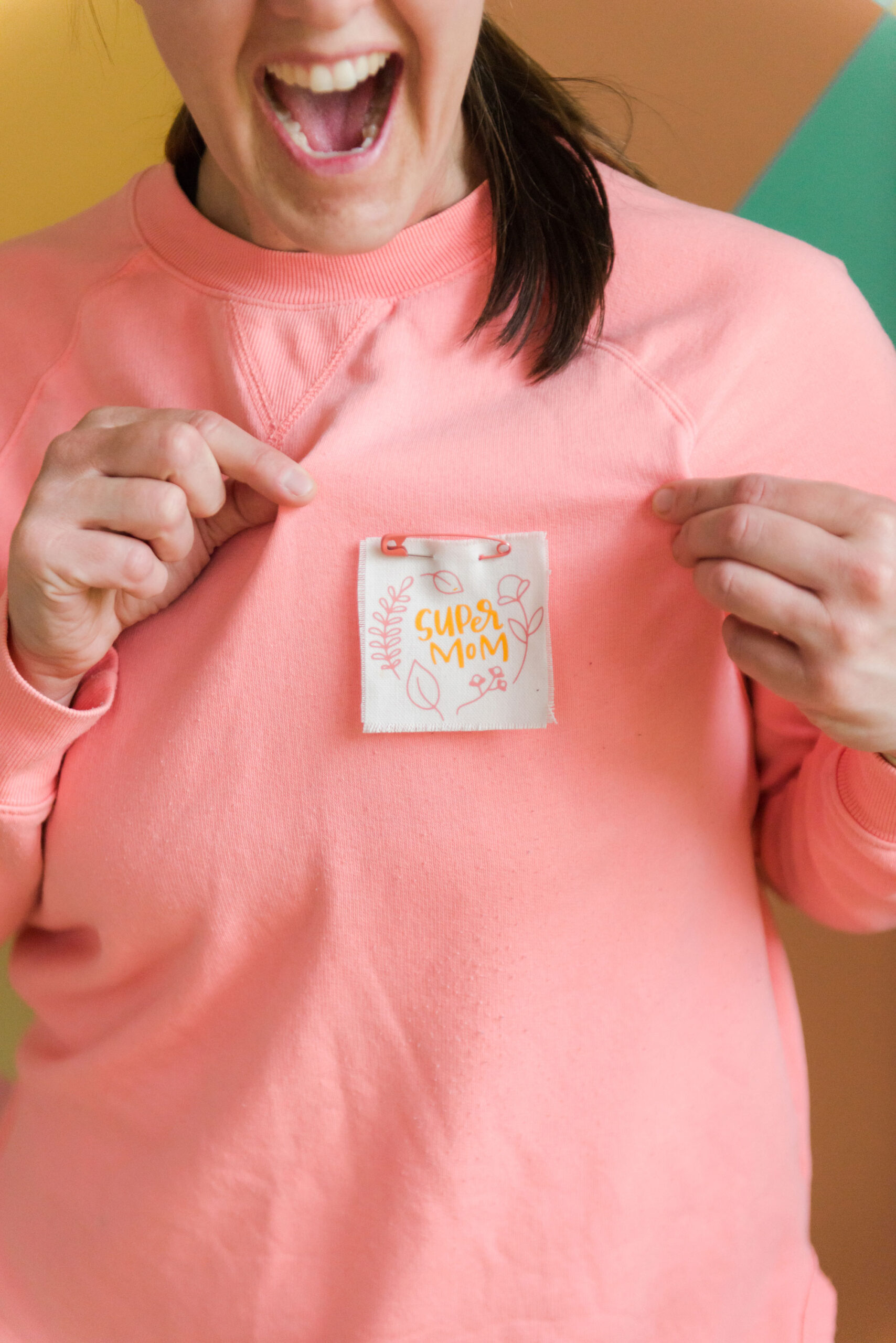 Some canvas fabric + your Cricut machine with your fave color HTV (Heat Transfer Vinyl) and you are SET! ANNND AND AND scroll down to the bottom of this post for a roundup of other Mother's Day SVG Freebies that are perfect to make a Mom feel extra loved! 🙂
MATERIALS:
Canvas Fabric in your fave color (or any heavier weight fabric would do)
Heat Transfer Vinyl
Weeding tool
Fave cutting machine (like a Cricut or Silhouette)
Heat press or hot iron
Cute Safety pin
INSTRUCTIONS:
Download the Flower SVG HERE + Download the "SUPER MOM" wording SVG HERE
2. Upload the files into your design software + adjust your sizing according to how large you want your patch. My finished patch size was 3″ x 3″ so the sizing of the SVG file was approx. 2 3/4″ tall. I chose to make the wording + the flowers each in separate colors….if you do that just be sure to make note of the size adjustment that you make so that wording still fits inside the florals 🙂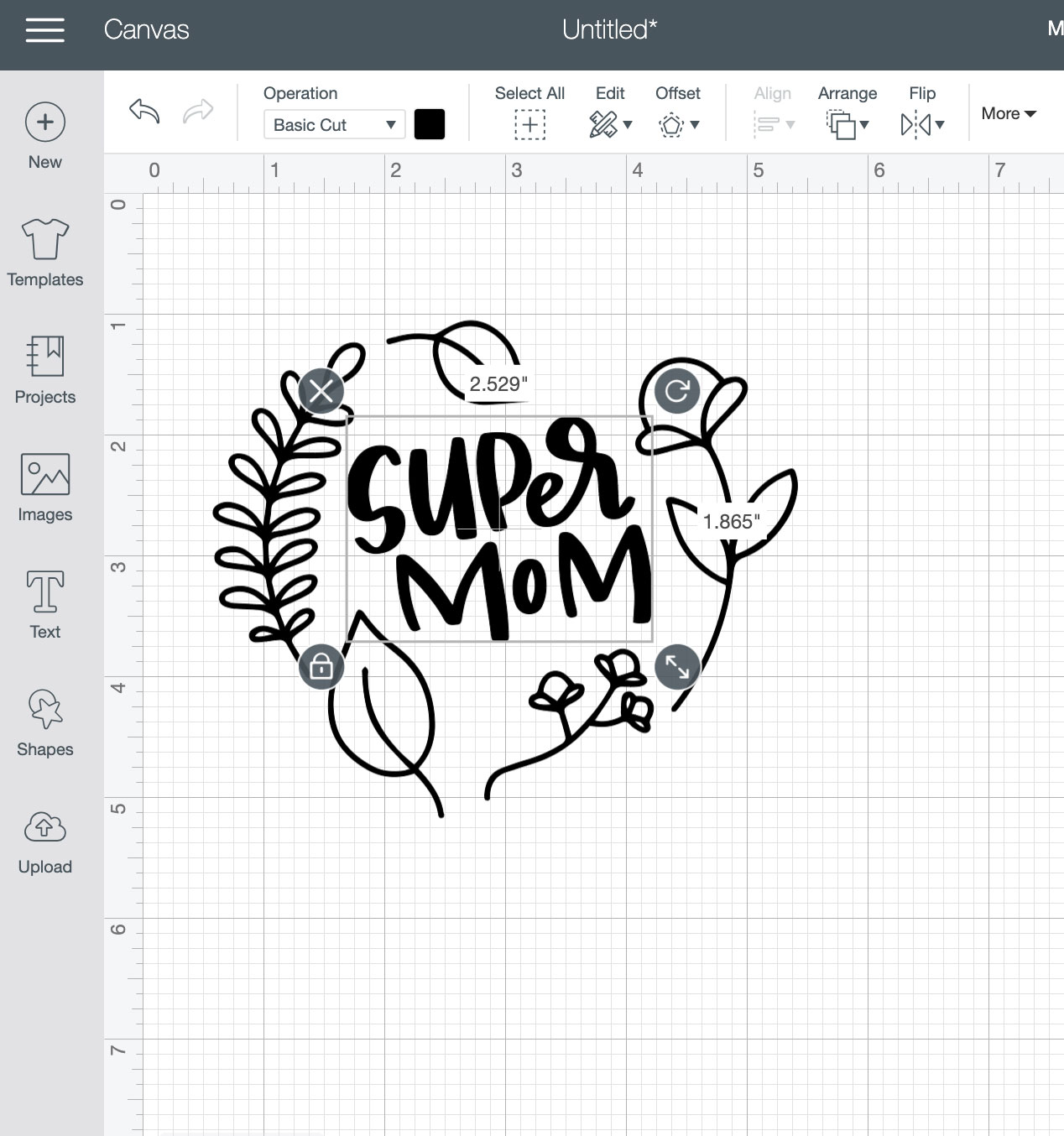 3. **BE SURE TO MIRROR YOUR IMAGE BEFORE CUTTING** 🙂
4. Cut out as many as you'd like on your machine and then weed (this is the most satisfying part! 🙂 Be patient and go slow as the lines are small!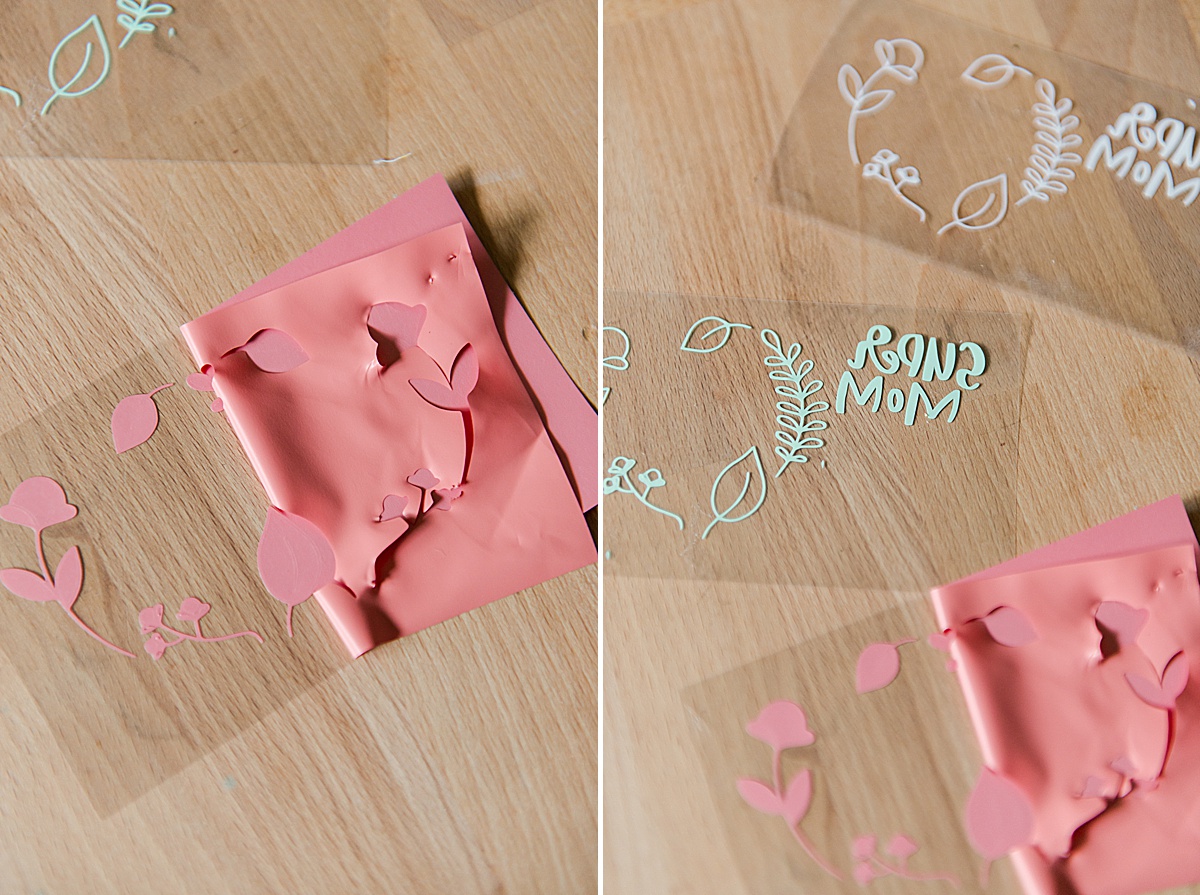 5. While your machine is cutting, cut out some canvas squares in your desired size. I made mine 3″ x 3″, as this seems like a good size to pin on a Mama for the morning of Mother's day! 🙂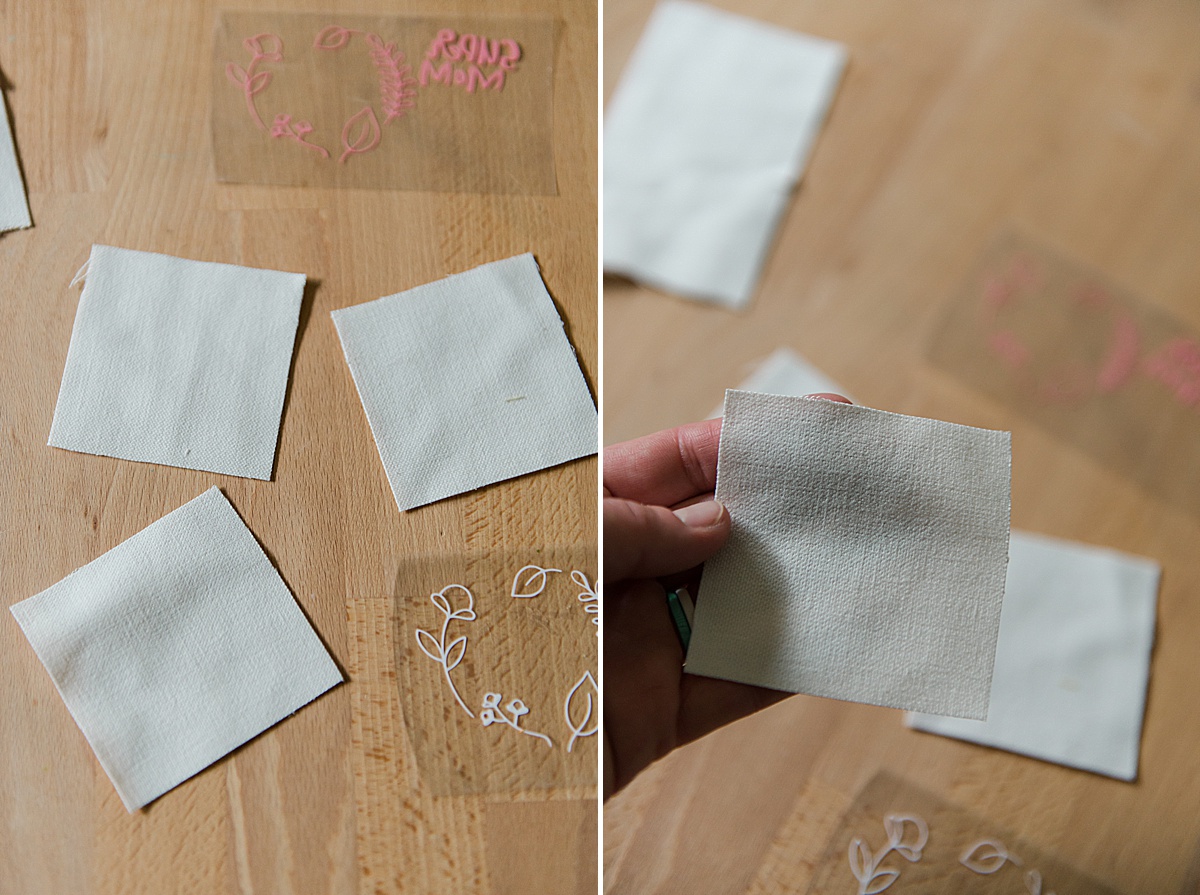 6. Line up your wording with your florals so that they are even and the words lay correctly inside the floral. Place them BOTH onto the canvas for placement (with the wording under the florals). Then carefully take off the florals and leave just the wording.
Press according to your pressing instructions (I used a heat press set to 365*, but follow the instructions on your specific vinyl packaging).
Then remove the clear backing and place the florals over the words. This does 2 things……1. It obvs places the florals where they need to be pressed ANNNDD 2. It proves a protective sheet over your words that you just pressed so that they don't get stuck to your iron or heat press.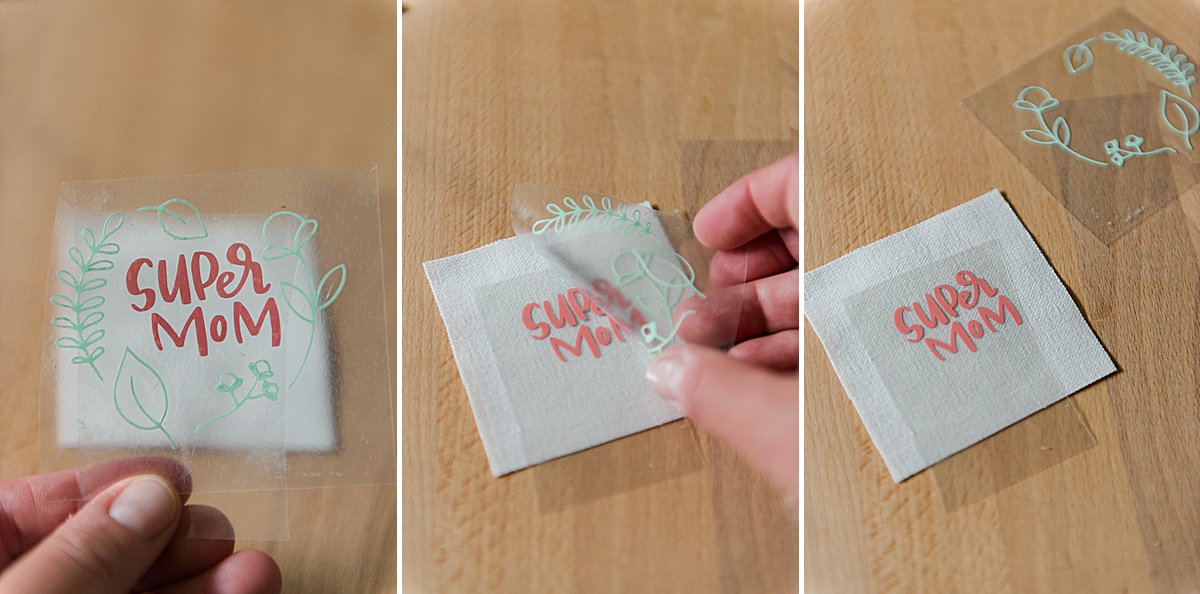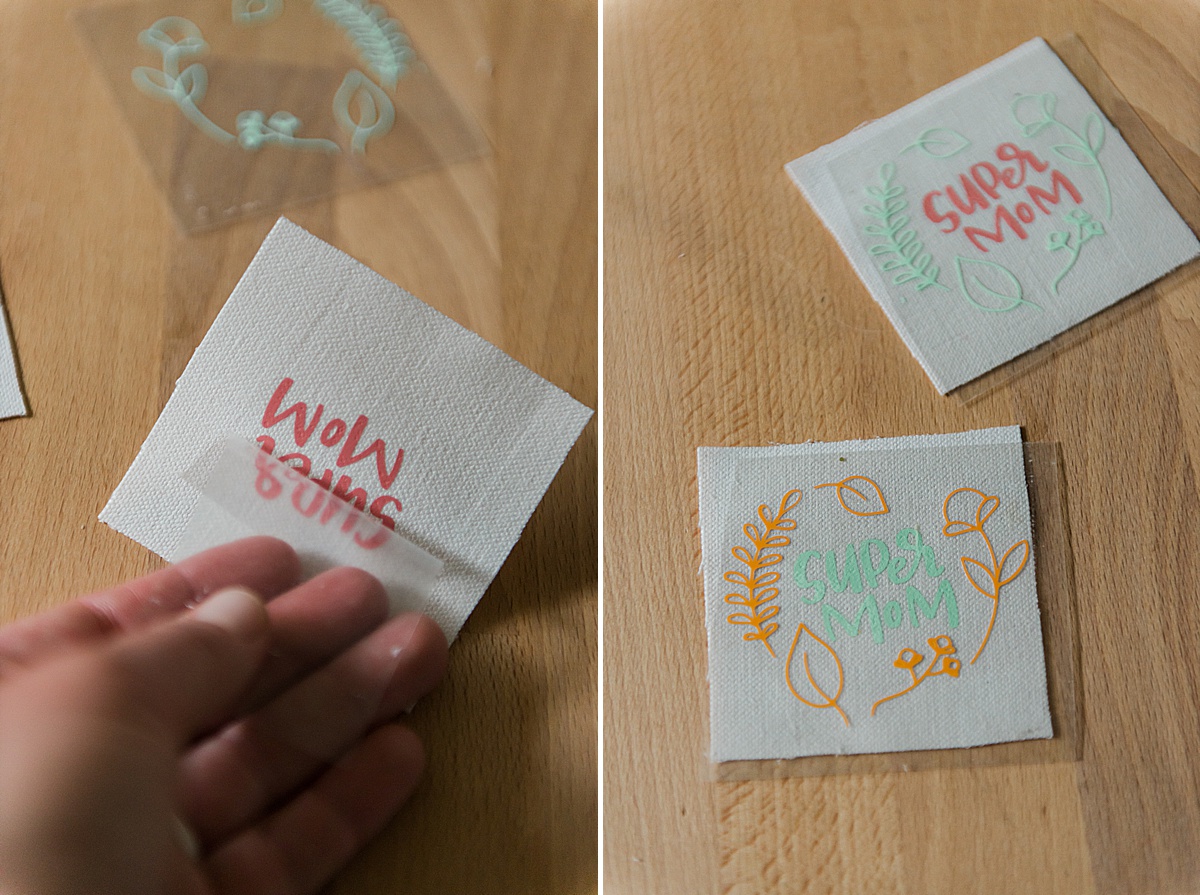 7. One strand at a time, begin pulling off the edges of your patch to give it a "frayed" look. I only pulled off 4-5 strands on each of the 4 sides of the patch! But I love the way that it looks with those edges frayed.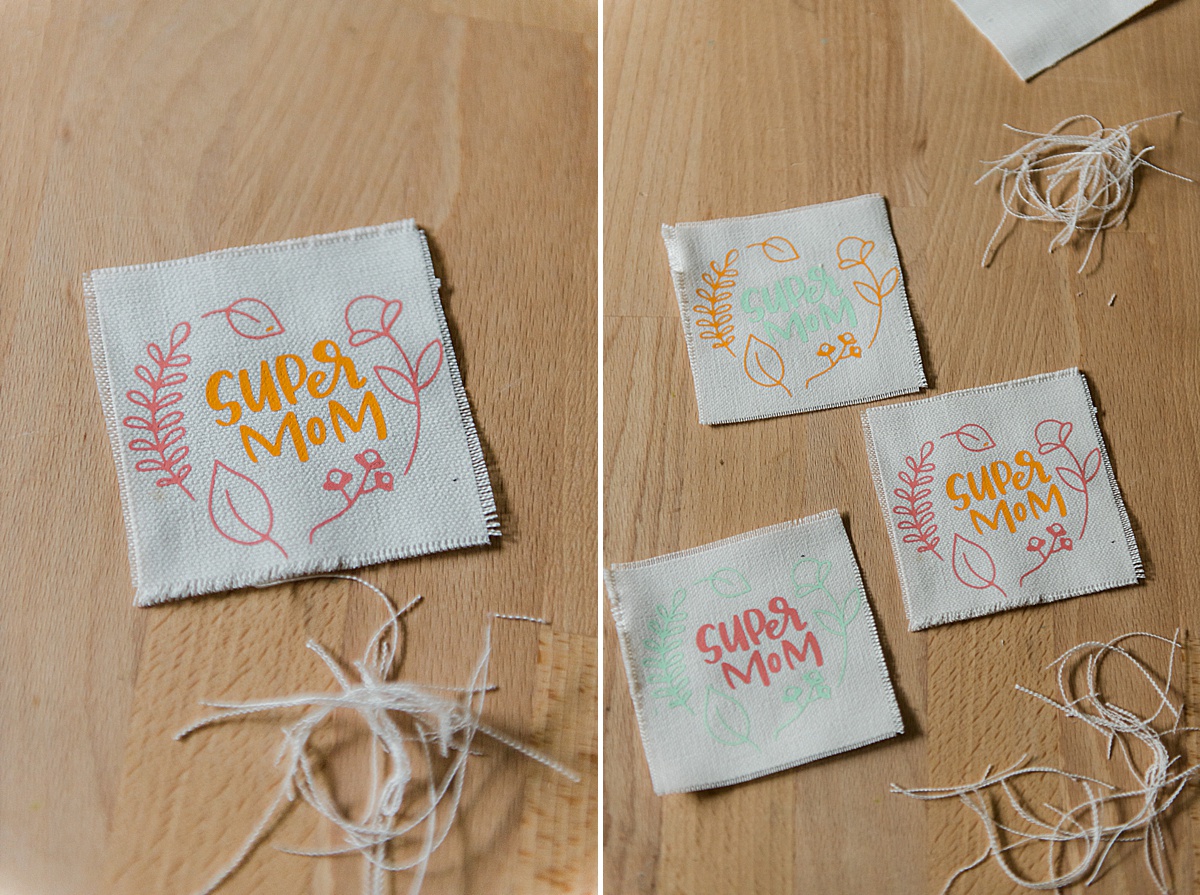 8. Add a cute safety pin and VOILA! You are done and ready to pin these onto your favorite Mama's to celebrate Mother's Day! 🙂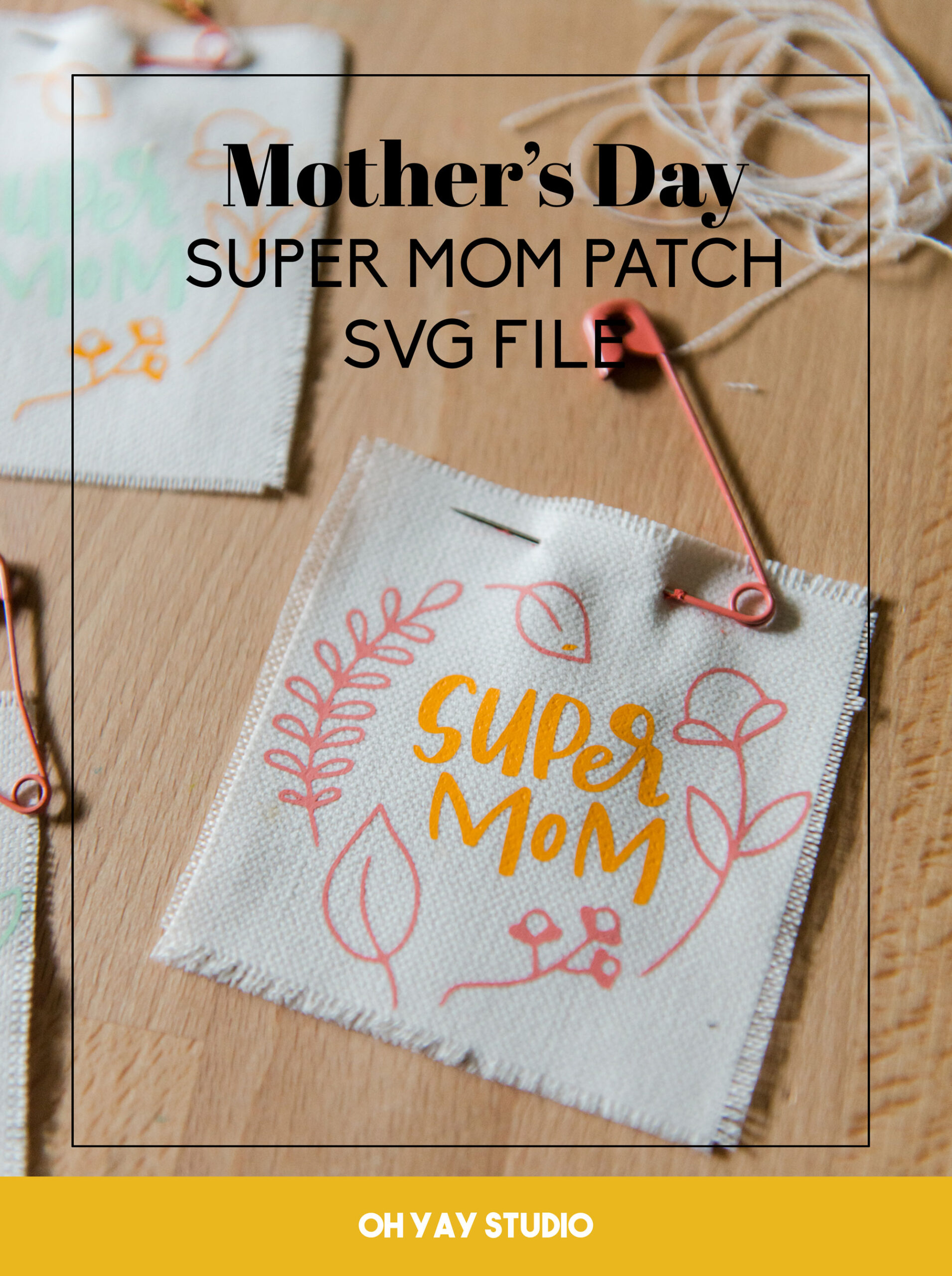 And check out these other incredible FREEEEEE Mother's Day SVG files created by these talented designers: