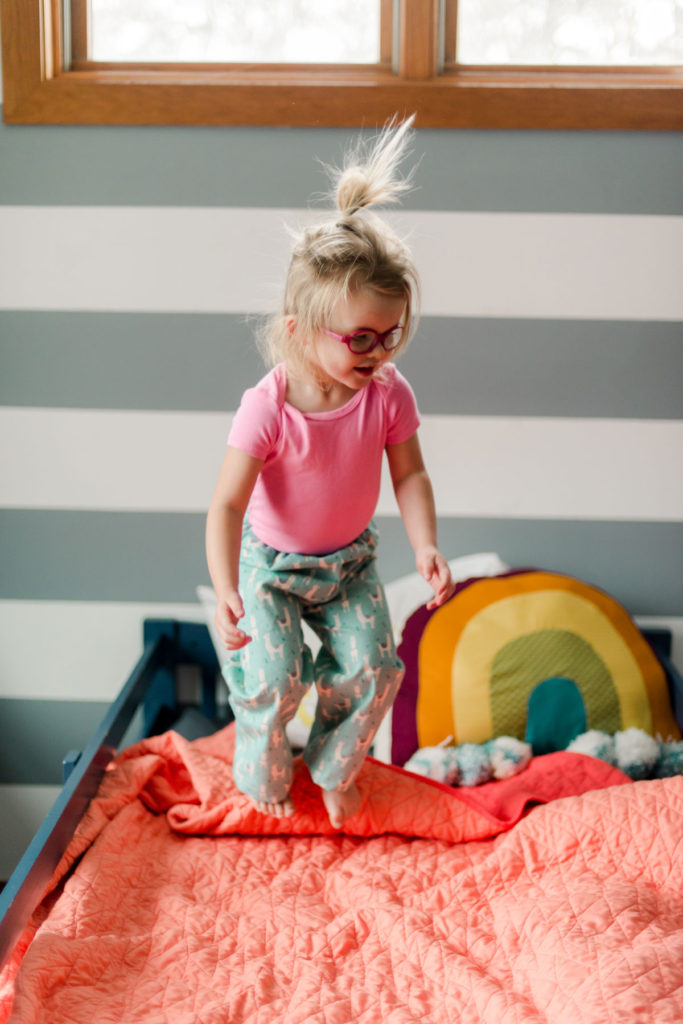 AKA. The easiest and cozies Christmas gift idea!
It's never too late to get behind the sewing machine before Christmas ANNNND this DIY Pajama pant pattern for kiddos is one heck of an easy and *VERY* quick sew. (LIKE if you are a bit rusty with your sewing skills, I promise this will boost your confidence in sewing, *SO* easy)
1 pair takes me about 30 minutes from start to finish (and it's even faster per pair if you make a bunch at a time…..I mean, who doesn't want a cozy pair of flannel pajama pants to snuggle up watching Christmas movies?!?!! 🙂

Snag this SUPER easy Pajama pant pattern with instructions and visuals below!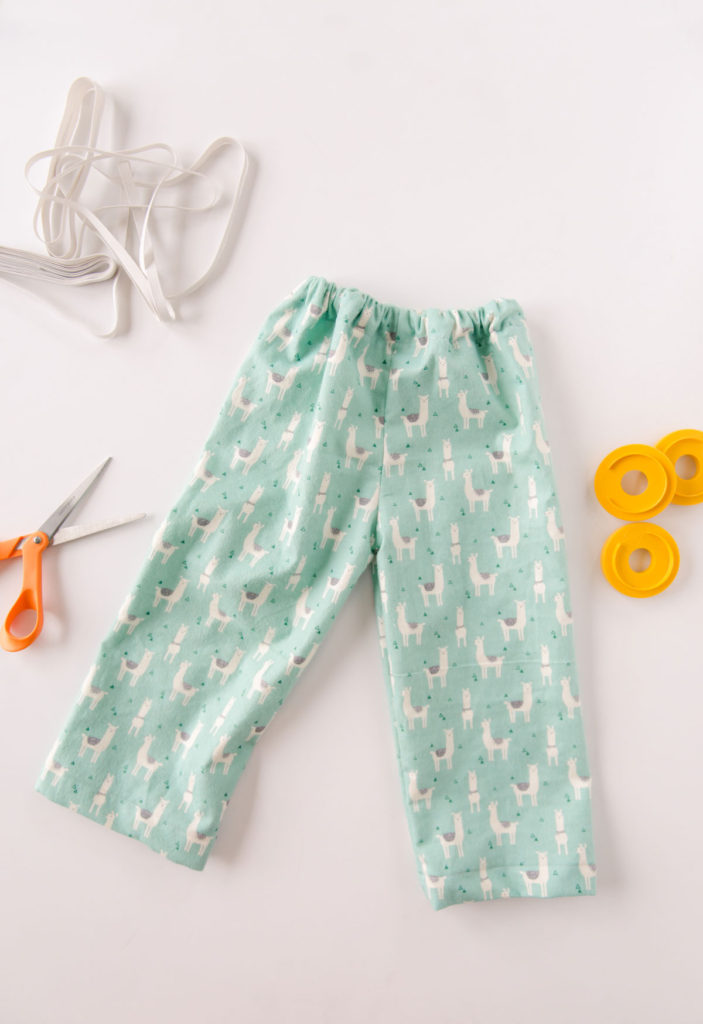 Supplies:
A pair of your kiddos pants to model the pattern after
1 yard of fabric for sizes between toddler to 7/8
1 1/2 yards of fabric for sizes 7/8 to 12
coordinating thread
elastic for waist
safety pin
Instructions:
1. Find a part of your kiddos pants to model the pattern after; preferably sweats or PJ pants that they love.
2. Iron fabric + prep
Iron your fabric. Fold your kiddos pants in 1/2 and with right sides together fold your fabric in 1/2 just enough to cut the pant leg from. Pin in place (or use weights like I did in the photo).
Place pants onto the fabric with the outside seam lining up with the fold of the fabric.
**note that I didn't line up the outside seam exactly with the fold, the elastic pulls the top of the pant inward a bit so I allowed for that gathering by following the line of the outside seam upward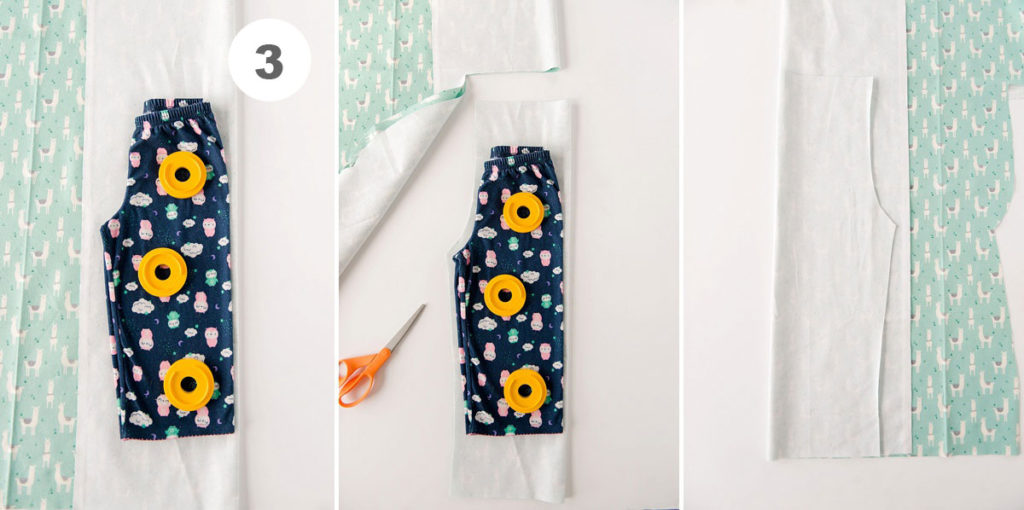 3. Cut pant legs
As you cut around the pants, leave 2 inches excess below the pants hem and 2-3 inches above the waist. And allow 1/4"-3/8" excess around the inseam and crotch seam too! 🙂
With the pant leg you just cut out, use that as a template to cut one more pant leg, but cut this one out with the fold on the opposite side. You will end up with 2 pant legs in "different directions".

4. Sew crotch seams
Open up each pant leg and with right sides together stitch the 2 crotch seams with a 1/4" seam allowance.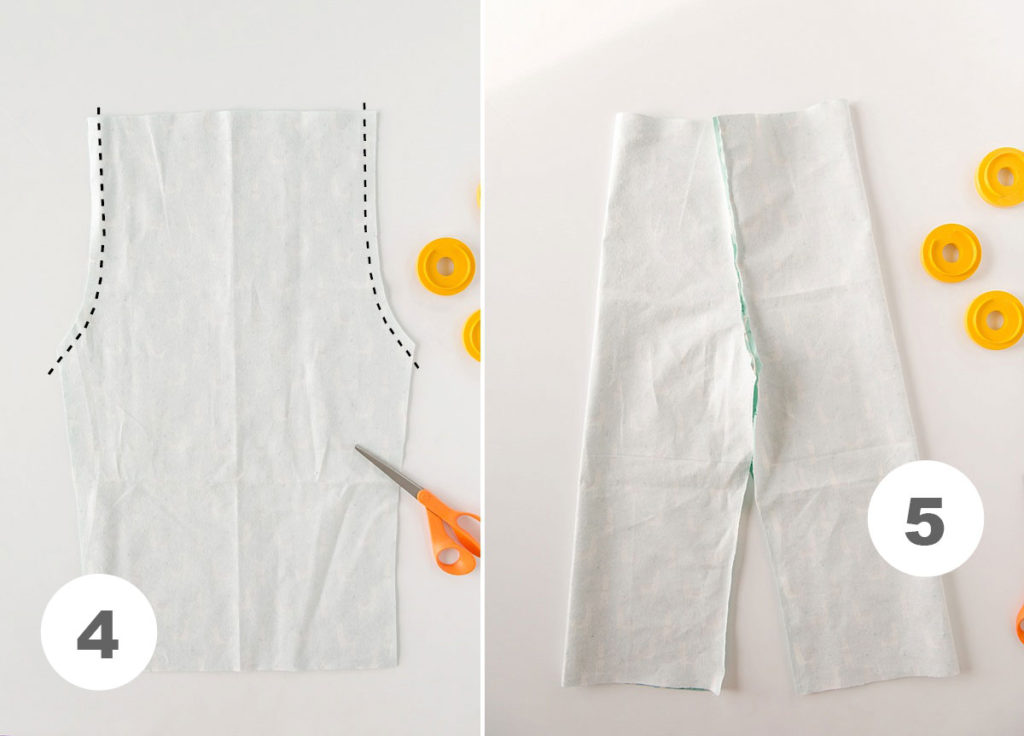 5. Sew inseams
Open up the pants and iron the crotch seam flat. Then line up the inseam of pant leg and stitch each inseam of the pants with a 1/4" seam allowance.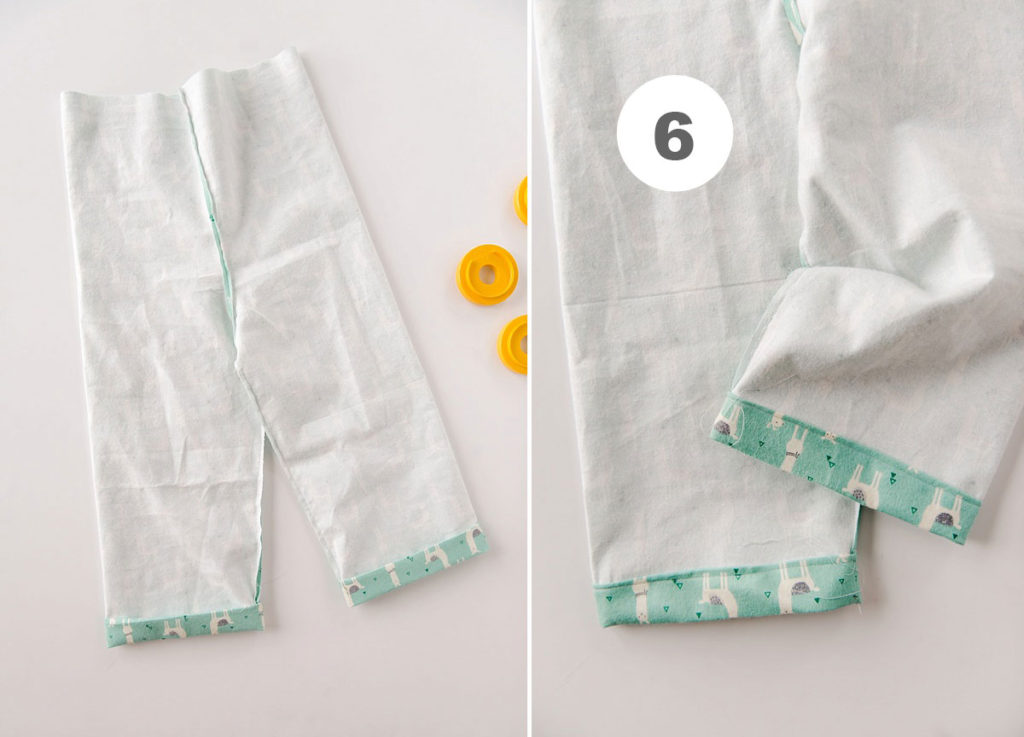 6. Hem pants
With right sides together (inside out) fold the pant leg hem; begin by folding 1" up and then folding another 1" up for a total of 2" folded. Press with an iron.
Repeat this step with the other pant leg
Stitch the hem in place by running a seam 1/4" along the top of the inside fold.

7. Make waist band
Similarly with the hem, fold 1-1 1/4" down and then another 1-1 1/4" down to create the waist band. Press with an iron. Stitch the waist band in place by running a seam 1/4" along the bottom side of the fold BUT leave a 1" opening unstitched to run the elastic.

8. Add elastic + finish
Cut your elastic piece to fit your kiddos waist (I always measure around their waist exactly with just a little tension. This ends up being a perfect size once you add in the seam allowance). Attach a safety pin to one end of the elastic and string it through your waist band without loosing the opposite end.
While holding both ends of the elastic together, sew back and forth a few times to join the elastic together. And then sew the 1" opening closed on the top waistband.
Turn right sides out and cut loose strings